**** NOTES FOR EVERY GAME WILL BE UP AS SOON AS I WATCH THEM **** Follow me
@walterfootball
for updates.
2012 Preseason Notes:
Week 4
|
Week 3
|
Week 2
|
Week 1
2012 Fantasy Football Stock Pages:
Preseason Stock Week 4
|
Preseason Stock Week 3
|
Preseason Stock Week 2
|
Preseason Stock Week 1
|
Training Camp Stock


Seahawks 21, Raiders 3
Starting quarterbacks generally don't play much in the fourth week of the preseason, but we knew going in that Russell Wilson would see extensive action because he's a third-round rookie.

Wilson went 5-of-11 for 72 yards. That's a sub-50 completion percentage, but he threw pretty well. The first incompletion was a miscommunication with Braylon Edwards. The second was Golden Tate's fault because he couldn't plant both feet in bounds for a gain of 20 yards or so along the sideline. The third was dropped by Deon Butler, though Wilson could have put less air on the football so Butler wouldn't have been hit almost instantly. The fourth was Wilson's fault; he overthrew his target and the pass should have been picked off. The fifth was a dropped potential touchdown by Vai Taua. The sixth was broken up, but it should have been delivered sooner to Ben Obomanu.

Given all of that, Wilson had a solid outing. It appears as though he's ready for regular-season action.

Here were Wilson's targets:

Deon Butler: 1
Braylon Edwards: 1
Kregg Lumpkin: 1
Ben Obomanu: 1
Anthony McCoy: 1
Sidney Rice: 1
Michael Robinson: 1
Golden Tate: 1
Vai Taua: 2
Kellen Winslow: 1


Carson Palmer started for the Raiders, but didn't attempt a single pass. He just handed the ball off to Taiwan Jones, who gained just 12 yards on seven carries. Outside of a 15-yard burst, Jones simply found no running room.


Matt Leinart was the second quarterback on the field for Oakland, but he was a pathetic 3-of-11 for 14 yards and an interception on an overthrow. Perhaps the paper cut that kept him out of last week's contest was still lingering. Terrelle Pryor, meanwhile, was a much more effective 6-of-9 for 55 yards (and two scrambles for nine rushing yards).


More officiating ineptness: Jerry Frump, the guy who was scared of the football two weeks ago at New England, was the head official in this contest. He made a very confusing announcement in the second quarter:

"The ruling on the field is a muffed punt... (5-second pause)... Possession of the ball was not... (5-second pause)... Obtained before fr... the man was out of bounds... First-and-10 for Oakland."

Curt Menefee, calling the plays for the Seahawks' broadcast, laughed and said, "I'll be honest with you, I don't understand the explanation."









49ers 35, Chargers 3
One team played its starters. The other didn't. Based on this score, you'd think the 49ers were the ones who utilized their first-stringers, but that sadly was not the case.


Philip Rivers went 8-of-10 for 89 yards and an interception in the preseason finale against San Francisco's reserves. The pick was quite puzzling. He made a horrible decision by trying to fit the ball into Malcom Floyd and was consequently picked off by a backup safety. Rivers is going to throw a ton of interceptions this year. Downgrade him if your league subtracts two points for picks.

Here were Rivers' targets:

Ronnie Brown: 1
Malcom Floyd: 3
Antonio Gates: 3
Le'Ron McClain: 1
Randy McMichael: 1


Antonio Gates caught all three targets thrown his way for 44 yards. He looked good, save for a lost fumble. He's the only tight end worth drafting in Rounds 3 or 4.


Ronnie Brown tallied 25 yards on five carries. It seems like he has more burst than he did last year. He's worth drafting in the final rounds as a Ryan Mathews handcuff, but there are running backs with more potential usually available that late.


Alex Smith started for the 49ers, but didn't attempt a single pass. He just handed the ball off to Kendall Hunter and Anthony Dixon. Hunter was the starter, gaining 23 yards on four carries.


More officiating ineptness: Philip Rivers committed an obvious intentional grounding late in the first quarter. There was no flag on the field, however, prompting an enraged Jim Harbaugh to start yelling. Rivers didn't like what Harbaugh was saying, apparently, because he shouted back. The two men then screamed at each other for a good 30 seconds. Following this, the ball mysteriously went from the 10- to the 26-yard line. The confused 49er announcers then said, "Well, I guess they walked off the intentional grounding, but the officials never announced the penalty."









Broncos 16, Cardinals 13
This was a boring game because neither Peyton Manning nor Skelekolb played. I understand Manning, but why Skelekolb? Is Ken Whisenhunt's decision that obvious? If he knows which quarterback is starting already, then why not just come out and say it?

Instead, Caleb Hanie and Ryan Lindley started. Neither was very impressive, but both were better than Brock Osweiler, who has the least pocket awareness I've ever seen out of any quarterback. Seriously, does he need to stare down every single receiver?


Two other rookies of note: Denver running back Ronnie Hillman rushed for 68 yards on 14 carries, but did this against Arizona's scrubs. Michael Floyd, meanwhile, may have had the catch of the preseason. Early in the second quarter, Floyd extended his left hand and somehow tipped the ball up into the air as he was falling down in the end zone. The ball then popped up and landed in his arms for a 22-yard touchdown. That was his only reception of the night, but it was damn impressive.


Coaching ineptness: You know how coaches usually like to avoid overtime by doing stuff like going for two instead of tying the game up with an extra point? Well, Whisenhunt had other ideas. Down 13-10 with 52 seconds remaining, Whisenhunt opted to trot out Jay Feely for a field goal. The kick was good, prompting the defeated Cardinal announcers to say nothing but, "Wow..."

Fortunately, Whisenhunt's plans were foiled, as Broncos' fourth-string quarterback Adam Weber hit Greg Orton for a 45-yard reception, setting up Denver's game-winning field goal as time expired.









Bears 28, Browns 20
Colt McCoy and Josh McCown started this game, so let's move on. But before we do...


More announcing ineptness: The exchange between the two Cleveland broadcasters prior to kickoff was highly amusing. Here's what they were talking about:

"I feel like I've been asking you this every week. Who's the backup quarterback!?"

"We don't know yet, but we also have to discover who will be the third-string quarterback!"

One guy has been asking the other who the backup quarterback is every week? Why? Oh, and if you don't trust me, here's a graphic they pulled up right after this conversation: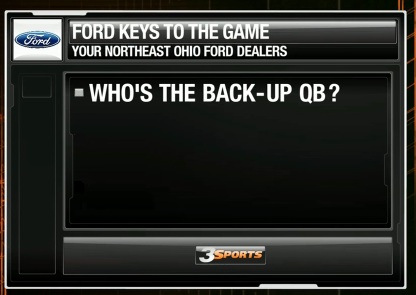 And that is why Preseason Week 4 is utterly worthless.









Titans 10, Saints 6
The first thing I heard out of the Saints' announcer's mouth was: "Virtually with no one with any name recognition is in tonight's game for New Orleans." Sean Canfield and Chris Ivory started in the backfield. Moving on...


Jake Locker played for most of the first half, going 9-of-16 for 81 yards. As usual, there was some good and some bad with Locker. Let's review...

The good: It should be noted that two of Locker's incompletions were the result of a drop and sloppy route-running. Darius Reynaud was guilty of the former, while Jared Cook didn't know where he was on the field and didn't even try to plant both feet inbounds along the sideline after making a catch. Locker also had a 16-yard scramble on third-and-long. One of Locker's final throws was a beautiful, 26-yard rainbow to Wright. Unfortunately, that was wiped out by a legitimate offensive pass interference on the rookie wideout.

The bad: Locker's stats came against the New Orleans scrubs. He would have been picked off at least once versus the starters; on one occasion, Locker threw across his body late over the middle. It was nearly picked off by the backups, so the starters almost definitely would have gotten it. It was discouraging to see this because Locker committed the same error two weeks ago at Tampa Bay. Locker later had Damian Williams open downfield for a 39-yard touchdown, but overthrew him. He also overthrew Wright in the end zone and then lost a fumble as he was scrambling.

Here were Locker's targets (no Chris Johnson, Kenny Britt or Nate Washington):

Jared Cook: 2
Jamie Harper: 1
Lavelle Hawkins: 2
Darrius Reynaud: 3
Craig Stevens: 1
Damian Williams: 2
Kendall Wright: 5 (1 end zone)


As mentioned, Chris Johnson, Kenny Britt and Nate Washington didn't play. Kendall Wright led the team with five targets, but caught only one pass for 16 yards. He should have hauled in at least two more receptions, but an offensive pass interference and an overthrew eliminated that possibility.




Rams 31, Ravens 17
The Ravens completely mailed this game in. None of the major starters played on either side of the ball. The Rams, meanwhile, had their first-string on the field for most of the first half.

Sam Bradford went 11-of-16 for 175 yards and three touchdowns. One of the incompletions was a drop by Matthew Mulligan.

Bradford had a great stat line, but remember that he did this against Baltimore's scrubs. He wouldn't have been nearly as successful versus a starting unit. He hurried a throw to Steve Smith on one third down that fell incomplete, almost as if he was scared of a phantom pass rush. He later hit Smith on a 46-yard bomb, but actually overthrew his wideout; Smith had to dive to catch it. Had Bradford hit Smith perfectly, it would have resulted in a 94-yard touchdown.

Here were Bradford's targets:

Danny Amendola: 3
Brandon Gibson: 1
Mike Hoomanawanui: 1
Mike McNeill: 2
Ovie Mughelli: 1
Matthew Mulligan: 1
Austin Pettis: 2
Daryl Richardson: 2
Steve Smith: 3


Danny Amendola and Steve Smith saw three targets each. They both came away with two grabs with 31 and 53 yards, respectively. Amendola found the end zone. They're both decent, late-round PPR options, but neither is going to score many touchdowns until both Bradford and the offensive line improve.


If you're looking for a handcuff for Steven Jackson, you'll want Daryl Richardson instead of Isaiah Pead. Richardson played ahead of Pead in the preseason finale, prompting one of the Ram announcers to declare, "You talk about Daryl Richardson taking carries away from Isaiah Pead... Richardson will be on the field regardless of Pead." It's true. Not only has Richardson been the more impressive runner; he also hasn't had the fumbling and blocking issues that Pead has been guilty of.


Rookie defensive tackle Michael Brockers was carted into the locker room with an ankle injury, but he apparently is fine.


More officiating ineptness: There was a direct snap to Isaiah Pead sometime during the first half. The play went for no gain, but it didn't matter because the Rams were whistled for an illegal formation. Jeff Fisher went nuts. You could hear him shouting for minutes, "That's not an illegal formation! That's an unbalanced formation!" The perplexed official, who apparently didn't recognize the correct rule, looked like he wanted to exit the stadium.




Steelers 17, Panthers 16
Neither of the starting quarterbacks suited up in this contest. Charlie Batch and Jonathan Dwyer lined up in the backfield and both played well. Batch went 11-of-14 for 102 yards and a 37-yard touchdown bomb to Emmanuel Sanders, which was a thing of beauty. Dwyer, meanwhile gained 63 yards on 13 carries. He might be a threat to Isaac Redman's workload, but I see Mike Tomlin trusting the veteran over the youngster.


Backup running back Chris Rainey took a 78-yard punt return to the house, breaking several tackles and capping it off with a somersault into the end zone. Steeler fans were going nuts until it was announced that there was a hold on the play, nullifying the score. Still though, it's worth noting that Pittsburgh has a really dangerous return specialist.


Some bad news for the Steelers: Rookie reserve linebacker Sean Spence tore his ACL and LCL and dislocated his kneecap.


As for the Panthers, Derek Anderson took the field, presumably after a few sips from his magic flask. Anderson, who went 8-of-18 for only 91 yards, botched his first snap and looked like he was drunkenly trying to pick the ball up. Even NFL.com was convinced something was wrong:





Perhaps the Panthers will consider calling an abortion specialist because third-stringer Jimmy Clausen outplayed his drunken teammate, going 9-of-19 for 173 yards and two touchdowns; the second score costing me $330. Damn you, Jimmy, and your emu hairstyle.




Colts 20, Bengals 16
The worst thing that can happen to a team in the fourth week of the preseason is to have its starting quarterback suffer an injury. That's exactly what happened to the Bengals. Andy Dalton banged his elbow during the second drive. He quickly went down to the field and was on the ground for about a minute. It looked scary at first, but he's apparently fine. He probably just hit his funny bone.

Dalton understandably didn't return after that. He finished 3-of-4 for 26 yards.

Here were Dalton's targets:

Armon Binns: 1
A.J. Green: 1
Chris Pressley: 1


I didn't watch the second half, but it's nice to look at the box score to see that Mohamed Sanu (8 catches, 80 yards) and Marvin Jones (4-39, TD) did well. Neither guy was on the field with the starters, however.


Andrew Luck didn't suffer an injury, but he still threw fewer passes than Dalton. He was on the field for one sloppy possession, finishing just 1-of-2 for 8 yards. The sole incompletion was a Coby Fleener drop.

Here were Luck's targets (one nullified by penalty):

Donald Brown: 1
Coby Fleener: 2


As noted, Fleener had a drop, but redeemed himself with an 8-yard catch. Fellow rookie tight end Dwayne Allen hauled in a 23-yarder of his own, but that came from backup quarterback Drew Stanton.




Texans 28, Vikings 24
No Matt Schaub. No Christian Ponder. Not even T.J. Yates. The two starting quarterbacks in this contest were Joe Webb and John Beck. I won't spend too much time on this write-up.


Two Texans worth noting are Justin Forsett and DeVier Posey. Forsett busted a 52-yard run, finishing with 114 yards and two touchdowns on 13 carries. Right after the long gain, one of the Texan announcers shouted, "Seattle fans are wondering what happened to Forsett, but he's here!" Yeah, I'm sure many Seahawk backers are losing sleep over Forsett's absence.

As for Posey, he caught an 80-yard touchdown from Beck. It was an intermediate completion that turned into a long gain because he was able to break three tackles. Granted, this was against second-stringers, but it was impressive nonetheless.




Packers 24, Chiefs 3
The Chiefs made the mistake of playing Matt Cassel and the rest of the starters deep into the second quarter of last year's preseason finale. Cassel and Tony Moeaki both suffered injuries as a consequence. What we learned in this contest is that Romeo Crennel is smarter than Todd Haley.

Cassel played one drive and a throw. He was on the field for the first possession, but just handed the ball off to his runners. He came back on the second drive. He tossed one pass - a completed 9-yarder to Dwayne Bowe - and then was pulled instantly for Brady Quinn as the possession continued.


Speaking of the runners, they all saw action. Peyton Hillis received the first carry and ultimately finished with 46 yards on six attempts. Jamaal Charles got the ball the second time and later converted a 3rd-and-4. He finished with 12 yards on three tries.


Like Cassel, Aaron Rodgers played two drives, one of which was all running plays. Rodgers hit one of his two attempts for five yards on the other possession.

Here were Rodgers' targets (one nullified by penalty):

Greg Jennings: 1
James Jones: 1
Jordy Nelson: 1


Cedric Benson started, but fumbled on his first carry. He finished with 11 yards on four rushes.




Lions 38, Bills 32
Despite this being Preseason Week 4, some Lion fans were really pumped up for this game. Check this out if you don't believe me:




The sign says "Lions eat Buffalo" - and that they did on their opening drive. Matthew Stafford hit 2-of-3 passes for 57 yards and a 24-yard touchdown to Calvin Johnson. The score was made possible by a face mask on a third down, allowing Detroit to keep the drive alive.

Here were Stafford's targets:

Calvin Johnson: 2 (1 end zone)
Mikel Leshoure: 2


The big news for Detroit is that Mikel Leshoure started and ran really well in the preseason finale. He gained 43 yards and a touchdown on 15 carries to go along with a 33-yard reception. He made multiple defenders miss throughout the evening. One of the Detroit broadcasters even commented, "I didn't know Leshoure had this type of quickness." Leshoure is suspended for the first two weeks of the season, but he's a mega sleeper - the No. 1 guy on my 20 Fantasy Football Sleepers of 2012 - usually available in Round 10 or later. He's the favorite to start beginning in October.


Playing with the second-team offense, Ryan Broyles caught three balls for 54 yards. He'll be a fantasy factor next year.


Like Stafford, Ryan Fitzpatrick performed well in his only drive. He was a perfect 5-of-5 for 39 yards and a score. He did this against Ndamukong Suh and Detroit's starting unit.

Here were Fitzpatrick's targets:

Scott Chandler: 1
Steve Johnson: 2
Donald Jones: 2


Fred Jackson was held out for precautionary reasons, which is a good sign for his fantasy owners. C.J. Spiller drew the start and looked great, gaining 29 yards on six carries versus the Lions' starters. However, he's only a handcuff for Jackson at this point. There's no doubt that Jackson will handle the majority of the workload.


More announcing ineptness: No crazy errors that I heard, or anything, but one of the guys said something really corny: "Aaron Williams just got schooled like a lot of kids who went to class last year!"

Ugh. I just puked in my mouth a little bit.




Eagles 28, Jets 10
Both starting quarterbacks were out, so Greg McElroy and Trent Edwards saw tons of action for the Jets and Eagles, respectively, though Nick Foles started for the latter.

Foles went 4-of-6 for 46 yards. He was missing his starting crew, which hurt him in the first quarter. He hit Mardy Gilyard deep on one occasion, but the ball dropped right through the bust receiver's hands.

As for Edwards and McElroy, it wasn't even close. Edwards couldn't be stopped. He was really sharp, going 22-of-32 for 197 yards and two touchdowns. He also scrambled four times for 36 yards. I know he was going against New York's scrubs, but it made me think that Edwards deserves a shot at a starting gig somewhere. McElroy, on the other hand, went 12-of-17 for just 90 yards and a score. He was pathetic, as he struggled to fire the ball farther than 10 yards downfield. This is noteworthy because Peter King appeared on PTI on Wednesday and trolled predicted that McElroy would start several games for the Jets this season.


More officiating ineptness: Nick Foles heaved the ball at his offensive lineman in attempt to throw it away early on. It should have been intentional grounding or an illegal touching of a forward pass. The officials didn't call anything. On the very next play, which was an Eagles' punt, the refs called a hold on the punting team until Andy Reid yelled at them, prompting them to change their mind.

Later on, Chad Hall had an obvious fumble that was ruled down by the contact on the field. As the play was reviewed, the homer Eagle announcers conceded that it was a turnover. However, the official came back and simply said, "The ruling on the field stands" with no further explanation. The shocked Eagle homer announcers said, "Whoa, really?" The Eagles scored a touchdown on the very next play.




Jaguars 24, Falcons 14
Being the younger quarterback in this matchup, Blaine Gabbert played for nearly a half, while Matt Ryan stood on the sideline. Gabbert battled Atlanta's starting defense for one play. Mike Smith promised his first-string stop unit that it would be on the field for only one possession. Well, that turned out to be a really quick one, as Gabbert screwed up his pitch to Rashad Jennings, resulting in an Atlanta fumble recovery. It was really strange; Gabbert simply pitched the ball back and hit his fullback with it.

Gabbert finished 7-of-12 for 64 yards, which is very unimpressive considering that he went up against the Falcons' backups. He had some nice passes, but there were far too many mistakes. For example, he had a clean pocket on one occasion during the second drive, but overthrew a wide-open Laurent Robinson. He then did the same thing to Justin Blackmon on a 3rd-and-3, as he predetermined where he was going to launch the ball, heaving it toward his double-covered rookie. Gabbert later stared down Mike Thomas. The ball was consequently knocked away, prompting the crowd to boo a bit.

The bottom line is that Gabbert once again had another poor performance, this time against scrubs. He doesn't appear to be improving at all.

Here were Gabbert's targets:

Justin Blackmon: 6
Rashard Jennings: 1
Laurent Robinson: 3
Mike Thomas: 5


Justin Blackmon led the Jaguars with six targets against Atlanta's backups. Blackmon won't find the end zone very much this year, but it appears as though he'll be useful in a PPR league. Blaine Gabbert is too craven to throw the ball downfield, so he's going to keep settling for short junk to his rookie wideout.


Rashad Jennings received a healthy workload in this contest, gaining 34 yards on 11 carries. The key with him is that he converted 4th-and-1 and 3rd-and-1 situations, which is an indication that he'll be handling the short-yardage work as long as Maurice Jones-Drew is out.


Starting right guard Uche Nwaneri was helped off the field after injuring his ankle. The good news is that it sounds like he won't miss any action.


As mentioned, Ryan did not play. Dominique Davis was on the field the entire game. Jacquizz Rodgers started with him in the backfield, scoring a 5-yard touchdown on the first play following the aforementioned Gabbert botched pitch. Rodgers finished with 24 yards and the score on five carries.


More announcing ineptness: The Falcons' broadcasters were difficult to listen to. Charles Davis was the color analyst, while the play-by-play guy constantly screwed up the names of Jacksonville players. He called Blaine Gabbert "Blaine Gilbert" and Maurice Jones-Drew "Maurice Drew-Jones."




Redskins 30, Buccaneers 3
Evan Royster and Roy Helu both played well in this contest. Royster started and rushed for 44 yards and a touchdown on 10 carries. Roy Helu fumbled his first touch and didn't see much action until later on in the game, but he managed to finish with 90 yards and a pair of scores on 15 attempts, though this came against Tampa's third-stringers.

Here's the thing though - Mike Shanahan held his starters out. No Robert Griffin, no Pierre Garcon, no Fred Davis. And no Tim Hightower or Alfred Morris. This tells me that Shanahan's top two backs, at least in September, figure to be Morris getting the early work and Hightower handling third-down duties. Of course, this is a total guess. No one knows what Shanahan is going to do. I don't even think he knows. But Morris is the one Redskin I would take in Round 11 or later. Having said that, all four backs are worth late-round fliers.


Kirk Cousins was on the field most of the game. He went 15-of-27 for 222 yards and an interception. Cousins nearly had a second pick that was dropped by cornerback Myron Lewis, but he made some nice throws otherwise, including a downfield, 46-yard strike to Anthony Armstrong.


There isn't much to say about the Buccaneers; they started Brett Ratliff at quarterback. Color analyst John Lynch had some interesting quotes, however:

1. "Davin Joseph's injury exposed the lack of depth on this roster."

This really showed tonight, as the Redskins tallied five sacks.

2. "[Josh Freeman has] been inconsistent. He looks like a quarterback who looks like he's learning a new offensive system."

This goes with what I said in last week's Preseason Recaps. Freeman started strong on his first drive, but his decision-making was simply awful after that. He doesn't look comfortable at all.


Here's why Week 4 of the preseason is utterly useless. Look at the Washington crowd in the first half. Seriously, this is pathetic:



More officiating ineptness: I missed this one, but e-mailer Kenneth M. sent this over:

The officials ruled a clear catch an incompletion. Greg Schiano challenged. The refs took forever looking at the play and then reversed the call. The official said, "The ruling on the field is overturned; it was a completed catch." He then heard the boos from the Skins' crowd, walked back onto the field and said, "But we'll take another look at it." He then actually went back AND REVIEWED IT A SECOND TIME.




Cowboys 30, Dolphins 13
This was the Aggie Bowl, as Ryan Tannehill battled Stephen McGee to see who would suck less, as a semi-proud Mike Sherman looked on.

Tannehill sucked less. He finished 5-of-7 for 35 yards on two drives, one of which led to a field goal. He endured a drop by Legedu Naanee, but also had a near-interception on a misfire to Charles Clay on the first drive. All of his completions were checkdowns against Dallas' backup defense, so we definitely didn't learn anything about him.

Here were Tannehill's targets:

Charles Clay: 2
Legedu Naanee: 4 (1 end zone)
Marcus Thigpen: 1
Daniel Thomas: 1


Despite looking mediocre, Tannehill made it more difficult for himself to get benched this season, simply by just not being as awful as Matt Moore, who finished a pathetic 4-of-12 for 49 yards and a pick-six. Moore is absolutely terrible without Brandon Marshall making him look somewhat functional.


Daniel Thomas started and had some nice runs, which is notable because it was reported earlier today that he's in Joe Philbin's doghouse. Thomas tallied 31 yards on five attempts.


There's nothing to say about the Cowboys, who started McGee and Phillip Tanner in the backfield.




Giants 6, Patriots 3
The key news in this matchup is that Hakeem Nicks made his return off foot surgery. He played a couple of drives and was targeted twice. He caught a 6-yard pass and then was overthrown after that. Nicks is back and can safely be drafted at the end of the second round or the beginning of the third round.

Eli Manning struggled against the New England second-string defense, going 4-of-8 for 29 yards. He was nearly intercepted by backup safety Nate Ebner and missed an open Victor Cruz for an 83-yard touchdown. Manning underthrew him badly, but Cruz probably ran the wrong route because Manning looked pretty pissed at him.

Here were Manning's targets:

Ramses Barden: 1
Martellus Bennett: 1
Victor Cruz: 2
Hakeem Nicks: 2
Bear Pascoe: 1


David Wilson wasn't nearly as impressive in this contest as he was last week. Finding far less running room this time, Wilson gained just 13 yards on eight carries with a 9-yard catch. He's difficult to tackle and has shown promise, but I'm still not sure Tom Coughlin wants to trust a rookie running back at this point. Ahmad Bradshaw's job will be safe until he gets hurt.


The Patriot starters didn't play. Tom Brady and Rob Gronkowski spent some time before the game playfully frolicking around on the field. Not that there's anything wrong with that.


More officiating ineptness: The refs were a disgrace in this contest. There was a 5-minute delay in the middle of the second quarter as head official Don King tried desperately to figure out what happened. King, who looked really confused, had an epic meltdown:

Don King: We have fouls by both teams during the kick.

Official in the Background: Both on the kicking team!

Don King: We have an illegal shift on the kicking team.

Official in the Background: Both penalties are on the kicking team!

Don King: Uhh... after the kick...

Official in the Background: Both fouls are on the kicking team!

Don King: Then after the kick we had a 15-yard penalty. Chosen to kick. 15-yard penalty.

What the hell does that mean? The already-restless crowd was booing, as King caused another 5-minute delay attempting to figure out what happened.

Don King: Correction on the reporting of the foul. Both teams were on... uhh... both opp... uhh...

Crowd: BOOOOOOOOOOOOOOOOOOOO!!!!!!!!!!!!

Don King: Both fouls were on the kicking team...

As I tweeted afterward (@walterfootball), "I'm going to compile a list of all the replacement official mistakes this preseason very soon. So @nflcommish can fix this ASAP."


2012 Preseason Notes: Week 4 | Week 3 | Week 2 | Week 1
2012 Fantasy Football Stock Pages: Preseason Stock Week 4 | Preseason Stock Week 3 | Preseason Stock Week 2 | Preseason Stock Week 1 | Training Camp Stock







More 2012 Fantasy Football Articles:
2012 Fantasy Football: Home

2012 Fantasy Football Rankings:
2012 Fantasy Football Rankings: Quarterbacks - 9/2 (Walt)
2012 Fantasy Football Rankings: Running Backs - 9/3 (Walt)
2012 Fantasy Football Rankings: Wide Receivers - 9/2 (Walt)
2012 Fantasy Football Rankings: Tight Ends - 9/2 (Walt)
2012 Fantasy Football Rankings: Kickers - 6/2 (Walt)
2012 Fantasy Football Rankings: Defenses - 6/3 (Walt)
2012 Fantasy Football Downloadable Spreadsheets - 9/2 (Walt)
2012 Fantasy Football Auction Values - 7/28 (Walt)
2012 Fantasy Football Rookie Rankings (Re-Draft) - 5/6 (Walt)
2012 Fantasy Football Rookie Rankings (Dynasty) - 5/6 (Walt)
2012 Fantasy Football Playoff Rankings - 1/2 (Walt)
Week 17 Fantasy Football Rankings - 12/27 (Walt)
Week 17 Fantasy Football Injury Reports - 12/27 (Walt)
Week 17 Fantasy Football Start Em, Sit Em - 12/27 (Walt)
Week 16 Fantasy Football Start Em, Sit Em - 12/20 (Walt)
WalterFootball.com $1,000 Contest on FanDuel.com - 11/4

2012 Fantasy Football Cheat Sheets:
2012 Fantasy Football Cheat Sheet: Traditional Scoring - 9/4 (Walt)
2012 Fantasy Football Cheat Sheet: PPR Scoring - 9/4 (Walt)
2012 Fantasy Football Cheat Sheet: Touchdown Scoring - 9/4 (Walt)
2012 Fantasy Football Cheat Sheet: 2-QB Format - 9/4 (Walt)
2012 Fantasy Football Cheat Sheet: Traditional Scoring PRINTABLE - 9/4 (Walt)
2012 Fantasy Football Cheat Sheet: PPR Scoring PRINTABLE - 9/4 (Walt)
2012 Fantasy Football Cheat Sheet: Touchdown Scoring PRINTABLE - 9/4 (Walt)
2012 Fantasy Football Cheat Sheet: 2-QB Format PRINTABLE - 9/4 (Walt)

2012 Fantasy Football Mock Drafts:
2012 Fantasy Football PPR Mock Draft - 8/23 (Walt)
2012 Fantasy Football Mock Draft - 8/16 (Walt)
2012 Fantasy Football Forum 2-QB PPR Mock Draft - 8/9 (Walt)
2012 Fantasy Football Auction Mock Draft - 8/2 (Walt)
2012 Fantasy Football Forum PPR Mock Draft - 7/27 (Walt)
2012 Fantasy Football Forum 2-QB Mock Draft - 7/17 (Walt)
2012 Fantasy Football Forum Standard 14-Team Mock Draft - 7/12 (Walt)
2012 Fantasy Football Forum PPR Mock Draft - 7/6 (Walt)
2012 Fantasy Football Forum Touchdown-Format Mock Draft - 7/4 (Walt)
2012 Fantasy Football Forum Standard Mock Draft - 7/3 (Walt)
2012 Fantasy Football Forum PPR Mock Draft - 6/22 (Walt)
2012 Fantasy Football Forum Mock Draft - 6/14 (Walt)
The Four-Man PPR Fantasy Mock Draft - 5/18 (Walt)

2012 Fantasy Football Articles:
2012 Fantasy Football Stock: Training Camp, OTAs - 9/3 (Walt)
2012 Fantasy Football Preseason Stock - 8/31 (Walt)
2012 NFL Preseason Recap, Fantasy Football Notes - 8/31 (Walt)
2012 Fantasy Football: Quarterback Targets - 8/31 (Walt)
2012 Fantasy Football: 20 Sleepers - 8/28 (Walt)
2012 Fantasy Football: Round-by-Round Strategy - 8/21 (Walt)
2012 Fantasy Football Busts - 6/5 (Walt)
2012 Fantasy Football Sleepers (Early-Middle Rounds) - 6/5 (Walt)
2012 Fantasy Football All-Value Team - 5/26 (Walt)
2012 Fantasy Football Stock Report: Quarterbacks - 5/8 (Walt)
2012 Fantasy Football Stock Report: Running Backs - 5/8 (Walt)
2012 Fantasy Football Stock Report: Wide Receivers - 5/8 (Walt)
2012 Fantasy Football Stock Report: Quarterbacks, Tight Ends - 4/3 (Walt)
2012 Fantasy Football Stock Report: Running Backs - 4/3 (Walt)
2012 Fantasy Football Stock Report: Wide Receivers - 4/3 (Walt)
2012 Fantasy Football: First-Round Bust History - 2/17 (Walt)
Running Backs with Most Carries - 2/17 (Walt)




NFL Picks - Jan. 21


2022 NFL Mock Draft - Jan. 19


NFL Power Rankings - Jan. 18


2023 NFL Mock Draft - Dec. 12


Fantasy Football Rankings - Sept. 8