**** NOTES FOR EVERY GAME WILL BE UP AS SOON AS I WATCH THEM **** Follow me
@walterfootball
for updates.
2012 Preseason Notes:
Week 4
|
Week 3
|
Week 2
|
Week 1
2012 Fantasy Football Stock Pages:
Preseason Stock Week 4
|
Preseason Stock Week 3
|
Preseason Stock Week 2
|
Preseason Stock Week 1
|
Training Camp Stock


Eagles 27, Patriots 17
The Eagles play the Browns both next weekend and in the opening game of the season, so this was their "dress rehearsal." The Patriots, meanwhile, decided to sit their starters because they play again Friday. Logically, Philadelphia should have dominated this matchup.

Except the opposite happened early on. New England's reserves outplayed the Eagles' starters, with two Patriot turnovers being the difference in the first quarter and a half. The defense either committed dumb penalties that allowed Ryan Mallett and company to move the chains or screwed itself with poor calls by inept defensive coordinator Juan Castillo. On offense? Well, Andy Reid's worst nightmare came to fruition in the first quarter.

Eagles QB No. 7 suffered a rib injury on the second drive. He was slow to get up after a hard hit from Jermaine Cunningham. He then walked gingerly to the locker room to get X-rays. The X-rays were negative, but he's just going to suffer another injury once he plays again. The Eagles' quarterback is made out of glass; forum member Daniel Brown said it best: "Vick being hurt is like watching the sun rise. It's a routine." There no reason you should spent a pick in the first seven rounds on Eagles QB No. 7. He's a lock to miss at least four games.

Here were Eagles QB No. 7's targets:

Jason Avant: 1
Clay Harbor: 1
DeSean Jackson: 1


Nick Foles entered the game and played until the fourth quarter. He had an up-and-down first half. He made some nice passes but essentially threw two interceptions. One was dropped by Will Allen, while the other was picked off because he stared down Jeremy Maclin and then underthrew him.

Foles managed to finish 18-of-28 for 217 yards, two touchdowns and that interception. Those stats are impressive, but they have to be taken with a grain of salt because New England was using its reserves. Still, there's cause for optimism. Foles showed enough good things to indicate that he might be able to hold down the fort if the starting quarterback is out for a couple of games. Of course, it's likely that Foles will have to play more than just a couple of games.

I kept track of Foles' targets because he will be starting several contests this season. Here were his targets (only when he was on the field with the starters):

Jason Avant: 1
Brent Celek: 2
Clay Harbor: 4 (1 end zone)
DeSean Jackson: 7
Jeremy Maclin: 2 (1 end zone)
LeSean McCoy: 6


DeSean Jackson had a huge outing at New England. He saw a combined eight targets from Nick Foles and the other guy, catching four of those balls for 82 yards. Foles really seemed to prefer throwing to Jackson over Jeremy Maclin. That's good to know for when Foles is forced into the lineup early in the regular season.

By the way, I love how Jackson contradicted himself in a sideline interview with Penn State's Lisa Salters. Check out these two quotes:

"I couldn't focus because of my contract..."
"I gave it my all last year..."

So he couldn't focus, but somehow gave it his all, eh? That's quite an impressive feat.


Jeremy Maclin saw just two targets from Nick Foles at New England, one of which was intercepted. Foles didn't look comfortable throwing to Maclin, preferring DeSean Jackson by a wide margin.


Philadelphia's defense couldn't stop Ryan Mallett and Brian Hoyer, but a couple of defensive players stood out. Rookie linebacker Mychal Kendricks was everywhere. Phillip Hunt once again did a great job of putting pressure on the quarterback. And Dominique Rodgers-Cromartie, who nearly came up with two picks, was knocked out of the game with a shoulder injury.


There isn't much to say about the Patriots. Tom Brady, Wes Welker, Brandon Lloyd, Rob Gronkowski and Aaron Hernandez were all out, as Bill Belichick opted to sit many of his starters because this is the second of three games in 10 days for New England. In fact, Brady wasn't even in the stadium; he must have had some cool photo shoot to attend.

Ryan Mallett drew the start. He was very mediocre, going 10-of-20 for 105 yards and a touchdown. He should have thrown two picks to Rodgers-Cromartie; the first was nearly caught, while the second was nullified by a roughing-the-passer penalty. Making matters worse, Mallett's next attempt following the second near-interception hit nickel corner Joselio Hanson in the back of the jersey.

Mallett did a couple of nice things like show nice mobility in the pocket on one play, but the negatives far outweighed the positives. He does not look like he's a valid successor for Brady.


Shane Vereen started alongside Mallett in the backfield. Vereen played the entire first half, gaining just 20 yards on 10 carries. He did, however, catch four balls for 29 more yards, thanks to an effective 20-yard screen. What's really noteworthy is that Vereen was utilized well ahead of Stevan Ridley, who was relegated to reserve duties in the second half. Ridley gained 25 yards on 10 tries.


More officiating ineptness: There were several phantom personal fouls in this game. But that's nothing new with these replacement refs. Something I have yet to see from them, however, is cowardice. That was achieved tonight.

Someone tossed the ball to the official so he could spot it during the third quarter. Instead of catching the ball, however, the ref cowered like a little girl, using his arms to shield himself from it. This guy is never going to live this down. He has disgraced his family name for at least three generations.









Steelers 26, Colts 24
I didn't check his Twitter feed, but I'm pretty positive that owner Jim Irsay didn't post anything with 31 exclamation points this week. Andrew Luck was simply awesome in the opener, but came back down to reality at Pittsburgh.

It was apparent that things wouldn't go smoothly for Luck right away. He attempted to toss a screen pass, but threw it away in a strange fashion, heaving the ball into a crowd of Steelers. Luck's second attempt was thrown behind Donald Brown and fell incomplete.

Luck had some bad luck fortune after that. He launched a perfect, 19-yard strike to Austin Collie on the second drive, but Collie dropped it after taking a devastating hit. Luck then missed out on another completion because the refs didn't see an obvious hold on Reggie Wayne, as pointed out by Cris Collinsworth. The same thing happened on the next pass to T.Y. Hilton.

The lowlight of Luck's evening was his first interception. He stared down Wayne, which allowed Ike Taylor to break on the ball and take it 49 yards to the house. Luck tossed a second pick, but it was Hilton's fault. The ball popped out of his hands like a hot potato and landed into the arms of Cortez Allen.

All of this sounds terrible, but Luck finished 16-of-25 for 175 yards and the two picks. He also had a rushing touchdown just before halftime. He caught fire following the first interception and began shredding Pittsburgh's defense, continuously connecting with Wayne.

Here were Luck's targets:

Dwayne Allen: 2
LaVon Brazill: 2
Donald Brown: 2
Austin Collie: 1
Coby Fleener: 3
T.Y. Hilton: 3 (1 end zone)
Reggie Wayne: 8
Griff Whalen: 1


Austin Collie hauled in a 19-yard reception, but then was hit in the head and dropped the ball. He then went into the locker room to be tested for a concussion. If he has another concussion, his season (and maybe even his career) could be over.


Reggie Wayne caught six passes for 74 yards in one half of action against the Steelers. Andrew Luck really locked into him in the second quarter, targeting him a whopping eight times when no other wideout (or tight end) saw four balls go their way. With Austin Collie injured, Wayne's stock is definitely going up.


Donald Brown rushed for 30 yards and a touchdown on six carries at Pittsburgh, but lost some series to rookie Vick Ballard, who gained 34 yards on 10 attempts. Ballard looked pretty good, though he was stuffed twice at the goal line. He's worth a late-round pick as a high-upside flier.


The veteran quarterback outplayed the rookie when they were both on the field, save for one throw. Ben Roethlisberger went 5-of-9 for 81 yards, one touchdown and very strange interception. The pick was targeted for Antonio Brown, but oddly was thrown way short at him and right at an Indianapolis defender. My only explanation is that the ball slipped out of his hands. That, or he saw some drunken chicks in the stands that... I kid, I kid.

Here were Roethlisberger's targets:

Antonio Brown: 4
Leonard Pope: 1
Chris Rainey: 2


Consider Mike Wallace's leverage dropped. Antonio Brown caught two balls for 75 yards and a touchdown that went for 57 yards. That was all him - he caught it short on a wide receiver screen and then made several great jukes to dodge the inept Colt defenders.


With Rashard Mendenhall and Isaac Redman out, Jonathan Dwyer drew the start. He gained 43 yards on just eight carries. He ran well, but most of that can be attributed to really good blocking.


Rookie Chris Rainey saw several touches with the first-team offense. He had 20 rushing yards on six carries as well as two catches for three more yards. The quick back was hit hard and fumbled in the first quarter. It looked like he might have suffered a concussion, but he returned to the game shortly afterward.


More officiating ineptness: This crew had issues with the basics. The ref faced the wrong way when he was addressing the crowd in the first quarter. He then forgot to turn on his mic in the third quarter. He made inaudible announcements for those 15 minutes.

The official drew the ire of Collinsworth on several occasions. He spotted the ball incorrectly on a challenge and then incorrectly ruled a touchdown because Luck slid feet-first. OK, he made a bad call. It happens. But the worst part is that he didn't bother reviewing the play, which should have been looked at automatically because it involved a score.









Bears 33, Redskins 31
Jay Cutler and Brandon Marshall teamed up together for the first time since they were in Denver. Almost as if it were scripted, Cutler's first pass went 41 yards downfield to Marshall, who torched cornerback Cedric Griffin quite easily.

Cutler finished 7-of-13 for 122 yards. He was pretty sharp for the most part, and his numbers could have been even better. He should have hit Marshall for another gain of about 40 yards, but the Redskins got away with a blatant pass-interference penalty. Cutler's only mistake was overthrowing Marshall in the end zone. He also nearly threw a pick to cornerback Josh Wilson (it was dropped), but it seemed like Earl Bennett was the one who screwed up by running a bad route.

Here were Cutler's targets:

Earl Bennett: 3
Michael Bush: 2
Devin Hester: 2
Alshon Jeffery: 1
Brandon Marshall: 4 (1 end zone)


Marshall has to be thrilled to be back with his former quarterback. As mentioned earlier, he secured a 41-yarder from Cutler to open the game. He finished with two grabs for 61 yards and should have had even more yardage if the Redskins didn't commit an uncalled pass interference.


Alshon Jeffery was targeted once by Jay Cutler, which turned out to be a 16-yard reception. He was tackled at the 1-yard line, so it's a shame it wasn't a 17-yarder. Jeffery went on to do most of his damage with Jason Campbell, finishing with three catches for a team-high 62 yards. Jeffery is really impressive physically, and it's beginning to look like he's starting to get it. He could be a decent producer in the second half of the season.

Oh, and by the way, Jeffery and DeAngelo Hall engaged in a fight where they both hit each other's helmets a couple of times. Jeffery, being the rookie, was whistled for an unsportsmanlike penalty.


Matt Forte started against the Redskins, but it was Michael Bush who scored twice with the first team. Bush replaced Forte each time the Bears entered the Redskins' 10-yard line, scoring quite easily from one and eight yards out. When Bush found the end zone the second time, one of the Bears' announcers remarked, "That's the reason they got him." Bush is going to score a bunch of touchdowns this year.


While Cutler excelled, Robert Griffin regressed from last week's impressive debut. Griffin went 5-of-8 for 49 yards with a lost fumble. He missed some easy completions and had major issues with Chicago's pass rush. He also had a terrible overthrow to Santana Moss on a third down.

However, Griffin did some good things. He threw a perfect, 16-yard strike to Moss on a 3rd-and-3 on the first drive. He also had an unbelievably quick 14-yard scramble on a 3rd-and-5, where he sprinted by numerous Chicago defenders along the sideline.

Here were Griffin's targets:

Dorson Boyce: 1
Pierre Garcon: 4
Leonard Hankerson: 1
Santana Moss: 2
Niles Paul: 1


Pierre Garcon saw four targets, but collected only 13 yards on two catches. He did "draw" a long pass interference on Charles Tillman, but he doesn't deserve credit for it. I'll discuss why later.


After declaring his love for Evan Royster for the past couple of weeks, Mike Shanahan decided to start rookie Alfred Morris at running back. Morris had some nice carries, including a 21-yarder in which he broke three tackles. He finished with 34 yards on 10 attempts. This could lead to some drafting Morris around Rounds 10-12 in their fantasy league, but I've had enough of this nonsense. Shanahan is an a**hole.

As for Evan Royster, he was relegated to third-down duties. He was given only two carries, but turned those into 20 rushing yards. His stock obviously has to take a hit - I almost forgot how big of a douche bag Shanahan can be.


Brian Orakpo suffered a shoulder injury in this contest. It looked bad initially, but it appears as though he'll be day to day.


Kirk Cousins was really sharp in relief of Griffin in the second half. Cousins went 18-of-23 for a whopping 264 yards and three touchdowns. He was really poised in the pocket and threw numerous, accurate, deep strikes to his receivers. He was so good that Bears' color analyst Jim Miller laughed and said, "I'm not a fan of quarterback controversies, but..."


More inept officiating: Remember when I brought up the Garcon pass interference? Well, this occurred when both Garcon and the offending party, Charles Tillman, were out of bounds. By rule, pass interference can't be whistled if the receiver is out of bounds. I mean, that should be obvious, right? Well, not to this officiating crew.

Jim Miller had some fun with this. When the official said that the Redskins would be penalized at the spot of the foul, Miller quipped, "The spot of the foul means out of bounds, Sam."









Texans 20, 49ers 9
Matt Schaub had Andre Johnson at his disposal for the first time this preseason, and he didn't waste any time getting the ball to him, targeting the talented wideout on his second attempt. The two later hooked up for a 43-yard completion.

Schaub did a good job of spreading the ball around, finishing 11-of-14 for 128 yards and a touchdown. One of his incompletions was an Owen Daniels drop.

Here were Schaub's targets:

James Casey: 1
Owen Daniels: 2
Arian Foster: 3
Lestar Jean: 3
Andre Johnson: 2
Keshawn Martin: 2
Kevin Walter: 1 (1 end zone)


As mentioned previously, Andre Johnson caught a 43-yarder from Matt Schaub in his preseason debut. It was pretty; the grab was snagged over double coverage. Johnson left the game after that, but only for precautionary reasons. He's fully healthy now, so he'll be a big producer - until he gets hurt again, of course.


Lestar Jean looks like a stud. The young wideout saw three targets from Matt Schaub against the 49ers, finishing with four catches for 42 yards and a touchdown, though he dropped a ball from T.J. Yates in the middle of the third quarter. Schaub acknowledged him later in an interview, telling the reporter that Jean is "going to be a big player for us." Jean is definitely worth taking in the final round as a high-upside flier.


It was all Arian Foster. He played almost every snap for the Texans in the first half. Ben Tate didn't even get a single touch until the 3:27 mark of the second quarter. Tate had to settle for lots of third-quarter work.


Return specialist Trindon Holliday took a punt back to the house for 87 yards, making this the second week in a row he's scored on special teams. My editor was watching this game ahead of me - I was behind because I had Chiefs-Rams online - and he commented, "Holy crap Trindon Holliday is fast."


Rookie kicker Randy Bullock was sharp last week, but missed wide right from 51 yards in this contest. That was his only attempt.


Speaking of field goals, the 49ers' starting offense had to settle for a pair because they once again had issues in or near the red zone. Alex Smith finished 5-of-9 for 49 yards.

Those numbers look pretty mediocre, but Smith isn't entirely to blame. He was victimized by a whopping three drops from Vernon Davis, Michael Crabtree and Kendall Hunter. He was also sacked twice on the first drive by Houston's ferocious front seven. So, on one hand, Smith should have had a much better outing. On the other hand, however, Smith lofted a pass right for Texan defensive back Glover Quin, who dropped the easiest interception of his life.

Here were Smith's targets:

Michael Crabtree: 2
Vernon Davis: 1
Ted Ginn: 1
Kendall Hunter: 2
Mario Manningham: 1
Randy Moss: 2


Randy Moss saw two targets from Alex Smith and remained in the game to catch passes from Colin Kaepernick. Moss finished with three receptions for 24 yards, though he dropped a pass from the 49er backup signal-caller. Moss looked way more functional than both Terrell Owens and the recently released Chad Johnson, but I didn't see anything special out of him. Moss could stick and might be able to catch some touchdowns because of his big frame, but it's highly doubtful that he's due for anything close to a big season.


I really love what I see out of Kendall Hunter. He runs really hard and keeps his legs churning, plus he's effective in the passing game. He's a great, late-round sleeper, especially now in the wake of Brandon Jacobs' knee injury. Jacobs was injured on his first carry at Houston, so he could be out for a while. This really opens things up for Hunter, who will get lots of playing time if Frank Gore gets hurt again. Hunter rushed for 46 yards on just six carries.


Colin Kaepernick struggled in this contest, going 4-of-8 for just 19 passing yards with a 12-yard scramble. He should have been pick-sixed in the second quarter, but Quintin Demps dropped the ball.


Third-string quarterback Josh Johnson looked a bit better, connecting on a beautiful 32-yard rainbow to first-round rookie A.J. Jenkins. Unfortunately, Johnson had Jenkins open deep twice after that, but overshot him each time.


More inept officiating: The referees threw a flag for a dead-ball foul several seconds before the 49ers snapped the ball. They had enough time to stop everything, but they allowed the play to continue. Jim Harbaugh gave the officials an angry lecture during the next stoppage.

This crew apparently had issues with preventing things from happening. They forgot to stop the clock following a phantom face mask call on the Texans. Time continued to tick down and the first half expired as the 49ers were driving. The officials could have fixed this error, but they apparently didn't feel as though that was necessary, telling both teams that it was halftime. I don't think this is going to sit well with the coaches in the regular season.




Rams 31, Chiefs 17
The Rams needed to see something out of Sam Bradford after he showed nothing in the preseason opener beyond being able to dink and dunk. Well, it didn't take him very long to ease their concerns. Bradford's first pass was a perfect, 35-yard strike to Danny Amendola off play-action. His next attempt was a quick 23-yard delivery to Lance Kendricks for a touchdown.

Bradford finished 6-of-9 for 102 yards and two scores. He looked great; in fact, he had just one bad attempt where a long pass targeted for Steve Smith sailed out of bounds. It also has to be noted that Bradford had a clean pocket all evening. There seriously were no defenders in his face the entire game. This could be looked as a positive because the offensive line held up well, but Bradford is perceived to have David Carr syndrome, so I want to see what he does under pressure.

Here were Bradford's targets:

Danny Amendola: 3 (1 end zone)
Lance Kendricks: 2
Austin Pettis: 1 (1 end zone)
Steve Smith: 3


Rams' color analyst Marshall Faulk said it best: "Someone alert the NFC West and tell them that Sam Bradford has his blanky back!" Faulk was referring to Danny Amendola, Bradford's favorite target. Amendola saw three balls go his away against the Rams (tied for a team-high from Bradford), catching all of them for 58 yards and a touchdown. Amendola has PPR upside and is worth a look in the final rounds.


Steven Jackson does not look like he's wearing down. He ran with burst and power against the Chiefs, totaling 49 yards on just seven carries. If Sam Bradford is back to 2010 form, Jackson could have one final, big season.


As for the Rams' rookies, Isaiah Pead was really unimpressive. He had minus-5 rushing yards on six attempts and two catches for minus-3 yards. He made a horrible decision late in the second quarter, running backward trying to reverse field. He took a loss of nine yards. He made up for it later, leaping over the pile from the 1-yard line to score a touchdown in the third quarter.


Brian Quick and Chris Givens both saw action, but only with Kellen Clemens and the rest of the second team. Quick (3 catches, 20 yards) nearly scored a touchdown, but was brought down at the half-yard line. The faster Givens (2 catches, 27 yards) was the more impressive of the two, but it's still early.


Undrafted rookie quarterback Austin Davis was pretty impressive for the second week in a row. He went 5-of-7 for 70 yards. He should have thrown a touchdown, but saw Austin Pettis drop an easy catch. Davis should be able to overtake Kellen Clemens for the No. 2 job sometime in the near future.


Rookie kicker Greg Zuerlein drilled a 52-yarder. Faulk was loving it: "That looked like a chip shot! The ball was still going up when it hit the net. The only kicker I've seen do that is Sebastian Janikowski." It's worth noting that Zuerlein's nickname, per the Ram announcers, is "Young GZ."


As for the Chiefs, Matt Cassel went 13-of-18 for 142 yards. There's nothing really special to say; Cassel was solid and made some nice throws, but didn't do anything noteworthy.

Here were Cassel's targets:

Jonathan Baldwin: 3 (1 end zone)
Kevin Boss: 5
Jamaal Charles: 2
Shaun Draughn: 2
Dexter McCluster: 4
Tony Moeaki: 2
Jake O'Connell: 1


Jamaal Charles saw lots of action on the first two drives. He had five touches - three carries for 17 rushing yards and two catches for 18 receiving yards. Charles then gave way to Peyton Hillis, who didn't really get many touches until the Chiefs entered the red zone in the second quarter. He scored a touchdown from the 1-yard line. It's also worth noting that third-string running back Shaun Draughn was in the backfield on a 3rd-and-3 with the starters. He was given a carry, but couldn't gain a single yard. I'm still not sure what Draughn is doing on the field with the first-stringers.


Matt Cassel has not looked like he's clicked with Jonathan Baldwin through two preseason games. Baldwin saw three targets from Cassel against the Rams, catching only one for seven yards. Making matters worse, he lost a fumble after making that reception. With Dwayne Bowe back and Dexter McCluster getting lots of targets, Baldwin's fantasy value has diminished a bit.


Kevin Boss saw a team-high five targets from Matt Cassel at St. Louis. He caught four of them for 62 yards. It seems like he will be Cassel's go-to guy in the intermediate passing game instead of Tony Moeaki.


More inept officiating: The refs weren't too awful in this game. They missed a really obvious hit to the helmet on the Ricky Stanzi during a fourth down at the end of the third quarter. Poor Stanzi was hit so hard that his head almost fell off. Even the Rams' play-by-play guy was irate that no flag was called on his own team.

The one amusing moment was when the official was making a penalty announcement. He forgot to turn his microphone on. Not only that, but he was speaking while the public address announcer was saying something about buying tickets. If a ref calls a penalty and no one hears it...




Seahawks 30, Broncos 10
All eyes were once again on Peyton Manning, who was making his first home start as a Bronco. The crowd greeted him with a standing ovation when he ran toward the huddle for the first time. It was so loud that he had to wave his hands to indicate that he needed quiet. The fans immediately silenced themselves, almost as if they were thinking, "Ah s***, we're screwing up Peyton, let's shut the f*** up!"

Manning went 16-of-23 for 177 yards and two interceptions. It was a pretty mixed-bag performance. The first pick wasn't really his fault - it was tipped by a Seattle lineman - but the second was an awful overthrow toward Joel Dreessen. Manning also took only one hit, which wasn't even that hard. It's still unclear if his surgically repaired neck can survive an arduous season.

On the bright side, Manning really caught fire in the 2-minute drill. He suddenly became really sharp, but his teammates derailed a possible touchdown drive. Center J.D. Walton was whistled for a strange unnecessary roughness penalty. Also, Eric Decker dropped a pass, and then Jacob Tamme had the ball bounce out of his hands as well, this time in the end zone for what should have been a score.

Here were Manning's targets:

Lance Ball: 4
Eric Decker: 3
Joel Dreessen: 3
Brandon Stokley: 4
Jacob Tamme: 4 (1 end zone)
Demaryius Thomas: 4


Jacob Tamme is being overdrafted in fantasy leagues. Peyton Manning seems to be spreading the ball around evenly to Tamme and Joel Dreessen. Tamme had just one more target than Dreessen against the Seahawks, with both snagging two receptions.


Willis McGahee ran well, rushing for 28 yards and a touchdown on eight carries. He was stuffed on two consecutive goal-line tries on the second drive, but finally found the end zone on the third attempt. It was nice to see the Broncos stick with McGahee in short yardage after he failed twice.


Brock Osweiler played the entire second half but was really unimpressive. He went 5-of-11 for just 38 yards. The main concern with Osweiler is that he holds on to the ball too long because he can't read pressure. For instance, he took a sack on one occasion when he had a man wide open. John Fox's staff is really going to have to coach him up.


Some good news for the Broncos is that another of their rookies fared well. Derek Wolfe didn't register a sack, but he was dominant for the most part for the second consecutive week.


As for the Seahawks, Matt Flynn had a miserable night. He went 6-of-13 for 31 yards. It's worth wondering, however, how well Flynn could have played had he not tried to force the issue to Terrell Owens.

Flynn targeted Owens five times, but the two couldn't hook up a single time. The first instance was a miscommunication, as Owens ran an incorrect route. The second was Flynn's fault because he threw way behind Owens. Later on, Owens dropped a perfect 46-yard touchdown bomb. The ball seriously dropped right through his arms.

Of course, Flynn can't blame Owens too much for his scoreless night because he had Braylon Edwards open in the end zone, but he overshot him. Otherwise, Flynn settled for mostly short stuff and nearly tossed a pick when looking for Charly Martin. Flynn needs to improve soon if he doesn't want to lose his job to Russell Wilson. I'll have more on him later.

Here were Flynn's targets:

Deon Butler: 3
Braylon Edwards: 1 (1 end zone)
Charly Martin: 1
Cameron Morrah: 1
Terrell Owens: 5 (1 end zone)
Golden Tate: 2 (1 end zone)
Leon Washington: 2
Kellen Winslow: 1


The Seahawks need to cut Terrell Owens immediately. He's useless. He ran the wrong route on the first drive, which resulted in an incompletion. He couldn't get open against Champ Bailey for most of the evening. The one exception occurred in the second quarter when he had a God-awful drop in the end zone for what would have been a 46-yard touchdown. Matt Flynn targeted Owens five times, yet Owens couldn't come up with a single catch. That's because he's completely finished. He's taking away opportunities from younger receivers who deserve a chance, and it's only a matter of time before he starts hurting team chemistry.


Marshawn Lynch started and ran well, gaining 37 yards on six carries. He then gave way to Robert Turbin, who once again had a quality showing. The Turbinator tallied 34 yards on 10 attempts. He was also only one of two Seahawk players (Deon Butler) to have more than one reception (2 catches, 10 yards).


I mentioned I'd get to Russell Wilson earlier. He was outstanding, going 10-of-17 for 155 yards and two touchdowns. Unlike Flynn, he completed numerous long throws, including a beautiful 26-yard dart to Anthony McCoy on a 3rd-and-17. Wilson also somehow got the ball to a receiver as he was being brought down for a sack. The Bronco announcers were amazed, saying that it was one of the best 8-yard receptions they had ever seen.

Wilson did some other great things too. He was able to get Denver to jump offside twice with a hard count. He also scrambled well, gaining 33 rushing yards on five carries. He's very elusive; during his first drop-back in the pocket, Wilson somehow broke out of two potential sacks to pick up a positive gain.

I liked Wilson going into this preseason, and I'm only further convinced that he can be a successful starter in this league. It would not surprise me at all if he took over for Flynn sometime in the near future. When that happens, he'll have to be added in fantasy because of his ability to pick up rushing figures.


Broncos' announcing ineptness: The play-by-play guy called Jacob Tamme "Jason Tamme," but the more egregious blunder was the color analyst's "keys to the game," which included "Keep Manning healthy" and "homefield advantage."

Homefield advantage? In the preseason? What the hell does homefield advantage matter in the preseason?

The guy's reasoning for this? "The Broncos need to get back to their winning ways at home." Ah, OK. Much more important than keeping everyone else healthy in a meaningless game.


More officiating ineptness: The referees have all made bad calls throughout the preseason. They've also seemed unsure of themselves when addressing the crowd, none so more than the guy in charge of the Broncos-Seahawks game. Here were three of his announcements:

"Personal foul, Number... 76...? On the... kicking team?"

This wasn't too bad, but it sounded like he was asking himself questions.

"Personal foul, unnecessary reference, No. 93."

A movie reference? Perhaps a literary reference? What sort of unnecessary reference did No. 93 commit?

"The ruling on the field is confirmed. The r... the runner... (10-second pause) went past the 20, err, 30-yard line."

The pause was amusing because he just stopped talking and stared into space. It's almost like he was thinking, "If I stop officiating this game and go home right now, will anyone notice?"




Chargers 28, Cowboys 20
Jason Witten and Miles Austin-Jones did not play in this game, so Tony Romo didn't have two of his top three weapons. With that in mind, he performed pretty well, going 9-of-13 for 75 yards in just one quarter of action. He was victimized by a Felix Jones drop and Dwayne Harris' inability to stay inbounds in the end zone, which would have resulted in a pass-interference penalty.

Here were Romo's targets (no Austin or Witten):

Cole Beasley: 1
Dez Bryant: 4 (1 end zone)
Dwayne Harris: 1 (1 end zone)
Felix Jones: 2
DeMarco Murray: 2
Kevin Ogletree: 3 (1 end zone)
Jamize Olawale: 1
John Phillips: 1


Dez Bryant needs to be highlighted, but not because he led the Cowboys in targets from Tony Romo. He caught just two passes for 15 yards, but was still impressive because he made an outstanding, leaping, one-armed grab in the end zone, but unfortunately could only place one foot inbounds. Despite the pedestrian stats, Bryant still showed well in just one quarter of action.


DeMarco Murray looked great at San Diego. He rushed for 12 yards on three carries and also caught two balls for 18 receiving yards. If he weren't so brittle, he'd be a late first-round pick. I'd take him in the third round, but he's too risky to be chosen earlier. Forgive me if I'm scared of injury-prone Cowboy running backs.


Speaking of fragile Dallas runners, Felix Jones rushed for 10 yards on three attempts, looking slow in the process. He also dropped a pass. As I learned last year, he really sucks.


Philip Rivers' completion percentage was nearly perfect; he went 13-of-15 for 109 yards in one full half of action. However, his two incompletions were both picked off. The first was a severe underthrow to Robert Meachem. The second was strange; the ball hit Vincent Brown in the helmet and then literally was tipped about five times by cornerback Brandon Carr until he finally secured it. Carr had both interceptions.

Here were Rivers' targets:

Ronnie Brown: 4
Vincent Brown: 1
Malcom Floyd: 3
Antonio Gates: 1
LeRon McClain: 1
Robert Meachem: 2
Michael Spurlock: 3


Ronnie Brown saw most of the first-team touches with Ryan Mathews out against the Cowboys. He rushed for 16 yards on six yards, but more impressively caught four balls for 37 receiving yards. It's proof that he can be a serviceable fantasy running back on the multiple occasions in which Mathews will be injured this season.


Another quiet outing by Robert Meachem. He saw two targets in one half of action versus Dallas. He caught one for seven yards. The other was underthrown in his direction, which resulted in an interception. Philip Rivers and Meachem just haven't been on the same page all summer. Meachem is someone to avoid in your fantasy draft.


Vincent Brown is a late-round sleeper I had my eye on. He had an impressive 18-yard touchdown in this contest, but as he was going to the ground, a defender landed on his foot, which rolled over to the side. It was not pretty to watch. Brown couldn't get up and yelled in agony. He was carted off and has since been ruled out for eight weeks with a broken ankle. What a shame.


More inept officiating: The refs made a call at the end of the first quarter. They announced there were offsetting penalties, but then they just stood around talking for five minutes. Jason Garrett and Norv Turner yelled at the refs, who ignored them and continued to converse with each other. At this point, the frustrated Chargers' color analyst said, "They told us what the penalties are, but they haven't explained it to us." The play-by-play guy then quipped, "I think they're explaining it to themselves."

Finally, the official addressed the crowd: "Correction on the penalty. The receiver went out of bounds ohs... oh... there will be no pass interference."




Giants 26, Jets 3
I've always maintained that Tim Tebow would replace Mark Sanchez as the starter by Week 5. I'm now thinking it'll be sooner than that.

Sanchez had another pitiful preseason performance Saturday evening. He completed 9-of-11 passes, but for only 59 yards. When he wasn't throwing short checkdowns, he was spending way too much time in the pocket. He was sacked four times (one occasion was nullified by a penalty), thanks to the futility of right tackle Wayne Hunter, who had no chance against the awesome Giant pass-rushers.

As if his evening wasn't bad enough, Sanchez tossed a pick-six near halftime. He was targeting Patrick Turner when he tossed the ball off his back foot. Hosley easily took it back to the house.

If I were a Jets' fan, I would have been enraged by Sanchez's third-quarter interview when he told the sideline reporter that he was "hot" prior to the interception. As forum member Daniel Brown correctly pointed out, "Maybe he meant hot garbage." Indeed. Sanchez stinks and needs to be benched immediately.

Here were Sanchez's targets:

John Conner: 1
Jeff Cumberland: 1
Shonn Greene: 2
Dustin Keller: 2
Patrick Turner: 3
Jordan White: 2


The only play-maker the Jets have on offense is Tim Tebow. He entered the game in the third quarter. He had a nice opening drive, but struggled after that, thanks in part to his anemic offensive line. Tebow, who finished 5-of-14 for 69 yards (and five rushing yards), completely missed Stephen Hill, who was wide open in the end zone in the third quarter. It should be noted though that this was not a real game, so there was no Tebow Time in the fourth quarter. There will be when it counts.


Shonn Greene rushed for 36 yards on 11 carries against the Giants. He had a couple of quality runs, but was otherwise unspectacular. He needs to be upgraded this offseason. In the meantime, avoid him in your fantasy draft because he's not very good. He's also going to lose goal-line carries to Tim Tebow.


Eli Manning had a mixed game. He finished 7-of-14 for 62 yards and an interception. Manning made some really nice throws and was screwed out of a touchdown when Jets' cornerback Kyle Wilson committed an uncalled but blatant pass interference in the end zone on Victor Cruz. On the other hand, Manning's pick was very peculiar; it looked like he wanted to throw the ball away, but he heaved it right toward LaRon Landry. Manning also had Victor Cruz open deep on the first possession, but his pass sailed out of bounds.

Here were Manning's targets (no Hakeem Nicks):

Ramses Barden: 2
Martellus Bennett: 1
Victor Cruz: 8 (1 end zone)
Domenik Hixon: 1
D.J. Ware: 1


With Hakeem Nicks out, Victor Cruz was targeted a whopping eight times, catching five of those balls for 51 yards. He should have scored a touchdown, but Kyle Wilson got away with an obvious pass interference in the end zone. I've been looking for signs that Cruz could regress after his unbelievable run last year, but I haven't seen any.


Ahmad Bradshaw left the Jets' game early to get X-rays on his right hand. I already prepared to drop him in my 2012 Fantasy Football Running Back Rankings, but it turns out that he did not have a cast on his hand once he came out of the locker room. That's good news, but it's a reminder of how brittle Bradshaw is.


D.J. Ware curiously replaced a seemingly injured Ahmad Bradshaw in the first half. David Wilson didn't see any action until the second half. Ware was awful - he had 15 yards on 11 carries - but it's still a bit troubling that Wilson didn't serve as the No. 2 back. Wilson tallied 14 yards on five attempts.


More inept officiating: Lead official Don King - I'm not making his name up - whistled the ball ready for play on the first drive, apparently unaware that someone on his crew called a penalty. He then announced: "Offsides, on the defense. That's a 5-yard penalty. But the penalty has been declined." I've never heard it called like that before. It's almost like he was building suspense.

The refs marked the Jets for a fourth down in the third quarter. An irate Rex Ryan barked at them to measure. The officials, however, didn't seem like they were going to do it but eventually did, and it turned out the Jets did indeed secure a first down. Ryan sarcastically yelled, "thank you," followed by a bunch of expletives.




Jaguars 27, Saints 24
I saw the box score before I watched this game. Did Blaine Gabbert really go 13-of-16 for 112 yards and two touchdowns, or is that a misprint? I wondered. Well, Gabbert really did finish with those numbers, but was it legitimate? I tuned in and found out.

Gabbert played somewhat well. He made some mistakes - he missed an open Marcedes Lewis in the end zone on one incompletion and also nearly tossed a pick while targeting Lewis - but almost all of his throws were quickly released and precisely on target.

Quarterbacks coach Greg Olson has done a great job working with Gabbert and installing a quick-strike offense where Gabbert doesn't have to deal with pressure as much. So, while Gabbert was able to compile some nice statistics, teams are eventually going to catch on and realize that the Jaguars will seldom try anything deep. It also has to be noted that Gabbert barely saw any pressure in this game. I didn't keep track, but I think he was hit only two or three times.

There's no question that Gabbert has improved compared to last year, but there was nowhere to go but up. It still remains to be seen if he can even be an average starter in this league, and we won't know that until he battles defenses in the regular season who actually attempt to confuse him with creative blitz schemes. How will Gabbert react when he's sacked a couple of times? That's when we'll know.

Here were Gabbert's targets:

Justin Blackmon: 4
Colin Cloherty: 2
Rashad Jennings: 1
Greg Jones: 1
Marcedes Lewis: 3
Montell Owens: 1
Laurent Robinson: 1
Mike Thomas: 5 (1 end zone)


Justin Blackmon caught all four of his targets for 48 yards and a touchdown at New Orleans. He looked good, as he broke tackles on numerous occasions. With Blaine Gabbert perhaps being somewhat functional, Blackmon is back on the fantasy radar.


Rashad Jennings started again for Maurice Jones-Drew. Jennings tallied 62 yards on 11 carries, thanks to many missed tackles. The Saints had issues with tackling all evening; the Saints' announcers noted that their team had seven missed tackles in the first 18 minutes of the game.


Drew Brees looked like he usually does, going 10-of-13 for 133 yards and a touchdown. He lost a fumble when he was strip-sacked by Jeremy Mincey, but was otherwise pretty flawless.

Here were Brees' targets:

Marques Colston: 2
Jimmy Graham: 2
Devery Henderson: 4 (1 end zone)
Mark Ingram: 1
Lance Moore: 1
Pierre Thomas: 2


I said it before, but I think Devery Henderson is a nice late-round flier. Henderson has always produced well when one of the other receivers was out, and Robert Meachem, of course, is gone. Henderson had more targets from Drew Brees (4) than any other Saint versus the Jaguars. He hauled in all four balls for 31 yards and a touchdown.


Mark Ingram rushed for 13 yards on five carries against Jacksonville. He also caught a pass for another 13 yards, which was encouraging to see. I like Ingram as an RB2 this year. He's healthy and running strong.


More inept officiating: It didn't seem like the refs understood how to use the replay equipment. There was one play in which Devery Henderson scored a touchdown but the ball hit the ground and moved. The Saints' announcers conceded it would be incomplete after review, but the official ruled it a catch. Later in the game, the Saints came up with an interception, but it was overturned even though it never hit the ground. The announcers laughed for a few minutes.

And if this wasn't bad enough, the official then had to waste five more minutes reviewing the play again to see what down and distance it should have been for Jacksonville. Interim head coach Joe Vitt was seen on the sideline shaking his head in disgust.

This was not the only time the official took a long time on a review. He did the same thing earlier on a Drew Brees fumble replay. The Saints' play-by-play guy even complained, "The second quarter took forever."

Oh, and speaking of the Saints' announcers...


Saints' broadcasting ineptness: These guys were really annoying because they constantly had to involve their sponsors with whatever they said. For example, whenever a team reached the red zone, they said, "They're in the Slap Ya Mama red zone!" or whenever a first down was achieved, "That's a Louisiana Seafood first down!"

The New Orleans broadcasters are also notorious for talking about irrelevant things throughout the telecast. The starters were still on the field when they interviewed Dell Demps, the general manager of the New Orleans Hornets. Here's proof: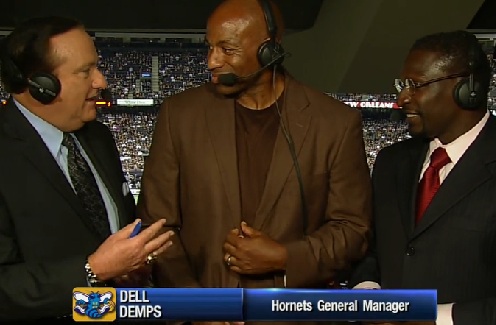 I can't stress it enough that the starters were on the field. I have to put it in caps with some swear words. DREW F***ING BREES WAS THROWING PASSES WHEN YOU WERE INTERVIEWING THIS BASKETBALL GENERAL MANAGER, A**HOLES!

The sad thing is that these announcers didn't even seem to care about talking to Demps. Take a look: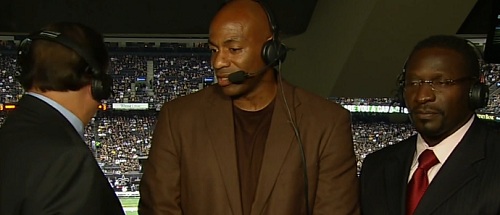 The white guy turned around and the black guy was falling asleep while Demps was speaking. So, why were they interacting with him in the first place? Ugh.

Oh, and here's further proof that these clowns barely pay attention to the game: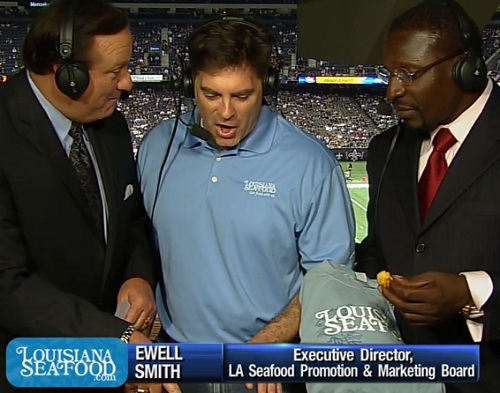 Great! Let's eat some seafood instead of doing our jobs and talking about the game!




Vikings 36, Bills 14
Having Percy Harvin at his disposal for the first time this preseason, Christian Ponder put together a solid performance against the Bills, going 10-of-13 for 136 yards and a touchdown in less than a half of action. His protection still isn't very good - he took two sacks - but he played like the quarterback we saw in the middle of the 2011 season, rather than the one who struggled toward the end. The one concern with Ponder remains, however. It's going to be a challenge for him to stay healthy again, especially with his offensive line struggling so much.

Here were Ponder's targets:

Rhett Ellison: 1
Jerome Felton: 1
Toby Gerhart: 1
Percy Harvin: 1
Lex Hilliard: 1
Michael Jenkins: 1
Kyle Rudolph: 2 (1 end zone)
Jerome Simpson: 3 (1 end zone)


Kyle Rudolph, who caught one pass for seven yards, left the game with what looked like a concussion. Fortunately, he tested negatively for one afterward.


Jerome Simpson led all Viking starting receivers with three catches for 43 yards against the Bills. He impressively leapt over Bills' safety Jairus Byrd on one of his receptions. It wasn't as pretty as last year's touchdown flip, but it was fun to see nonetheless. Keep in mind that Christian Ponder targeted Simpson more than anyone.


Toby Gerhart rushed for 30 yards on six carries and also caught a 19-yard pass. He did a good job of converting a 4th-and-1 on the second drive. He can be started as a solid RB2 in September, but his value will really drop off after that unless Adrian Peterson re-injures himself. Peterson, by the way, was standing on the sidelines with a t-shirt. One of the Viking announcers lamented that Peterson didn't put on pads tonight.


Rookie kicker Blair Walsh was wide right from 49 in the first half. Cause for concern? Not at all - because he hit from 47, 45, 40, 30 and 22 in this contest. The Minnesota play-by-play announcer declared his love for Walsh and also predicted that no team will score a kickoff return touchdown against the Vikings because Walsh constantly blasts the ball 10 yards deep into the end zone.


As for Ryan Fitzpatrick, he was a mediocre 8-of-11 for 58 yards and a touchdown. The completion percentage was nice, but most of his completions were short junk. He was also nearly picked on a weak-armed attempt to Derek Hagan along the sideline in the second quarter.

Here were Fitzpatrick's targets:

Derek Hagan: 1
Fred Jackson: 3
Steve Johnson: 2
Donald Jones: 1
David Nelson: 2
Lee Smith: 1
C.J. Spiller: 1


Buffalo's starting offense played four drives, and Fred Jackson was the featured running back on the first, third and fourth series. Jackson rushed for 27 yards on five carries and also caught three balls for 14 more yards. He was far more impressive than C.J. Spiller, who took an 8-yard rushing loss because he foolishly ran backward. Spiller had just two carries for minus-3 yards, which is good news for all Jackson fantasy owners. Jackson is still going to receive the majority of the touches in Buffalo's backfield.


It's worth noting that third-round rookie receiver T.J. Graham caught a 64-yard bomb from Vince Young to open the second half. He had another 5-yard reception.


Two Buffalo quarterbacks (Tyler Thigpen, Brad Smith) tossed pick-sixes late in the fourth quarter - both to rookie linebacker Audie Cole.


More inept officiating: There wasn't anything too bad in this game, though the announcers noted that this particular crew was awful last week, whistling a guard for a snap infraction (when that can only be called on the center) and penalizing a team 10 yards for a defensive hold (should have been five yards).

It was funny when a Buffalo cornerback mugged a Viking receiver in the end zone in the third quarter. The announcers laughed about it and asked general manager Rick Spielman what he thought about it. He chuckled and responded: "I'm not allowed to comment on that."




Cardinals 31, Raiders 27
The Cardinals received some bad news after this game. Left tackle Levi Brown, who was just re-signed this offseason, could be done for the year with torn triceps. Brown isn't very good, but he's the best option Arizona had on its beleaguered offensive front. His absence will be pretty huge.

Kevin Kolb already had issues dealing with any sort of pressure, so he can't like this very much. Not that he's going to be the starter or anything. Kolb played for most of the first half in this contest, and he was absolutely awful. Seriously, there's now a greater chance he'll be cut rather than be named the starter.

Kolb went 3-of-6 for 22 yards, but that doesn't tell the whole story. He once again showed no pocket awareness whatsoever. He took way too many unnecessary sacks. On one occasion, he panicked and threw the ball to his lineman. He was also nearly responsible for intentional grounding in the end zone. He was fortunate to be ruled out by a fraction of an inch, but then he just took a sack in the end zone by Tommy Kelly on the next play for what was ruled a safety. The crowd showered Kolb with boos.

Here were Kolb's targets (yes, Larry Fitzgerald did play):

Early Doucet: 3
Javarris James: 1
Anthony Sherman: 1


John Skelton was on the field for just one real drive and - surprise - he looked much better than Kolb. Skelton was 3-of-3 for 23 yards and a touchdown. He'll start next week's preseason game and presumably the Week 1 tilt versus Seattle.

Here were Skelton's targets:

Todd Heap: 1
Rob Housler: 1
Anthony Sherman: 1


Ryan Williams finally saw the field. He started for the Cardinals against the Raiders with Chris Wells still out, and he looked pretty good. He ran for 25 yards and a touchdown on five carries. His score was a conversion from the 3-yard line, so his ability to get short yardage is good news if Arizona opts to roll with him as its starter at some point this season. Williams seems healthy, so he's worth drafting around Round 10 as a running back with upside.


Michael Floyd didn't catch a single pass in his second preseason game. He was targeted just once, dropping a ball from Ryan Lindley. It's a concern that he hasn't gotten anywhere close to the starting lineup yet.


Kevin Kolb wasn't the only quarterback who struggled in this contest. Carson Palmer was very pedestrian versus the Cardinals, going 13-of-24 for 107 yards and an interception. The pick was a really poor decision thrown toward Richard Gordon into double coverage. Palmer was nearly picked another time earlier when he floated out a careless pass toward Gordon. Adrian Wilson nearly came up with the turnover.

Palmer could have tossed two touchdowns. Darrius Heyward-Bey and Rod Streater dropped consecutive balls in the end zone. Later, Palmer had Darren McFadden open for a score, but threw an ugly pass that McFadden had to catch along the sideline. McFadden couldn't keep both feet inbounds.

Here were Palmer's targets (no Denarius Moore):

Jacoby Ford: 2
Mike Goodson: 2
Richard Gordon: 2
Darrius Heyward-Bey: 5 (1 end zone)
Darren McFadden: 2
Marcel Reece: 1
Rod Streater: 10 (2 end zone)


Rookie receiver Rod Streater led the Raiders with a whopping 10 targets against the Cardinals, two of which were in the end zone. Streater came up with seven balls for 43 yards. He dropped a touchdown, but played pretty well otherwise. He may not be much a factor this year once Denarius Moore returns from his injury, but he's someone worth monitoring in the event that one of the starting wideouts gets hurt.


Darrius Heyward-Bey saw five targets from Carson Palmer versus Arizona, but came up with one catch for 14 yards. He could have scored a touchdown, but dropped a pass in the end zone. Palmer doesn't look very good, so Heyward-Bey will get a stock down this week.


Denarius Moore continues to miss action with a hamstring injury that has lingered for a month now. This is now troubling, so I'm going to move him down my 2012 Fantasy Football Wide Receiver Rankings.


Speaking of injured Raider receivers, Jacoby Ford hurt his foot and was seen on crutches afterward. He's made out of glass.


Darren McFadden had a couple of nice gains, rushing for 34 yards on nine carries. He was stuffed twice near the goal line, but he should still get opportunities there, as backup Mike Goodson lost two fumbles in this contest.


Terrelle Pryor stepped into this game briefly when Matt Leinart injured his finger. He went just 2-of-3 for 9 yards (and a 1-yard scramble), but he was nearly picked on a deep shot into the end zone.


More inept officiating: "Holding, defense, on the linebacker." Seriously, don't these refs understand that you're supposed to call out the number of the penalized player?

The official in this contest seemed completely unsure of himself. He stuttered through some announcements, one of which sounded like, "The ruling is... the ruling is... the ruling is... down by contact."

The worst officiating instance occurred when the zebras gave the Raiders a sack of Kevin Kolb even though Kolb was in the grasp for a second and managed to release the pass, which was caught by his lineman. It should have been an illegal touching penalty; instead, they called it a sack, which confused the two geriatric Raider announcers. Speaking of whom...


Raiders' broadcasting ineptness: Two of the guys on the Raiders' broadcasting network sounded like they were 80 years old. They struggled to finish sentences and seemed confused at times. For instance, the Cardinals were up 10-8 and scored a touchdown to make it 17-8. One of the Raider announcers said: "They have the lead back." I also found it amusing that they used the old Cardinals' logo in their graphics because it seemed very appropriate.

But don't take my word for it:





There's the old logo, but here's proof of how horrible the Raiders' broadcasting network is. Seriously, this is embarrassing: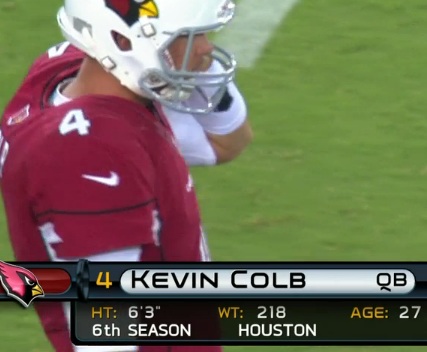 Panthers 23, Dolphins 17
Ryan Tannehill started this game, but he didn't perform very well. He finished 11-of-23 for 100 yards, numbers that are pretty indicative of how he played. Tannehill had accuracy issues all evening, as many of his passes were too low or way wide of his intended receivers. There was a sequence in which Tannehill failed to get the ball to Roberto Wallace on three of four attempts, throwing way off the mark. It should also be noted that four of Tannehill's passes - including his first two - were batted down.

It wasn't all on Tannehill though. He was constantly pressured. Charles Johnson was harassing him on almost every play, and even when he exited the contest, young pass-rushers Thomas Keiser and Frank Alexander did the same thing.

The good news for Tannehill? He was better than Matt Moore, who went 5-of-15 for 57 yards. Moore wasn't awful - there were two pass-interference penalties and he was hurt by some drops - but he didn't do anything to convince the coaching staff that he should be the opening-week starter.

Here were Tannehill's targets:

Davone Bess: 2
Reggie Bush: 2
B.J. Cunningham: 2
Anthony Fasano: 3
Jeff Fuller: 2
Lamar Miller: 1
Marlon Moore: 3
Legedu Naanee: 1
Daniel Thomas: 1
Roberto Wallace: 4


Miami's receiving corps is a mess. Roberto Wallace led the team in targets from Tannehill, but he came up with only one reception for 11 yards. This is an area to completely avoid in your fantasy draft until further notice.


As for the tight ends? Stay away from them too unless you have to start two, in which case Anthony Fasano is a good backup. It looks like Fasano will continue to be on the field often because Michael Egnew struggled. He caught one pass for six yards and also had a bad drop in the third quarter.


Cam Newton couldn't get anything going last week because he constantly had Houston defenders in his face. Things were much easier this time because the Dolphins couldn't put any pressure on him. Newton was brilliant as a result, going 8-of-11 for 119 yards and a touchdown. This doesn't even include a 39-yard pass-interference flag on Sean Smith, who mugged Steve Smith downfield. There was also 29-yard gain to DeAngelo Williams on a screen that was nullified because Brandon LaFell blocked illegally downfield.

Here were Newton's targets:

Ben Hartsock: 1
Brandon LaFell: 2
Greg Olsen: 2
Steve Smith: 3
Jonathan Stewart: 1
DeAngelo Williams: 3


Steve Smith looked like his usual self. He tied for the Panther lead in targets from Cam Newton (3). He had just one grab for 15 yards, but as mentioned earlier, he drew a 39-yard pass-interference flag on Sean Smith. Steve Smith spent the rest of his time fighting with Miami's other cornerback, Vontae Davis. The two had to be separated twice, with Davis earning a personal-found penalty on one occasion.


Greg Olsen led the Panthers with 33 receiving yards on two catches (and two targets) versus Miami. Cam Newton will continue to look toward Olsen frequently, now that he's the only reliable tight end on the roster.


DeAngelo Williams had a great 14-yard rush on the first carry of this game. Jonathan Stewart then took the field. The two continued to rotate carries, with Stewart converting on the goal line of the second drive. However, Stewart went down in pain following a reception on the ensuing possession. He walked into the locker room minutes later. Fortunately, it was just a strained left calf, so he'll be OK.


I noted last week that the Panthers' broadcasting network had a segment called "Sweet Tweets" where they posted random tweets from Panther fans. They were stupid and pointless, however, with one being: "Derek Anderson moving the chains. Let's go Panthers!"

This week? From @DallasCameron3:

Louis Murphy is gonna be one of the leagues top receivers in a few years alongside Steve Smith.

Oh, OK. So, not only is Murphy destined to be an elite wideout in a few years; Steve Smith is going to somehow continue to be dominant as he's approaching 40. That's pretty realistic.

Another Sweet Tweet:

Prediction: Kuechly follows Cam and wins Rookie of the Year!

What's wrong with this? Absolutely nothing. It's very possible that Kuechly could do it. But that's not what the Panthers' play-by-play guy suggested when he said, "It would be hard for a defensive guy to do it, but it's not unprecedented."

Umm... you do know that there are separate Offensive and Defensive Rookie of the Year awards, right?

OK, let's do one more:

Joe Adams the Houdini! Hope he can pull of some big plays for us!

An even better trick would be getting you to pass your spelling test.


More inept officiating: The refs didn't seem to know what down it was in the middle of the opening drive. It literally took them five minutes to figure it out, and they eventually gave the Panthers a random 1st-and-2. Carolina couldn't get a first down out of that, oddly enough.

The referee was even more confused on the following drive. His announcement: "Holding, off... hold... uhh... offsides, defense."




Titans 30, Buccaneers 7
Jake Locker may have lost his chance to secure the starting quarterback job on the Titans. He was given the opportunity to solidify his status against the Buccaneers, but he failed miserably.

Locker went 4-of-11 for 21 yards and an interception. The pick was something you'd expect to see out of a high-schooler; Locker threw ridiculously late across his body over the middle of the field, allowing Ahmad Black to come up with an easy pick. Locker managed to pick up a 21-yard scramble at the end of the first quarter, but was awful otherwise. He simply didn't look comfortable in the pocket, and he was nearly picked off a second time when he stared down Kendall Wright in the end zone. After that, Locker showed that he didn't learn from his earlier mistake, throwing across his body again near the end of the first half. Fortunately for him, the Tampa reserves were on the field; otherwise, he probably would have tossed a second interception. Locker can no longer be considered the favorite to start after this miserable performance.

Here were Locker's targets:

Jared Cook: 4 (1 end zone)
Darius Reynaud: 1
Javon Ringer: 1
Craig Stevens: 2
Nate Washington: 1
Kendall Wright 4 (1 end zone)


There isn't much that can be said about how Matt Hasselbeck looked. He went 4-of-5 for 29 yards, but battled the Tampa Bay reserves in the two drives sandwiching halftime. He'll start next week.


The good news for the Titans is that Chris Johnson ran extremely well against the Buccaneers. Johnson didn't break any really long gains, but he totaled 46 yards and two touchdowns on 10 carries. He was way more decisive than he was last week at Seattle, where he just danced around, waiting for something to happen. My confidence is Johnson is restored.


Jake Locker wasn't the only quarterback throwing dumb passes across his body. Josh Freeman also committed this error. Fortunately for him, he was only nearly picked. He finished a mediocre 4-of-10 for 21 yards and a touchdown.

Here were Freeman's targets:

Vincent Jackson: 3
Danny Noble: 2
Mike Williams: 3 (1 end zone)


Josh Freeman tried to get something going with Vincent Jackson. He targeted him thrice, but Jackson could only come up with one catch for eight yards. Freeman and Jackson haven't looked like they're on the same page through two preseason games. Perhaps they'll gel eventually, but this has to be a concern. Avoid Jackson in your fantasy draft because he's going way too early.


On the other hand, Mike Williams really looks like he could have a bounce-back season. Josh Freeman seems way more comfortable throwing to his familiar target. Williams caught a 2-yard touchdown versus the Titans.


LeGarrette Blount and Doug Martin rotated series against Tennessee. Blount started, but Martin was the first running back on the field on all of the even drives. He also was in the backfield on third down. Martin (7 carries, 23 yards; another 16 yards wiped out by a hold on Jeremy Zuttah) ran much better than Blount (8 carries, 11 yards), who injured his knee or groin at the end of the first half. Blount limped off the field, but walked around on the sideline afterward, appearing to be OK. Even if Blount is fine, this was still an encouraging evening for Martin because he proved that he was the better talent.


The play-by-play announcer for this game was Chris Myers, who ruined Ian Johnson's famous proposal to his girlfriend several years ago. Myers made one glaring error in this broadcasting, calling Dan Orlovsky "Greg Orlovsky."


More inept officiating: Myers did say something funny though. The refs were taking forever making some of the calls, so Myers quipped: "They might get the referee for a delay of game to get things moving here."

The officials sped up afterward, but maybe they went too quickly at times. Here was one of the announcements: "Offsetting fouls on the kicking team and the receiving team. First down." Myers and color analyst John Lynch responded, "What, no numbers? Who was that on?"

Even more pathetic, one of the officials injured his foot and had to leave the game. There was an emergency substitute who took his place. Yes, there was a replacement ref for the replacement ref. Perhaps that's why we didn't get the numbers on some of the penalties.




Lions 27, Ravens 12
Forum member Delta said it best in the live in-game thread: "If Megatron dodges the curse and Stafford stays healthy, the Lions offense could be positively ridiculous this season."

Detroit looked downright lethal versus Baltimore, as Matthew Stafford went 12-of-17 for 184 yards and two touchdowns in less than a half of action. This was highlighted by a beautiful 57-yard bomb to Calvin Johnson in the second quarter. Ser Stafford's only poor throw was a near-pick when he targeted Brandon Pettigrew. He was pretty flawless otherwise. He should be the fourth quarterback off the board in fantasy drafts.

Here were Stafford's targets:

Calvin Johnson: 8 (1 end zone)
Stefan Logan: 2
Brandon Pettigrew: 2
Kevin Smith: 3
Keiland Williams: 1
Titus Young: 3


Calvin Johnson had a monstrous outing at Baltimore, catching five balls for 111 yards and a touchdown in a quarter and a half of action. He also drew a pass-interference flag. He schooled the Ravens' secondary, particularly Jimmy Smith, who simply had no chance on one end-zone throw, where Megatron simply caught a ball over the second-year cornerback's head. The only concern, of course, with Megatron is the Madden Curse.


Titus Young saw three targets from Matthew Stafford. He caught only one, but he made it count. He grabbed the ball, broke a tackle and leapt into the end zone for a 24-yard score.


Ryan Broyles made his debut with the Lions. Coming off a torn ACL, the second-round rookie caught two balls for 26 yards. He won't be much of a factor this year, but he's someone to watch in 2013 and beyond.


Stafford and running back/return specialist Stefan Logan collided in the backfield in the second quarter. It looked comical at first, almost like something you'd see on a blooper reel, but at second glance, Logan fell into his quarterback because his leg buckled. He couldn't put any pressure on his foot on the sideline and he had to be carted into the locker room.


Kellen Moore went 10-of-15 for 96 yards in mop-up duty, with most of his completions being short junk. He was nearly picked on his first drive, prompting me to comment on the forum, "There's a Boise State fan crying in his room right now."


Missing top wideout Torrey Smith because of precautionary issues, Joe Flacco went 7-of-12 for 79 yards. He was OK; Jacoby Jones dropped one pass (though he made up for it with a nice 35-yard reverse later on), while several other incompletions were the result of nice pass break-ups by the defense, usually when guarding LaQuan Williams.

Here were Flacco's targets (again, no Torrey Smith):

Anquan Boldin: 3
Jacoby Jones: 1
Vonta Leach: 1
Bernard Pierce: 1
Ray Rice: 2
LaQuan Williams: 5 (3 end zone)


LaQuan Williams led the Ravens in targets from Joe Flacco with five, but came up with only two receptions for 22 yards. Don't read into this though, as Williams was playing with the ones because Torrey Smith was out with a minor ankle injury.


Bernard Pierce finished with one yard on four carries, but that stat is misleading. Pierce took a 14-yard loss on one play for a number of reasons, but it didn't even matter because there was a 15-yard face mask penalty. Pierce should have tallied 15 yards on three attempts, all of which came against Detroit's starting unit. He's worth adding in the late rounds as a handcuff for Ray Rice.


Baltimore fans were happy when rookie kicker Justin Tucker nailed a 50-yard field goal against the Lions. Tucker is battling Billy Cundiff for the job, and considering how Cundiff choked in the AFC Championship, you'd have to imagine that everyone wants Tucker to win.


More inept officiating: There was a bizarre sequence of events in the first quarter. The refs seemed to give the Lions a first down. Then they decided that it would be third down. Stafford began yelling at the officials, who then changed their mind and gave the Lions a first down again. At that point, John Harbaugh lost his mind and started shouting expletives at the refs.

Later on, the refs charged the Lions with a timeout. Stafford pointed toward Baltimore's direction, attempting to inform the official that the Ravens were the ones who called the timeout. The official didn't pay attention to Stafford, who then asked his head coach, "Where'd that timeout come from?" I'm not sure if he ever received a valid answer.




Browns 35, Packers 10
This was essentially Cleveland's third preseason game. Yes, it's Week 2, but the Browns battle the Eagles both next weekend and in Week 1 of the regular season. That's why their starters were on the field much longer than Green Bay's.

Brandon Weeden played for the entire first half, going 12-of-20 for 118 yards. I gave Weeden a C last week, so if I had to grade him this time, I think it'd be a B-. He made a few really nice throws. It's also worth noting that four of his incompletions were excused; two were thrown away because of pressure, while the other two were drops by Josh Gordon and Greg Little.

So, why the B-? Well, Weeden did most of his damage in the second quarter when the Packer defensive starters were on the sideline. But the main reason was that he should have been picked twice. He tossed a careless pass to A.J. Hawk in the first quarter on what was a botched screen. He then was nearly pick-sixed by rookie corner Casey Hayward near the 2-minute warning. Hayward would have scored an easy touchdown if he didn't drop the easy interception.

Weeden was much better than last week, but he still has a long way to go. Chances are he won't be as lucky next time.

Here were Weeden's targets:

Joshua Cribbs: 2
Josh Gordon: 3
Montario Hardesty: 1
Brandon Jackson: 2
Greg Little: 5
Owen Marecic: 1
Evan Moore: 2
Jordan Norwood: 2
Alex Smith: 1


Greg Little led the Browns with four catches (on a team-high five targets) for 45 yards in one half of work at Green Bay. He also nearly scored a touchdown, getting tackled at the 1-yard line in the second quarter. Though he had a drop - an issue that plagued him last year - Little can be a WR3 this season if Brandon Weeden plays well. Weeden improved in his second exhibition contest, so that's a good sign.


Trent Richardson was out again because of his knee scope, so Montario Hardesty started. Hardesty fumbled right away, which had to be doubly frustrating for Cleveland fans because the NFL's stupid new automatic reviews on all turnovers made the whole thing a 10-minute process. The NFL seriously needs to do away with these automatic reviews. I don't mind it so much for all scoring plays, but for all turnovers? Ridiculous. If these head coaches don't want to be exposed for poor challenge use, then maybe they shouldn't be head coaches in the first place.


While Weeden was on the field for an entire half, Aaron Rodgers didn't last past the first quarter. He struggled, going 6-of-11 for 59 passing yards to go along with 24 rushing yards on two scrambles. Rodgers missed Jordy Nelson wide open in the end zone on his first throw. He found him two plays later for a 20-yard score, but he just was really off the entire evening.

It's hard to say why Rodgers performed relatively poorly. Perhaps he just didn't care that much because it was the preseason. Maybe he wasn't particularly comfortable with his receiving corps because both Greg Jennings and Jermichael Finley were out. Or it could be that this game was played with synthetic laces on the footballs for some strange reason. Packers' color analyst Rich Gannon said that he talked to some of the quarterbacks, who were displeased with the NFL's strange experiment. Perhaps Rodgers was the one who was disgruntled.

Here were Rodgers' targets (again, no Jennings or Finley):

Randall Cobb: 1
Donald Driver: 1
James Jones: 3
Jordy Nelson: 4
D.J. Williams: 2


With Greg Jennings out against the Browns, Randall Cobb had a chance to prove himself offensively to the coaching staff. Unfortunately, Cobb fumbled on his first catch in the opening quarter. That was the only time Aaron Rodgers targeted him.


James Starks didn't play because of turf toe and Cedric Benson just signed, so Alex Green drew the start. Rushing for 16 yards on four carries, Green didn't do anything to screw up, but he didn't shine in any way either.


Undrafted rookie Marc Tyler saw action in the second quarter. He has an opening to get some playing time because the running backs ahead of him aren't anything special, but he didn't help himself by dropping a pass. He rushed for just six yards on eight carries.


Backup quarterback Graham Harrell had an awful performance. He came out tossing passes behind his receivers and finished 12-of-24 for 100 yards and two interceptions. He took a safety on an intentional grounding in the end zone, and he also had a pair of other near-picks; one was nullified by an unrelated penalty, while the other was almost taken away along the sideline as he was trying to throw the ball away.

The Packers can't survive without Rodgers, so they may need to trade for someone. Forum member Sancho suggested that they should acquire Colt McCoy, who went 4-of-6 for 58 yards in this contest. McCoy would fit in really well in Green Bay's system.


More inept officiating: The refs forgot to stop the clock after a punt on one occasion. It continued to tick when Green Bay's offense took the field.

I was also really cracking up during one of the announcements, which play-by-play guy Kevin Harlan interrupted twice because the official screwed up:

Official: The ruling on the field stands.

Kevin Harlan: No.

Official: There was an interception.

Kevin Harlan: It was a fumble.

The ref screwed up twice. He called an interception a fumble, and he also said the play stood when he changed the spot on the field. He then charged the Packers with a mysterious 15-yard unsportsmanlike penalty, prompting both Harlan and Gannon to chuckle.




Bengals 24, Falcons 19
The Falcons were so explosive offensively last week against the Ravens, so how were they held scoreless in the first quarter even though Matt Ryan was a perfect 9-of-9? If I didn't have this game on TV, I would have been pretty perplexed.

Well, the game is won in the trenches, and that would explain why Atlanta's first-team offense struggled for the most part. Ryan was constantly under pressure, so he frequently had to settle for shorter stuff. That's why Michael Turner was targeted four times, as you'll see below.

Matt Ryan finished 18-of-21 for 174 yards and one touchdown in less than a half of work against the Bengals. He threw just one bad pass, which was an overthrow to Julio Jones for what could have been a 41-yard touchdown in the middle of the second quarter. Still, it's remarkable that he was on a 400-yard pace despite poor play from his offensive line. He's a strong third-tier quarterback this year.

Here were Ryan's targets:

Mike Cox: 1
Harry Douglas: 1
Tony Gonzalez: 4 (1 end zone)
Julio Jones: 5
Michael Palmer: 1
Lousaka Polite: 1 (1 end zone)
Jacquizz Rodgers: 1
Michael Turner: 4
Roddy White: 4


Julio Jones caught just three passes for 41 yards, but he actually had a quality outing. He led the Falcons in targets with five. He was slightly overthrown in the middle of the second quarter for what could have been a 41-yard touchdown. He drew a pass-interference flag on corner Terence Newman. And he was tackled just short of the goal line on a 23-yard reception of his. Jones is going to have a monstrous 2012 season.


The good news for Michael Turner was that he caught three balls for 14 yards against the Bengals. The bad news is that he looked incredibly slow. He has no more burst left whatsoever. He's still good in short yardage, but it's a waste whenever he touches the ball otherwise. Turner finished with minus-3 yards on three carries. He's still a decent RB2 because of his touchdown opportunities, but he's going way too early in fantasy mock drafts. Go here to see the most recent 2012 Fantasy Football Mock Draft.

The Turner thing really needs to be addressed though. Atlanta's offense would have so much more potential if the coaching staff would stop being stubborn and start realizing that Jacquizz Rodgers provides the scoring attack with more juice. I think the best thing that could happen to the Falcons this year is a Turner injury. It would show Mike Smith and his assistants that their offense would actually improve without Turner.


As for the Bengals, they struggled as well. Andy Dalton was pressured early on; he had to throw away his first two attempts. It didn't help that Jermaine Gresham suffered what looked like a hyperextended knee on a 25-yard reception. Gresham didn't return, but he was walking without a limp on the sideline and told his teammates that he was "all right."

Dalton finished 8-of-14 for 125 yards and a touchdown. The stats could have been a lot better. He had A.J. Green open downfield for a 39-yard completion, but underthrew him, allowing Asante Samuel to break up the pass. Green was later open in the end zone, but Dalton overshot him and the ball sailed out of bounds. Dalton finally connected with Green deep on a perfect 50-yard score, as the second-year wideout torched Samuel.

Here were Dalton's targets:

Armon Binns: 1
Colin Cochart: 1
A.J. Green: 5 (1 end zone)
Jermaine Gresham: 1
Andrew Hawkins: 1
Donald Lee: 2
Cedric Peerman: 1
Brandon Tate: 1


Green caught two balls for 59 yards and a touchdown. He had a good performance, but it's a shame that he doesn't have better quarterback play to complement him. He could have had two more huge gains, but Dalton just couldn't connect with him. With better quarterbacking, Green would be the No. 2 fantasy receiver this season.


BenJarvus Green-Ellis didn't play because of a sore foot. Brian Leonard started and fumbled away his first carry.


FOX color analyst Daryl Johnston said some really perplexing things throughout this telecast, including:

- Johnston claimed that Turner is the key to the Falcons' offense. Not even close. As mentioned, Atlanta would benefit from an injury to him because he's done. Perhaps that's what Johnston meant.

- Cincinnati's No. 2 receiver position, comprised of guys like Armon Binns and Brandon Tate, is "pretty strong," according to Johnston. Yep, those are some stud wideouts.

- Armed with a hot dog drenched in mustard, Heath Evans joined the telecast in the third quarter. He and Johnston spent a good five minutes discussing fullbacks. Meanwhile, I kept stabbing myself in the head with a pen.

- Johnston offered some fantasy advice: He said that he would take Calvin Johnson No. 1 overall in a fantasy draft. Even if you don't like my fantasy rankings, you have to admit that they're better than the ones on DarylFootball.com.


More inept officiating: The refs were horrible today. I noticed three glaring gaffes, though there were probably way more:

- "Personal foul on the defense, that's a 10-yard penalty." Yeah, except a personal foul is 15 yards, genius. The official then proceeded to mark the ball 13 yards from the original line of scrimmage. It's almost like he didn't know whether a personal foul was 10 or 15 yards, so he decided to hedge his bet by making it a 13-yard penalty.

- The ref called a face mask penalty on the Falcons in the first quarter. The guilty party grabbed the back of Andy Dalton's jersey.

- I loved this announcement at the end of the first half: "Personal foul on No. 61 on the white." It's like he forgot which teams were playing. Even more hilarious, the team in white, the Bengals, was not the guilty party, according to the official. He pointed toward the Falcons.


2012 Preseason Notes: Week 4 | Week 3 | Week 2 | Week 1
2012 Fantasy Football Stock Pages: Preseason Stock Week 4 | Preseason Stock Week 3 | Preseason Stock Week 2 | Preseason Stock Week 1 | Training Camp Stock












More 2012 Fantasy Football Articles:
2012 Fantasy Football: Home

2012 Fantasy Football Rankings:
2012 Fantasy Football Rankings: Quarterbacks - 9/2 (Walt)
2012 Fantasy Football Rankings: Running Backs - 9/3 (Walt)
2012 Fantasy Football Rankings: Wide Receivers - 9/2 (Walt)
2012 Fantasy Football Rankings: Tight Ends - 9/2 (Walt)
2012 Fantasy Football Rankings: Kickers - 6/2 (Walt)
2012 Fantasy Football Rankings: Defenses - 6/3 (Walt)
2012 Fantasy Football Downloadable Spreadsheets - 9/2 (Walt)
2012 Fantasy Football Auction Values - 7/28 (Walt)
2012 Fantasy Football Rookie Rankings (Re-Draft) - 5/6 (Walt)
2012 Fantasy Football Rookie Rankings (Dynasty) - 5/6 (Walt)
2012 Fantasy Football Playoff Rankings - 1/2 (Walt)
Week 17 Fantasy Football Rankings - 12/27 (Walt)
Week 17 Fantasy Football Injury Reports - 12/27 (Walt)
Week 17 Fantasy Football Start Em, Sit Em - 12/27 (Walt)
Week 16 Fantasy Football Start Em, Sit Em - 12/20 (Walt)
WalterFootball.com $1,000 Contest on FanDuel.com - 11/4

2012 Fantasy Football Cheat Sheets:
2012 Fantasy Football Cheat Sheet: Traditional Scoring - 9/4 (Walt)
2012 Fantasy Football Cheat Sheet: PPR Scoring - 9/4 (Walt)
2012 Fantasy Football Cheat Sheet: Touchdown Scoring - 9/4 (Walt)
2012 Fantasy Football Cheat Sheet: 2-QB Format - 9/4 (Walt)
2012 Fantasy Football Cheat Sheet: Traditional Scoring PRINTABLE - 9/4 (Walt)
2012 Fantasy Football Cheat Sheet: PPR Scoring PRINTABLE - 9/4 (Walt)
2012 Fantasy Football Cheat Sheet: Touchdown Scoring PRINTABLE - 9/4 (Walt)
2012 Fantasy Football Cheat Sheet: 2-QB Format PRINTABLE - 9/4 (Walt)

2012 Fantasy Football Mock Drafts:
2012 Fantasy Football PPR Mock Draft - 8/23 (Walt)
2012 Fantasy Football Mock Draft - 8/16 (Walt)
2012 Fantasy Football Forum 2-QB PPR Mock Draft - 8/9 (Walt)
2012 Fantasy Football Auction Mock Draft - 8/2 (Walt)
2012 Fantasy Football Forum PPR Mock Draft - 7/27 (Walt)
2012 Fantasy Football Forum 2-QB Mock Draft - 7/17 (Walt)
2012 Fantasy Football Forum Standard 14-Team Mock Draft - 7/12 (Walt)
2012 Fantasy Football Forum PPR Mock Draft - 7/6 (Walt)
2012 Fantasy Football Forum Touchdown-Format Mock Draft - 7/4 (Walt)
2012 Fantasy Football Forum Standard Mock Draft - 7/3 (Walt)
2012 Fantasy Football Forum PPR Mock Draft - 6/22 (Walt)
2012 Fantasy Football Forum Mock Draft - 6/14 (Walt)
The Four-Man PPR Fantasy Mock Draft - 5/18 (Walt)

2012 Fantasy Football Articles:
2012 Fantasy Football Stock: Training Camp, OTAs - 9/3 (Walt)
2012 Fantasy Football Preseason Stock - 8/31 (Walt)
2012 NFL Preseason Recap, Fantasy Football Notes - 8/31 (Walt)
2012 Fantasy Football: Quarterback Targets - 8/31 (Walt)
2012 Fantasy Football: 20 Sleepers - 8/28 (Walt)
2012 Fantasy Football: Round-by-Round Strategy - 8/21 (Walt)
2012 Fantasy Football Busts - 6/5 (Walt)
2012 Fantasy Football Sleepers (Early-Middle Rounds) - 6/5 (Walt)
2012 Fantasy Football All-Value Team - 5/26 (Walt)
2012 Fantasy Football Stock Report: Quarterbacks - 5/8 (Walt)
2012 Fantasy Football Stock Report: Running Backs - 5/8 (Walt)
2012 Fantasy Football Stock Report: Wide Receivers - 5/8 (Walt)
2012 Fantasy Football Stock Report: Quarterbacks, Tight Ends - 4/3 (Walt)
2012 Fantasy Football Stock Report: Running Backs - 4/3 (Walt)
2012 Fantasy Football Stock Report: Wide Receivers - 4/3 (Walt)
2012 Fantasy Football: First-Round Bust History - 2/17 (Walt)
Running Backs with Most Carries - 2/17 (Walt)




NFL Picks - Jan. 21


2022 NFL Mock Draft - Jan. 19


NFL Power Rankings - Jan. 18


2023 NFL Mock Draft - Dec. 12


Fantasy Football Rankings - Sept. 8