**** NOTES FOR EVERY GAME WILL BE UP AS SOON AS I WATCH THEM **** Follow me
@walterfootball
for updates.
2012 Preseason Notes:
Week 4
|
Week 3
|
Week 2
|
Week 1
2012 Fantasy Football Stock Pages:
Preseason Stock Week 4
|
Preseason Stock Week 3
|
Preseason Stock Week 2
|
Preseason Stock Week 1
|
Training Camp Stock


Panthers 17, Jets 12
The Jets were the only team this preseason yet to score a touchdown entering this contest, but that obviously had to change. After all, the Panthers had an atrocious defense last season and Santonio Holmes would be back, so the team would finally be able to venture into the end zone, right?

Well, no. The Jets have still kicked nothing but field goals. Mark Sanchez sucked once again, going 11-of-18 for 123 yards and an interception. The pick wasn't his fault - the ball popped out of Stephen Hill's hands and into Captain Munnerlyn's - but he should have tossed another interception earlier on an ugly lob to Holmes.

Sanchez made poor decisions and passes all evening. He settled for a checkdown to Josh Baker on third down when he had Hill open downfield in the first quarter. A later pass to Hill sailed out of bounds. The ensuing attempt was behind Dedrick Epps. He then overthrew Hill in the end zone. Rex Ryan had no faith in Sanchez, opting to run out the clock despite having a minute and three timeouts to work with at the end of the first half. The crowd booed at both the decision and the offense, but Ryan can't really be blamed for his decision; Sanchez couldn't even score against the Carolina backups in the third quarter.

So, will Tim Tebow be the starter soon? Apparently not, according to Cris Collinsworth, who said, "This is Mark Sanchez's job. Period."

OK then. But should Tebow take over for Sanchez? Yes, because he has proven that he can win games in the clutch. His passing performance didn't help him at all, unfortunately. He finished with an ugly line of 4-of-14 for 55 yards and a terrible interception in which he rolled to his right and threw late across his body. He should have been picked off a second time, but the ball was dropped after he stared down his receiver.

Tebow's rushing ability has to be taken into account though. He scrambled five times for 45 yards. He even converted a 3rd-and-16 with a 20-yard scamper, prompting the crowd to chant "Tebow! Tebow! Tebow!" There were a number of short-yardage opportunities that Tebow could have converted in the first half that Sanchez didn't.

That's exactly why Tebow needs to be the starter. He can do stuff that Sanchez can't, and Sanchez isn't good enough of a passer to offset that. Tebow is the Jets' only play-maker. He needs to be on the field at all times.

At any rate, here were Sanchez's targets:

Josh Baker: 2 (1 end zone)
Dedrick Epps: 1
Stephen Hill: 7 (1 end zone)
Santonio Holmes: 4
Shonn Greene: 4
Dustin Keller: 1
Patrick Turner: 1


I guess the one positive for the Jets' offense is that new right tackle Austin Howard played really well. One half of action is a small sample size, but he's a billion times better than the beleaguered Wayne Hunter. It makes you wonder why the Jets haven't made the switch earlier.


Holmes finally made an appearance. He saw four targets, but hauled in just one catch for eight yards. He also dropped a pass, further proving just how inefficient and overrated he is.


Hill was the Jets' best receiver, though he was responsible for an interception, as noted above. However, he made up for it with five catches for 68 yards. He's still way too raw, however, so he's not a viable fantasy option this year.


Dustin Keller suffered a non-contact injury in the first quarter. Fortunately, it was just a hamstring pull. Soft-tissue injuries tend to linger, but it's a positive sign that Keller returned to the sideline still in uniform.


Sanchez and Tebow weren't the only ones who struggled in this contest. Cam Newton went just 6-of-15 for 60 yards and a touchdown (and 16 rushing yards). However, there are two things of note here: First, Steve Smith was out with a foot infection, so No. 2 wideout Brandon LaFell had to be matched up Darrelle Revis. In other words, Newton had no one to throw to besides Greg Olsen. And second, Newton was very mediocre last year in the preseason, so who cares if he had several ugly overthrows in this contest?

One thing that has to be noted is that Carolina's offensive line simply couldn't block. The unit also had issues against the Texans. This has to be a concern.

Here were Newton's targets (no Steve Smith):

Seyi Ajirotutu: 3
Brandon LaFell: 3
Louis Murphy: 2 (1 end zone)
Greg Olsen: 3
Mike Tolbert: 1
DeAngelo Williams: 1


DeAngelo Williams struggled against the Jets. He rushed for 28 yards on seven carries, but fumbled twice. He also dropped a pass. Despite this, he's getting a stock up because Jonathan Stewart suffered an ankle injury. Stewart's ankle twisted scarily when he was tackled by LaRon Landry. He then had to be carted into the locker room. X-rays were negative, but I suspect that Stewart will be out for several weeks. Williams has suddenly become an intriguing fantasy RB3 option.


Greg Olsen caught all three targets thrown to him for 29 yards. This isn't the Rob Gronkowski-type potential that the coaching staff discussed last week, but Olsen remains a borderline TE1 option.
A couple of funny posts from forum members:

My friend Body Burner was watching the game here. When the camera panned to Rex Ryan, he shouted, "You were better when you were fat!"

I don't know what prompted this, but perhaps it was Collinsworth's constant (and incorrect) insistence than Tebow doesn't have a chance of becoming the starting quarterback this season. CallmetheBrees posted: "I really hope Cris Collinsworth gets food poisoning or something and misses the entire season, then retires... so annoying."

Swag Dynasty after LaRon Landry knocked Jonathan Stewart out of the game: "LaRon would never settle for me. LOOK AT HIM!"

And of course, Swag Dynasty following LaRon Landry's interception off Derek Anderson and his magical flask: "LARON ****ING LANDRY MOTHER ****ERS!!!!! CMD STEAL!!!!!!"


More officiating ineptness: The refs failed to penalize a Panther for taking helmet off. This action actually cost the Browns a victory in Week 1 of the 2002 season against the Chiefs. I guess these replacement officials don't know about this rule.

I also liked one of the announcements: "Offside, on the defense. That's a five-yard pent." Not only do these replacement officials suck; they're also lazy and refuse to finish sentences.









49ers 29, Broncos 24
Multiple news outlets reported this past week that Peyton Manning couldn't throw more than 10 yards to his right. I was eager to watch this game so I could see if this was legitimate.

It wasn't. Not even close. In fact, Manning immediately proved his detractors wrong, throwing 16 yards to his right, hitting Demaryius Thomas. Manning continued to fire passes in that direction, looking pretty much flawless.

Manning finished 10-of-12 for 122 yards and two touchdowns in just one quarter of work versus San Francisco. He had just one true misfire; the other was a Joel Dreessen drop. It must be noted that the 49ers were missing some key defensive personnel, but it was still encouraging to see Manning bounce back after getting hit hard. He responded with a completion to Willis McGahee and an ensuing touchdown to Eric Decker. There's still a bit of a concern about if his neck can hold up the whole season, but Manning can be drafted as a lower-end QB1. The problem is that he's being taken much earlier than that. He went in the fourth round of one of my fantasy drafts this past weekend, which is just way too early.

Here were Manning's targets:

Lance Ball: 2
Eric Decker: 2 (2 end zone)
Joel Dreessen: 2
Willis McGahee: 1
Brandon Stokley: 3
Demaryius Thomas: 2


Though he was guilty of his usual drops against the 49ers, Eric Decker gets a stock up. Peyton Manning was very sharp, opting to go to Decker twice in the end zone. Decker finished with four catches for 38 yards and the two scores.


Everyone seems to be drafting Jacob Tamme, but Peyton Manning has been throwing to Joel Dreessen more often this preseason. Both tight ends will cancel each other out, meaning neither will be a dependable fantasy starter.


Willis McGahee reported to training camp in great shape, and that has carried over to the field in the preseason. McGahee ran with great burst and strength, rushing for 27 yards on seven carries and catching a 14-yard pass. Thanks to a very pedestrian fantasy running back corps, McGahee projects as a solid RB2.


I can't say I learned very much from the 49ers in this contest because Jim Harbaugh kept everything extremely vanilla. Alex Smith went 5-of-7 for 69 yards and a touchdown. He threw two passes longer than 10 yards. One was a 44-yard score to Vernon Davis, thanks to a blown coverage. The second was fired incomplete to Randy Moss. Smith also took a sack on the first drive.

Here were Smith's targets:

Michael Crabtree: 3
Vernon Davis: 1
Anthony Dixon: 1
Demarcus Dobbs: 1
Randy Moss: 1


Michael Crabtree was the only Niner to see more than one target from Alex Smith against the Broncos, catching all three of them for 21 yards. It was a small sample size, but it's an indication that Smith still prefers throwing to him over anyone else despite all of the additions the front office made this offseason. Miguel Lobsterbush is going really late in fantasy drafts, so he provides some good value in the double-digit rounds.


Randy Moss was targeted once at Denver. With Chad Ochocinco and Terrell Owens gone, the 49ers should make it 3-for-3 and part ways with their has-been receiver. Even if Moss makes the team, he won't contribute anything this year.


More announcing ineptness: Terry Bradshaw was one of the color analysts for FOX's broadcast. Some of the members of the forum had fun with him in the live in-game thread.

CallmetheBrees quoted something Bradshaw said in the second quarter:

"I was talking to Erin Andrews last night, and she was blowing away..." be back in 5 min

Meanwhile, CKane reviewed everything that Bradshaw discussed:

Drunk Terry Bradshaw has brought up:

Tebow (x2)
Nachos
Erin Andrews

We can make a drinking game out of this.

Sadly, Bradshaw will outdrink us all despite a head start. Oh, and by the way, why is no one talking about Pam Oliver's hair color? Does Crayola even make that color?


More officiating ineptness: The officials allowed the 49ers to have two players in motion during one instance in the fourth quarter. Earlier, David Akers was wide left on a field-goal attempt in the first half. The officials said that the kick was good. These guys can't even look up and judge whether a kick goes through the uprights or not.

The refs really screwed up at the 9-minute mark of the fourth quarter. The 49ers fumbled the ball and recovered. The Broncos challenged who obtained possession, which is not legal. The officials picked up on this, issuing a 15-yard penalty to John Fox. All of this was correct, as confirmed by Mike Pereira. However, there was a long delay afterward and the refs suddenly nullified the infraction without even explaining why.









Cowboys 20, Rams 19
With most of Dallas' offensive starters out, I was looking forward to watching Sam Bradford more than anything in this game. Bradford played well last week, but I wanted to see if that was a fluke. Apparently, it was.

Bradford went 6-of-17 for only 64 yards in one half of action. He made just one legitimate long pass - a 26-yard completion to Lance Kendricks. Everything else was short junk. Of course, Bradford didn't receive any help from his supporting cast. There were three drops (Kendricks, Daryl Richardson, Isaiah Pead), while the offensive line surrendered two sacks and several other pressures. The Cowboy broadcasters noticed this, and one of them said, "Bradford has not been comfortable in the pocket the entire evening."

This game basically confirmed what most people knew all along - aside from Steven Jackson, and perhaps Steve Smith and Danny Amendola late in PPR leagues, the Rams are a fantasy wasteland.

Here were Bradford's targets:

Danny Amendola: 2
Brandon Gibson: 2
Lance Kendricks: 3
Mike McNeill: 1
Isaiah Pead: 1
Austin Pettis: 1
Daryl Richardson: 3
Steve Smith: 4 (1 end zone)


Steven Jackson did not play in this contest for precautionary reasons. Isaiah Pead (9 carries, 22 yards) and Daryl Richardson (10 carries, 51 yards) split touches in the first half.


Steve Smith was targeted more times than any Ram (4) by Bradford, but he was able to come up with only one catch for seven yards. Smith can't be blamed for that though; two incompletions were ugly Bradford misfires, while the fourth was broken up by Morris Claiborne in the end zone.


Second-round rookie receiver Brian Quick has been a huge disappointment this summer. He caught a 39-yard pass Saturday night, but also dropped a pass. He played with the backups and doesn't appear to be anywhere close to being inserted into the starting lineup.


Rams' rookie kicker Greg Zuerlein has been awesome this preseason. He drilled kicks of 55 and 52 yards in the first half. He'd be a top fantasy kicker if he played in a good offense.


Despite missing Dez Bryant, Jason Witten and Miles Austin-Jones, Tony Romo was perfect against the Rams. Literally perfect. He went 9-of-13 for 198 yards and two touchdowns in just one quarter of action. A pair of his incompletions were dropped (John Phillips, Kevin Ogletree), while the other two were thrown away. Romo hit wideout Dwayne Harris for touchdown bombs of 61 and 38 yards. He's firmly locked in as a third-tier fantasy quarterback, alongside Matt Ryan, Eli Manning and perhaps Philip Rivers.

Here were Romo's targets:

Cole Beasley: 1
Dwayne Harris: 2
Felix Jones: 1
DeMarco Murray: 2
Kevin Ogletree: 3
John Phillips: 3


Dwayne Harris solidified a roster spot and perhaps the third receiver position with three catches for 118 yards and two touchdowns in this contest. He caught 61- and 38-yard touchdowns from Romo, though he was really aided by the Rams' incredibly futile defense. His first score was the result of linebacker James Lauriniaitis trying to cover him downfield. Lauriniaitis is a good linebacker, but he doesn't stand a chance against a quick wideout like Harris. The second touchdown was made possible because two Ram defenders, Janoris Jenkins and Craig Dahl, collided with each other in hilarious fashion while trying to tackle Harris.


DeMarco Murray looked really good in the third preseason game, albeit against the Rams. He rushed for 26 yards on five carries and also had two catches for 16 receiving yards. Murray would be a first-round pick if he didn't have such an extensive injury history.


More officiating ineptness: John Phillips made a cool, one-handed catch for seven yards in the first quarter. The ball came out after he hit the ground, but the Cowboy announcers, which included Daryl Johnston, praised the officials for making a good call of a completed catch. Jeff Fisher then challenged the play. I don't know why he wasted everyone's time with a seven-yard play in the preseason, but whatever - he was bound to lose this one. Except he didn't. The play was reversed, which perplexed the announcers, who just praised the refs for making a great call on the field.









Raiders 31, Lions 20
NFL coaches always count their blessings when they escape preseason games without an injury. Jim Schwartz definitely was not doing that after this contest was over. The Lions suffered two injuries to their key players at Oakland. Matthew Stafford happened to be one of them, banging his non-throwing hand and leaving after just 17 minutes of action. Fortunately, X-rays came back negative, so he'll be able to play in Week 1.

The other key player who went down was Kevin Smith. The fragile running back suffered an injury to his right ankle in the third quarter - the same body part that kept him out of several games last year. X-rays were negative, but this is still a huge concern, especially considering that Mikel Leshoure played well ahead of him in this contest.

Leshoure actually saw most of the first-half action at Oakland, rushing five times but for only one yard and catching a pass for six receiving yards. The numbers stink, but it's still encouraging that he was actually able to suit up and take some hits. And besides, Leshoure's meager 0.2 YPC still dwarfed Smith's zero (3 carries, 0 yards).


Back to Stafford, he went 8-of-10 for 68 yards in a quarter and two minutes. Nothing really stood out, aside from the fact that he didn't throw to Calvin Johnson once.

Here were Stafford's targets:

Nate Burleson: 3
Mikel Leshoure: 1
Brandon Pettigrew: 4
Tony Scheffler: 2
Titus Young: 1


The Raider announcers spent the entire pre-game harping about how the Raiders absolutely had to keep Ndamukong Suh out of the backfield at all cost. For that reason, it was hilarious that Suh sacked Carson Palmer on the very first play of the contest.


Speaking of Palmer, he went 17-of-26 for 181 yards and two interceptions. Both picks were excusable; Taiwan Jones was held, disrupting a screen on the first, while the other was the result of Eddie McGee having the ball pop out of his hands and watching it land into the arms of Stephen Tulloch. Palmer missed a couple of receivers for intermediate gains, but was solid otherwise.

Here were Palmer's targets:

David Ausberry: 1
Darrius Heyward-Bey: 2
Taiwan Jones: 3
Darren McFadden: 2
Eddie McGee: 3
Brandon Myers: 9 (1 end zone)
Rod Streater: 7


It's time to really take this Rod Streater thing seriously. Streater once again led all Raider receivers in targets with seven, finishing with five catches for 56 yards against the Lions. He should have had an even better night, but Carson Palmer missed him on a couple of passes that would have given him about 40 more yards. The Raider play-by-play guy addressed Streater twice: "It's quite obvious the Raiders are gameplanning for Rod Streater to be a part of their offense." And then: "This guy's going to be a chain-mover. It's obvious they're going to look for him on third downs this year." Streater absolutely has to be considered as a late-round sleeper at this point.


Another Raider who caught my attention was tight end Brandon Myers, who saw nine targets versus Detroit. Myers caught five of those balls for 41 yards. I wouldn't advise drafting him quite yet, but he's worth monitoring as an injury replacement or a bye-week filler.


Darrius Heyward-Bey saw just two targets, but one was an unbelievable, one-handed, leaping, 41-yard catch over former teammate Justin Miller.


Darren McFadden received most of the carries in a quarter and a half of action. He showed great burst whenever he had running room and was given all of the carries at the goal line. He was stuffed inside the Detroit 2-yard line twice, but scored on his third try. McFadden, who finished with 27 yards and a touchdown on nine carries, should definitely be considered over Chris Johnson in fantasy drafts. I'd rather have 9-10 weeks of great production over 16 weeks of potential mediocrity.


Taiwan Jones spelled Darren McFadden and then received a bunch of touches once McFadden was pulled against the Lions. It was astonishing how fast he was; he blazed for 50 yards on 10 carries. He should be heavily considered as a McFadden handcuff because he'll be a big producer if given the chance.


Terrelle Pryor completed only three passes in relief of Palmer, but he was really fun to watch because he made so many big plays. He went 3-of-5 for 137 yards and two touchdowns to go along with five scrambles for 90 rushing yards and a third score. He threw scoring strikes of 76 and 39 yards to Juron Criner, both of which featured a defensive penalty on beleaguered cornerback Alphonso Smith. Pryor also picked up 59 yards on a scramble. His one bad play was an interception, but that was nullified by illegal hands to the face.


Detroit's rookie reserve quarterback was far less impressive. Kellen Moore went 10-of-19 for 87 yards, one touchdown and an interception. He nearly had two other picks, but the ball sailed through cornerback Pat Lee's hands twice. Moore also had three passes batted down at the line of scrimmage, which can't be a surprise because he's so small. The third tipped ball resulted in his actual interception. Moore sadly does not look like an NFL quarterback.


More announcing ineptness: The three Raider announcers sound like they're 90 years old and belong in a nursing home. They actually conversed like old men, as you can see in the following exchange:

Play-by-Play Guy: He ran for only five yards.

Color Analyst: Only five yards? Five yards is good!

Play-by-Play Guy: I thought he was going to get more.

Color Analyst: It was first down!

Play-by-Play Guy: Yeah I guess you're right.

With that in mind, I found it very apt and even more hilarious that the play-by-play guy waited until the end of the third quarter to say the following completely randomly: "Did you know that gout can attack silently? If not, go to gountinfo.com." Nothing prompted this; he just said it out of nowhere and then the broadcast cut to a commercial.

The play-by-play guy also screwed up making actual calls. Following Mikel Leshoure's second carry of the game, he said: "Leshoure, his first-ever run for the Detroit Lions!" Yeah, except Leshoure ran the ball on the PREVIOUS PLAY. Way to pay attention.


More officiating ineptness: McFadden ran the ball on fourth-and-goal on the 1-yard line. He appeared to have scored, but he may have also fumbled. The officials couldn't make a decision and stood around looking at each other like idiots. It took several minutes for them to announce that it was a fumble. The Raiders challenged, and it was ruled a touchdown.

It was a tough call to make, but the refs were just so damn indecisive. All of them just seemed completely overwhelmed by the situation, like they were just too scared to make yet another mistake. I feel like at this point, all of the replacement officials should just run with it and intentionally make all of the worst calls possible. That's what they're doing now anyway, so maybe people won't hate them as much if they start doing a bad job blatantly.









Steelers 38, Bills 7
There's a team every year that seems to be plagued with a ridiculous amount of injuries. Buffalo fans know this quite well, as their squad suffered through this last season. The unfortunate 2012 franchise, however, appears to be the Steelers.

Pittsburgh had several players banged up in earlier preseason games, so Mike Tomlin must have been beside himself when he watched Isaac Redman and David DeCastro suffer injuries on consecutive plays in the first quarter. Redman, who was just coming back from a groin problem, managed to reenter the game. DeCastro, unfortunately, wasn't as lucky. He was spotted leaving the stadium on crutches with a big brace on his right knee. He reportedly suffered damage to both his ACL and MCL, and he could be done for the year.


It's a shame that DeCastro's injury had to sour Ben Roethlisberger's outstanding evening. Big Ben went 17-of-24 for 169 yards and one touchdown, highlighted by a brilliant 99-yard scoring drive at the end of the first half in which he completed a 30-yard pass to Jonathan Dwyer along the sideline on a 3rd-and-9 from his own end zone.

The Steelers' offense started slowly, thanks in part to a pair of drops by Antonio Brown and Emmanuel Sanders, but the unit definitely picked up the slack in the second quarter, scoring a pair of touchdowns.

Here were Roethlisberger's targets:

Antonio Brown: 7 (1 end zone)
Jerricho Cotchery: 4
Jonathan Dwyer: 2
Heath Miller: 2
Leonard Pope: 1
Chris Rainey: 1
Isaac Redman: 1
Emmanuel Sanders: 5


Antonio Brown led the Steelers with seven targets from Ben Roethlisberger against the Bills. Though he dropped one pass, he managed to haul in seven grabs for 108 yards and two touchdowns. Brown scored just twice last year, but that's clearly going to change. He's a strong WR2.


Though he looked slow and sluggish, it was nice to see Isaac Redman on the field. He rushed for 24 yards and a touchdown on 12 carries at Buffalo. He suffered an injury in the first quarter, but came back on the field later. He's still projected to start while Rashard Mendenhall is out, so he's worth drafting around Rounds 8-10.


As for the Bills, they wanted to see something positive out of Ryan Fitzpatrick because he struggled last week at Minnesota. Fitzpatrick disappointed, unfortunately, going just 7-of-18 for 89 yards. He had three passes batted down, one of which was nearly picked off by LaMarr Woodley. Fitzpatrick and Steve Johnson weren't on the same page on several occasions, which was odd to see because they've been playing together now for a few years.

Here were Fitzpatrick's targets:

Scott Chandler: 1 (1 end zone)
Derek Hagan: 2
Fred Jackson: 1
Steve Johnson: 10
Donald Jones: 2
David Nelson: 1


The good news for Steve Johnson is that he saw a whopping 10 targets from Fitzpatrick, whereas no other Bill received more than two. Johnson made a leaping grab of 23 yards on one of the passes thrown to him. The bad news is that he and Fitzpatrick weren't on the page on several occasions. Johnson also dropped an easy pass. His line of three catches for 36 yards could have been much better.


Fred Jackson received most of the first-quarter work against the Steelers, including a goal-line carry, which he converted. Finishing with 34 yards and a touchdown on seven carries, Jackson was much more successful than C.J. Spiller, whose 10 yards on four attempts (including two yards of the Wildcat) were overshadowed by a lost fumble in the second quarter. Jackson will be the main back for the Bills, barring another injury.


Buffalo's defensive standout was easily Mario Williams. The new Bill registered two sacks in one of half of action.


More officiating ineptness: I couldn't believe what happened in this game. The refs called the defense for an illegal block in the back. Yes. The defense was apparently blocking for some reason. Where did the NFL get these replacement officials? It's almost as if these guys have never watched a football game.

Making this even funnier, the illegal block in the back was whistled on Isaac Redman, who A) doesn't play defense and B) wasn't even on the field. The camera panned to the Steelers' sideline, showing that the players were laughing at how incredibly dumb these officials were.


More announcing ineptness: I absolutely hate the fact that most of the NFL analysts on TV know nothing about fantasy football. Most people watch football for fantasy purposes, so shouldn't these guys at least understand the rules of fantasy football? It was clearly evident that the Bills' announcers had no clue when one of them said this gem:

"If you had Fred Jackson as your fantasy running back, that was a pretty good drive for you."

Damn it. I benched Jackson this week. In my preseason fantasy football league. Oh wait, I forgot, I don't play preseason fantasy football, and neither does anyone else on this entire planet.

The Bills' broadcasting network also had this hilarious screw-up when flashing the scores from the other games that night: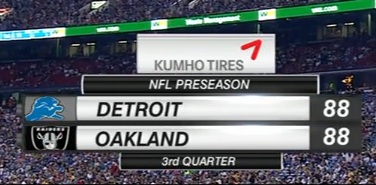 Looks like an awesome matchup. I'll recap that one next.




Saints 34, Texans 27
If there are any signs that the Saints are distracted by Bountygate, I haven't seen them. Interim head coach Joe Vitt has seemingly done a good job of controlling a situation that could have easily been chaotic. We'll know for sure in the regular season, but New Orleans looks like it's ready to roll.

Drew Brees was incredibly sharp versus the Texans, going 17-of-25 for 179 yards and two touchdowns. What those numbers don't include are a pair of drops, a pass-interference penalty drawn by Jimmy Graham and a 57-yard completion to Graham that was wiped out by an illegal-touching infraction. It does not look like Brees will be slumping this year because of Bountygate.

Here were Brees' targets (no Darren Sproles):

Travaris Cadet: 2
Jed Collins: 1
Marques Colston: 3
Jimmy Graham: 8 (2 end zone)
Devery Henderson: 3
Lance Moore: 4 (1 end zone)
Joe Morgan: 1
Pierre Thomas: 5


With the Saints showing no visible signs from the Bountygate ramifications, Jimmy Graham looks like he's poised for a monstrous 2012 campaign. He saw eight targets from Drew Brees in one half of action against the Texans, hauling in three of them for 48 yards and a touchdown. Graham dropped two balls, but drew a pair of pass-interference penalties (one was called; one wasn't despite Bradie James' mugging). He also had a 57-yard completion wiped out because of an illegal-touching infraction.


Darren Sproles was out for precautionary reasons. Pierre Thomas started, but didn't carry the ball a single time (he caught four passes for 35 yards). Mark Ingram and Chris Ivory split carries. The former gained just 19 yards on six attempts, while the latter collected 57 yards on eight tries. Ivory fumbled, however, which might be a good sign for Ingram, who should still serve as the Saints' goal-line back.


Like Brees, Matt Schaub was on fire in this matchup, going 15-of-18 for 194 yards and a touchdown. One of his incompletions was an uncharacteristic drop by Andre Johnson on what would have been a 20-yard catch.

Here were Schaub's targets:

James Casey: 2
Owen Daniels: 2
Justin Forsett: 2
Garrett Graham: 3
Lestar Jean: 1
Andre Johnson: 6
Keshawn Martin: 2
Ben Tate: 1


Andre Johnson caught two balls for 30 yards in a half of action and left the game early, but his owners shouldn't panic. He just had the wind knocked out of him and was held out for precautionary reasons. He led the team with six targets, and while he did drop a pass of about 20 yards, he also drew a pass-interference flag on the first drive.


Tight end Garrett Graham caught four balls for 97 yards, but this is not significant for fantasy purposes. The Texans frequently used three-tight end sets in this game, so there will be many weeks in which Graham does nothing because he's playing behind Owen Daniels and James Casey.


Lestar Jean may have pushed himself ahead of Keshawn Martin in the receiving pecking order. Jean had just one catch for 19 yards, but it was an impressive because he out-muscled Patrick Robinson for the ball. Keshawn Martin found the end zone amid his two receptions for 12 yards, but he also fumbled twice. Gary Kubiak may now see him as an untrustworthy rookie.


It was odd to see Ben Tate receive the first carry. He also converted a goal-line try on the opening drive. However, Arian Foster received most of the work after that with the first team. Foster had twice as many carries than Tate (8-4) and out-rushed him, 32-10. Foster also scored a touchdown.


More officiating ineptness: The head official in this contest was Don King, who had a very confusing announcement at the end of the first half:

"No. 80, on the offense, illegal touching. Uhh... Personal foul on the defense. By rule... the 5-yard penalty will be disregarded; the 15-yard penalty will be enforced. Fifteen yards. First-and-10."

The CBS announcers were pretty perplexed by this. Play-by-play guy Ian Eagle commented, "I think both coaches want an explanation for that, and so do we." King has yet to reveal who the offending party was on the mysterious personal-foul call.




Redskins 30, Colts 17
Andrew Luck versus Robert Griffin. How great of the NFL to not only schedule this matchup, but to put this game on by itself in the afternoon. However, those who were expecting offensive fireworks from at least one of the teams would be disappointed. Neither Luck nor Griffin struggled, but both signal-callers had issues moving the chains and putting up points on the scoreboard.

For Luck, it was all about pass protection, or rather, a lack thereof. The offensive line was brutal. Luck was constantly pressured, forcing offensive coordinator Bruce Arians to be ultra conservative. Luck dinked and dunked for most of the afternoon, though there were exceptions. For instance, Luck launched a perfect, 31-yard touchdown to T.Y. Hilton after stepping up in the pocket to avoid pressure.

Those plays were far and few between, however. Luck was sacked twice and had to throw a couple of passes away. He finished 14-of-23 for 151 yards and a touchdown in slightly more than a half of action. He also rushed for eight yards on two scrambles.

Here were Luck's targets:

Kris Adams: 1
Dwayne Allen: 1
Donnie Avery: 7
Donald Brown: 1
Coby Fleener: 1
T.Y. Hilton: 5 (1 end zone)
Reggie Wayne: 6


Donnie Avery paced the Colts with seven targets, catching six of them for 38 yards. Someone had to assume the concussed Austin Collie's role, and it appears as though that's Avery. However, he's just a late-round flier in PPR leagues at best.


Reggie Wayne was second on Indianapolis with six targets. He hauled in three of them for 41 yards. Luck would have connected with Wayne more frequently, but simply didn't have the time to throw.


Hilton had four grabs for 54 yards and a 31-yard touchdown. He's going to be a nice deep threat for Andrew Luck, but he's not worth drafting this year because he's a rookie. Besides, Luck doesn't have the protection to consistently find Hilton downfield just yet.


Donald Brown rushed for eight yards on seven carries. His offensive line could not open up any holes for him. This is going to be a theme all season. It's also worth noting that tight end Dwayne Allen converted a short-yardage carry when he lined up at fullback.


As for Griffin, his issue was that he kept overthrowing open receivers downfield. He did this three times, barely missing Pierre Garcon twice and then Leonard Hankerson on the third occasion. He also threw behind Garcon in the third quarter.

Griffin was good otherwise, however, finishing 11-of-17 for 74 yards and a touchdown. He also had an impressive 5-yard scramble where he dodged a blitzing linebacker and picked up the first down on a dive along the sideline.

Here were Griffin's targets:

Chris Cooley: 1
Fred Davis: 2
Pierre Garcon: 6
Leonard Hankerson: 3
Tim Hightower: 1
Josh Morgan: 1
Alfred Morris: 1
Santana Moss: 1 (1 end zone)


Pierre Garcon continued to serve as Robert Griffin's primary receiver. He was the only Redskin to receive more than three targets against the Colts. He saw six balls come his way, catching three of them for 29 yards. Two of the other misfires were deep downfield, where Griffin just barely overthrew him. The two will eventually connect on those as they continue to play together.


Santana Moss caught a 4-yard touchdown versus Indianapolis, but I'm giving him a stock down because Robert Griffin has simply not looking in his direction this preseason.


Evan Royster was out of the lineup with a minor knee injury, allowing Alfred Morris to start against the Colts. Morris made the most of his opportunity, rushing for 107 yards and a touchdown on 14 carries. He ran with great power and broke a number of tackles. He was highly impressive, and I'd now recommend drafting him in the later rounds. Of course, no Mike Shanahan running back should be chosen before Round 10; his backs could start during any week without notice. This includes Tim Hightower, who gained 28 yards on five attempts in this contest.


More announcing ineptness: I posted this in the forum: "Let's interview Brandon Meriweather in the first quarter while Andrew Luck is throwing passes! F***ing idiots!"

I couldn't believe it. Luck was on the field, yet sideline reporter Antwaan Randle El thought it was a good idea to talk to Meriweather about God knows what. Couldn't he have spoken to Meriweather when the scrubs were playing?


More officiating ineptness: I posted the following on Twitter (@walterfootball) - "Great job by Chuck Pagano challenging a 5-yard play at the beginning of the 2nd half. Very pivotal moment in the game."

My apologies for that; it was a 6-yarder. But still, the fact remains that Pagano wasted our time - the Colts would end up punting on that series of downs - because the stupid officials couldn't make the semi-obvious correct call of a completed pass.




Falcons 23, Dolphins 6
Matt Ryan has shown great improvement this preseason, and of course, he has an impressive arsenal of weapons to throw to. The one lingering issue is the offensive line. The unit had issues protecting Ryan, who was constantly under pressure in this contest. Cameron Wake collected two sacks, while left tackle Sam Baker committed a hold on a separate occasion.

Despite this problem, Ryan still performed well, going 18-of-26 for 220 yards and a touchdown. He was inches away from having those numbers look even more impressive; he missed Julio Jones deep downfield for two long gains because of a slight overthrow and then a underthrow that allowed the defender to break up the pass. Ryan did make up for it with a bomb to Jones for 49 yards at the end of the first half.

Here were Ryan's targets:

Harry Douglas: 4
Tony Gonzalez: 6
Julio Jones: 10
Lousaka Polite: 1
Jacquizz Rodgers: 1
Michael Turner: 3
Roddy White: 4 (1 end zone)


Julio Jones had another monstrous game. He saw 10 targets at Miami, catching four of them for 90 yards. Those numbers could have been so much better; he nearly made a diving catch in the end zone for what would have been a 31-yard touchdown, but the ball was slightly overthrown. Later on, Ryan barely missed Jones for another long gain, slightly underthrowing him. The two did connect for a 49-yard bomb, however.


Michael Turner rushed for 35 yards on 10 carries. He also caught three balls for 36 receiving yards. However, he once again looked like he was running in quicksand. The Falcons better realize that utilizing Jacquizz Rodgers would be so much better for their offense. As a wrote last week, the best thing that could happen to Atlanta is a Turner injury that knocks him out for about a month.


I mentioned that the Falcons had issues keeping Miami out of the backfield. Well, the Dolphins had an even greater problem with this. They had issues with Kroy Biermann of all people. He didn't register a sack, but he had tons of pressures and forced some throw-aways. John Abraham, meanwhile, had a strip-sack of Ryan Tannehill.

Tannehill had a nightmare of an outing. In addition to having to rush his throws, he also saw his receivers drop four passes, which includes a ridiculous three by Anthony Fasano. The woefully inept tight end cost Tannehill a touchdown with a drop in the end zone. Wideout Clyde Gates, meanwhile, nearly came up with a 25-yard grab, but couldn't keep his feet inbounds.

Having said that, Tannehill was largely to blame for the Dolphins not being able to move the chains. Several of his throws were wildly inaccurate. His interception occurred because he didn't see Sean Weatherspoon, who tipped the ball into the hands of safety Thomas DeCoud. Tannehill should have tossed a second pick, but Gates, his intended receiver, acted as a defender and made a nice pass break-up. Tannehill also lost a fumble on a strip-sack.

Tannehill finished 11-of-27 for 112 yards and the interception. He's going to struggle all season because he's raw and simply doesn't have the weapons to be successful. His only reliable receiver is Davone Bess.

Here were Tannehill's targets:

Davone Bess: 5
Reggie Bush: 1
Charles Clay: 1
Anthony Fasano: 6 (1 end zone)
Clyde Gates: 2
Jovorski Lane: 1
Rishard Matthews: 1
Marlon Moore: 2
Legedu Naanee: 5
Steve Slaton: 1


Davone Bess is the only Miami receiver who played well against the Falcons. He showed nice rapport with Ryan Tannehill, catching four of the five passes thrown to him for 59 yards. Unfortunately, he's just a bench option in deep PPR leagues at best. There's just no touchdown potential with him.


Fasano caught two balls for 18 yards, but also dropped three passes, including one in the end zone. On the bright side, he paced Miami with six targets. Wait, maybe that's not a bright side.


The one positive for Miami's offense is that it ran the ball pretty well versus the Falcons. While the offensive line struggled to pass block, the unit opened up nice running lanes, as Reggie Bush found out during his 18-yard burst on his first carry. Daniel Thomas chipped in with 29 yards on six attempts.


More officiating ineptness: The refs called a pass-interference penalty despite the fact that the ball was deflected on the play. That was bad. What's worse is that a 70-year-old Dick Stockton pointed out an officiating error when the zebras whistled Dolphins' No. 26 Tyrell Johnson for a holding penalty in the first quarter. Stockton laughed and said, "Tyrell Johnson is not even in the game." This was true. In fact, Johnson's not even on the roster. He was cut this morning.




Chargers 12, Vikings 10
Philip Rivers, Antonio Gates and many other Chargers sat out this game. Norv Turner opted to make the move because three of the starting offensive linemen were out with injuries. He just didn't want to risk Rivers or someone else getting hurt, which is understandable. So with that in mind, I'm only going to focus on the Vikings in this recap. My apologies if you came here for Charlie Whitehurst, Ronnie Brown and Michael Spurlock analysis.


Christian Ponder went 9-of-16 for 115 yards and an interception. He had a mixed performance. He did some really nice things like fire a perfect deep ball to Percy Harvin for what would have been a 47-yard gain had Harvin not dropped it. Ponder later went back to Harvin for a beautiful, 40-yard fade as he was getting hit.

Unfortunately, Ponder made some mistakes. He took four sacks - the offensive line was very shaky - but he could have thrown the ball away twice to avoid taking a big loss. He also had the pick where he stared down his receiver, though it might have been a miscommunication with the inept Michael Jenkins, who was starting because Jerome Simpson was out.

One thing I don't understand is why the Minnesota coaching staff insisted on running the ball so much with Matt Asiata when the starters were on the field. They pounded the ball with their third-string running back, negating chances for Ponder to throw the ball, especially inside the red zone, where Asiata fumbled. It would have been nice to see Ponder practice throwing deep in opposing territory.

At any rate, here were Ponder's targets (no Jerome Simpson):

Devin Aromashodu: 1
Matt Asiata: 2
Rhett Ellison: 1
Percy Harvin: 5 (1 end zone)
Michael Jenkins: 5
Allen Reisner: 1
Kyle Rudolph: 4


Harvin caught two balls for 53 yards. He was targeted five times, including the aforementioned 47-yard drop.


Kyle Rudolph saw four targets go his way against the Chargers. He snagged three of them for 36 yards. The outlier resulted in a defensive holding call. The most notable thing that occurred was something the Viking announcers said when the team ventured into the red zone: "This is Kyle Rudolph territory." I like Rudolph as a sleeper tight end, so hopefully that means he'll score a decent amount of touchdowns this season.


Jenkins tied for the Viking lead with five targets, but you can ignore that. He was on the field so much because Jerome Simpson was out. Proving how inefficient he is, Jenkins caught only one of those passes for 13 yards.


Rookie kicker Blair Walsh missed a 45-yard field goal. He connected on a 29-yarder otherwise.


One note on the Chargers: Rookie rush linebacker Melvin Ingram suffered a leg injury in the second half. It appeared to be a knee at first glance, but it turned out just to be a thigh contusion. Ingram had one of the sacks on Ponder, but also was whistled for a cheap personal-foul penalty on special teams.


More announcing ineptness: The Viking broadcasters are such homers. The play-by-play guy kept saying stuff like, "That's a hold by us" or "That's a penalty on us." What's this "us" crap? He's not on the freaking team. Perhaps he should have focused a bit the Chargers. Jarrett Lee replaced Whitehurst in the third quarter, yet the play-by-play guy continued to call the San Diego quarterback "Whitehurst." Thanks for paying attention to the game, bud.


More officiating ineptness: The crew missed an obvious fumble and an interception, forcing the Chargers to challenge twice, which enraged Norv Turner. The Viking announcers then pointed out that the officials started standing next to the Charger sideline as a result, prompting the influenced refs to make some strange calls on Minnesota.

Punter Chris Kluwe said it best: "The NFL really needs to kiss and make up with the refs. These replacements are horrible. Frankly, it's kind of embarrassing ... I'm sure they're trying hard, but they're just not good. So many blown calls tonight in both directions."




Buccaneers 30, Patriots 28
My friend and forum member Body Burner asked me if I saw the Patriot-Buccaneer game Saturday evening. I told him I hadn't gotten to it quite yet, prompting him to say, "Cover your eyes. Brady takes a few hard hits." This worried me, given that I just drafted Brady sixth overall in our touchdown fantasy football league.

Brady did indeed get drilled on several occasions - enough to make me worried. The offensive line struggled in the preseason opener and it was even worse in this contest. Brady was often pressured, and there were a couple of occasions where he couldn't do anything because a defender was instantly in his face.

In all fairness to the offensive line, Brady did hold on to the ball way too long once, resulting in a strip-sack. The Patriots recovered, but Brady threw a pick-six on the very next play. He targeted Rob Gronkowski, but Ronde Barber tipped the ball into the arms of rookie safety Mark Barron, who took it back for six.

Brady later nearly tossed a second pick when an attempt of his hopped right in front of safety Ahmad Black. I can't explain why, but it just seemed like the Brady and the Patriots were playing like they were half-asleep.

Brady finished 13-of-20 for just 127 yards, one touchdown and an interception. He didn't have Wes Welker at his disposal, so he'll probably improve once the games count and he has his slot receiver back in the lineup. At least I hope so - for fantasy purposes.

Here were Brady's targets (no Wes Welker):

Brandon Bolden: 1
Deion Branch: 1
Rob Gronkowski: 3 (1 end zone)
Aaron Hernandez: 9
Brandon Lloyd: 4
Stevan Ridley: 3
Danny Woodhead: 1


The one aspect of New England's offense that actually worked was the running game. Stevan Ridley drew the start at Tampa Bay and was on the field for the first two possessions before giving way to Shane Vereen on the third drive. Vereen suffered an injury, however, so Ridley received most of the carries after that. Almost on cue, Ridley had a 30-yard burst a couple of plays after Vereen got hurt. It's hard to trust Bill Belichick will running backs, but Ridley deserves a huge stock up because Vereen can now be labeled unreliable because he constantly has health issues. Oh, and it doesn't hurt that Ridley ran really well (16 carries, 87 yards, one touchdown).


Brandon Lloyd caught just one pass for 12 yards, but there's no need to be concerned. He basically drew two pass-interference penalties (the flag was mysteriously picked up once), so he should have registered three catches. And besides, only Aaron Hernandez had more targets than Lloyd in this game.


Olympic medalist Jeff Demps rushed for 41 yards on just three late-game carries. It's pretty known that he's fast, but it was still amazing to see him run on the football field. It'll be interesting to see if the Patriots design any trick plays for him this year.


Ryan Mallett improved over last week's performance, though he was going against the Tampa Bay scrubs instead of the Philadelphia starters. He finished 7-of-13 for 66 yards and two touchdowns. It appears as though Mallett had a poor completion percentage, but one pass was dropped (Donte Stallworth) and another was thrown away. He threw some real darts, including his second score to Jesse Holley. One incompletion, meanwhile, was thrown way too hard to Stallworth.


While New England's running back situation is still a bit cloudy, Tampa Bay's has pretty much cleared up. Doug Martin drew the start and received most of the carries against the Patriots, including two inside the New England 5-yard line. Martin converted from the one, which can only help keep LeGarrette Blount on the sideline. The only action Blount saw with the starters occurred on the third drive when he had two carries. He wasn't on the field after that until the backups entered the game. This is obviously huge for Martin, who can now be considered a high-end RB2.


Josh Freeman had a hot start. He completed all three passes on his opening drive to Vincent Jackson for 49 yards, ultimately leading his team into the end zone on a Doug Martin 1-yard run. Something happened after that, however, because Freeman's final numbers were 10-of-19 for 102 yards, meaning he was just 7-of-16 for 53 yards after the opening possession.

Freeman's accuracy and decision-making went down the toilet. He threw behind Jackson. He passed low and wide to Preston Parker three times. He tossed it too high for Dallas Clark. Patriot defensive back Kyle Arrington dropped an interception intended for Martin. Freeman was almost picked off again when throwing to Mike Williams at the end of the first half. He was awful if the opening drive is excluded.

Here were Freeman's targets:

Dallas Clark: 3
Vincent Jackson: 5
Doug Martin: 4
Preston Parker: 4
Mike Williams: 3


I've been down on Vincent Jackson because he and Josh Freeman haven't looked comfortable together. That seemed to change when Freeman hit Jackson thrice for 49 yards. That was the last time they hooked up, however. Freeman targeted Jackson only twice afterward. One pass was way off the mark, while the other was dropped by Jackson. I'd continue to recommend staying away from the former Charger.


The Buccaneers suffered a major loss in this contest. Pro Bowl guard Davin Joseph suffered a knee injury in the first half and is probably out for the year.


Inept announcing: I didn't notice anything bad from the officials in this contest. Fortunately, the Patriot broadcasters picked up the slack. Charlie pointed this out in the forum, but the announcers said that Buccaneers' punter Michael Koenen was the team's kicker and that he was a good signing. Seconds later, kicker Connor Barth drilled a 56-yard field goal, prompting the announcers to say that Barth was battling for the kicking job. Barth was franchise tagged last year and has been the team's kicker since 2009.




Seahawks 44, Chiefs 14
I was looking forward to this game more than any other on the Friday night slate because of Russell Wilson. Pete Carroll shocked the football world this week by announcing that the third-round rookie signal-caller would start the third preseason game. Wilson had played extremely well in the two other contests, but he battled backups. How would he do against a really talented starting unit? I couldn't wait to find out.

Wilson was amazing. He played on seven drives, and the Seahawks scored points on six of them. The lone outlier was a possession that concluded with a missed field goal. Let's take a look at Wilson's highlights on each drive:

First Drive (Field Goal): Wilson's second throw was a nice, 14-yard strike to Golden Tate. Wilson went through his progressions before firing the ball, which was nice to see out of a rookie. Later on, Wilson moved around the pocket to buy time and convert a third down.

Second Drive (Field Goal): The Seahawks moved the chains with an 18-yard pass interference drawn by Sidney Rice. Wilson then hit Braylon Edwards with a 32-yard bomb.

Third Drive (Field Goal): Wilson avoided pressure and scrambled for 31 yards on third-and-long.

Fourth Drive (Touchdown): Wilson had another long scramble, this time for 27 yards. After that, he hit a wide-open Kellen Winslow for a 21-yard touchdown on what was a blown coverage by Kansas City's secondary.

Fifth Drive (Touchdown): Thanks to a phantom roughing-the-passer penalty on Tamba Hali, the Seahawks were able to find the end zone despite two drops by the decrepit Terrell Owens. When Owens dropped his second ball, Chiefs' color analyst Trent Green commented, "I think Terrell Owens has sealed his fate." It's also worth noting that Wilson had his worst throw of the night on this drive when he threw way behind Anthony McCoy.

By the way, Romeo Crennel was super pissed at that Hali penalty. Take a look if you don't believe me:




It's almost as if someone stole his secret stash of cookies.

Sixth Drive (Touchdown): This drive was aided by a 25-yard pass-interference penalty that occurred when Wilson targeted Golden Tate.

Seventh Drive (Missed Field Goal): Wilson hit Owens with a beautiful 40-yard rainbow that landed right in the receiver's arms. The throw was so perfect that Owens didn't even have an opportunity to drop the ball. Later on, Edwards nearly came up with a one-handed grab in the end zone for what would have been a 33-yard touchdown.

Russell Wilson finished 13-of-19 for 185 yards and two scores in his first-ever professional start. He also rushed for 58 yards on two scrambles. At this point, I'd be shocked if he's not named the starter over the mediocre Matt Flynn. Wilson will be worth drafting as a QB2 because of his rushing potential.

Here were Wilson's targets:

Braylon Edwards: 2 (1 end zone)
Charly Martin: 2 (1 end zone)
Anthony McCoy: 3
Sean McGrath: 1
Zach Miller: 1
Terrell Owens: 4
Sidney Rice: 3
Golden Tate: 3 (1 end zone)
Kellen Winslow: 3 (1 end zone)


Owens paced the Seahawks with four targets, but he sucks. He had two drops (shocker) and his two catches came against Kansas City's backups. I'll be pretty surprised if he makes the final roster.


With Marshawn Lynch out again at Kansas City, Robert Turbin started and performed well, rushing for 93 yards and a touchdown on 14 carries. Keep him in mind as a waiver-wire addition if Lynch misses regular-season action.


Trent Green opened this telecast by saying, "Romeo Crennel is happy that Matt Cassel has yet to turn the ball over." Well, that's no longer the case. Cassel coughed up the ball twice in what was a forgettable outing for him.

Cassel dinked and dunked the entire evening, finishing 19-of-34 for 168 yards, one touchdown, an interception and a lost fumble. Cassel was victimized by five drops, but he made plenty of mistakes and not enough big plays. Outside of the strip-sack in the red zone and the pick-six in the third quarter, Cassel missed open receivers on several occasions. He also foolishly took a 10-yard loss on one play because he didn't throw the ball away for some strange reason.

Here were Cassel's targets:

Jonathan Baldwin: 9
Kevin Boss: 1 (1 end zone)
Dwayne Bowe: 3
Steve Breaston: 4
Jamaal Charles: 2
Shaun Draughn: 3
Dexter McCluster: 10 (1 end zone)
Tony Moeaki: 4


Dwayne Bowe suited up for the first time this preseason. He didn't start against the Seahawks, but he entered the game on the second drive. He nearly came up with a 15-yard reception on the team's third possession and then later dropped a ball. The only target he actually converted was a 9-yard sliding catch. I'm not a fan of Bowe this year; he held out for so long and it looks like that's going to negatively impact his 2012 campaign.


I liked Jonathan Baldwin earlier in the summer. He had an outstanding training camp, but hadn't lived up to it in two preseason contests. That changed against Seattle, as Baldwin was targeted nine times. He caught six passes for 37 yards and also drew two pass-interference flags. He's worth a late-round flier.


I mentioned Dexter McCluster last week as a possible PPR flex option. I'm going to bring him up once again because he led the Chiefs with 10 targets versus the Seahawks. McCluster, who caught seven balls for 61 yards and a touchdown, is finally being utilized correctly in the slot. Matt Cassel loves throwing to him, so make sure you get McCluster in the final couple of rounds in your PPR league.


Peyton Hillis got the first carry of the game, but finished with only two rushing attempts. Jamaal Charles, meanwhile, had 32 yards on six tries. I'm not sure why Hillis was so limited, but I can't imagine that happening in the regular season. I'd also like to see third-stringer Shaun Draughn utilized less frequently - like, not at all. I don't understand why Draughn received a second-down carry on the fourth drive. It was a wasted play.


More officiating ineptness: Cassel threw a pass to Steve Breaston in the first quarter. Breaston got his hands on the ball but dropped it right away. It was obvious what was going on, but the officials allowed the play to continue. The Seahawks picked up the ball and ran with it, causing mass confusion. It took the refs about a minute to figure out that they should have whistled it incomplete. As this was going on, Trent Green said: "These officials... umm... we need to be careful about what we say about the officials."

Even worse, the 2-minute warning of the first half occurred at 2:06. I wish I were making this up. The refs signaled for the 2-minute warning after Jonathan Baldwin caught the ball along the sideline at 2:06, but they forgot that the clock had to be stopped because he went out of bounds. They let it tick down to two minutes and then reset it back to 2:06 after the commercial break.

Oh, and I loved this announcement by the ref: "Team A has the option of re-kicking with a 5-yard penalty, which they have decided to do."

I thought the Chiefs were battling the Seahawks. So, who the hell is Team A?




Eagles 27, Browns 10
The Eagles and Browns battle each other once again in 16 days, so Andy Reid opted to give his fans a glimpse of the future. He kept his starting quarterback out of the lineup because of his recent rib contusion, allowing rookie Nick Foles to play a couple of series with the starters.

Foles once again performed really well. He made one poor decision in which he heaved an interception into double coverage toward DeSean Jackson, but he bounced back nicely. He made several great throws later, lobbing a beautiful touchdown pass to Damaris Johnson, utilizing amazing touch to drop it into a perfect spot, beating Sheldon Brown. Johnson couldn't get two feet inbounds, however, but he and Foles hooked up later on a 41-yard bomb.

Foles finished 12-of-19 for 146 yards, two touchdowns and the aforementioned interception. This was the best of his three preseason outings because he actually battled a starting defensive unit. Granted, it was the Browns, but Foles is really showing a ton of promise.

Here were Foles' targets (when the Eagles' starters were on the field):

Brent Celek: 2
DeSean Jackson: 1
Jeremy Maclin: 2
LeSean McCoy: 1


There's not much else to say about the Eagles' skill-position players because the starters played only a couple of series. Reserve receiver Damaris Johnson, whom I highlighted back in Week 1, was really impressive, catching two passes for 58 yards. The ultra-quick Johnson also nearly hauled in a 23-yard touchdown, but couldn't keep his second foot inbounds.


As for Philadelphia's defense, the unit looked just as inept as it did versus New England during Cleveland's first drive. Brandon Weeden drove his team inside the Eagles' 5-yard line, thanks to a number of great throws. His first was a beautiful, back-shoulder pass to Josh Gordon for 28 yards, who caught the ball over Nnamdi Asomugha. Weeden then converted a 2nd-and-19 with a 26 yard completion to Alex Smith. After venturing inside the 5, however, Weeden was strip-sacked, thanks to a missed assignment by guard Jason Pinkston.

The strip-sack changed everything because Weeden was awful afterward despite battling the Eagle backups for the majority of the second quarter. He played on five possessions following that turnover and an ensuing Montario Hardesty fumble. Here are the lowlights:

- Second Drive: Weeden missed Greg Little, who was wide open for a first down.

- Third Drive: Weeden threw behind Little and then was strip-sacked by Darryl Tapp, who beat Pro Bowl left tackle Joe Thomas.

- Fourth Drive: Jordan Cameron dropped the ball. Little did the same thing afterward. Weeden was then sacked by Brandon Graham; he had no chance because Graham easily blew by rookie right tackle Mitchell Schwartz.

- Fifth Drive: Brandon Jackson committed a drop. Guard Shawn Lauvao was then whistled for holding.

- Sixth Drive: Owen Marecic dropped a pass (notice a pattern?). Weeden then threw into double coverage and should have been picked off.

Brandon Weeden finished 9-of-20 for 117 yards. He received no help from his receivers (four drops) and anemic offensive line. He made some nice throws, but committed several mistakes of his own. I can't help but think the Cleveland fans in the stadium were jealous they weren't cheering for Foles. In fact, there was applause when Colt McCoy replaced Weeden at the end of the second quarter.

Here were Weeden's targets:

Travis Benjamin: 2
Jordan Cameron: 1
Josh Gordon: 4
Brandon Jackson: 3
Greg Little: 5 (1 end zone)
Owen Marecic: 2
Mohammed Massaquoi: 3
Jordan Norwood: 1
Alex Smith: 1


Hardesty rushed for just 12 yards on eight carries. As mentioned, he also lost a fumble in the middle of the first quarter. He really sucks.


With Greg Little dropping passes, Josh Gordon stood out as Cleveland's top receiver against the Eagles. He caught three of the four balls thrown to him for 50 yards. I wouldn't draft him, but he's worth monitoring as a possible waiver-wire pickup.


Greg Little saw five targets from Brandon Weeden versus Philadelphia, but came up with just one catch for three yards. Little is such a frustrating, inefficient receiver. He has loads of potential, but just can't seem to live up to it.


More officiating ineptness: Trent Edwards threw a really ugly pick-six at the beginning of the third quarter. Except it never happened because the officials called the Browns for roughing the passer. Upon watching the replay, Eagles' color analyst Brian Baldinger, who is being paid to be a homer, vehemently disagreed: "There was no hit to the head. He was just being pulled down."

This should not be a surprise. These refs aren't used to watching football, so they can't differentiate between an illegal hit and a normal tackle.




Bears 20, Giants 17
No team has repeated as Super Bowl winners since the 2003-04 New England Patriots, but the Giants have a legitimate shot. Their late championship run was no fluke - they had a number of players returning from injury in December - but they don't seem to command the respect from the rest of the league, with many TV analysts predicting the Eagles will claim the NFC East. If the Giants have a huge chip on their shoulder, it's certainly showing because they've been outstanding this preseason.

New York dominated on both sides of the ball in this contest. Eli Manning was incredibly sharp against the Bears, going 17-of-21 for 148 yards and a touchdown despite once again missing Hakeem Nicks' services. He was pretty much perfect; a couple of incompletions were thrown away, while another one was a Victor Cruz drop on what would have moved the chains on third down.

Here were Manning's targets (no Hakeem Nicks):

Ramses Barden: 4 (2 end zone)
Martellus Bennett: 3
Victor Cruz: 6
Domenik Hixon: 1
Henry Hynoski: 1
Rueben Randle: 4
D.J. Ware: 1
David Wilson: 2


Manning was terrific, but David Wilson generated the biggest buzz out of any player in this contest. Starting for Ahmad Bradshaw, who was out with a hand contusion, Wilson rushed for 49 yards on five carries, but even those numbers don't do him justice. He showed great quickness and tackle-breaking ability on runs of 20 and 15 on the second drive. He later caught a pass and took it for 29 yards. Wilson is not going to take over Bradshaw's job this year (barring an injury) because Tom Coughlin is not going to trust him to pass protect, but it's looking like Wilson will definitely take a good chunk of Bradshaw's workload.


Cruz had another nice performance, catching five of the six balls thrown to him for 28 yards. However, the one outlier, as mentioned, was a key drop on third down.


It looks like Ramses Barden is finally coming around. He caught three balls for 46 yards and a touchdown. He also drew a pass-interference flag in the end zone. He's not worth drafting, but he's someone to keep an eye on if Nicks can't get healthy.


Second-year cornerback Prince Amukamara was carted off in the first quarter. It looked really bad because he wasn't putting any pressure on his right leg. It seemed like it might be an Achilles', but Amukamara lucked out; it's just a high ankle sprain. He'll be out for several weeks.


While Manning and the Giants looked sharp, Jay Cutler and the Bears seemed really off. It seemed like everyone was to blame...

- The offensive line couldn't block whatsoever. It was pathetic. Matt Forte had no running room, gaining just four yards on eight carries versus the Giant starters in the first half. Left tackle J'Marcus Webb embarrassed himself, whiffing badly on Osi Umenyiora.

I wouldn't panic on Forte just yet, but then again, I don't like him nearly as much as everyone else because Michael Bush will steal his goal-line carries.

- Rookie receiver Alshon Jeffery had two drops. One was a potential touchdown at the end of the first quarter. Later, Earl Bennett also dropped a potential score.

- And last but not least, Jay Cutler struggled versus the Giants. The horrid pass protection affected him, but he missed open receivers all evening. There was one sequence where he underthrew Matt Forte and then threw behind his starting running back. Cutler went just 7-of-17 for 72 yards in the first half against the New York starters.

Here were Cutler's targets:

Earl Bennett: 3 (1 end zone)
Michael Bush: 1
Kellen Davis: 1
Matt Forte: 2
Devin Hester: 2
Alshon Jeffery: 2
Brandon Marshall: 8 (1 end zone)


Brandon Marshall was one of the few Bears who played well against the Giants. He saw eight targets, a team-high by a wide margin, catching five of those balls for 51 yards and a touchdown.


More officiating ineptness: There was a hilarious sequence of events near the end of the first quarter. The Giants were whistled for a delay of game when one second was still remaining on the play clock. A play later, the Giants called timeout, but yet the refs forgot to stop the clock, allowing several seconds to tick off.

But that was just the tip of the iceberg. Later on the drive, there was a pass interference just as the quarter concluded. The refs gave the Giants an untimed down, which should not have happened because Tom Coughlin didn't request it. This enraged color analyst Dan Dierdorf, who lashed out at the officials for not knowing the rules. It was hilarious how legitimately pissed off Dierdorf was. I'm convinced he would have gone to the field and punched out anyone wearing a zebra shirt if he had a few drinks in him.




Ravens 48, Jaguars 17
Eli Manning drew heavy criticism a year ago when he told the media that he considered himself to be an elite NFL quarterback. He proved his detractors wrong, and now Joe Flacco is trying to do the same exact thing; he publicly opined that he's the top signal-caller in the league.

Well, this was a good start. Joe Flacco was terrific against the Jaguars, going 27-of-36 for 266 yards, two touchdowns and an interception that was the result of an attempted Hail Mary at the end of the first half. With Torrey Smith emerging as a stud receiver, Flacco's fantasy potential has never been higher. He's become an intriguing QB2 option.

Here were Flacco's targets:

Billy Bajema: 5
Anquan Boldin: 4 (2 end zone)
Tandon Doss: 3
Jacoby Jones: 5 (1 end zone)
Vonta Leach: 4
Bernard Pierce: 1
Bobby Rainey: 2
Ray Rice: 1
Torrey Smith: 12


Torrey Smith dominated Jacksonville. The secondary had no answer for the second-year wideout, who is not just a burner anymore. Smith now runs a variety of routes, which means he's probably going to have a huge season if you factor in his pure talent level. It's no coincidence that Smith had 12 targets, eight catches and 103 yards in two-and-a-half quarters of action. He's a stud. Get him on your team.


If you're wondering about all of Billy Bajema's targets, he only received those because both Ed Dickson and Dennis Pitta were out.


The Ravens utilized Bernard Pierce heavily in the first half, giving him 10 carries that he took for 35 yards. Ray Rice played just one drive; he had a 28-yard burst and another 2-yard attempt.


As for the Jaguars, Blaine Gabbert went 11-of-21 for 117 yards. He had a pretty mixed game. In terms of the positives, he showed a great rapport with Justin Blackmon. The two hooked up for a nice, clutch, third-down conversion for 16 yards in the first quarter. Gabbert continues to get the ball out quickly, as instructed in Jacksonville's new, quick-release style of attack.

The same negatives persist for Gabbert, however. He still doesn't handle pressure well. For example, he threw incomplete off his back foot on a 3rd-and-10 because he had a defender in his face. He also predetermined some of his throws, nearly getting picked off once when passing to Blackmon without even looking if his wideout was open.

The problem with Jacksonville's offense is that dinking and dunking really bogs them down and makes it difficult to score. The Jaguars barely tried anything deep in this game and thus managed just three points against Baltimore. Still, I guess it's better than having Gabbert take sack after sack.

Here were Gabbert's targets:

Justin Blackmon: 8 (1 end zone)
Colin Cloherty: 1
Kevin Elliott: 1
Greg Jones: 1
Marcedes Lewis: 2
Zach Miller: 2
Montell Owens: 1
Jalen Parmele: 1
Laurent Robinson: 4
Mike Thomas: 2


Blaine Gabbert seems pretty comfortable throwing to Justin Blackmon, who saw a team-high eight targets at Baltimore. Blackmon caught four of those balls for 72 yards. Gabbert may really struggle at times this year, but it appears as though Blackmon will still be capable of posting solid fantasy numbers.


Another lost outing for Laurent Robinson. Gabbert threw to Robinson four times, but Robinson couldn't come up with a single catch. He's an inefficient receiver and should not be drafted in any fantasy league.


Rashad Jennings started once again with Maurice Jones-Drew still holding out. He was solid, breaking numerous tackles and showing that he can be the featured back. He rushed for 57 yards on 13 carries.


More officiating ineptness: Torrey Smith was hit at the Jacksonville 2-yard line in the second quarter and was pushed back to the 5-yard line. Forward progress should have given Baltimore the spot at the 2, but the officials placed the ball at the 5. Rave TV color analyst Qadry Ismail said one word about that, which was very appropriate: "Horrible."




Packers 27, Bengals 13
Aaron Rodgers is the best quarterback in the NFL, so Packer fans couldn't be too concerned about his slight struggles versus the Browns last week. Rodgers certainly quelled any slight concerns Thursday, as he went 12-of-22 for 154 yards, an interception and two rushing touchdowns (along with 52 rushing yards). He lost about 40 yards on a missed pass interference on Jordy Nelson.

Rodgers had the Green Bay offense moving well the entire first half. He completely frustrated Cincinnati's defense, scrambling for first downs and touchdowns with ease whenever he needed to. His one pick was a miscommunication with James Jones.

Here were Rodgers' targets (no Jermichael Finley):

Cedric Benson: 2
Randall Cobb: 2
Tom Crabtree: 2
Donald Driver: 2 (1 end zone)
Alex Green: 1
Greg Jennings: 4
James Jones: 1
John Kuhn: 1
Jordy Nelson: 5
Ryan Taylor: 2


I can't believe I'm saying this, but Cedric Benson ran really well against the Bengals. No, really. Appearing in terrific shape, Benson rushed with burst and broke plenty of tackles. He collected 38 yards on six carries to go along with a 10-yard catch despite hearing a chorus of boos coming from the Cincinnati crowd. With Alex Green looking sluggish (5 carries for 10 yards) and James Starks nursing yet another injury, Benson is shaping up to be a solid flex/RB3 option.


Jermichael Finley missed yet another preseason game. He was absent for the first two because of a quad strain, but he was out for this contest because his second child was being born.


Green Bay did a great job of pressuring Andy Dalton. Clay Matthews in particular caused major havoc in Cincinnati's backfield, pressuring Dalton often and even batting down a ball once.

As a result, Dalton had a really poor outing versus the Packers, going 5-of-17 for only 40 yards. Though he rushed for 36 yards on three scrambles, Dalton was awful. He was almost picked on a fade route to A.J. Green in the end zone. Green expressed his frustration by motioning toward Dalton. It wouldn't get any better, as Dalton had Green wide open deep downfield just a bit later, but overthrew him. I've seen Dalton drafted in the Round 11-13 range as a backup quarterback, but he just doesn't have the upside to be a fantasy QB2.

Here were Dalton's targets:

Armon Binns: 2 (1 end zone)
A.J. Green: 5 (1 end zone)
Donald Lee: 1
Brian Leonard: 2
Brandon Tate: 3


A.J. Green caught just one pass for three yards. This was a really frustrating game for him because a struggling Dalton couldn't find him downfield. Green was wide open for what would have been a gain of 40-plus, but Dalton overthrew him. I'm not going to downgrade Green; I'm just noting that he'd be way higher in my 2012 Fantasy Football Wide Receiver Rankings if he had a good quarterback throwing to him.


BenJarvus Green-Ellis was out for precautionary reasons. Brian Leonard drew the start and rushed for 19 yards on four carries.


I found the Bengals' broadcasters to be rather annoying. They each went on a rant in the first half about how the criticism directed toward Dalton and his meager arm strength is unfair. It's definitely a legitimate concern, but the homer announcers will never admit that.

What's even more frustrating is that they conducted interviews while the starters were on the field. Dalton was actually throwing passes when the announcers addressed the guest in the booth with things like, "Tell me about Cedric Peerman."

Who the hell cares about Cedric f***ing Peerman, especially when the Cincinnati starters are playing? Ugh!


More officiating ineptness: Jordy Nelson was rammed - RAMMED - while trying to make a catch downfield in the first quarter, but there was no flag on the field. Even the homer Bengal announcers were beside themselves. The play-by-play guy said, "I CANNOT believe there isn't any laundry on the field."

Later in the first quarter, the refs called a personal foul on Taylor Mays for a shoulder-to-shoulder hit on Tom Crabtree. Yep, shoulder to shoulder. What is this league coming to?




Titans 32, Cardinals 27
Despite an ugly showing in his second preseason contest, Jake Locker was named the starting quarterback earlier this week. I was hoping for a rebound performance for fantasy purposes, and that's exactly what happened.

Locker finished 11-of-20 for 134 yards and two touchdowns versus Arizona. He was almost picked off by Jamell Fleming (Chris Berman said it was Ryan Mouton, who happens to be on the Titans) on the third drive and missed an open Nate Washington by a mile in the middle of the second quarter, but he was really good otherwise. His first score was a thing of beauty, as he hit Kendall Wright with a nice back-shoulder throw for a 10-yarder. Locker also scrambled twice for 11 yards.

Here were Locker's targets:

Jared Cook: 3
Chris Johnson: 1
Javon Ringer: 3
Craig Stevens: 1
Nate Washington: 6 (1 end zone)
Damian Williams: 1
Kendall Wright: 5

As for Matt Hasselbeck, he entered the contest in the fourth quarter. He was 1-of-4 for 10 yards. That's not a big sample size, but he just looked so inept on the football field compared to Locker. The Titans are definitely making the right decision by going with the young signal-caller.


Chris Johnson ran well last week, but struggled versus Arizona. He tallied only 27 yards on 13 carries, and if you take away a 9-yard burst in which he received good blocking, Johnson's line would be 12-18. He runs too indecisively. He's waiting for holes to open up, and it's just not happening. Even more disconcerting is the fact that he lost third-down reps to Javon Ringer in this contest. That happened a bit last year, but it's still bad news for his PPR potential.


Nate Washington paced the Titans with six targets. He caught three balls for 39 yards and a touchdown. He's one of the players in my 2012 Fantasy Football: 20 Sleepers list.


Kendall Wright looks really good. He caught four of the five passes thrown to him for 44 yards and a touchdown. His best play was a 29-yard leaping grab. He's the real deal and is worth taking in the final rounds as a high-upside flier. Jake Locker really looks comfortable throwing to him.


Bad news for the Titans - return specialist Marc Mariani fractured his leg and will be out for the year.


Like Tennessee, Arizona had a young quarterback looking to prove himself. John Skelton was the favorite to win the starting gig entering this contest, but that may no longer be the case.

Skelton went 4-of-10 for 41 yards and an interception. The pick was really bad - he stared down his receiver and was hit right after he threw - but he never had a chance otherwise because left tackle D.J. Young was a turnstile. Young was heavily abused by Kamerion Wimbley. He surrendered two sacks and was whistled for a hold. As a result, Skelton had zero time to find his receivers downfield. It didn't help that Todd Heap dropped what would have been a 15-yard gain.

Here were Skelton's targets:

Larry Fitzgerald: 1
Michael Floyd: 1
Todd Heap: 2
Jeff King: 1
Andre Roberts: 3
Anthony Sherman: 1

With Skelton struggling, Kevin Kolb had an opportunity to seize the job. He did several nice things, but may have cost himself with two of the worst interceptions you'll ever see. The first was a throw late across his body over the middle. The second was the result of Kolb staring down his receiver when he had an open tight end over the middle of the field.

Despite that, Kolb went 17-of-22 for 156 yards, one touchdown and the two picks. He performed really well in the no-huddle, especially after the Cardinals made some changes on the offensive line, which included benching Young. Kolb's best throw was a scramble to his left and heave downfield to an open Larry Fitzgerald for a 53-yard gain along the sideline.

Here were Kolb's targets:

Jim Dray: 1
Larry Fitzgerald: 5
Michael Floyd: 2
Todd Heap: 3
William Powell: 1
Andre Roberts: 6
Javarris James: 2
Ryan Williams: 1


Ryan Williams tore his patellar tendon exactly a year ago to this day. So, it was nice to see him see some action. He rushed for 15 yards on three carries, including a nice, 12-yard burst in the second quarter.


I have to mention Andre Roberts. He has more targets this preseason (15) than Larry Fitzgerald (11). He finished this game with five catches for 32 yards and a touchdown. With Michael Floyd struggling, Roberts is worth a very late-round look in deep PPR leagues.


Chris Berman and Trent Dilfer called this game for ESPN as a dress rehearsal for the second Monday night contest on opening weekend. Berman failed to announce the intended receivers and many yardage gains, which I found annoying. He also screwed up the Jamell Fleming-Ryan Mouton call that I mentioned earlier. Dilfer, meanwhile, said some bizarre things like, "A lot of comparisons have been made between Joe Flacco and John Skelton."

Who the hell made that comparison, exactly? I have not heard one single person say, "You know that John Skelton? He reminds me of Joe Flacco."

Dilfer also lied. He said he used to go to the mall and people shouted to him, "You're killing my fantasy team right now!" False. No one ever had Dilfer on their fantasy roster.


More officiating ineptness: The refs screwed up once where they allowed a play to continue when there were 12 men on the field. Ken Whisenhunt was pretty pissed at that.

The funniest thing was yet another strange announcement: "Prior to the snap... off... uhh... fff... illegal motion, 57, 5-yard penalty."


2012 Preseason Notes: Week 4 | Week 3 | Week 2 | Week 1
2012 Fantasy Football Stock Pages: Preseason Stock Week 4 | Preseason Stock Week 3 | Preseason Stock Week 2 | Preseason Stock Week 1 | Training Camp Stock












More 2012 Fantasy Football Articles:
2012 Fantasy Football: Home

2012 Fantasy Football Rankings:
2012 Fantasy Football Rankings: Quarterbacks - 9/2 (Walt)
2012 Fantasy Football Rankings: Running Backs - 9/3 (Walt)
2012 Fantasy Football Rankings: Wide Receivers - 9/2 (Walt)
2012 Fantasy Football Rankings: Tight Ends - 9/2 (Walt)
2012 Fantasy Football Rankings: Kickers - 6/2 (Walt)
2012 Fantasy Football Rankings: Defenses - 6/3 (Walt)
2012 Fantasy Football Downloadable Spreadsheets - 9/2 (Walt)
2012 Fantasy Football Auction Values - 7/28 (Walt)
2012 Fantasy Football Rookie Rankings (Re-Draft) - 5/6 (Walt)
2012 Fantasy Football Rookie Rankings (Dynasty) - 5/6 (Walt)
2012 Fantasy Football Playoff Rankings - 1/2 (Walt)
Week 17 Fantasy Football Rankings - 12/27 (Walt)
Week 17 Fantasy Football Injury Reports - 12/27 (Walt)
Week 17 Fantasy Football Start Em, Sit Em - 12/27 (Walt)
Week 16 Fantasy Football Start Em, Sit Em - 12/20 (Walt)
WalterFootball.com $1,000 Contest on FanDuel.com - 11/4

2012 Fantasy Football Cheat Sheets:
2012 Fantasy Football Cheat Sheet: Traditional Scoring - 9/4 (Walt)
2012 Fantasy Football Cheat Sheet: PPR Scoring - 9/4 (Walt)
2012 Fantasy Football Cheat Sheet: Touchdown Scoring - 9/4 (Walt)
2012 Fantasy Football Cheat Sheet: 2-QB Format - 9/4 (Walt)
2012 Fantasy Football Cheat Sheet: Traditional Scoring PRINTABLE - 9/4 (Walt)
2012 Fantasy Football Cheat Sheet: PPR Scoring PRINTABLE - 9/4 (Walt)
2012 Fantasy Football Cheat Sheet: Touchdown Scoring PRINTABLE - 9/4 (Walt)
2012 Fantasy Football Cheat Sheet: 2-QB Format PRINTABLE - 9/4 (Walt)

2012 Fantasy Football Mock Drafts:
2012 Fantasy Football PPR Mock Draft - 8/23 (Walt)
2012 Fantasy Football Mock Draft - 8/16 (Walt)
2012 Fantasy Football Forum 2-QB PPR Mock Draft - 8/9 (Walt)
2012 Fantasy Football Auction Mock Draft - 8/2 (Walt)
2012 Fantasy Football Forum PPR Mock Draft - 7/27 (Walt)
2012 Fantasy Football Forum 2-QB Mock Draft - 7/17 (Walt)
2012 Fantasy Football Forum Standard 14-Team Mock Draft - 7/12 (Walt)
2012 Fantasy Football Forum PPR Mock Draft - 7/6 (Walt)
2012 Fantasy Football Forum Touchdown-Format Mock Draft - 7/4 (Walt)
2012 Fantasy Football Forum Standard Mock Draft - 7/3 (Walt)
2012 Fantasy Football Forum PPR Mock Draft - 6/22 (Walt)
2012 Fantasy Football Forum Mock Draft - 6/14 (Walt)
The Four-Man PPR Fantasy Mock Draft - 5/18 (Walt)

2012 Fantasy Football Articles:
2012 Fantasy Football Stock: Training Camp, OTAs - 9/3 (Walt)
2012 Fantasy Football Preseason Stock - 8/31 (Walt)
2012 NFL Preseason Recap, Fantasy Football Notes - 8/31 (Walt)
2012 Fantasy Football: Quarterback Targets - 8/31 (Walt)
2012 Fantasy Football: 20 Sleepers - 8/28 (Walt)
2012 Fantasy Football: Round-by-Round Strategy - 8/21 (Walt)
2012 Fantasy Football Busts - 6/5 (Walt)
2012 Fantasy Football Sleepers (Early-Middle Rounds) - 6/5 (Walt)
2012 Fantasy Football All-Value Team - 5/26 (Walt)
2012 Fantasy Football Stock Report: Quarterbacks - 5/8 (Walt)
2012 Fantasy Football Stock Report: Running Backs - 5/8 (Walt)
2012 Fantasy Football Stock Report: Wide Receivers - 5/8 (Walt)
2012 Fantasy Football Stock Report: Quarterbacks, Tight Ends - 4/3 (Walt)
2012 Fantasy Football Stock Report: Running Backs - 4/3 (Walt)
2012 Fantasy Football Stock Report: Wide Receivers - 4/3 (Walt)
2012 Fantasy Football: First-Round Bust History - 2/17 (Walt)
Running Backs with Most Carries - 2/17 (Walt)




NFL Picks - Jan. 21


2022 NFL Mock Draft - Jan. 19


NFL Power Rankings - Jan. 18


2023 NFL Mock Draft - Dec. 12


Fantasy Football Rankings - Sept. 8