**** NOTES FOR EVERY GAME WILL BE UP AS SOON AS I WATCH THEM **** Follow me
@walterfootball
for updates.
2022 Preseason Notes:
Week 1
|
Week 2
|
Week 3
2022 Fantasy Football Stock Pages:
Preseason Stock Week 1
|
Preseason Stock Week 2
|
Preseason Stock Week 3


Steelers 19, Lions 9
Mike Tomlin must have thought this was the Super Bowl. That's the only explanation for his actions in this game. While many teams sat all of their starters this week, Tomlin had first-stringers on the field for the entire opening half. This even includes Najee Harris.

It does not include Diontae Johnson and T.J. Watt, but only because they suffered injuries. Johnson hurt his shoulder, while a Detroit player rolled into Watt's leg. Watt was officially ruled out with a knee injury. Tomlin told the media that there were no long-term concerns for either player, but Week 1 isn't exactly long term.

Frankly, I don't know what Tomlin was thinking. There was no benefit to playing his starters at all; let alone an entire half! The Rams haven't used their starters during the preseason in years, and despite breaking in a new quarterback in 2021, they began the season 3-0 and eventually won the Super Bowl. I understand playing rookies in these meaningless games, but it would've made more sense to keep Johnson and Watt out of the stadium completely than on the field!


Mitchell Trubisky played the entire first half along with everyone else. He had issues sustaining drives for the most part, especially in Detroit territory. The Steelers finally reached the end zone on the final possession prior to intermission, but this was when Detroit rested its defensive starters. The CBS announcers even commented, "Mitchell Trubisky has really found himself on this drive." I wonder if finally battling the backups had something to do with that!

Trubisky went 15-of-19 for 160 yards and a touchdown in one half of action. His best throw was a 38-yard bomb to Johnson on the second possession. He took some unnecessary sacks, including one from Aidan Hutchinson on the first drive, and he had a potential interception that was dropped by a Detroit defender.

Here were Trubisky targets:

Miles Boykin: 1
Pat Freiermuth: 4
Najee Harris: 3
Conner Heyward: 1
Diontae Johnson: 1
Gunner Olszewski: 1
George Pickens: 4
Steven Sims: 4 (1 end zone)


Diontae Johnson injured his shoulder versus the Lions. It's unclear if he'll miss any regular-season action at the moment. If he does, the Steelers will be in good hands with their rookie receiver. George Pickens continued to shine, as he made some great plays in the preseaon finale. Pickens began by breaking a tackle to pick up 14 yards and later made a terrific sideline catch on a back-shoulder throw to pick up 22 yards. Pickens hauled in three of his five targets for 35 yards. He's a great flier in the final rounds of your fantasy draft.


Kenny Pickett was under center for most of the second half. He once again looked tremendous. He began with an amazing back-shoulder throw to Miles Boykin for a 29-yard gain deep down the sideline. He later lofted another perfect back-shoulder pass to Tyler Vaughns for a 17-yard connection. He completed most of his passes, and even his misses were extremely close. Pickett finished 10-of-14 for 90 yards.


While the Lions rested Jared Goff and D'Andre Swift, they used their other starters, including T.J. Hockenson, Amon-Ra St. Brown, and the starting offensive line. Hockenson didn't last very long, catching one of his two targets for 15 yards. St. Brown, conversely, played into the second quarter. He reeled in three of the five balls thrown his way for 34 yards.


NFL Preseason Announcers: This was a CBS broadcast, so I can't really make fun of anything. So, with that in mind, allow me to end the preseason announcer segment on a positive note. I need to give credit to Charles Davis because he was the color analyst for both this game and last night's Titans-Cardinals contest. That means he gave his analysis on two games in a span of less than 24 hours despite traveling from Nashville to Pittsburgh!

Follow me @walterfootball for updates.




Jets 31, Giants 27
While the Giants used their backups in this game, the Jets played their starters, with Joe Flacco getting the nod in place of the injured Zach Wilson. If this game is any indication of how the Jets' offense will perform, it's going to be a very long year for them, especially when considering that they were going against reserves.

Flacco played into the second quarter and tossed some accurate passes to start the game. However, Flacco failed to significantly move the chains on his first two drives despite battling backups. The third possession was a disaster, as Flacco heaved a pass late across his body. The result was a pick-six. This was the final time we saw the Jets' first-stringers, meaning they lost to the Giants' reserves by the score of 10-3.

Flacco finished 7-of-12 for 76 yards and the interception. Again, this was not a good look when considering the opponent, especially with a tough battle against the Ravens looming in two weeks.

Here were Flacco's targets:

Braxton Berrios: 1
Michael Carter: 2
Tyler Conklin: 3
Corey Davis: 1
Elijah Moore: 2
C.J. Uzomah: 2
Garrett Wilson: 1


Concerning the Jets running backs, Michael Carter started this game, but Breece Hall entered on the opening drive. This outcome was favorable for Hall, as he converted a third-and-3 and then saw Carter lose a fumble. Hall also had an 11-yard rush that featured a nice cut, but was later stuffed on a third-and-1. Hall gained 13 yards on five carries, while Carter tallied 10 yards on four attempts.


There's not much to say about the Giants. Tyrod Taylor started, but didn't last very long because he suffered a back injury. Meanwhile, the rookies had some nice plays. Wan'Dale Robinson rushed for 11 yards on an end-around. Tight end Daniel Bellinger caught all three of his targets for 37 yards.


NFL Preseason Announcers: The sideline reporter said this to Robert Saleh, who seemed confused upon hearing the statement: "We're going to see your starters here tonight." I imagine Saleh was perplexed because "tonight" was a 1 p.m. game.

Follow me @walterfootball for updates.




Bears 21, Browns 20
While many teams didn't play any of their starters this weekend, both the Bears and Browns had their top quarterbacks on the field for most of the opening half. Of the two, Justin Fields was the best performer, by far.

Fields looked like a completely different quarterback from what we saw a year ago, or even two weeks prior to this contest. He was right on the money on all of his throws, and his pocket awareness looked pristine. He battled Cleveland's backups for a time, but he was able to excel versus half the starting unit as well. This does not include Myles Garrett and Denzel Ward, but many other starters played.

Fields misfired on just two occasions, going 14-of-16 for 156 yards and three touchdowns. He also scrambled twice for 11 rushing yards. If he had a great supporting cast, we could see this from him on a weekly basis, but his miserable offensive line and pedestrian receiving corps will make things very difficult for him, especially when he has to battle defenses that aren't sitting their top two players.

Here were Fields' targets:

Khari Blasingame: 1
Isaiah Coulter: 1
Ryan Griffin: 1 (1 end zone)
Khalil Herbert: 2
Cole Kmet: 3 (1 end zone)
David Montgomery: 1
Darnell Mooney: 1
Dante Pettis: 3 (1 end zone)
Equanimeous St. Brown: 2


Cole Kmet continued his high play in the preseason, as he tied for the team lead in targets from Fields with three. He snatched all three of those balls for 36 yards and a touchdown.


David Montgomery played into the second quarter and looked great. He rushed for 28 yards on nine carries, but what isn't shown in the stat line is that he had a long run negated by a hold. It's a shame because this rush featured an absolutely wicked cut that had the Browns broadcasters in awe.


Like Fields, Jacoby Brissett battled a starting unit. Brissett didn't fare nearly as well as Fields, though he wasn't fully to blame. His very first pass was dropped by Anthony Schwartz. His final pass was also dropped by Schwartz. Furthermore, his sole interception was the result of Schwartz getting knocked down by a defender. The Cleveland crowd was not pleased with this, as it booed Schwartz every time the ball sailed in his direction.

Brissett dinked and dunked otherwise. He didn't have his full arsenal like Fields did, as he was missing Amari Cooper, Nick Chubb, Kareem Hunt, Joel Bitonio, and Jack Conklin. Wyatt Teller played, but got injured. Fortunately for the Browns, it's not believed to be serious. Nevertheless, Brissett didn't exactly get a fair shake in this game, as he spent most of the time dinking and dunking. He finished 13-of-23 for 109 yards and the pick.

Here were Brissett's targets:

David Bell: 3
Harrison Bryant: 2
Demetric Felton: 2
D'Ernest Johnson: 2
David Njoku: 4
Donovan Peoples-Jones: 3
Anthony Schwartz: 6
Johnny Stanton: 1


While Schwartz was atrocious, Donovan Peoples-Jones and David Bell made some nice catches. Peoples-Jones hauled in a 7-yard pass with a great, diving catch. Bell, meanwhile, was impressive to close out the opening half. He reeled in all three of his targets for 36 yards. David Njoku had a similar stat line (3-34).


Rookie kicker Cade York drilled a 57-yard field goal with plenty of room to spare prior to halftime. He whiffed from 58 earlier in the game, so he was able to redeem himself.


NFL Preseason Announcers: The announcers revealed that Brissett's goal in this game was to involve the running backs and tight ends more often. With that in mind, it was strange to see this graphic two minutes later: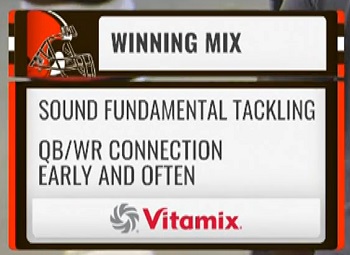 I guess the graphic guys were not paying any attention to what the two announcers were saying!

Follow me @walterfootball for updates.









Titans 26, Cardinals 23
Neither team played its starters for the most part, but this game was still very interesting because Malik Willis was on the field for three-and-a-half quarters. Willis had a mixed performance in his final preseason game, as he attempted to secure the No. 2 quarterback job behind Ryan Tannehill.

Perhaps the highlight everyone saw was Willis' terrific 50-yard scramble in the second quarter. It was a thing of beauty, but people should be more interested in how well Willis can throw. That's why it must be noted that Willis' very next pass was behind his target in the end zone. Had Willis thrown the ball on the money, he would've had a touchdown. Instead, the pass was incomplete.

Willis had some other negative moments that were offset by brilliant plays. He took an early sack because he held the ball for an eternity, and he later skipped a pass to a receiver on a third-and-9. However, Willis threw a beautiful ball to Racey McMath while on the run for a 28-yard gain.

Willis finished 15-of-23 for 131 yards, one touchdown and interception that was the result of a deflection. He also scrambled four times for 79 rushing yards. Willis isn't ready to play yet, but he might be able to do so next year if he can develop well.


I mentioned that the starters sat for the most part. That didn't apply to Tennessee's receivers or its right tackle. Robert Woods, coming off a torn ACL, was on the field for the opening drive, and he made a 5-yard diving catch. Meanwhile, Treylon Burks finally showed some promise in the preseason finale. He skied for a 6-yard reception on the first play from scrimmage, then reeled in a touchdown prior to halftime. Burks, who caught three passes for 33 yards and the score, left the game with a wrist injury, but was able to return.

As for Tennessee's right tackle, third-round rookie Nick Petit-Frere won the starting job. He was pulled early, which indicates how much the coaching staff values him.


There's not much to say about the Cardinals, but I will note that rookie running back Keaontay Ingram impressed. Ingram rushed for 61 yards on 16 carries. He also had a great blitz pick-up that allowed Arizona to complete a big pass.


NFL Preseason Announcers: There was some drama in the booth, as general manager Jon Robinson, growing tired of Charles Davis' questions, stormed off the set and even knocked over the backdrop. Davis later revealed that this was a planned stunt, but it reminded me of the Monday Night Football conversations I have on my picks page.

Follow me @walterfootball for updates.





Broncos 23, Vikings 13
There isn't much to say about this game because both teams sat all of their starters. I will discuss Kellen Mond, however, as he continued to struggle while showing off his immense upside at the same time.

Mond has endured a roller coaster of a preseason, and that was evident on one drive in this contest. Mond dropped a beautiful 30-yard rainbow to Ihmir Smith-Marsette down the sideline, but immediately followed that up by heaving a pass into triple coverage. Mond also displayed a severe lack of pocket awareness on a fourth-and-goal situation in the final quarter. Mond, upon receiving the snap, decided that he had to escape the pocket right away. There was no pressure, yet Mond panicked and bolted to his left, where he promptly was met by defenders.

Mond finished 10-of-17 for 102 yards. The numbers look ordinary despite the wild swings during this performance. Mond will continue to get chances because of his great natural ability, but he's still a major developmental project.


NFL Preseason Announcers: The Broncos announcers didn't seem to understand basic football situations. The Vikings were driving at the end of the first half and were at the 50-yard line. They called a timeout to stop the clock. The play-by-play guy remarked, "You might be asking why they're calling timeout. It's because the coaches want to evaluate players." Um, no, it was because the Vikings were one pass away from being in field goal range. Lo and behold, Minnesota completed that pass and ended up hitting the field goal.

Follow me @walterfootball for updates.









Colts 27, Buccaneers 10
Despite the starting quarterbacks of these teams having a combined age of 82, both were on the field in this game. Tom Brady returned from his leave of absence Monday and wanted to play one drive, whereas Matt Ryan saw action for exactly one quarter.

Beginning with Brady, he engineered a scoring drive that stalled inside the Indianapolis 10-yard line. He was perfect on all but one of his passes, which was an overthrow in Mike Evans' direction. Brady's second incompletion was a drop by Tyler Johnson, who was on the field in place of the injured Chris Godwin. Brady ended up 6-of-8 for 44 yards. He looked like he hadn't missed a beat despite being away from the team for weeks.

Here were Brady's targets:

Cameron Brate: 2
Jaelon Darden: 1
Mike Evans: 2
Leonard Fournette: 1
Julio Jones: 1
Tyler Johnson: 2


Leonard Fournette showed no signs of his weight gain in the preseason finale. He had a powerful 13-yard run to start the game, then spun out of what should've been a 4-yard loss to get back to the line of scrimmage. He carried the ball just twice (13 yards), but looked great in his limited action.


Speaking of Fournette, some expect rookie Rachaad White to take carries away from him. White didn't look too hot in this contest, as he was limited to only nine yards on six carries. He was absolutely blasted by defensive tackle Grover Stewart, who dominated the line of scrimmage.


The dark cloud over this game for the Buccaneers was the injury center Robert Hainsey suffered. Hainsey hurt his ankle and will have an X-ray soon. This could be a huge blow because the Buccaneers already have injuries to two of their interior offensive linemen.


Moving on to the Colts, they didn't have nearly as much success offensively. Their first-unit scored a touchdown, unlike the Buccaneers, but they weren't able to move the ball until Tampa Bay removed its starters. Matt Ryan saw plenty of pressure, which may have been the result of Ryan Kelly being absent because of a minor illness. Jonathan Taylor being a healthy scratch didn't help matters. Ryan posted quality numbers – 5-of-7, 59 yards – but again, most of this occurred versus the Buccaneer backups.

Here were Ryan's targets:

Mo Alie-Cox: 1
Deon Jackson: 3
Michael Pittman: 3


The one positive about Indianapolis' offense in the preseason finale was that Matt Ryan showed a nice rapport with Michael Pittman Jr. Ryan has always loved targeting his No. 1 receiver way more frequently than anyone else, and Pittman is that player in Indianapolis. Pittman hauled in all three of his targets from Ryan for 29 yards.


NFL Preseason Announcers: The Colts' color analyst, an 80-year-old guy with a mustache, thought he was a member of the Colts' organization. Everything out of his mouth regarding the Colts was phrased as "we" or "us." Consider the following quotes:

"They really gashed us on the right side."

"This is our big test for the regular season."

"We're going to unleash a new punter tonight, and we want to shore up the backup positions."

"The Buccaneers are trying to keep us off balance."

Follow me @walterfootball for updates.




Ravens 17, Redskins 15
The Ravens used all of their backups. Even their No. 2 quarterback, Tyler Huntley, threw just four passes. There is almost nothing to discuss about Baltimore, though there are two exceptions. The first would be the newly signed Demarcus Robinson, who exploded for four catches for 135 yards and a touchdown, which was a 67-yard bomb. The Ravens are starved for receiving talent, so Robinson could make an impact during the regular season. I wouldn't draft him, but he's someone to monitor.

The second exception regarding Baltimore is that Isaiah Likely did not play in the preseason finale. This is obviously an indicator that he will be a big part of the offense. That can't be a surprise after he was so dominant in the previous two games.


As for the Redskins, it's most noteworthy that Sam Howell continued to perform well in his rookie preseason campaign. He made some mistakes, namely holding on to the ball too long in the pocket at times, but that created one instance where he broke out of two sacks, pump faked a third defender and got a good gain to put his team in a favorable position instead of a fourth-and-long. As a passer, Howell was on the money on most of his throws.

Howell finished 24-of-35 for 280 yards and one touchdown, and yet he was victimized by a couple of drops by Dyami Brown to begin the game, one of which would have been a considerable gain on third down. Howell also scrambled eight times for 62 rushing yards. I don't see why he couldn't push for a starting job in the future.


NFL Preseason Announcers: If you watched this game and thought it dragged on forever, that's because the first quarter lasted a long time. Just look at how many minutes were remaining at one point: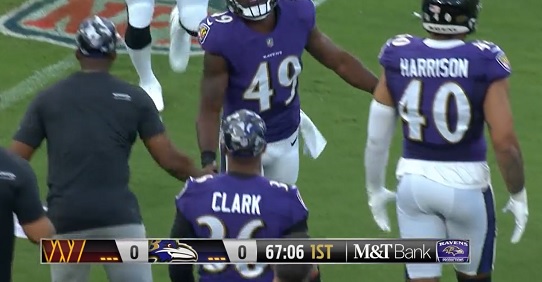 Follow me @walterfootball for updates.




Dolphins 48, Eagles 10
The Eagles sat all of their starters, but the Dolphins had Tua Tagovailoa and his primary support cast on the field for three drives. It was a small sample size against Philadelphia's backups, but Miami's starting offense looked incredible.

Tagovailoa scored on all three of his drives, and it didn't take him very long to get on the board. His first pass was a 51-yard bomb to Tyreek Hill. Three plays later, Tagovailoa used play-action to fool the defense and locate River Cracraft for a perfect touchdown. Tagovailoa had a bad miss on his second drive, but delivered some terrific throws on the next possession.

Tagovailoa finished 6-of-7 for 121 yards and a touchdown in the final preseason game. Again, this was against the Eagles' backup scrubs, but save for one pass, Tagovailoa's excellent accuracy was very evident. He has a tremendous supporting cast for the first time in his career, so he could have a great season.

Here were Tagovailoa's targets:

River Cracraft: 1 (1 end zone)
Mike Gesicki: 1
Tyreek Hill: 2
Cedrick Wilson: 1


It was a small sample size, but Tagovailoa looked locked in with Hill. Tagovailoa targeted Hill twice, and the dynamic receiver caught both balls for 64 yards, including the 51-yard bomb.


The Dolphins used multiple running backs when Tagovailoa was on the field, but Raheem Mostert was the only back on the initial drive. Mostert gained 29 yards on two carries. Myles Gaskin, who was very slippery, was the second running back in the game. He gained 39 yards on six carries, but was vultured by Sony Michel (5-15).


As for the Eagles, they didn't use any starters at all, so it was not a good sign that Kenneth Gainwell played in this game. Gainwell failed to gain a yard on two carries. He also caught a pair of passes for eight receiving yards. Still, he didn't rest, while Boston Scott did.


NFL Preseason Announcers: On one play in which the Philadelphia defenders tackled poorly, the Eagles' color analyst remarked, "They look like my daughters trying to grab my legs!" Way to insult your daughters!

Follow me @walterfootball for updates.









Bengals 16, Rams 7
This game featured no viable fantasy players, save for the kickers. Third-stringers Bryce Perkins and Jake Browning battled for the majority of this game, so that should tell you how meaningless this contest was. Aside from Lance McCutcheon dominating again – five catches, 76 yards – I have no notes on this game, so I'll just move on to more significant action.

Follow me @walterfootball for updates.








Falcons 28, Jaguars 12
Neither team played its starters in this game. In fact, the Jaguars didn't even use their backup signal-caller, opting to have third-stringer E.J. Perry on the field the entire game. The Falcons, conversely, gave Desmond Ridder the nod. The rookie signal-caller was on the field for three-and-a-half quarters.

Ridder had a mixed performance after two strong preseason games. He launched an early interception, which was a throw that was high and behind his receiver due to some awkward footwork in the pocket. Ridder was able to rebound with a scoring drive that featured a nice 17-yard pass to Damiere Byrd.

Ridder continued to have a roller coaster outing after that. He had Byrd wide open for a touchdown, but overthrew him, then heaved an interception on an underthrown ball. Ridder later fired a perfect 35-yard pass to Frank Darby down the sideline, but his next pass was a dropped interception when he overshot his target.

The final stat line looks like this: 14-of-21, 185 yards, one touchdown and two interceptions. If I had to grade this performance, I'd give it a "C." Ridder did some good things and was mostly accurate on his short and intermediate throws, but he was guilty of some hideous passes as well.


Rookie running back Tyler Allgeier started in the preseason finale and played into the fourth quarter, which is not good for his outlook this year. Allgeier rumbled for 26 yards and a touchdown on eight carries. He also scored another time as a receiver out of the backfield. The bad news is that Caleb Huntley, with whom he split the workload, looked like the superior back. Huntley dashed for 86 yards and a touchdown on 19 carries.


NFL Preseason Announcers: "Looks like a false start on the defense." The Falcons' play-by-play guy actually said this.

Follow me @walterfootball for updates.









Raiders 23, Patriots 6
The Raiders sat their starters once again, while the Patriots played Mac Jones and the rest of the first-stringers into the second quarter. Given the offense's struggles in training camp, Bill Belichick apparently wanted to see more from his top unit.

The result wasn't pretty. New England mustered only a field goal on a few drives versus the Raider backups. The primary issue was pass protection, as right tackle Isaiah Wynn, looking incredibly sluggish, surrendered two sacks to backup Raider pass rushers. Jones, meanwhile, was responsible for a hideous interception where he didn't see the linebacker while throwing across his body over the middle of the field. He also made a "rookie" mistake of backing up 20 yards in the pocket amid pressure.

Aside from the pick, however, Jones was accurate on most of his throws. He went 9-of-13 for 71 yards and the interception. Jones appeared to fire a touchdown to DeVante Parker in the second quarter, but offensive pass interference negated the score.

Here were Jones' targets:

Kendrick Bourne: 2
Hunter Henry: 2
Jakobi Meyers: 1
DeVante Parker: 4 (1 end zone)
Jonnu Smith: 1


Parker, as mentioned, had a touchdown negated by penalty. He saw a team-leading four targets, but hauled in only two passes for nine yards.


Damien Harris didn't play in the preseason finale, which is bullish for his outlook. Conversely, Rhamondre Stevenson was on the field into the second quarter. Stevenson had some nice runs – five carries, 22 yards – but it's not a good sign that Bill Belichick used him so much, whereas Harris didn't play at all.


Rookie quarterback Bailey Zappe had a nice completion percentage, as he went 10-of-14 for 84 yards. However, he also fired an interception on an ugly overthrow over the middle of the field. He also tossed a checkdown on third-and-goal that wasn't near the end zone.


As for the Raiders, they had a strong defensive performance out of Tashawn Bower, who abused the first-string New England offensive line. Meanwhile, Josh Jacobs was one of the Raider starters who sat, allowing Zamir White to receive the initial carries. White tallied 17 yards and a touchdown on five carries.


NFL Preseason Announcers: Matt Millen was one of the color analysts. This meant that we got to hear some strange things from him, including:

"He opens himself up. That's called opening the gate."

"When you got a guy on your hip, you gotta be right where you're supposed to be."

"They're right on top of guys."

"He had a beat on the thing."

Follow me @walterfootball for updates.




Saints 27, Chargers 10
The Saints starters, including Alvin Kamara, were on the field for exactly one drive in the preseason finale. The offense looked tremendous, as it went right down the field versus the beleaguered Chargers for a quick touchdown.

Winston was perfect, completing all four of his passes for 59 yards. It was a small sample size, but he looked like a different quarterback. The New Orleans coaching staff remarked that they wanted Winston to climb the pocket more often, and that's exactly what he did on one play. He was under pressure, but stepped up and kept his eyes downfield. The result was a 20-yard completion to Jarvis Landry. Granted, this occurred against the Charger backups, but it was still an impressive sight nonetheless.

Here were Winston's targets:

Alvin Kamara: 1
Jarvis Landry: 2
Chris Olave: 1


As mentioned, Alvin Kamara played one drive in the preseason finale. He touched the ball four times, but looked incredible. He rushed for 19 yards on two carries, which included a 13-yard burst in which he dragged multiple defenders to the San Angeles 1-yard line. Kamara also caught a 5-yard pass. His fourth touch was a long run negated by an illegal shift. Kamara looked fantastic, but could be suspended during the season because of his off-the-field transgressions.


It was a positive sign that Chris Olave played with the starters and then sat for the rest of the game. He caught his only target, a 19-yard completion. He snatched the ball and quickly took a seat to avoid any contact.


The dark cloud over this game was the injury to Trevor Penning, and it occurred on the final snap of the initial drive. A teammate stepped on Penning's foot, resulting it in rolling awkwardly. Penning was then carted into the locker room. It's unclear how severe this injury is, but if Penning misses extended time, it'll be an enormous loss, given that Terron Armstead left the team this offseason.


As for the Chargers, there's not much to say. Joshua Kelley had a strong performance with 40 yards on six carries, as he did a good job of breaking some tackles. He'll be the No. 2 running back to start the year, especially with Isaiah Spiller nursing an ankle injury.


NFL Preseason Announcers: One of the Saints announcers called Chase Daniel "Chase Daniels." That ordinarily wouldn't be a big deal if he hadn't been a former teammate of his!

Follow me @walterfootball for updates.




Cowboys 27, Seahawks 26
The Cowboys sat their starters, so the only intrigue was centered around the Seahawks, who used most of their main players. This includes the quarterbacks, as Geno Smith and Drew Lock continued their battle to be the starter. Based on what happened in this contest, I'll be shocked if Smith isn't given the nod.

Smith played one drive, but did a fine job. He went 3-of-6 for 43 yards, leading a scoring drive. He made some nice connections to Tyler Lockett.

Here were Smith's targets:

Will Dissly: 1
Dee Eskridge: 1
Noah Fant: 1
Tyler Lockett: 2
Dareke Young: 2

Lock entered the game after that and was a total disaster. He tossed two interceptions in the first half, and both were telegraphed passes. Lock stared down his receivers like a leering drunk at a bar, and the backup Dallas defensive backs snatched the easy picks. Lock had a third interception that wasn't his fault – the ball bounced off his receiver's hands – but Lock also would've been picked twice more had the opposing defenders not dropped passes. He also nearly got one of his wideouts killed.

Lock went 13-of-24 for 171 yards, one touchdown and three interceptions. A clueless analyst on NFL Network said that the quarterbacks hadn't separated themselves, but it's crystal clear that Lock has lost this battle.


There's not much to note about the Cowboys, save for a couple of notes on two rookies. Second-round defensive end Sam Williams beat top-10 pick Charles Cross for a sack in the opening half, but committed a couple of penalties. Meanwhile, third-round receiver Jalen Tolbert saw five targets, but was able to reel in only two of them for nine yards. However, Tolbert was open on some occasions, but Dallas' terrible backup quarterbacks couldn't connect with him.


NFL Preseason Announcers: When the Seahawks lined up for the kick, the play-by-play guy said, "Seattle kicking for the tie." The problem? The Seahawks were already up three, so they were kicking to get a six-point lead!

Also, the Cowboys' preseason telecast always has a former player as a third man in the booth. It was Michael Irvin in this game, but I was hoping for it to be Emmitt Smith. A couple of years ago, Emmitt, upon seeing Dallas commit a turnover, commented, "The Cowboy have to go back to square zero."

Follow me @walterfootball for updates.




Panthers 21, Bills 0
The Panthers were serious about winning their final preseason game, whereas the Bills sat all of their starters. Baker Mayfield and all the starters, save for a few exceptions, were on the field well into the second quarter.

Mayfield had a strong performance in this game, though it's difficult to read anything into it because he was battling Buffalo's backups the entire time. Despite this, Mayfield saw tons of pressure. Carolina's supposedly improved offensive line couldn't keep Buffalo's reserves out of the backfield.

Mayfield went 9-of-15 for 89 yards and two touchdowns. Two of his incompletions were dropped by Chuba Hubbard. I imagine Christian McCaffrey would have caught those passes. Mayfield, by the way, is fortunate that he didn't play into the third quarter because a Buffalo defensive lineman rolled into the legs of Sam Darnold, who had to be carted off the field.

Here were Mayfield's targets:

D'Onta Foreman: 1 (1 end zone)
Rashard Higgins: 1
Chuba Hubbard: 5
Shi Smith: 4
Stephen Sullivan: 1
Tommy Tremble: 2


McCaffrey, D.J. Moore and Robbie Anderson were the rare Panther starters who sat. This would explain why Mayfield threw to Hubbard and Shi Smith more than anyone else. Mayfield has quality weapons, but the offensive line remains a concern.


Carolina's defensive line, conversely, was dominant in this game. Again, the matchup was easy because the Bills were playing backups, but Derrick Brown was a one-man wrecking crew when rushing the passer. He was pushed around against the run, however, when James Cook picked up a 9-yard gain while running right at him. Cook, by the way, received a bit of work, managing 13 yards on three carries. He also caught one pass, but for no gain. Neither Devin Singletary nor Zack Moss played.


The highlight for the Bills was their punting game. With Matt Araiza being part of a rape investigation, third-string quarterback Matt Barkley took on the role of punter. He hit a 53-yard punt in the second quarter and put the ball at the Carolina 8-yard line, but the ball went off the side of his foot and bounced in a very fortunate direction.


NFL Preseason Announcers: The Panthers' broadcast had NFL Network employees, so there weren't any blunders. It was a shame because the Panthers' preseason telecasts used to feature a segment called Sweet Tweets where they read tweets from viewers. I was prepared for the following Sweet Tweet: "ARE CAM NORTON GONNA WINNED MVP #SWEETTWEET"

Follow me @walterfootball for updates.




Texans 17, 49ers 0
Neither starting quarterback played in the Packers-Chiefs game, but both No. 1 signal-callers saw action in this game. Trey Lance played a few drives, but wasn't particularly sharp. Kyle Shanahan called the first-string offense "sloppy" in a sideline interview, and that description was on point.

Lance's ball placement wasn't ideal in this contest. He completed seven of his 11 passes, but too many of his throws were off the mark. He missed George Kittle on a routine pass and was almost strip-sacked because he held the ball for an eternity. Lance's 7-of-11 passing went for only 49 yards.

Here were Lance's targets:

Brandon Aiyuk: 1
Jauan Jennings: 1
Kyle Juszczyk: 2
George Kittle: 1
Deebo Samuel: 1
Trey Sermon: 1
Malik Turner: 1
Jeff Wilson Jr.: 1
Charlie Woerner: 1


Trey Sermon is on the roster bubble and was the second running back in this game, as Jeff Wilson Jr. drew the start. Wilson didn't play much – three carries, 16 yards – while Sermon took two losses of nine combined yards on a couple of plays, including a fourth-and-1 attempt. He ended up with 20 yards on eight carries. Tyrion Davis-Price, meanwhile, played into the fourth quarter.


I've been impressed with Mr. Irrelevant, Brock Purdy. The Iowa State prospect entered the game in the second quarter and played for most of the latter half. He made some impressive throws like threading the needle over a linebacker for a 26-yard gain. He hurled a perfect pass down the seem to Ross Dwelley for 28 yards. There was also an instance where Purdy caught a botched snap, but remained calm, kept his eyes downfield and found Malik Turner for a first down.

Conversely, Purdy made a couple of rookie mistakes. He was greedy by trying to thread the needle again after his first completion and was nearly picked as a result. He later tossed an interception because he didn't see the linebacker. He also took some losses because he refused to throw the ball away.

Purdy finished 13-of-20 for 182 yards and an interception. He could've been picked a second time, but he also would've thrown a touchdown had Willie Snead not dropped a routine pass in the end zone. Assuming Jimmy Garoppolo is traded, Purdy should be named the backup behind Lance.


Moving on to the Texans, Davis Mills played into the third quarter, as Lovie Smith continued to coach like it's 2004. Mills was sacked on his first snap because he held the ball forever, then proceeded to struggle to move the chains versus San Francisco's backups. He went 6-of-10 for 58 yards, one touchdown and an interception. The pick wasn't his fault because Chris Moore bobbled the ball in the end zone. The touchdown came in the third quarter when the 49ers were using their practice squad scrubs.

Here were Mills' targets:

Nico Collins: 4 (1 end zone)
Chris Conley: 3
Brevin Jordan: 3
Chris Moore: 3 (1 end zone)
Rex Burkhead: 1


The big news regarding the Texans in the final preseason game was that Dameon Pierce started, while Marlon Mack played into the fourth quarter. Al Michaels introduced Pierce as the "star of training camp." Pierce lived up to the acclaim with 37 yards and a touchdown on just six carries. He showed great vision and tackle-breaking ability. Pierce hasn't won the job by default; he's incredibly talented and should have a strong rookie campaign.


NFL Preseason Announcers: It pissed me off to no end that this game wasn't aired live on NFL+. I pay for NFL+, yet wasn't able to watch this game on that service because it was on Amazon Prime.

Follow me @walterfootball for updates.




Chiefs 17, Packers 10
Aaron Rodgers doesn't play in the preseason, so the only question was whether or not Patrick Mahomes would see the field. Mahomes played in the first two preseason games, and he was on the field to open this contest. However, Mahomes didn't play a snap. He joined his teammates in a choir huddle to honor the late Len Dawson, who passed away the prior day. Following the delay-of-game penalty, Mahomes sat in favor of Chad Henne.

The Packers, meanwhile, went with No Cookie Jordan Love for more than a half. Love had a mixed outing. He threw some darts and navigated the pocket well to buy himself some time. Conversely, Love threw a hilariously terrible interception, as he launched a pass into triple coverage. Love went 16-of-26 for 148 yards and the pick.


Rookie receiver Romeo Doubs continued to contribute in the preseason. He caught two of his three targets for 13 yards. He didn't play very much, which is a good sign.


Another rookie, Isiah Pacheco, rushed for 52 yards on 10 carries, and he also had an 18-yard gain negated by a hold. He showed nice vision and burst on his runs, but played into the second half.


Skyy Moore didn't do much offensively, as he was limited mostly to special teams. However, he dropped a deep pass.


NFL Preseason Announcers: The broadcast showed this graphic: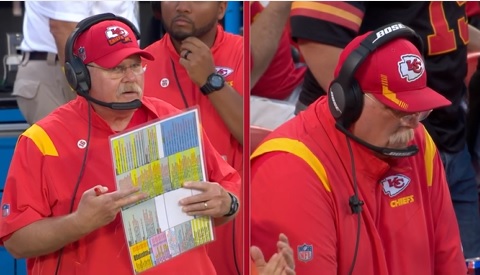 One of these is Andy Reid, but which one is it!?

Follow me @walterfootball for updates.


2022 Preseason Notes: Week 1 | Week 2 | Week 3
2022 Fantasy Football Stock Pages: Preseason Stock Week 1 | Preseason Stock Week 2 | Preseason Stock Week 3







More 2022 Fantasy Football Articles:
Fantasy Football Rankings

2022 Fantasy Football Rankings:
2022 Fantasy Football Rankings: Quarterbacks - 9/4 (Walt)
2022 Fantasy Football Rankings: Running Backs - 9/4 (Walt)
2022 Fantasy Football Rankings: Wide Receivers - 9/4 (Walt)
2022 Fantasy Football Rankings: Tight Ends - 9/4 (Walt)
2022 Fantasy Football Rankings: Kickers - 8/28 (Walt)
2022 Fantasy Football Rankings: Defenses - 8/28 (Walt)
2022 Fantasy Football Rookie Rankings: Dynasty - 5/11 (Walt)



2022 Fantasy Football Mock Drafts:
2022 Fantasy Football Mock Drafts - 8/31 (Walt)



2022 Fantasy Football Cheat Sheets:
2022 Fantasy Football Cheat Sheet: Top 250 - 9/4 (Walt)
2022 Fantasy Football Cheat Sheet: Top 250 PPR - 9/4 (Walt)
2022 Fantasy Football Cheat Sheet: Top 250 Half-PPR - 9/4 (Walt)
2022 Fantasy Football Cheat Sheet: Top 250 2-QB - 9/4 (Walt)
2022 Fantasy Football Cheat Sheet: Top 250 Touchdown League - 9/4 (Walt)
2022 Fantasy Football Cheat Sheet: Custom - 9/4 (Walt)
2022 Fantasy Football: Dynasty Rankings - 9/4 (Walt)
2022 Fantasy Football Spreadsheets - 9/4 (Walt)

2022 Fantasy Football Articles:
2022 Fantasy Football Stock Report: OTAs, Training Camp - 9/3 (Walt)
2022 Fantasy Football Sleepers - 8/30 (Walt)
2022 Fantasy Football Busts - 8/30 (Walt)
2022 NFL Preseason Game Recaps - 8/29 (Walt)
2022 Fantasy Football Stock Report: Preseason Games - 8/29 (Walt)
2022 Fantasy Football Value Picks - 5/22 (Walt)






NFL Picks - Sept. 29


2024 NFL Mock Draft - Sept. 27


Fantasy Football Rankings - Sept. 7


NFL Power Rankings - June 2