2022 NFL Preseason Recap and Fantasy Football Notes: Week 1
**** NOTES FOR EVERY GAME WILL BE UP AS SOON AS I WATCH THEM **** Follow me
@walterfootball
for updates.
2022 Preseason Notes:
Week 1
|
Week 2
|
Week 3
2022 Fantasy Football Stock Pages:
Preseason Stock Week 1
|
Preseason Stock Week 2
|
Preseason Stock Week 3


Raiders 26, Vikings 20
This was another game that didn't feature any regular starters. The Raiders gave the nod to Jarrett Stidham, while the Vikings used Sean Mannion for most of the game. It remains to be seen if the Vikings would have played their first-stringers had Kirk Cousins not been sidelined with a minor illness.

The one quarterback of note was Kellen Mond, who played for most of the second half. Mond had a strong performance overall, but began poorly. He had some horrible gaffes on his first couple of drops, including a situation where he missed a wide-open receiver in the end zone. He also skipped a pass to the running back in the flat. However, Mond would eventually bounce back and loft a nice touch pass on a fourth-and-5 for a 22-yard gain. That eventually led to a touchdown pass when Mond fired a laser to his target. On a later drive, Mond made an extremely accurate, downfield toss for 21 yards near the sideline, setting up another score, which was another perfect ball with good touch.

Mond finished 9-of-14 for 119 yards and two touchdowns. The difference between his play in this game and what we saw from him last summer is night and day. Mike Zimmer didn't even consider using Mond last year, but he would likely have a different opinion now.


As for the Raiders, we didn't see Josh Jacobs this time. Zamir White started instead. White rushed for 13 yards on five carries, and he also caught two passes for four receiving yards. He's worth noting because he played well ahead of Kenyan Drake. It doesn't appear as though Josh McDaniels values Drake very much.


Someone named D.J. Turner led the Raiders in receiving with three catches for 58 yards and a touchdown. His score was a thing of beauty, as he caught a short pass and turned on the jets for a 35-yard burst. Turner showed some major speed and is an intriguing player who could make the roster, though the receiving corps is very crowded.


NFL Preseason Announcers: When the Raiders had a fourth-and-1 on the Vikings' 10-yard line in the opening half, the play-by-play announcer said, "No sign of the punter here on fourth-and-1." Did she really believe the Raiders were thinking about punting from the opposing 10-yard line? What would they be hoping for, a net punt of nine yards to pin Minnesota at the 1-yard line?

Follow me @walterfootball for updates.









Rams 29, Chargers 22
Neither the Rams nor the Chargers ever play their starters in the preseason, so there was no way we would see Matthew Stafford or Justin Herbert. Indeed, this was a matchup between Bryce Perkins and Chase Daniel. Perkins played the entire way and ended up being the winning quarterback in the DraftKings contest. He went 10-of-17 for 133 yards and two touchdowns to go along with his eight scrambles for 39 rushing yards and a third touchdown.


Both of Perkins' passing touchdowns went to an undrafted rookie named Lance McCutcheon. The 6-3, 202-pound Montana State product was a monster in this game. He made some terrific catches in traffic, and his 60-yard score was a great grab that was followed by a run featuring two broken tackles. McCutcheon reeled in five of his six targets for 87 yards and the two touchdowns. He's not on the fantasy radar quite yet, but he's someone to remember in the future.


The Chargers' top receiver was Michael Bandy, a second-year pro who caught seven of his 11 targets for 73 yards and a touchdown. Bandy ran some nice routes in this great performance, though he made a mistake when a drop of his turned into an interception. San Angeles' receiver depth chart isn't very deep, so perhaps Bandy will make the 53-man roster.


I was looking forward to seeing Isaiah Spiller take the field in this game. The fourth-round rookie runner rushed for 34 yards on 10 carries and tacked on a 10-yard reception. He did most of his damage in the second half, but looked like the best runner on the field for the Chargers in this game.


NFL Preseason Announcers: LaDainian Tomlinson, handling the sideline reporter gig in this game for some reason, is now sporting some sort of mullet. What a fall from grace.

Follow me @walterfootball for updates.









Broncos 17, Cowboys 7
Dak Prescott and Russell Wilson did not play. Instead, there was a first-half battle between Cooper Rush and Josh Johnson in a game that seemed like a contest to see which team would make the most mistakes. In case you couldn't tell by the score, Dallas "won" in that regard.

One of the many Cowboys who committed blunders was Jalen Tolbert. This was disappointing because Tolbert is listed on my sleepers page, but he was guilty of a drop and a penalty. He was inefficient as a receiver in his preseason debut, converting just two of his seven targets for a mere 10 yards. I'm sure things will be better with Dak Prescott on the field, but this was a discouraging performance, to say the least.


Simi Fehoko has generated some fantasy buzz in training camp, but the receiver was a disappointment in this game. He had one catch for most of the evening and played into the fourth quarter, though he scored the team's sole touchdown with a few minutes remaining. Fehoko caught both of his targets for 18 yards and the touchdown.


There are no other fantasy football notes to mention, though Sam Williams warrants some discussion. The second-round rookie defensive end had a strong debut for Dallas, putting plenty of pressure on the opposing quarterback. Williams was flagged for a roughing-the-passer infraction at one point, but it was a bogus penalty.


NFL Preseason Announcers: Take a look at Steve Levy, who was the play-by-play guy for the Broncos: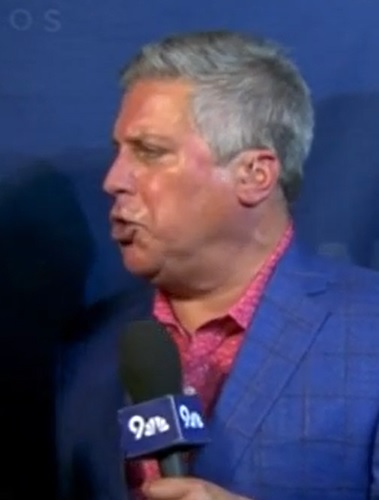 This was during the pre-game show. Why was Steve drenched in sweat already!?

Follow me @walterfootball for updates.









Texans 17, Saints 13
Excluding the Steelers-Seahawks matchup, this was the only game during the Saturday evening slate to feature a starting quarterback. There's an asterisk, however, and that would be the fact that Davis Mills, the sole No. 1 quarterback to play in this contest, threw just three passes, and all three were short tosses. Mills went 3-of-3 for 14 yards and then was pulled in favor of Jeff Driskel, who was under center the rest of the evening.

Here were Mills' targets:

Chris Conley: 2
Dare Ogunbowale: 1


The only other thing of note in this game was Dameon Pierce's performance. Pierce looked great against the Saints in his preseason debut, rushing for 49 yards on five carries. His best attempt was a 20-yard dash that featured two deadly cuts. Marlon Mack and Royce Freeman also played for the Texans, and yet Pierce was far better than both of them. Mack mustered only six yards on three carries.


The Saints, meanwhile, started Andy Dalton, who completed all five of his passes for 51 yards and a touchdown. Ian Book played the rest of the way.

Follow me @walterfootball for updates.




Dolphins 26, Buccaneers 24
This game was mostly useless from a fantasy perspective. Tom Brady is taking a leave of absence, so there was no way he would be able to play. Tua Tagovailoa didn't suit up either, so this was a matchup between Blaine Gabbert and Skylar Thompson. Fun!

To be more accurate, it was Thompson versus Kyle Trask because Gabbert took a seat after starting 5-of-5 for 56 yards and a touchdown. Trask was docked with a pair of turnovers, but only one was his fault. His interception was a pass to Rachaad White that was bobbled and went through the legs of cornerback Elijah Campbell. It was a wild pick the broadcasters couldn't believe. Trask was also guilty of a lost fumble on a strip-sack that was returned for a touchdown.

Aside from the turnovers, Trask was surprisingly great. He threw a number of perfect passes, including an absolute dime on a 19-yard touchdown to Jerreth Sterns. Trask finished 25-of-33 for 258 yards, one touchdown and the two turnovers. Buccaneer fans might be excited, but remember that Gabbert was flawless in this matchup, so Trask's performance must be taken with a grain of salt.


Rachaad White was responsible for an interception, but did well otherwise. He looked smooth as a runner, picking up 32 yards on seven carries. He also caught a pair of receptions for 13 yards and blocked well at times.


NFL Preseason Announcers: The Buccaneers sideline reporter had the most awkward interview with Vita Vea. He asked him constantly about laughing at a rookie who was startled by the cannons in the end zone. Vea, however, repeatedly responded, "No, I didn't see that." The sideline reporter kept pressing, "But you were laughing," but all Vea did was repeat himself and glare at the reporter angrily.

Follow me @walterfootball for updates.




Steelers 32, Seahawks 25
This was an odd game because both starting quarterbacks were on the field despite not having any of their weapons available. Mitchell Trubisky got the nod for the Steelers, but operated without Najee Harris, Dionte Johnson and Chase Claypool. Geno Smith, meanwhile, didn't have the services of Rashaad Penny, D.K. Metcalf and Tyler Lockett. It's strange that both signal-callerd would play without any starting running backs or receivers.

Given that dynamic, the most intriguing element of this game was Kenny Pickett's debut. Pickett took the field to begin the third quarter and instantly generated lots of excitement. Pickett completed all five of his passes on the initial possession, ultimately connecting with running back Jaylen Warren for a touchdown. Pickett didn't make any great throws on the drive, instead making short and intermediate tosses. However, he was able to release passes quickly and decisively. He was going against practice squad scrubs, but he didn't seem fazed at all by the professional environment.

Pickett's best throw of the evening came on the third drive where he made a laser throw toward the sideline for an 11-yard completion. His second and third possessions stalled, but by the time they were over, he was 9-of-9 for 54 yards and a touchdown.

Pickett had a chance to lead a game-winning drive toward the end of regulation, but he misfired on a deep pass to Christian Blake, then took a sack on fourth down without releasing the ball. The sack allowed the Seahawks to take over in Pittsburgh territory, but Drew Lock was strip-sacked, giving the Steelers a second chance. Pickett converted a third-and-1 with a short toss, then scrambled for eight yards, and followed that up with a 24-yard touchdown pass to Tyler Vaughns. He finished 13-of-15 for 95 yards and two scores.


As for the Steelers' "starting" quarterback, Trubisky had some nice moments where he connected on some quality passes with Gunner Olszewski, including one where he scrambled left and found the receiver in the end zone for a touchdown. Conversely, Trubisky had George Pickens open for a deep pass, but delivered an inaccurate throw. Trubisky went 4-of-7 for 63 yards and a touchdown, and he also showed off his mobility with a 4-yard scramble where he bounced off an apparent sack.

Here were Trubisky's targets:

Connor Heyward: 1
Gunner Olszewski: 3
George Pickens: 2
Kevin Rader: 1


George Pickens has been impressive in training camp, and that carried over into his preseason deut. Pickett hauled in a deep touchdown pass from Mitchell Trubisky for 26 yards and then made a tough grab along the sideline for an 8-yard gain. Pickens reeled in three of his five targets for 43 yards and a touchdown. It's going to be very difficult to keep him off the field this year.


Another Steeler who has shined in training camp is running back Jaylen Warren. The undrafted rookie bounced off defenders on most of his carries. Warren rumbled for 34 yards on six carries, and he also showed off nice hands with four catches for 30 receiving yards and a touchdown. Warren has a legitimate chance to be the No. 2 back on the roster this year, which makes him a viable fantasy option in the final rounds.


As for the Seahawks, Geno Smith played the entire opening half. He went 10-of-15 for 101 yards, but did so against Pittsburgh's backups. Then again, he didn't have Metcalf or Lockett to throw to either, so perhaps that's a wash. The good news for Smith is that he watched Lock throw the game away with a lost fumble on a strip-sack.

Here were Smith's targets:

Noah Fant: 2
Penny Hart: 2
Travis Homer: 3
Cade Johnson: 1
Bo Melton: 1
Colby Parkinson: 2 (1 end zone)
Dareke Young: 1
Kenneth Walker: 1


While Metcalf and Lockett didn't play, Noah Fant was on the field. He caught two of his three targets for 20 yards. The one failed conversion was when Fant had one foot out of bounds on a potential deep catch.


Seahawks rookie receiver Bo Melton made an exciting play to kick off the second half. He caught a short pass, evaded a tackler and then sprinted downfield for a 39-yard gain. Melton, who notched two receptions for 47 yards, has game-breaking speed, so he could contribute this year.


NFL Preseason Announcers: I'd like to know what NFL Network is thinking. Kenny Pickett took the field for the Steelers, but rather than showing numerous drives of his, they cut away to a Broncos-Cowboys game where neither starting quarterback was playing.

Follow me @walterfootball for updates.









Bills 27, Colts 24
The Bills didn't use their starters, so all eyes were on Matt Ryan, who was making his debut with the Colts. Ryan would be matched up against Buffalo's second-string defense, so he was expected to have a great first game in a blue-and-white uniform.

Instead, the Colts mustered just three points in slightly more than a quarter of action, as their offense looked mostly sluggish. The offensive line didn't hold up very well, and some of Ryan's passes were off the mark. He had a couple of nice completions to Michael Pittman Jr., but otherwise played like a quarterback in his late 30s. Ryan went 6-of-10 for 58 yards, which doesn't seem like a terrible stat line until you recall that this was done against Buffalo's backups.

Here were Ryan's targets:

Parris Campbell: 2
Kylen Granson: 1
Nyheim Hines: 1
Alec Pierce: 2
Michael Pittman Jr.: 3


Though Matt Ryan struggled in his Colts debut, Michael Pittman Jr.'s outlook is bright. Pittman caught two passes for 30 yards, seeing more targets (3) than any other Indianapolis starting receiver. Ryan has an extensive history of peppering his top receiver with plenty of targets, so Pittman should be in store for a big season.


Alec Pierce had issues getting open at times against Kaiir Elam (more on this later), but he still reeled in two of his three targets for 27 yards.


Once again, Buffalo didn't use any of its starters. Case Keenum opened the game with Zack Moss in the backfield, and he threw to Khalil Shakir and Jake Kumerow. Shakir, a fifth-round rookie, made some nice receptions on the opening drive. He later had a terrific grab along the sideline for a gain of 16. He hauled in three balls for 46 yards. That said, the Bills are loaded at receiver, so Shakir will need some injuries to occur to make an impact in the regular season.


Whereas Shakir thrived, Jamison Crowder made a huge blunder. The veteran receiver was responsible for an interception because he was too slow to get his hands up when targeted by Keenum. Crowder has struggled in training camp, so this latest mistake could cost him a roster spot.


As mentioned, Moss was on the field as the starting running back. However, James Cook was mixed in as well. We didn't get to see much of Cook, who mustered only five rushing yards on three carries. He also caught a 5-yard pass. Moss, meanwhile, gashed the Colts' run defense for 37 yards on three attempts, and he also hauled in two receptions for five receiving yards. Moss looked much better than he did last year, but it'll be difficult for him to get significant touches during the regular season.


Speaking of Bills rookies, first-round cornerback Kaiir Elam had a great debut. He smothered opposing receivers in coverage and made a great pass break-up on a third down. Elam suffered an injury in the second quarter, but it was considered minor.


I never write about punters, but rookie Matt Araiza blasted an 82-yard punt from his own 18-yard line in the second quarter. The one downside is that the ball trickled into the end zone for a net punt of "only" 62 yards.


NFL Preseason Announcers: I was surprised to see Cynthia Frelund serving as the Bills network's sideline reporter. I figured she wouldn't have to take a lame gig like this, given her cushy job at NFL Network. This led me down the rabbit hole of searching what her net worth is, and I was way off on my guess.

Follow me @walterfootball for updates.




Panthers 23, Redskins 21
Baker Mayfield was named the starter in his first preseason game with the Panthers. We saw him on just one series, however. Mayfield led a drive into field goal range, but the possession stalled because of a botched snap on second down, followed by a miscommunication with Brandon Zylstra on third down.

Mayfield finished 4-of-7 for 45 yards. His best throw was a third-down strike to Shi Smith. It should be noted that Mayfield didn't have the services of Christian McCaffrey in this game.

Here were Mayfield's targets:

Robbie Anderson: 1
Giovanni Ricci: 2
Shi Smith: 2
Brandon Zylstra: 1


Panthers rookie quarterback Matt Corral didn't get to play very much because Matt Rhule gave way too many reps to Phillip Walker. Corral looked very raw, as he panicked in the pocket way too often. One such panic moment caused him to miss his running back target in the flat. Corral also threw some inaccurate balls, as indicated by his stat line: 1-of-9, 11 yards. Corral threw passes that were too high or behind his targets. He was able to "lead" the Panthers on the game-winning drive, but only because he was bailed out by two penalties.


Like Mayfield, Carson Wentz was making his preseason debut with his new team. Wentz was on the field much longer than Mayfield, and he maintained a much better completion percentage, converting 10 of his 13 passes. He managed to accumulate only 74 yards, however, which was just a 5.69 YPA. Wentz had a chance to make a big play when throwing to Jahan Dotson, but overthrew the rookie receiver. Otherwise, Wentz spent most of his time targeting running backs and tight ends with short tosses.

Here were Wentz's targets:

Jahan Dotson: 1
Curtis Hodges: 2
J.D. McKissic: 1
Terry McLaurin: 2
Brian Robinson: 2
Armani Rogers: 4
Curtis Samuel: 2


Tight ends Armani Rogers and Curtis Hodges combined for six targets from Carson Wentz in the preseason debut. Neither may make the roster, but this is still significant because Logan Thomas could be in for a big year if he can stay healthy. Washington's starting tight end is on the active/PUP list because of a torn ACL and MCL in December.


Antonio Gibson had a rough preseason opener. He lost an early fumble, which prompted Ron Rivera to pull him in favor of Brian Robinson, who looked great. Following a Robinson touchdown, Gibson ran with the backups and couldn't pick up a third-and-1. He was then removed for Jonathan Williams who converted a fourth-and-1. Gibson mustered just two yards on four carries, whereas Robinson rumbled for 26 yards and a touchdown on six attempts, while also catching two passes for 15 receiving yards. Robinson looked great, carrying defenders on every attempt. He was the much better back, so Gibson's job could be in danger.


Speaking of Redskin rookies, quarterback Sam Howell played in the second half. I thought he was very impressive. He threw many accurate strikes and looked poised in the pocket. One such instance was when he evaded potential sacks, scrambled left, and then found Alex Erickson for a 40-yard gain. He went 9-of-16 for 143 yards. His passing numbers would've been even better had Kelvin Harmon not dropped a deep pass of his.

Howell also showed off his mobility. He scrambled thrice for 19 rushing yards, which includes two touchdown runs. He engineered a nice comeback, ultimately taking a 21-20 lead with one of his scores and an ensuing two-point conversion. Howell was chosen in the fifth round, but I always thought he should've been selected much earlier.


NFL Preseason Announcers: One of the announcers exclaimed: "The Commanders have great fans! They don't quit on their team!" Football bettors would disagree, as the Redskins have the second-worst home spread record in the NFL since 2000 (73-99-7). The Giants are just marginally worse (76-104).

Follow me @walterfootball for updates.





Bears 19, Chiefs 14
While many veteran quarterbacks desired to sit out this weekend, Patrick Mahomes said that he wanted to play. Mahomes specifically told the media that he wanted to take one hit. That's exactly what happened, as he took a shot while releasing one of his passes on the opening drive. Mahomes turned out to be fine, and this possession culiminated with a touchdown.

It appeared as though Mahomes would throw a touchdown strike to Marquez Valdes-Scantling at one point, but overthrew him while under pressure. However, Mahomes bounced back with a connection to Valdes-Scantling, then ultimately found Blake Bell for the score. Mahomes finished 6-of-7 for 60 yards and a touchdown.

Here were Mahomes' targets:

Blake Bell: 1
Michael Burton: 1
Mecole Hardman: 1
Travis Kelce: 1
Isiah Pacheco: 1
Marquez Valdes-Scantling: 2 (1 end zone)


Marquez Valdes-Scantling caught one of his two targets for 11 yards during the preseason opener. More importantly, he was targeted for a deep touchdown on one play, but Patrick Mahomes couldn't connect with him because of pressure. This is bullish for Valdes-Scantling, who could have a big year with his new quarterback.


There has been plenty of hype surrounding rookie running back Isiah Pacheco in training camp. Pacheco played ahead of Ronald Jones in the preseason opener and took a quick seat after only three touches. In fact, he was given a carry on the initial drive! This might indicate how much Andy Reid values him. Pacheco rushed for six yards on two carries, and he also broke a tackle on a 5-yard reception.


Speaking of Chiefs rookies, Skyy Moore made a terrific catch in the second quarter, toe-tapping his feet inches away from the sideline for a 13-yard gain. Moore hauled in three receptions for 23 yards.


Moving on to the Bears, their offense looked rather sluggish, even against Kansas City's backup defense. Justin Fields was sacked quickly on the team's initial third down. The offense then did nothing versus the reserves, save for two impressive catches by Darnell Mooney and Tajae Sharpe. The Bears have a horrific offensive line, which will make things difficult for Fields, who went 4-of-7 for 48 yards.

Here were Fields' targets:

Chase Allen: 1
Khalil Herbert: 3
Rysen John: 1
Darnell Mooney: 1
Tajae Sharpe: 1


Mooney saw action in the first quarter of this game. He caught his sole target, a 26-yard reception, where he made a great adjustment on Fields' throw.


David Montgomery sat out this game, allowing Khalil Herbert to start. Herbert rushed for 20 yards on seven carries, but dropped a pass. Montgomery's absence is a good sign for his fantasy football outlook, but he still has to deal with his dreadful offensive line.

Follow me @walterfootball for updates.




49ers 28, Packers 21
The 49ers are breaking in a new starting quarterback, so Trey Lance saw some action in the first quarter. He made some explosive plays, completing all but one of his attempts. The single misfire was an overthrow of Danny Gray on third down, but he went back to Gray on the following drive with a deep bomb. Gray caught the pass for a 76-yard touchdown.

That was it for Lance, but it was an impressive showing. He went 4-of-5 for 92 yards and a touchdown, and he also had a single scramble for seven yards. Keep in mind that Lance did not have the services of Deebo Samuel or George Kittle.

Here were Lance's targets:

Ross Dwelley: 1
Danny Gray: 2
Ray-Ray McCloud: 1


Elijah Mitchell joined Samuel and Kittle on the sideline, which is a good sign for him. Trey Sermon started instead and rushed for an unimpressive nine yards on four carries. Tyrion Davis-Price was better, albeit against worse players on the depth chart. That said, he picked up 10 yards with a nice cut, then later rumbled for a 9-yard gain with another nice cut in the red zone. He rushed for 36 yards on 10 carries.


San Francisco rookie quarterback Brock Purdy had an ugly start to his brief action, as he floated an ugly pass that was almost picked. However, Purdy bounced back with some accurate throws, including a touchdown pass. He was 3-of-6 for 36 yards and a score.


Moving on to the Packers, Aaron Rodgers is not coming anywhere close to the field this preseason, which allowed "No Cookie" Jordan Love to play the entire opening half. Love made some great throws, but they were overshadowed by all the mistakes he committed.

Beginning with the positives, Love made a perfect pass on a 33-yard touchdown to Romeo Doubs. He matched that with another 33-yard score prior to halftime. He was able to accumulate 176 yards and two scores in just one half of action.

Unfortunately for Love, he made so many mistakes. The touchdown pass to Doubs came right after he overshot Doubs, who was wide open for another potential score. Love overthrew a tight end badly on the opening third down, then missed a running back in the flat on the ensuing drive. This was the first of three times Love did this. Love fired to the wrong side of his back, and the players had to try awkward spin moves to catch his inaccurate passes. After the third misfire in the flat, the color analyst remarked, "Those are layups in the NFL, you have to hit them."

Love also heaved three interceptions. Two weren't his fault because they were the result of dropped passes, but he's also fortunate that he wasn't picked a fourth time on another overthrow. Love's worst pick occurred when he telegraphed a pass, allowing a backup cornerback to jump the route.

The final numbers were 13-of-24, 176 yards, two touchdowns and three interceptions. Love occasionally showed why a team spent a first-round pick on him, but his development is extremely disappointing. He made far too many blunders and doesn't look close to being ready for real NFL action.


Romeo Doubs had some nice moments in his preseason debut despite trying to catch horrible passes from "No Cookie" Jordan Love. Doubs exploded past a 49er cornerback at one point, but Love missed him badly. Doubs caught a 33-yard touchdown when Love went back to him, as Doubs once again beat a San Francisco corner. He later made a nice catch in traffic following a drop. There was a lowlight, as Doubs appeared to snatch a ball over a defender at first glance, but replay review showed that the defender ripped the ball away from him for an interception. Still, Doubs looked great considering his crappy quarterback situation. He caught three of his eight targets for 45 yards and a touchdown. He's listed atop my 2022 Fantasy Football Sleepers page.


NFL Preseason Announcers: The 49ers' color analyst said, "Drake Jackson looks like a young Bruce Smith to me." Yeah, sure, let's compare a second-round pick who has never played a regular-season game to the NFL's all-time sacks leader!

Follow me @walterfootball for updates.




Jets 24, Eagles 21
NFL teams have shied away from playing their starters in recent years. Perhaps Robert Saleh will adjust his plans after what occurred in this game. Zach Wilson scrambled on a play during his second drive, but rather than running out of bounds, he made a cut upfield. He stumbled, then fell, and when he tried to get up, he began limping. The Jets removed him from the game and ruled it a knee issue. It was a non-contact injury, which is often dubious. If Wilson is out for the year, the Jets may trade for Jimmy Garoppolo, who played under Saleh in San Francisco (albeit on the other side of the ball.)

Adding insult to injury, Wilson didn't even play well before exiting the game. He began by overthrowing Garrett Wilson and then fired an interception when he failed to spot Kyzir White in coverage. Wilson finished 3-of-5 for 23 yards and the pick.

Here were Wilson's targets:

Tyler Conklin: 2
Corey Davis: 1
Elijah Moore: 1
Garrett Wilson: 1


Making his preseason debut, rookie receiver Garrett Wilson caught two of his three targets for 25 yards. All of this, however, came via backup quarterback Mike White, who may end up being the QB2 behind Joe Flacco if Zach Wilson's knee injury is serious.


Speaking of Jets rookies, Breece Hall took the field against the Eagles after Michael Carter started. Hall didn't see much action - five carries, 15 yards - but he converted a first down after avoiding a tackle from a cornerback. He did nothing else of note. It's a bit discouraging that Hall is playing behind Carter, but I don't think that'll last very long.


While New York's offense was dreadful in this game, the Eagles couldn't be stopped on their opening drive. Jalen Hurts completed every single pass he threw versus the Jets, going 6-of-6 for 80 yards and a touchdown. Hurts' score to Dallas Goedert came a few plays after an apparent touchdown run of his was negated by a Jordan Mailata hold. Hurts did this against the Jets' first-string defense, and he didn't have Jason Kelce blocking for him. Hurts' fantasy outlook is extremely bullish.

Here were Hurts' targets:

Dallas Goedert: 2
Miles Sanders: 2
Quez Watkins: 2


A.J. Brown didn't receive a single target, but there's no need to panic. The Eagles' starters were on the field for just one drive, and Hurts looked great, so Brown is still expected to have a big season.


NFL Preseason Announcers: One of the Eagles announcers said the following: "I don't think people nationally know Dallas Goedert, and how good he is. He has great stats!" Do you think this guy has ever heard of fantasy football? Because people who play fantasy football definitely know Goedert, and how good he is.

Follow me @walterfootball for updates.




Cardinals 36, Bengals 23
I'm not going to delve deeply into this game because only one player of note was on the field. Joe Burrow, Joe Mixon, Ja'Marr Chase, Tee Higgins, Kyler Murray, James Conner, DeAndre Hopkins and Marquise Brown were nowhere to be seen. In fact, the QB2s on both teams threw a combined three passes. Colt McCoy didn't even suit up, while Brandon Allen threw the ball on just three occasions.


The one fantasy player who must be discussed is Cardinals rookie running back Keaontay Ingram. The USC product showed nice elusiveness and power on his runs in his preseason debut. He rushed for 27 yards and a touchdown on seven carries, and he also caught a pair of passes for 18 receiving yards. Ingram may have made a case to be James Conner's direct backup. He's worth considering in the final rounds of your fantasy league.


Another rookie who thrived in this game was Bengals defensive back Daxton Hill. The Michigan product made some nice plays, including what seemed like an interception in the end zone until the Arizona receiver knocked the ball out of his hands at the last second.


NFL Preseason Announcers: This isn't about the announcers, but rather the man standing next to Kliff Kingsbury on the sideline: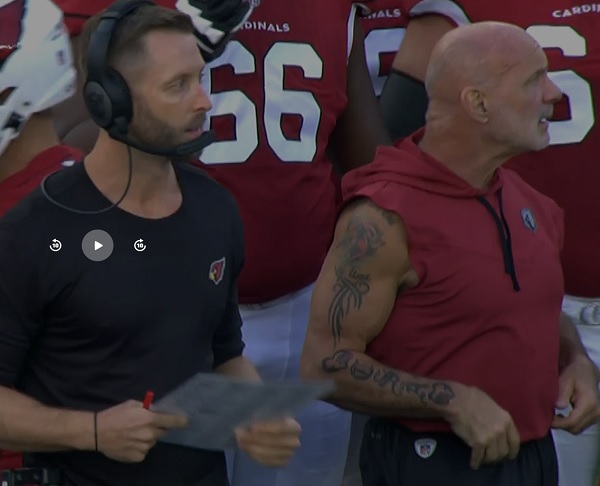 They don't allow suits on the sideline, but this is fine? Geez. At any rate, that man eerily looks like my father-in-law, who does not have crazy tattoos on his arm.

Follow me @walterfootball for updates.




Browns 24, Jaguars 13
I tweeted a rundown of how putrid the Browns' starting offense looked against the Jaguars:





Cleveland looked completely distracted by the Deshaun Watson drama. Of course, the Nick Harris injury stands out the most because it may not be something that can't be fixed, as the new center was carted off the field. The silver lining is that J.C. Tretter, replaced by Harris, is still somehow available on the open market. He may receive a call from the Browns.

At any rate, Watson went 1-of-5 for seven yards. To say that he was rusty is an understatement. He'll be much better in real action, but it's unclear when he'll be cleared to play.

Here were Watson's targets:

Demetric Felton: 1
David Njoku: 1
Anthony Schwartz: 2


While the Browns did their best to embarrass themselves, the Jaguars also did plenty in that department. Jacksonville was guilty of countless drops last year, and that continued to be the case in this game. Granted, Christian Kirk didn't play, but Trevor Lawrence's receivers let him down once again.

Thanks to the drops, Lawrence completed just half of his passes, going 6-of-12 for 95 yards and a touchdown. He made some nice throws, including a 32-yard laser to Zay Jones on a bootleg, but he overshot Jones over the middle of the field on the next pass. Lawrence appeared to have an additional score, but Travis Etienne dropped the ball near the goal line.

Here were Lawrence's targets:

Evan Engram: 2
Travis Etienne: 2
Zay Jones: 4 (1 end zone)
Chris Manhertz: 1
Laquon Treadwell: 3


Travis Etienne took the field for the Jaguars after missing the Hall of Fame game. He showed a nice explosion on a 13-yard run that featured a broken tackle. Etienne dropped a pass and was stuffed on a third-and-2 run, but looked good overall. He rushed for 23 yards on nine carries and also caught a 10-yard pass.


NFL Preseason Announcers: The Jaguars' announcers had a rough time with the Cleveland players. They called D'Ernest Johnson "D'Ernest Brown" on three occasions, and they also referred to John Kelly as "John Follett."

Follow me @walterfootball for updates.




Falcons 27, Lions 23
The sharp sentiment concerning the Lions this year is that they're expected to have one of the most explosive offenses in the NFL. That was evident on the only drive where the first-string offense was on the field versus the Falcons. Despite missing T.J. Hockenson because of a minor ankle injury, the Lions zoomed down the field with a quick touchdown drive.

Jared Goff was on point with all of his passes, and it helped that he had pristine protection in the pocket. Goff went 3-of-4 for 47 yards, with his sole incompletion being a drop by Jamaal Williams. Goff should have a strong season because of all the great talent around him.

Here were Goff's targets:

Amon-Ra St. Brown: 2
Jamaal Williams: 1
Brock Wright: 1


Amon-Ra St. Brown saw half of Jared Goff's passes in the preseason opener against the Falcons. He caught both of them for 29 yards. There's some concern that T.J. Hockenson and D.J. Chark will eat into St. Brown's targets, but he should have a great second season.


D'Andre Swift and Jamaal Williams split reps on Detroit's opening drive, but Swift doubled up the workload. He had four carries compared to Williams' two. Swift outgained Williams, 20-12, and scored the lone touchdown when the starters were on the field.


While Detroit's defense surrendered a touchdown on its initial drive, there was some cause for optimism because Aidan Hutchinson's play. The No. 2 overall pick was dominant, notching a tackle for loss and drawing a holding penalty. He was also double-teamed at times.


Speaking of the Detroit defense, it couldn't stop Marcus Mariota, as the former Titan and Raider looked sharp in his first action with the Falcons, albeit with a limited sample size. Mariota completed both of his passes for 36 yards, and he also scrambled thrice for 23 rushing yards and a touchdown.

Here were Mariota's targets:

KhaDarel Hodge: 1
Drake London: 1


It was disappointing that Drake London didn't get to play very much. He saw one target and then exited the game with a knee injury. Fortunately, London was spotted walking around normally on the sideline, so the injury doesn't appear to be serious.


The Falcons have just two real quarterbacks on their active roster, so Desmond Ridder played nearly the entire game. The stats were very underwhelming - 10-of-22, 103 yards, two touchdowns - but they weren't indicative of how he played.

Ridder began his evening by firing a 20-yard pass to Damiere Byrd over the middle, but endured some bad luck after that. His receivers dropped three passes, including a potential touchdown on a play-action bootleg. There were also two dropped deep passes, including one by converted tight end Feleipe Franks. Then again, Ridder was fortunate to get away with an interception he made when he fired behind his target. The pick was negated because of a bogus roughing-the-passer penalty.

Ridder was effective as a scrambler, slipping through potential sacks as he picked up 59 rushing yards on six scrambles. He also threw the decisive touchdown after Lions backup quarterback David Blough fumbled on a first down with two minutes remaining. The Lions surrendered a sure victory, as Ridder launched a 21-yard touchdown while under pressure on a fourth-and-9 to win the game.

Ridder may not be ready to play just yet, but this was a very encouraging preseason debut for him.


NFL Preseason Announcers: The Lions announcers were excited about an addition ownership made to the stadium. "It's a great spot for Lions fans!" they exclaimed. What is this new addition? It's a grocery store. Yes. Lions fans can now enjoy this "great spot" when they buy beer, soda and chips while at the game.

Follow me @walterfootball for updates.




Ravens 23, Titans 10
Both teams held out their veteran starters, but this game was still intriguing because we were able to see Malik Willis play for two-and-a-half quarters. Willis made some spectacular plays in this game, but was also responsible for some glaring mistakes that must be corrected before he takes the field in regular-season action.

Anyone who watched the NFL Network highlights of this game saw Willis' rushing touchdown. If not, he ran right, then reversed field to scramble into the end zone. It was a very impressive run. Willis also had another terrific scramble where he spun out of what seemed like a sure sack. Willis ran five times for 38 rushing yards and a touchdown, but no one ever doubted his running ability.

Willis wasn't nearly as good as a passer. He made one pretty throw where he heaved a bomb to Racey McMath for 48 yards, but he also should've been pick-sixed on the opening drive. Willis telegraphed a third-down throw toward the sideline, allowing rookie cornerback Pepe Williams to jump the route. Williams dropped an easy interception that would've gone to the end zone the other way. Willis later showed poor awareness in the pocket during the 2-minute drill to close out the opening half. He took a terrible sack rather than throw the ball away, which put the Titans in a position where they couldn't salvage the drive with a field goal.

Willis finished 6-of-11 for 107 yards. It was a fine debut, but keep in mind that this was done against Baltimore's backup defense. Willis still needs major development before he can play in real action, but the upside certainly is there.


Tennessee's first-round rookie saw plenty of action as well. That would be Treylon Burks, who had some poor moments in practice earlier this summer where he had to be excused for not being able to breathe. Burks' struggles continued in the preseason opener, where he failed to haul in his only target. The only impact he made was a 4-yard rush on an end-around. It's not like Burks barely played either; he was on the field into the fourth quarter! This is another major red flag for Burks.


The best rookie on the field in this game was tight end Isaiah Likely. The Coastal Carolina product dominated as a receiver, snatching all four of his targets for 44 yards. He made so many spectacular plays, including a great juke move to get a first down in the red zone. He then snatched a reception in traffic despite a defender being draped all over him. He followed that up with an impressive reception on a low throw by Tyler Huntley. The downside with Likely was his blocking, as he was flagged twice for holding to negate a pair of nice runs by Justice Hill. Still, Likely could be a threat this year when the Ravens play two-tight end formations.


Another Ravens rookie, Kyle Hamilton, had a mixed outing. He made an impact right away with a fumble recovery, but he later whiffed on a tackle of Willis when the Tennessee quarterback ran into the end zone.


I mentioned Huntley earlier. He was great in the opening half, going 16-of-18 for 109 yards and a touchdown. He continued to display why he's one of the better backup quarterbacks in the NFL.


NFL Preseason Announcers: Baltimore's sideline reporter was a bit too interested in the players he interviewed. He constantly commented that the Ravens' primary players weren't wearing their pads, and he asked Patrick Queen if he wanted to get his hands on some balls. Not that there's anything wrong with that.

Follow me @walterfootball for updates.




Giants 23, Patriots 21
Most teams don't play their starters at all in the preseason these days, but don't tell that to Brian Daboll, who had his entire first-string offense on the field for a couple of drives. This even includes Saquon Barkley, as Daboll irresponsibly risked the health of his injury-prone stud running back. Barkley seemed rather mediocre, rushing for 13 yards on four carries. He also caught an 8-yard pass.

Daniel Jones, meanwhile, had a mixed performance. He threw some accurate slants to kick off the evening, but had a couple of misfires to conclude the initial drive. He floated a pass in the flat and then overshot Kenny Golladay in the end zone. Jones finished 6-of-10 for 69 yards.

Here were Jones' targets:

Saquon Barkley: 1
Gary Brightwell: 1
Kenny Golladay: 3 (1 end zone)
Jeremiah Hall: 1
Collin Johnson: 2
Darius Slayton: 2


Kenny Golladay saw more targets than any receiver from Daniel Jones in the preseason opener. That's the good news. The bad news is that he was inefficient with those targets, snatching just one of the three passes for a mere six yards. He was overthrown in the end zone, but dropped a pass near the goal line. Golladay's inefficiency is nothing new, as he struggled with it last year.


Speaking of disappointing Giants, top-10 pick Evan Neal struggled in his preseason debut. He allowed way too much pressure from a New England pass rush that didn't even feature Matthew Judon. That said, Penei Sewell had a sluggish start to his rookie campaign last year, so no one should be panicking quite yet.


As for the Patriots, we didn't see any of their offensive starters. Brian Hoyer started at quarterback, and his primary receivers were rookie Tyquan Thornton and Kristian Wilkerson.

Wilkerson led everyone in receiving, catching eight of his 12 targets for 99 yards. He played the entire game, however, so he merely beat up on practice squad scrubs. Thornton, meanwhile, nearly caught a deep pass in the opening quarter, but the defender knocked away the bad pass. He caught a touchdown a few plays later. The other noteworthy thing he did was get called for offensive pass interference, but that was only because he was trying to get to a hideous pass from Bailey Zappe. Thornton reeled in two catches for nine yards and the touchdown.


Speaking of Zappe, the rookie quarterback had a mixed performance. He made some nice back-shoulder throws, but made a horrible mistake on an interception when he didn't see the linebacker in coverage. Zappe also should've been flagged for a safety on an intentional grounding penalty from his end zone, but the officials ruled that he was out of the pocket on a dubious call.


NFL Preseason Announcers: New England Patriots' preseason broadcasts always have included analysis from furniture salesmen from Bob's Discount Furniture. The furniture salesmen are back once again this summer, and this time they argued that Zappe was a carbon copy of Mac Jones. If that wasn't bizarre enough, the one bald furniture salesman was angry that the sideline reporter received a cake for his birthday.

Follow me @walterfootball for updates.




Raiders 27, Jaguars 11
If you didn't get to watch the annual Hall of Fame Game this year, you didn't miss much. Many of the starters didn't play. This includes Trevor Lawrence, Travis Etienne, James Robinson and Christian Kirk for the Jaguars, and Derek Carr, Davante Adams and Darren Waller for the Raiders.

There was one notable fantasy player on the field, and that was Josh Jacobs. There's good news and bad news regarding Jacobs. The good news is that Jacobs looked spry, rushing for 30 yards on five carries and catching a couple of passes for 14 receiving yards. The bad news is that Jacobs did this against Jacksonville's backup defense. Also, it might not be a positive sign that Jacobs received so many touches in a meaningless game. He's not a rookie, so it's troubling that Josh McDaniels wanted him on the field without the other starters.


There's a chance Jacobs will lose touches to Zamir White as the season progresses. The Raider rookie running back was heavily involved, gaining 52 yards on 11 carries, while also catching two of his three targets for 27 receiving yards. White looked fantastic. Perhaps the Raiders were showcasing Jacobs for a trade tonight. If so, they'll feel more confident trading Jacobs in the wake of this performance from White.


The most prominent rookie on the field was the first one chosen this past April. Travon Walker was electric as a pass rusher in this contest. He put plenty of pressure on Jaguars quarterback Jarrett Stidham, recording one sack in the opening quarter. He was also flagged for a roughing-the-passer penalty on the first drive, but that was a baffling call because Walker seemingly did nothing wrong.


There's nothing else to note about this game, as the four quarterbacks were Jake Luton, Kyle Sloter, Stidham and Nick Mullens. The latter was the best of the quartet. We also got to see Jaguars rookie running back Snoop Conner plod for 10 yards on four carries, which wasn't very exciting.

Follow me @walterfootball for updates.


2022 Preseason Notes: Week 1 | Week 2 | Week 3
2022 Fantasy Football Stock Pages: Preseason Stock Week 1 | Preseason Stock Week 2 | Preseason Stock Week 3







More 2022 Fantasy Football Articles:
Fantasy Football Rankings

2022 Fantasy Football Rankings:
2022 Fantasy Football Rankings: Quarterbacks - 9/4 (Walt)
2022 Fantasy Football Rankings: Running Backs - 9/4 (Walt)
2022 Fantasy Football Rankings: Wide Receivers - 9/4 (Walt)
2022 Fantasy Football Rankings: Tight Ends - 9/4 (Walt)
2022 Fantasy Football Rankings: Kickers - 8/28 (Walt)
2022 Fantasy Football Rankings: Defenses - 8/28 (Walt)
2022 Fantasy Football Rookie Rankings: Dynasty - 5/11 (Walt)



2022 Fantasy Football Mock Drafts:
2022 Fantasy Football Mock Drafts - 8/31 (Walt)



2022 Fantasy Football Cheat Sheets:
2022 Fantasy Football Cheat Sheet: Top 250 - 9/4 (Walt)
2022 Fantasy Football Cheat Sheet: Top 250 PPR - 9/4 (Walt)
2022 Fantasy Football Cheat Sheet: Top 250 Half-PPR - 9/4 (Walt)
2022 Fantasy Football Cheat Sheet: Top 250 2-QB - 9/4 (Walt)
2022 Fantasy Football Cheat Sheet: Top 250 Touchdown League - 9/4 (Walt)
2022 Fantasy Football Cheat Sheet: Custom - 9/4 (Walt)
2022 Fantasy Football: Dynasty Rankings - 9/4 (Walt)
2022 Fantasy Football Spreadsheets - 9/4 (Walt)

2022 Fantasy Football Articles:
2022 Fantasy Football Stock Report: OTAs, Training Camp - 9/3 (Walt)
2022 Fantasy Football Sleepers - 8/30 (Walt)
2022 Fantasy Football Busts - 8/30 (Walt)
2022 NFL Preseason Game Recaps - 8/29 (Walt)
2022 Fantasy Football Stock Report: Preseason Games - 8/29 (Walt)
2022 Fantasy Football Value Picks - 5/22 (Walt)






NFL Picks - Jan. 27


2023 NFL Mock Draft - Jan. 25


NFL Power Rankings - Jan. 24


2024 NFL Mock Draft - Jan. 8


Fantasy Football Rankings - Sept. 7



---
---
WalterFootball.com is part of the NESN digital network.