2022 NFL Preseason Recap and Fantasy Football Notes: Week 2
**** NOTES FOR EVERY GAME WILL BE UP AS SOON AS I WATCH THEM **** Follow me
@walterfootball
for updates.
2022 Preseason Notes:
Week 1
|
Week 2
|
Week 3
2022 Fantasy Football Stock Pages:
Preseason Stock Week 1
|
Preseason Stock Week 2
|
Preseason Stock Week 3


Jets 24, Falcons 16
The Jets didn't play any veteran starters, but the Falcons had Marcus Mariota take the field for a couple of drives. Mariota began by launching a 52-yard bomb to Kyle Pitts. Mariota made some other nice connections, though he missed badly on two throws. He went 6-of-10 for 132 yards and a touchdown. This looks promising until you consider that he was going against the Jets' backup defense.

Here were Mariota's targets:

Tyler Allgeier: 1
Bryan Edwards: 1
Anthony Firkser: 1
Parker Hesse: 1
KhaDarel Hodge: 1
Qadree Ollison: 1
Kyle Pitts: 1
Olamide Zaccheaus: 2 (1 end zone)


Desmond Ridder played for a quarter-and-a-half. He thrived last week and was impressive once again. He showed great placement on his passes, including a 12-yard connection to move into the red zone. Ridder displayed terrific touch on some of his passes on the next scoring drive, namely one throw where he lofted the ball over a Jet defender and into the arms of Damiere Byrd for a 20-yard gain.

Ridder was 10-of-13 for 143 yards. He has performed on a high level thus far, though it's impossible to tell how this will translate into regular-season action. Still, Ridder has made a case for himself to see the field this year.


The Falcons started Damien Williams in the backfield with Mariota. He didn't see much action, gaining five yards on only two carries. Rookie Tyler Allgeier had a heavier workload after that, but looked like nothing more than a mediocre plodder; he mustered 17 yards on six attempts. Allgeier was targeted frequently by Ridder, catching three of his four targets for 12 yards.


Speaking of rookie running backs, Breece Hall started against the Falcons, whereas Michael Carter rested. Given that the Jets sat all of their veteran starters, this wasn't a good sign for Hall, who failed to do anything of note. In fact, he nearly didn't do anything, as his four carries went for just one yard.


The Jets' other offensive rookie, Garrett Wilson, caught all three of his targets for 15 yards. He made a nice catch for eight yards on a high pass from Mike White, but didn't do anything noteworthy otherwise.


NFL Preseason Announcers: I'm not sure what ESPN's play-by-play guy meant when he said this, "This is the third-and-goal situation tonight."

Follow me @walterfootball for updates.




Ravens 24, Cardinals 17
It's no surprise that the Ravens won yet another preseason game. It's also not a surprise that both teams sat their starters. In fact, there was only one fantasy player of relevance in this game.

That one player is Isaiah Likely. The fourth-round rookie tight end was on no one's radar a couple of weeks ago, but he has been terrific through two preseason games. He was especially dominant in this contest. Likely began by breaking a tackle for a 20-yard gain, then shed another tackle and used a stiff-arm to pick up 31 yards. He capped off the final drive of the opening half with an 8-yard touchdown that he made in heavy traffic. He reeled in all eight of his targets for 100 yards and a touchdown. The Ravens obviously have Mark Andrews on the roster, but given their lacking receiving depth, Likely could see significant targets in two-tight end sets. I wouldn't draft Likely in normal leagues just yet, but he's certainly someone to monitor on the waiver wire.


Likely caught all of his passes from Tyler Huntley. The Ravens' backup quarterback, who did a good job of holding down the fort last year in the wake of Lamar Jackson's injury, has enjoyed a stellar preseason. He was nearly perfect in this game, going 13-of-14 for 129 yards and a touchdown. His only misfire was a deep shot. Huntley has proven that he deserves a chance to compete for a starting job. He obviously won't do that in Baltimore, but a team like Seattle should be interested in trading for him.


Arizona rookie running back Keaontay Ingram played in the second half. He had one play of significance, which was a 21-yard reception to convert a third-and-19. He found no running room, however, mustering only nine yards on four carries.


NFL Preseason Announcers: FOX finally was able to rid itself of Joe Buck. Its new lead play-by-play guy must have been too busy celebrating because he wasn't paying attention to this game. Early on, a player had gotten hit way late out of bounds. He then wondered, "There's a flag on the play, so we'll have to see what that is." The hit was quite obvious, so he must not have been watching the game.

Follow me @walterfootball for updates.









Giants 25, Bengals 22
The Bengals didn't use any of their starters. Brian Daboll barely used any either, but he had a couple of key players on the field. This backfired, as Kayvon Thibodeaux suffered a knee injury in the second quarter when Bengals tight end Thaddeus Moss dived into his leg. The good news is that Thibodeaux walked off the field and seemed like he was in a good mood on the sideline. He'll have an MRI on Monday.

Daniel Jones was another important Giant who was on the field. Despite Jones playing, his usual running backs and receivers were resting. Thus, Jones had to utilize players named Antonio Williams, Wan'Dale Robinson and Collin Johnson, among others. It was yet another curious decision by Daboll, who almost ran Saquon Barkley into the ground last week.

Given the limited supporting cast, Jones did well. He went 14-of-16 for 116 yards and an interception, which wasn't his fault because a pass of his went through the hands of Daniel Bellinger and into the arms of a Cincinnati defender. Jones completed all but one pass otherwise, though it's worth noting that he was battling mostly backups.

Here were Jones' targets:

Daniel Bellinger: 2
Collin Johnson: 2
Wan'Dale Robinson: 3
David Sills: 4
Antonio Williams: 3


Wan'Dale Robinson was the most significant of Jones' targets. He didn't do much, however, as he lost three yards on his three catches. The Giants gave him the ball near the line of scrimmage, but Robinson didn't do anything with his opportunities. He bobbled the ball on one occasion, resulting in a loss.


Another Giants rookie, Evan Neal, was a disappointment last week, but did well to rebound in this contest. He was battling against Cincinnati backups, but he kept the pocket clean on his side, save for one occasion.


Speaking of first-round rookies, Bengals defensive back Daxton Hill had some nice moments. He made a great tackle on a third down to stop Antonio Williams and then picked off Jones when the ball sailed through Bellinger's hands. Hill dived for the ball and secured a great interception.


NFL Preseason Announcers: The Giants' broadcast put up a graphic of Daniel Jones and Josh Allen's stats to compare the two because Daboll has now coached both of them. There were four stats, and they were nearly identical. The Giants' color analyst got excited and chirped, "Daniel Jones and Josh Allen are about the same!" Yeah, sure, if you ignore all of the other stats and the actual film!

Follow me @walterfootball for updates.




Eagles 21, Browns 20
No starters played in this game. In fact, unless either team has injuries to force backups into action, the only prominent fantasy component in this matchup was Browns rookie kicker Cade York, who drilled a 50-yard field goal in the opening half. He tried a 55-yarder in the second half, but the ball doinked off the upright.


Aside from York, Kenneth Gainwell is probably closest to fantasy relevance, but he'll need Miles Sanders to get hurt in order to receive ample touches. Gainwell looked great behind an offensive line featuring rookie center Cam Jurgens, as he rushed for 46 yards and a touchdown. On one run, he juked second-year safety Richard LeCounte out of his cleats to convert a third-and-13 with a draw. Jurgens, by the way, demolished Cleveland defensive linemen throughout the first quarter. He was so good that the Eagles decided to pull him after two drives.


It wasn't all positive for the Eagles. Jalen Reagor continued to struggle by dropping a pass from Gardner Minshew. He converted just two of his four targets for 17 yards. If he weren't a former first-round pick, he would definitely not make the 53-man roster. He may still get cut, as he was outplayed by Deon Cain, who made some terrific catches in the first half. Cain abused undrafted rookie corner Lavert Hill, who was seemingly torched by everyone in this game.


Speaking of young receivers, third-round rookie David Bell looked good with three catches for 46 yards. He may end up being Cleveland's third receiver, which would be an exciting outcome if Deshaun Watson weren't suspended.


NFL Preseason Announcers: Something is wrong here: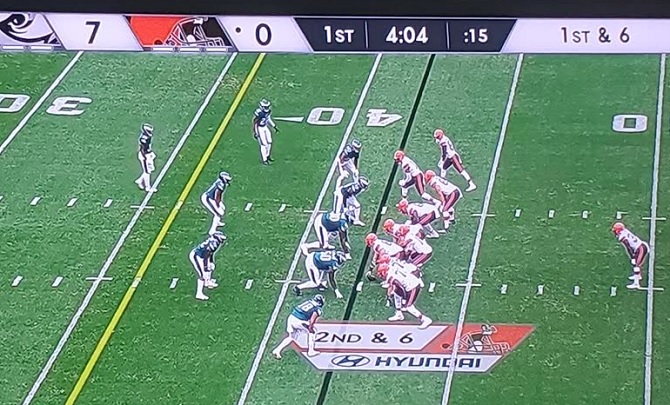 Is it first-and-6, or second-and-6? First-and-6 or second-and-6!?!?!?

Follow me @walterfootball for updates.




49ers 17, Vikings 7
The starters sat in this game, but there were some intriguing, young quarterbacks on display for both teams. Second-year pro Kellen Mond started for the Vikings, and it appeared as though he would have a great performance to kick off the evening. He connected on his first three passes, including a tremendous throw where he escaped the pocket to find Olabisi Johnson in a tight window. However, Mond overshot Johnson a couple of plays later because he launched a pass off his back foot. On the very next snap, he threw an interception when he couldn't step into the throw because of a defender in his face.

Mond sat for a while in favor of Sean Mannion, but later made a terrific pass on the final drive to move the Vikings into San Francisco territory. However, he tossed another interception when he floated a pass off his back foot. Mond went just 10-of-20 for 82 yards and two interceptions. He has some great tools, but is incredibly raw.


The young quarterback for the 49ers was Brock Purdy, whose stat line isn't indicative of how well he played. Purdy went 14-of-23 for 128 yards, but he was victimized by four drops. Purdy impressed me for the most part. He released the ball quickly and accurately, and he made some nice strikes to Malik Turner and Tanner Hudson just prior to halftime. His only real mistake was a lost fumble near the goal line in the third quarter.


Trey Sermon started at running back, but didn't do much with his opportunities, as his five carries went for just eight yards. Rookie Tyrion Davis-Price was better; he gained 41 yards on 10 attempts, though he was stuffed on a fourth-and-1 on the opening drive.


NFL Preseason Announcers: The Vikings' play-by-play guy is known for shouting incoherently during broadcasts. Just prior to kickoff, he gave us this gem: "THE COMBATANTS TAKE THE FIELD, BUT A LARGE NUMBER OF LUMINARIES WON'T BE ON THE FIELD TONIGHT!"

Follow me @walterfootball for updates.









Cowboys 32, Chargers 18
Neither the Chargers nor the Cowboys play their starters, so this was a mostly useless game from a fantasy perspective. However, two players who could potentially contribute this year were on the field.

Most notably, rookie receiver Jalen Tolbert caught two of his four targets for 25 yards. However, he dropped a pass. Tolbert's usage in this game is a bit discouraging for his fantasy outlook, but he's a rookie, so Dallas' coaching staff could just be giving him what they perceive to be needed reps.

The other player of note was second-year wideout Joshua Palmer, who figures to be the team's third receiver. I have questions about Palmer's ability to separate, but he's incredibly strong and can bulldoze opposing defenders. He showed his strength as he caught three passes for 75 yards and a touchdown, including a 41-yard reception.


This was yet another strong game for Michael Bandy. I discussed the young slot receiver last week, and he didn't disappoint versus Dallas with eight catches for 69 yards and a touchdown. The Chargers are not deep at receiver, so perhaps Bandy will be able to make the 53-man roster. If not, then these preseason games are utterly useless because Bandy has been excellent in both of them.


NFL Preseason Announcers: The play-by-play guy called the Chargers "the LA Chargers" every single time. It was never just "Chargers." It was always "the LA Chargers." It was so annoying I had to mute the TV after a while.

Follow me @walterfootball for updates.









Raiders 15, Dolphins 13
The Raiders sat their starters once again, but Tua Tagovailoa took the field for two series in this game. We didn't get to see much out of Tagovailoa, but he was mostly accurate in Mike McDaniel's new offense. He went 6-of-8 for 58 yards, and one of his incompletions was a Mike Gesicki drop. Most of Tagovailoa's passes were of the short or intermediate variety, but it's worth noting that he didn't have Terron Armstead or Jaylen Waddle at his disposal in this game.

Here were Tagovailoa's targets:

Chase Edmonds: 2
Mike Gesicki: 3
Trent Sherfield: 1
Durham Smythe: 1


Gesicki saw more targets than anyone else from Tagovailoa, but he dropped a pass and continued to play with Teddy Bridgewater, perhaps because of that blunder. Gesicki went on to drop a second pass from Bridgewater. He reeled in three of his six targets for 27 yards.


Raheem Mostert didn't play in this game, so Chase Edmonds started with Tagovailoa in Miami's backfield. Edmonds rushed for only three yards on as many carries, but he made a nice spin move to avoid a tackle to convert a third-and-short situation. Edmonds also caught two balls for 21 receiving yards.


There's not much to say about the Raiders, except for the fact that Zamir White played ahead of Kenyan Drake in this game. White, however, couldn't take advantage of the opportunity, as he rushed for just eight yards on five carries. He scored a touchdown as well.


NFL Preseason Announcers: I'm going to have nightmares for days after seeing this demonic face on the fat guy's t-shirt: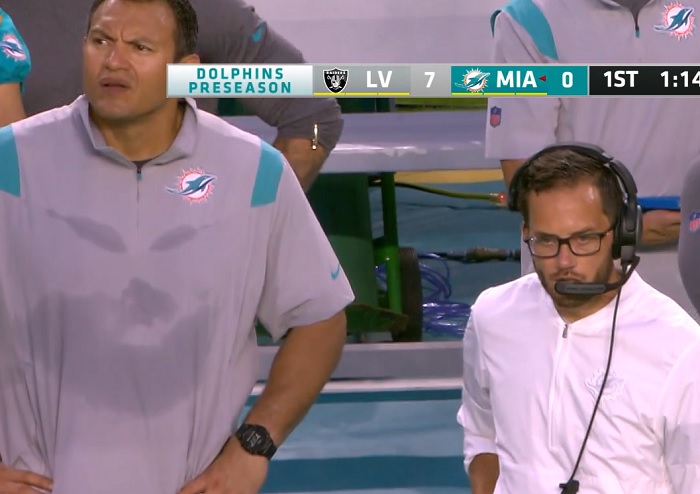 Follow me @walterfootball for updates.









Steelers 16, Jaguars 15
It seems as though Kenny Pickett is going to make Mike Tomlin's decision very difficult. The Steelers have named Mitchell Trubisky to be their starter for the season opener, but Pickett's performance in the preseason thus far may mean that he'll either steal the job or take over while Trubisky receives a quick hook. We may have seen some thought of that in this game, as Pickett didn't see get action in the second half despite throwing just seven passes prior to intermission. He saw the least action of all three quarterbacks, which is not typical for a rookie quarterback.

Pickett completed six of his seven passes for 76 yards and a touchdown. His scoring drive began when he made a beautiful throw while under pressure to find Pat Freiermuth for a 24-yard gain. He then launched a terrific touchdown pass to Diontae Johnson while under pressure, though that was negated by a hold. Unfazed, Pickett located Benny Snell for a touchdown on the very next play. I was looking forward to seeing more of Pickett in the second half, but Mason Rudolph was under center the rest of the way, which is a good sign for Pickett potentially playing early in the season.

As for Trubisky, he did well, but wasn't nearly as good as Pickett. His best throw was a 29-yard bomb to Chase Claypool, but this was after he missed Diontae Johnson with a deep pass. Trubisky went 5-of-8 for 60 yards. One of his incompletions was dropped by Snell.

Here were Trubisky's targets:

Chase Claypool: 1
Diontae Johnson: 3
Benny Snell: 2
Jaylen Warren: 2

Pickens
Whereas the top two Steeler quarterbacks split reps in the first half, Trevor Lawrence was on the field for the entire time prior to intermission. Outside of a couple of throws, Lawrence looked great. He made just two bad passes, both to Christian Kirk on what seemed like the same route toward the sideline. Other than that, Lawrence showed great improvement over what we saw last year. He seemed way more in command of the offense, though the improved coaching staff and supporting cast certainly helps. Lawrence fired some missiles in this game that had the announcers whistling in amazement.

Lawrence finished 14-of-21 for 133 yards. This was an impressive performance, especially when considering that he was battling T.J. Watt and the first-string Steeler defense. Lawrence stalled in the red zone, but was otherwise terrific. He seems poised for a huge year.

Here were Lawrence's targets:

Jamal Agnew: 1
Snoop Conner: 3
Evan Engram: 1
Marvin Jones: 4 (1 end zone)
Zay Jones: 3
Christian Kirk: 8
Chris Manhertz: 1
Laviska Shenault: 1


Christian Kirk didn't play in the team's first real preseason game, but he took the field versus the Steelers. Playing with Trevor Lawrence for the first time, Kirk quickly showed that he's the young quarterback's favorite receiver. Lawrence looked toward Kirk eight times, which was double compared to the receiver with the next-highest targets (Marvin Jones, 4). Lawrence and Kirk failed to connect on the same route twice, but otherwise seemed like they had great chemistry. Kirk reeled in five of the eight targets for 54 yards.


Travis Etienne once again shouldered the majority of the workload, rushing for 29 yards on eight carries. Outside of a 10-yard burst, Etienne didn't make any big plays, but was so close to doing so. He was barely tripped up on a couple of occasions, so perhaps Etienne may have gone the distance versus a worse defense than Pittsburgh's.


NFL Preseason Announcers: The Jaguar announcers repeatedly referred to Chase Claypool as "Chris Claypool."

Follow me @walterfootball for updates.





Titans 13, Buccaneers 3
Both teams sat their starters, which meant that Malik Willis got the nod for the Titans. Willis made some mistakes, which was evident when looking at the completion percentage on his first-half stat line - 6-of-15, 69 yards, one touchdown - but he also showed off why he has immense upside.

Willis began the game with a 21-yard strike to Nick Westbrook, but then proceeded to overthrow the same receiver. He then fired behind his intended target on fourth down. There were some other misfires, but Willis was dealing with lots of pressure in the pocket. He was able to elude defenders on many occasions and either scramble (5 carries, 42 rushing yards) or heave side-armed throws with defenders in his face. Willis showed nice patience in the pocket when he found rookie tight end Chig Okonkwo in the end zone just prior to halftime.

Willis, who finished 7-of-17 for 80 yards and a score, still has a long way to go, but this was expected from such a raw prospect. However, Willis possesses a high ceiling, so he could eventually become a starter if the Titans' coaching staff can get the most out of him.


Willis and Okonkwo weren't Tennessee's only offensive rookies. Of course, I'm referring to Treylon Burks, who caught a 4-yard pass, and, uhh, that's it. Burks saw three targets, but played into the fourth quarter. He saw the ball go his way on an interception and ultimately placed an ice pack on his knee. Burks was amazing at Arkansas, and he was so good that Aaron Rodgers wanted the Packers to trade up for him, but he's been a huge disappointment thus far.


As for the Buccaneers, they started Blaine Gabbert with Tom Brady on a leave of absence. Gabbert quickly gave way to Kyle Trask, who went 11-of-24 for 105 yards and an interception, which was the result of his arm getting hit upon release. The pick wasn't Trask's fault, but he easily could've had numerous interceptions had the Tennessee defenders not dropped his passes. Trask made some nice passes, like hitting Deven Thompkins for a 34-yard gain while on the run, but he made way too many ugly heaves to look like a functional NFL quarterback.


While Tampa sat almost all of its starters, Leonard Fournette was on the field in the first quarter. He rushed for 20 yards on five carries. It's likely that Todd Bowles made him play as punishment for the weight issues from the beginning of training camp.

Fournette eventually left the field, allowing rookie Rachaad White to play. White had an adventurous evening. He saw a 16-yard run negated by Luke Goedeke's hold, then proceeded to fumble. He then had a 9-yard run nullified by another hold. White's 19 yards on six carries isn't indicative of how good he looked, but the ball security might be a concern.


A dark cloud over this game was the injury to Buccaneers guard Aaron Stinnie, who was competing for a starting job. Already down two interior blockers, the Buccaneers could struggle to protect Brady this year.


NFL Preseason Announcers: This was an NFL Network broadcast, featuring Charles Davis, so there were no errors. Frankly, I missed the furniture salesmen, the incorrect names, and the blatant homerism.

Follow me @walterfootball for updates.




Chiefs 24, Redskins 14
Kansas City fans who attended this game were not disappointed with the usage of the starters, as Patrick Mahomes played into the second quarter. Mahomes was on the field for a quarter-and-a-half, and he was masterful for the most part. He had one miscue where he overshot a wide-open Marquez Valdes-Scantling, but he made a number of his usual, unorthodox, but spectacular throws, including several where he showed amazing touch. Mahomes led two scoring drives and finished 12-of-19 for 162 yards and a pair of touchdowns. This doesn't include a deep pass interference penalty. Mahomes doesn't have Tyreek Hill any longer, but he doesn't look any worse than he did with his former star receiver.

Here were Mahomes' targets:

Jody Fortson: 2 (2 end zone)
Noah Gray: 1
Travis Kelce: 3
Jerick McKinnon: 1
Skyy Moore: 2 (1 end zone)
Isiah Pacheco: 2
Marquez Valdes-Scantling: 5 (1 end zone)
Justin Watson: 2


The good news with Valdes-Scantling is that Mahomes targeted him more than any other receiver, looking his way on five occasions. The bad news is that Valdes-Scantling hauled in just two of those passes for 14 yards. This wasn't all Valdes-Scantling's fault, as Mahomes missed him with a deep pass that would've gone for a long touchdown. Still, the two aren't on the same page just yet, though that could change at some point this year.

As for the rest of the receiving corps, Skyy Moore and Justin Watson saw plenty of action due to injuries to Mecole Hardman and JuJu Smith-Schuster. Both had two targets go their way from Mahomes. Moore didn't catch a pass, but drew a deep pass interference flag. Watson, who has shined in training camp, led the Chiefs in receiving when Mahomes was on the field, hauling in two balls for 53 yards. I would like to suggest that Watson could be a sleeper, but he'll need injuries to players ahead of him to have a significant opportunity this year.


The Chiefs used their top three running backs against the Redskins, as Clyde Edwards-Helaire, Jerick McKinnon and Isiah Pacheco all contributed when Patrick Mahomes was on the field. The one guy who wasn't seen at all was Ronald Jones, who may not make the 53-man roster. As for the other three players, they all seemed to be mixed in evenly, so Kansas City's backfield could be frustrating from a fantasy perspective this year unless there are injuries.


The dark cloud over this game for the Chiefs was an injury to Rashad Fenton. The cornerback hurt his groin in the second quarter. It was a positive sign that he walked into the locker room without any assistance.


Speaking of Chiefs defenders, first-round defensive end George Karlaftis recorded his second sack of the season. Karlaftis was double-teamed and held, yet he still was able to bring down Carson Wentz for a loss.


As for the Redskins, Wentz was on the field just as long as Mahomes. He was obviously worse, as he didn't make any terrific throws. He was steady most of the time, though his accuracy was off on some of his throws. Wentz finished 6-of-9 for 64 yards. He failed to lead a scoring drive versus Kansas City's starting defense.

Here were Wentz's targets:

Jahan Dotson: 1
Antonio Gibson: 1
Terry McLaurin: 2
Armani Rogers: 1
Curtis Samuel: 4


Curtis Samuel led the Redskins in targets from Wentz with four. However, he and Wentz weren't quite on the same page because Samuel caught only half of those passes for 10 yards. Terry McLaurin was more efficient, hauling in both of his targets for 27 yards. Jahan Dotson also had two receptions (23 yards), 12 of which came on a screen.


The most significant news concerning the Chiefs-Redskins game was what transpired with Washington's running backs. Both Brian Robinson and Antonio Gibson played, but Robinson was the one who started. Robinson looked excellent right away with a 9-yard burst that came with some yards after contact. Robinson was far more impressive than Gibson, as he rushed for 31 yards on eight carries. Gibson, conversely, was limited to three yards on two attempts. Gibson did some nice work as a receiver out of the backfield - three catches, 37 receiving yards - but this came against the Chiefs' backups. Gibson was on the field with the second-string offense, which obviously bodes extremely poorly for his fantasy outlook. Robinson, meanwhile, must skyrocket up all fantasy rankings and cheat sheets.


Redskins rookie quarterback Sam Howell played for most of the second half. He began with some short and intermediate throws, though his one deep pass was underthrown. Howell bounced back with a laser throw of 18 yards, ultimately leading a touchdown drive. Things took a turn for the worse after that, however, as Howell was intercepted because of a miscommunication with his intended target. Howell finished 10-of-18 for 122 yards and the pick.


NFL Preseason Announcers: I'll allow Ken Johannesen handle this one:





Follow me @walterfootball for updates.




Bills 42, Broncos 15
There were two games in the Saturday one o'clock window, yet Josh Allen was the only starting quarterback who took the field. Allen played just one drive, but made it count. He fired three passes and completed all of them for 45 yards. The third was a touchdown, as Allen launched a 28-yard laser to Gabriel Davis.

Here were Allen's targets:

Gabriel Davis: 1 (1 end zone)
Stefon Diggs: 1
Isaiah McKenzie: 1

While Allen was on the field for just one possession, the rest of the starters played on the next drive. This is why Stefon Diggs caught two passes for 33 yards despite seeing one target from Allen. Davis (2-47, TD) also caught multiple receptions. In fact, Davis had more targets (3) than Diggs (2) on the two possessions.


Devin Singletary was the only running back to see action with Josh Allen in the second preseason game. There's been lots of speculation that Zack Moss and James Cook will be worked in with Singletary, but this result says otherwise. Singletary looked great, especially on one occasion in which he dragged a defender on an 18-yard gain. Singletary rushed for 39 yards on four carries. This was against Denver's backup defense, but Singletary deserves a stock-up arrow for his usage.


Speaking of Cook, the rookie back looked explosive on his runs. He saw no snaps with Josh Allen, but dominated with the second string. He showed off his speed and ability to break tackles as he rushed for 38 yards on four carries. He also caught a 12-yard pass. Moss, meanwhile, scored twice on his four runs, which went for 19 yards.


Another Bills rookie, Khalil Shakir, made a nice play when he caught a pass alon the sideline to convert a third-and-15. Shakir led the Bills in receiving with three catches for 59 yards. Unfortunately for Shakir, he'll need some injuries in front of him to be relevant this year.


There's not much to discuss about the Broncos, who started Josh Johnson and Mike Boone in their backfield. However, there's one noteworthy item, and that would be Albert Okwuegbunam's presence on the field in the second half. There was some chatter about why Okwuegbunam was playing with practice squad scrubs, but this could've just been a punishment of sorts by the new head coach. As someone who likes Okwuegbunam as a late-round flier, I'm not concerned, especially given that quarterback Brett Rypien seemed to force the ball to his talented tight end on almost every pass when Okwuegbunam was on the field. Okwuegbunam ended up with four catches for 32 yards.


NFL Preseason Announcers: The Bills play-by-play guy was so excited by the opening score that he yelled, "Touchdown, Buffalo! 7-0 Bills!" The problem? The score was 7-3!

Follow me @walterfootball for updates.




Lions 27, Colts 26
Both teams played their starters last week, but Jared Goff, D'Andre Swift, Amon-Ra St. Brown, Matt Ryan, Jonathan Taylor and Michael Pittman Jr. sat in this contest. People who paid for tickets were able to see a duel between David Blough and Sam Ehlinger for most of the opening half.

The one player of note is Alec Pierce. The rookie wideout caught a 10-yard pass, but it was an impressive play in which he dragged a defender to convert a third-and-9. This was the only target he saw on the afternoon, as Pierce soon gave way to Michael Strachan, who had an impressive game coming off injury.

Otherwise, there's not much else to say about this game, which was further evidence that the preseason can easily be cut down to two games.


NFL Preseason Announcers: The Colts announcer repeatedly said "second-and-a-dozen" rather than "second-and-12." It wasn't just one instance; he did it every time there was a second-and-12. I don't know why this bothered me so much. Also, there was this:





Apparently, at one point, there was 53 minutes and one second remaining in the fourth quarter!

Follow me @walterfootball for updates.




Texans 24, Rams 20
The Rams haven't played their starters in years, so we were only going to see significant Texans in this game. Davis Mills played the entire opening half, and it was extremely ugly. During a first-quarter drive, Mills began by throwing behind Chris Conley and then was strip-sacked on the next play. Mills followed that up by firing too high to Chris Moore on a routine 5-yard pass on an ensuing drive. Mills was then nearly picked on a telegraphed pass, but the defensive back dropped the ball. With the extra opportunity, Mills took a deep shot to someone named Jalen Camp, but the ball fluttered far away from him.

The Texans averaged 1.4 yards per play against the Rams' backup defense with a few minutes remaining in the opening half. They finally clicked on the final drive prior to intermission, as Mills somehow connected with his receivers on two deep passes. Still, this was an ugly showing that prompted me to tweet this:





Mills finished 10-of-17 for 96 yards and a touchdown. Those stats aren't horrible, but this was done against no Rams starters. Also, the numbers could've been worse because there was a dropped interception. Granted, Brandin Cooks wasn't on the field, but this was an ugly performance.

Here were Mills' targets:

Rex Burkhead: 2
Jalen Camp: 1
Nico Collins: 5 (1 end zone)
Chris Conley: 2
Phillip Dorsett: 1
Brevin Jordan: 2
Chris Moore: 2


Dameon Pierce did not play in the second preseason game against the Rams. It was all Marlon Mack in the first half, followed by Royce Freeman with some Rex Burkhead mixed in at times. Pierce is not injured, so this means that the Texans value him extremely highly. He needs to skyrocket in my fantasy rankings.


Nico Collins appears to be Houston's only viable receiver, excluding Cooks. Collins caught four passes for 48 yards and a touchdown. He would be worth fantasy consideration if the Texans had a better quarterback situation.


Rams wide receiver Lance McCutcheon dominated last week, and he picked up where he left off in this contest. He led everyone in receiving with five catches for 96 yards. The one issue was that he failed to run out of bounds on the final play of the game to stop the clock, but he was excellent otherwise. If he hasn't done enough to make the 53-man roster, some other team will certainly be interested.


NFL Preseason Announcers: The Rams' play-by-play guy called Texans backup quarterback Kyle Allen "Kyle Mills." Meanwhile, the extremely old sideline reporter guy had the most useless report ever after Rams rookie guard Logan Bruss suffered an injury: "The Rams don't know what happened to Logan Bruss, so we don't know either."

Follow me @walterfootball for updates.




Packers 20, Saints 10
With Aaron Rodgers sidelined for yet another preseason game, "No Cookie" Jordan Love played nearly the entire evening. Love threw three interceptions last week and easily could've tossed a fourth. He needed to rebound in this game, and he did so in a big way. Love made quick, decisive passes throughout the contest. He had an early, missed pass in the flat in the red zone, but was sharp otherwise. This was apparent on one drive in the second quarter when he hurled a great throw to Juwann Winfree in between two defenders for a 21-yard gain. This set up a touchdown throw to Romeo Doubs, who made a great, back-shoulder catch in the end zone.

Love made some great throws in the second half that didn't count. He launched a deep pass to rookie Samori Toure toward the sideline, but the ball was dropped. He then fired a laser to Amari Rodgers, but the catch was negated by replay review. Those potential completions would've made Love's stat line look even better. Love went 12-of-24 for 113 yards and a touchdown. Those stats don't look great, but Love played much better than that.


Doubs and Love had some miscues during the early stages of the evening. Doubs dropped a deep pass on his first target because he looked over the wrong shoulder. He then snatched a 17-yard reception that was called back because of a hold. Doubs, however, was able to redeem himself with the aforementioned back-shoulder touchdown. He caught three passes for 24 yards and a touchdown.


Aaron Jones and A.J. Dillon weren't going to see the field in this game. The Packers wanted to hold an audition for their third running back spot, which was a battle between Patrick Taylor and Tyler Goodson. Taylor started, but Goodson was much better. Goodson (10-42) displayed more explosion than Taylor (8-27) on his runs, and he also showed off his receiving ability with a 10-yard grab.


As for the Saints, they also rested their starters. The two exceptions were the first-round rookies: Trevor Penning and Chris Olave. Penning had a mixed performance, while Olave caught a nice touchdown from Ian Book. Olave hauled in two balls for 28 yards and the score.


NFL Preseason Announcers: NFL preseason announcers are the most biased broadcasters in any sport. With that in mind, I have to give credit to the play-by-play guy, who was frustrated with this. He criticized the color analyst by remarking, "You've disagreed with every call against the Packers tonight!"

Follow me @walterfootball for updates.




Patriots 20, Panthers 10
Reports indicated that the Patriots' offense struggled in training camp, and we certainly saw signs of that in this game. Despite battling backups, the Patriots failed to score a single point in the opening quarter. When Mac Jones wasn't dealing with lots of pressure, there were frustrating miscues. For example, DeVante Parker dropped a pass on the opening drive. Jones then missed Jakobi Meyers with a high pass. A Jones throw to Rhamondre Stevenson fell incomplete because of a miscommunication. Jones began 0-of-3 because of those blunders and the pressure.

Things changed for the better on Jones' final drive of the evening. A completion to Ty Montgomery led to a 45-yard connection with Nelson Agholor, which eventually allowed Montgomery to run into the end zone. Jones finished 4-of-8 for 61 yards.

Here were Jones' targets:

Nelson Agholor: 3
Jakobi Meyers: 2
Ty Montgomery: 1
DeVante Parker: 1
Rhamondre Stevenson: 1


I've been bullish on Rhamondre Stevenson for the past couple of months, but the second preseason game was a disappointing evening for him. He saw action early, but also played well into the second quarter once Mac Jones took a seat. Furthermore, Damien Harris (3 carries, 18 yards) played well ahead of him. Stevenson, conversely, gained just four yards on two attempts. I still like Stevenson, but there's some cause for concern.


Patriots rookie quarterback Bailey Zappe played two-and-a-half quarters of action. He made numerous accurate throws, but was guilty of a horrible mistake to close out the third quarter. He telegraphed a weak-armed throw toward the sideline, and the cornerback read it perfectly. The corner didn't even need to sprint at full speed to snatch the pick, but he ran the other way for six. Zappe attempted to rebound after that, but his receivers betrayed him with a couple of drops. Zappe went 16-of-25 for 173 yards and the interception.


The Panthers didn't play any starters despite the Baker Mayfield-Sam Darnold competition. Phillip Walker and Matt Corral rotated quarters instead. Corral endured a rough outing last week, but was better in this contest, though only by default. Corral looked skittish in the pocket last week, but improved in that regard versus the Patriots. He connected on some quick, early passes, and he even drew a pass interference flag on a downfield shot. However, Corral is extremely fortunate that a pass of his wasn't picked off by Mack Wilson, as Corral didn't see Wilson in coverage. Corral also air-mailed a routine 5-yard pass.

Corral was worse in the second half. He lofted a deep floater that was way off the mark. Cornerback Jack Jones had an easy pick fall into his hands, but dropped the ball. Corral was pulled after that in favor of Phillip Walker because of an injury. Corral finished 9-of-15 for only 58 yards. He's very lucky he wasn't picked twice.


NFL Preseason Announcers: The play-by-play guy referred to Matt Corral as "Matt Zappe." Also, this was a Patriots broadcast, which meant that the Bob's Discount Furniture salesmen were back with their expert analysis! This week, when the primary furniture salesman was asked what he thought about the offense, he said, "It looks kinda bad." He later reminisced about players he used to watch 22 years ago.

Follow me @walterfootball for updates.




Bears 27, Seahawks 11
Injuries are always horrible, but especially so during the preseason because those games don't count. The Seahawks lost a key player in meaningless action, as talented guard Damien Lewis was carted off the field at the beginning of the second quarter after failing to put any pressure on one of his legs. It's unclear why Lewis was even on the field in the second quarter, but the bigger picture is that the Seahawks' offense is going to struggle even more than anticipated. The offensive line was already considered a liability because of the two rookie tackles. Now, the unit will likely have to endure without a capable guard.

The Seattle starting quarterback won't be happy with this development, though it's unclear who that will be just yet. Drew Lock was set to start after Geno Smith did so last week, but Lock was sidelined with a minor illness. Smith was able to play the entire opening half, but failed to score a single point against Chicago's second-string defense. Granted, Smith had D.K. Metcalf and Tyler Lockett at his disposal for only one drive, but he had his starting offensive line in front of him the entire time, and yet it didn't lead to any success.

Smith went 10-of-18 for 112 yards. He was victimized by two deep drops, but he missed a couple of passes as well. This includes a horribly inaccurate ball targeted toward Bo Melton on a third down.

Here were Smith's targets:

Deejay Dallas: 5
Noah Fant: 1
Penny Hart: 3
Travis Homer: 1
Cade Johnson: 1
Bo Melton: 2
Colby Parkinson: 1
Freddie Swain: 3
Dareke Young: 1


No Metcalf or Lockett on the target list because they were on the field for three snaps. Noah Fant played into the second quarter, but saw just one target.


Going back to Seattle's offensive line for a second, first-round rookie left tackle Charles Cross had a great performance in his preseason debut. This game was different. Cross blocked well, but was responsible for four false start penalties. Cross will need better discipline against the Broncos in a few weeks.


Speaking of offensive line play, Chicago's blocking betrayed Justin Fields as well. Fields was constantly running for his life against a defense that isn't very good. The Bears arguably have the worst offensive front in the NFL, so this was not a surprise.

Fields was able to complete 5-of-7 passes, but for only 39 yards. He was never really able to look downfield because of all the pressure.

Here were Fields' targets:

Khalil Herbert: 2
Cole Kmet: 3
Darnell Mooney: 2 (1 end zone)


Cole Kmet saw nearly half of Justin Fields' targets in the second preseason game. He reeled in two of the three for 31 yards. With Chicago's offensive line looking dreadful, Kmet will get plenty of opportunities.


Bears rookie receiver Velus Jones had a great punt return of 48 yards in the opening half. That's the good news. The bad news is that Jones caught only one pass for four yards. We all know that Jones has ridiculous speed, but it's unclear if he can play wide receiver.


NFL Preseason Announcers: ESPN's sideline reporter was interviewing someone, and following a big play, she panicked and said, "We got a touchdown, so I'll let you go." Except, it wasn't a touchdown. Still, that's nothing compared to these two pathetic individuals: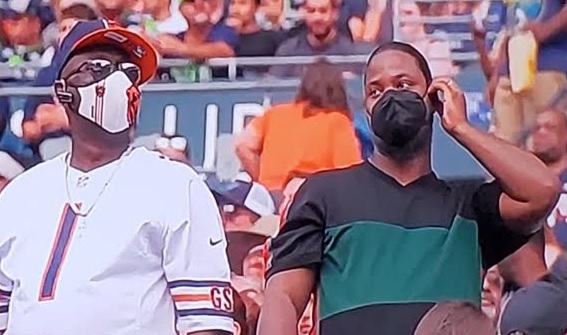 For more on this, check out my Jerks of the Week entry: People Who Still Wear Masks.

Follow me @walterfootball for updates.


2022 Preseason Notes: Week 1 | Week 2 | Week 3
2022 Fantasy Football Stock Pages: Preseason Stock Week 1 | Preseason Stock Week 2 | Preseason Stock Week 3







More 2022 Fantasy Football Articles:
Fantasy Football Rankings

2022 Fantasy Football Rankings:
2022 Fantasy Football Rankings: Quarterbacks - 9/4 (Walt)
2022 Fantasy Football Rankings: Running Backs - 9/4 (Walt)
2022 Fantasy Football Rankings: Wide Receivers - 9/4 (Walt)
2022 Fantasy Football Rankings: Tight Ends - 9/4 (Walt)
2022 Fantasy Football Rankings: Kickers - 8/28 (Walt)
2022 Fantasy Football Rankings: Defenses - 8/28 (Walt)
2022 Fantasy Football Rookie Rankings: Dynasty - 5/11 (Walt)



2022 Fantasy Football Mock Drafts:
2022 Fantasy Football Mock Drafts - 8/31 (Walt)



2022 Fantasy Football Cheat Sheets:
2022 Fantasy Football Cheat Sheet: Top 250 - 9/4 (Walt)
2022 Fantasy Football Cheat Sheet: Top 250 PPR - 9/4 (Walt)
2022 Fantasy Football Cheat Sheet: Top 250 Half-PPR - 9/4 (Walt)
2022 Fantasy Football Cheat Sheet: Top 250 2-QB - 9/4 (Walt)
2022 Fantasy Football Cheat Sheet: Top 250 Touchdown League - 9/4 (Walt)
2022 Fantasy Football Cheat Sheet: Custom - 9/4 (Walt)
2022 Fantasy Football: Dynasty Rankings - 9/4 (Walt)
2022 Fantasy Football Spreadsheets - 9/4 (Walt)

2022 Fantasy Football Articles:
2022 Fantasy Football Stock Report: OTAs, Training Camp - 9/3 (Walt)
2022 Fantasy Football Sleepers - 8/30 (Walt)
2022 Fantasy Football Busts - 8/30 (Walt)
2022 NFL Preseason Game Recaps - 8/29 (Walt)
2022 Fantasy Football Stock Report: Preseason Games - 8/29 (Walt)
2022 Fantasy Football Value Picks - 5/22 (Walt)






NFL Picks - Dec. 7


2023 NFL Mock Draft - Dec. 7


NFL Power Rankings - Dec. 6


Fantasy Football Rankings - Sept. 7


2022 NBA Mock Draft - June 23



---
---
WalterFootball.com is part of the NESN digital network.