Fun NFL Pictures - 2013
Fun NFL Pictures:
2011
|
2012
|
2013
This is a compilation of amusing NFL pictures I've posted on my
NFL Picks
and
NFL Power Rankings
pages. Follow me on Twitter
@walterfootball
for contest updates.
Andy Reid Memes:
I ran a series of Andy Reid memes this season on my
NFL Power Rankings
pages this year.
FootballFanSpot.com's Steven L. posted this on my Facebook wall:
I'm going with an actual dinner item rather than a snack: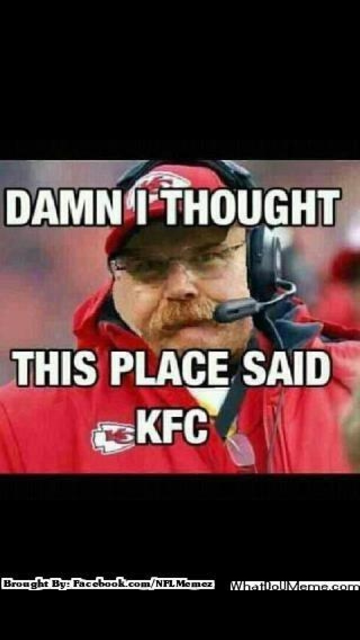 Reid loves dessert, so time for more of that:
I must present Reid acting like the very individual he closely resembles:
It's more NOM NOM NOM time.
And so it continues this week:
Here's what happens when there is too much NOM NOM NOM:
Here's what Reid looks like on those fancy LED HDTVs:
How about another look-alike picture:
I'd like to present the animated version of the Chiefs' coach:
Here's another Andy Reid-walrus picture:
Here's something from Reid's Philadelphia days:
Congratulations to New England for winning the AFC North! (thanks, Shreyas R.)
---
The Denver loss to San Diego turned out to be meaningless, but everyone made it out to be pretty big at the time. The Broncos, after all, relinquished homefield advantage in the AFC. The talking heads on TV were up in arms about this, but nothing they said compares to this e-mail I received after the game:
Glad everything's OK now.
---
Geno Smith plays like he's intoxicated, Matt Simms sucks, while Mark Sanchez styles his hair like a girl. Not that there's anything wrong with that. The best of the bunch would undoubtedly be Tim Tebow, but the Jets can't even locate him anymore. Don't believe me? Check out his profile on NFL.com: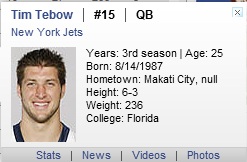 No wonder Tebow's not on a roster. These coaches and general managers keep mailing him, but their letters always bounce back because there's no state called null.
---
Here's something creative you Cleveland fans can do with your Trent Richardson jerseys:
---
The Panthers will be No. 2 if they win at New Orleans next week. I'm pretty upset by this Carolina situation though. I'm sure you all saw that Riverboat Ron poster at the stadium:
I find this extremely offensive. Ron Rivera can't be known as Riverboat Ron. He should be referred to as Commander Adama. That's what I'll always call him, anyway.
So say we all.
---
Kendall Wright is emerging as a stud receiver, but before anyone gets too excited, it must be noted that he gets around. Don't believe me? Check out this Rotoworld blurb:

What a whore. Here's another blunder:

Really? You think the guy who randomly punched someone in college is going to be a running back who goes around and praises people?
---
The Raiders' kicker blew a potential victory. As for the Raiders' punter? Well...
This is obviously an error, but it reminded me of my high school's punter. He was so inept that he booted the ball straight up into the air once. It was pretty windy, so the blew actually blew backward and then continued to bounce the wrong way. It ended up being a net loss of 15 yards.
---
The adage goes that tying a game is like kissing your sister. For those not in the Appalachians, here's something for you to get that image out of your head:
---
This sums up the state of the Browns' franchise:
---
I'd say the Jaguars should look forward to the 2014 NFL Draft, but what if their front office screws up? Granted, making a selection like Teddy Bridgewater shouldn't be too difficult, but Jacksonville doesn't have the best track record when it comes to making draft picks. Perhaps that's because its front office is comprised of two people: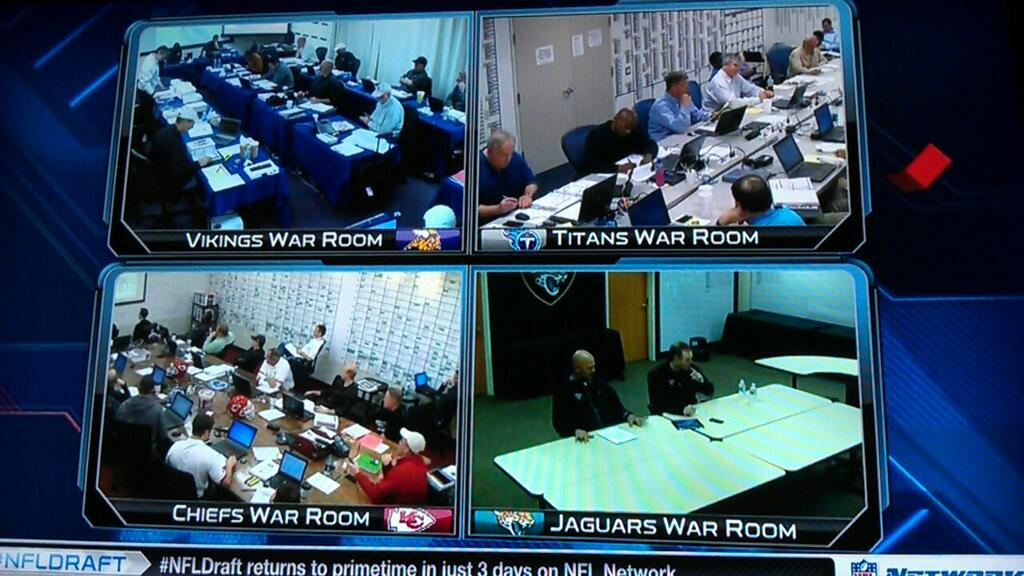 ---
Before we get too excited about the Eagles, let's remember that they're two weeks removed from Nick Foles not being able to complete 5-yard passes and one week removed from this horrific performance (thanks, Strawley Trolly):
---
I received the following e-mail from Joe B:
Rotoworld claims this guy is Oakland's starting TE. Something seems a little strange about him, perhaps that he is allegedly 113 years old. I wonder if the corpse of Al Davis discovered some top-secret project dating back through several generations of skeletons and gargoyles, and somehow contributed to the creature's development in an attempt to create the perfect blocking tight end. What do you think? What round should I be targeting this guy? Can he duplicate or even exceed his yardage total from 2012?
---
The good news is that Giovani Bernard is being switch to defense, possibly to assume Atkins' role. What, you don't believe me? But it's true. Just look at the following DirecTV graphic:
---
Perhaps the Seahawks are just bored because they're so much better than the competition. Besides, they still have this guy (thanks, CreamRanger):
Speaking of embarrassing, check out the situation Atlanta was in this past Sunday:
How the hell did they manage to cover?
---
I heard renowned gambler Fezzik predict that Oregon will be a favorite over Alabama in the National Championship. That's great, but what about Oregon State? The Beavers cannot be counted out. Just look at their beatdown of Washington State (thanks, Joe B.):
Holy crap. And they say the Oregon Ducks are explosive!
---
Here's a news clipping an e-mailer found:
Well, I'm glad the Vikings are so concerned for the Cardinals' welfare that they're willing to hold Freeman out as Arizona plays a scrimmage against itself. Perhaps they should've done the same thing Monday night.
---
I have even better news for the Chargers. You've acquired Larry Fitzgerald! Seriously. What, you don't believe me? Just check out NFL.com's Gamecenter (thanks, TDAP):
---
I have to use this spot to vent about trading in fantasy football. Look at the following offer I was given in one of my leagues (standard scoring):
Hmm... should I take two middling receivers whom I would probably cut upon acquiring for an awesome running back? Tough choice. Very difficult.
---
Speaking of Gronker, this NFL.com graphic should illustrate just how talented he is:
I suppose Gronkowski gets 5.9 points automatically for GRONK SMASH.
It's a miracle the Eagles won despite facing situations like this:
Of course, Chip Kelly's offense is so good that they can turn a poor situation into this seconds later:
---
You know what else is a joke? Male cheerleaders. Take a look at this picture I snapped from the Michigan-Akron game:
This is just ridiculous. I thought the whole point of being a male cheerleader was so you could look up cheerleaders' skirts and then try to bang them later. What is this guy doing just looking forward? How completely useless of him. He's holding a spot for a nice, pervy dude looking for some great upskirt action. What a douche.
---
The Bears have been a fraud this whole time. Having said that, I don't want to take everything away from the Saints' victory at Soldier Field. I've picked New Orleans every single week this season, so I'm fully aware of how good the team is. However, I'm just not ready to vault them over the 49ers or Seahawks - especially given this graphic:
One point in the second quarter? That's pathetic.
---
An e-mail from Daniel L:
If people still don't believe you about Freeman, they only had to watch the NFL Network after Sunday's games. I think it was Marshall Faulk who was talking about him, and you could tell he wanted to say something, but then just stated something along the lines of "there is some stuff going on with him, let's just leave it at that."
No doubt. The interview Josina Anderson conducted with Freeman on
Sunday NFL Countdown
was completely embarrassing, by the way. Such BS.
But hey, at least the Bucs have this guy (thanks, Chg)!
---
Stop looking at records and consider that Atlanta A) is three plays away from being 4-0 B) lost to teams with a combined 11-1 record and C) has a completely banged-up roster. The Falcons will get healthier as the season progresses, and they have much easier opponents on the horizon.
Oh, and they also have a new kicker (thanks, TDAP):
---
I thought this sign was absolutely hilarious:
You know, I can see why Manti Te'o had the hots for that chick.
---
The Saints just had a big win, but their season might be over because they lost Drew Brees.
Yup. Brees is now on the Titans:
A comment posted below:
Walt - Why do you overrate the Giants every time in these things. 0-2 with embarrassing losses, turnovers, and all around sloppy play. Yet you rank them just outside of the top half. What's it gonna take to make you write some honest criticism on these overrated slugs.
It's going to take three lost units and a lethargic performance in the wake of Tom Coughlin losing his brother. I can't believe the Giants showed no heart. It's almost as if this happened...
Eli Manning:
Hey guys I really think we should rally around Coach he's a good guy and he's awesome and he's like a father figure to us and he just lost his brother and he's super sad and we should really try hard and win the game so what do you guys say should we beat the crap out of the Panthers like we did last year if so who's with me?
Other 52 Giants:
Nahhhhhhh...
It was pathetic. Here's how bad the Giants' offense was:
---
Facebook friend Jay B. posted this on my wall: "A great thing to put in your recap for the Toilet Bowl, Blaine Gabbert (yes he's on one of my teams, it's a 14-team 2-QB league), was listed as OUT on Yahoo! Fantasy, yet still was projected to get -.04 points. Apparently they think Gabbert is so bad even when he's not playing he is going to lose points. If you need a picture I'll take a screen shot."
Perhaps Yahoo! thought an errant pass would dribble out of bounds near Gabbert. Gabbert, in turn, would get scared and shut his eyes. The ball would hit his leg or something, and then the Raiders would scoop it up for a fumble recovery. I think that's what Yahoo! was thinking.
---
The Steelers couldn't block before the Maurkice Pouncey injury. What are they going to do now? And when are they going to realize that Todd Haley sucks?
Speaking of Haley, yes, I think it's time to post the awesome Haley gif yet again: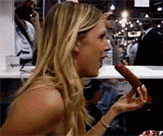 ---
Speaking of Cutler, I'm sure Bear fans who bought Rotoworld's fantasy magazine nearly suffered a heart attack when they saw the following (Body Burner sent this to me):
How many casual fans were looking at that and thinking, "HOLY S*** DID WE REALLY TRADE CUTLER TO THE RAMS!?!?!?"
Brady is holding this team together though. The Patriots better hope he stays healthy, or else this will happen (thanks to Descendency for posting this):
---
Have you guys seen Mark Sanchez's new hairstyle?
That's a little... umm... heterosexually challenged, to be politically correct. It's amazing how Sanchez's encounter with Brandon Moore's buttocks completely changed his sexual lifestyle. Not that there's anything wrong with that.
---
The Raiders are a mess. They have tons of needs and no cap room to fill them. They'll cut players and watch free agents walk - including this class act: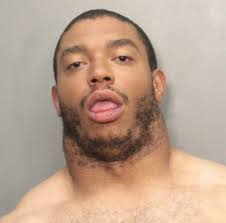 Follow me on Twitter
@walterfootball
for contest updates.
Fun NFL Pictures:
2011
|
2012
|
2013
2021 NFL Mock Draft
- April 7
NFL Power Rankings
- April 4
2022 NFL Mock Draft
- Feb. 24
NFL Picks
- Feb. 8
Fantasy Football Rankings
- Jan. 11