Missing Include for PHPIncludeFailed_dropdownoffseason2011.php

Minnesota Vikings (Last Year: 6-10)
-
Buy Tickets
2011 NFL Season Preview:
Veteran Additions:
OC Bill Musgrave, QB Donovan McNabb, WR Michael Jenkins, WR Devin Aromashodu, OT Charlie Johnson, DT Remi Ayodele.
Early Draft Picks:
QB Christian Ponder, TE Kyle Rudolph, DE/DT Christian Ballard, CB Brandon Burton, OT/G DeMarcus Love, S Mistral Raymond, C/G Brandon Fusco, OLB Ross Homan.
Offseason Losses:
QB Brett Favre, QB Tarvaris Jackson, FB Naufahu Tahi, WR Sidney Rice, OT Bryant McKinnie, DE Ray Edwards, DT Pat Williams, DT Jimmy Kennedy, OLB Ben Leber, CB Lito Sheppard, CB Frank Walker, FS Madieu Williams.
2011 Minnesota Vikings Offense:
Donovan McNabb stinks. An ESPN employee would be fired for saying something like this, but it's true. He's inaccurate, he skips passes into the ground on nearly every throw, he's a terrible locker room leader, and he refuses to learn new offenses out of lethargy.
And yet McNabb is Minnesota's current quarterback - until No. 12 overall pick Christian Ponder is ready to play, that is. That could be a while because of the shortened offseason, so McNabb will have to try his best not to lose too many games as he did in Washington, although perhaps that wouldn't be the worst thing in the world because it would put the Vikings in the running for USC left tackle prospect Matt Kalil.
Minnesota desperately needs Kalil because there is a huge void at the left tackle position. The team cut long-time blind-side protector Bryant McKinnie because he weighed in close to 400 pounds when he reported to training camp. McKinnie, who allowed six sacks last year, never lived up to his potential. However, he's a billion times better than the new left tackle. Charlie Johnson, who played for the Colts previously, has to be the worst starting lineman in the NFL. He was never fully exposed in Indianapolis because of how quickly Peyton Manning released the football. He won't have that luxury in his new home, and McNabb will suffer.
The rest of the offensive front is also in shambles. The lone bright spot is left guard Steve Hutchinson, who turns 34 in November. Center John Sullivan really needs to be upgraded; right tackle Phil Loadholt, a second-round pick in 2009, has yet to live up to his potential; while serviceable right guard Anthony Herrera is coming off ACL surgery.
While McNabb will see tons of pressure in his face, Adrian Peterson won't have any running lanes to burst through either. Peterson is the best pure runner in football, so he should still be good for around 1,300 rushing yards. The concern though is his pass-catching ability; Peterson was stripped out his third-down duties late in 2010, though he's been working feverishly in training camp to reclaim that particular role.
McNabb has one play-maker to work with on offense outside of Peterson, and that of course would be Percy Harvin, who seems poised to have a breakout campaign. The only issue with Harvin are his migraines, which tend to resurface from time to time. If he can play at least 14 games though, he should be able to eclipse 1,000 receiving yards.
Sidney Rice took the money and ran all the way to Seattle, so the team's No. 2 receiving job is up for grabs between the anemic Bernard Berrian and the equally dreadful Michael Jenkins. There are no winners in that training camp battle, so McNabb will likely look to his two tight ends more often. Visanthe Shiancoe is currently the starter there, but Kyle Rudolph should pass him on the depth chart as soon as he's comfortable in Bill Musgrave's new offense.
2011 Minnesota Vikings Defense:
This is not the year teams want to replace four starters on defense. The Vikings will have some new faces in the lineup, which is a recipe for disaster in this brief offseason.
The two key departures are left end Ray Edwards and nose tackle Pat Williams. As much as some Minnesota fans don't want to admit it, Edwards was an extremely important contributor to the team's stop unit. He was excellent in terms of defending the run and also generated a good pass rush, collecting eight sacks in 2010. His replacement, Brian Robison, can apply pressure on the quarterback on occasion, especially with perennial Pro Bowler Jared Allen on the other side. However, Robison will get washed away against the run.
Speaking of which, Pat Williams' departure will make Minnesota's run defense significantly weaker. The front office signed Remi Ayodele as a substitute, but he was just a marginal starter for the Saints. Letroy Guion will play more on passing downs, and could accumulate a few sacks next to Kevin Williams, although the stud under tackle might be suspended for four games because of the ridiculous StarCaps investigation.
The third loss was weakside linebacker Ben Leber, who signed with the Rams. At 32, Leber was a declining player, but was still a serviceable starter. His replacement is Erin Henderson, who has barely played in the pros. Henderson will be a two-down linebacker next to his brother E.J. Henderson and Chad Greenway, both of whom are Pro Bowl-caliber talents.
Minnesota's final new defensive starter will reside in the secondary, taking the place of pedestrian free safety Madieu Williams. That would be Tyrell Johnson, who was a starter back in 2009. Johnson isn't very good, but he's not any worse than Williams. Either way, Johnson is going to be the weak link in the secondary next to strong safety Husain Abdullah, who is solid in run support.
The Vikings' cornerbacks should hold their own unless Antoine Winfield regresses. Winfield is coming off a brilliant 2010 campaign, but recently turned 34. He could easily begin his decline, perhaps late in the year when he's worn down. If so, that'll put extra pressure on the injury-prone Cedric Griffin, who is 10 months removed from an ACL tear. Meanwhile, Chris Cook, last year's high second-round pick, really needs to improve after a disappointing rookie campaign. Cook was arrested this offseason, however, so it seems as though he has interests outside of football.
2011 Minnesota Vikings Schedule and Intangibles:
Minnesota is just 14-44 when playing outdoors the past nine seasons. Perhaps the Vikings should build an outdoor stadium so they can get used to the elements.
Ryan Longwell re-signed for a 4-year, $12 million deal this offseason, and deservedly so. He was 17-of-18 last year and 26-of-28 in 2009. He's 8-of-8 from 50 or further the past three seasons.
Punter Chris "Warcraft" Kluwe had a down year for his standards, but was still pretty good. He averaged 43.0 yards per boot, including 32-of-83 attempts inside the 20. Oh, and he also ripped apart a clueless Nate Jackson in a long rant on some Web site.
Percy Harvin served as a good kick returner, finding the end zone once and averaging 23.3 yards per attempt. However, the Vikings surrendered two special-teams touchdowns.
Minnesota has a pretty easy late-place schedule. It's tough early on, as the team has to battle San Diego and Tampa Bay, but it's much more relaxing after that. Beatable opponents include Kansas City, Arizona, Carolina, Oakland, Denver and Washington.
2011 Minnesota Vikings Positional Rankings (1-5 stars):
| | | | | | |
| --- | --- | --- | --- | --- | --- |
| Quarterbacks | | Offensive Line | | Secondary | |
| Running Backs | | Defensive Line | | Special Teams | |
| Receivers | | Linebackers | | Coaching | |
2011 Minnesota Vikings Analysis:
The Vikings haven't hit rock bottom yet. That'll happen this year. The offensive line in shambles, the defense is very shaky, and there is nothing to speak of at the quarterback position. Not until Christian Ponder is ready to play anyway.
This is a throw-away season for Minnesota. The ideal strategy would be to win the Matt Kalil sweepstakes so Ponder will actually have some solid pass protection when he's ushered into lineup.
Projection:
5-11 (4th in NFC North)
2011 Fantasy Football Rankings
More
2011 NFL Season Previews
*** 2011 NFL DRAFT GRADES, OFFSEASON NEEDS BELOW COMMENT BOARD ***
2011 NFL Draft Grades:
The Vikings panicked. When they watched Jake Locker and Blaine Gabbert come off the board at Nos. 8 and 10, they reacted by reaching for Christian Ponder at No. 12. I gave the selection a D, and deservedly so.
Having said that, as one person commented below, "If Ponder is good, no one will ever care where he was drafted." That's pretty much true, although Minnesota missed out on a blue-chip player like Nick Fairley, Robert Quinn or Cameron Jordan in the process. Still, you can't blame them; they were desperate for a quarterback, so they pulled the trigger.
I loved the rest of the Vikings' draft. They didn't reach for anyone, and they were able to fill needs by selecting the top players available.
Overall 2011 NFL Draft Grade given on 5/1/11: B
2011 NFL Draft Individual Grades:
12. Christian Ponder, QB, Florida State
A reach that would make Inspector Gadget proud. I can't believe this draft class is so bad that it forces Christian Ponder up to No. 12. I know the Vikings need a quarterback, but, wow.
I'm not saying Ponder is going to bust, by the way. He could be OK. But to take a second-round prospect at No. 12 is pretty crazy.
(Pick Grade: D)
43. Kyle Rudolph, TE, Notre Dame
Makes sense. The Vikings have a new quarterback, so why not give him a great weapon to work with? Kyle Rudolph could have gone as high as No. 27, so Minnesota is getting a steal at No. 43.
(Pick Grade: A)
106. Christian Ballard, DE/DT, Iowa
Christian Ballard would have been a second-round pick if he didn't test positive for marijuana at the Combine. The Vikings once again obtain a steal. Ballard fills a huge need at left end, as Ray Edwards is a free agent.
(Pick Grade: A)
139. Brandon Burton, CB, Utah
A third-consecutive incredible value selection by the Vikings. Brandon Burton was considered a third-round prospect by some - I had him atop Round 4 - and he fills a need.
(Pick Grade: A)
168. DeMarcus Love, OT/G, Arkansas
Remember when DeMarcus Love was considered a second-round prospect? The Vikings are getting great value in Round 6, and Love could fill a big hole on the offensive line.
(Pick Grade: A)
170. Mistral Raymond, S, South Florida
This is a slight reach, but the Vikings really needed to find some help at safety.
(Pick Grade: C)
172. Brandon Fusco, C/G, Slippery Rock
I like it. The Vikings had to find multiple upgrades to their offensive line this offseason, and Brandon Fusco was projected by many to go in the fourth round.
(Pick Grade: A)
200. Ross Homan, OLB, Ohio State
Ben Leber is a free agent, so the Vikings will be hoping that Ross Homan can win a starting job at strongside linebacker this season. Homan should have gone a lot earlier than this.
(Pick Grade: A)
215. De'Aundre Reed, DE, Arizona
Think this pick says something about Minnesota's patience regarding the troubled Everson Griffen? You can never have enough quality pass-rushers, and this is the right range for De'Aundre Reed.
(Pick Grade: B)
236. Stephen Burton, WR, West Texas A&M
Stephen Burton is a high-upside project - a perfect late-round selection. He could have gone two rounds earlier.
(Pick Grade: A)
Season Summary:
Remember when the three Viking players flew down to Mississippi to talk Brett Favre into coming back one more year? That seems so long ago. Favre and Brad Childress are gone, and Minnesota will be moving on with Leslie Frazier and a new undetermined franchise quarterback.
Offseason Moves:
Rams sign OLB Ben Leber
Vikings re-sign OT Ryan Cook
Titans sign CB Frank Walker
Vikings cut OT Bryant McKinnie
49ers sign FS Madieu Williams
Vikings sign OT Charlie Johnson
Vikings re-sign DT Fred Evans
Falcons sign DE Ray Edwards
Vikings cut S Madieu Williams
Vikings re-sign S Eric Frampton
Vikings sign DT Remi Ayodele
Seahawks sign WR Sidney Rice
Vikings acquire QB Donovan McNabb from Redskins for 2012 6th-rounder, 2013 conditional 6th-rounder
Vikings re-sign K Ryan Longwell
Seahawks sign QB Tarvaris Jackson
Vikings cut DT Jimmy Kennedy
Vikings re-sign DE Brian Robison
Vikings tender SS Husain Abdullah
Vikings tender ILB Erin Henderson
Vikings re-sign WR Jaymar Johnson
Vikings franchise OLB Chad Greenway


Offseason Needs:
Quarterback: Brett Favre and Tarvaris Jackson are finally gone. Joe Webb played well in one of his starts late in the year, but Leslie Frazier said it during a press conference in early January - he wants to find the next Matt Ryan or Joe Flacco. Minnesota could draft Cam Newton or Jake Locker with the 12th pick this April. Drafted Christian Ponder; traded for Donovan McNabb


Two Outside Linebackers: Both of Minnesota's starting outside linebackers, Chad Greenway and Ben Leber, are free agents. If the Vikings can't retain them, they'll have to find replacements. Franchised Chad Greenway; drafted Ross Homan


Two Safeties: As with the linebacking corps, Minnesota will have nothing at safety if it can't re-sign its personnel. Husain Abdullah is a free agent, while Madieu Williams will probably be released because of his $5.4 million salary. Drafted Mistral Raymond


Cornerback: Antoine Winfield turns 34 in June. Cedric Griffin is coming off two ACL tears. Chris Cook was frequently torched in his limited action as a rookie. The Vikings are desperate for corner help. Unfortunately, Prince Amukamara is unlikely to fall to them in the 2011 NFL Draft. Drafted Brandon Burton


Right Guard or Left Tackle: Minnesota needs an upgrade over Anthony Herrera at right guard. The other more tedious option is to look for a new franchise left tackle, which would move Bryant McKinnie to right tackle and Phil Loadholt to right guard. Loadholt struggled at right tackle this season. Signed Charlie Johnson


Wide Reciever: If the Vikings can retain Sidney Rice, they're fine here. If not, they'll have to find a new starting wideout to complement Percy Harvin. Bernard Berrian stinks. Signed Devin Aromashodu and Michael Jenkins; drafted Stephen Burton


Left End: Both Ray Edwards and Brian Robison are free agents this offseason, meaning Everson Griffen would be slated to start across from Jared Allen if the Vikings don't find another solution. If they don't like any of the quarterbacks, J.J. Watt and Aldon Smith could be options at No. 12 in the 2011 NFL Draft. Drafted Christian Ballard; re-signed Brian Robison


Kicker: Ryan Longwell is a 37-year-old free agent. He may want to go to a contender, so he'll obviously have to be replaced if he leaves.


Center: John Sullivan had another poor season at center. The Vikings really miss Matt Birk. Unfortunately, they have so many other needs that they may be forced to roll with Sullivan for yet another year. Drafted Brandon Fusco


Defensive Tackle: Pat Williams said he won't be back next year, so Letroy Guion will have to step into the starting lineup next to Kevin Williams. I like Guion, but he's unproven. Minnesota may draft a defensive tackle in the early rounds this April. Signed Remi Ayodele


Tight End: Visanthe Shiancoe absolutely sucked this season. Minnesota may think about spending a mid-round pick on a possible replacement; Shiancoe will be entering his contract year. Drafted Kyle Rudolph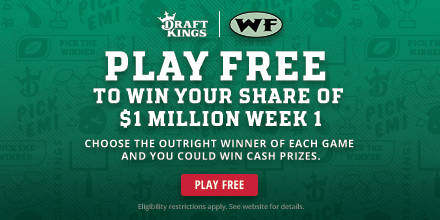 2011 NFL Free Agent Signings:
Remi Ayodele, DT, Saints. Age: 28.
Signed with Vikings

Remi Ayodele plays the run somewhat well, but offers absolutely no pass rush.


Michael Jenkins, WR, Falcons. Age: 29. -- Signed with Vikings (3 years)
Charlie Johnson, OT, Colts. Age: 27. -- Signed with Vikings
Devin Aromashodu (RFA), WR, Bears. Age: 27. -- Signed with Vikings (1 year)



Minnesota Vikings Free Agents:

Salary Cap: No cap.
Chad Greenway, OLB, Vikings. Age: 28.
Franchised by Vikings

One of the top outside linebackers in the NFL, Chad Greenway could be franchised this offseason. If not - Sidney Rice is Minnesota's other option - Greenway is going to receive a huge contract from someone.


Ray Edwards, DE, Vikings. Age: 26.
Signed with Falcons (5 years)

Ray Edwards had a tremendous year, registering eight sacks and shutting down the run on his side. The question remains: How will he fare without the opposition keying in on Jared Allen and Kevin Williams?


Sidney Rice, WR, Vikings. Age: 25.
Signed with Seahawks (5 years)

Sidney Rice is one of the league's top young receivers. He caught 83 balls for 1,312 yards and eight touchdowns in 2009. He's only had one great year, hence just the four stars.


Ryan Longwell, K, Vikings. Age: 37.
Re-signed with Vikings (4 years, $12 million)

Ryan Longwell's field goal percentages the past five years: 84.0, 83.3, 85.3, 92.9 and 94.4. Age is a concern, but Longwell is still one of the NFL's elite kickers.


Ben Leber, OLB, Vikings. Age: 32.
Signed with Rams (1 year, $1.25 million)

Ben Leber can still start as a weakside linebacker, but at 32, his best days are behind him.


Pat Williams, NT, Vikings. Age: 38.
A two-down run-stuffer, Pat Williams still got it done this season despite playing at 38 years old. He'll try to help a contender.


Bryant McKinnie, OT, Vikings. Age: 31.
Bryant McKinnie has immense talent, but he's also a fat, lazy slob. The Vikings cut the soon-to-be 32-year-old McKinnie because he weighed in close to 400 pounds at training camp. He'd be a good addition to a team if he somehow gets his act together, but that's probably not going to happen.


Husain Abdullah (RFA), S, Vikings. Age: 26.
Tendered by Vikings

Husain Abdullah did an OK job at strong safety this season. He's still a liability in coverage, however.


Tarvaris Jackson, QB, Vikings. Age: 28.
Signed with Seahawks

Tavaris Jackson can be a decent backup quarterback in the NFL. No one aside from Brad Childress thinks he can start, however.


Madieu Williams, S, Vikings. Age: 29.
Signed with 49ers (1 year)

Madieu Williams is a liability in coverage. He's experienced and could provide solid depth at defensive back, but he can't be a starter anymore.


Brian Robison, DE, Vikings. Age: 28. -- Re-signed with Vikings (3 years, $14.1 million)
Lito Sheppard, CB, Vikings. Age: 30.
Jaymar Johnson, WR, Vikings. Age: 27. -- Re-signed with Vikings (1 year, $405,000)
Naufahu Tahi, FB, Vikings. Age: 29.
Ryan Cook, OT/G, Vikings. Age: 28. -- Re-signed with Vikings
Jimmy Kennedy, DT, Vikings. Age: 31.
Fred Evans, DT, Vikings. Age: 27. -- Re-signed with Vikings
Frank Walker, CB, Vikings. Age: 28. -- Signed with Titans
Greg Lewis, WR, Vikings. Age: 31.
Tyrell Johnson, S, Vikings. Age: 26.
Eric Frampton, S, Vikings. Age: 27. -- Re-signed with Vikings
Erin Henderson (RFA), ILB, Vikings. Age: 25. -- Tendered by Vikings
Albert Young (RFA), RB, Vikings. Age: 26.
Hank Baskett, WR, Vikings. Age: 28.



Missing Include for PHPIncludeFailed_fa2011.php


Divisional Rival History:


Chicago Bears: The home team has claimed 15 of 17. This excludes that weird game at the University of Minnesota.


Detroit Lions: Pure domination. The Vikings have somehow won 21 of the past 24 meetings.


Green Bay Packers: The Packers had won seven of 10 in this rivalry; nine of 10 if you exclude the 2009 season.



Features to be Posted This Offseason:
2011 NFL Draft Grades (Pick-by-Pick NFL Draft Grades as well - Live on Draft Day!)
Detailed season preview
Fantasy football projections
Positional rankings
Daily updates on free-agent signings



Missing Include for PHPIncludeFailed_offseasonmenu2011.php
2011 NFL Offseason Pages


2019 NFL Mock Draft - Sept. 13


Fantasy Football Rankings - Sept. 5


2019 NBA Mock Draft - Aug. 13


2020 NFL Mock Draft - Aug. 1


NFL Power Rankings - June 3


NFL Picks - Feb. 4