I will be publishing all of my random NFL notes that I've listed on my
NFL Picks
pages here so you can easily look back at what I've written. This page will be updated each week during the season.
---
Random NFL Notes: Week 17:
1. I don't know what took the NFL so long, but it finally handed out a punishment for the Seahawks' failure to follow concussion protocol in that ridiculous Thursday night game against Arizona in which a billion players were injured. The penalty, in case you haven't heard, is a $100,000 fine.
Can I tell you how dumb this is? A $100,000 fine for an NFL team is nothing. It's like your boss fining you $10 for some horrible misconduct at work. If it saves you a bunch of time and allows you to take a long weekend, you'll take the $10 penalty, right? Absolutely, just like NFL teams will accept $100,000 infractions if it means it gives them a better chance of winning.
The Seahawks should've been stripped a draft pick for what they did. I don't blame them for immediately clearing Russell Wilson because they wanted to win, but $100,000 is not going to deter teams from doing this in the future. The whole point of a penalty is to make it a deterrent for other teams to do the same thing, but NFL franchises will gladly pay $100,000 for a win!
2. The solution, as I mentioned a couple of weeks ago, is to make it so every Thursday night game is between two teams coming off byes. If that means no Thursday Night Football in Weeks 2-4, so be it. We'll survive, NFL.
I'd like to offer another suggestion to the league. How about we loosen things up with the holding and illegal-block-in-the-back penalties on kick returns? I can't imagine I'm not alone in saying this, but I absolutely hate it when we see a great return, and then we notice the dreaded yellow box on the bottom right that says "flag" in it, and we know the play isn't going to count.
I f***ing hate this so much. Seriously. Football TV ratings are down, and these ticky-tack penalties aren't helping whatsoever. And I imagine everyone feels the same way. Is there anyone cheering for flags to be thrown on great kickoff and punt returns, unless you're specifically rooting against the team that just made the big play? Call me crazy, but I think we should let great plays stand.
Now, I should note that I'm not advocating completely abolishing holding and block-in-the-back penalties on kickoffs. They should be called if they are super blatant. But if they are borderline, or even only slightly egregious, I think officials should be instructed to let them go.
3. I began the year talking about how I was switching over to NFL Network instead of ESPN, and I definitely do not regret my decision. I don't miss ESPN one bit. Well, to clarify, I miss Chris Berman and Tom Jackson, but they have both been forced into retirement to make way for a college football sideline reporter and Rex Ryan to ruin things on
Sunday NFL Countdown
. Good lord, no wonder ESPN is hemorrhaging money.
Rich Eisen is great, but I have issues with NFL Network's pre-game show as well. I've mentioned my disdain for Steve Mariucci, who has often been guilty of saying inaccurate things and yelling incoherently. Mariucci actually had an interview with Pete Carroll last week, and I can probable recite every line from the interview because NFL Network aired it twice during the same pre-game telecast.
Yes. Let me repeat that: NFL Network aired the same interview twice!
I was thinking of an explanation for it, and the only thing I can think of is that Marshall Faulk had some sort of interview or segment that had to be cut because of his suspension. But still, couldn't they come up with something else? Eisen couldn't have said a few more jokes? Cynthia Frelund couldn't have given us some more of her great fantasy analysis? Jane Slater couldn't have gotten me excited by once again talking about Tyron Smith's bulging disc?
I couldn't believe NFL Network did that. And yet, it's still better than some of the crap ESPN has pulled over the years, so I'm willing to accept it and remain with NFL Network for now.
---
Random NFL Notes: Week 16:
1. I haven't written about the NFL touchdown celebrations yet. While most people seem to love them, I couldn't feel more differently. I don't like them at all. However, until this point, I couldn't explain why. I don't care if players have fun, and I don't mind them showboating, or expressing themselves. It wasn't that. I couldn't quite put my finger on it, but then it hit me. I realized why I hate touchdown celebrations:
NFL players are becoming mimes.
Yes, mimes. Think about it. They pretend like they're playing baseball, or shooting a basketball. They're pretending like they're playing hide-and-seek or duck-duck-goose. They pretend like they happen to be bowling pins. They pretend like they're sitting around a camp fire or competing in speed walking. This is exactly what mimes do!
Mimes are f***ing creepy as hell, so why would any NFL player want to become a mime? The answer is that they wouldn't, so they're unknowingly becoming mimes, which is absolutely horrifying.
I hope NFL players read this and cease these touchdown celebrations immediately. The only thing worse than becoming a mime is unknowingly transforming into a mime, and if this doesn't stop, NFL players will soon begin painting their faces and pretending like they're stuck in a box.
2. I need to vent about the NFL Christmas schedule as well. Why the hell are there games on Christmas Eve and Christmas Day? Does the NFL know how much crap men are getting from their non-football-fan wives/girlfriends/fiancees?
It would be logical for the NFL to put all the games on Saturday, Dec. 23. That's not a holiday, and we've had Saturday football before. Why aren't we doing this again? And more importantly, why does the NFL want football-hating women to be angry at their spouses/boyfriends/fiances?
It's f***ing bulls**t, but it's also a brilliant plan by the league. I've theorized before that the NFL wants all men to be single, because if they are, they'll spend more time watching football and more money buying merchandise. Given that, we shouldn't be surprised that there isn't a full slate of Saturday games this week.
3. Speaking of Christmas Day, we're getting our final Monday night game of the year, which is Raiders versus Eagles. It's not the most appealing matchup, but it's sadly the best one we've had on Monday night in a while. Unless, of course, you were excited to watch Falcons-Buccaneers, Patriots-Dolphins, Steelers-Bengals and Ravens-Texans.
No wonder NFL TV ratings are down. I know it's difficult to project which teams will be good prior to the start of the season, but I don't understand why the NFL still can't do anything about s***ty Monday night games.
I'd like to see the league be able to flex Monday night games. I know ESPN hasn't paid for this - NBC did, which is why games can be flexed on Sunday night - but it's for the league's best interest to put the showcase game of the week on Monday night, so the NFL shouldn't worry about ESPN paying for this luxury. The NFL and ESPN have clashed before, and I'm sure Roger Goodell would love to see ESPN fail - he's not alone - but screwing over Monday Night Football is hurting the league. Being vindictive is not the answer, especially if it hurts the bottom line.
---
Random NFL Notes: Week 15:
1. I was driving home from the mall Friday afternoon, and I was thinking about the demise of my fantasy football teams. I had Alvin Kamara on two of the five squads that made the playoffs, and I figured they'd both tank in Week 14 because Kamara suffered a concussion on the first drive of the Thursday night game.
"F**k those Thursday games, everyone gets hurt," I said to myself. And at that very moment, a great idea popped into my head. NFL teams hate these Thursday night games, so I realized a way that they can end this nonsense entirely:
Sit their starters.
It's brilliant. If the teams sit their starters, NO ONE will watch, and if no one watches, advertising dollars will vanish, and thus the NFL will stop airing Thursday night games.
Now, you might be asking, "If teams sit their starters, won't they just lose?" Well, yeah, but it works out in the long run. Think about it this way:
The Seahawks should have sat their starters against the Cardinals. They won that game, but they saw Richard Sherman and Kam Chancellor suffer season-ending injuries. Their Super Bowl aspirations were ruined as a result. But what if they sat everyone? They would've lost to Arizona, but everything would've been OK. Sherman and Chancellor would still be on the active roster. With Sherman and Chancellor, Seattle surely would've defeated the Falcons in their Monday night loss with the Legion of Boom intact. They'd have the same record, even with the loss to Arizona, and they'd be in much better shape to make a Super Bowl run. In fact, if Sherman and Chancellor were healthy, they might even be considered favorites in the NFC!
I hope an NFL head coach takes my advice and sits his starters. Then, the trend will catch on, as teams will realize that doing so is better for the long term. It's the only way to end the abomination known as Thursday Night Football.
2. The NFL will lose money if Thursday Night Football is eliminated, but there is an easy solution. In fact, Facebook friend Jody J. and I came up with it in a span of an hour: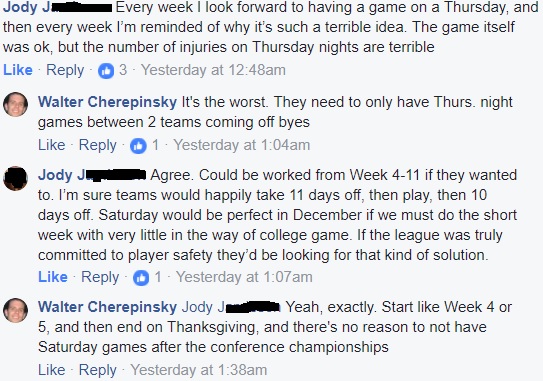 The issue isn't the games on Thursday, but rather players taking the field after just three days of rest. This can be eliminated if the Thursday games take place after bye weeks. The result would make Thursday games in Weeks 2 and 3 impossible - we're not getting bye weeks in Weeks 1 and 2 anytime soon - but I think that's fine. We don't need Thursday Night Football every single week, especially very early in the season.
3. Saturday football isn't nearly as harmful to the players, and it should definitely replace Thursday Night Football late in the season. However, I fear as though it'll eventually lead to my divorce. I told my fiancee that there will be a pair of Saturday games the following two weeks, and she looked deflated.
"I thought football was winding down!" she complained.
I imagine most football wives/girlfriends/fiancees feel the same way. As I've written before, I believe Saturday games are a ruse by Roger Goodell to create more divorces. The more single men there are, the more people there are to watch football every day of the week!
---
Random NFL Notes: Week 14:
1. Those of you who have been reading this site for a long time may remember Bo-Bo, the worst fantasy player of all time. Bo-Bo was in a fantasy league of mine, and he always finished in last place, no matter how hard he tried. It was so bad that he had to retire from fantasy.
Well, we may have found the next Bo-Bo. Facebook friend Tyler R. sent this screen shot over: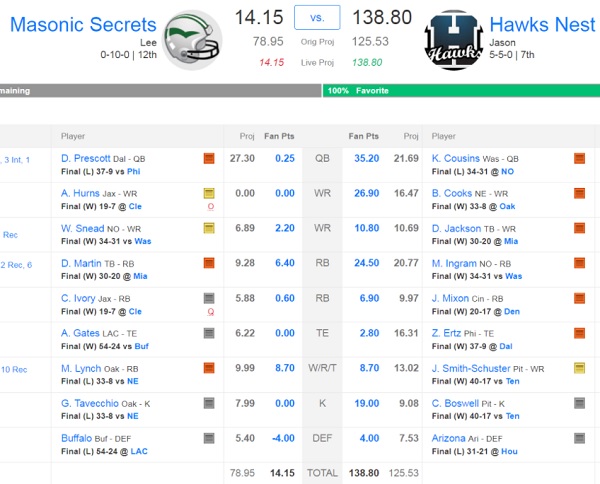 Wow. How do you get to a point where you're starting Allen Hurns, Willie Snead AND Antonio Gates? This might have worked out in 2015, but not now! Perhaps Masonic Secrets is a caveman from the year 2015, and he's simply confused about who's good in fantasy. Look, he even has Chris Ivory and Marshawn Lynch. Him being lost in time makes so much sense!
2. Speaking of bad players, there are a number of terrible quarterbacks in my
NFL Quarterback Power Rankings
page. If you haven't seen it yet, check it out! This is something I hope to update on a weekly basis going forward.
3. If you didn't see Dick Stockton's Ron Burgandy's moment on live TV, you're in for a treat:
If I had feelings, I'd feel bad laughing about this. It's sad that Stockton is at this moment in his life after being such a great announcer for so many years. I think the turning point was when there was a sparrow living in his nest of hair several years ago, but that's long gone as well.
---
Random NFL Notes: Week 13:
For my NFL notes this week, I thought I would fill out a Pro Bowl ballot and list my reasoning.
Quarterbacks:
Tom Savage, Brett Hundley, Nathan J. Peterman, Scott Tolzien, Andrew Luck, Bobby Hoying.
Just kidding. As much as I'd like to troll the NFL, I'll be serious here.
Quarterbacks:
Tom Brady, Drew Brees, Jared Goff, Cam Newton, Carson Wentz, Russell Wilson.
I think most of these are self-explanatory. The one question mark might be Newton because his passing stats aren't very good. However, Newton has done a great job of carrying the Panthers ever since he's gotten healthy. Carolina even traded away Newton's top receiver, and yet the Panthers are 8-3.
Running Backs:
Le'Veon Bell, Leonard Fournette, Todd Gurley, Mark Ingram, Alvin Kamara, LeSean McCoy.
Ezekiel Elliott would have made the cut if it wasn't for his suspension hurting his team.
Wide Receivers:
Antonio Brown, Brandin Cooks, Larry Fitzgerald, A.J. Green, DeAndre Hopkins, Adam Thielen, Michael Thomas, Robert Woods.
Brandin Cooks, A.J. Green and Michael Thomas haven't been great fantasy players this year (for the most part), but they've played much better than their stats indicate. Fitzgerald, meanwhile, was my eighth choice right after Woods. I didn't have seven strong options at this position. I chose Fitzgerald just for the memories. Not that I'd watch the Pro Bowl though.
Fullbacks:
James Develin, Patrick DiMarco.
Develin does about a bit of everything for the Patriots, and he does it very well. The Bills, meanwhile, spent a lot of money on DiMarco, and it has certainly been worth it, as he's been a big part of McCoy's success.
Tight Ends:
Zach Ertz, Jimmy Graham, Rob Gronkowski, Travis Kelce.
Ertz, Gronkowski and Kelce are the three obvious choices. The fourth tight end was between Graham and Evan Engram, but I opted to go with the veteran.
Offensive Tackles:
David Bakhtiari, Anthony Castonzo, Demar Dotson, Lane Johnson, Andrew Whitworth, Trent Williams.
Bakhtiari and Castonzo have been stout left tackles this season. The former missed some action earlier in the year, but he's been outstanding since his return. Dotson and Johnson are two of the best right tackle in the pros. Whitworth has been a huge part of Jared Goff's success this season. And finally, Williams has been banged up this year, but has played well when available.
Guard: Brandon Brooks, David DeCastro, Ronald Leary, Zack Martin, Kelechi Osemele, Brandon Scherff.
At least two Eagle linemen need to make the Pro Bowl, and Brooks has been outstanding. DeCastro has been even better. The Cowboys have really missed Leary, while they felt the absence of their top blocker, Martin, during an embarrassing Thanksgiving loss. Osemele isn't playing as well this year compared to 2016, but he's still one of the most talented guards in the NFL. Scherff has been great when healthy.
Center:
David Andrews, Travis Frederick, Jason Kelce, Alex Mack.
Andrews has made great strides this year, so he should be rewarded for it. The same goes for Kelce. Conversely, Frederick and Mack have been two of the top centers in the NFL for several years now, and they haven't regressed.
Defensive End:
Joey Bosa, Calais Campbell, Brandon Graham, Everson Griffen, Cameron Jordan, DeMarcus Lawrence.
This position is stacked this year! All of these guys are awesome, so it's probably better to discuss those who barely missed the cut. Melvin Ingram is part of that group, which is absurd because he's been so dominant this year. The same goes for Cameron Heyward and Yannick Ngakoue. All three easily could've been voted in. I also considered Adrian Clayborn for a second, but most of his production came in one game.
Defensive Tackle:
Geno Atkins, DeForest Buckner, Fletcher Cox, Aaron Donald, Gerald McCoy, Kawann Short.
This is another group that is extremely packed with talent. Numerous terrific players were left out as well. Most notably, Linval Joseph and Mike Daniels have been dominant for their teams. Ndamukong Suh could have made the cut as well, and the same goes for Michael Brockers, Snacks Harrison and Jurrell Casey.
Inside Linebacker:
Luke Kuechly, Ryan Shazier, Bobby Wagner, Wesley Woodyard.
No explanation needed for Kuechly or Wagner, who are two of the best linebackers in the NFL. Shazier has finally lived up to his first-round billing. He's been solid in the past, but he's never played at this dominant level. Woodyard, meanwhile, is the captain of Tennessee's defense and should be rewarded for having a strong 2017 campaign.
Outside Linebacker:
Jadeveon Clowney, Lavonte David, Ryan Kerrigan, Sean Lee, Von Miller, Telvin Smith.
Clowney has been dominant this year despite the absence of J.J. Watt and Whitney Mercilus. Kerrigan and Miller are other great edge rushers in this group. The non-pass-rushers are David, Lee and Smith. David has been outstanding for a long time, and the same could be said for Lee, whose absence has been huge for Dallas recently. Smith, meanwhile, has been instrumental in the dominance of Jacksonville's defense.
Cornerback:
Chris Harris, Casey Hayward, Marshon Lattimore, Rashaan Melvin, Jalen Ramsey, Xavier Rhodes, Darius Slay, Desmond Trufant.
One late change was that I removed Aqib Talib for his dumb fight and put in Harris instead. Hayward has been a shutdown corner this season. Lattimore has been absolutely prolific as a rookie. Melvin was another change. He's been great for the Colts, and he deserves this spot after Jimmy Smith was embarrassed against the Texans on a Monday night. Ramsey is probably the best corner in the NFL. Rhodes and Slay are two dominant corners in the NFC North. Smith and Trufant are coming into their own as young, dominant corners. Talib, meanwhile, has been steady as Denver's top corner even though the Broncos have been weaker against deep passes this season.
Strong Safety:
Kam Chancellor, Landon Collins.
Chancellor may not be able to play because of injury, but he still should be voted in for being so tremendous in the first half of the year. Collins is going to be a perennial Pro Bowler for a long time.
Free Safety:
Harrison Smith, Earl Thomas.
Smith is the best safety in football. The Seahawks looked lost without Thomas for two games - and then Chancellor got hurt!
Kicker:
Harrison Butker, Justin Tucker.
Tucker is the top kicker in football most years, but Butker has missed just once all season. He's been a huge find for the Chiefs.
Return Specialist:
Jamal Agnew, Tyler Lockett.
Agnew has scored twice on returns, while Lockett almost nearly broke for a few kickoff return touchdowns versus Atlanta on a recent Monday night.
Punter:
Sam Koch, Kevin Huber.
From betting against the Ravens and Bengals, I can tell you it's frustrating when their punters completely flip the field.
Special Teamer:
Anthony Levine, Cory Littleton.
The Ravens and Rams have the best special-teams units in the NFL, so I thought I'd vote these guys in.
---
Random NFL Notes: Week 12:
Everyone knows that NFL TV ratings are down, but what about pre-game show ratings? Awful Announcing posted this tweet Friday about that matter:

Man, I hate downtown. It's crowded with loser hippies and bums, it smells, and there's hardly any parking. Driving down there is imposs...
Wait, what? They meant downturn instead of downtown? Oh, I guess that makes more sense.
As it turns out, there's a 20-percent decrease in viewership of NFL pre-game shows. I think there are several reasons for this. NFL TV ratings have decreased, so it only makes sense for pre-game viewership to be worse as well. However, it's more than that. A big factor is that people no longer have to tune into pre-game shows to get all of the news. In the past, people interested in betting and setting their fantasy lineups would wait eagerly to hear what Chris Mortensen, Adam Schefter, Jay Glazer, etc. said about injuries. Now, all of those reporters tweet the news before they come on the air. Why wait for Mortensen, Schefter and Glazer to make an appearance on TV when we can just follow them on Twitter?
NFL pre-game shows have become stagnant as well. Prior to this season, it would be enjoyable to see Chris Berman and Tom Jackson on ESPN, but both have retired. They've been replaced by Sam Ponder, a sideline reporter, and Rex Ryan, whom I hear is very bland. I haven't watched more than a minute of ESPN's pre-game coverage this season because of Berman's retirement, but I've seen nothing but poor reviews for Ryan. I've been tuning into NFL Network instead because Rich Eisen is the best anchor on any of the shows. The NFL Network has its flaws, however, as Steve Mariucci frequently gives out incorrect information, while Michael Irvin doesn't appear to be sober most of the time.
However, there is a way to fix this, and I have the perfect solution!
Here's what the networks are going to do, and it's not going to work: They're going to let go some of their worst analysts - Ryan, Irvin, Phil Simms, etc. - and find new, hip, former athletes and coaches to replace them. That may temporarily increase viewership, but it will fail in the long run.
As described, the problem with pre-game shows is that they are outdated. The news can be found on Twitter, and sure, the football discussions can be interesting, but there are countless football Web sites and blogs out there like this one that people can peruse during the week. By Sunday morning, people have heard everything about all of the impending games. They can just stay connected to Twitter for any adjustments they need to make for their fantasy lineups and wagers.
Here's what the networks should do, and it would absolutely work: They need to give the audience something they can't obtain elsewhere. Something the audience absolutely wants. Something that die-hard fantasy players and bettors would tune in for.
The pre-game shows should be based on picking games against the spread and creating FanDuel lineups, and former players shouldn't be there to give out this information. I don't mind one or two former players/coaches, but the networks need to hire multiple betting and FanDuel specialists. If I were ESPN, for example, I would first of all cut the political bulls**t that is capsizing my company. But then I would hire some of the prior winners of the Westgate SuperContest or professional bettors and some of the most successful FanDuel players, and I would have them run the pre-game show with an entertaining anchor - I'd throw all my money at Eisen when his contract is up - and perhaps one or two former players who understand betting and fantasy dynamics. Tim Hasselbeck, for example, would be good, but I'd want someone with a bit more pizzazz.
I would use all 90 minutes of my pre-game show - anything more would be overkill - to have these experts create numerous FanDuel lineups and pick games against the spread with detailed analysis. I will abolish that "I gotta pick my former team!" nonsense that happens now. Seriously, why do we care if Irvin has to pick the Cowboys, or if Charles Woodson has to pick the Packers? This is extremely uninteresting. As someone who loves football betting, I would love to hear breakdowns from the top handicappers in the country. I would also love insight on the best stacks in FanDuel. Why is this stuff not available anywhere on TV?
I think the one conflict the NFL would initially have is that this stuff is associated with gambling. To that, I say, who the f*** cares? Doesn't the league know who its primary audience is? Bettors and fantasy players are the driving force behind the NFL, whether Roger Goodell likes it or not. It makes absolutely no sense for the networks not to cater to its best customers.
Anyway, that's my take. I'm sure ESPN and the other networks will just hire other former players and coaches, failing to learn anything from its prior mistakes. And I'll just keep ranting about it.
---
Random NFL Notes: Week 11, Part 2:
4. Like everyone else, I'm frustrated with the pylon rule. I don't get it either. Obviously, if the defense recovers a fumble in its own end zone, it's a touchback. But the defense never recovers a ball that hits the pylon. Why is it automatically the defense's ball?
I think this rule needs to be changed. It killed both the Jets, Rams and Bears this year, and it doesn't really make any sense. I think the offense should keep possession. However, to prevent players from carelessly tossing the ball at the pylon, which would be a dumb look for the NFL, I would assess the team a 5-yard penalty. So, instead of the Bears keeping the ball at the Green Bay 2-yard line, they would've had first-and-goal at the 7, or so. I think this is a fair compromise, as the defense wouldn't be rewarded or punished.
5. I hit my November NFL Pick of the Month with the Chargers covering +3.5 against the Jaguars. As I wrote earlier, I had 30 years shaved off my life based on what happened at the end of that contest. I was lucky the Chargers didn't screw up, but I think I would've been extremely unlucky had they not covered. After all, I had an underdog of more than a field goal that didn't trail for a single second after halftime!
I expected things to go much worse, however. Even though I put eight units on the Chargers, and I was feeling confident about them early in the week, something changed Friday night/Saturday morning. I had a nightmare that I woke up late for Sunday football. It was already 4 p.m., so I raced into my office to flip on the TV. The Chargers-Jaguars game was on, and the score was Jaguars 81, Chargers 67, and the Chargers were driving with four minutes remaining. Making matters worse, Philip Rivers was no longer in the game. It was Jacoby Brissett instead! Yes, Brissett was quarterbacking the Chargers for some reason in an 81-67 deficit. I have no idea how the Blake Bortles-led Jaguars scored 81 points, by the way.
I woke up in a sweat, thankful it was just a nightmare. Still, I felt uneasy about the game, which I already had locked in. And I thought my nightmares would come true on the Austin Ekeler fumble and the Philip Rivers interception. Thankfully, the gambling gods were kind to me, and the Chargers covered. Had they missed out on the cover, I think I'd be in an insane asylum right now, muttering, "Should've seen it coming ... 81-67 ... Jacoby Brissett."
6. My November NFL Pick of the Month Part 2 is firing this week. Yep. And I'll tell you what it is right now. It's Eagles +6.5 at Cowboys.
Huh? How are the Eagles +6.5, you ask? Well, they're not, unfortunately, which means there really is no November NFL Pick of the Month Part 2. But the Eagles, once upon a time, were +6.5 at the Cowboys for this impending matchup, and I had a chance to bet on them.
Here's a sad story: I went to Las Vegas this summer to enter the Supercontest. No, wait, I'm not done. That's not the sad part. It gets worse. I forgot my checkbook, so I had to use my credit card to enter the contest. Entries for both contests were close to $7,000 in total, and I have just a $10,000 limit on my card, for some reason. Add in the hotel and flight expenses, and I was nearly maxed out because I foolishly forgot to bring a check.
I had to use the cash I brought with me to pay proxy fees and such, so I didn't have much money left over. I bet a bit on the Eagles Over 8 wins, Jets Under 4 wins (oops) and Eagles 35:1 to win the Super Bowl. I then sat at the Westgate casino and looked over some of their sheets. For those of you who have never been to the Westgate, they allow you to bet on games in advance (hence, the advance spreads), and they had games available for the entire season. One really stood out to me:
Eagles +6.5 at Cowboys!
I couldn't believe my eyes. There was no way the Eagles were going to be +6.5 at Dallas come Week 11. At worst, it was going to be +3.
Unfortunately, I didn't bet it. I just didn't have the money with me, all because I forgot my stupid checkbook. I would've gone big on it - those of you who have followed know how high I was on Philadelphia entering the year - but I couldn't wager on this game because I had to buy food, and stuff.
I've learned my lesson. I'm never forgetting my checkbook again when going to Vegas. Unfortunately, there won't be many great betting opportunities like this ever again.
---
Random NFL Notes: Week 11, Part 1:
1. I wrote about the NFL needing to abolish Thursday Night Football in the wake of the Richard Sherman injury, but this is something I've suggested for a long time. Sherman agreed with those sentiments, saying that Thursday Night Football should be "illegal." Doug Baldwin echoed those thoughts, as did other NFL players on Twitter, including Terrance Knighton, who said the following:
"Thursday night football smh.... the body is not ready and is not at peak performance within a 3 day span. Player safety tho huh?"
It's pretty hypocritical of the NFL to have Thursday night games on every week. I failed to find numbers to support this, but it seems like there are more injuries on Thursday night. Seven Seahawks went down. Seven! That's insane.
Even without the injuries, Thursday Night Football is a horrible product. How can teams prepare for a game on just three days of rest? It doesn't seem feasible, and most of the games suck as a consequence. I'd be OK with Thursday night games if the two teams were both coming off byes, but they shouldn't be played otherwise. Not if the NFL cares about tainting its product and also failing to preserve the safety of its players.
2. Speaking of Thursday Night Football, NBC is going to try something new this week: They're going to show every play through the sky cam, which they initially did in the Patriots-Falcons Sunday night game to compensate for heavy fog.
I know some people like this more than the standard camera angle because you can see different things - and there's definitely some merit to that - but I don't like it. I'd normally chalk it up to my disdain toward change, but for some reason, that camera angle makes me sick. Like a little nauseous. I can't explain why that's the case, but it feels like I'm on a boat when I'm watching the game like that.
It's weird, but totally not expected. I've never been able to play first-person shooters for the same reason. I've always wanted to barf after about 15 minutes. I'm beginning to think I may need a trash can next Thursday night, so there's another reason to cancel these stupid games.
3. I feel like I complain about Steve Mariucci every other week. Last time, I noted that Mariucci didn't even know which injured players would be suiting up for the Packers in a big game versus Dallas. Mariucci, the weak link on the NFL Network pre-game show when Michael Irvin is sober, had some blunders lately that I'd like to point out:
- On Pittsburgh's offense: "The Steelers don't have to throw the ball. They have Antonio Brown and JuJu Smith-Schuster." So... they don't have to throw the ball because they have two talented receivers? How does that make sense?
- He called Kirk Cousins "Kurt Cousins."
- On
Game of Thrones
: "I love Game of Thrones. I love the dragon."
The
dragon? You know there are three dragons, right? Why do you only love
the
dragon? More importantly, why do you clearly despise the other two dragons? Can you imagine Daenerys' rage if Jon Snow told her that he "loved
the
dragon?" She'd burn him alive, shouting, "What about my other two babies, Lord Snow!?"
---
Random NFL Notes: Week 10:
1. Perhaps it's not a coincidence that Deshaun Watson suffered a season-ending ACL tear last week. There may have been some bad karma going against him, as several Houston fans wished for his injury, as seen in this ridiculous poll:
How dumb are these people? Who would ask for a World Series championship over the health of a quarterback? Who the f*** cares about baseball? Seriously, it's the most boring thing ever. There are way too many games, and all the games involve fat men standing in a field, scratching their balls for three hours. Why is a championship in a so-called sport like that worth celebrating and sacrificing a beloved, exciting quarterback?
I do have an idea for improving baseball, and it would involve cutting the amount of games in the regular season from 162 to about 20. I would have each team play two games, at most, each week, so the top two starters would pitch every other game. Each contest would mean so much, so I'd even be interested in watching.
2. Speaking of the Texans' quarterbacking situation, I find it ridiculous that a certain quarterback wasn't signed. You know who I'm talking about. Robert Griffin.
It's an outrage that Griffin hasn't been signed yet. A total outrage. How could the Texans not sign him? Griffin should sue the NFL!
As for Colin Kaepernick, I find it frightening that some of the owners have to turn over e-mails to see if there was any collusion. I don't think private communications should be forced from anyone unless there's actual criminal activity involved. It's too invasive. If I were the owners, I wouldn't hand over anything. And if the authorities came at me, I'd make sure to put a horse's head in their bed to send a message. I'm surprised this doesn't happen more often.
3. Keeping with the theme of quarterbacks the Browns passed on, general manager Sashi Brown was asked about Carson Wentz recently, and he had this to say:
"There's a guy out in Seattle running around that the entire league passed on 2 1/2 times."
Really, Sashi? Why not just go for broke and mention Tom Brady?
Here's the difference: People downgraded Russell Wilson for his height, but no one downgraded Wentz for anything. Numerous teams had him as the No. 1 prospect. In fact, some members of the Rams' organization wanted to draft him over Jared Goff. Once the Rams selected Goff, the Browns, and ONLY the Browns passed on Wentz. He was a gift for the franchise after the Rams selected the wrong quarterback, and Cleveland inexplicably traded him away.
And yet, they were going to use these picks to acquire A.J. McCarron! It's really unbelievable how poorly run the Browns are. I was talking to Charlie Campbell recently, and we discussed how we, along with some of our league contacts, could step in and operate the Browns better than they're run now. Of course, that's not saying much. The Browns are so incompetent that instead of baseball personnel, they'll likely bring in hockey or basketball organization members next to screw up once Sashi and the rest of his cronies are fired.
---
Random NFL Notes: Week 9:
I wouldn't say my weekly random NFL notes cluttered these picks pages, so I'll keep them here. What I'm also going to do is store all of them in a
Random NFL Notes
section so that you can go back and read previous entries in the future.
Some random NFL notes I can't put anywhere else:
1. I've been asked for my opinion on Bob McNair's comments last Friday. If you somehow missed it, McNair said of the NFL players kneeling during the national anthem: "You can't have the inmates running the prison."
I really don't feel like delving into non-football stuff. Here's what I will say, though: McNair could have easily made the whole thing go away with one sentence in his apology. When asked to clarify what he said, he could have responded:
"I'm sorry if I upset anyone, but when I was referring to inamtes, I meant Dallas Cowboys players only."
How epic would that have been? It would've been the ultimate burn against one of his team's greatest rivals, and it would've been truthful based on how many players with legal issues the Cowboys have employed over the years.
2. I think I speak for everyone when I say that thank God the early London games are over with. I don't mind the London games that begin at 1 p.m. Eastern, but the 9:30 a.m. starts are absolutely brutal. The games are usually terrible, and they dick over the fans.
What do I mean by that? Well, something that Chet wrote in his
Fantasy Football 2-Minute Warning
really stood out to me: "Make sure to get up early enough to check [Stefon Diggs'] status."
The NFL is great, but it can be so f***ing stupid sometimes. It's really amazing how they're trying to get more West Coast fans, as evidenced by expanding into Los Angeles and Las Vegas, and yet they're screwing over the fans there. Can you imagine living in Los Angeles and Las Vegas, and having to wake up around 6:15 a.m. just to check on Diggs' fantasy status? That sounds f***ing horrible. Why would the NFL do this? People watch football primarily for fantasy and betting purposes, so not accomodating to fantasy players and bettors just seems ridiculously stupid.
I really hope the NFL comes to its senses and stops these horrible 9:30 a.m. London games. Enough is enough. The experiment has failed, miserably. No one likes these early starts, and the league is screwing its customers. It would be completely asinine to allow this to continue.
3. Speaking of Las Vegas, I've been writing that the Raiders' decision to move to Sin City s is a stupid one, given that they'll have an awful home-field advantage. My premise was that while there were some Raider fans in Vegas, and I'm sure some would drive over from Oakland, there wouldn't be enough to fill the stadium. I even joked that Mark Davis would have to put mannequins in the seats to make it seem like the stadium was even halfway full.
Well, something I saw on Twitter changed my mind:

Wow. That's something I've never considered. Could teams visiting Las Vegas be so distracted by all the fun activities to do out there that they'll be unfocused to play the Raiders? If so, the Raiders may have a great home-field advantage after all, despite their stadium resembling a giant catacomb.
---
Random NFL Notes: Week 8:
1. Perhaps I wouldn't have gone 0-5 in the Supercontest had I listened to my dad. I was at my parents' house on Wednesday, having dinner, when my dad asked me which teams I was taking in the Supercontest this week...
"Let's see... Bengals... Ravens... Packers..."
My dad let out a groan. The following exchange ensued.
Dad:
Why are you betting against the Saints?
Me:
I think the line's too high and I think...
Dad:
How many f***ing times do I have to tell you? Don't bet or against on the f***ing Saints!
Me:
But...
Dad:
No! They're a crooked team! If you bet on them, they'll find a way to score only 10 points like they did against the Vikings. If you bet against them, they score 54 like they did against the Lions. This f***ing team is f***ing crooked! I'm telling you, don't f***ing bet them!
Me:
But...
Dad (looking at my mom):
Tell your son to not bet on or against the f***ing Saints!
Mom:
What, I can't tell him not to bet on or against a crooked team, if he's going to bet on or against a crooked team, he's going to do it.
My dad is a great conspiracy theorist, but perhaps he's right about this one.
2. Speaking of conspiracy theorists, I happen to be one as well. As a Hall of Fame running back once said, "The apple do not fall far from the orange."
I have a juicy conspiracy theory for you this week, which I referenced in the
NFL Power Rankings
page.
I'm always one to talk about NFL officials fixing games, but some of them are just incompetent. That's certainly the case for Pete Morelli, who completely botched the Panthers-Eagles Thursday night game back in Week 6. He was so bad that Philadelphia fans began a petition to prevent Morelli from ever officiating Eagles games ever again. Why is this, you ask? Morelli, in his previous four Philadelphia games:
Eagles penalties: 40 for 396 yards
Opponent penalties: 8 for 72 yards
That is unbelievable.
Here is the petition
.
They've gotten about 75,000 signatures! If you check out the names, you might see "Walter Football." As someone with a 35:1 ticket on the Eagles to win the Super Bowl, I don't want Morelli officiating any Eagles games in the playoffs for sure!
So, what does this have to do with the Monday night game? Well, if you missed it, the officials called the Eagles for four penalties on the first four plays. One was obvious (12 men in the huddle) and another one was sort of blatant (Zach Ertz's block in the back). However, Lane Johnson was flagged for a phantom hold, and I'm not sure about that offensive pass interference on Nelson Agholor.
Here's my theory: I think that this was retribution for the petition. NFL officials are like frat brothers. They have each other's backs. Ed Hochuli saw that Morelli was getting a ton of criticism from the fans, so I believe that he came into the Eagles-Redskins game set to call Philadelphia for a ton of penalties in the early stages of the evening to send a message.
3. I know that hearing about other people's fantasy teams is boring, but I have to share this with you because it's incredible. I was playing a guy in a league I've been in since 2007. I was up by a couple of points, heading into Sunday night. My opponent had Taylor Gabriel. When Gabriel caught a meaningless pass right before halftime, I lost. Or, that's what I thought...
Remember the nonsensical jet sweep at the goal line? Well...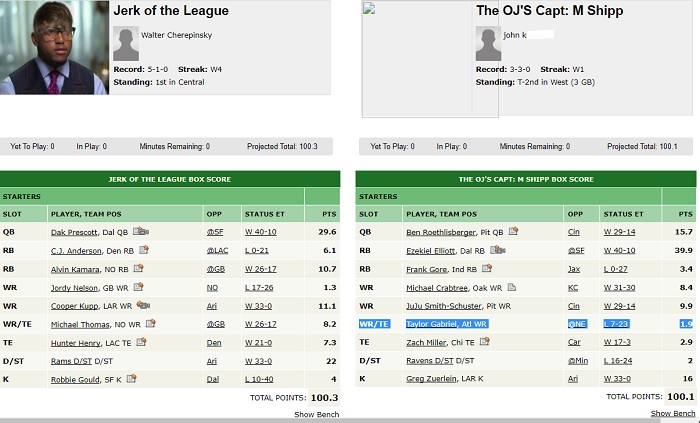 That's right - I won my fantasy matchup because of that jet sweep! Now, before you point out that my luck has been better in fantasy compared to my picks, let me point you to my bench: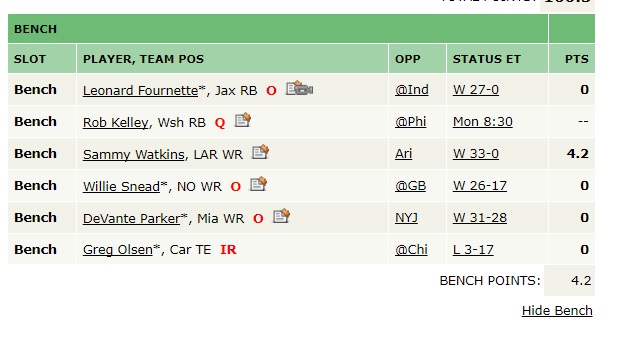 I have no idea how I'm 6-1 on the year with all of those injuries. I had trouble even fielding a full lineup this week!
---
Random NFL Notes: Week 7:
1. Week 6 was a weird one. Teams blew massive leads and there were tons of upsets, including the Giants beating the Broncos as 14-point underdogs. And to top it off, we had another ridiculous Monday night front-door cover.
If you think Week 6 was weird this season, how about what happened 15 years ago in Week 6? I went 0-13-1 with my picks. That's right - 0-13-1! It was my worst week ever, and it changed how I handicapped. It's nice to know that 15 years later, I've learned enough to go 6-8!!!
2. I had a bad week, and Al Michaels apparently did as well. If you didn't hear it, Michaels made a semi-joke about the Giants, saying the following: "The Giants have had a worse week than Harvey Weinstein!"
I chuckled at this, but knew that some people would whine and complain about it. I didn't expect, however, that Michaels would be forced to apologize about it on the air!
People need to calm the f*** down. Seriously. Humor is supposed to be offensive, and I'm not even sure how offensive it was, anyway. Harvey Weinstein is an a**hole, and what he did was horrible, but why would people be offended by an announcer saying that a team had a worse week than Harvey Weinstein? How is that remotely offensive? Harvey Weinstein had a terrible week, and so did the Giants. So what? Is it offensive to merely bring up Harvey Weinstein's name? That's just dumb.
Remember when no one got offended by anything in the 90s? Those were the good, old days. Now, people whine and cry about everythiing 140 characters at a time, and the world is going straight to hell.
3. I noted several weeks ago that I made the change from ESPN to NFL Network for my pre-game show of choice, and I've had no regrets about it. I see clip-show highlights of ESPN during commercials on Monday Night Football, and I don't regret not tuning in. They have a sideline reporter as the host for some reason, and they're still doing that insufferable emoji session where they're trying to appeal to millenial douches who aren't even watching their program.
NFL Network is better because of Rich Eisen, and I'm still dumbfounded that ESPN didn't pay Eisen as much money as possible to keep him on as Chris Berman's successor.
The one element of the NFL Network pre-game show I don't like very much, however, is Steve Mariucci. Here was his analysis of the Packers prior to them playing the Cowboys two weeks ago:
"The Packers are he better team but they're banged up, OK? Their top five tackles are out, OK? They're missing, uhh, Ty Mont... Montgomery, OK? They're missing Mike Daniels! Mike Daniels, OK?"
In addition to annoyingly asking "OK?" a billion times, Mariucci was just factually incorrect. The Packers had Bryan Bulaga back from injury, so they weren't missing their top five tackles, and Daniels was set to play as well. I can handle analysts being annoying, but those who don't do their research shouldn't be on TV.
---
Random NFL Notes: Week 6:
1. Let's talk Cam Newton comments. If you somehow missed it, here's how Newton reacted to a question asked by the Charlotte Observer's Jourdan Rodrigue:
What Newton said was just dumb and ignorant. I would say that 99 percent of the people who e-mail me are men, but of the other 1 percent, they're just as knowledgeable about football as men are, if not more so. I've found that if a woman's into football, she's
really
into football. One female e-mailer is in six fantasy leagues (and I'm only in five!) In fact, the person I've met who has known the most about football, aside from those who have worked in the profession - i.e. writers, scouts, coaches, etc. - was my ex-girlfriend, formerly known as Awesome Girl Who Loves Football (now, maybe Terrible Girl Who Loves Football). She watched every single game, participated in multiple fantasy leagues, and talked trash on all the comment boards. When we weren't doing relationship stuff, we were talking about football, and it was great.
So, it's pretty dumb of Newton to say that. There are way more male football fans than female ones, but girls who like football definitely know their stuff.
That said, I don't understand why everyone has sand up their a** about what Newton said. He's definitely ignorant, but who cares? Why does it matter what he thinks? He looked like a moron, laughing off the reporter's question, but if that's his thought process, no one should be crying about it. Seriously, why does anyone care about what Newton has to say? It's just his opinion on the matter, so even though he has an uninformed one, it shouldn't mean anything to anyone.
Anyway, I thought the worst part of all this was Newton's apology:
The thing that stood out to me was that Newton talked about losing fans and sponsors. It seemed to me that he was only apologizing because he lost fans and sponsors. If he hadn't lost the sponsors, he definitely wouldn't have issued this apology.
I hate apologies, anyway. They're so insincere. This almost seemed rehearsed. Actions speak louder than words, so if Newton were truly remorseful about what he said, he'd actually do something about it. I'm not sure what the solution would be, but just saying words on a 90-second-long YouTube video seems worthless. In fact, I think doing nothing was better than this apology alone.
Oh, and by the way, my fiancee was in the room when this apology was aired. My fiancee doesn't know much about football, so it would actually be funny to hear her talk about routes; not because she's a woman, but because she doesn't follow football at all. However, she came up with the best comeback ever for what Newton said to Rodrigue (after asking me about his playoff success):
"If I were that woman reporter, and he said that to me, I would have said, 'Well, it's funny to hear you talk about football as someone who never won a Super Bowl before!'"
2. Let's talk about Terrible Girl Who Loves Football's favorite former player, Peyton Manning. In case you somehow missed it, Manning's number was retired this weekend. They also revealed a statue of him outside of the stadium.
All of this was cool, and obviously well deserved, but I had three issues with the entire thing. First, why was Marshall Faulk there? Faulk was live from Indianapolis during the NFL Network pre-game show, but considering that he spent just one year with Manning in Indianapolis, I thought that choice was odd. Second, is it just me, or did the face on Manning's statue not look anything at all like Manning? It's like the person to sculpted the statue had never seen Manning before. That, or he was blind. Though, I guess that would mean he had never had seen Manning before!
Third, they made a mistake when revealing Manning's name. It said: "18 Peyton Manning 1998-11." This was incorrect, as it should've said "1998-2011." The "-11" means that the first two numbers are the same, so that means Manning played for the Colts from 1998 to 1911.
That's pretty impressive! I know that Manning is considered the greatest regular-season quarterback of all time, but the fact that he traveled through time while playing football takes his career to another level.
3. If you haven't heard,
Adrian Peterson was just traded to the Cardinals
. Click the link to see my grades for both the Cardinals and Saints. There's also a poll asking which team won the deal.
---
Random NFL Notes: Week 5:
Last week, I ran a poll asking why NFL TV ratings are down 14 percent this year:
Thanks so much for all of the feedback! I'd like to discuss all the choices in relation to how many votes they garnered.
Players kneeling for the national anthem: 34.8%
As you might expect, this option was pretty polarizing. From the feedback I received on Facebook, people either thought that this was the only reason, or it had nothing to do with the declining ratings.
As usual, when there is such a strong disagreement, the truth is somewhere in the middle. I think believing that the protests have absolutely nothing to do with worse ratings is like burying your head in the sand. On the flip side, there are definitely other reasons for the declining viewership, though this could possibly be near the top of the list.
I know two people personally who have stopped watching football because of the protests. Both my future father-in-law and brother-in-law vowed not to watch football when the Colin Kaepernick stuff happened last year, and they've kept their word. I also received e-mails from people who have said the same thing, but I have no way of knowing if they've followed through (and no, I haven't heard back from them). Even if they didn't, I know two people who have stopped watching football because of this, and because that's the case, I'm sure many others know two (or more) people who have stopped watching because of the protests as well. It just makes sense. There has never been a business model that has succeeded where employees of a company angered half of the customers.
Football as a whole is a worse product now: 13.6%
I definitely believe this to be true. The current CBA, signed in 2011, called for fewer practices. It seems that every year since, football as an overall product has gotten progressively worse. I think the primary aspect of this has been offensive line play, which has a lot to do with chemistry. Blockers can't develop this chemistry if they don't practice with each other. Horrible offensive line play has plagued many teams, and those that can't block are barely functional.
Streaming: 11.2%
I am an old, fat man, so I don't really know what streaming is or how to do it. However, I've heard people mention it as part of the problem, so I figured I'd list it as an option. From my understanding, streaming is watching something on a phone or tablet, which seems nonsensical to me. TVs make for better viewing experiences than phones and tablets, so streaming just seems like a hipster fad that will go away soon. If not, we are all in big trouble.
NFL Red Zone Network: 10.7%
I don't think this is right. TV ratings for Thursday Night Football, Sunday Night Football and Monday Night Football are all down, and those games have nothing to do with the NFL Red Zone Network.
Millenials don't like football as much: 7.8%
Although I'm technically a millenial, I can accurately cite that millenials are stupid. At least, the mindset is. Those who are self-absorbed enough to take tons of pictures of themselves probably aren't watchiing football very much. We've seen the average age of sports fans rise, and I think this is definitely a legitimate reason as to why the ratings are down.
Donald Trump (politics are a distraction): 6.5%
I think politics are definitely a distraction, as there are more people whining and complaining 140 characters at a time than ever before. Those pompously acting like the morality police on Twitter or Facebook might be too preoccupied with watching football, though this is only a very small percentage of the population. There are also those who are completely obsessed, watching political YouTube videos instead of football in their spare time. I think this might account for 1-2 percent of the ratings being down, but that's obviously just an estimate.
Thursday Night Football (oversaturation): 4.6%
I actually think this is the primary reason why football is down, in conjuction with football as a whole being a worse product. Sunday football used to be sacred. Monday Night Football used to be special. The NFL then tried to make Sunday Night Football into the next big thing, thanks to all the money NBC spent on it. That was fine, but the league followed that up by adding Thursday games every single week. Thursday games are mostly miserable. Take Packers-Bears, for example. Facebook friend Mark P. said it best:
"Exhibit A onto why the NFL ratings are down. Casual fan: 'The Packers will smack the Bears, they suck.' John Fox and Bears: 'Let's not try to win at all, play like s**t and give up' Horrible game. I hate when teams just give up and just play to end the game. When they kicked the field goal and missed, I knew Rodgers was going to score and finish them off. Doesn't it get old watching s****y teams suck like that? When they went down 21-7, you could turn the game off because you knew the game was over. Sucks."
The Thursday games are generally boring, and many of them aren't competitive. This makes everything counter-productive because people who watch the Thursday games may have gotten their "football fix" for the week and may refrain from tuning into the Sunday games, and vice versa. Plus, as I mentioned earlier, the overall level of play is down, so it's too much of a declining product.
The NFL needs to change this. To increase ratings, they need to give teams more practices, and they must abolish Thursday games, save for the Thanksgiving slate. There will be fewer days of NFL football, but that's almost certainly a good thing for the health of the sport.
Oh, and enough of the 9:30 a.m. London games. This is the last thing we need. Seriously, just stop it, NFL.
Concussion concerns making people less interested in football: 3.7%
Meh. While I think this will have more long-term ramifications if advances aren't made in medicine and football equipment, I don't think concussions would prevent people from watching football.
Officials are worse than ever: 3.3%
The officials are terrible, but they've always been abysmal. I don't buy this as a reason at all, though it wouldn't hurt if the NFL created robotic referees.
Hurricanes: 2.2%
People whose homes were destroyed probably aren't watching football, so I thought this might generate more of the vote. It's not in the top three reasons, but I definitely think it's a factor.
Tom Brady and Ezekiel Elliott witch hunts: 1.8%
There might be like five people who have stopped watching football because of this.
In summary, I think the NFL ratings are down because of oversaturation of a worse product. However, there are other factors at play, one of which is the national anthem protest. It would be ignorant to believe that it has nothing to do with decreased viewership, but it can't be the only reason either.
:
---
Random NFL Notes: Week 4:
I wouldn't say my weekly random NFL notes cluttered these picks pages, so I'll keep them here. What I'm also going to do is store all of them in a
Random NFL Notes
section so that you can go back and read previous entries in the future.
Some random NFL notes I can't put anywhere else:
1. NFL ratings are down again, this time by 14 percent. It was understandable last year, as everyone was focused on a highly contested election. This season, there isn't as much of an excuse - at least, not an obvious one. I think there are a number of possible reasons for decreased viewership. I'm not sure which one is most prevalent, so I thought I'd run a poll to see what everyone else thought:
2. I don't think football being in Los Angeles is as much of a factor, but it can't help. Los Angeles has never been able to support an NFL team, so I don't understand the logic of putting two teams there. What's that saying about not knowing your history makes you doomed to repeat it? That's exactly what the NFL just did, except every single person outside of the league office knew that it was a dumb idea.
There are reports that the NFL is considering moving the Chargers back to San Diego. While this would be an improvement over Los Angeles, it's still not an ideal situation. Southern California just isn't good for professional football, so the Chargers should move elsewhere. I recommended Oklahoma City, as the Thunder have been well received, and the state absolutely loves football. Facebook friend Jay B., however, argued otherwise:
"The Thunder came here during an oil boom and money was pouring in. The State government horribly mismanaged the money, and as soon as oil prices dropped all of a sudden all the surplus turned into debts. Now Oklahoma is hundreds of millions of dollars in the hole each year on their budget and can't even afford some basic services and teachers are the lowest paid in the country. While I agree with you the fans would support the team, the money just isn't there to finance the move right now."
If that's correct, perhaps Portland would be a great option. Others suggested London. It's Roger Goodell's wet dream to put a team in London, so why not the Chargers?
One thing that would need to be addressed is that the Chargers couldn't be in a western division if stationed in London. Perhaps the adjustment the NFL could make would be to move the Texans to the AFC West, the Dolphins to the AFC South and the London Chargers to the AFC East. The Dolphins would lose their rivalries with the Patriots, Jets and Bills, but they could build new ones with the Jaguars and Titans. Miami-Indianapolis used to be a rivalry when both teams were in the AFC East prior to 2002, so having them rekindle that would be cool.
3. Speaking of London, if they do manage to put a team there, I hope they stop these stupid 9:30 a.m. Eastern games. The early London games are awful. They make the day so much longer, which over-saturates the product, and the people on the West Coast, who have to wake up at 6 a.m. to set their fantasy lineups, are completely screwed. As dumb as moving two teams to Los Angeles was, continuing these abysmal 9:30 a.m. London games is an even worse decision.
---
Random NFL Notes: Week 3:
1. I'm ashamed of myself that I didn't talk about Tony Romo last week. If you somehow missed it, Romo did his best impression of Miss Cleo in the Raiders-Titans game:
It's a shame Romo suffered so many injuries over the years. He has a brilliant football mind, and he could've won a Super Bowl had he been able to stay healthy.
Also, why doesn't a team hire Romo to be a defensive coordinator? He knows everything that's going on, so he could be the next Wade Phillips or Dick LeBeau. I think that's better than being the next Miss Cleo.
2. While on the subject of broadcasters, I can't let this Sergio Dipp thing go. Not yet, anyway. If you somehow missed it, here's the greatest sideline reporter of all time:
I've been racking my brain, wondering how the hell ESPN allowed him to get on national TV. E-mailer Joe B. provided an explanation that I finally could get behind:
I can explain the Sergio Dipp fiasco for you. The actual sideline reporter for that game was supposed to be a guy named Harvey, but sticking to their company policy, ESPN didn't let him work the game because of his name offending Hurricane Harvey victims. Dipp must have been the highest-ranking intern they had.


I could totally buy that. The amount of talent ESPN has allowed to leave is astonishing, and there are reports that more employees will be let go soon. I think Sergio Dipp might be the future of ESPN. Even though he bombed, I could see Sergio Dipp getting promoted. In fact, if Jon Gruden takes a coaching job, Sergio Dipp could be the analyst in the Monday Night Football booth. I bet he'd have the time of his life broadcasting with the bald guy whose name I can never remember!
3. Speaking of ESPN, I'd be remiss if I didn't mention Jemele Hill. Again, if you've been living under a rock, Hill got into some hot water for referring to Donald Trump as a white supremicist on Twitter.
I don't think Hill should've gotten fired for this. However, I didn't think Curt Schilling should've been fired for his comments either. And the same goes for the one tennis announcer who said one of the Williams sisters was using guerrilla (not gorilla) tactics. The latter was unbelievably ridiculous. WTF is "gorilla tactics," anyway? Throwing feces? Eating bananas? Why would anyone think that this was what he was referring to?
ESPN axed both of those men, yet didn't even suspend Hill, which is just mind-boggling. I just think it sends a bad message about bias, and it undoubtedly offended half of the audience. ESPN can't afford to do that because of its declining ratings, yet it foolishly continues to engage in politics anyway because the company's leadership is comprised of dumb men who have no idea what they're doing. It's like ESPN would rather be morality police than turn profits, which doesn't make any sense.
---
Random NFL Notes: Week 2:
1. What a weird Week 1! Alex Smith lit up the Patriots. Jared Goff threw for 300 yards. Tyrod Taylor was unstoppable. Sam Bradford looked like Joe Montana. And the Jaguars won! What the hell happened? I was puzzled like everyone else until I saw a picture someone captured...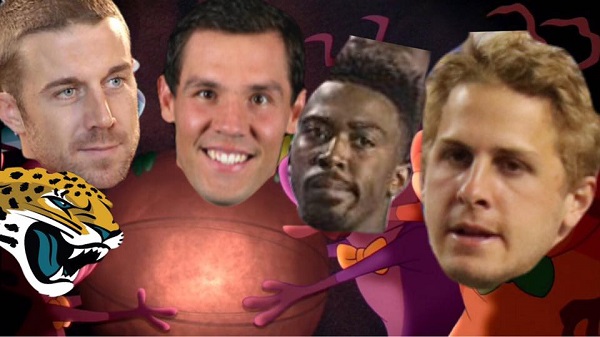 So that explains it. Whose talent did they steal? My guess is Tom Brady, Julio Jones, Le'Veon Bell, Dez Bryant and Andy Dalton. Lol jk about Andy Dalton.
2. I vowed last year that with the retirements of Chris Berman and Tom Jackson, I would no longer be watching ESPN's pre-game show. I turned on ESPN out of habit when I woke up Sunday morning around 11 a.m. to realize that I had already missed an hour of the show. Yes,
Sunday NFL Countdown
is back to three hours. Hooray. You'd think ESPN would concentrate on providing better analysis rather than extending its program for an hour.
Sunday NFL Countdown
had already been deterorating - remember Emoji Madness? - and it has continued to get worse. The ESPN "analysts" spent some time practicing their own touchdown celebrations in the wake of the new NFL rule. This was some riveting television, let me tell you.
The only bright spot of
Sunday NFL Countdown
, from what I saw, was Randy Moss calling out the SJWs on Twitter for the losers that they are, all while praising people who actually make a difference rather than those who whine and complain 140 characters at a time. Moss was trending as a result of this, as the SJW losers' feelings were hurt. Oh no, not their feelings!
3. NFL Network's pre-game show - I'm not even sure what it's called - was much better. Not only did they provide picks for every game, they also gave more than one-word analysis for each selection, which is what ESPN often does. NFL Network offered more analysis and less nonsense, which was great. Also, Cynthia Frelund's fantasy and pick breakdowns are awesome. I don't understand why ESPN doesn't have someone like her on
Sunday NFL Countdown
. I'd suggest Matthew Berry, but Frelund is so much better than him, it's not even close.
The only problem I had with NFL Network's pre-game show was Michael Irvin calling Dez Bryant his "son." Irvin has often done this in the past, and I've never understood it. Sure, they're both Cowboy receivers, but it's just stupid. Plus, if I'm Bryant, I would've emancipated myself from Irvin a long time ago. Irvin is the worst part of the pre-game show, and I think they should replace him with Steve Smith.
3. I haven't discussed the Ezekiel Elliott stuff yet. I was away Friday when a Texas judge granted Elliott's temporary restraining order. It means that Elliott will likely be able to play all year, rewarding fantasy owners who were brave enough to draft him.
I think the whole thing is nonsensical. First of all, why was a Texas judge allowed to make this decision? What if this judge were a Cowboys fan? Couldn't they have gotten someone more impartial to make that ruling? Like, for example, a judge in Wyoming, Alaska, or Guam? Speaking of Guam, it would've made more sense to have Kim Jong-un make this decision. It would be a nice olive branch to have the real-life version of Porky Minch make the call.
Second, why can't the NFL just suspend Elliott for him declothing a woman in public? There's actual video of him taking a woman's shirt off in public. The NFL should've gone, "We're suspending Ezekiel Elliott for stripping a woman in public. There's video of this, so if you want to appeal, Zeke, go F yourself. Everyone has f***ing seen it."
---
Random NFL Notes: Week 1:
1. I'd like to start with some of the new announcers we've gotten (or almost gotten) this season. First of all, thank the lord that Phil Simms is gone. If I had to hear him answer his own questions once again, I think I was going to lose my mind. Second, I believe Tony Romo is going to be great in the booth.
Third, I didn't know what to think of Jay Cutler before he signed with the Dolphins. He was so lethargic at times as a player, appearing as though he didn't give a damn about winning or losing. What if he happened to be the same way as an announcer? I could see the following exchange happen:
Play-by-play Guy:
What a great play!
Jay Cutler:
Sorry, I wasn't paying attention.
Play-by-play Guy:
Here's the replay, Jay. What do you see here?
Jay Cutler:
I dunno, I don't care.
2. E-mailer Kevin J. pointed this out to me. Todd Bowles was giving a press conference and was asked about some players (i.e. Muhammad Wilkerson) being late to meetings and whatnot. Here's what he said:
"Sometimes people are late for work, sometimes they miss the alarm clock. It's not a big deal."
It's amazing how much of a difference there is between Bowles and the other New York team's former coach. Tom Coughlin used to decapitate players who weren't early. Bowles, on the other hand, doesn't even care!
I think we have a good idea of which team might be the league's worst this year. I wouldn't recommend gambling on horrible teams like the Jets, especially after seeing what happened to abysmal teams last year; the Rams, Browns and 49ers never covered, and the same may happen with the Jets this season.
3. I'd like to conclude this segment by mentioning a charity I donated to this summer. This was actually the result of a bet I made with Facebook friend Carlos R. He bet me the Ravens wouldn't select Cam Robinson at No. 16 overall. We had a good reason to think Baltimore would select Robinson, but the team went elsewhere, so I gave $50 to
Relentless Detroit
, which is an organization that helps children. It's a cool fundraiser worth checking out, and if you want to donate to help children, click the link to read all about it.
Back to
NFL Picks
2021 NFL Mock Draft
- March 2
2022 NFL Mock Draft
- Feb. 24
NFL Power Rankings
- Feb. 11
NFL Picks
- Feb. 8
Fantasy Football Rankings
- Jan. 11