---
Random College Football Notes: Week 17:
1. I'd like to apologize for something I wrote last week. I complained about how LSU and Auburn should change their names because their mascots are the generic "tigers." I said Auburn should go to War Eagle, and that LSU should switch to Pot Holes because of all the pot holes in New Orleans. I complained that "Tigers" was stupid for LSU because there are no tigers native to Louisiana.
Well, I was wrong. There aren't any animal tigers from Louisiana, but "Tigers" refers to something else, which I learned from Facebook friend Chad L: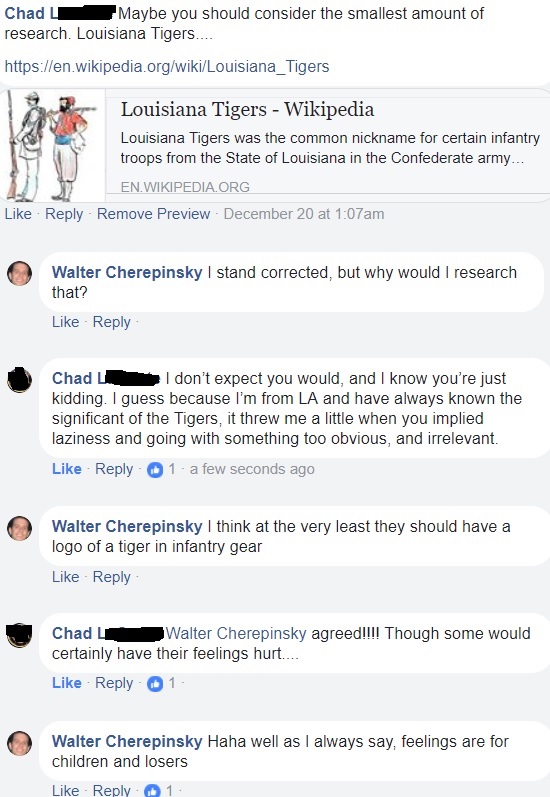 2. It's bowl season, which means it's time to really dig deep and analyze NFL Draft prospects. It's nice that the ESPN analysts are taking this to heart: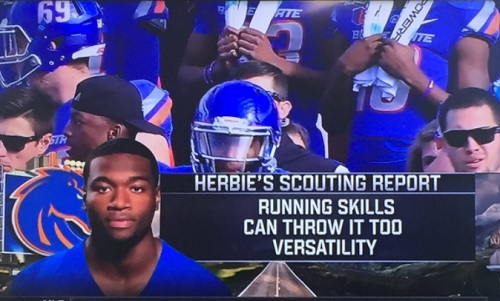 "Can throw it, too," eh? Wow, that's some insight. I was thinking this quarterback could not throw it, but now I know that he can hold the ball in his hand and release it toward one of his receivers!
3. We have
2018 NFL Draft Scouting Reports
being posted now. We'll have one on Sam Darnold if he declares. Charlie will have his usual great insight and pro comparison. In the meantime, however, I'd like to offer my real-life look-alike comparison for Darnold: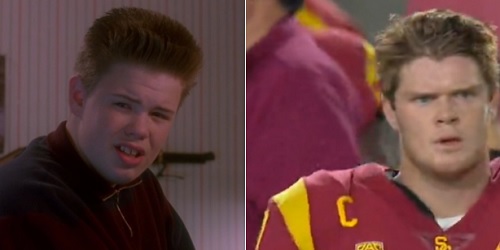 Darnold deserves a stock down for this, right? He was basically the douche who made sure Kevin turned into an adult drug addict who weighs approximately 80 pounds. Not cool, Sam.
---
Random College Football Notes: Week 16:
1. There are more players skipping bowl games this year. Leonard Fournette and Christian McCaffrey created quite the buzz by doing it last season. They were criticized, and fat football Web site owners like myself wondered if this would have a negative impact on their draft status. It turns out that it didn't, as they were selected third and eighth overall in the 2017 NFL Draft.
Given that Fournette and McCaffrey weren't punished for sitting out their bowl games, it's no surprise that more players have skipped bowl games this year. And that trend is just going to keep escalating. More and more players won't play in bowls moving forward, and I'm fine with that, given that bowl games are nothing more than postseason exhibition contests.
College football is going to have a big problem on its hands soon. If all the prominent players sit out, no one's going to watch these stupid games. I think they can fix that by giving players a cut of the money they receive from the bowl sponsors. College football makes a s**t ton of money from these sponsors, so it seems ridiculous not to give the players any of the profits for taking part in 60 minutes of meaningless action. Giving the players some money for these games would incentivize them not to skip the bowls any longer.
2. I wrote about this during the season, but forgot to post it. The LSU Tigers played the Auburn Tigers, and it pissed me off. Why are there two teams that have the same name, especially in the same conference? I'm sorry, but if your favorite college team has a generic name like "Tigers," your program is pretty lame. The same goes for Huskies, Bulldogs and Wildcats. Can you get any more boring?
It's especially bad for Auburn, which has "War Eagle" as its chant. Why isn't Auburn the Auburn War Eagles? How cool would that name be? As for LSU, I'm not sure what I'd go with, but it sure as hell wouldn't be the Tigers. There aren't any tigers that are native to Louisiana, idiots! It would have to be something to do with voodoo, the bayou, or pot holes, since driving in New Orleans is f***ing impossible without ruining your tires. The LSU Pot Holes. I kind of like that!
3. I mentioned earlier in the year that a reader suggested a 16-team college football playoff field, which would be a great way to improve college football. Another way is to get rid of automatic challenges in college football outside of scoring plays and turnovers.
I hate the automatic challenge. If a coach wants to review a play, he should have to throw a red flag. This was apparent in the Georgia-Georgia Tech game a few weeks ago where there was automatic replay review to see if a Yellow Jacket player stepped out of bounds. It didn't really look like he did in live action, and that turned out to be the case.
It was no harm, no foul, but it really slowed down the momentum of the game. Georgia Tech was moving the chains with such great success, but the automatic review slowed everything down and made it less exciting. There's no reason for automatic reviews on basic plays when coaches can easily just challenge them.
---
Random College Football Notes: Week 15:
As with the random NFL notes, I'm going to have all of my
Random College Football Notes
on one page as well. Oh, and you can find my
College Football Picks
here.
Random College Football Notes:
1. Thoughts on the Heisman:
...
...
...
As you can see, I don't really care about the stupid Heisman. The award is irrelevant to me. Too many players have busted in the NFL after winning it. If they want to give the award to some guy who torched terrible Big XII defenses, that's fine with me.
2. If you missed it, Charlie Campbell reported in the
NFL Hot Press
that Josh Rosen and Josh Allen were expected to enter the 2018 NFL Draft. Rosen didn't take too kindly to this, posting the following:

Oh gosh, heaven forbid that he has to answer calls and texts! Rosen is declaring for the draft according to people close to him, but wanted to do it on his terms. That's why he's so salty about it. It would've been funny had Charlie challenged Rosen to return to school. I imagine that Rosen wouldn't have answered.
This is not a good look for Rosen, as far as I'm concerned. We've heard some bad things about him, like his teammates hating him, and his high school coaches saying negative things about him. He needs to play it nicely with the media, or he's going to be out of the NFL just as quickly as Ryan Leaf if he struggles.
3. A couple of weeks ago, I called Tennessee the "Browns of college football" because of how much they bungled their head-coaching search, and the fact that they caved to a horrible mob that spread fake news about Greg Schiano.
Well, someone in Knoxville is reading this site because they made this lovely piece of art: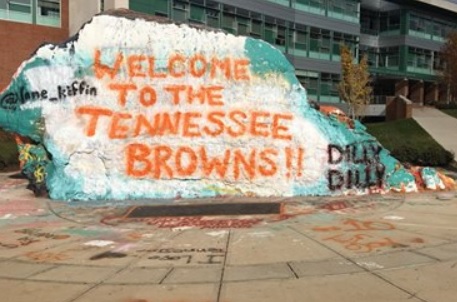 Thanks for reading, guys, and sorry about how terrible your program has become.
---
Random College Football Notes: Week 14:
1. Much was made about the playoff seeding. The big controversy was slotting Alabama at No. 4 over Ohio State. However, it was obviously the right decision, and the committee needs to be praised for it.
Sure, Ohio State won the Big Ten Championship, but they suffered two losses. One defeat was fine, but they surrendered 55 points to Iowa. FIFTY-FIVE points! Alabama would have never looked that bad against the Hawkeyes. Not in a million years.
Alabama, quite simply, was the better team. If the Tide played in the Big Ten, I think they would've won it easily, and if Ohio State were in the SEC, the Buckeyes would've had three-plus losses. It's that simple.
2. One of the best college football-related moments of the year is the Dr. Pepper Challenge where two college students throw footballs like old grandmas into giant foam cans to see who will win some money. It's great because it's so fun to make fun of these people.
In the first game this year, a guy lost because he didn't throw the ball like an old grandma as well as the girl he was battling. Maybe he would've won had he thrown the ball like a man, but he ended up forfeiting the money. The girl, by the way, said she loved the "Dr. Pepper company" - whatever that means - and that this was going to help her pay for her pharmacy degree. I found that odd, since my cousin makes lots of money selling drugs, and he never graduated college.
Just once, I want the winner of the Dr. Pepper Challenge to say something like the following after winning:
"This is gonna help me get a keg for the big party at Alpha Kappa tonight wooooo!"
3. I'm not done with the Dr. Pepper Challenge, as they gave us this wonderful moment that I referenced in the
NFL Power Rankings
:
I could see Browns owner Jimmy Haslam watching that and shouting, "HOLY HELL, WE MAY HAVE FOUND OUR NEXT QUARTERBACK, AND WE MIGHT NOT HAVE TO SURRENDER A SECOND-ROUND PICK FOR HIM!!! BUT IF IT TAKES A THIRD, GET IT DONE!!!"
---
Random College Football Notes: Week 13:
1. The big news in college football, aside from the college football playoff being set heading into the championship games, is that Chip Kelly is back. UCLA has brought him in to be the new head coach. If you missed it, I posted a grade in the new
College Football Coach Hire and Fire Grades
page. I also have a grade for Florida hiring Dan Mullen.
One thing I'd like to add to that write-up would be my condolences. Yes, I'd like to give my condolences to the UCLA players who were a fan of Taco Tuesday. Those days are over, guys. And I'm so terribly sorry for that.
Kelly is a great college coach, but I think he would be even better if he allowed Taco Tuesday to remain. He demoralized the Eagles for abolishing Taco Tuesday, and if I were a UCLA player, I would consider transferring. Then again, I'm not a college football player, but rather a fat man who loves tacos, so perhaps I have a different perspective on this matter.
2. As for the college football playoffs, the announcement will be made tonight, but here's what I'm going with:
1. Georgia/Auburn winner
2. Clemson/Miami winner
3. Oklahoma
4. Wisconsin


Nothing exciting. However, I have some thoughts on what I think will happen:
- I'd have to think that the SEC winner will get the No. 1 seed, no matter who it is.
- The ACC winner should be in no matter what.
- If Oklahoma or Wisconsin loses in their conference championships, Alabama would enter the playoff. If both Oklahoma and Wisconsin lose, I'd have Alabama and Ohio State as the third and fourth seeds.
3. Let's touch on the Tennessee situation. If you somehow haven't heard, the Vols were set to hire former Rutgers and Tampa Bay Buccaneers head coach Greg Schiano, but rescinded the offer because of an outcry on social media and on campus. It was so bad that there was a smear campaign, with signs and posters saying that Schiano helped cover up Jerry Sandusky's actions at Penn State.
Anyone with any knowledge of the situation seems to say that all of the Penn State stuff regarding Schiano is bogus. I don't know if anyone knows for sure, but that's exactly the point. No one knows, so how can he be villainized for it? That seems horrible. These dirt bags ruined Schiano's reputation just because they didn't think he was a good hire, which is just unbelievable.
If I were in charge of things at Tennessee, I would hire Schiano and expel any students who made these signs. There's no place in society for nonsense like that, and these scumbags need to be taught a lesson. Unfortunately, the people in charge at Tennessee are cowards for succumbing to social-media pressure.
I don't understand why there was such an issue with Schiano anyway? He failed in the pros, but he was outstanding at Rutgers. That school had no semblance of a football program before he got there, and he made them very relevant. Now, they're garbage again because he left. If he could do solid things at Rutgers, he would've had more success at an SEC school.
As a result of this, Tennessee is the laughing stock of college football. They're effectively the Browns of the NCAA. Cleveland embarrassed itself by bungling the A.J. McCarron deal a month ago, and now Tennessee humiliated itself in similar fashion.
---
Random College Football Notes: Week 12:
1. Two weeks ago, I talked about the report where Sam Darnold said he would return to USC if the Browns obtain the No. 1 pick. I said that was silly because Lamar Jackson is the favorite to be chosen first overall, as seen in our
2018 NFL Mock Draft
. Josh Rosen is also ahead of Darnold, and he could even pass Jackson, based on his performance versus USC.
Facebook friend Sam B. had a question about my post:
If these allegations about Darnold are true, do you blame him? The Browns are the most incompendent franchise in the NFL by far. Why would any top QB want to work for them?
I definitely do not blame him, and it wouldn't be the first time a quarterback refused to go to the team selecting first overall. Most recently, Eli Manning's dad engineered a trade because he didn't want his son playing for the Chargers. John Elway did the same thing because he refused to play for the Baltimore Colts. So, a couple of two-time Super Bowl champion quarterbacks did this, so it's totally fine if Darnold demands now to play for Cleveland. In fact, unless the Browns bring in some smart football people - as opposed to baseball dudes - I fully encourage Darnold to follow Elway and Manning's strategy if he's considered to be the top selection.
However, that's precisely my issue with what Darnold said. I think it makes him look arrogant that he assumes he's going to be the top choice. He still could be with an extremely strong finish to his 2017 campaign, but he has been worse this year than last. Some of that isn't his fault, but there are NFL personnel who believe Jackson or Rosen will be the first-overall selection; not Darnold.
2. Something else from Facebook friend Sam B. regarding my post from last week:
I wanted add something about your tips for improving college football. There are tons of issues with college football now, but the worse problem by far with college football is how awful and backwards thier playoff system is. The playoffs need to be expanded to at least 16 teams and also each conference (including the smaller FBS conferences) need automatic invites. Its stupid how 3/4 of Division I FBS colleges are automatically out of playoff contention just because of thier lack of prestige. I believe fixing the playoff system would get rid of 90 percent of the problems that people mention with college football, including the ones you mentioned.
I completely agree! The college football playoff has been a huge upgrade over the BCS Bowls, but it's not good enough. Eight teams would be better, but 16 teams would be the best. And I'm all for automatic bids for the small conferences as long as the winners of each of those conferences has at least nine victories. That way, we wouldn't have any garbage teams in the playoffs.
I've written about this a while ago, but the 16-team college football playoff would be amazing. It would allow people to fill out brackets, and think of all the mayhem there would be if a No. 16 threatened the top seed in the playoff. Imagine all the office work that wouldn't be accomplished as a result of people tuning into those games!
3. Another area for improvement is ESPN's scoring updates. I swear, I've never seen an update from Cassidy Hubbarth that isn't at least 30 minutes late. I like Cassidy, but her updates are so far behind. For instance, she recently showed a Virginia Tech pick-six to put the Hokies up 22-17, but as we got to see this replay, Georgia Tech was already winning!
This always happens, and I'm sure all of you have noticed this as well. The question is, what the hell is Cassidy doing in the studio to keep her from bringing us fresh updates? Is she just playing Candy Crush on her phone? Is she stuck in a time vortex? Or is she at the mercy of ESPN's lack of funds to produce timely updates? I don't understand why this keeps happening.
---
Random College Football Notes: Week 10:
1. I was looking forward to seeing the initial top 25 college football rankings so I could make fun of the committee. This was going to be the highlight of my week. I tuned in, expecting the worst, and...
I agreed with everything. Seriously. I wouldn't have changed a single thing.
I know, I know, this is boring. You want me to go on rants. But I think they put the four best teams in the country into the top four slots. Clemson deserves to be No. 4, as its only loss came when its quarterback got hurt. None of the Big Ten teams should be in the top four, as the conference is very overrated - as evidenced by Oklahoma's thrashing of Ohio State. And Georgia over Alabama makes sense! The Bulldogs have been more impressive. Besides, does it really matter who's first or second?
2. The supposed reason why Alabama is behind Georgia is strength of schedule. Two of their non-conference games were against Fresno State and Colorado State. Of course, Georgia battled Appalachian State and Samford, so it's not like they can brag about anything outside of their victory over Notre Dame. However, beating Notre Dame is obviously more important than defeating Florida State.
Still, though, I have to bring up these games against stupid teams, and this past week's contest with Mississippi State versus UMass was a perfect example of that. Why is Mississippi State playing UMass, especially at this stage during the season? It's not like these teams are even close to each other, so there's no sort of rivalry for the underdog.
I think this nonsense needs to end. Major-conference teams should only get one game against the sisters of the poor. Just one, so it's like a preseason contest. Major programs should be forced to play other major programs, or risk exclusion from the college football playoff. I think this would make college football so much better as a whole.
3. Much was made this week about the report regarding Sam Darnold. If you missed it, there was a report revealing that Darnold plans on returning to USC if the Browns obtain the No. 1 pick in the 2018 NFL Draft.
If this is true, Darnold is a dumba** for several reasons. First of all, this makes him look bad. Not just because he doesn't want to go to a team, but it makes him appear smug, like he just assumes he'll be the top selection in the 2018 NFL Draft. Second, and this is related, but Darnold isn't even the favorite to be the first-overall choice anymore! Because of Darnold's struggles, Lamar Jackson has leapt ahead of Darnold in my
2018 NFL Mock Draft
(and Charlie's as well).
And third, the Browns have already passed on Pro Bowl-type quarterbacks like Carson Wentz and Deshaun Watson. If Darnold is any good, the Browns won't want him either!
---
Random College Football Notes: Week 9:
1. Butch Jones learned last week that "ur mom still loves yuo" from the illiterate Alabama fans: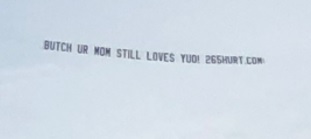 Tennessee, however, does not love Butch Jones, as he's certain to be fired after this season. The question is who will become Tennessee's next head coach.
How about Jon Gruden?
It may seem odd that Gruden would leave ESPN, and I would ordinarily agree. However, consider this: Gruden as Tennessee's head coach opened at 20:1 at a major sportsbook. The line moved to 2.5:1 very quickly! That means someone bet a ton of money on Gruden becoming Tennessee's next head coach.
Was this just a case of someone spending lots of cash irresponsibly? Maybe. However, it could also be possible that someone knows something, and that something could be that Gruden might be a part of ESPN's next batch of layoffs. ESPN, a network that is capsizing because of sheer incompetence, horrendous hires, injection into politics and cord cutters, is set to fire countless more employees in the coming weeks. What if someone who knows Gruden is being let go figures that Gruden will go to Tennessee? Gruden has been linked to Tennessee before, so the fit makes sense if he doesn't want to return to the NFL.
As for Gruden's replacement in the Monday Night Football booth? My guess is Sergio Dipp. ESPN's ideal employee, Dipp's stock is at an all-time low, meaning ESPN could probably hire him to be the Monday night analyst for minimum wage. Perhaps that'll keep ESPN afloat for another five or so years.
2. Speaking of Tennessee, the Vols at least have an NFL Draft prospect in John Kelly. Check out where he's ranked in the
2018 NFL Draft Running Back Prospect Rankings
.
And speaking of 2018 NFL Draft running backs, Iowa's Akrum Wadley intrigues me. Not because he's a talented player, but because of his name.
If I were Wadley, I'd switch two letters in my first name. I'd become Arkum Wadley, so I'd sound like Arkham. I would then paint my face and wear a strange, colorful costume in broad daylight. I would tell reporters that I would kill any defenders who would tackle me, and that "not even Batman could stop me!"
The result of this would be predictable. No one in their right mind would want to tackle Arkum Wadley. He'd score 80-yard touchdowns with ease, and he'd rush for 600 yards per game in the NFL. At that rate, it would only take him 31 games to break Emmitt Smith's all-time rushing record. That's fewer than two seasons!
3. As for the top running back in the 2018 NFL Draft class, Saquon Barkley was up to his usual antics against Ohio State, returning the opening kickoff. Barkley could end up being the No. 1 overall pick in the 2018 NFL Draft.
Someone on Twitter was enthused about Barkley. Perhaps a bit too enthused...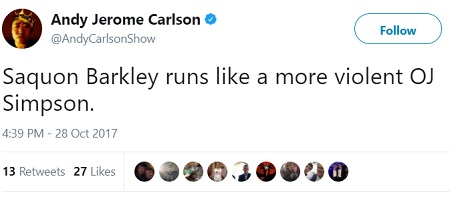 That's impressive. So, this guy is saying that the Browns can get a running back who kills his ex-wife, her boyfriend,
and
others!?
Someone replied to this guy's tweet, "I hope you enjoyed working for ESPN."
Would ESPN fire someone for saying something like that? Umm... yeah. Like I said, ESPN does stupid things, and that's exactly why Sergio Dipp will be in the Monday night booth at some point.
---
Random College Football Notes: Week 8:
1. Several weeks ago, I complained about an ESPN announcing crew gushing all over Lamar Jackson. It sounded like they were splooging in their pants when praising him. This is what they sounded like:
"OMG OMG LAMAR JACKSON OMG OMG HEISMAN OMG OMG LAMAR JACKSON LOVE LAMAR JACKSONNN OMG OMG OMG LAMAR JACKSON GREATEST QB EVAR OMG OMG OMG OMG OMG OGMOGMGOMGO."
I was frustrated about this because while Jackson displayed his talents in that game, he also showed his flaws. The ESPN color analyst this week was much more logical about Jackson, chiding him about a simple missed throw on a first down toward the end of the opening half:
"That's inexplicable. You can't have that. That's a bad throw every quarterback needs to make."
This is the type of analysis we need; not loser fan boys who soil their underpants when watching a quarterback. Jackson is a terrific talent, and he'll probably be a top-10 pick in the 2018 NFL Draft (I have him right outside of it in my
2018 NFL Mock Draft
.) However, he really needs to work on his ball placement. If he improves that aspect of his game, he'll be the best quarterback to come out of the 2018 class.
2. There have been numerous homecoming games thus far this season, of course. The best homecoming game, apparently, is Baylor's, as you can see in this tweet: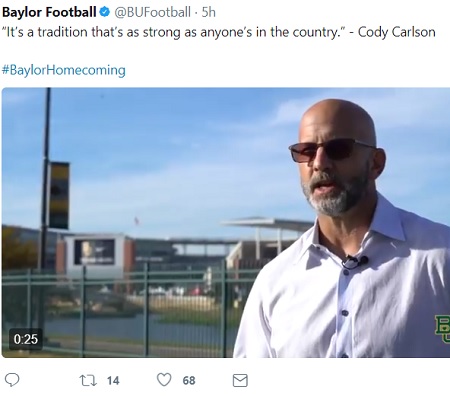 Ah, yes, the great Baylor homecoming. Up there with the Kentucky Derby, the Super Bowl, and New Year's Eve at Times Square. It's a tradition just as strong as those three iconic moments.
Seriously, how can anyone say that? I might as well tweet out the following when my birthday party starts: "It's a tradition that's as strong as anyone's in the country." #WaltsBirthdayParty. Let's just ignore the fact that there were a ton of no-shows by some supposed friends this year, OK?
3. If you missed it, some Alabama fan flew a plane with this message: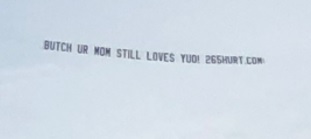 If you can't read that, it says: "BUTCH UR MOM STILL LOVES YUO."
Naturally, because an Alabama fan wrote the message, there was a misspelling. Another Alabama fan had similar issues while pointing that out on Twitter:

Unless she really meant to say, "No isn't that sweet" instead of "Now isn't that sweet." No, isn't that funny that Alabama people can't spell?
---
Random College Football Notes: Week 7:
1. I haven't looked at the new college football rankings yet, but I hope that the voters don't penalize Clemson too much for the loss at Syracuse. The Tigers suffered their first defeat of the year, but it was because quarterback Kelly Bryant suffered a concussion prior to halftime. Clemson had to use its backup in the second half, and it lost as a consequence.
Clemson shouldn't fall because of Bryant's concussion. I'm confident the team would've beaten Syracuse had Bryant not gone down, and I don't think the Tigers should be penalized. It's not like Bryant is out for the year, or anything. He'll be back soon, and come January, Clemson will be either the top or second-best team in the country. Not slotting them in the playoffs because of a fluke injury would be a shame. After all, it should be the goal of the playoff committee to put the four best teams into the postseason; not the four major-conference teams with the most victories.
2. Speaking of the Clemson-Syracuse game, I have to declare the utter disappointment I had in Syracuse quarterback Eric Dungey. Not that Dungey played poorly, or anything. On the other hand, Dungey had a great game.
My problem with Dungey? I learned that he's not Tony Dungy's son.
I wanted so much for Syracuse's quarterback to be part of Tony Dungy's lineage. You can't imagine how distraught I was when I saw that extra "E" in Dungey's name. That's when I knew he wasn't related to Tony Dungy.
Now, you might be scratching your head, wondering why I thought Eric Dungey, who is white, is related to Tony Dungy, who is obviously black. Uhh... have you not watched
This is Us
? It was clearly a possibility that Eric Dungey was abandoned at a fire station, and a lovely, young couple adopted him, and raised him to be an upstanding gentleman who occasionally has nervous breakdowns.
Unfortunately, this never happened, and my dreams were crushed.
3. Last week, I called college football a pansy sport because they eject players for helmet-to-helmet hits. Little did I know that this was just the tip of the iceberg.
I saw something absolutely appalling in the South Carolina-Tennessee game. In the third quarter, the Gamecocks, down 9-3, sacked the Tennessee quarterback on third-and-long deep in his own territory. It would've forced a punt from near the end zone, which would've allowed South Carolina to take over with some great field position.
There was a flag, however. I initially thought it was an accidental, unfortunate face mask on the quarterback. Instead, it was something else. The official announced:
"Unsportsmanlike penalty on the defense. The player's helmet came off, and he kept playing. That's a 15-yard penalty. First down."
Uhh... what!? They penalized a f***ing defensive player because he kept playing after his helmet popped off!? What the f***!?
I can't believe it. I really can't. How can that be any sort of penalty, let alone a 15-yarder to give an automatic first down? Oh, and by the way, the defensive player "kept playing" involved the guy taking two steps forward and half-heartedly joining in the sack, though he didn't fall down, or anything. Old ladies walking in the park exert more energy than the guy did on that particular play.
It's unreal that football has become such a sissy sport. I swear, if I didn't write about football for a living, I'd stop watching college football all together. I get maybe penalizing the team five yards for this, but even that seems like a stretch.
Sadly, I feel like it's just going to get worse. In 10 years, I bet you that players will be wearing bras for protection, and they'll replace the footballs with balloons so that no one gets hurt.
---
Random College Football Notes: Week 6:
1. It sucks that football is turning into such a pu**y sport. I hate that players are automatically ejected for targeting. In the Penn State-Northwestern game, a Wilddcat player was kicked out of the game for hitting the Penn State quarterback in the helmet. This seemed accidental, yet the Northwestern guy was kicked out. Even worse, because this occurred in the second half, he'll miss the first half of next week's game.
I think we've taken things a bit too far. People seriously just need to calm the f*** down. Something like that shouldn't warrant an ejection. No way. Now, if this seemed intentional, or if there's a chronic offender of these helmet-to-helmet hits - think someone like Vontaze Burfict in college football - then I could see ejecting the player being the right move. Otherwise, football needs to stop pandering to these wussies who think that every helmet hit should be punishable by ejection. Football ratings are down, and I think this might be one of the reasons why.
2. I didn't talk about this weeks ago when it happened, so forgive me for being late on this take. I wanted to address what Jim Harbaugh said when he complained about Purdue's locker rooms. Here's what he said, in case you missed it:
"It's become apparent after going around to all the visiting schools in the last couple of years that a conscious effort of gamesmanship that is unsportsmanlike when you have locker rooms that are too small, that are not heated or cooled properly, in this case, there's no air conditioning. Such a tight, cramped environment where you have to open the doors to get some kind of ventilation going in a very small area. People are walking by, they're watching you dress. The number of urinals or bathrooms for the players and staff, I think there were two. There was not even a private door around it."
Womp-womp. Harbaugh is a great coach, obviously, but I think he's being too much of a baby about this. I think a team should do everything in its power to make life uncomfortable for the visiting team. In fact, I don't think Purdue went far enough! If I were Purdue, I'd unleash snakes, scorpions and even tarantulas in the opposing locker rooms. I'd blast the heat to 110 degrees. I'd even go to the graveyard, dig up some corpses, and hang them in the lockers!
Apparently, other schools don't agree with my sentiment. Michigan State tweeted this out in the wake of Harbaugh's remarks: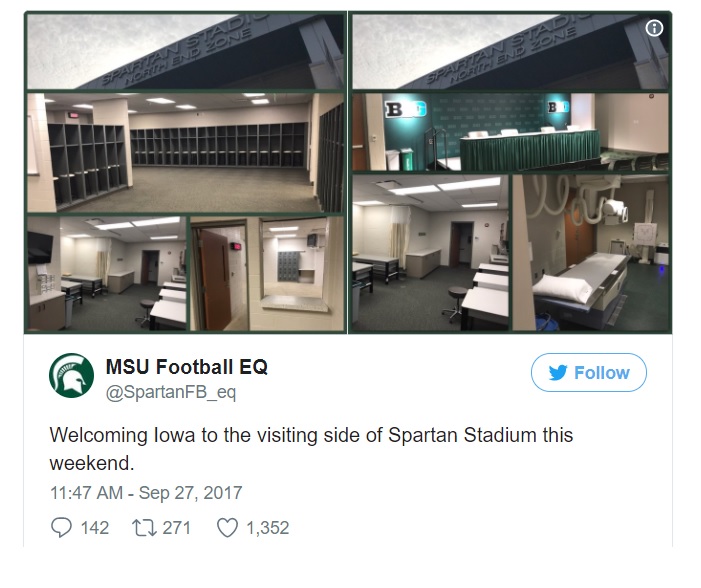 What a bunch of pu**ies.
Oh, look at us, we have such pretty locker rooms!
No wonder Michigan State never wins anything. That would change if they had corpses.
3. Going back to the Penn State-Northwestern game, I like how they had Todd McShay on to analyze Saquon Barkley. ESPN should do this more. If the network didn't have such financial problems, they could hire more NFL Draft analysts to cut in and talk about NFL prospects throughout the telecast. Instead, they're paying Stephen A. Smith to make stupid opinions. No wonder their ratings are plummeting.
Anyway, one of the analysts piggy-backed on McShay's praise of Barkley, citing that he has great character. "If Saquon's not getting touches, you don't see him yelling on the sideline like Antonio Brown."
OK, I get that Barkley's character is a plus, but mentioning Brown as someone Barkley should not be like seems pretty stupid. Brown is one of the top receivers in the NFL, so saying Barkley shouldn't strive to be like Brown just seems wrong.
Barkley, by the way, is going second overall to the 49ers in my
2018 NFL Mock Draft
.
---
Random College Football Notes: Week 5:
1. Sam Darnold hasn't lived up to expectations this season, and that trend continued against Washington State. Sam Darnold went 15-of-29 for 164 yards and one interception. He had two rushing scores, but his 164 yards were a collegiate-career low. I'm sure some will start talking about Darnold not being the first-overall pick in the 2018 NFL Draft, but I'm not buying that. Darnold hasn't had any sort of help this year, as he lost several offensive linemen. The result is Darnold being sacked nine times through five games. He was sacked six times all last year!
That said, I'm not convinced Darnold will declare for the 2018 NFL Draft. We've seen USC quarterbacks return to school in the past. Plus, there's this...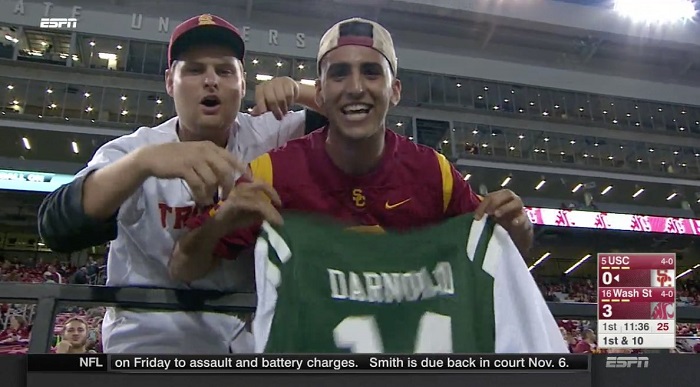 Darnold seeing his name on the back of a Jets jersey during this game may have spooked him enough to return to school - and I wouldn't blame him!
2. While Darnold is a quarterback who is getting hype but struggling to live up to it, Northwestern's Clayton Thorson is a quarterback who is getting no hype but is exceeding all expectations. I completely agree with what Charlie Campbell wrote about Thorson:
"Thorson is an NFL quarterback, and I honestly believe that if he was at Alabama, Ohio State, Clemson, or even a team just an above average supporting cast, he could be the top quarterback prospect. Thorson has big size and a powerful arm, and he moves well, throws accurately, sees the field, is tough, and has some athleticism. On top of his skill set, Thorson has excellent intangibles as a worker and teammate with high character, and intelligence. Some scouts have told me they see themselves grading Thorson as a second-rounder, but they think he could end up going in the first round of the 2018 or 2019 NFL Draft."
I actually put Thorson in the first round of my
2018 NFL Mock Draft
, and I think he could move up in the first frame if he continues to perform at a high level.
3. This has to do with college basketball instead of college football, but it's related. I wanted to touch on the FBI scandal that got Louisville's Rick Pitino fired.
First of all, what the f*** is the FBI doing by getting involved in this? Don't they have anything better to do? Seriously. Who the hell cares about some college basketball players getting improper benefits? If players are getting free shoes and are being accompanied by ladies of the night, what does that matter? Some might say it's wrong, but that's subjective. There are far more serious crimes occurring than some teenagers getting free shoes and banging STD-laden whores. If Agent Dale Cooper learned that the FBI was wasting its time with this, he would be extremely disappointed. "I
am
the FBI" would transform into "I... uhh... nah, I'm not FBI because the FBI is dumb for meddling in irrelevant things."
Second, Louisville is extremely hypocritical for firing Pitino. You'd have to be the most naive person of all time to believe that the Louisville administration didn't know what was going on. Yet, Louisville allowed for this to happen, as it enjoyed all the victories Pitino racked up. Pitino is a great coach, but there are tons of other outstanding coaches out there, and he wouldn't be able to compete with the Kentuckys, the Dukes, the Kansases and the North Carolinas if he didn't give his players improper benefits. And you have to believe that Kentucky, Duke, Kansas and North Carolina do the same damn thing. If the NCAA punishes Louisville, it should do the same thing to every other major program.
---
Random College Football Notes: Week 4:
1. I just updated my
2019 NFL Mock Draft
, and I have to say that it's insane to see THREE Clemson players atop the mock. I think the third choice could've been Ohio State's Nick Bosa, but still, the program Dabo Swinney has built in Clemson is pretty damn impressive.
2. The Texas A&M-Arkansas game had some hideous officiating. The Aggies won in overtime, thanks to an awful pass interference flag. However, it may not have even gone to an extra session had the refs not blown a call where A&M appeared to score a touchdown, but the player was ruled out of bounds incorrectly.
ESPN color analyst Brock Huard made an excuse for the officials, citing that "they are not robots." That got me thinking: Why not? Why can't we have robot officials? College football programs have so much money that I think they can all band together and build robot officials so that no games are screwed up. Of course, some conspiracy theorists might think that the Russians could hack the robots to help an orange team win, so they would need to have the best security and firewall possible.
By the way, Brock Huard might be a robot himself. I'm serious. I've been watching this guy call college games for what seems like 20 years now, and he looks exactly the same as when he started. He hasn't aged a day. Did Huard bring up officials not being robots as an insult to them instead of an excuse? Does he consider them inferior because they're humans and not intelligent cybernetic beings like himself?
3. Sam Darnold has been a bit of a disappointment this year, but I'd still project him to go first overall in the 2018 NFL Draft (as seen in my
2018 NFL Mock Draft
.) Part of the problem is the worse supporting cast. I argued for USC being in the playoffs over Washington last year, but the Trojans have been so underwhelming thus far that I wouldn't put them in the top 10. They've almost lost to Western Michigan, Texas and Cal. Sure, the victory over the Bears was a 10-point margin, but Cal self-destructed in that game. It was close otherwise.
Speaking of that game, the play-by-play guy said the following:
"You have to give credit to Cal for bouncing back."
Cal was "bouncing back" with a touchdown with 1:53 remaining that drew the margin to within 30-20. Oh yeah, great job bouncing back! I don't understand how that constitutes bouncing back at all, unless this guy was just overjoyed because he had Cal +17 like I did on my
College Football Picks
page.
---
Random College Football Notes: Week 3:
As with the random NFL notes, I'm going to have all of my
Random College Football Notes
on one page as well. Oh, and you can find my
College Football Picks
here.
Random College Football Notes:
1. If you haven't seen it, USC said in their media guide that they've never lost to Texas, owning a 4-0 all-time record against the Longhorns. So, apparently the national championship with Vince Young never happened? Well, according to USC, because the team vacated all the wins from that season, it has also vacated its losses as well.
Can I tell you how lame this is? Vacating wins has always been a stupid concept for me, but doing so is meant to be a punishment. You don't get to soften the punishment by vacating losses, too! That would be like going to prison for committing robbery, but also being able to keep the money you stole.
USC, you lost to Texas. Vince Young ran all over your defense, and Pete Carroll f***ed up by running LenDale White on fourth down. Get over it.
2. Forgive me if I'm misunderstanding something here, but I thought when fans had a "white out," it was supposed to be for a big game. Like, when Penn State had a "white out" versus Ohio State back in 2005, it was when the Nittany Lions were undefeated, and it happened to be a huge game.
TCU had a "white out" this past weekend. Except, it wasn't a big game at all. In fact, TCU was favored by 19, and the team was extremely sloppy in the first half, making so many mistakes. It didn't even seem like the fans were very interested: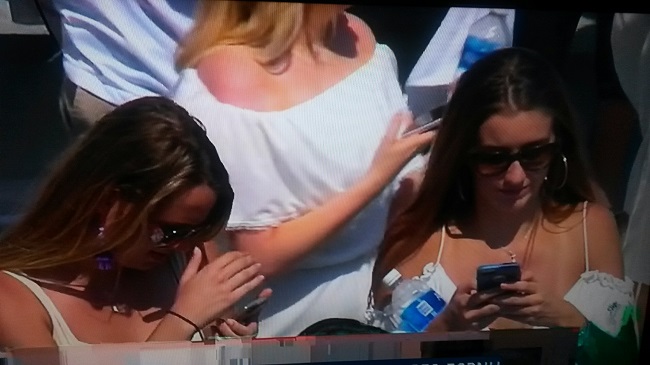 It's nice of these girls to show up to the game in fancy white dresses, but would it kill them to actually pay attention to what's going on, rather than playing with their phones? Two of these three chicks aren't even facing the right direction!
3. Speaking of lame college football fans, these two women were at least dressed appropriately for an upcoming game, but they hung up some very stupid signs: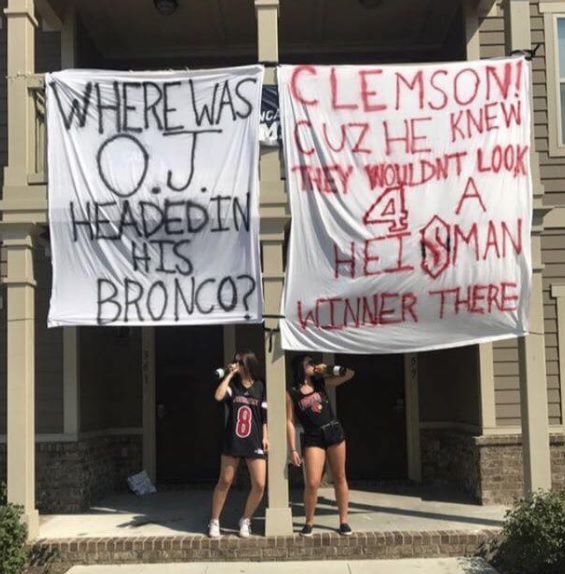 I thought this was funny for a second until I realized how dumb it was. I guess they're trying to say that Lamar Jackson is better than Deshaun Watson, which is incredibly stupid because, well, Clemson won the f***ing national championship because of Watson!
Who the hell cares who won the Heisman? I even forgot Jackson won last year. The Heisman is nonsense. So many winners have failed in the NFL, and they don't even give the award to the right people; Alabama's Jonathan Allen should've won last year.
Girls, I appreciate the proper attire, but you really need to step up your game with these signs.
---
Random College Football Notes: Week 2:
1. I was watching the Louisville-North Carolina game, and I thought the play-by-play guy made a mistake when he was talking about Lamar Jackson when he referred to him as "the Heisman trophy winner."
The three guys in the booth had been slurping Jackson all afternoon - it sounded like, "OMG OMG OMG LAMAR JACKSON IS SOO GOOD GUYS LIKE OMG WHY ARE PEOPLES SAYING HES BAD LOL HES GR8!" so I thought they were continuing to do that by presuming he would win the Heisman. Then, someone posted on my Facebook wall about Jackson possibly winning the Heisman a second time, and that's when I realized, "Holy s**t, I forgot Jackson won the Heisman last year!"
I recalled thinking that the voters were stupid for not giving the trophy to Jonathan Allen, who was the best player in college football last year, but I didn't remember who actually won it. I guess that's how worthless that award is now. Too many winners have failed in the NFL, so it doesn't matter if Jackson wins it twice. I'll probably forget again if he repeats.
2. Speaking of Jackson, I have him in the top 10 of my
2018 NFL Mock Draft
. He had a great game for the most part, but I'm not going to gush about him like the three ESPN dudes did. His ball placement wasn't very good. He was just way too inconsistent in that regard. Still, North Carolina had no answer for him, despite what junior linebacker Andre Smith had to say, which you can see in this interesting ESPN graphic: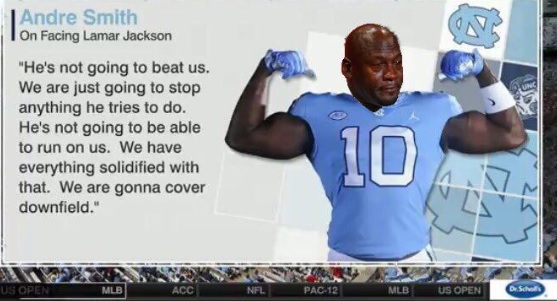 3. ESPN/ABC does some very stupid things with their programming schedule. For example, ESPN recently switched
PTI
to ESPN2 in lieu of tennis coverage on ESPN. That's not a diss on tennis; it's more of the decision of which channel to air each program. My problem with them moving
PTI
to ESPN2 is that people, including myself, have the DVR scheduled to record
PTI
on ESPN each day - the only non-game telecast I watch on that wretched network - and my DVR isn't smart enough to recognize that it needs to record
PTI
on ESPN2.
What does this have to do with college football? On Saturday, ABC - same family of networks as ESPN - was continuing to air Michigan-Cincinnati instead of the beginning of the Penn State-Pittsburgh matchup. If Michigan-Cincinnati were close, I could understand it, but Michigan was leading, 36-14, with a couple of minutes remaining. Yet, they didn't switch to the other game, which, by the way, was a local game for me! I don't understand the decision-making of ESPN, though I can't say I'm surprised. This is the same company that let some great talents go while keeping the horrendous Stephen A. Smith and hiring this guy:
---
Random College Football Notes: Week 1:
1. Something totally unexpected is happening in college football. Brace yourself, because this is a crazy development that has never been seen before. Entitled fans of storied college football programs watched their teams lose, and now they want the head coach fired.
Yes, this is actually happening.
In case you couldn't tell, I'm being totally facetious. This happens every year, and in this particular season, the Texas schools were victim to this phenomenon. Texas fans were extremely furious to be losing to Maryland, as some of the fans threw orange cards onto the football field. There were orange cards all over the field in the final minutes of that contest, and the officials actually had to stop action to clean everything up.
I can understand being frustrated by such a loss, but what's the point of acting like a**holes and throwing orange cards? First of all, where did those orange cards come from, and second, what's the point of disrupting the game by throwing them?
Texas head coach Tom Herman was making his debut. There's no way he could've possibly fixed everything wrong with the program in just a few months. Expecting instant success was unreasonable, and a loss to an underrated Maryland squad shouldn't have warranted the throwing of these orange cards, whatever the hell they were.
I have two recommendations, one for the fans and one for the school. The fans should chill out. If they give out orange cards at the game, keep them. They could be worth money some day. Hell, I think I'd pay $3 for an orange card right now, but I might be willing to fork over $10 in five years! And for the school, because the students are such babies and can't handle a loss, try scheduling Northwest Southeast Central Midwest Upper Lower Texas State University College A&M Tech for your first game next time so you can guarantee a victory and keep the orange cards off the field.
2. Speaking of Texas schools being frustrated with their head coaches, Kevin Sumlin caught a ton of heat for UCLA's crazy comeback. It sounded like the fans didn't even want Sumlin to board the plane back to Los Angeles, so here's how he could've gotten home without doing so: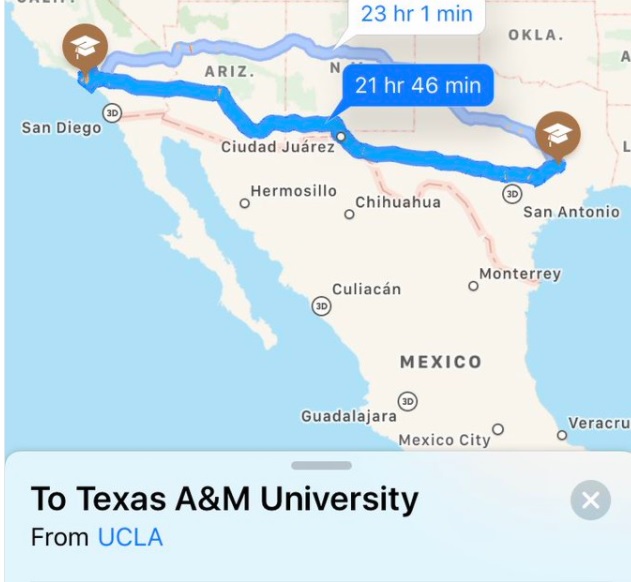 There are some who speculate that Sumlin only succeeded because he had Johnny Manziel, but I wouldn't agree with that. Sumlin is a good coach, and I wouldn't fire him because one of the top quarterbacks in the nation caught fire. At the very least, don't think he should have to walk for nearly 24 hours!
3. Someone who should actually get fired is one of the announcers who did the Texas-Maryland telecast. That's because he said the following:
"This is only a one-score game!"
The problem? When he said this, Maryland was winning, 30-20! In what world is a 10-point margin a one-score game? The guy who said this sounded drunk, so that could explain the awful math.
Back to
NFL Picks
2021 NFL Mock Draft
- March 2
2022 NFL Mock Draft
- Feb. 24
NFL Power Rankings
- Feb. 11
NFL Picks
- Feb. 8
Fantasy Football Rankings
- Jan. 11