We've partnered with theSCOREX this season, and I'll detail their $5,000 contest on this page. Definitely check it out, as it looks like a blast to play!
Follow me
@walterfootball
for updates.
Enter the
theSCOREX $5,000 FREE NFL Contest
!
You can check out the
rules for theSCOREX Contest
here.
If you download the app for
iOS
or
Android
, and you are automatically entered.
Here's the rundown:
Start with a budget


Buy shares in teams


Buy/sell team shares based on expectations of how well a team performs (ie the Browns currently cost $12, Pats $25)


The player with the highest balance at the end of the season is the winner


Tips:

1. Look at early season schedule to see which teams will look good in the preseason or win their early games and raise season expectations for quicker trades.

2. Sell teams which have tougher schedules.

3. The earlier you join, the more opportunities you will have to build your bankroll

Here are some general pricing examples:

If a team finishes:


4-12 and does not make the playoffs it is worth: $10.40 at its season's end.


8-8 and does not make the playoffs it is worth: $14.60 at its season's end.


10-6 and loses in the divisional round it is worth: $21.90 at its season's end.


13-3 and wins the Super Bowl it is worth: $41.90 at its season's end.

Note: examples do NOT include ATS Bonuses

In addition, as an alternative to fantasy or office pick 'ems, start a theSCOREX league with your friends or co-workers.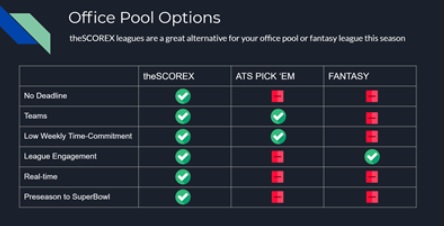 Once again, enter the theSCOREX $5,000 FREE NFL Contest!

If you sign up, use the promo code "walter" to potentially win a $100 Amazon gift card!

Follow @theSCOREX on Twitter to stay up to date on monthly and weekly contests they will be running throughout the season!






2021 NFL Mock Draft - March 2


2022 NFL Mock Draft - Feb. 24


NFL Power Rankings - Feb. 11


NFL Picks - Feb. 8


Fantasy Football Rankings - Jan. 11