I will be publishing all of my random NFL notes that I've listed on my
NFL Picks
pages here so you can easily look back at what I've written. This page will be updated each week during the season.
---
Random NFL Notes: Week 17:
1. This is something I mentioned on the
WF Podcast
: My condolences to Facebook friend Chris W., who lost his fantasy football playoff semi-final because of Drew Brees kneel-downs. I repeat: He lost in the fantasy playoffs because Brees knelt down on the final plays of the Panthers game. The minus-1 rushing yard did him in.
Chris W. says he won't play fantasy football in 2019, and I don't blame him. While there is obviously lots of skill involved in fantasy football, there's a huge luck factor as well. Case in point: One year, in one of my big-money leagues, I was the highest scorer in the entire league, yet I didn't make the playoffs. I constantly had the second-highest score every week, yet always lost to the highest scorer. I'd always lose by something like 130-125, while all of the other scores were 85-80 and such. It was incredibly frustrating.
Also, don't forget the injuries. I'm in three big-money leagues. I reached the semi-final in two of them. I didn't even make the playoffs in the third. Why? I lost almost all my non-receivers to injury. My starting quarterback (Jimmy Garoppolo) and all my running backs got hurt, so I couldn't be competitive.
This is why I'm a big proponent of DFS. I like fantasy, but I believe DFS is vastly superior. Luck obviously plays a factor there as well, but if all your players suffer injuries, you can just try again the following week (or the following day if you're doing NBA.)
My user name on Draft Kings, by the way, is Walterfootball, so feel free to challenge me to a contest. If I see the e-mail, I won't decline (unless it's for a stupid sport like soccer.)
2. Speaking of fantasy football, I'd like to see one adjustment made to defensive scoring: I believe intentional grounding penalties should count as much as sacks do.
It's very frustrating to see your fantasy defense nearly sack a quarterback, but then the signal-caller throws it into the ground and gets flagged for doing so. You don't get any points for this, which seems bogus to me. The defense forced a negative-yardage play and a loss of down. That's exactly what a sack is. So, why are sacks rewarded, while intentional grounding penalties aren't?
I don't know if ESPN, CBS, NFL.com, etc. even have that as an option. If they do, I highly recommend suggesting this rule adjustment to your commissioner.
3. Several years ago - probably closer to a decade - I received a phone call from the first advertising company I ever worked with. It was from my contact over there, Andy, who was a nice guy. However, he was always overly cautious. I'll never forget what he said to me that afternoon:
"You might want to think about canceling your picks page because I don't know if our advertisers will like that you give out gambling advice."
I told him I wasn't going to cancel my picks page, and he sounded disappointed. It's a good thing I didn't listen to him!
I'm bringing this up now because I saw something on CBS' score tracker last week that amazed me. Here's the picture:

CBS has been posting the lines for a while, but they're now doing the moneyline as well! How awesome is that? I love that big-media companies are embracing sports betting. I think it's a great sign that we'll soon have sports wagering legalized in almost every state. I'm sure New York will hold out because of the massive corruption they have there, but I believe we'll have sports betting available almost everywhere in this country in less than a decade.
---
Random NFL Notes: Week 16:
1. As you may know, I love to make fun of NFL preseason announcers because they're the biggest homers ever and so they barely have any clue about the other team. This is at least somewhat understandable because they're paid by the team they're announcing for, and not the other one.
With that in mind, I can't excuse the NFL Network broadcasting team during the Saturday Texans-Jets game. Nate Burleson was great, but the other two guys were pretty bad. The play-by-play guy, at one point, screamed, "DeShaun Hopkins catches a pass from DeAndre Watson!"
OK, fine, that's one mistake. At least he didn't offer any bad opinions. The other color analyst, Steve Mariucci, had the following to say:
"Eli McGuire is a great player."
"Trenton Cannon is a great player."
"Alfred Blue is a great player."
"Andre Roberts is a heck of a player."
Everyone is a great player, apparently! Mariucci is like the Oprah Winfrey of NFL announcing. "You're a great player, and you're a great player, and you're a great player! Everyone's a great player!"
Mariucci, if you're somehow reading this, would it kill you to be critical of just one NFL player? Just one? Because if you call crappy backups "great" all the time, you lose all credibility.
2. Something else that the NFL Network play-by-play guy said irked me.
"He had gone six games with a hundred yards receiving."
This is something many NFL analysts say. "Yards receiving." "Yards rushing." "Yards passing."
This is so incredibly frustrating. I just can't take it anymore. I just... I just...
WHY DO NFL ANALYSTS SPEAK LIKE THEY'RE RUSSIANS!? IT'S RECEIVING YARDS! RUSHING YARDS! PASSING YARDS! "HE HAD GONE SIX GAMES WITH A HUNDRED RECEIVING YARDS!" WHY ARE YOU A**HOLES ALWAYS SPEAKING PASSIVELY! STOP SPEAKING F***ING PASSIVELY LIKE YOU LIVE IN THE F***ING USSR!!!
Please, for the love of God, correct someone when they say "He had 150 yards rushing." No. It's "he had 150 rushing yards." Unless they're Russian. Though in Russia, football watches you.
3. It's time for odd quotes from another TV analyst, Troy Aikman! FOX's lead color analyst had this to say during a recent telecast:
"Sean McVay is a great offensive mind."
That's... umm... weird. I thought Sean McVay was a human being this entire time, but here I am, learning that McVay is actually just a mind. I wonder if McVay is a lot like Krang from Teenage Mutant Ninja Turtles. Could his coaching of the Rams be just a stepping stone toward world domination? I certainly hope not because I'll be the first to go after calling his team overrated all of these weeks!
---
Random NFL Notes: Week 15:
1. I was asked for my thoughts on the Kareem Hunt situation. I discussed it here in our Week 14 picks video:
In short, I wouldn't have released Hunt. The Chiefs have already made it clear that they're willing to take on players with such issues, as Tyreek Hill did the same thing prior to being drafted. If Kansas City really wants to show that it cares about violence against women, cutting Hunt would be the worst thing the team could do because Hunt will just continue this sort of behavior if left on his own. The Chiefs could potentially fix the problem by putting Hunt through counseling and making him devote time to helping victims of abuse so that he never does something like this again. That's a legitimate strategy for fixing the problem; not just casting Hunt aside. In fact, if I were running a team, I'd sign Hunt right now and then try to fix him.
2. On a lighter and more confusing note, there was something interesting that was said during the Thursday night telecast. Mike Pereira told monotone Joe Buck that the NFL has ordered the officials to call more holding penalties.
Yes, you read that right. The NFL wants more holding penalties.
I don't understand. That would be like a politician saying, "We need more kids who are orphans," or "We need more people to have their houses burned down in wildfires." Why would anyone suggest something so stupid? No one likes holding penalties. There's nothing more frustrating than seeing a great play negated by a shady holding penalty.
Speaking of which, maybe the "shady" part of it is what it's all about. Holding penalties are the great equalizers for fixed games. If you're an official, the NFL version of Tim Donaghy, and you want to fix a game, you're going to call several holds on one team. No one will question it because the TV replay never shows what happened. And you'll always have morons saying, "Hurr durr your and idiit for thinking games are fixed" even though NBA games were proven to be fixed in the past. In fact, I think this holding penalty decision could be a sign that Roger Goodell is in cohoots with Vegas.
Yeah, yeah, maybe I'm just being a conspiracy theorist. Or, maybe I'm on to something. In the Colts-Jaguars game a couple of weeks ago, a big pass play from Andrew Luck was negated by a hold. CBS never showed a replay, so I had to rewind the play on Game Pass a dozen times to see where the hold came from. It was flagged on the center, who was blocking a guy who slipped. It was the worst penalty ever, yet no one on the broadcasting crew criticized it or discussed it. It's crap like that we're going to see more of, and that sucks.
3. Speaking of stupid things, we had a crisis in a fantasy football league I've been in since 2007. My league commissioner, Drew, called me five times while I was at the gym. I called him back when I was done working out, and he told me what happened...
Big Head, the fifth seed in our playoffs, quit the league. Why? He lost James Conner and Matt Breida to injury, so he tried to pick up someone on the waiver wire. He put in requests for Jaylen Samuels and Jeff Wilson Jr. Someone with a worse record claimed Samuels. Meanwhile, I got Wilson even though I'm the No. 1 seed. How is this possible? Well, Big Head told Drew that he submitted Samuels, Wilson and the Lions defense, so Drew asked him if he was sure he put them in that order. Big Head said he didn't, so Drew called ESPN technical support and was on hold for 15 minutes. ESPN eventually told him that they couldn't help determine what the order was. Thus, ESPN wasn't helpful. No surprise there.
Drew told Big Head it would be unfair to take a player off my team, since that would give him both his second and third waiver requests. Big Head, as a result, quit the league. He released every single player on his team.
That's right. A fantasy owner who made the playoffs quit because of Jeff Wilson Jr. Unreal.
I know it must suck to lose a great player like Conner to an injury, but for f**k's sake, don't be a f***ing baby. Big Head could have still salvaged a playoff run. Conner could be back in Week 15, so Big Head could have found another running back to start. I'm looking at his roster right now, and he has Leonard Fournette, Justin Jackson and T.J. Yeldon as healthy running backs. Fournette and Jackson sounds fine to me (even though Fournette did nothing Thursday night.)
It was so stupid of Big Head to quit the league, but I guess I'm not surprised. He was kind of annoying at the draft, constantly complaining about the rules and Drew's choice of pizza, even thoguh I thought it was great. Big Head also made crappy picks, as he was one of the few people still using a fantasy magazine. His fantasy mag looked like it was from 1996. That would explain some of his crappy picks, like Chris Hogan in Round 6, the Eagles defense in Round 9, and oh, STEPHEN GOSTKOWSKI IN ROUND F***ING 8!!!!
In a sense, I'm sad that Big Head quit the league. I love having morons around who will draft kickers in the eighth round. I'm 11-2 in this league entering the semi-finals, and I have to credit Big Head's stupidity as a reason for that.
Goodbye, Big Head. You'll be missed. But only because you suck at fantasy.
---
Random NFL Notes: Week 14:
For my NFL notes this week, I thought I would fill out a Pro Bowl ballot and list my reasoning.
Quarterbacks:
Blake Bortles, Colt McCoy, Nathan J. Peterman, Derek Anderson, Blaine Gabbert, DeShone Kizer.
Just kidding. As much as I'd like to troll the NFL, I'll be serious here.
Quarterbacks:
Tom Brady, Drew Brees, Jared Goff, Patrick Mahomes, Philip Rivers, Russell Wilson.
Four of my six choices were my votes last year, with Mahomes and Rivers being the exceptions. I think most of these are self-explanatory. Cam Newton would've been my seventh choice if I had to make one. It's a close call between Newton and Brady, but I couldn't leave Brady out.
Running Backs:
Saquon Barkley, Ezekiel Elliott, Melvin Gordon, Todd Gurley, Alvin Kamara, Christian McCaffrey.
I almost clicked on Kareem Hunt's name by accident. He would've made this list if it wasn't for his troubles and release. Honestly, I don't know whom I'd substitute him for. These top six running backs are all special.
Wide Receivers:
Odell Beckham Jr., Antonio Brown, Tyreek Hill, DeAndre Hopkins, Julio Jones, JuJu Smith-Schuster, Adam Thielen, Michael Thomas.
You could make a case for one of the two healthy Rams receivers, Emmanuel Sanders or T.Y. Hilton, but these are the top eight productive receivers in the NFL right now.
Fullbacks:
Andy Janovich, Kyle Juszczyk.
Andy Janovich has been a tremendous blocker for Phillip Lindsay. Kyle Juszczyk does everything for the 49ers.
Tight Ends:
Eric Ebron, Zach Ertz, Travis Kelce, George Kittle.
I can't believe I voted Ebron in over Rob Gronkowski, but the former has a ridiculous 12 touchdowns as of this writing.
Offensive Tackles:
Terron Armstead, David Bakhtiari, Rob Havenstein, Ryan Ramczyk, Joe Staley, Andrew Whitworth.
Armstead's absence was felt in New Orleans' defeat at Dallas. The same goes for Bakhtiari in the loss to Minnesota. Both Rams tackles have to be voted in, as does Ryan Raamczyk, who is the best right tackle in the NFL right now with Lane Johnson banged up. Staley was my sixth choice. He's played very well this year, but the 49ers have been a train wreck.
Guard:
Zack Martin, Shaq Mason, Quenton Nelson, Joe Thuney, Marshal Yanda, Kevin Zeitler.
Zack Martin and Marshal Yanda are the best guards in the NFL, so they're no-brainers. Shaq Mason is having a terrific year, as is rookie Quenton Nelson. I'm not totally sold on Joe Thuney and Kevin Zeitler, but it's a rough year for guards.
Center:
Rodney Hudson, Jason Kelce, Ryan Kelly, Alex Mack.
Kelly and Mack were my top choices. With Travis Frederick dealing with an auto-immune disease, Mack is the best center in the NFL. Kelly's been a terrific rookie. Kelce's play has declined a bit recently because of injury, but he's still one of the better centers in the NFL. The same goes for Hudson.
Defensive End:
Myles Garrett, Danielle Hunter, Chandler Jones, Cameron Jordan, DeMarcus Lawrence, J.J. Watt.
Garrett has been tremendous in his second year and must get Pro Bowl consideration. Hunter has been awesome, even when Everson Griffen was out with his mental issues. Jones has double-digit sacks once again. Jordan has been a key piece of New Orleans' improved defense, while Lawrence has arguably been the best player at his position in the 4-3. Watt has been incredible.
Defensive Tackle:
Geno Atkins, Kenny Clark, Fletcher Cox, Mike Daniels, Aaron Donald, Akiem Hicks.
Two Packer defensive linemen should be in the Pro Bowl, as Clark and Daniels have been a great tandem this year. Atkins and Cox are mainstays, while Hicks has been enjoying his best year. Donald is arguably the best player in the NFL.
Inside Linebacker:
Luke Kuechly, Joe Schobert, Leighton Vander Esch, Bobby Wagner.
Kuechly and Wagner continue to be the best inside linebackers in the NFL. Vander Esch is an obvious choice as well. Schobert, meanwhile, has been enjoying his best year yet. Cleveland's defense was so much worse when he wasn't on the field for a couple of games.
Outside Linebacker:
Jadeveon Clowney, Dee Ford, Darius Leonard, Khalil Mack, Von Miller, T.J. Watt.
I don't like how the NFL has combined the 4-3 outside linebackers and 3-4 edge rushers, making this decision-making difficult. Clowney, Mack, Miller and Watt are all obvious, talented edge rushers. Ford is a new-comer to this list, but he's actually been better than Justin Houston this year. Leonard, meanwhile, has been spectacular as a rookie.
Cornerback:
Jaire Alexander, Prince Amukamara, Kyle Fuller, Stephon Gilmore, Chris Harris, Byron Jones, Patrick Peterson, Denzel Ward.
I'm not sure where Kareem Jackson is on this list, but these are the top eight cornerbacks otherwise. Alexander and Ward have been great as rookies. Amukamara has finally remained healthy, and he's been great as a result. He and Fuller have been a terrific tandem. Gilmore, Harris, Jones and Peterson are all having great seasons, as usual.
Strong Safety:
Jamal Adams, Ha Ha Clinton-Dix.
Adams is enjoying a great second season. Meanwhile, it's still astonishing that the Packers traded Clinton-Dix.
Free Safety:
Eddie Jackson, Derwin James.
Jackson has been an absolute play-maker for the Bears' great defense this year. James has a bright future in this league.
Kicker:
Harrison Butker, Justin Tucker.
Tucker is the top kicker in football most years, but Butker has missed just once all season. These are the two kickers I voted in last year.
Return Specialist:
Desmond King, Andre Roberts.
It's only a matter of time before this position is scraped from the voting. Kick returning is dead.
Punter:
Michael Dickson, Brett Kern.
Both are in the top four of net average and have done a good job of pinning opponents inside the 20.
Special Teamer:
Cory Littleton, Roosevelt Nix.
Both of these guys are some of the better special-teamers in the NFL.
---
Random NFL Notes: Week 13:
1. I touched on this last week, but let's discuss how ridiculous it was that the Bears had to play the early Thanksgiving game after a Sunday night affair versus Minnesota. This was the first time in NFL history that a team played at noon on Thanksgiving following a Sunday night game.
The NFL claims to care about player safety, but this is evidence that they really don't give a damn. If they did, they'd be mindful not to make an obvious scheduling gaffe like this. In fact, they'd alter how they schedule games so that teams don't play on Thursday unless they have a week off beforehand. The NFL could have scheduled the Lions, Bears, Cowboys, Redskins, Saints and Falcons for Week 11 byes ahead of their Thanksgiving contests. The same should be done for all Thursday night games.
Instead, we get garbage games on Thursdays, and that was once again the case this Thanksgiving. I've been having nightmares of Matt Ryan and the rest of the Falcons committing turnovers in the red zone ever since Thursday night!
2. I'm all for creative fantasy football strategies to screw over an opponent. That's what makes fantasy fun. Winning money is great, but talking trash and making friends feel bad is the best.
Facebook friend Luke T. shared something this past week. His opponent in a 2-QB league had two of his signal-callers on bye. The opponent didn't pick anyone up on the waiver wire, so Luke, playing this guy this week, took notice and took appropriate action. The appropriate action in this case was picking up every available starting quarterback this week!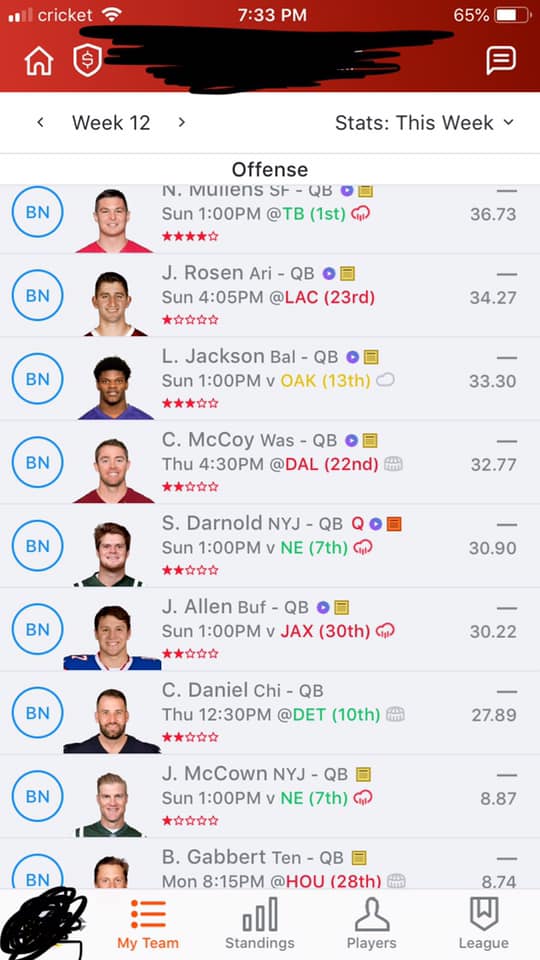 Amazing. Absolutely amazing. I love it.
The opponent, by the way, picked up Taysom Hill and started him at the QB2 spot.
3. I need to talk about player celebrations. In the past, I've made it known that I dislike these new player celebrations because whether they're pretending to be a part of an orchestra, or pretend to play baseball, or pretend to be bowling pins, they're acting like mimes, and mimes are creepy as hell.
I have a new hatred for a particular player celebration, and that would be when all of the players on the field pose for a group picture. I used to think that someone in the stands was taking an actual picture of these players, but I recently noticed that one of the players stands in front of the other 10 and holds the ball as if it's a camera and snaps a fake picture.
This was absolutely infuriating. I hate posing for pictures, and I hate mimes, so this combined these two things that I loathe. It's so stupid. What's the point of posing for a fake picture? Posing for real pictures is aggravating enough, but these guys are doing it when no one's even taking a real picture! Why? This just seems so dumb.
Forget reorganizing the NFL schedule for Thursday night games. Roger Goodell's first order of business is making fake pictures illegal. Either pose for real pictures, or stop being fake picture-taking mimes!
---
Random NFL Notes: Week 12:
1. Jerry Rice is not only the best wide receiver in NFL history, but he's a keen observer of today's game as well. I discovered this when Rice voiced his opinion about Eli Manning, suggesting that the long-time Giants quarterback doesn't belong in the Hall of Fame.
Many media members seemed surprised by this take, but I was not. That's because I've been opining it for quite a while now. The youngest Manning is not a Hall of Fame quarterback.
There are several reasons for this. First of all, Manning's numbers don't line up. The other two first-round quarterbacks from his class, Ben Roethlisberger and Philip Rivers, have superior stats across the board. Manning has the yardage, but only because he's played so long and avoided injury. If you look at more relevant numbers, such as touchdowns and interceptions, they tell a different tale. Going into Week 11, Roethlisberger had a career touchdown-to-interception ratio of 350:181. Philip Rivers' career touchdown-to-interception ratio was 363:170. Manning's? His career touchdown-to-interception ratio was 350:234. The interceptions are much higher. The touchdowns are close, but remember that Manning played two more seasons than Rivers, and he never missed time with injuries like Roethlisberger has.
Manning won two Super Bowls, sure, but that gets me to my second point. He wasn't primarily responsible for those victories. Saying Manning should get the acclaim for those Super Bowls would be like rewarding Trent Dilfer and Brad Johnson when the Ravens and Buccaneers won, respectively. Manning beat the Patriots twice, but never really outscored them. His defense did all the work, smothering Tom Brady. Manning was just along for the ride.
If you're still adamant that a two-time Super Bowl quarterback should be in the Hall of Fame, ask yourself this: Would you vote Johnson or Dilfer into Canton if they happened to luck into a second Lombardi? And what about Jim Plunkett? The former Raider quarterback is a two-time Super Bowl champion, and he was MVP of Super Bowl XV. He's not in the Hall of Fame, and rightfully so. He just wasn't that good. His Raiders limited their two opponents to 19 combined points. Manning's Giants restricted the Patriots to 31 total points in two games. That's 12 more than Oakland's total, but the Raiders didn't battle the greatest quarterback in NFL history twice.
I ultimately think Manning will make it into Canton, which is a shame because it'll cheapen the NFL Hall of Fame. Manning will get in because of his name. If Eli Manning's name were Eli Jones, or Eli Williams, or Eli Cherepinsky, he would be an afterthought, just like Plunkett.
2. I didn't get a chance to write about the Mexico City debacle last week because the move occurred as I was posting my picks Tuesday evening.
I just can't believe something like that would happen. How can a stadium owner allow his turf to look like it had been scorched in some sort of biblical event? Here's an idea: Stop having boring sports and stupid concerts in your stadium! Or, better yet, hire a grounds crew that actually knows how to take care of a field for crying out loud.
Then again, had I known anything about the situation, perhaps I wouldn't have been so surprised. Long-time e-mailer Luis A., who lives in Mexico, had this to say:
I've been commenting on this with my friends the whole week, nobody had tickets for it, so it doesn't affect me/us, and for what I know it wasn't sold out at all. But I can't believe how stupid the owners of the stadium were, I mean, the TV chain owner of it, it's known for its corruption and relation with the government (corrupt as well), but not for being that stupid, I guess they just step up their game.
A government and big-business owner being corrupt? That is so shocking. That never happens in Ameri... ah, wait, never mind, I thought we were living in a better parallel universe.
3. I hope everyone reading this has a happy Thanksgiving! This is going to be my 19th-consecutive year covering the NFL on Thanksgiving. I can't believe that the last time I wasn't officially working on this site during Thanksgiving was 1998. I imagine some of you reading this weren't even alive then!
I like to characterize the three Thanksgiving games as such:
The Lions game is the "Walt does Black Friday shopping" game. And by that, I mean I buy stuff for myself as the Lions are getting blown out. Because nothing says Christmas like buying gifts for yourself. The most infamous moment of this was when I bought a Playstation 3 back in 2010 or 2011 because I got a great deal on it. Yet, I didn't open the box until my now-wife found it in the basement three years later upon moving in! I was simply too lazy to set it up, and then I forgot about it. Now, I use it for Netflix.
The Cowboys game is the "Walt gets chided by his uncle for picking the wrong side" game. I can't remember the last time I got a Dallas contest correct on Thanksgiving. Every year, my uncle asks me which team I picked as I arrive to my parents' house, and when I tell him that my loser is down 33-13, he just shakes his head and laughs.
The third game is the "Walt is half asleep and trying his hardest to stay awake" game. I love Thanksgiving food, but the side effect is real. And it keeps getting worse the older I get. I imagine that in another 19 years, I'll actually be asleep by the end of the first quarter. Hopefully I finally get the Dallas game right by then.
---
Random NFL Notes: Week 11:
1. Say what you want about my NFL picks, but at least I'm not as inaccurate as
Madden
. The great video game franchise simulated Week 9, and the results were, well, interesting...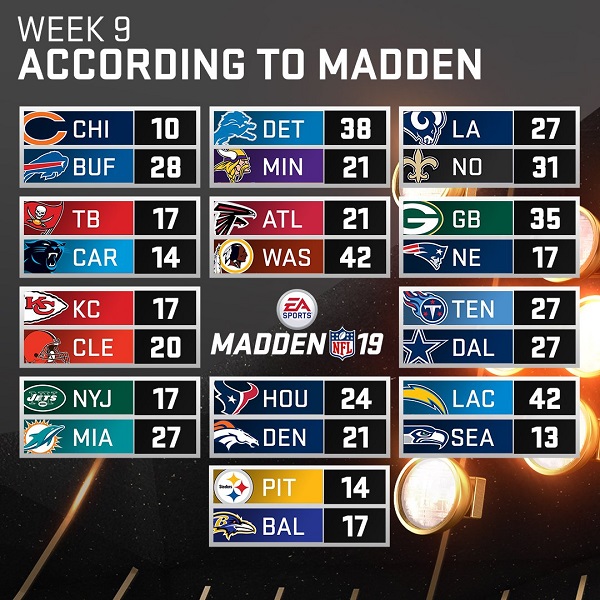 Wow, look at that. The Redskins blew out the Falcons. The Packers crushed the Patriots! The Lions destroyed the Vikings!! The Buccaneers upset the Panthers!!! THE BROWNS TOOK DOWN THE CHIEFS! THE BILLS DESTROYED THE BEARS!!!!! THE COWBOYS AND TITANS TIED!!!!!!!!
The next time someone calls my picks horrible, I'm just going to point them to this.
2. Something hit me during the previous Sunday night game. After Al Michaels and Cris Collinsworth talked right before kickoff, they went to the pre-game song by Carrie Underwear, or whatever her name is. Carrie Underwear then sang her song after Michaels said, "First, let's hear Carrie Underwear."
I thought to myself, "NBC has a pretty good announcing crew with Michaels, Collinsworth, Michele Tafoya and Carrie Underwe... wait a second, Carrie Underwear is not part of the broadcasting crew!"
Maybe I was just being slow, but I've always considered Carrie Underwear to be part of the NBC broadcasting crew. Of course, I knew she wasn't a broadcaster, but because she always sings before the game, I always subconsciously grouped her with the other three.
I think this is an outrage, personally. Pre-game songs have no use unless they're iconic like
Are You Ready For Some Football?
tune on Monday Night Football. I believe that if Carrie Underwear wants to sing a song prior to the Sunday night game, she should also serve as a sideline reporter. I don't know what insightful things she would ask, but it's not like most sideline reporters say anything of relevance. Very few are good, while most are useless. Carrie Underwear holding a microphone to a player's face and asking, "How do you feel about tonight's win?" would at least relieve my sanity.
3. Long-time reader Zack D. wrote a poem about Al Davis and Hue Jackson in Shel Silverstein fashion. I thought everyone would enjoy it, so
here it is
.
---
Random NFL Notes: Week 10:
1. The NFL trade deadline was great this year. Several key players were traded, with the Packers and Redskins making a shocking deal involving Ha Ha Clinton-Dix.
And yet, it made me yearn for more deals. I don't know about you, but it would've been unreal if there were double the number of trades.
So, how do we make this happen? I'd say extending the trade deadline by a few weeks would do wonders. Not only would it allow teams to further assess whom they'd want to trade - think the Raiders want to unload some bums after that dreadful Thursday night performance? - but it would also permit every team to have a bye week to integrate a player. The Cowboys and Eagles were able to do this with Amari Cooper and Golden Tate, respectively, but buyers like the Rams, Chiefs and Vikings couldn't because their bye week was scheduled after the trade deadline. I think it'd be fair for the trade deadline to be on the final week of byes so that every team would have this sort of a luxury.
Even if the NFL doesn't consider this important, I think it's in all the teams' interest to have as much time as possible to make trades. So, let's push back the trade deadline to Week 12!
By the way, you can check out our NFL Trade Deadline video here:
Enjoy my Cobra Kai Halloween costume. Strike first, strike hard, no mercy!
2. Unfortunately, I don't have any faith in the NFL making the right decision regarding the NFL trade deadline because they've already screwed up something else: They've increased the number of London games to four.
OK, maybe I shouldn't make assumptions. I'm fine with London games. As long as they're at 1 p.m.
I absolutely hate 9:30 a.m. London games. On a personal level, a London game means I have a 21-hour workday on Sunday with no breaks. Don't get me wrong; I love football, but 21-hour workdays are f***ing exhausting!
But the 9:30 a.m. games are horrible for others as well. I've written about this scenario before: The West Coast fantasy football player may have to wake up at 6:15 a.m. to make a change to their lineup if a player in the London contest happens to be a game-time decision, a la Melvin Gordon a few weeks ago. People don't want to wake up at 6:15 a.m. on a weekend just to make a change to their fantasy lineup. It's bad business. You'd think Roger Goodell would realize that, but he's too busy smelling his own farts to understand this concept.
Also, the 9:30 a.m. games make little sense for people in England. Marco F., an e-mailer from Europe, sent me the following that I'd like to share with you:
The 9:30 a.m. games. You've already wrote a lot about those games, and I mostly agree with you. It's nice for us Europeans to have an afternoon game on a rainy Sunday when you would watch TV anyway, but that's it. I can see that the NFL is trying to generate a fan base so they can make more money in the future, but I think they could still accomplish that with "night games." It might even be easier! I've been to those London games maybe five times, and while the game was the most important part of the trip, I still wanted to see the city, even the fifth time. If the game is in the evening local time, you can still see the Big Ben and go to the London Eye at noon and then go to the game. But if the game is that early, you probably just go to the game that day. The thing is, I call myself a "hardcore fan", for European standards. I've followed the NFL for the last 10 years, I've even played Football for a Swiss team the last eight years. But most of the people here don't know more than than two current starting QBs. They watch the Super Bowl, and they go to a London game once in a while, because they can combine it with a trip to London.
Goodell may hate me - we've been banned from the combine for years - but hopefully he'll listen to a European e-mailer who has experienced this first-hand.
3. And yes, we've been banned from the combine. It's ridiculous.
I'll have this story in my book, which I'm hoping to release before the 2019 season. It's mostly written and edited, but I want to add a chapter or two and do one more final edit. This book has tons of fun football stories as well as some rankings that I hope you'll all like. It's tough to work on it during the season, so I'm going to put a lot of time into it come January. I'll have updates about this in the future!
---
Random NFL Notes: Week 9:
1. Last week, I wrote about things the NFL needed to improve. I discussed the horrible 9:30 a.m. games and the negative fantasy football implications they carry. I talked about how teams playing on Thursday Night Football both need to come off byes. I also delved into the Los Angeles Chargers' situation, and how the team should move to a city that would support the team, such as San Antonio, Portland, Oklahoma City or Salt Lake City.
I'd be remiss if I didn't mention another improvement the NFL must make. That would be removing most illegal formation and procedure penalties.
The thing to bring this to light was the dumb infraction the Texans received in their Thursday night victory over the Dolphins. If you missed it, Houston knelt down to take the game to halftime, but the officiating crew made the players return to the field from the locker room because the Texans were guilty of an illegal formation. The Dolphins even tried to decline the penalty to do everyone a favor, yet the officials made all of the players line up again for another kneel down regardless.
This was one of the dumbest things I had ever seen. There was no reason for the officials to do this outside of being downgraded for not enforcing a penalty.
Here's an idea: Let's get rid of illegal formations that aren't completely blatant. I'm sure many of you would agree, but there's nothing more disheartening to see a great play happen, only to have a zebra announce, "Illegal formation on the offense. That's a 5-yard penalty. Repeat third down."
I'm all for enforcing an illegal formation if the offense is doing something whacky, or if the linemen aren't on the line of scrimmage, but if someone's not covering up the tight end, who the f**k cares? I mean, really? Enough with this nonsense. Let's just play football and not worry about someone standing in the wrong spot by an inch.
2. An interesting thing to happen in the preceding Monday night game between the Falcons and Giants was when New York scored a touchdown to draw to within seven. Except, they went for two instead to attempt to make the margin six instead. They failed, so they were down by eight.
Now, what the Giants did was insane to the announcing crew and regular fans, many of whom were confused on Twitter. A small sample size of football fans cited analytics and math for the reason to go for two. Despite sounding smart, they were wrong.
I'm not doubting the math, and I think there's a time and place for analytics. However, what analytics fail to encompass is the human and emotional element. Football players thrive on emotion, and a negative play, such as a failed two-point conversion, could deflate or confuse a team, and the defenders may not play up to their ability as a result. The emotional factor is so important in football, which is why we see teams playing in low-energy games lose all the time. New England at Detroit/Jacksonville and Baltimore at Cleveland come to mind.
Another thing to consider is the media backlash. Most of the press thought going for two was incorrect, as evidenced by the ESPN crew's baffled response to the two-point conversion. Ownership might have been equally confused. Pat Shurmur, already under fire, didn't have enough clout to make such a decision. Had he been a very successful coach like Bill Belichick, this wouldn't have affected his job status at all, but New York's owner might be thinking he has a coach who doesn't understand when to go for two.
Besides, the Giants could've kicked the extra point and then gone for two at the very end anyway to attempt to avoid overtime. This would've been the correct decision. Shurmur wouldn't have been criticized by most people had he gone for the win, his players wouldn't have been deflated following the initial failed conversion, and no one would've been confused by any sort of cryptic math.
3. Ending this on a lighter matter, does anyone understand what's wrong with Troy Aikman? He had this to say when Joe Buck brought up podcasts:
"Who listens to podcasts?"
Uhh... everyone under 40 years old, Troy? That's just a guess.
I don't know why Aikman is so anti-podcast. It's quite silly, actually. He might as well have snorted, "Texting? Who actually texts people?" or "Phone calls? Who actually calls each other on the phone?" or "Indoor plumbing? Who uses indoor plumbing?"
To be fair, Aikman has had to listen to Joe Buck make up betting statistics and talk about boring baseball repeatedly over the years, so perhaps his brain has completely melted.
---
Random NFL Notes: Week 8:
1. I hate to harp on this, but these 9:30 a.m. London games suck. Actually, I secretly do love to harp on this, so I'm just going to keep on doing it.
Melvin Gordon fantasy owners received some bad news Saturday evening when it was announced that Gordon was downgraded to questionable with a hamstring. Thus, fantasy players with Gordon on their team had to wake up prior to the Chargers-Titans game. Fantasy players on the West Coast would have to be up at 6 a.m. to see the final injury report, and those who didn't suffered because of it!
This sort of scheduling is irresponsible of the NFL. I had to be up for this game because it's my job, but if I were just an average fantasy player living on the West Coast, and I didn't wake up on time to take Gordon out of the lineup, I'd feel so incredibly frustrated by this that I'd consider just quitting fantasy football. Seriously. I can't understand why the NFL would do this. There's no benefit to scheduling games at 9:30 in the morning, and there's nothing wrong with putting the London games on at 1 p.m. Eastern, which is 6 p.m. over there. I mean, what sounds more reasonable to you, a 6 p.m. game for the people in England, or a 6 a.m. game for those on the West Coast?
I just can't believe that these early games keep getting scheduled each year. I've ranted on and on about Roger Goodell's incompetence, so the fact that he doesn't understand that this is a failed experiment isn't surprising in the slightest.
2. Speaking of stupid NFL decisions, everyone knew that moving a team to Los Angeles was a bad idea. And yet, the league moved two teams to a city that doesn't care about professional football. The Rams are doing poorly in Los Angeles, yet that doesn't even compare to what's happening with the Chargers, who can't fill a freaking soccer stadium.
To no surprise, there was a report published recently that the NFL owners are worried about the Chargers' viability in Los Angeles. No. F***ing. Way. I mean, it's like they thought this would actually work after the Rams and Raiders previously failed there. The Chargers should've never moved to Los Angeles. There's a reason I always refer to them as the San Angeles Chargers. E-mailer Kevin K. suggested the "Los Diego Chargers," which is a good one, but San Angeles is a reference to
Demolition Man
, which is one of the best movies ever made.
At any rate, if the NFL owners didn't want to be humiliated, they'd move the Chargers right away, but that would be an admission of error. However, sometimes it's better to admit that you were wrong.
I, however, would not move the Chargers back to San Diego. They really struggled there as well. I'd consider moving them to a city that would actually support them like Portland, San Antonio, Oklahoma City or Salt Lake City. I think that makes so much sense, as all four of those cities are hungry for an NFL team and would really embrace the Chargers.
3. Staying on the theme of dumb NFL decisions, I think it was clearer than ever during the Broncos-Cardinals game that the Thursday Night Football format needs to change. These past few Thursday night affairs have been disgusting blowouts, and that's because horrible teams have a tough time preparing for a game on just three days of rest. They can't game plan enough to overcome their own incompetence. As a result, the Colts, Giants and Cardinals - all miserable teams - were blown out.
Of course, NFL teams should not be playing on three days of rest, no matter how good they are. The league claims that it cares about players' safety, yet it puts them in harm's way each Thursday night.
There's a solution to all of this, and that would be to just have Thursday night games between teams coming off byes. Like this past week, with the Saints and Lions coming off a bye, they could've battled each other. That would've been a great game!
This would mean that there wouldn't be any Thursday night games in Weeks 2-4, but that's fine. We don't need Thursday night contests every week, as less can sometimes be more. Meanwhile, by the time December rolls around, and teams no longer have byes again, the NFL can just schedule the program "Thursday Night Football" for Saturday night.
This is a win-win-win for all parties. The fans get better games, as rested teams will be more prepared. The players won't be as prone to injury in this sort of setup. And the owners could use this change to show the courts that they care about player safety in the event that they get dealt more lawsuits from retired players.
---
Random NFL Notes: Week 7:
1. Football is amazing, but there are some things wrong with it. Kenny and I from the
WF Podcast
talked about our top five things that need to improve with the NFL during one of our summer episodes.
One thing that we should've included was these damn 9:30 a.m. London games, which begin this week. I don't mind London games, but the ones that start at 9:30 a.m. are especially brutal. They're so early, and they can really screw up fantasy football, as people have to get up extra early to set their lineups. People on the West Coast have to submit their lineups by 6:30 in the morning if, for example, Leonard Fournette is a game-time decision next week!
This Sunday, the Titans will take on... wait a second, the Chargers? The freaking Chargers have to play a 6:30 a.m. local time game? How is that fair at all? And not just for the players; the fans have to get up early to watch their team. How would you feel if you had to wake up at 6:30 a.m. to watch your favorite team? That seems horrible.
Poor Charger fans. I feel sor... wait a second. Did I just say "Charger fans?" HAHAHAHA, whoops, I forgot those don't exist. Silly me!
2. Another reason why I hate the London games is that I don't get to check out the pre-game shows. Not that they're any good, but they provide terrific writing fodder.
I watch the NFL Network pre-game show because Rich Eisen is the best anchor, so I didn't get to check out the FOX pre-game show. A reader informed me that the four analysts on that show were asked to predict an upset selection for Week 5. Two of them picked the Packers over the Lions as an upset.
Now, if that sounds strange to you, it is. That's because the Packers were favored by a point in that game. Yes, two NFL TV analysts picked a one-point favorite to pull an upset. Unreal.
The e-mailer wasn't the only person to notice this. Check out what people wrote on Twitter: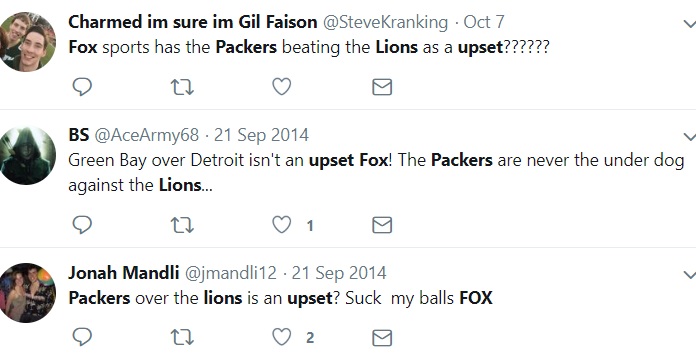 Would it kill any of the TV networks to finally put together a good pre-game show? Because sports wagering is legal now, it'd be great if FOX, CBS, ESPN and the NFL Network hired great handicappers who actually know which teams are underdogs. It'd be great if they brought in guys who could make great betting, fantasy and DFS recommendations. That would make these pre-game shows awesome. Instead, the networks continue to go with the same, old formula with former players being mostly clueless, and it sucks.
3. Sticking with the theme of pre-game antics, some of you may have seen this: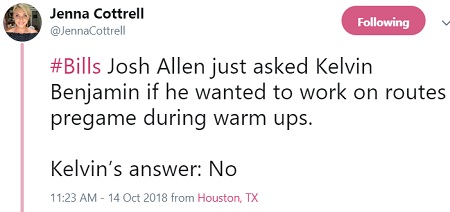 I think that's horrible, and the fact that the Bills didn't deactivate Kelvin Benjamin for the game just shows that they have poor leadership. Can you imagine if Tom Brady, Peyton Manning or Drew Brees asked one of their receivers to run routes, and that receiver said no? They'd be off the team immediately! You don't disrespect Brady, Manning or Brees like that. Allen obviously is not nearly of that caliber, but it just goes to show that Benjamin doesn't respect him at all.
The Bills should do what the Eagles did with Terrell Owens 13 years ago and place him on a reserve list of sorts for actions detrimental to the team. Benjamin's just a bad guy to have in the locker room, and Buffalo would be better off without him. Besides, it's not like he's been productive. What, are the Bills going to miss it when he catches just two of his six targets during the next game?
---
Random NFL Notes: Week 6:
1. I don't watch ESPN's pre-game show anymore. I haven't since Chris Berman retired. So, I did not see the Odell Beckham Jr. interview. However, the
WF Podcast
co-host Kenny Ortiz texted me Sunday morning, informing me about it. If you didn't see it either, Kenny's text said, "He doesn't want to play with Eli Manning, he hates the cold weather of NYC, and he doesn't respect the coaching staff."
Let's go through those in reverse order.
So, you're telling me that Beckham doesn't think Pat Shurmur is a good coach? No kidding! Shurmur failed in his previous coaching stint, so why the Giants thought things would be different is beyond me. While smart teams like the Bears hired young, innovative coaches, the Giants went with a retread. Nice job.
New York sucks. It really does. The cold weather is awful, but it's also the pollution, crime, bums, traffic, rats in buildings, douchey hipsters and a**holes with insufferable accents that make the city unbearable. I live in Philly, and we suck, too. However, the difference between Philadelphians and New Yorkers is that Philadelphians know our city sucks. Arrogant New Yorkers don't. Anyone who wants to live in New York has never lived in New York. The city sucks the life and soul out of anyone who lives there. It's horrible.
And yeah, Manning stinks. Remember that one time the Giants fired an NFL coach for benching Manning? I thought it was the absolutely correct move to make, yet everyone was so irate about it. I didn't get it. It could be argued that Manning is the most overrated player in NFL history. His defenses carried him to two Super Bowls, and his most iconic play was more about David Tyree making a great catch than Manning making a great throw.
2. Is anyone sick of Joe Buck and Troy Aikman already? I don't mind Aikman so much, but Buck is insufferable. It was enough that we had to listen to Buck once per week, but now he covers two games because of FOX's deal with the NFL to broadcast
Thursday Night Football
.
I posted a video a couple of weeks ago that highlighted all of Buck's monotone calls over the year, including one where all he said was "Mitchell ... Mitchell ... Mitchell ..." on a long, exciting kickoff return.
The worst part about Buck's broadcast is that he constantly mentions baseball. He'll say stuff like, "Can't wait for tomorrow's game when Angel Hernangomez takes the mound to slow down power hitter Dimingo Manuelgomez" or "The Yankees are playing well this year, let's see if they can keep it up in the pennant race."
Joe, no one watching football gives a f**k about Angel Hernangomez or Dimingo Manuelgomez or the damn Yankees. Baseball sucks, and people watching football know that because us football fans actually appreciate a real sport; not a "game" where fat guys stand around in a field of grass and chew tobacco the whole time. That's something that 60-year-old fat dudes do after having some beers.
Oh, and let's not forget that Buck gave us fake gambling advice during the preseason, citing that the Browns had better odds to win the Super Bowl than the Falcons and Jaguars, which was factually untrue. Buck is an abomination of an announcer who needs to be removed from football broadcasts. Let him stick to baseball, which no one under 60 watches. Old men need his soft voice to fall asleep while "watching" baseball. That's unnecessary for football.
3. I need to vent about how bad NFL.com's new GameCenter is. It's horrible. GameCenter used to be great pre-2012 when they had their own comment section. They made it a bit worse after that, but it was still usable. Now, it's just trash. It's difficult to figure out what is happening at all times. CBS is so much better, it's not even close.
But don't take my word for it. Here's what my editor said when he expressed frustration about getting stats to me:
"I may have trouble getting sack numbers accurately because I will be reading player activity rather than just sacks allowed. There is an area for team stats that is obviously broken there, so who knows. It's just a poor layout. Having INT and fumbles as a separate thing is going to make it a real pain."
See, people always tell me that I should change the layout of my site, but updating the layout isn't always a good thing! I actually just want the old GameCenter comments back so I could make fun of Aaron3619 again...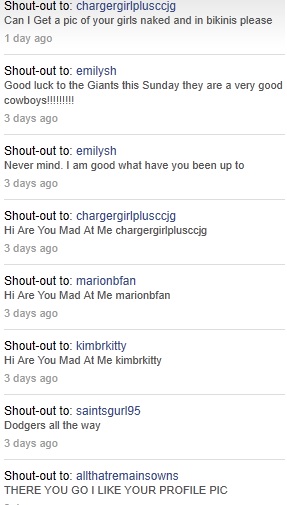 Ah, good times.
---
Random NFL Notes: Week 5:
1. I have a page where I predict which teams will sign or trade for certain players. For example, I have a link with the
teams that will trade for Le'Veon Bell
. I've listed Dez Bryant on this page for a while, but Bryant has remained unsigned for months.
Bryant posted a cryptic tweet about it over the weekend, but the key element to it is the first reply: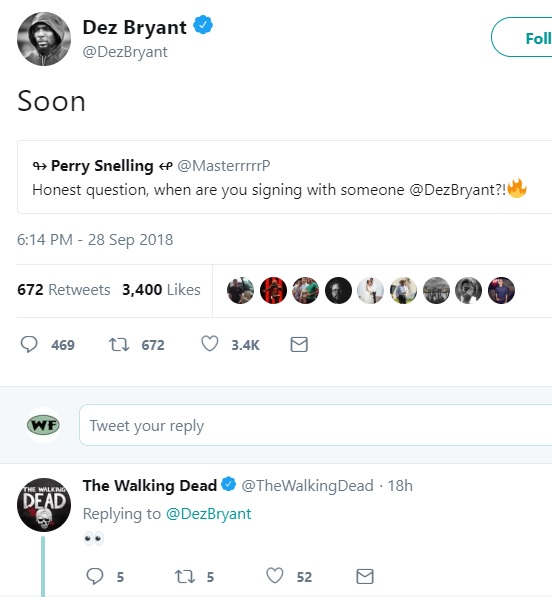 If Dez has a chance to sign with
The Walking Dead
, I think he should take it. Bryant can no longer separate from NFL players, but he's fit enough to separate from zombies. Also, Rick announced that this will be his last season - what a dick! - so the show will need a new lead actor after this year. I can think of no one better than Dez Bryant to fill that role. Literally, no one.
2. Speaking of players who were the subject of changing teams, Earl Thomas won't be dealt in the wake of his broken leg. I mentioned this in the
Disaster Grades
page. What I didn't discuss is the utter stupidity of this whole thing from both parties.
Thomas, as you may have seen, gave the Seattle sideline the middle finger for ruining a potential pay day of his, but he's partly to blame. Had he held out like Bell, he wouldn't have risked injury like this. I hope this serves as a lesson to future disgruntled players. Hold out if you feel as though you're severely underpaid, and if you don't hold out, at least practice so you're in better shape come game day.
I would blame the Seahawks as well. Why would they even use him if they planned on trading him? They risked his health, and now they won't get any compensation in the stacked 2019 NFL Draft. They'll receive a third-round compensatory pick in the 2020 NFL Draft, but that pales in comparison to a second-rounder this next April, which really could've helped the rebuilding process. Now, the Seahawks are down an asset because of sheer stupidity.
3. Can we talk about this?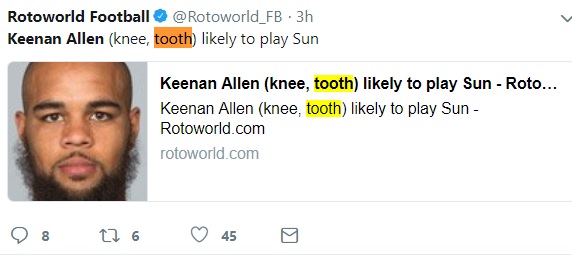 OK, so Keenan Allen's knee is hurting him, but tooth? TOOTH!? What does Allen have, gum disease? A cavity? Why would any of this prevent him from playing football? I can only imagine Anthony Lynn's press conference.
"Keenan may not play. He might have a cavity. It might also be gum disease. We do not know. We're listing him as questionable, but if he brushes his teeth and flosses twice per day, he'll be probable."
Call be unsympathetic for one man's tooth problems, but before you chastise me, you must know that I once had SEVENTEEN cavities in one dental visit. Yes. SEVENTEEN. If anyone knows about tooth problems, it's this guy.
---
Random NFL Notes: Week 4:
1. Another week, another Sunday with controversy about quarterback hits. Clay Matthews was once again flagged for roughing the passer on a routine sack that wouldn't have drawn a flag prior to 2018.
This is getting out of control. Not only is this rule stupid, it's not being officiated properly. The new rules specifically state something about falling on a quarterback with full body weight unnecessarily, and Matthews definitely didn't have a choice. He literally couldn't have done anything else while bringing down Alex Smith.
Meanwhile, the NFL continues to bury its head in the sand. I wrote last week that Roger Goodell would have one of his stooges say that Matthews' hit on Kirk Cousins was legit, and that's exactly what happened. NFL Network's Tom Pelissero, clearly a mouthpiece for Roger Goodell, said some nonsense about a pull and scoop, which the other NFL Network analysts quickly - and correctly - dismissed. Daniel Jeremiah even joked that "pull and scoop" is something you'd learn while working at an ice cream parlor. I can only imagine what Goodell's stooges will say this week. Perhaps they'll go with a "flip and stir."
Unless the NFL changes its rulings, this is going to backfire. At least one of the following will happen:
- TV ratings will continue to worsen.
- Some frustrated defensive players will retire.
- Malicious defensive players will think, "If I get flagged for a routine sack, I might as well go for the quarterback's ACL if that's a 15-yard penalty as well."
Kenny from the
WF Podcast
brought up the latter point, so I don't want to take credit for it. But it makes a ton of sense, and I could see some dirty players trying to intentionally injure quarterbacks if the penalties are the same.
2. Speaking of injuries to players, the Vikings tried an interesting tactic versus the Bills. I've been talking about how NFL coaches should rest their starters in Thursday games to avoid the sort of disastrous situation the Seahawks suffered last year. Mike Zimmer was thinking the same, but he rested all 50-50 players for the prior game in advance of playing the Rams. The Vikings lost to the Bills, but I think the defeat will be beneficial over the long term. Not only did Minnesota escape injuries, but Zimmer was able to teach his players a lesson about taking something for granted.
The Rams, meanwhile, tried a different approach. They played very hard in a non-conference contest despite having to battle the Vikings in four days, and they paid the price. They lost Marcus Peters and Aqib Talib. Peters is likely done for the year, while Talib could miss some action.
We'll see which strategy pans out, but I have to believe that Zimmer is correct. I fear that Sean McVay is going to grind his players into the ground. McVay is a great coach, but I don't think he understands yet that the NFL season is a marathon; not a sprint. It's impossible for any team to be 100 percent every single week, and the Rams will likely wear down as the season progresses.
3. As for other head coaches, I've been harping about Bill O'Brien needing to be fired before he continues to ruin Deshaun Watson. I've also been saying that Jason Garrett should be fired for years now. I think those are the only two head coaches who should be axed at the moment. Both are beyond incompetent and get out-schemed every week. It's embarrassing.
Meanwhile, Todd Bowles is on the hot seat, according to some media reports. Bowles is not a coach I'd recommend firing. He has a poor record recently - 11-24 since 2016 - but I think he's a very good coach. Remember, the Jets were supposed to be 0-16 last year according to some, and yet Bowles got the most out of his team, so 5-11 was a very impressive record in 2017. As for this season, sure, he lost to the Browns, but Cleveland is a solid team that nearly beat Pittsburgh and New Orleans. Bowles is working with a rookie quarterback who doesn't really know what he's doing yet, so I don't see the point in canning him. Did anyone think the Jets were going to thrive right away with Sam Darnold when they were 5-11 last year with half-decent quarterback play? I don't understand this logic.
---
Random NFL Notes: Week 3:
1. I can't believe how awful that Clay Matthews roughing-the-passer penalty was. Matthews literally motioned his arm so he specifically wouldn't put full force on Kirk Cousins. The Packers were screwed out of a victory because the officials thought it would be best if they decided the game with a ticky-tack penalty, which is just appalling.
Hearing what Matthews said after the game was depressing. He said that the team would submit it as a complaint, yet the NFL wouldn't do anything because they always side with the officials, and he's right. Roger Goodell will have one of his stooges say that the penalty was absolutely justified, when we all know that it wasn't.
The NFL is correct to protect its quarterbacks, but it has gone way too far with this. Determining if someone falls on a quarterback with full body weight is so subjective that almost every single hit on the quarterback can be flagged. Sometimes it's obvious, but we've had two instances in as many weeks where a team was screwed because of a bogus penalty like this, with Myles Garrett being penalized for hitting Ben Roethlisberger being the other. The Browns may have won if it wasn't for that - Pittsburgh scored on the next play - and the Packers certainly would've prevailed.
To me, it feels like there shouldn't be an ambiguous rule that can ruin a team's chances of winning if called incorrectly. That just seems wrong, but I imagine Goodell has one of his stooges typing up a press release on how I happen to be incorrect about this as well. I guess the point I'm trying to make here is that Goodell has too many damn stooges.
(Update: After I wrote this, some NFL Network guy had a bogus report about how the NFL is going to release a stupid video about some sort of scoop and pull, which sounds like absolute bulls**t to me.)
2. I have to show you something appalling. And no, I'm not referring to this woman's stomach: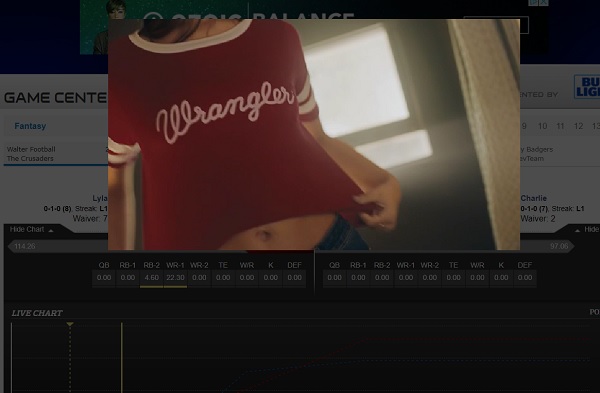 If you play fantasy football on NFL.com, you might recognize this. Whenever you try to see your live scoring on NFL.com's fantasy application, a video plays over everything, and you can't even X out of it. You just have to sit through the video, and it's very intrusive, no matter how many women's stomachs you get to see.
Look, I know I normally shouldn't be one to talk about ads, since my Web site has a lot of them, but unless you're an iPhone user clicking through Facebook, I don't think the ads are too horrible. I certainly don't prevent you from seeing a page because of a take-over video.
I'm going to talk to Charlie Campbell - our league commissioner - about moving to ESPN next year unless NFL.com stops this nonsense. I wouldn't mind a video playing in the corner, but a video that takes over the entire screen is unacceptable.
3. Allow me a minute to vent about Bill Simmons. For those of you who don't know who Simmons is, he used to be an ESPN writer. He was fired because he criticized Roger Goodell too often and was too political. He went to work for HBO and had a half-hour show that was canceled quickly. I used to be a huge fan of Simmons, and I can say that he's one of the few people who influenced me while I was in high school and college to become a sports writer. I used to read all of his columns and listen to all of his podcasts. I'll say I haven't done the latter as much lately because he's gotten too political, but I continue to enjoy his guess-the-lines episodes with Cousin Sal.
However, I was completely aghast when I heard Simmons say something during last week's guess-the-line show. Cousin Sal asked him if he was in the Supercontest this year, and here's what Simmons said (I'm paraphrasing:)
"I'm out. After all I did for them, they won't let me enter without going to Vegas? Are you kidding me? They think I need to show up to Vegas to enter? I should be able to enter from home. After all I've done for them, they won't let me do this? I'm out."
If you don't know, you must enter the Supercontest by going to Las Vegas and signing up at the Westgate casino. You can have a proxy enter picks for you, but you actually must be there to sign up. That's the rule. That's why I fly to Vegas from Philly every July. I go to the Westgate, meet my proxy, then we sign up, and I e-mail him my picks every Friday during the season. It's an easy process, and I get a vacation out of it.
My flight from Philly to Vegas is five hours, so I'm stuck on a plane 10 combined hours throughout the trip. If you've never been on a plane before, it sucks, and two 5-hour trips are exhausting. But I do it because I want to enter the Supercontest and spend a week in Vegas.
Simmons, however, lives in Los Angeles, so he doesn't have to travel very far. I just went to Expedia and looked it up: A flight from LAX to Vegas is an hour and 12 minutes. That's it. Four of those flights equal one of mine! And yet, I've never whined and complained about having to travel to Vegas to enter. Granted, I never popularized it like Simmons did, but even if I had - I've gotten a few people to enter - I would never be so self-entitled to demand that people running the contest bend the rules for me, and my trip is four times as long as his is! Just make the damn 72-minute flight, Bill!
Regrettably, none of this is surprising. Simmons used to seem like such a cool guy, but he's changed ever since he moved to L.A. He's become an out-of-touch West Coast elitist who hangs out with celebrities, who are generally horrible people (which is why they virtue signal, so people won't notice.) Now, he's one of them, and it sucks. I used to look up to him, but now I'm appalled by his behavior.
---
Random NFL Notes: Week 2:
1. If the NFL is truly seeking to improve its TV ratings, the season opener was not a good start. It was an extremely sloppy game that featured an hour-long weather delay, countless penalties and ugly offense. There's nothing can be done about the weather - unless you ask my dad, who grumbled, "They can't play in thunderstorms!? Why? I used to play in thunderstorms!" - but the penalties can be dealt with. The NFL officiating just keeps getting worse every year, somehow. It's amazing how it just continues to regress. It's like Roger Goodell is drugging his refs by making them blind. Why would he do this? I don't know, but Goodell has done worse things during his tenure as NFL commissioner.
I don't know how to fix officiating, aside from perhaps using drones and robots to officiate games. The only problem with that is worrying about Russian hackers re-programming these droids. What if Vladimir Putin makes picks like Buccaneers +9.5? Wait a second... is that the reason Tampa won? Did Putin have Tampa moneyline as well!?
As for the sloppiness of the offense, I love how it was incorrectly attributed to teams being rusty. Umm... correct me if I'm wrong, but didn't the Patriots and Chiefs combine for 69 points in the 2017 opener? Why weren't they sloppy? I love how talking heads on TV forget somewhat recent history while trying to fit their narrative.
2. Speaking of the Eagles-Falcons game, I thought that was a prime example of overreaction from the public. The Browns-Eagles affair was the most-watched preseason game ever, and everyone saw Philadelphia lose to Cleveland, 5-0. This prompted everyone to bet against the Eagles. By kickoff, 70 percent of the action in Vegas was on Atlanta, while most media members were projecting the Falcons to win outright despite the Eagles being favored. In fact, one analyst on a local station projected Atlanta to win by the score of 30-14!
I love going against public/media overreaction like that. There was no reason to doubt the Eagles as a result of their 5-0 defeat because only four offensive starters played in that game. How was that result going to be indicative at all of how Philadelphia would perform in the season opener? I think there's one game each week where the spread is distorted by incorrect public perception. The challenge is not being hypnotized by ESPN enough to recognize what it is.
3. Is anyone else frustrated with how quarterbacks are being treated? I get needing to protect them, but this "can't put your body weight on them when hitting them" rule is absurd. Some of the hits didn't even involve all of the body weight, yet they were still flagged. The Steelers-Browns game was nearly decided by this because Pittsburgh was gifted a free touchdown when Myles Garrett apparently put all of his body weight on Ben Roethlisberger on a third-down incompletion, except it really looked like it was 75 percent of his body weight.
Make Football Violent again. Please. Roger Goodell and greedy a**hole lawyers, please stop destroying the sport we love. Because if you keep going this route, you might as well have the players wear bras and tin-foil hats and use balloons instead of balls. That sounds like a great idea, and yes, I'm being sarcastic.
---
Random NFL Notes: Week 1:
1. The big talking point this preseason was the new helmet rule. There have been so many penalties this offseason for helmet-to-shoulder, helmet-to-stomach and helmet-to-knee hits. Anything involving a player leading with them helmet has been flagged.
I think I speak for everyone when I say that this has been an abomination of a rule change. It's unfortunate that players can suffer long-term effects from concussions, but they know what they're getting into. Old players didn't have such luxury, but the new ones do. And they are OK with it. There was a player - I can't remember who it was - who showed up to training camp with a shirt that said, "Make Football Violent Again." Players want to be able to hit hard. They've chosen to play football for a reason. No one is making them play this game.
Now, don't get me wrong. Player safety is very important. However, with the advances in medical technology, who's to see this will even be much of an issue in 25 years? And besides, the NFL claims to care about player safety, but all they worry about are the lawyers. They don't want to get sued and lose countless money. So, with that in mind, they should just have the players all sign waivers so the greedy lawyers can go f**k themselves.
2. Want to know how it's easy to tell if the NFL cares about player safety? We'd know if they cared if they'd stop it with these Thursday night games. The only teams that should be playing on Thursdays are those that have had byes the week beforehand. Thus, if the NFL really cared about player safety, they'd begin the Thursday night package on Week 5, since Week 4 is the initial bye week for teams. A helmet to the knee is peanuts compared to having players take the field after just three days of rest. It's even absurd to compare the two.
Speaking of Thursday night games, I stand by what I wrote last year. If I were an NFL head coach, and I absolutely did not need to win the game, I'd rest my starters on Thursday night. That may sound extreme, but think of the Seattle example from last year. The Seahawks suffered countless injuries in their Thursday night affair - specifically to Kam Chancellor and Richard Sherman - and thus, their season was over as a result. They won the game over Arizona, but at what cost? Had Pete Carroll sat his starters, he may have lost to the Cardinals, but he would've had his entire team healthy and ready to roll for the final games of the season. I'm willing to bet Seattle would've made the playoffs with a healthy Chancellor and Sherman.
If you're still skeptical, think about it this way: There are plenty of instances of teams in the NBA resting their players. An NFL game means much more than an NBA contest because there are far fewer of them, but NBA teams do this repeatedly. One NFL game is worth five in the NBA, so if basketball teams can rest their players for five games, NFL teams can do it for one if it's one of these horrible Thursday night contests.
I'd really love for an NFL head coach to do this. It would really foil Roger Goodell's plan to harm the players by making them play on just three days of rest. Once one coach does this, others will follow, and then we'll finally get rid of these miserable Thursday night games.
3. It's still technically fantasy season, so allow me to vent my frustration with ESPN. I was waiting for a mechanic to look at my car one day in July, so I decided to Google "fantasy football sleepers" on my cell phone. One of the top sites to come up was ESPN.
You'd think the self-proclaimed "world-wide leader" would have some unusual sleepers, and to their credit, there were some. Their page contained 10 or so analysts with their projected sleepers. Two analysts, however, had an extremely unusual sleeper:
Jerick McKinnon.
Yeah. McKinnon. He's a very unusual sleeper because his ADP back then was in the second or third round!
How in hell is that a sleeper? Why not just call Todd Gurley and Ezekiel Elliott sleepers? That's almost as dumb.
Whenever I read about ESPN having to fire more employees, I'll think back to this. They continue to lose money because their analysts are mostly s**t.
Back to
NFL Picks
2021 NFL Mock Draft
- March 2
2022 NFL Mock Draft
- Feb. 24
NFL Power Rankings
- Feb. 11
NFL Picks
- Feb. 8
Fantasy Football Rankings
- Jan. 11