By Walt -
@walterfootball
April 26, 2019
2019 NFL Draft Day 2 Preview - Ten Observations:
1. As soon as Kyler Murray was selected with the No. 1 overall pick, there was heavy speculation during the draft coverage about where Josh Rosen would be traded. There seemed to be four consensus possibilities: The Giants, Redskins, Dolphins and Chargers. The former two can be crossed off the list in the wake of those teams picking Daniel Jones and Dwayne Haskins, respectively.
The NFL Network analysts made it seem as though the Cardinals didn't have much of an opportunity to trade Rosen after the first round expired. Some of the analysts heavily criticized Arizona, but I didn't see it as a big deal. In fact, I don't think the Cardinals even need to trade Rosen this weekend.
Here's why: Rosen is on a rookie deal, so he doesn't count much against the cap. The Cardinals can do what the Eagles did with Sam Bradford and just be patient and wait for a team to suffer an injury to its quarterback. If, for example, the Packers see Aaron Rodgers suffer an injury during the preseason or early during the 2019 campaign, Arizona can discuss a deal with Green Bay.
Waiting to trade Rosen has an added benefit: The 2020 NFL Draft class is far better than the 2019 edition. A 2020 choice should be worth more than a 2019 pick, based on the projected talent available, so if I were the Cardinals, I would be thrilled about getting an extra pick next April.
2. While the Murray selection was predictable, the opposite can be said of the Raiders' choice of Clelin Ferrell. No one expected that. Well, sort of. During my
2019 NFL Draft Blog
, I joked when the Raiders were on the clock, "We were promised a surprise pick by the Raiders. Maybe this is why. What if it's someone like Clelin Ferrell or Brian Burns?" I never imagined that my joke would end up coming to fruition!
Ferrell was a poor pick, but that doesn't mean that he'll be a bad player. In fact, I think he'll be a good pass rusher for the Raiders. I could see him becoming an occasional Pro Bowler. The problem is that the Raiders could've traded down a half-dozen spots and still obtained him. The Bills were reportedly desperate to move up for Ed Oliver. Couldn't the Raiders have traded down to Buffalo's choice, accepting less in value to make the deal happen? No one in the top seven was taking Ferrell. The Lions were a slight possibility, but I don't think they would have chosen him over T.J. Hockenson or even Devin Bush.
On the other hand, there was some speculation that Ferrell would fall to the 20s or even No. 32. I can tell you for a fact that this is untrue. There was a team in the teens that really wanted Ferrell, so Oakland couldn't have moved down out of the top 10, as some might think.
3. Speaking of the Raiders, I was reminded of Al Davis during the opening round of the 2019 NFL Draft. Why? Because I believe there's a new "Al Davis" when it comes to the NFL Draft.
That man is Packers general manager Brian Gutekunst. I first began this speculation in my research leading up to the 2019 NFL Draft when I noticed that every single pick of his in the previous draft class, save for guard Cole Madison, was used on a special physical talent. Save for Madison, every choice of Gutekunst's had a relative athletic score (RAS) of nine or greater (out of 10.) This seems more advanced than Davis' previous plan of just looking 40 times, but is it really? Gutekunst used the 12th-overall selection on Rashan Gary, a prospect whose RAS was a prolific 9.94. Yet, Gary didn't do anything in college. He was absent in so many games, and even third-round prospect Chase Winovich was far more productive.
We received confirmation of Gutekunst's admiration for high-RAS athletes when he traded up for Darnell Savage, whose RAS is a great 8.35. Gutekunst not only reached for two highly athletic players; he traded up for one as well!
I get the idea of picking highly athletic players like this, but I think it's a mistake to completely ignore film when making the decisions. Had Gutekunst factored film into his draft choices, he wouldn't have traded up for Savage, a second-round prospect, and he certainly wouldn't have used the 12th-overall pick for Gary. That's mind-boggling to me. Gary accumulated 9.5 sacks in 34 games at Michigan, and was often off the field on third down!
4. Perhaps the Packers anticipated trading down with a team needing a quarterback, but that didn't happen. Dwayne Haskins stood pat at No. 15 and selected Dwayne Haskins, which was a good move because they didn't surrender any resources. The Giants, however, did do that because they could've obtained Jones at No. 17 and secured a much better prospect than Dexter Lawrence at No. 6 overall.
Now, some may point out that the Giants couldn't risk waiting on Jones. Throughout the NFL Network broadcast, I constantly heard, "If you want a quarterback, you can't wait for him."
I'm sorry, but that's just nonsensical, homoclitic thinking. First of all, no one was taking Jones in the top 16. Second, even if that proved to be untrue, so what? Is Jones the final quarterback prospect of all time? Are there no quarterbacks who will be available in the 2020 NFL Draft? I don't understand. In fact, the 2020 quarterback prospects are far superior to the ones this year. Justin Herbert is way better than Jones, and yet he might be the third signal-caller chosen next April!
For more, check out my
2020 NFL Mock Draft
.
5. The 2019 NFL Draft was actually a tale of two drafts. There were the teams that reached, and the teams that waited for great value.
The teams that reached:
4. Raiders: Clelin Ferrell
6. Giants: Daniel Jones
14. Falcons: Chris Lindstrom
21. Packers: Darnell Savage
23. Texans: Tytus Howard
29. Seahawks: L.J. Collier
31. Falcons: Kaleb McGary
The teams that got great values:
7. Jaguars: Josh Allen
9. Bills: Ed Oliver
22. Eagles: Andre Dillard
25. Ravens: Marquise Brown
26. Redskins: Montez Sweat
I don't understand what some of the teams in the first group were thinking. I love the Seahawks' front office, but the Collier choice was bizarre. Charlie Campbell tweeted that some teams had Collier graded on Day 3! I haven't seen anyone reach like that since Inspector Gadget extended his arms to save Penny that one time from Dr. Claw.
6. The New England Patriots have enjoyed unprecedented success under Bill Belichick and Tom Brady, so it's only natural that teams have tried to copy them. The Dolphins and Lions stand out to me as the Patriots of the South and Midwest, respectively. Both organizations have former New England personnel men running things, and thus, they tried their best to emulate them in the opening round of the 2019 NFL Draft.
The Patriots of the South did well. Christian Wilkins was a great pick at No. 13. Not only is he extremely talented; Wilkins is a high-character prospect who was a team captain at Clemson. He'll give the Dolphins 110 percent all the time and should be able to emerge as a team leader in the locker room.
The Patriots of the Midwest, however, did not fare nearly as well. They used a top-eight selection on a tight end. I imagine they wanted their own Rob Gronkowski, but I don't recall Belichick ever using such a high selection on a that position. Tight ends are limited in their explosive ability, which is why they are generally selected later than most expect. Sure, there's the rare exception like Gronkowski, but I don't think anyone expects Hockenson to be a carbon copy of the former New England great.
Regardless, I think fully trying to emulate the Patriots is a mistake. The Patriots have been so great for so long because of Belichick and Brady, and neither the Dolphins nor Patriots have either of those.
7. It's rare that you see an NFL trade work out very well for both teams, but I thought that was the case in the Broncos-Steelers swap.
Pittsburgh absolutely needed to find a replacement for Ryan Shazier and was desperate to move up. Charlie Campbell reported today that the Steelers were even talking to the Jets about moving up to No. 3 for Devin White!
The Steelers had to obtain one of the Devins. It used to be known that either the left tackle or top pass rusher was the second-most-important position on an NFL roster, but I don't think that's the case anymore. With all of the zone-read option stuff that now occurs in the NFL, the do-it-all, three-down coverage linebacker who wears a green dot on his helmet is more vital than the left tackle or top pass rusher, in my opinion. These linebackers are the brains behind the operation of a defense that needs to be more prepared to figure out what intricate offenses are doing. That's why Pittsburgh's defense fell off a cliff when Shazier suffered his unfortunate spinal injury. Now, it'll return to its prominence if Bush is half as good as we think he'll be.
Meanwhile, the Broncos wanted to obtain T.J. Hockenson - not Devin Bush, as some people reported - so once the Iowa tight end was off the board, they moved down and obtained some value. Coincidentally, they were able to snatch the other Iowa tight end off the board at No. 20.
8. There were a number of surprising players slip into the second day of the draft, including: Cody Ford, Jawaan Taylor, Greedy Williams and D.K. Metcalf.
I honestly don't have an explanation for why Ford fell, but I can at least analyze the other three. Williams and Metcalf are easy, as they were overrated by the media to begin with. Williams always drew second-round grades from teams. In fact, I had him being chosen at No. 47 in my final
2019 NFL Mock Draft
! Metcalf, meanwhile, was not a good player at Ole Miss. People salivated over his combine performance, nonsensically proclaiming him to be a top-10 prospect, but anyone watching the tape would've seen that Metcalf was nothing more than a third-round prospect. He'll go in the second frame because of his explosive ability, but the team that picks him will be getting a great athlete; not a good player.
Meanwhile, I was tipped off about Taylor the night before the draft, which is why I dropped him to No. 28 in my final mock. Teams are concerned about two things regarding Taylor: some off-the-field concerns and his knee. I'm not quite sure what the off-the-field stuff is, but the knee is a legitimate worry.
9. Speaking of sliding players, Montez Sweat fell from where he should've gone - top 10 - and went No. 26 to the Redskins. I had Sweat in that area in my penultimate mock draft update, but I moved him up to No. 9 in the wake of Ian Rapoport's report that he was misdiagnosed with an enlarged heart at the combine.
Had it not been for this misdiagnosis, there's a good chance Sweat would've been a top-10 pick. Thus, I wonder if Sweat has a good case for a lawsuit. Sweat wouldn't need to sue had he been drafted in the top 10, as initially expected, but he lost a great deal of money as a result of this misdiagnosis. Sweat should be contacting lawyers immediately.
10. I had nine picks correct in my 2019 NFL Mock Draft, which I think is a solid number. Notable draft analyst results include: Nine for Todd McShay and Peter Schrager; eight for Daniel Jeremiah; and seven for Peter King and Mel Kiper. However, the king of the NFL Draft continued to be Charlie Campbell, who nailed ELEVEN correct picks
in his mock
. Charlie proved once again that he is a beast when it comes to the NFL Draft.
We'll have a full report on 2019 NFL Mock Draft accuracy later. For now, here's a look back at the
2018 NFL Mock Draft
results. If you look at the bottom and update the correct picks from 2019, you can see that Charlie, Daniel Jeremiah and I are locked in a three-way tie for best accuracy since 2017. We'll see who breaks the tie in 2020!
Fantasy Football Perspective:
For a fantasy football perspective, there were just eight players chosen in the first round. Here they are, ordered by dynasty value:
Josh Jacobs, RB, Raiders
Kyler Murray, QB, Cardinals
Marquise Brown, WR, Ravens
N'Keal Harry, WR, Patriots
T.J. Hockenson, TE, Lions
Noah Fant, TE, Broncos
Dwayne Haskins, QB, Redskins
Daniel Jones, QB, Giants
It's not an exciting fantasy class thus far, but there should be plenty of talented running backs taken on Day 2. Check out the
2019 NFL Mock Re-Draft
for Rounds 2-3 to see where these backs could be chosen.
I'll have more definitive fantasy rankings following the NFL Draft.
Best Players Available for Day 2:
My top-25 available players for the second round (with links to their scouting reports):
Byron Murphy, CB, Washington
Parris Campbell, WR, Ohio State
A.J. Brown, WR, Ole Miss
Erik McCoy, C/G, Texas A&M
Greedy Williams, CB, LSU


Jawaan Taylor, OT, Florida
Rock Ya-Sin, CB, Temple
Justin Layne, CB, Michigan State
Juan Thornhill, S, Virginia
Deebo Samuel, WR, South Carolina


Drew Lock, QB, Missouri
Chauncey Gardner-Johnson, S, Florida
D.K. Metcalf, WR, Ole Miss
Nasir Adderley, S, Delaware
Elgton Jenkins, C/G, Mississippi State


Miles Sanders, RB, Penn State
D'Andre Walker, LB, Georgia
Irv Smith Jr., TE, Alabama
Jaylon Ferguson, DE, Louisiana Tech
Jachai Polite, DE/OLB, Florida


Trayvon Mullen, CB, Clemson
Dalton Risner, C/G/OT, Kansas State
Germaine Pratt, LB, N.C. State
Damien Harris, RB, Alabama
Greg Little, OT, Ole Miss

National Media - Winners and Losers:
I have thoughts about members of the ESPN and NFL Network broadcast from last night, and which ones were the "winners" and "losers." I watched both telecasts - NFL Network live, then ESPN on DVR - so I have a good idea of which media members did well and poorly.
Winners:
1. Rich Eisen, NFL Network -
Eisen was the No. 1 winner the past two year, and he remains on top once again. Eisen as entertaining and witty as usual, which came as no surprise. It was sad to see his long-time partner, Mike Mayock, no longer with him, but they had a nice interview at the end of the night. Still, even without Mayock, Eisen proved to be the best sports anchor on TV by a long shot, and it was once again a stark reminder of what ESPN is lacking. Chris Berman was the best for a very long time, but ESPN has failed to fill his shoes. Trey Wingo is now the lead anchor, and he was one of the losers from Thursday night (analysis below.)
As written before, I have no idea what ESPN was thinking by allowing Eisen to walk. They had to have known that Berman wouldn't be around for much longer following Eisen's departure, so they should've done everything to keep Eisen around. Letting great talent leave is one of the many reasons ESPN has been leaking oil for a while.
2. Daniel Jeremiah, NFL Network -
I missed Mike Mayock, but NFL Network's coverage didn't drop off because of Daniel Jeremiah's brilliance. Jeremiah is the best NFL Draft analyst on TV right now, and I don't think it's even close. If I were running ESPN, I would do anything to poach Jeremiah away from NFL Network. I hope this doesn't happen though because I don't want to be forced into watching ESPN's coverage!
3. Dianna Marie Russini, ESPN -
While ESPN is lacking in the NFL Draft analysis department, they still have some great reporters. Everyone knows about how great Adam Schefter and Chris Mortensen are, but I want to highlight Russini, who was all over the Redskins' infatuation with Dwayne Haskins.
Losers:
1. Trey Wingo, ESPN -
I tuned into the NFL Network draft coverage live, but I DVRed the ESPN coverage and watched it afterward. Words can't describe how putrid Trey Wingo was. He constantly yelled at us and interrupted his analysts. He barely let Mel Kiper talk. He was utterly annoying, constantly shrieking, "OK, THINGS JUST GOT INTERESTING!" He opened the draft coverage by yelling, "THE QUARTERBACKS! THE RUNNING BACKS! THE RECEIVERS! THE TIGHT ENDS! THE LINEMEN! THE LINEBACKERS! THE DEFENSIVE BACKS!" That is what he opened with. I wish I were making this up.
Wingo had a habit of oddly narcing on the prospects as well. Following each pick, he would shout something like, "HE WAS A GREAT PLAYER AT HIS COLLEGE, BUT WHEN HE WAS A KID, HE COMMITTED A TECHNICAL FOUL IN A CYO BASKETBALL GAME!!!" Obviously, this is an exaggeration, but this was the sort of analysis he offered.
Everything with Wingo was over the top. Can I direct you to this tweet as an example?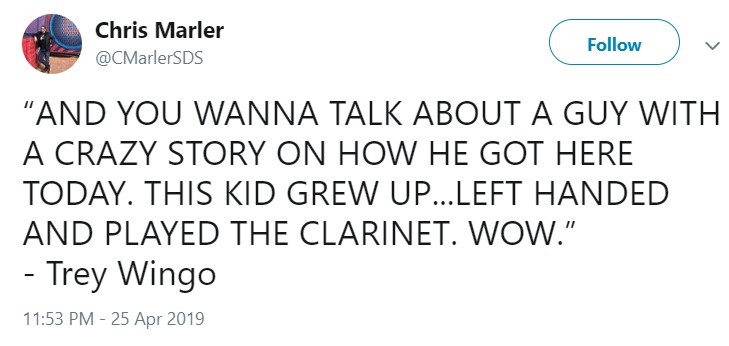 Wingo's worst moment came when Jeffery Simmons was selected. Right after the Titans made the pick, Wingo had a serious expression on his face as the camera zoomed in on him. He then told the audience, "OK, we need to have a conversation about this."
What followed was a 10-minute lecture on what Simmons did in high school when he was defending his sister from a 30-year-old woman who was hitting her on the ground. Wingo prefaced everything he said with, "YOU ARE ENTITLED TO FEEL ANY WAY YOU WANT ABOUT THAT!" He literally said this five times. Following the fourth occasion, I shouted at the TV, "We get it, Trey! We get it!"
Wingo took up so much time piously talking about how horrible Simmons is that ESPN didn't show a single football highlight of the Mississippi State product. It was just horrible television. I hope this is clipped on YouTube so you can see how bad it was.
2. Booger McFarland, ESPN -
Someone needs to explain to me why Booger McFarland was on the main ESPN broadcast team for the draft. I don't hate him as much on Monday Night Football as others do, but he seemed out of place as far as the draft coverage was concerned. Why wasn't Todd McShay included in the quartet? I don't understand why the people in charge thought that McFarland would be a better draft analyst than McShay.
McFarland offered very little insight on the draft prospects. His one strong opinion was, "Dave Gettleman had a hell of a good night." Yes, the guy who reached for a mediocre quarterback prospect at No. 6 overall had a "hell of a good night." Genius.
Louis Riddick, by the way, was the lone bright spot for ESPN, save for the reporters. Riddick offered great analysis, though at one point, he said, "He looks like a guy who's going to finish on you." I found that image quite disturbing!
As for Kiper, he barely spoke. Seriously, try to go back and watch if it's available. Between Wingo's shouting and McFarland's jokes, Kiper couldn't get a word in, and at one point, he looked visibly frustrated.
3. Red Carpet, NFL Network -
What I wrote the past four years still applies:
"What the hell was this all about? Who does the NFL Network think is watching the draft, 60-year-old women? No football fan cares about what sort of clothes and shoes prospects were wearing. If the NFL Draft happened to be a mass spectacle like the Super Bowl, I could understand it, but there's no one watching it and thinking,
OMG CAN YOU BELIEVE HE WAS WEARING THOSE SHOES WITH THAT JACKET OMG OMG OMG OMG OMG!!!
"
2019 NFL Draft Mailbag:
From Thomas P.

Who's going to be the last person in the green room to be drafted?
--> I have Greedy Williams as the first person drafted in the green room in my
2019 Mock Re-Draft
. As for the last person, I'd guess Jawaan Taylor because of his knee and off-the-field issues.
From Sam B.

How serrious is Jawaan Taylor's knee injury? It seems like a big time over reaction for the top tackle prospect to fall in the second round over an injury.
--> It's serious enough that I was told the night before the draft that there was a good chance Taylor would fall into the 20s, hence my decision to move him to No. 28. It's not just knee problems; there are off-the-field concerns about Taylor as well. One team that needs a tackle removed him from their board.
From Caleb B.

How long does Drew Lock have to wait? And who is most likely to take him?
--> I don't think he'll wait very long. I always liked the fit with Cincinnati. The Bengals wanted to take a better player at No. 11, but perhaps they'll re-visit the Lock possibility in the second round.
From Ty B.

Worth if for the Chiefs to package their 2nd rounders to trade up for one of Greedy Williams or Byron Murphy?
--> I don't think so. The Chiefs have a ton of needs. In fact, I think they should trade down from one of their two second-round choices to acquire more resources.
From Philip O.

How concerned should we be for KC fans? The Chefs blew their shot at the 2018 Lombardi trophy with an offsides penalty, and now they're on the brink of losing their 3rd UBER-OFFENSIVE WEAPON in Tyreek Hill ... (previously Kareem Hunt & Albert Wilson). I'm not sure they can replace that speed/production, and may have missed (broken) the championship window they had for the next several years ...
--> I would be worried. Going into the offseason, I thought the Chiefs would win Super Bowl LIV. Then, they lost everyone and had the Tyreek Hill stuff happen. The Chiefs will still be a good team because of Patrick Mahomes, but it'll be difficult for them to make it to the Super Bowl.
From Jimmy W.

Best fit for Josh Rosen? Broncos, Dolphins, Bengals, Patriots or Chargers?
--> Is the country club tennis team an option? I don't think Josh Rosen will pan out as an NFL quarterback unless he develops a passion for football, which he currently lacks. So, I'll go with none of the above.
From William W.

Is it me or is this draft full of mediocre players that nobody really seems to want to draft?
--> It's not you. This draft class was about as bad as the infamously horrid 2013 NFL Draft class. But don't worry, the 2020 NFL Draft class looks like it'll be awesome.
From Kenny S.

Will the Chiefs draft 2 WR today?
--> It's possible, but I think they'll choose one receiver. They still have Sammy Watkins, and they still have so many needs.
From Ron S.

Will the Giants or Raiders redeem themselves today?
--> Redeem themselves? But Booger McFarland said the Giants had a "hell of a good night!" I think the Raiders might give us one more surprise tonight.
From Scott P.

Why the low number of WRs chosen in the first round for such a passing driven league?
--> Because this receiver class is terrible. Things will be much different in 2020. We might see three receivers in the top 10 next April.
From John D.

Thoughts on the Colts trading out of the first. Was the return accurate and do you think there are enough players they still like they can get them in their current spots?
--> It was a great trade for the Colts. They picked up a second-round pick in the 2020 NFL Draft, which is huge because the 2020 class is much better than this one. There's also lots of value in the second round of this draft. Indianapolis made a tremendous move.
From Nathan T.

Why is Charlie so different than the NFL website and ESPN on grading out linebackers? Specifically, Tre Lamar and Mack Wilson he is crazy high on in comparison?
--> I don't know who writes up the NFL.com analysis and if they speak to NFL teams, but Charlie Campbell does. His analysis is based on A) what he watches, and B) what he hears from teams. I would trust his analysis over what you read on NFL.com.
NFL Picks
- Nov. 28
2021 NFL Mock Draft
- Nov. 25
2022 NFL Mock Draft
- Nov. 15
NFL Power Rankings
- Nov. 14
Fantasy Football Rankings
- Sept. 9
2020 College Football Recruiting Rankings
- April 14
2020 NBA Mock Draft
- Sept. 27