2015 NFL Draft Rumor Results
I had an
NFL Draft Rumors section last year
that I updated daily. It came quite handy when compiling my 2015 NFL Draft, and besides, all of the rumors were fun to look at. As I was updating my
2015 NFL Draft Rumors
page, I wondered which national reporters and local writers were the most accurate with their breaking news, sources and information. I did this for the 2013 rumors, so how did it hold up this past year?
I took a glance back and counted how many "wins" and "losses" each reporter had. I didn't look at whom they slotted in their mock drafts -
the Wall Street Journal did a good job of that
- but rather, my task was delving into reports that said "Team X really likes Player A," or "Team Y plans to trade up."
I've also included the
top 10 best reports
and
top 10 worst reports
for 2015, so check those out below the following wins and losses (Note that these aren't exactly ordered by percentage; getting a report right is difficult, so I wanted to award those who had more correct. As a result, it's sort of a mixture). Follow
@walterfootball
for updates.
National Media (2015):
Charlie Campbell: 9-2
Peter King: 4-1
Adam Schefter: 4-2
Pete Schrager: 2-0
Chris Mortensen: 2-1
Jason La Canfora: 2-3
Greg Gabriel: 1-0
Jim Trotter: 1-0
Aaron Wilson: 1-0
Charles Davis: 1-0
Sal Paolantonio: 1-0
Daniel Jeremiah: 1-0
Albert Breer: 1-0
Tony Pauline: 3-7
Ian Rapoport: 1-1
Jeremy Fowler: 1-2
Charles Robinson: 1-3
Russ Lande: 0-1
Ron Jaworski: 0-1
Bob McGinn: 0-1
Pete Prisco: 0-1
Scott Bischoff: 0-1
Rand Getlin: 0-1
Jason Cole: 0-1
Pro Football Talk: 0-1
Matt Miller: 0-2
National Media (2013-15):
Charlie Campbell: 14-8
Adam Schefter: 10-8
Chris Mortensen: 8-6
Daniel Jeremiah: 5-3
Adam Caplan: 4-2
Tony Pauline: 13-15
Peter King: 13-15
Pete Schrager: 3-1
Bob Holtzman: 2-0
Albert Breer: 2-0
Jason Cole: 2-1
Jay Glazer: 2-1
Jason La Canfora: 5-8
Ian Rapoport: 5-9
Jeremy Fowler: 2-2
Mike Mayock: 1-0
Jim Trotter: 1-0
Aaron Wilson: 1-0
Greg Gabriel: 1-0
Tom Curran: 1-0
Clark Judge: 1-0
Charles Davis: 1-0
Dane Brugler: 1-1
Charley Casserly: 1-1
Todd McShay: 1-2
Sal Paolantonio: 1-2
Charles Robinson: 1-4
John Clayton: 0-1
Solomon Wilcots: 0-1
Ashley Fox: 0-1
Rand Getlin: 0-1
Field Yates: 0-1
Ron Jaworski: 0-1
Scott Bischoff: 0-1
Shawn Zobel: 0-1
Josh Norris: 0-1
Pete Prisco: 0-1
Bob McGinn: 0-1
Gil Brandt: 0-2
Brian Baldinger: 0-2
Ed Werder: 0-2
Russ Lande: 0-3
Mel Kiper: 0-3
Pro Football Talk: 0-4
Matt Miller: 0-6
Local or Specific Team-Based Media (2013-15):
Mike Jurecki: 6-0
Jordan Raanan: 3-0
Jeff McLane: 3-0
Mike Triplett: 3-0
Jim Wyatt: 6-3
Jim Thomas: 3-1
Armando Salguero: 2-1
Dan Pompei: 2-1
D. Orlando Ledbetter: 2-0
Jonathan Jones: 2-0
Gerry Dulac: 2-0
Vaughn McClure: 2-0
Elliot Shorr-Parks: 2-0
Charean Williams: 2-0
Mary Kay Cabot: 3-2
Ben Goessling: 2-1
John McClain: 2-3
Pat Yasinskas: 1-0
Jenna Laine: 1-0
Brad Biggs: 1-0
Terez Paylor: 1-0
Matt Barrows: 1-0
Barry Jackson: 1-0
Adam Teicher: 1-0
Bryan Broaddus: 1-0
Steve Corkran: 1-0
John Keim: 1-0
Mike Klis: 1-0
Terry McCormick: 1-0
Patricia Traina: 1-0
Vito Stellino: 1-0
Clifton Brown: 1-0
Jerry McDonald: 1-0
Terry Pluto: 1-0
Greg Auman: 1-0
Jon Machota: 1-0
Tim Twentyman: 1-0
Jamison Hensley: 1-0
John Middlekauff: 1-0
Rob Demovsky: 1-0
Joe Buscaglia: 1-0
Michael Gehlken: 1-0
Geoff Moesher: 1-0
Sam Farmer: 1-0
Chris Tomasson: 1-0
Tim Kawakami: 1-0
Michael C. Wright: 1-0
Bart Hubbuch: 1-0
Adam Beasley: 1-0
Mike Wells: 1-0
Gil Arcia: 1-0
Peter Schrager: 1-1
Jeff Sullivan: 1-1
Ryan O'Halloran: 1-1
Paul Kuharsky: 1-1
Joe Person: 1-1
Tim McManus: 1-2
Tony Grossi: 1-2
Lance Zerlein: 1-2
Rich Cimini: 1-3
Rick Stroud: 0-1
Scott Bischoff: 0-1
Keith Britton: 0-1
Tommy Lawlor: 0-1
Manish Mehta: 0-1
Geoff Mosher: 0-1
Eric Branch: 0-1
Steve Reed: 0-1
Todd Archer: 0-1
Josh Norris: 0-1
David Climer: 0-1
Mark Long: 0-1
Ben Volin: 0-1
Andrew Abramson: 0-1
Tom Silverstein: 0-1
Sheil Kapadia: 0-1
Jeff Duncan: 0-1
Bill Williamson: 0-2
Top 10 Best 2015 NFL Draft Reports
10. While some thought the Falcons would draft Todd Gurley and Randy Gregory (more on that later), there were some who picked up on Atlanta's true interest:
3/5:
"Vic Beasley is "very interested" in the Falcons. - D. Orlando Ledbetter, Atlanta Journal Constitution
9. There were plenty of reporters pointing DeVante Parker to the Dolphins, but Barry Jackson was the first to do so:
4/1:
"If Amari Cooper and Kevin White are gone as expected, Dolphins will consider WRs DeVante Parker and Breshad Perriman at 14. Both visiting Fins." - Barry Jackson, Miami Herald
8. This would've been higher on the list had Dan Pompei not conceded that he could be wrong:
4/29:
"Keep hearing Arik Armstead to 49ers from front office men. Probably means everybody is wrong." - Dan Pompei, NFL writer
7. Tony Pauline didn't provide a specific prospect for this match, but he correctly reported the position the Bengals would address:
4/28:
There's a "very good chance" Cincinnati picks an offensive tackle in the first round. - Tony Pauline
6. Pinpointing a prospect a team is going to select in the second day is pretty difficult:
3/26:
"I'm told the Philadelphia Eagles are very high on Rowe, who's drawing intrigue based on his size/speed and ability to line-up at either cornerback or safety." - Tony Pauline
5. Here's a similar report for another team:
2/22:
"Browns intrigued by Utah DE/OLB Nate Orchard. Brass had a lengthy interview with him at Senior Bowl." - Jeremy Fowler, ESPN
4. The Ereck Flowers guess flabbergasted Mel Kiper - even though he mocked Flowers to the Giants - but there were some, including Charlie Campbell and Jordan Raanan, who were on it:
4/25:
It's "hard to figure" in terms of whom the Giants like between Ereck Flowers and Brandon Scherff, but Flowers is the guess. - Jordan Raanan, NJ.com
3. The Marcus Peters-to-Chiefs pick came out of left field - unless you read Peter King's report:
4/30:
Andy Reid visited Marcus Peters' hometown to find out information on the first-round cornerback. - Peter King
2. I thought the Panthers were going to take Shaq Thompson in the second round. I should've paid more attention to this report:
4/26:
The Panthers have shown great interest in Shaq Thompson. "If Carolina picks Thompson and he wants to play this year, his best option may be at safety because of his size and strength." - Jonathan Jones, Charlotte Observer
1. I listed Charlie Campbell atop the rumor rankings, citing that he went 9-2 this year. Since he works for this site, you won't be able to take my word on it, so here's proof:
This came before anyone else locked Jameis Winston to Tampa:
1/18:
"Per our sources with the Buccaneers, the organization currently prefers Jameis Winston over Marcus Mariota." - Charlie Campbell
As evidence, here's something from Adam Schefter 11 days later:
1/29:
"There's a real sense that Tampa Bay has its sights set on Oregon quarterback Marcus Mariota." - Adam Schefter
Charlie was all over Tennessee's pick as well when many others thought it would be Leonard Williams:
1/18:
"The Titans will consider a quarterback with the second-overall pick, and Mettenberger's rookie year won't prevent them from taking a signal caller at No. 2." - Charlie Campbell. Click here for more on the
Titans drafting a quarterback
.
Here are others:
4/30:
"Sources say that Vic Beasley's most likely landing spots are to the Jets, Bears and Falcons." - Charlie Campbell
4/30:
"If Houston remains at 16, Breshad Perriman and Nelson Agholor won't be in the running for the pick." - Charlie Campbell
As for visual evidence...
While others were speculating trade options,
Charlie had Mariota locked in five hours before the draft
, though it's worth noting that we always had Mariota going to Tennessee.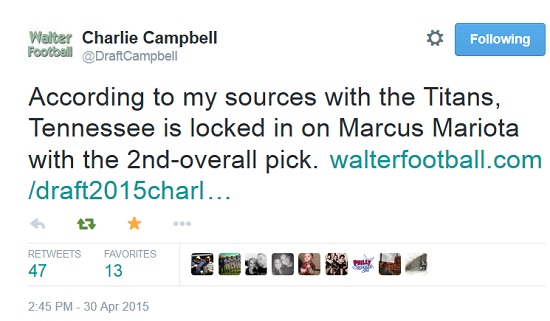 One Jaguar beat writer said the pick won't be Dante Fowler.
Charlie called Fowler to Jacksonville four hours before the draft
(we actually had it earlier, hence our mock picks, but that's when he tweeted it out).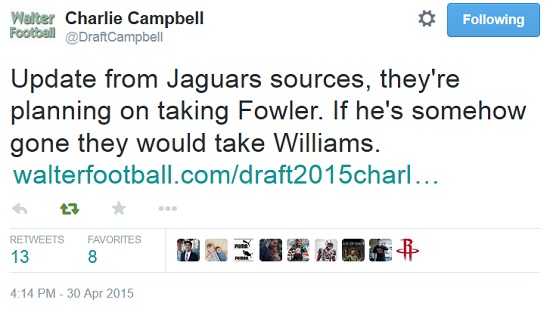 If No. 3 overall wasn't enough,
Charlie had Jacksonville's second-round pick
.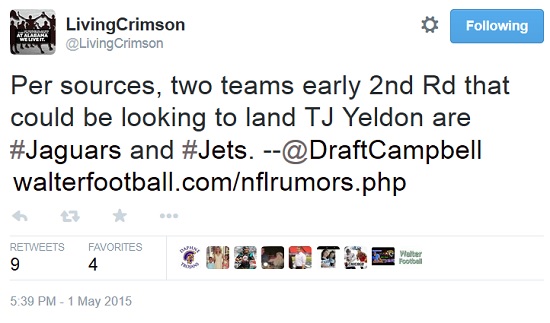 And here's another
correct second-round pick
.
Top 10 Worst 2015 NFL Draft Reports
10. It's safe to say that the Panthers did, in fact, out-think themselves:
4/28:
"I'm even more convinced the Panthers don't outthink themselves and grab a left tackle with No. 25 pick." - Steve Reed, Associated Press
9. I referenced this earlier. For some reason, this circulated more than Charlie's report:
4/30:
"Won't be Fowler to Jaguars." - Mark Long, Associated Press
8. Here's a quarterback every single team slept on:
2/21:
"So much Jameis Winston-Marcus Mariota talk. But don't sleep on UCLA's Brett Hundley, whom Browns would have considered in top 10 last year." - Adam Schefter
7. Remember the bogus Bryce Petty buzz? It came from three individuals. Here's one:
4/30:
Saints have legit interest in Bryce Petty and that they know the Bills are serious about him, too. - Charles Robinson, Yahoo!
6. Here's the second (thank God this man's no-no special place is OK):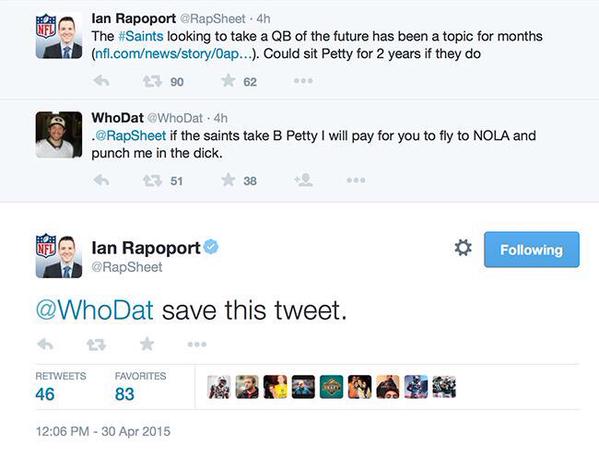 5. And here's the third:
4/16:
Bryce Petty will be a top-50 pick. - Matt Miller
Miller has gotten into trouble in three consecutive drafts now by glorifying pedestrian quarterbacks, citing Matt Barkley wouldn't fall past the Cardinals at No. 7 and then saying that fifth-rounder A.J. McCarron wouldn't drop beyond No. 16 last year.
4. Miller also tweeted this:
4/28:
Arie Kouandjio and Tre' Jackson have failed physicals and could go undrafted. - Matt Miller
Both ended up going in the fourth round.
3. This might make you laugh. Or cry:
4/30:
"Heard that Falcons told Missouri DE S. Ray that they will draft him 7th overall." - Russ Lande
I literally said aloud, "Oh my God" when I reread that for this column.
2. Believe it or not, this one is even worse:
4/30:
"Personnel man with a top-10 pick tells me his team is prepared to draft Randy Gregory tonight. 'We're not going to let him get past us.'" - Rand Getlin, Yahoo!
Did Getlin mean "top 10" in the second round? Because he still would've been wrong.
1. As bad as that "rumor" was, it doesn't compare to this gem:
4/13:
"The latest I'm hearing now from my sources around the league, who are pretty wired in, is that Marcus Mariota is going to go number one now to the Tampa Bay Buccaneers." - Ron Jaworski
It was painfully obvious to everyone that the Buccaneers were going to pick Winston, and that no one, save for one rogue owner, had any reservations about it. They refused to hire Marc Trestman as their offensive coordinator because he wanted Marcus Mariota, for crying out loud. Charlie, Pat Yasinskas and PewterReport.com, three people/entities who have been accurate about the Buccaneers over the years, were all over this story.
So, where did this rumor come from? Who are these sources of Jaws'? And how are they "pretty wired in?" Were Jaws' "wired in" sources the voices he heard in his head when he was watching countless hours of film? Because that's the only explanation I have for this rumor.
Once again, check out the
2015 NFL Draft Rumors
here. I'll notify you of updates on Twitter, so follow me
@walterfootball
.
NFL Power Rankings
- June 2
Fantasy Football Rankings
- June 1
2024 NFL Mock Draft
- May 30
NFL Picks
- Feb. 14
---
---
WalterFootball.com is part of the NESN digital network.