If you've followed this site for a while, you may know that I like to respond to my spam mails. Here's the latest one, which is from a woman named Mulyana: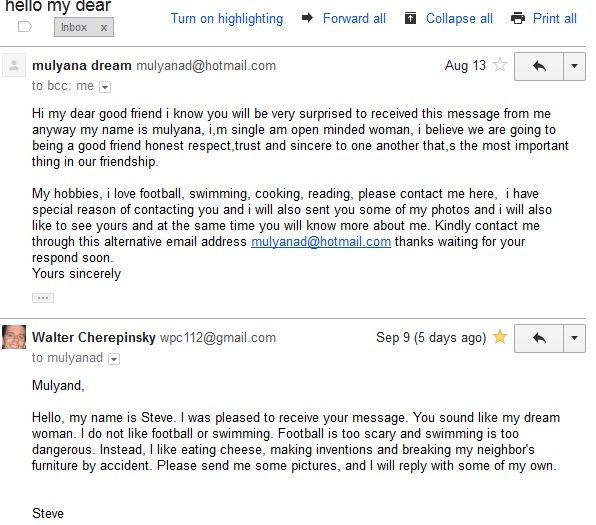 Yes, I'm Steve Urkel. The biggest nerd in television history. If you're not familiar with him, just
watch this
.
Sure enough, the person pretending to be this Mulyana chick e-mailed me back, as he's a dumb spammer from somewhere in Asia and has no clue who Urkel is. Her message to me said that she loves me but she needs someone to transfer her funds to an American bank. She also sent a picture:
Dearest one,

welcome . Please don't angry that this mail came to you when we have not meet before. this mail might come to you as a surprise and the temptation to ignore it as unserious could come into your mind but please consider it a divine wish and accept it with a deep sense of humility I am writing you because i saw your profile at website. when am seaching for partner. i like to have a good relationship with you, and i have a special reason why i decided to contact you. I decided to contact you because of the urgency of my situation here and after get your contact.

How was your day?.when mine was cool over here in Dakar Senegal My names is mulyana Dreamad, i came from Rwanda here Africa and presently i am residing in the church mission here in dakar as a result of war going on in my country. I am doing nursing in school which i have not finished yet.

My late father was the managing direct of slogas oil and chaiman of SDL company before the rebels attacked my house one early morning killing my mother and my father. It was only me that is alive now and i managed to make my way to country Senegal where i am leaving now. I would like to know more about you. Your likes and dislikes, your hobbies and what you are doing presently.

I am still single never married i am 24 years old am looking for partner lover who will love me for who i am let me explain for your understand about my late father inheritance. if you are not the person i am looking for, with due respect to you delete my email and don't respond to me.

my father is from Rwanda my father was former chairman slogas oil before my Father death he deposited( ?9.7 MILLION US DOLLAR )as my next of kin beneficiary I will be very happy to have an intimate relationship with you. And regarding investing the money in your country we will start the plans as soon as the money is in your hands. Let me explain to you in details for your understanding.

The reason I want you to help me get the money out from the africa banking firm is because I can not get it out myself. I am a refugee in this country, the local laws of this country does not allow individual or somebody with refugee status to handle business and financial transaction. The deposit was made by my late father and I am his next of kin/beneficiary but I can not withdraw or access to the deposit because of my refugee status.

*** Blah, blah, more about transferring money... ***

I will like you to understand also that during my discussions with the director of the banking firm this morning, I understood the capability of their banking firm to be able to TRANSFER the money to you in your country in safetly with out problems without any risk. This is why your complete details is very important Send your full name phone number house address . IF you wanted to talk to me now told Rev FATHER EVANS WILLY that you want to speak with mulyana room 27 Female hostel, he will send for me ok, here is the number +221 772594097 end_of_the_skype_highlighting

Your lovely Mulyana
Here was my reply: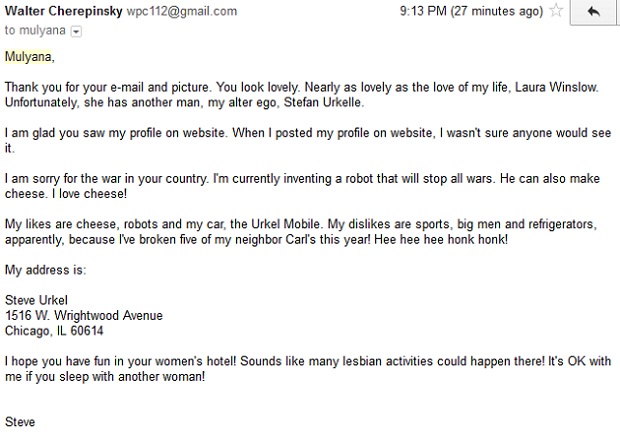 By the way, that address that I listed is the actual Winslow residence from
Family Matters
. It's currently preserved as a historical property. I really hope they get some sort of mail from "Mulyana."
Her next e-mail gave me her bank e-mail and that the depositor was a Dr Dreamad tuazama. I replied: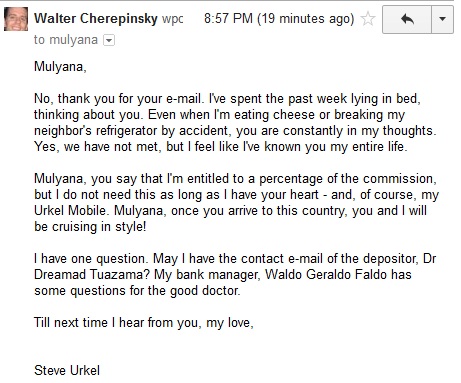 After this, Mulyana gave me a sample e-mail to send to the bank. I did so here: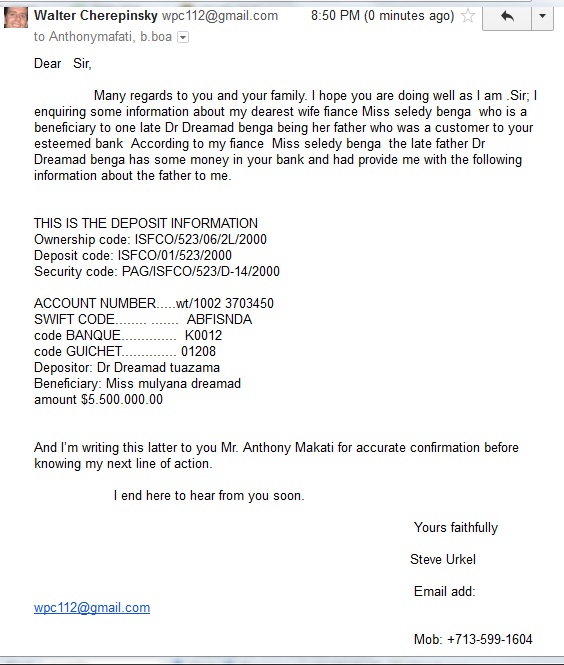 The phone number's legit, by the way. I looked it up on WhitePages.com, and there's a Steve Urkel who lives in Houston. I wish I could hear that phone call. Sorry, I'm evil.
The bank told me they needed some stuff, including Dr. Dreamad Tuazama's death certificate, so I e-mailed the lovely Mulyana...
Honey, i have made a contact to a lawyer in Senegal who will help us and go to the ministry of justice here in Senegal and get these two remaining document needed by the bank, The lawyer is personal lawyer of united nation Rev Father have Discused with him over phone now now hours ago.

Honey, i will like you to contact this lawyer today with his information in this massege and as soon as you contact him, i will like you to inform me so that i will give him this two documents , i have with me here in other for him to send it to the bank of Africa for the transaction to be complete,

i will like you to contact this lawyer immediately, tell him that you are contacting him on behalf of me miss mulyana, that will want him to help us and get this remaining documents needed from the Bank of Africa before the will start this transaction, which is the Power of Attorney document, and the Affidavit of oath certificate from the ministry of justice here in Senegal. below is the address of the lawyer, send email to the lawyer now .

E-mail: solicetor@lawyer.com

You can reach him true this phone number : + 221765480947

His name is, Barrister Colo Dabadu. Tell him that you are contacting him on my Behehalf, that we need his urgent help, because i want this money to be transferred into your bank account as soon as possible in other for me to join you over there in your country for an investment of this money and also for me to countinue my education, in your country


I can reach this Barrister Colo Dabadu true that telephone number, eh? Meh, why not just e-mail him first? And why not e-mail him from both Urkel and Waldo's accounts? Here's what I had Urkel send over to Barrister: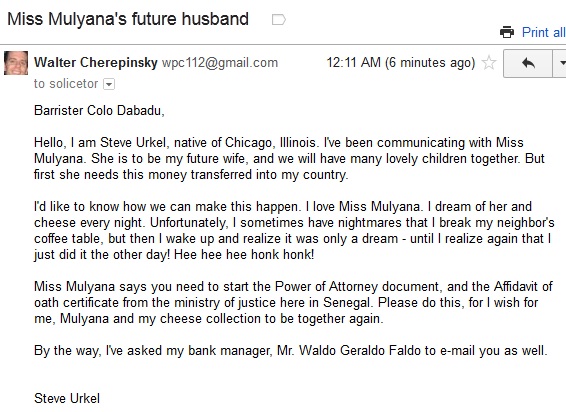 And here's Waldo's e-mail. I'm sure you'll all appreciate the Matt Millen touch: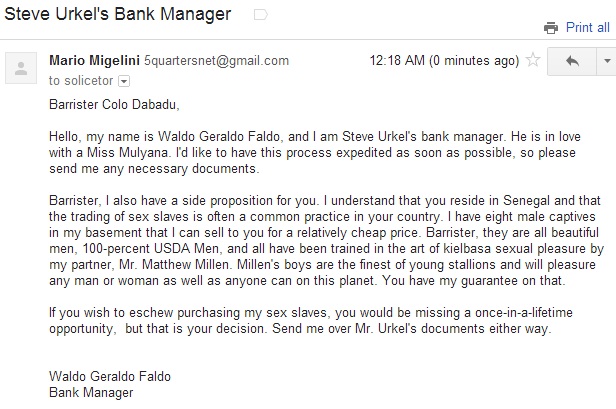 I hope this Barrister fellow accepts Waldo's offer. I want to start selling 100-percent USDA Man sex slaves!
I love seeing stuff like this when I check my Gmail account:

"attention mr steve urkel?" Don't these guys watch
Family Matters?
If they weren't so clueless, they'd be able to tell that I was messing around with them.
Anyway, I didn't get anything back on my other account for Waldo Geraldo Faldo, unfortunately. This e-mail contained a bunch of crap about me being contacted by the next of kin. He gave me a questionnaire to fill out and said I have to pay a fee up front and send it to this guy:
First name______ Mr NJIE
Last name______ ABU
Gender__male

Adress street==== DIOP RUE 741 GRAND DAKAR SENEGAL
city____________ Dakar

passport no ______ pc21099t

Total amount ____________$2.150 US dollar .

Postal code _______ 00221
country _____________SENEGAL
Tel No.______________ +221 765480947
I wonder if he meant to put a decimal point there instead of a comma - because I'm more than willing to send this loser $2.15. I may just do that. I also have to fill out an application of some sort, so I did just that:
1) NAME; Steven Q. Urkel
2) ADDRESS ; 1516 W. Wrightwood Avenue
3) TELL ; Chicago, IL 60614
4) FAX; None
5)E-MAIL; wpc112@gmail.com
6) DATE OF BIRTH: 11-27-76
7) COUNTRY: USA
8) PROFESSION; Scientist (Cheese Scientist)
9) SEX; Male
10)MARTIAL STATUS; Black belt

ALL THIS INFORMATION LISTED ABOVE WILL APPEAR ON THE POWER OF ATTORNEY AND THE AFFIDAVIT OF OATH


I also asked him when I can send the payment in. If he gives me the green light, I will send the $2.15 to Mr. Njie Abu next week. Stay tuned!
*** One week later... ***
I haven't received an e-mail back from anyone, so I thought I'd have Waldo Geraldo Faldo send an e-mail to Mulyana for the first time: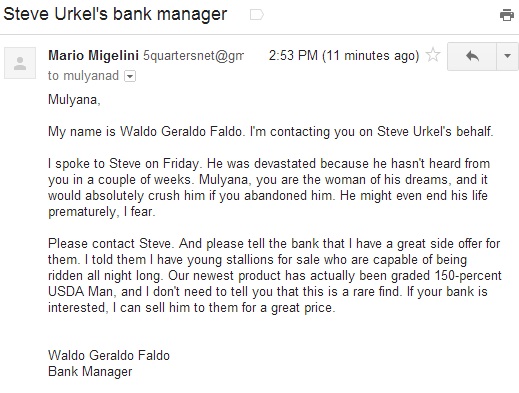 I finally heard back from Barrister!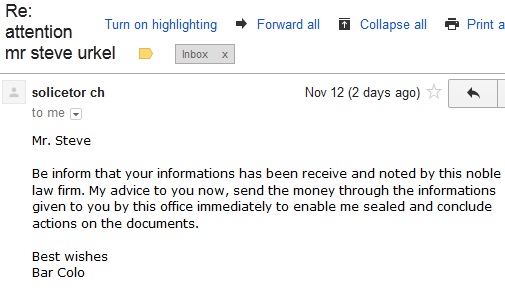 What the hell is this? "Your informations has been receive?" "My advice to you now?" "To enable me sealed and conclude actions?" Who is this guy, Emmitt Smith?
Here's my response to Barrister Emmitt Colo:

I actually sent the $2.15 out to Mr. Abu. Well, sort of. I didn't feel like sending real money, so I printed out some Monopoly money: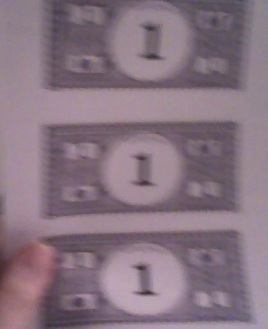 I cut them out and sent them with this letter (with three stamps to cover the $1.05 postage):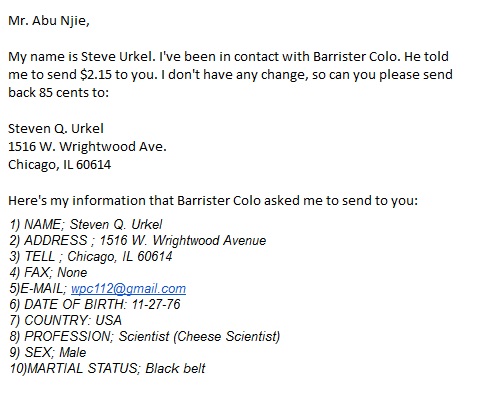 And here's the envelope: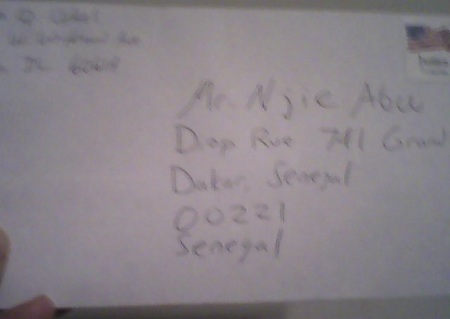 I sent an accompanying e-mail to Barrister Colo, informing him that I sent the payment. I can only imagine the look on Mr. Abu Njie's face when he opens my letter. I hope they contact me again. Stay tuned.
*** OK, so that's what happened up until last week. ***
I haven't heard back from anyone yet, so I thought it was time to e-mail Mulyana again: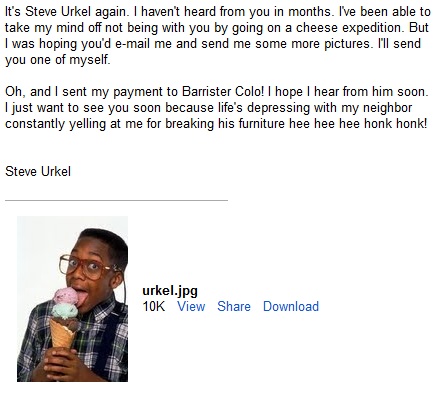 Hopefully someone e-mails me back soon.
2021 NFL Mock Draft
- March 2
2022 NFL Mock Draft
- Feb. 24
NFL Power Rankings
- Feb. 11
NFL Picks
- Feb. 8
Fantasy Football Rankings
- Jan. 11