Welcome to my 11th-annual Super Bowl Live Blog. I'll be posting comments like this throughout the evening every few minutes. Keep refreshing this page if you want to check out what I think about the game, announcers, commercials, etc.
You can also discuss Super Bowl LI in the
comment board below
.
Follow
@walterfootball
for updates.
6:15:
The live blog is underway! It was unclear if I would have one because I'm in Houston for some media events/parties, but here we are. I'm going to have a very interesting Jerks of the Week series on my trip to Houston, that's for sure.
6:19:
The guy who announced the Falcons said they've been dazzling with style and flair. Hey, whatever they do is their business; not mine.
6:20:
Houston has been pretty crazy. Here's an example: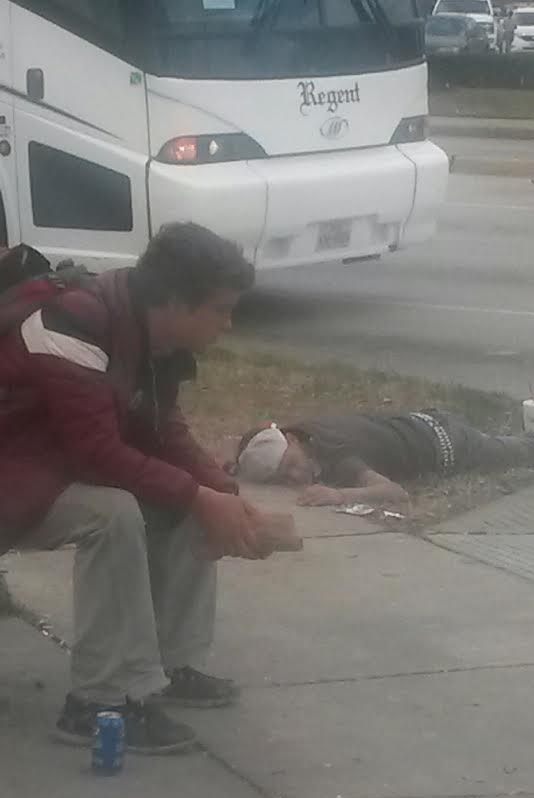 I'm thinking he may have drank a little too much last night!
6:22:
Some guy on TV just said he watches the Daytona with family and friends. My question: Why? I wouldn't watch the Daytona 500 with naked super models. Racecar driving is too damn boring!
6:23:
These women don't know the words of the national anthem. For shame.
6:25:
These women just said they honor brotherhood and sisterhood, but what about cousinhood? Or stepsiblinghood? Why are they always getting the shaft?
6:26:
Anyway, more on that picture from above. We passed by that guy again a half hour later, and he was still passed out. That dude was still there with him, looking pretty pissed. I have to wonder how that conversation went down...
Drunk Dude:
Yoo brruuhh I''mm goonnana passseed ooutt ririrhgght hheere.
Friend:
Come on, man! Our hotel is only two blocks away.
Drunk Dude:
Caann't't dodooo ititt, Deereekk Annnddersson''s ddriinkk wwaas toooo stororonggn.
6:27:
Holy crap, just heard the jets flying over the stadium from the hotel room! I thought we were getting bombed by terrorists for a second!
6:28:
I suppose I should add that my
NFL Picks
have their final thoughts on this game.
6:30:
I'm here with Charlie Campbell, and if I'm not mistaken, this is the first football game we're watching together. His thoughts on the halftime show: "They never have anyone I like. I just wish they would get it over with most of the time." I feel the same way, but it usually does at least provide a good writing opportunity.
6:32:
Nice to see the Bushes out of the hospital, for sure.
6:33:
Anyway, as for my pick, even if I get it wrong, I at least nailed the Donald Trump prop. He indeed picked the Patriots to win. I was wagering -1200 juice, so you better believe I was sweating it out!
6:34:
The coin hit someone's foot! Redo!
6:35:
The Falcons are kicking the ball off and letting Tom Brady score first. Not too sure about that strategy.
6:38:
Joe Buck keeps saying Atlanta's defense is getting better, but they lost Desmond Trufant during the middle of the season and were never really tested.
6:39:
Kickoff! For what it's worth, an AFC personnel man I spoke to last night thinks the Patriots will win because of A) Alex Mack, B) The Patriots have no pressure, C) No interior pressure, and D) Atlanta's secondary.
6:40:
Patriots go three-and-out. That felt like an easy Tom Brady sneak opportunity, yet they ran with LeGarrette Blount.
6:42:
Wow, there's Devonta Freeman. So much for the Falcons not being able to run with Alex Mack hurt.
6:43:
I drunkenly picked up a can of NO5, some sort of energy drink, on Friday night. It's been sitting on my desk since, so I cracked it open and tried it. It's not horrible, but it does taste like orange soda with 1-percent diarrhea mixed in.
6:45:
Sack and maybe fumble by Trey Flowers! Falcons go four-and-out.
6:46:
Well, two punts to start off at least makes my second-half points bet seem like it might win.
6:47:
OK, it's time for another Houston picture. I'll have much more on this in Jerks of the Week, but check out this woman and some party I went to Friday night called Leather and Lace: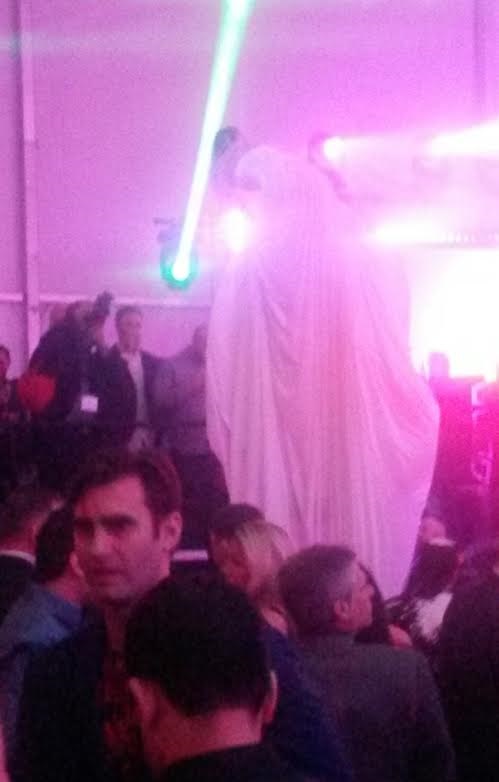 Yes, that's like a 40-foot woman! Whatever they're feeding people in Houston, it's sure as hell working.
6:49:
Patriots now close to midfield. At the very least, they flipped field position.
6:51:
Second time the Patriots passed on a Brady sneak. I'd have to think they'd try that in a more-pressure situation in the second half.
6:52:
Courtney... Upshaw...? The worst offensive line in the NFL shouldn't be surrendering sacks to that bum.
6:53:
Grady Jarrett with another sack, but that was a coverage sack, which the FOX announcers neglected to answer.
6:55:
My fiancee just texted me, "You have no idea how happy I am that Brady got sacked twice!" Guess she doesn't know that I have money on the Patriots.
6:57:
It appears as though there might actually be a scoreless quarter for the third time in the past 12 Super Bowls, which means I'll be losing that prop. Oh well. At least I got the Trump bet right.
6:59:
How is New England's defense underrated when everyone's been saying that they're the top-ranked defense in the NFL? That's like saying the Beatles are an underrated band.
7:00:
Now, Matt Ryan goes down again. Both defenses have stepped up lately, but this is typical of Super Bowls, where teams take some early jabs like in a boxing match and then fire some haymakers.
7:01:
I feel like I say this every year, but these Super Bowl commercials are pretty lackluster. The Skittles one was amusing. This Go Daddy one was OK. Otherwise, meh.
7:02:
I agree with six of the seven Hall of Fame inductees. I don't understand why Morten Andersen made it. Over Brian Dawkins? The only player ever with 25 interceptions, 25 sacks and 25 forced fumbles?
7:04:
And that's it! A scoreless quarter. The third time in 12 years. Ugh. Anyone out there want to give me a loan?
7:05:
There are so many police/fire sirens going on right now outside. Not sure if I should be concerned or not, but I guess we'll see what happens.
7:06:
What are these commercials? At least that Yellow Tail ad had a hot woman. It seems like half of these commercials are just self-serving PSAs.
7:08:
Fat LeGarrette Blount fumbles after failing to convert on third down earlier. He'll never be heard from again.
7:10:
Great, another Pirates of the Carribean movie. I loved the first one, didn't have much of an opinion on the second, and couldn't even follow the third. I definitely won't be watching that.
7:11:
OK, finally another good commercial with that Cam Newton Buick ad. That at least was funny; not something that is supposed to make us feel like we're bad people.
7:12:
Insane catch by Julio Jones. There are just some things you can't stop.
7:13:
Falcons inside the 5-yard line. thanks to more great plays by Jones and Devonta Freeman. All thanks to LeGarrette Blount.
7:15:
Why would any company pay Justin Bieber to be their spokesman? No wonder T-Mobile sucks. Charlie agrees: "That makes me not want to get T-Mobile."
7:16:
Actually, if a company was trying to sell douches, I could see it. "Hi, I'm Justin Bieber, and I'm a douche. Speaking of douches, buy TopCare Feminine Douches!"
7:17:
Devonta Freeman with a great cut, as the Patriots can't stop the run.
Falcons 7, Patriots 0
7:18:
Chase your dreams, according to Honda. Hear that? If you're a 5-foot-5 male with no vertical jump, you can play in the NBA one day if you chase your dreams.
7:20:
Charlie correctly pointing out that all of the movie previews have sucked thus far, and that Hollywood has run out of ideas.
7:21:
My fiancee on learning that I'm betting the Patriots: "Haha I'm sorry but I really hate Tom Brady! Look at how sad he looks!"
7:22:
That C.J. Goodwin guy single-handedly destroyed New England's drive. Charlie just pointed out that he would be attacking Robert Alford as much as possible, and I would agree.
7:24:
Based on all the money he's made, Rob Gronkowski may try to get injured every single season so he could tape more Super Bowl commercials.
7:25:
Can't wait for this new
24 Legacy
show, but I have a bad feeling it's going to suck because there's no Jack Bauer. Jack Bauer is my ultimate hero. In fact, I'm going to chase my dreams so I can become Jack Bauer one day.
7:26:
Julio Jones with another amazing catch. So much for Bill Belichick taking away the opposing best weapon!
7:28:
One of the many reasons I'm sad that Chris Berman is retiring is that we're not going to ever hear him say, "Austin 'Hangin' with Mr.' Hooper."
7:29:
Hangin' with Mr. Hooper scores a touchdown. The Patriots have no answers for this offense.
Falcons 14, Patriots 0
7:30:
I wish the stadium were open so I could hear the crowd. I don't know why they closed the roof. It was perfect outside today - partly cloudy and 75. I definitely do not miss the Philadelphia winter weather right now.
7:33:
The can of this NO5 energy drink says "enhanced mental focus," so this better be the best Super Bowl blog ever, or I want my money back. And by my money, I mean the zero cents I spent on this orange soda-diarrhea substance.
7:34:
It's crazy how lucky the Falcons have gotten with fumbles this year. They recovered all three against the Packers, and they got Blount's recovery and didn't lose the ball when Ryan went down.
7:36:
Speaking of being lucky, the Patriots get a free first down on an iffy holding call.
7:37:
So much for not seeing fat Blount again. Where's Dion Lewis? He's the better player.
7:39:
And Lewis drops the ball, right when I plead for him to get more touches. Things are not looking good for the Patriots right now.
7:40:
Charlie just caught Joe Buck saying that the Super Bowl halftime show is music's biggest moment of the year. Wow. Music kind of sucks now. As my friend Josh always says, we're in the golden ages of TV and the dark ages of music. I'd add the dark ages of movies as well.
7:41:
Another defensive hold, and another pressure allowed by Shaq Mason, who's been awful. Here are our
2017 NFL Draft Guard Prospect Rankings
.
7:44:
Not only do the Patriots need to score here, but they need to keep bleeding time off the clock because the Falcons will have possession to open the second half.
7:45:
The Lions were flagged for that sort of a body slam versus the Cowboys in the regular season. No idea why there was no penalty.
7:46:
Brady pick-sixed by Robert Alford! And Brady with a pathetic tackling attempt!
Falcons 21, Patriots 0
7:47:
That Brady tackle attempt was like one you'd make playing
Madden
, except you hit the button too late and the guy dives a few yards behind the person with the ball.
7:48:
The one and only Lady Gaga. Thank God there's only one. If there were more, I think I'd cry myself to sleep every night.
7:50:
A Humpty Dumpty ad where Humpty Dumpty has yellow ooze trickling down his face isn't exactly something people want to see, Intuit. Seriously, if you're going to make a s***ty commercial that offends everyone, just videotape orphans getting mugged.
7:52:
I'm pretty proud to say I've never seen any of the Fast/Furious movies. I don't find fast cars appealing, and I've heard bad things happen in that commercials like theft, drugs and loitering.
7:53:
Brady is getting crushed in this game, and he almost got picked again.
7:56:
Brady misses Julian Edelman by a mile. He's completely rattled right now.
7:58:
I'm eagerly awaiting some Ross Avila bragging posts, as he said the Falcons would win in a blowout. However, given that he's Hillary Clinton's Chief Officer of Backsides, he's likely busy helping the former FLOTUS right now.
8:01:
Wow, weird call. Josh McDaniels is getting thoroughly out-coached in this game, and the Patriots have to settle for three.
Falcons 21, Patriots 3
8:05:
And it's halftime. Can't wait for music's greatest moment!!!!!!!!!!!!!!!!
8:08:
Our
2017 NFL Draft Quarterback Prospect Rankings
page is getting a ton of traffic right now. I guess Patriot fans are searching for their new quarterback?
8:10:
EVERYBODY RUN TO YOUR COMPUTOORR AND SEE THE ENEDING OF THAT GRATE JOURNEY84 COMMERCIALLLLL!!!
8:12:
Charlie was hoping that we'd see a
Star Wars Episode VIII
ad, but no such luck. Instead, we get another Pirates movie and another Fast/Furious movie and other s***ty movies that will once again lose money, leaving Hollywood wondering where they went wrong.
8:13:
Lady Gaga performing one of her original hit songs,
God Bless America
.
8:14:
Has Lady Gaga not had any hit songs in the past three years?
Poker Face
and
God Bless America
are pretty old.
8:18:
"Her music sucks." - Charlie. Yep. And this is music's greatest moment of the year.
8:19:
I think the real intrigue here is if Lady Gaga will say "Trump" during this performance. I almost bet no, but I chickened out.
8:22:
Who are these tools holding these candles? They could at least ask for a red candle so they could burn as many bushes as possible without exiting the screen.
8:23:
Lady Gaga just said "Super Bowl is what champions are made of." I thought "champions" was "Trump" for a second, and my heart skipped a beat.
8:24:
When this song first came out, I thought she was saying, "harder than a bad bromance." I thought that was kind of weird.
8:25:
The n00bs are now holding blue candles. Yeah, good luck finding Level 8 with those, idiots.
8:27:
Oh boy, Lady Gags just dropped the mic and leapt to her demise. Goodbye, Lady Gaga, we will miss your music because you're such a talented songstress.
8:28:
Albert Einstein playing Lady Gaga songs - premiering April 25. Can't wait!
8:31:
Wow, 41,000 tweets per minute talking about Lady Gaga on Twitter. I hope some of them mentioned her candle incompetence.
8:32:
Can we please get some good commercials? I've counted only two so far (Skittles stalker, Cam Newton replacement).
8:35:
Second half underway. I need 25 total points in this half to get that one prop. Hopefully all 25 are scored by New England. It would help if a fumble actually went against Atlanta one of these times.
8:36:
Let's see if the Patriots made any adjustments.
8:38:
Good start for the Patriots. Now, let's see if they can make any protection adjustments.
8:39:
OK, here it is, the most worthless commercial during the Super Bowl. Audi is so dumb. Why would they piss off so many people? Think whatever you want about it, but dumb ads like that will automatically keep half of the country's population from buying that particular product. And if you don't believe me, search "Audi Super Bowl commercial" on YouTube and check out how many down votes it has. It's been downvoted 49,048 times compared to voted up 26,762!
8:42:
Chris Hogan with a drop. The Patriot receivers have sucked today. The Patriot everything has sucked today.
8:45:
"Maybe Gisele will blame Edelman like she blamed Wes Welker." - Charlie. She probably will! Drop, offensive pass interference, drop on this drive. Pretty brutal.
8:46:
That old-timer commercial is going to make people buy Budweiser? What are these dumb ads? And speaking of, T-Mobile, normal people don't care about celebrities. Ugh. The incompetence of these companies happens to be off the charts.
8:50:
And now Mohamed Sanu with a great catch, and Freeman gains nine with the Falcons in the red zone. Atlanta's offense can't be stopped.
8:52:
I'd like to make a plea to MVP voters. Alex Mack should be given the award. He's playing on a broken leg, and he's been great. Give the award to Mack. His health is a primary reason why the Falcons are running away with this game.
8:53:
Touchdown, Falcons. This game is over. But I'm still holding out hope that there will be 18 more points scored in this half!
Falcons 28, Patriots 3
8:56:
STRANGER THINGS
SEASON 2 AHHHHHHHHHHHHHHHH!!!!!!!!!!!!
8:58:
Oh cool, more celebrities no one cares about.
8:59:
Anyway, I thought the Falcons would have major problems scoring if Mack was ineffective or out, and he's been great. He should be the MVP.
9:00:
Patriots have to go for it. Converted. My second-half prop bet stays alive!
9:05:
Pizza just came. Thank God. I've only eaten one meal so far today. As a fat man, I've usually eaten 716 meals by now.
9:06:
Touchdown, Patriots! Eleven more points to go!
Falcons 28, Patriots 10
9:06:
Blargh. Missed extra point. Make that 12.
Falcons 28, Patriots 9
9:09:
There's another loose ball the Falcons have recovered. I'm going to count that to fit my narrative.
9:12:
Look who's back... the Chief Officer of Backsides!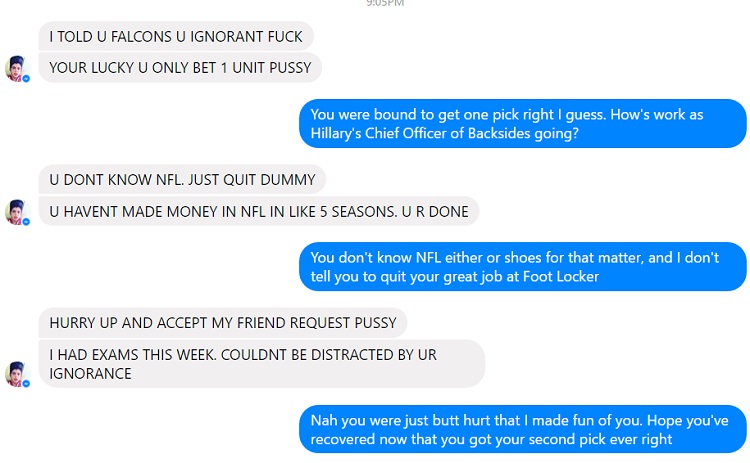 9:15:
Funny that our
2017 NFL Draft Kicker Prospect Rankings
are now being hit up.
9:18:
Ross Avila's mom has allowed him to use the computer again, so he's posting on my Facebook wall. Check it out to see a loser embarrassing himself!
9:20:
It's crazy that Eva Longoria hasn't aged all these years. She's looked the same for two decades now.
9:24:
Wow. Alex Mack isn't even on the ballot for MVP voting! How is that possible!?
9:28:
With Mack somehow not on the ballot, Grady Jarrett might win MVP. Even though two of his three sacks were coverage sacks.
9:29:
Stephen Gostkowski hits a field goal. The Patriots are now down by two touchdowns, sort of.
Falcons 28, Patriots 12
9:33:
If you haven't done so, check out my Facebook wall. Ross, a 17-year-old Foot Locker employee, is claiming that he bets $5,000 in Vegas. He's completely embarrassing himself, as his mom wouldn't even let him drive to Vegas!
9:36:
Argh, a new Zelda game. Not that I don't want a new Zelda game. I just don't feel like buying a new system to buy a new Zelda game. Can't they just release the new Zelda on Super Nintendo, or something? Super Nintendo was awesome.
9:38:
Whoa, Matt Ryan strip-sacked. The Falcons fail to recover a fumble for the first time in about a month!
9:39:
Charlie: "Did you know that Alan Branch likes coloring in coloring books in his downtime? He said that before he was drafted." Wow. I mean, not that there's anything wrong with that, but still.
9:41:
Touchdown, Patriots. Danny Amendola scores, and the Patriots now have to convert the first of their two two-point conversions.
Falcons 28, Patriots 20
9:43:
Oh, almost forgot. Time for another picture from Houston!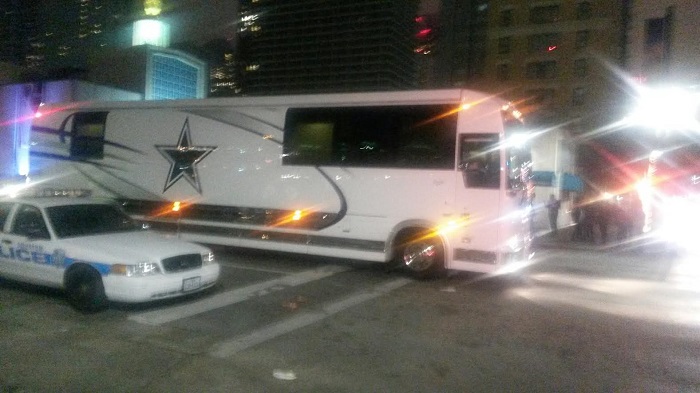 That, obviously, is the Cowboys bus. Jason Garrett and Jason Witten were both at the Playboy party last night. This was where I paid $54 for three drinks. Fifty-four dollars!
9:46:
By the way, most random celebrity I saw last night: Eddie Winslow from
Family Matters
. I wanted to ask him what happened to his sister Judy, but I didn't get the chance.
9:48:
Oh, and 50 Cent(s) was also at that party last night. I'll save that detail for Jerks of the Week, but I will say that he's a lot shorter than I thought. I'm taller than him, and I'm just a short, fat white guy.
9:49:
How the hell did Julio get both feet inbounds? Seriously.
9:52:
Jake Matthews with a big hold. He's had a rough night.
9:53:
Punt time! The Patriots are going to have one last chance to tie the game.
9:55:
Call me crazy, but downfield punt shots to Chris Hogan aren't going to do it.
9:56:
Brady is getting lucky with some of these throws. I think he's getting picked.
9:58:
HOLY S*** WHAT A CATCH BY EDELMAN!!!!
10:01:
That Atlanta challenge allowed the Patriots to get an extra play, and Brady took advantage on a pass to Danny Amendola - down to the 20! Two-minute warning!
10:02:
This LeBron Sprite commercial has been airing for a while. You'd think they'd come up with something new.
10:04:
James White down to the 7!
10:05:
James White down to the 1!
10:06:
James White down in the end zone! Touchdown Patriots!
10:07:
Two-point conversion is good! (Even though they missed offensive pass interference). Tie game!
Falcons 28, Patriots 28
10:08:
Fifty-two seconds left for the Falcons. Matt Ryan would have two timeouts if the Falcons didn't burn them on the third-and-12 and challenge.
10:10:
Looks like this game is going over the total - unless there's a safety in overtime.
10:11:
The Patriots can try a free kick here if they want!
10:13:
Oh man, tough to lose Dion Lewis like that, but at least the Patriots have James White. Lewis just can't stay healthy.
10:14:
Anyway, we're going to overtime - the first in Super Bowl history!
10:15:
Patriots win the coin toss! They'll have a chance to win - and more importantly - cover this game!
10:18:
Question: What if there are like 10 overtimes, or something, and it's suddenly 6 a.m.? At what point do the refs call a tie? Would they then saw the Lombardi Trophy in half?
10:19:
How has James White been around for only two years? It feels like he's a 33-year-old veteran.
10:20:
Great throw and catch to Amendola. Patriots at their own 45.
10:21:
Great throw and catch to Hogan. Patriots at the Atlanta 37.
10:22:
Great throw and catch to Edelman. Patriots at the Atlanta 25.
10:23:
New England is in field-goal range, but the game ends with a touchdown, obviously. James White to the 15!
10:24:
Martellus Bennett drops the ball to win the game! But there's pass interference!
10:25:
Wow, risky throw to Bennett in the end zone. Vic Beasley almost had it.
10:26:
TOUCHDOWN!!! But they have to review it!!!
10:27:
It looks like he's in!!!!!!!!!!!!!!
10:28:
The Patriots scored, but Gisele dropped her phone!!!! Gisele is going to need a new phone!!!! Ahhhhh!!!!
Patriots 34, Falcons 28
10:29:
Wow. What an all-time performance. Tom Brady now has five Super Bowls. He's the greatest of all time.
10:30:
Oh!!! Before I forget!!!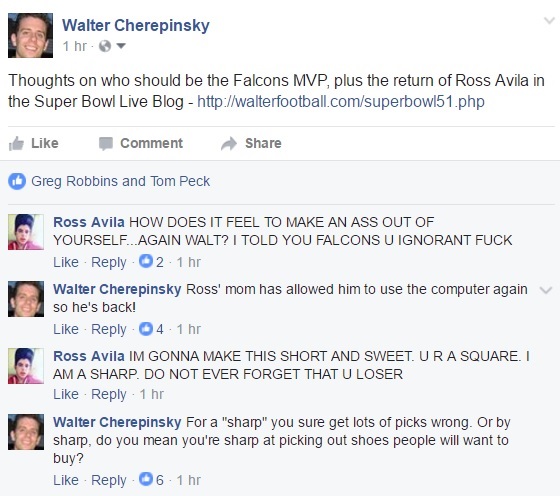 My condolences to our resident Foot Locker employee for losing $7 on this game. Hope his mom gives him an allowance to make up for it.
10:36:
Wow, what an ending. I can't wait to see Roger Goodell hand the trophy to Tom Brady. This is going to be more incredible than the actual comeback!
10:41:
Jimmy Garoppolo now has more Super Bowl rings than Brett Favre. Let that sink in.
10:44:
Owners have to be looking at Goodell getting booed and have to be thinking why he's currently the face of the NFL.
10:45:
Damn it, why isn't Goodell presenting Brady with the trophy!? Why!?!?
10:47:
Wow. What a game. I'm going to have the
Super Bowl LI Recap
at some point tonight. In the meantime, I have
Patriots and Falcons Team Needs
pages via the link, and you can check out our
2017 NFL Mock Draft
here. Thanks for reading my incoherent thoughts throughout this amazing Super Bowl!
Fantasy Football Rankings
- Aug. 5
2021 NFL Mock Draft
- July 30
2022 NFL Mock Draft
- May 13
2020 College Football Recruiting Rankings
- April 14
NFL Power Rankings
- April 5
NFL Picks
- Feb. 2
2020 NBA Mock Draft
- Sept. 27