I've been trading stocks since 2009, but really amped up my activity once the pandemic started to offset advertising losses. I've done quite well in my trading, so I thought I would share my positions, as well as my due diligence behind them.
Updated Nov. 20, 2020
GameStop (GME):
GameStop? The video game store? Yes, GameStop.
If you haven't been following it at all, you might assume that GameStop is on the verge of bankruptcy. You may think of it as the next Blockbuster. This thesis couldn't be further from the truth. GameStop has done a great job of re-branding itself. Its online sales have skyrocketed, showing an increase of 800 percent in Q2 (
source
.) GameStop now provides
same-day delivery
, giving it an edge over Amazon and Wal-Mart. It revamped its Web site and app. It's on pace for a billion dollars in e-commerce in 2020.
If that's not enough for you, Ryan Cohen has bought 10 percent of the company. Cohen was the former CEO of Chewy, and he sold it for $3 billion. Chewy became a great company because of its retail/e-commerce hybrid model, and Cohen plans on transforming GameStop into a similar type of entity to compete with Amazon like Chewy does. In fact,
Ryan Cohen sees GameStop rivaling Amazon long term
. That may sound odd at first, but think about it: Cohen's former company, Chewy, rivals Amazon in its sector. With same-day delivery and an already-established brand, GameStop can rival Amazon in the gaming and computer accessories sector.
Cohen's plan is why GameStop has been closing plenty of stores lately. The plan is to shut down the least-profitable establishments and keep the most-profitable ones open while increasing an online, same-day delivery presence. Cohen is extremely selective in his investments, so his purchase of GameStop really turned some heads. I was already an investor, but that 10-percent stake made me even more convinced that the stock will skyrocket.
Cohen's investment is far from the only reason to be bullish on GameStop. Other reasons include:
The new Playstation and XBox consoles will be released this holiday season. During the previous two console releases, GameStop's stock rose to at least $50 on both occasions. The stock, as of this writing, is $10.49. That's 5x the profits without any other factors!


Speaking of the new consoles, there was a bearish sentiment directed at GameStop because it was believed that the new consoles would not have disc drives, and thus negating GameStop's game sales. Versions of the Playstation 5 with and without disc drives have been released, and yet 76 percent of those purchased from GameStop have disc drives.


Another investor, Richard Mashaal of Senvest, bought five percent of the company. To quote Mashaal, "We seek out of favor, unloved, misunderstood, and underappreciated companies where expectations, sentiment and valuations are all low ... Over one or two or three years they can change and improve, for a better outlook, so they are no longer unloved, and get multiple expansion."


GameStop and Microsoft have a new partnership which involves revenue sharing.
GameStop currently has close to $800 million in cash. It's close to $12 cash per share, which is less than the current stock price. If you were Scrooge McDuck and bought up every single share of GameStop, you would have more money than you invested. There's debt, of course, but with the great amount of money GameStop will make from new console purchases and increased online sales, that won't be an issue.
With all of these positive factors, GameStop must skyrocket. It's a guarantee because its short interest, as of this writing, is way above 100 percent, with
$70 million shares shorted
and $48 million public float. This means that every single share of GameStop has been shorted, plus numerous extra. Short sellers did this because they thought bankruptcy was inevitable, but that thesis has been debunked. GameStop has nearly a billion dollars in cash, the new consoles have disc drives, and the
company's S&P credit rating just improved
. And, as mentioned, with Playstation 5 and the new XBOX consoles set to be released within weeks, GameStop will rake in tons of money.
So, we know now that bankruptcy is completely off the table. All of the short sellers anticipated this bankruptcy thesis, but they were completely wrong. Thus, they will either have to cover soon or continue paying a borrowing fee. Once the stock rises as a result of all the optimism mentioned above, the margin calls for the short sellers will come. When the short sellers cover, the stock price will increase. A higher stock price means more shorts covering, which only further increases the price. Rinse, repeat.
This, as you may know, is called a short squeeze. We recently saw Kodak (KODK) go from $2 to $60 on a short squeeze, and yet that was only 10-percent shorted at the time. Overstock (OSTK) went from $2 to $120 on a short squeeze. Even KBIO, a failing biotech company that is now defunct, went from 44 cents to $45. None of these companies were 100-percent shorted. GameStop is more than 100-percent shorted! This could be the mother of all short squeezes. My conservative price target for GameStop is $50, but it could easily approach $120 like Overstock if the short squeeze is as nuts as I think it will be.
If you're looking at the chart, you may have seen that GameStop recently dropped from $15.60 last Friday to $10.49 heading into Halloween weekend. This was the byproduct of election week (most stocks plummeted) and short selling on low volume. Once the volume picks up, presumably after the election and when the consoles are released, GameStop will be back at $15 and will continue to climb.
Nov. 10 update:
GameStop is up about 10 percent since I recommended it here last Monday. There's exciting news coming beyond the console releases this week: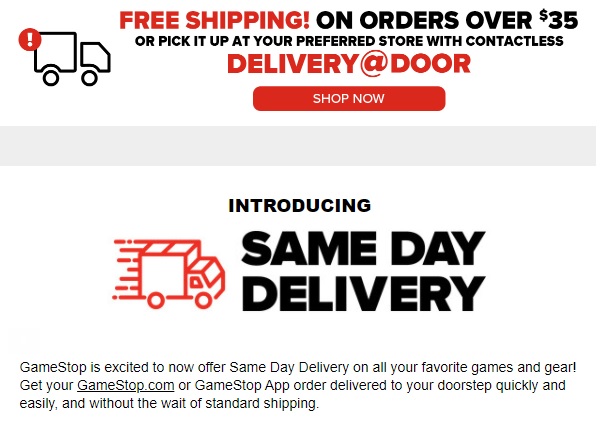 That's right - GameStop is now offering free shipping on same-day delivery above orders of $35. That's awesome because it will allow GameStop to compete with Amazon in their particular sector.
Also, GameStop just filed an 8-K this afternoon. They announced that they are paying off $125 million in debt early. This will crush any sort of bankruptcy thesis the short sellers still may have foolishly believed. GameStop will skyrocket soon, and once it does, it'll go up even more because of the massive short squeeze.
Other Positions:
I'm currently in several other positions. I don't have time to post all of the due diligence on them now because I'm busy with the NFL season, but I will provide more analysis come January.
Here are the other positions. I'm not as high on them as GameStop, but I'm heavily invested in each:
Dillard's (DDS) - Another high short-interest play on another debunked bankruptcy thesis. They've been aggressively buying back their shares and issuing a dividend. It sounds like they may take their company private, which will force a squeeze to happen.
Document Security Systems (DSS) - This stock is WAY underpriced. Equity per share is $16.07, and yet the price is below $5! Having shares of DSS will give you two shares of the Impact IPO that will be released in 2021.
DraftKings (DKNG) - This stock fell from $60 to $35 because of the 180-day lockdown period, plus election week. This is a great buy-low opportunity for a company with a billion in cash and no debt. DraftKings is the future of fantasy football and gambling. It will be $100 one day.
Exela (XELA) - I'm not a big penny stock guy, but this should be $2 at least. They're the only company with at least a billion in revenue ($1.3 billion in 2020) trading below 50 cents. Debt is the big issue, but they just received a huge contract from the VA and a deal with Mastercard to pay off the debt. With that, and other big contracts, debt will be a thing of the past. This company is expecting a great earnings report for Q4.
Fisker (FSR) - Henrik Fisker's EV company (just switched from SPAQ to FSR.) I think this will be $50 minimum one day, but may take a while. Fisker has a billion dollars, so this stock is worth $18.18 in cash. It's extremely undervalued at $10.
FUBO TV (FUBO) - I've heard this described as the Michael Jordan of stocks. FUBO has millions of subscribers and will soon be integrating sports betting with their streaming abilities. This stock is like PENN/DKNG and ROKU had a baby. I think this could be $200 one day. (New 11/20/2020)
Golden Nugget Online (LCA) - The Houston Rockets' owner also owns Golden Nugget Online. There will be a merger soon with this ticker becoming GNOG. I expect it to be valued in the mid $20s.
Hewlett Packard (HPE) - Insiders have been buying shares aggressively, and their company has been generating more revenue than expected. They also just got a $160 million contract to power a Finland super computer. There's so much good news, but the stock has fallen, presumably because of short-selling parasites. HPE currently is valued at $12.50 per share in equity, making its price of $8.50 extremely undervalued. (Update: I'm not as high on this now that the price has risen to $10.40.)
Pivotal Investment Corporation (PIC) - This is another EV stock that could explode. PIC will have a merger soon, and it's close to 50-percent shorted. And to top it off, the float is only about a million! This is going to explode any day. (New 11/20/2020)
Selecta Biosciences (SELB) - Harvard professor Timothy Springer made a billion dollars by being early on Moderna. As of a few weeks ago, he disclosed a 17-percent ownership in Selecta. Will Springer be right again? I'm betting yes.
Virgin Galactic (SPCE) - This is a huge short-interest play, with the short interest at nearly 100 percent. SPCE is the second-most shorted stock in the world, only behind GameStop, of course. This is the first stock in a new sector. It could be worth a ton of money by 2023, especially when it squeezes.
NFL Picks
- Nov. 28
2021 NFL Mock Draft
- Nov. 25
2022 NFL Mock Draft
- Nov. 15
NFL Power Rankings
- Nov. 14
Fantasy Football Rankings
- Sept. 9
2020 College Football Recruiting Rankings
- April 14
2020 NBA Mock Draft
- Sept. 27