I will be publishing all of my random NFL notes that I've listed on my
NFL Picks
pages here so you can easily look back at what I've written. This page will be updated each week during the season.
---
Random NFL Notes: Week 18:
I wrote the following in my
NFL Power Rankings
page this week:
I need to vent a little bit. That Saints' loss to Carolina had major ramifications. And no, I'm not talking about the fact that they lost a first-round bye; Cam Newton's touchdown covered the spread, which ultimately cost me a cash prize in the Las Vegas Hilton Supercontest. I finished one game out of the money. I had the Saints that week, and many ahead of me picked the Panthers. FML.

I wasn't kidding when I said that Ted Ginn has cost me a fortune. If I bet against him, he has the best performances of all time. If I bet on his team, he drops touchdowns that can cover the spread. If anyone has time and wants to figure out how much money Ginn has cost me over the years, I'll be grateful and give you credit. I'll also allow you to write anything in either the NFL Picks or power rankings page.


I actually didn't think anyone would respond, but awesome reader Jeff Faenza Jr. sent over this e-mail.
So I'm on break from school and I saw your power rankings and I couldn't sleep, so I made a write up of all the times that Ted Ginn screwed you over that I could find. There's probably more that you remember, but the ones I have here are enough to make you cringe.
Ted Ginn hates Walter
By: Jeff Faenza, Jr.
2007:
Week 8: Giants @ Dolphins
(Walter picked Dolphins +9.5 for 1 unit. Final Score: Giants 13, Dolphins 10)
With 4:05 remaining in the 4th quarter with the score 13-3, Cleo Lemon and the 0-7 Dolphins drive down the field and score a touchdown which would end up being a backdoor cover in favor of Walter. The man who caught this meaningless touchdown would be Ted Ginn. This was actually Ted Ginn's first NFL touchdown. This was to be expected as the game was played in London. Everything is backwards in London, so despite Ted Ginn's best efforts, he couldn't screw over Walt this time and his first score ever would turn out to be the only time he really helped Walter out over his entire career.
Week 14: Dolphins @ Bills
(Walter picked Dolphins +7 for 5 units, deemed a "Double Money Pick". Final Score: Bills 38 Dolphins 17)
Now, you could say Ted Ginn didn't screw over Walt here because they won by 21. However, the Dolphins hold the Bills to a three and out on their first possession of the game and Ted Ginn fumbles the ensuing punt, leading to a touchdown a minute later. Since the Dolphins record was 0-13 at this point in the season, they had no motivation to begin with, but with the early mistake after a great start, they quit on the game. They were down 24-7 in the first quarter and 31-7 after the first half. Without this early mistake they might have had the confidence to seek their first win of the season.
2008:
Week 16: Dolphins @ Chiefs
(Walter picked Chiefs +3.5 for 3 units. Final Score Dolphins 38 Chiefs 31)
Ted Ginn scores on the first play from scrimmage on a 31 yard run (Kick off was a 60 yard return to start the game, but it wasn't Ted Ginn). The Chiefs didn't give up in the game, but this weird play set the tone of the game and hexed the outcome for Walt.
2009:
Week 5: Jets @ Dolphins
(Walter picked Dolphins +3.5 for 2 units. Final Score: Dolphins 31 Jets 27)
Ted Ginn catches a 53 yard bomb for a touchdown in the middle of the fourth quarter to put the Dolphins up 24-20. The Jets then made it 27-24, and then the Dolphins went down the field and won it with :06 remaining. Without this long touchdown, the Dolphins might not have covered, but then again, if you take it away they still cover based on the score. I'll rule this one a non-factor.
Week 8: Dolphins @ Jets
(Walter picked Jets -3.5 for 5 units. Final Score: Dolphins 30 Jets 25)
I personally remember this game and where I was. Ted Ginn had a career day and had two kickoff return touchdowns in the 3rd quarter. The Dolphins, despite scoring 30 points, scored only 2 offensive touchdowns due to these two special teams touchdowns and a fumble return for a touchdown, all in the 3rd quarter. The Dolphins only had 101 yards of offense to the Jets' 378. The Jets were clearly the right side, but Ted Ginn had to be a jerk. If Ted Ginn wasn't a "Jerk of the Week" that week, a new entry should be made just to remind the general public of his douchiness in week 8 of the 2009 season.
2010:
Week 6: 49ers @ Raiders
(Walter picked Raiders +7 for 3 units. Final Score: 49ers 17 Raiders 9)
With very little time remaining in the 3rd quarter, the 49ers have the ball trailing 3-6 to the Raiders. It's 3rd and 8 on Oakland's 41. Ginn catches a short pass and turns a short gain, which would lead to a 4th down and a makeable, game-tying field goal, into a 19 yard gain and a 1st down. This would lead to a touchdown 2 plays later. This contributed towards the 49ers covering this game and is another time in which this man screws Walt.
2011:
Week 1: Seahawks @ 49ers
(Walter picked Seahawks +5.5 for 3 units. Final Score: 49ers 33 Seahawks 17)
When I saw the box score of this game, I just had the gut feeling that Walter had picked the Seahawks, which makes this the sickest beating Ted Ginn has dealt to date. With only 3:55 remaining in the game, with the score 19-17 49ers, the Seahawks kick off to the 49ers after scoring a touchdown. The 49ers, who only really need a couple first downs on this next drive to end the game, score a kick return touchdown. Ted Ginn is again the culprit for this score. To rub it in Walter's face, he takes the punt after the Seahawks' go 3 and out on their next drive for a touchdown. This was literally the only way the 49ers could have covered the spread of this game. With 3:55 left and the Seahawks only having 2 timeouts, there's no way a long drive would have resulted in a touchdown because they would have kneed it at a certain point, and even a field goal would have only made it a 5 point difference. The only thing that comes to mind for me is that advertisement of that Native American man with the tear going down the side of his face because of pollution, except it's Walter and he's crying because of Ted Ginn.
2013:
Week 11: Patriots @ Panthers
(Walter picked Patriots +3 for 4 units. Final Score: Panthers 24 Patriots 20)
As a Patriots fan, this game is the most upsetting of the bunch. With :59 remaining in the 4th quarter, Ted Ginn catches what would turn out to be the game winning touchdown. I had actually forgotten Ted Ginn caught that touchdown because of the whole Kuechly holding thing on Gronkowski in the endzone. I feel like Ted Ginn just casts a black cloud over any game that Walter selects for multiple units. He was probably the one to pay off Clete Blakeman. I also want to mention that if you google "Clete Blakeman" a biography thing pops up on the right and has a black and white photo of his parents holding him when he was a baby... what...
Week 16: Saints @ Panthers
(Walter picked Saints +3 for 3 units. Final Score: Panthers 17 Saints 13)
This was the game that inspired all of this research. With :55 remaining, the score 13-10 New Orleans, the Panthers start their drive at their own 35. Ted Ginn catches a 37 yard pass from Cam Newton, putting the Panthers in perfect position to either tie or win the game and 4 plays later they would score a touchdown with :23 remaining, which would turn out to be the game winner.
***
If you add up all of these games, Ted Ginn has resulted in a record of 1-7-1 for Walter in games in which he scored, fumbled, or picked up a key first down/long conversion. This doesn't include games where he dropped key first downs or touchdowns because it's nearly impossible for me to find specific game changing dropped passes over his 7 year career.
This record adds up to a 25 unit loss for Walter. Assuming a $100 unit, this man has cost Walter over $2,500.
***
Wow. And if that's not enough, this doesn't even include my WORST beat with Ginn, which Wraith
posted here
.
So, that's three grand. Oh, and don't forget to add my losses from the SuperContest, which would've been about another $2,500 at the very least. So, in total, Ginn has cost me five grand over the years. This man clearly hates me.
---
Random NFL Notes: Week 16:
Michael Irvin went on a tirade about Mike Shanahan a week ago, saying that he mistreated Robert Griffin and unjustly benched him. Irvin also implied that there were some racial elements involved.
"Donovan said something like this was going to go down, so I'm not giving Mike Shanahan a pass when somebody predicted what's happening right now to this young man," Irvin said. "You are TEARING HIM DOWN. I doubt that any man can come back from this, walking around three weeks around these guys that you have to lead. And I don't want to hear about teammates either; we understand as teammates and players, quarterbacks DO get special treatment. You don't see people arguing when Peyton Manning or Tom Brady gets it; I don't want you arguing when this kid gets it. He's the quarterback, and the rest of us brothers have to understand that and treat him as such. I've got an issue with all of it. ... You think they could do this to Andrew Luck? Let me ask you that, you think they could do this to Luck?"
If Luck sucked and blamed his teammates for his struggles like Griffin has? Absolutely. But that's not the case. Luck has played well for the most part this season, and when he's struggled, he has shouldered most of the responsibility. Griffin hasn't, and that ties in with the problem. Daniel Snyder has babied him, so I think this benching is a good thing because it shows Griffin that he's not invincible. Perhaps it'll send a message that instead of shooting 5,000 commercials and trying to be a superstar, maybe he should study film and improve his game.
The racism aspect of this is so stupid, and anyone who thinks this has anything to do with race is a complete imbecile. Has a white coach never benched a white quarterback before? Why didn't Irvin complain when the Chargers and Texans jettisoned Ryan Leaf and David Carr, respectively? How about when the Browns sat Tim Couch, or the Bears tried someone other than Cade McNown? The fact that Irvin sees race in this means he, as well as anyone who agrees with him, is racist.
Oh, and this whole "Donovan McNabb predicted the future thing" is such crap. McNabb was just butt hurt because Shanahan discovered how worthless he was. The Eagles gladly shipped McNabb off to a divisional rival because they didn't deem him a threat. The Redskins were duped, so what was Shanahan supposed to do? Was he supposed to stick with McNabb, who was absolute crap? The same McNabb who was outplayed by Christian freaking Ponder the following year in Minnesota? Yes, Shanahan was
really
racist for not starting McNabb the entire year.
Irvin, who already was known for dishing out terrible analysis - he said Sunday morning that the "Dolphins are the favorites in the NFC" - proved himself to be a racist and an incompetent buffoon with these statements. I'd call for him to be removed immediately, but the NFL Network would just replace him with someone almost as illiterate and inept.
So, with that in mind, I'm thankful the dreadful Thursday night broadcasts are over. I will miss the hot chick singer's a**, but thanks to the magical powers of YouTube, I can stare at
Priyanka Chopra's butt
whenever I want to.
---
Random NFL Notes: Week 15:
1. I'm kind of sad that these Thursday night games are coming to an end this week. Two reasons: First, I'll miss the hot chick singer's a**. Second, I've greatly enjoyed making fun of Brad Nessler. Here's a running log of all of his mistakes this year:
Week 5:
NFL Network play-by-play announcer Brad Nessler doesn't know about any of the football players. I'm serious. He's said some weird stuff this year, this week called Greg Little "Mr. Dependable." I thought I was hearing things, but couldn't rewind the game because my DVR wasn't functioning at the time. However, multiple forum members confirmed this.
How the hell is Little worth the title of "Mr. Dependable?" He's been benched several times because of drops and fumbles. He's the opposite of dependable. Why in the world would Nessler call him that then? Is he just completely clueless, or is he trolling us?
Also, Nessler said, "We lost a valuable employee to breast cancer last summer, Natalie Parker." That's nice of him to say that, but her name flashed on the screen as "Natalie Packer." Nessler obviously never even said a single word to her if he screwed up her name like that, so why would he say she's a "valuable employee?" How would he know she's valuable? Does he even know what she did? I'm just shocked he didn't just refer to her as "Ms. Dependable."
Week 7:
Nessler called Rashad Johnson "Rashard Johnson." That one wasn't as bad as referring to Jay Feely as "Jim Feely." It's clear by now that Nessler mails in these Thursday night games. You could almost say that Palmer puts forth a better effort.
Week 8:
This Thursday, Nessler joked about the Buccaneers firing their trademark cannon too early prior to their touchdown. If Nessler weren't mailing in these games, he would've known that Tampa fires the cannon once each time it reaches the red zone.
Week 9:
This week, Koa Misi suddenly became "Koa Misa."
Week 10:
This Thursday, Nessler commented that one of the punters kicked it "high into the Minneapolis sky." Yeah, I'm sure the ball looked beautiful in the Minneapolis night sky - considering that the Vikings play in a dome.
Week 13:
As for this week, I'll let e-mailer Joe B. handle it:
I know you love pointing out Brad Nessler's idiotic statements. Here's this week's edition in case you missed it: "These two teams played two weeks ago, so you know they'll remember each other's names." Maybe Nessler needs to announce a game between the same two teams that he announced two weeks ago, since he has all kinds of problems knowing the players' names. I wonder who this "Marcellus Lewis" fellow is...
Indeed. He referred to Marcedes Lewis as "Marcellus Lewis" when the tight end caught his first-quarter touchdown. It's amazing how much money Nessler is stealing from the NFL Network, because he's absolutely mailing it in.
2. Speaking of inept NFL announcers, Don Tollefson is someone I've also made fun of. For those of you who don't know who he is, he's a former Eagles' play-by-play announcer who said the following when Nnamdi Asomugha came to Philly:
I'm sure many young women in the Delaware Valley would love to cook and clean for Nnamdi.
I've taken off with it, but Tollefson has provided me with another way to poke fun at him.
Don Tollefson has been running a charity scam
, which you can read about by clicking the link. This is the greatest news I've heard all day. Do you know how much new material this has given me?
3. I mentioned last week that Geno Smith might be the worst quarterback ever. I was obviously mistaken, but not because of what Smith did on the field this past Sunday. Someone posted the following as a reminder in the comment board below:
Ha ha ya tink Geno Smith is the worst starting QB ever? How about me ha ha ya tink so? Where my Skittles and purple drink at ya tink so?
Major derpage on my part to forget the one and only JaMarcus "Captain Skittles" Russell.
---
Random NFL Notes: Week 14:
1. I'm going to be talking about stupid things in this segment. To start, I'm ashamed that I neglected to address the Donte Hitner name change. It's so dumb. I don't understand how idiot players like Donte Whitner, Brandon Meriweather, Dashon Goldson, etc. don't get that these new rules are to protect the NFL's longevity? There has been a 10-percent reduction in kids playing football. This seems like nothing, but the pool will continue to decrease until the NFL eliminates concussions. Whitner changing his name to promote hitting is just so stupid.
And what a dumb name anyway. Donte Hitner? As Matvei commented, "What's he going to do next, change his first name to Adonf?" Adonf Hitner has a nice ring to it, actually, if, you know, you're an a**hole who's into genocide and stuff.
Speaking of
Adonf Hitner
, he was featured in this week's Emmitt on the Brink.
2. Whitner isn't the only player making a stupid name change. Michael Irvin revealed that Mike Wallace has decided that he wants to be referred to as "Ocean 11."
Umm... what? I get that Wallace wears a No. 11 jersey, and I know of the movie, but how does that name fit? Why is he "Ocean?" Because he plays by the ocean? Well, I'm living on land that used to be a golf course, and I was born in 1982, so perhaps I should dub myself Golf Course 82. Everyone, please call me Golf Course 82 from now on!!!
3.
NFL GameDay Final
is good for some laughs. And not in a good way. While the white host screams as loudly as possible, Irvin gives us breaking news on nicknames. Deion Sanders, meanwhile, appears as though he has no idea what's going on half the time. Here's what he said of the Giants recently:
"The Giants need to go 5 and 6 to win the division from here on out."
Really? A 5-6 record to close out the season will earn New York a playoff spot? Thanks for the insightful analysis. But hey, according to that one "Tavon Austin is the next Barry Sanders" hate-mailer, Deion played in the NFL for a long time, so he really knows what he's talking about.
---
Random NFL Notes: Week 13:
1. My friend and LVH Supercontest partner Matvei texted me some funny one-liners during Sunday's games. I'd like to share them with you:
"Do you think the Packers look so unprepared because their head coach has to coach the Cleveland Cavaliers during the week?"

We've joked about how much Mike McCarthy sucks at preparing for his opponents, so the comparison to Mike Brown works. By the way, I'm no NBA expert, but why did the Cavaliers hire Brown? He couldn't win a championship with LeBron, so what made the Cavs' owner think Brown could have success without LeBron?


"Do they never show sideline shots of the Chargers defensive coordinator because he's actually a scarecrow?"

I'd say a scarecrow is an upgrade. At least scarecrows keep things away. The Chargers can't stop anyone.


"What's worse for the Vikes - that they lose this game, or that Rick Spielman signs Matt Flynn in the offseason?"

All Viking fans just screamed a collective, "NOOOOOOOOOO!!!" upon reading that.


"Talk about a Pyrrhic victory for the Jags - pretty much sets up 2-14 next year too."

This wasn't a funny text. It was just sad. The Jaguars ruined their chance to land Teddy Bridgewater by achieving a pointless win. It's amazing how inept they are.

2. The Jaguars don't just suck at both winning and losing. Here's another example. Jonas L. sent me this e-mail:

Perhaps it is time to make NFL shop the Jerks of the week. They have for the last 1-2 months been sending me, and probably everybody else as well, mails regarding special offers on a lot of Jaguars gear. It is an abomination. Partly because it is Jaguars gear, but mostly because it is Jaguars gear with the old logo on it.





This got me thinking... I don't think I've ever seen anyone wearing any article of clothing with a Jaguar logo on it. Not once. And I don't think I will in the future with Bridgewater heading elsewhere.

3. Let's make it a Jacksonville trifecta. Facebook friend Jon D. sent me a message: "I'm at a bar and there is a Jacksonville Jaguars fan. I didn't know they existed!"

I was naturally excited. My reply: "They're very rare. I hope you took pictures!"


---


Random NFL Notes: Week 12:

I wouldn't say my weekly random NFL notes cluttered these picks pages, so I'll keep them here. What I'm also going to do is store all of them in a Random NFL Notes section so that you can go back and read previous entries in the future.

Some random NFL notes I can't put anywhere else:

1. If you haven't seen my Pro Bowl Picks, click the link. I've received some complaints about Tony Romo not making the team, but Romo has a career-low YPA, so that's why I chose Cam Newton over him.

2. There's so much talk about the Redskins changing their team name or logo. Here are some ideas for new logos for every team. Mark P. sent me a link showing what the NFL logos would look like if they were European soccer badges.

Meanwhile, here's a link of NFL logos transformed into Pokemon characters that I found on Twitter (@walterfootball).

3. I'd be remiss if I didn't discuss the "marquee game" in the NFL, Kansas City's matchup against the Broncos. I picked the Chiefs to cover, but I was secretly happy that they lost by double digits because it validated my stance on never having them above No. 7 in my NFL Power Rankings.

I also have to take umbrage with the assertion that this was such a big game. I quoted "marquee game" earlier because that's what multiple NFL TV analysts called it. I understand that it had major playoff implications in terms of seeding, but how much of a "marquee game" could it be if the Chiefs and Broncos play again in two weeks? I just don't understand why some of the divisional matchups are cluttered like this. The same thing happened last year with Houston and Indianapolis, and as well as some other divisional clashes.

I don't ever remember it being like this. Why did Roger Goodell implement this? Why is he trying to ruin football? Divisional matchups should be more spread out. I don't think should be able to play each other within four weeks.


---


Random NFL Notes: Week 11:

I wouldn't say my weekly random NFL notes cluttered these picks pages, so I'll keep them here. What I'm also going to do is store all of them in a Random NFL Notes section so that you can go back and read previous entries in the future.

Some random NFL notes I can't put anywhere else:

1. I'm going to touch on the Richie Incognito situation again. I wrote last week that I didn't think it was a big deal, and I still don't. I did find a related interview featuring former Eagles' lineman Shawn Andrews to be very interesting, however. Andrews, talking to 97.5's Mike Missanelli, revealed that Donovan McNabb bullied him when he was a rookie in 2004. He didn't really go into what McNabb did specifically, but he said that McNabb was a real jerk to him. Andrews even went as far to approach Andy Reid about it and asked his coach if he could address the team. Andrews did so, but McNabb didn't take it very seriously, as he just "rolled his eyes" the entire time Andrews was talking.

I thought that was interesting to hear. At any rate, this Incognito-Martin bullying situation will work out in five years, so no need to worry.

2. I posted my Jerk of the Year entry about the Redskins team name controversy on Monday, referencing Bob Costas' lecture that he delivered a few weeks ago. As this was going on, I saw two amusing tweets. The first was from Steven L from FootballFanSpot.com:

If you want to watch a white man tell Native Americans they should be offended by the Redskins' name, Bob Costas is coming up next.

Costas asked us what we thought the Redskins would be called if they had a name that offended blacks. The @NFLGoodwitch account instantly tweeted:

Washington Chocolate Brothas.

3. I used to keep up with some of the games I couldn't immediately watch on NFL.com's GameCenter. I've since moved on to CBS. I feel like their game-tracker is so much better. Everything that happens in each game flashes right next to the scores. Its pretend field is also easy to follow, unlike NFL.com's strange polygons.

Best of all, it doesn't screw up all that much. There are tons of errors each week on NFL.com, though they're great to make fun of. For instance, TDAP sent this to me:




Are we sure Jake Locker is injured? Or was that just an imposter, and the real Locker is on Arizona?


---


Random NFL Notes: Week 10:

1. I'd be remiss if I didn't discuss the Richie Incognito "bullying" situation. I read up on everything and saw that Incognito and Jonathan Martin were friendly at one point. It certainly doesn't look like they hated each other here:




There was that profanity-laced phone call, but we have no idea about the context of that message. It just seems like Incognito simply took what he might have thought were friendly jabs at Martin (i.e. nicknaming him "Big Weirdo.") Martin was clearly self-conscious of being a "big weirdo" - i.e. a heteroclite - so he finally snapped when the Dolphins pulled that prank on him, so he left the team and drove himself to a mental-health facility.

I think it's a pretty normal dynamic; one that we see far too often. Insecure people often pick on those who are weird to deflect attention from themselves. It's natural behavior for any homoclite (normal person) to do this, especially in a male-dominant environment. Incognito is insecure for some reason, so he picked on Martin because he was an easy target.

In the end, I think the whole thing is stupid. Incognito is a dick, but Martin is a grown man. He's not some helpless kid. He should've been able to defend himself. And the fact that many Dolphin players sided with Incognito tells me that they agree.

I only pray that this situation doesn't spawn anti-bullying campaigns from the NFL. I don't care what Incognito did or said; there's no such thing as a 320-pound man getting bullied.

But speaking of Incognito, Matvei pointed out that as a child, he resembled a famous character we both love and hate. Just imagine him with a blue hat on:




2. The other major topic in the NFL is the Redskins' team name. Security at the Redskins-Chargers game were concerned Sunday morning that American Indian protesters would storm the field and scalp the players and coaches. That, however, did not happen because most American Indians don't mind the Redskins' team name (75 percent think the name should stay, per a Sports Illustrated poll). The only individuals who seem to mind are guilt-ridden white people. I'll have more on this in an impending Jerks of the Year entry. In the meantime, check out why the Vikings will have to change their team name next.

3. How about changing the logo and not the name? It's not like Daniel Snyder called them the "Blood-Thirsty Savages" or anything. Redskins should be fine. But because guilt-ridden white people are losing sleep over it, how about a compromise? Perhaps Washington can keep its team name if it uses this logo: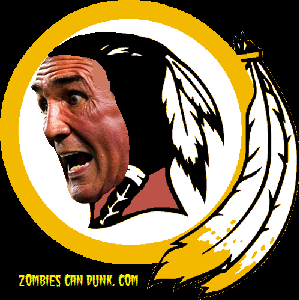 Shanahan's face looks like a tomato. He has red skin, so it fits. I'm making fun of a white person by doing this, so white people can't possibly be offended. Wait, what's that? The guilt-ridden Koreans have taken offense to this for no apparent reason? Ah, damn it.


---


Random NFL Notes: Week 7:

Several people on Twitter - I've come to dub them as Sand in the Vag Mafia - were very pissed at me on Friday. If you missed it, go here to read about the controversy regarding my Adrian Peterson tweet.

I've had an entire weekend to think about what happened, and I've come to the conclusion that this whole ordeal was more insanely stupid than I initially believed it to be. The timing of the tweet probably should've been better - in hindsight, I would've split it into two tweets - but I made that post quickly without giving much thought about how it would be perceived. It's not like I spent hours crafting that tweet. I gave my condolences and wrote relevant information to my job. There's absolutely nothing wrong with that.

Some thoughts concerning AP Tweetgate:

1. You've read what I've had to say about this. Of the sensible people I've talked to, almost everyone didn't think there was anything wrong with what I wrote. Here were some of the most logical, though-out responses (as opposed to the "HURRR DURRR YOUR LIKE SO INSENSITIVE HURRR DURRR" replies from the Sand in the Vag Mafia):

- Kenny S: Nothing you said was wrong man. You explained the situation in a factual manner. This whole fake anger thing people have is stupid. Everyone gets so emotional about stuff like that but they don't really care anyway. If that were the case, they could go help the homeless and do things of that nature.

(More on what Kenny S. said later about individuals not helping out.)

- Derek C: I've been following Walt's site for about 8-10 years now. I've watched Walt constantly insult and berate GM's like Al Davis for their ineptitude and even go as far as to make a fake mock draft where Davis selected an actual monster with the Raiders' pick. But Walt was also the first one to pay his condolences to Al Davis and his family when Davis passed away. I'm pretty sure Walt understands there are more important things to life than football. That being said, he also runs a website where it's his job to analyze professional football, college football, fantasy football, and the NFL Draft. There was nothing malicious about his post about Peterson and his son. He showed his respect about the situation, but also continued doing his job, which is the sole reason any of you even follow him in the first place: you want his opinion. The world doesn't suddenly stop spinning just because something tragic happens. What happened was terrible, but being upset about how Walt reacted to it is moronic. If you were offended by his post, you need to move on and shut up because you're intentionally making something out of nothing.

(I make fun of almost everyone on this Web site, but I only do so in jest. There's no malice behind anything. I just do it for some laughs so I can help make people's days more entertaining.)

- Kyle M: It's crazy how overblown everything about this situation has become. Walt, the only suggestion I would have is posting an apology, but ONLY about the timing/misunderstanding. There was absolutely nothing wrong with what you tweeted.

(I actually thought about issuing an apology Friday afternoon, but that would've been less sincere than QBDK saying he was sorry for killing dogs. I regret not making two tweets, but I don't have to apologize for it.)

- Chris F: Walt, if the game is going forward you had an obligation to comment on the situation and its implications on your business. Good job Walter.

(Chris F. is a lawyer, so, lawyered.)

- Steve V: I would stick with 'vagines'... it's got class and panache. If a hurricane killed 1 million people, people would still have comments on the hurricane... I feel bad for the guy, but when grown men are taking insurance out on fantasy players, this is a business and business doesn't stop. Too PC out there. Salem witch trials are en vogue again.

(People who are too PC piss me off - if you couldn't tell.)

- Craig E: Walt, I'm a big fan of your site. Honestly, anyone who found your tweet to be offensive is clueless. The best part about it is that you prefaced your fantasy advice with an acknowledgement of how horrible of a tragedy it is for AP. I don't understand why people are so sensitive. Obviously you aren't happy his two year old son died, but a fantasy website's job is to provide fantasy insight, not mourning and grief counseling. Anyone who can't put 2 and 2 together is an idiot.

(Yeah, I have no idea what the uproar was about at all. It was so incredibly dumb.)

- Jacqueline C: I think people who are mad just didn't like you to begin with, or were jealous. They just wanted a reason to publicly hate on you. People who are your fans still support you. Also, I don't think what you did was insensitive. It made sense... and for those who say you were, let's point out the Peterson only met his son for the first time when he was in the hospital after the beating. Also Peterson went back to work immediately. Are those people who publicly hated on you, also calling Peterson the same derogatory names? I don't think so.

(I wanted to post this because one of the people criticizing me was someone who applied for a job on this Web site, but got turned down. It's also noteworthy that the majority of the attackers were from Bleacher Report and SBNation, two Web sites with comparable traffic. If these guys went after me to steal my audience - some of them clamored for others to unfollow me on Twitter - then that's absolutely disgusting. A kid was dying, yet they used the situation to their advantage intentionally. I think that's pretty sick.)

- Cory C: Walt, part of your job is taking the backlash of the real life/fantasy football/sports betting divide. Seems like this is just another one of those things. Tragic real life situations have fantasy implications. If LeSean McCoy got hit by a bus tomorrow and went comatose, it would be Walt's responsibility to say as quickly as possible that everyone should pick up Bryce Brown, and he would get ridiculous backlash for it. He still has to say it, though. It's his job.

(That's absolutely right. If any player suffered a life-threatening injury, I'd have to post betting, fantasy and draft implications because it's my job.)

2. In terms of what Kenny S. said, I decided that I'd donate my winnings from my Vikings' pick to Futures Without Violence. Minnesota lost, but I still sent a check out because I didn't want to let some lethargic players get in the way of a good cause. I've mailed a $300 check to them (my editor suggested that I include the vig, but it was too late).

I messaged Bleacher Report Matt Miller on Facebook on this. Miller was one of my main attackers. I told Miller that I didn't understand why he did what he did, but I was willing to bury the hatchet because I'm not one to hold grudges. Life is just too short for that, especially with more significant things going on. I asked Miller if he and his Bleacher Report co-workers wanted to match my donation because it would be cool for us non-major media people to band together for a good cause.

Miller looked at my message - it was viewed Saturday around noon - but he never responded. He also deleted me as a friend on Facebook. You can imagine the agony of losing such a valuable Facebook friend!

In all seriousness, this is so childish. Besides 13-year-old chicks, who deletes people on Facebook? And why ignore a message for a good charity? Why spend energy lashing out on me and then not do anything constructive about it? Whatever. After this post, I'm done with all of the Sand in the Vag Mafia crap (unless someone on the forum makes a real Mafia game out of it.)

3. SB Nation's Brian Floyd took some umbrage with some of my other posts, including the one where I said the 8-year-old who recommended the pink flags was a douche. It makes me very sad that Floyd and others like him don't understand sarcasm. Do I really think this kid is a douche? Of course not. I don't know him. Why would I think he's a douche? The whole thing was a joke, and it went right over Floyd's head.

Speaking of pink flags, a Facebook friend of mine told me that a buddy of his doesn't come on my Web site anymore because I don't support breast cancer awareness.

This guy is worse than Brian Floyd, which shouldn't be possible. I'm all for breast cancer awareness. I just don't think everything should be pink. The pink flags ruined the viewing experience. That just can't be allowed to happen - hence the 8-year-old douche statement.

Oh, and if you think the NFL's cause is so honorable, you may want to consider this: SportsGrid.com reported that only 3.54 percent of the NFL pink merchandise sales go to breast cancer research (thanks to FootballFanSpot.com's Steven L. for sending this to me). Yup, 3.54 percent! The law requires for charities to give 3 percent to the actual cause, so the NFL is doing the bare minimum. If the NFL really cared about this cause, half of the profits would go to breast cancer research.

Anyway, that's it for my rant. Like I said, I won't bother discussing the Sand in the Vag Mafia again because there's no point in dealing with super-sensitive hypocrites. However, if there's a Sand in the Vag Mafia game going on in the forums, I will definitely tweet that out. I suppose I'll get some backlash from that too.

***


Here's what I wrote on Friday in reaction to the Sand in the Vag Mafia's attacks on me:

I never realized how much sand people have in their vages until Friday morning. If you didn't hear, TMZ reported that Adrian Peterson's 2-year-old son was in critical condition after allegedly being beaten by his mother's boyfriend. This was a horrible story, but it obviously had fantasy football implications, so I tweeted the following out (@walterfootball):

Horrible story from @tmz with Adrian Peterson's son. Hope he'll be OK. Fantasy advice for owners of the #Vikings RB

Seemed like a sensible thing to do. What happened with Peterson's son was terrible, but there's nothing anyone can do about the situation except pray that everything would be fine. It did carry fantasy football implications, however, as Peterson's fantasy owners were suddenly in danger of not having their top running back available for Sunday's contest against the Panthers. So, what were they supposed to do? Keep Peterson in the lineup even if he doesn't play, as they idly sit back and watch someone else pick up Toby Gerhart? Shouldn't they be thinking about picking up Gerhart? Again, there was nothing anyone could do at the moment.

I posted relevant information to a tragic situation. There is absolutely nothing wrong with that; in fact, it was necessary. I didn't even think there was any sort of possibility that I did anything in poor judgment until an owner of another NFL Draft site messaged me on GChat:

Draft Site Owner: Holy f*** man, you're taking a lot of heat on Twitter right now. A LOT of heat.

Me: For what?

Draft Site Owner: Your tweet about AP

Me: I don't see what's wrong with it?

Draft Site Owner: You're offering fantasy advice at a bad time he's going through. IDK, people are stupid. Just letting you know.

Me: It's pretty relevant if he misses the game.

Draft Site Owner: People are thinking fantasy football shouldn't matter in a situation like this.

Me: So what are they supposed to do, keep Peterson in their lineup if he doesn't play?

Draft Site Owner: Beats me. Just letting you know you're getting bashed pretty hard on Twitter.

Me: Wow, people need to get the sand out of their vages.

Draft Site Owner: I completely agree man. Hell I got bashed for trying to defend you.

Me: Thanks for having my back. I can't believe how stupid this is.

I still can't believe it either. Mind blown. Again, it's horrible what happened to Peterson, but there is relevant fantasy fallout. My apologies for discussing it. Wow.

I wish Wal-Mart sold something to help people clean sand out of their vages at a time like this, but unfortunately, no such product has been invented yet. For any savvy entrepreneurs out there, I just gave you a fantastic idea.

Anyway, you can discuss this here.

Update: Hearing feedback from people on the forum and those on my Facebook wall, I get the sense that most sensible people agree with me. There was nothing to get up in arms over. I get that people are angry about this situation - and I am too - so some are directing their malice toward me. But it is my job to offer fantasy and betting advice, and the tragic news relating to Peterson's son was relevant in the fantasy world. I'll repeat: I hope everything will be OK. That's what's most important.

Again, you can discuss this in the forum.

Another update: A new member of the forum alerted me of something:

Brian Floyd, managing editor for @sbnation, is all over you on twitter. He is taking pieces and parts of your post and posting them on twitter to make you look even worse. You are the "sand in the vages" guy. According to him you are a terrible person for suggesting to pick up Toby and for calling the 8yr old boy a douche for suggesting pink flags. I guess humor is lost on him. @BrianMFloyd

Well, it appears as though we've uncovered our Sand Vag King. All kneel before the Sand Vag King, who has declared there shall not be any humor in any facet of life!

Some funny comments from the forum about this:

VikingSteve: King in the Sandy Vag castle? I imagine it as a sand castle that looks like a vagina, and he's buried in it, with just his head sticking out, looking up with this nasty, judging look on his face.

Pheltz: How long til this guy finds Emmitt on the Brink and declares Walt a racist?

Kirmie: Should that not be Queen? I believe his man card is stripped by this point.

Sand Vag King does not believe in "man cards," for the term "man card" was coined in a humorous sense, and humor is not allowed in the Sand Vag Kingdom.


---


Random NFL Notes: Week 6:

1. I wrote this last year: I'm all for making people more aware of breast cancer and stuff, but I don't get how making everything pink accomplishes that. Does anyone see a pink flag and think, "Oh, I should get checked out for breast cancer!" I think it's kind of silly. Some pink stuff is fine, but not everything needs to be pink.

The pink flags need to go, by the way. It's just too much. The announcers had trouble spotting them amid all of the pink towels and the pink lettering on the field and thepink vomit that came out of Tony Romo's mouth when he choked away that game.

It was all that stupid kid's idea. Remember? Some 8-year-old douche wrote Roger Goodell a letter, suggesting that the yellow flags be replaced with pink ones in October. Goodell told the kid that he'd implement it in 2013, and here we are. See, this is exactly why no one should listen to kids. Ever wonder why no 8-year-old runs a Fortune 500 company? It's because they're stupid.

2. Sticking with our Breast Cancer Awareness Month theme, how bad were the NFL Network's multiple gaffes concerning Natalie Packer? Packer, a former employee of the NFL Network, died of breast cancer at just 30 years old. This was unfortunate, but so was what Rich Eisen and Brad Nessler said about her during Thursday's game.

Eisen said "Nicole Packer" was a valuable employee of the NFL Network. About an hour later, Nessler echoed the sentiments, but called her "Natalie Parker" instead.

How could both men get her name wrong, especially if she was such a valuable employee? I'm actually beginning to think this "Natalie Packer" person isn't even real. I bet Goodell is feeding this propaganda so he can get people to buy pink jerseys, pick t-shirts and those hideous pink flags.

3. Let's talk some fantasy football. I received the following preposterous fantasy trade offer last weekend:

Walter trades Josh Gordon to Splooge Monsters for Tavon Austin, Ryan Broyles.

Hmm... a WR2 for two scrub players that I'd want to dump right away. Great trade!

I hate trying to make deals in fantasy football because many owners can be so incredibly stingy like this Splooge Monsters cheapskate. I was cranky, so I rejected the trade and wrote the following note:

"Why the hell would you offer me a trade like that? Not even close. Don't offer me another trade ever again unless you're going to be serious about it."

I know that it sounds like I had sand in my vag. I did a little bit, but can you blame me?

Elsewhere, Jack R. sent this e-mail to me:

I'm rolling with Nick Novak this week as my kicker (I dropped Blair Walsh because keeping a kicker through his bye is stupid); I chose Novak on purpose for the 11:35 start and the fact that Allen is playing in the same game. I'm winning by enough (40ish) by 11pm or so, I'm going to drop Novak and roll kickerless just to grab Allen before he has his 2nd 80+ yard effort in a row and becomes the hot waiver guy - this time I have him going for 100 and a TD, actually - and then use waivers or post-waiver FA period to drop Cleveland (my fill-in defense) and grab another kicker.

Talk about the other end of the spectrum. That's genius. As it turns out, Allen went off like the emerging stud that he is, so Jack R. grabbed one of the top waiver players because he was incredibly slick.


---


Random NFL Notes: Week 5:

1. Facebook friend Jay B. posted this on my wall:

Good news Walter! As a diehard Ravens fan I got access to this exclusive exchange between Ozzie Newsome and David Caldwell! Here you go!

Caldwell: Hey Ozzie, I'm really struggling to win games here, you got any tips on how to be a successful GM?

Newsome: Well, that WalterFootball guy said on his Web site that teams that trade away their best players become invincible!

Caldwell: Hmmm... Really? Sounds good to me, how should I start?

Newsome: Oh I don't know... you can trade me Eugene Monroe, that will certainly mimic the current strategy in the NFL, then you can go win some games for sure.

Caldwell: You'd do that for me? Wow thanks! You're a real friend!

Newsome: Hehe... Don't mention it.

It's amazing how inept these general managers are. On the bright side, this gave me a chance to make fun of the Jaguars again and also to post an awesome, Matt Millen-related grade for the trade. Check out the grades for the Ravens and Jaguars in the Eugene Monroe trade here.

2. Some NFL players are smart. Many others, unfortunately, are pretty clueless. For instance, Chris Johnson offered up this gem on Twitter: "Public service announcement: I can care less about fantasy football. Key word fantasy. As long as we win I'm happy. I rush for 200 n lose y'all happy." He followed that up with: "U r the head coach n the owner of ur fantasy team so u should be mad at urself I didn't ask any of u to draft me so if I'm so sorry y start me."

Considering that Johnson is getting paid so much money BECAUSE OF FANTASY FOOTBALL, he should at least care about it a little bit. If it weren't for fantasy football, TV ratings wouldn't be so huge. Football would still exist, but all of that TV money wouldn't be there. Without that TV money, all of the players wouldn't be paid as much. So, instead of getting $30 million guaranteed on a deal that he signed in 2011, perhaps Johnson would've obtained $10 million or so - if he happened to be lucky.

Johnson should start caring about fantasy football. He should enter leagues and perhaps draft himself. Then, he'd understand why his owners are so mad.

3. Baseball sucks. Why is the Raiders-Chargers game being moved to 11 p.m.? Baseball is boring and stupid, so maybe the Athletics should be playing at 11 p.m. Seriously, who the hell watches baseball?


---


Random NFL Notes: Week 4:

1. If you haven't heard, there's a rumor out there that Roger Goodell is pushing for an 18-game season in which all NFL players can be on the field for only 16 games. I don't know if this is a real idea of Goodell's or not, but if it is, Goodell might just be the dumbest human being on the planet.

Goodell needs to ask himself this: Why is football popular? There are three reasons: Fantasy, betting and a short season that has its fans yearning for more. More games hurtthat third item. The idea that players would be on the field for 16 games kills the first two. Do you know how frustrated fantasy owners would be if they had to account for certain players not being on the field? Many people would just stop playing fantasy. Betting would be more complicated too. The average Joe would suddenly be hesitant to gamble on games because people would have to keep track of which players are sitting. If the number of fantasy players and bettors diminish, football won't continue to enjoy its monstrous ratings.

On PTI, Tony Kornheiser shouted that all of this would be beneficial because it would add more players to each team. Umm... why is that a good thing? More players means worse players who normally wouldn't be on NFL rosters. Why would the league want to dilute the talent pool? It makes zero sense.

Once again, if this goes through, Goodell will clinch the distinction of dumbest human being in the history of this planet. He'll be the reason for the downfall of the NFL. I hope someone tweets this to him before it's too late.

2. Speaking of dumb people and dumb things, it's Spanish Heritage Month! Ugh. This really is the worst time of the year. Why would anyone care that it's Spanish Heritage Month? My Hispanic friends didn't even know about it when I brought it up to them. And here's a better question: Why is only Spanish Heritage Month celebrated? What about Italian Heritage Month or Australian Heritage Month, or Half-Norwegian, Half-Korean Transsexual Heritage Month? I think it's complete bulls*** that the half-Norwegian, half-Korean transsexuals are screwed over like this.

To celebrate Spanish Heritage Month, the 49ers-Colts broadcast played a clip of the Spanish broadcast. From memory, it sounded a bit like this: "Colin Kaepernick taco burrito taco osos taco taco Anquan Boldin!"

I found this very offensive. This guy was clearly not Spanish because he didn't say the name "Colin Kaepernick" in Spanish. When Half-Norwegian, Half-Korean Transsexual Heritage Month rolls around, I'm going to demand for Goodell to have a genuine half-Norwegian, half-Korean transsexual in the booth.

3. It was fun to watch Adam Schefter attempt to catch passes from the Jugs machine, as seen on Sunday NFL Countdown. He cowered from the first two balls thrown his way, but he then caught a pass. Gaining confidence, Schefter announced that he'd try a one-handed grab. He managed to snag the pass, but fell down against the wall in the process.

Tom Brady, who was definitely watching this, undoubtedly grabbed his phone and texted Schefter:

"Adam forget the question I asked about whether Brandon Lloyd is available. I saw you make that catch on espn. Wanna play football for the pats plz? Also pix of Lindsay Czarniak?"


---


Random NFL Notes: Week 3:

1. I normally don't watch CBS' pre-game show, but Robley pointed out that they post a leaderboard of their fantasy league. "Shannon Sharpe had 60-70 something points while almost everyone else was 120+."

Why does Sharpe suck at fantasy so much? I had my programmers hack into CBS' Web site, so I was able to see Sharpe's starting fantasy lineup:

QB - Peyton Manning, Broncos
RB - Adrian Peterson, Vikings
RB - weg84w8 48gehr8ghreh, aoh
WR - 5h eitoio ghg 4h oetih, hgh
WR - 38y hgreoi n53hioo4n et, g93rg
TE - f8grwhrh go4rng oi5ngoen, goe
K - wrg8h 8g9 hg o45ihg oiwg or, ho5
DEF - Jaguars DEF/ST

2. Speaking of fantasy football, I had the NFL Network's fantasy show on TV randomly one night during the week. I had never watched this program, and based on what I saw, I never will again.

One of the guys - I have no idea who any of these people are - said the following quote: Jermaine Gresham was phenomenal last year." Gresham is a solid blocker, but he was speaking in fantasy terms. Gresham had 737 yards and five touchdowns. That's decent, but phenomenal? No.

The next segment featured some woman and a taller man. The woman kept asking the guy "burning" fantasy questions. Here's one: "Can Isaiah Pead claim the No. 1 running back job!?"

Umm... who cares? No competent fantasy owner has Pead on his roster unless it's like a 20-team league or something.

3. I enjoyed reading the following tweet from ProFootballTalk: "Per league source, Joe Flacco was not present for birth of child this morning as he prepared for Browns game."

I love it. Some athletes miss sports games because of childbirth, but unless they're popping out the baby themselves - I'm pretty sure Donovan McNabb did this at some point - they should be on the field. My argument is that Robert Baratheon went out hunting when Cersei was in labor. King Baratheon was awesome, so football players need to try to be as cool as him - minus the whole "marrying a woman who sleeps with her brother and gives you illegitimate children" thing.


---


Random NFL Notes: Week 2:

1. Bill Simmons and Cousin Sal discussed this on their podcast, so I want to reiterate it: It's an absolute joke that there were only two 4 p.m. games in Week 1. There were two reasons why this happened: First, FOX wanted everyone to see 49ers-Packers. In doing so, they were a**holes to the Seahawks, who nearly lost one of those dreaded 10 a.m. local start times. Seattle-Carolina should've been at 4.

And second, CBS didn't have any 4 p.m. contests because they wanted to broadcast tennis. TENNIS!!! Who the hell wants to watch tennis? The matches are super long and super boring. The ball just goes back and forth, and the only interruption is when the tennis players stop and whine about the ball being out of bounds or whatever. It's amazing that CBS doesn't understand that no one in their right mind would watch tennis over the NFL. Sure, there might be some crazy mental hospital patients who might be tuning in - and not to mention cats, who undoubtedly enjoy watching the ball go back and forth - but no functioning human being will buy any of the ads showcased during these silly tennis matches.

2. Of course, I'm contractually obligated to make fun of ESPN. The big news at the Worldwide Leader is that Ray Lewis joined Sunday NFL Countdown (or NFL Sunday Countdown, according to Keyshawn Johnson). I enjoyed reading two of the comments on ProFootballTalk about this:

ESPN's take: Since we're comfortable with sexual harassment in the workplace, we have no issue with murder outside it.

Of course they're comfortable with his history. They hire an alarming amount of low-class former athletes with shady pasts, whether its PEDs or criminal offenses. ESPN has no shame.

I happened to enjoy Lewis when he talked about off-the-field issues and he said, "I had no character flaws."

Sure, if you don't count the guy you killed!

3. Speaking of the Sunday NFL Countdown crew, the analysts spent some time discussing their key storylines for this season. Some of them were solid, but then Keyshawn Johnson gave us this gem:

"There are now nine NFL quarterbacks who are African American quarterbacks in the NFL."

Seriously, who the hell cares? I love when people say race shouldn't matter, yet these dopes on TV shove race down our throat. If everyone is equal, it shouldn't matter if there are nine or 29 black quarterbacks in the NFL.

And it's "black;" not "African American." Robert Griffin, Josh Freeman, Terrelle Pryor, etc. are not from Africa. If they're African American, then every single white person in this country is European American, and only crazy people who watch tennis would call themselves that.

4. One last note on TV announcers. FOX debuted Ronde Barber as the color analyst in the St. Louis-Arizona game. I missed it, but Facebook friend Steve T. said that Barber referred to Larry Fitzgerald as "Larry Johnson."

I'm sick and tired of these former players who suck as color analysts. Why do we need to hear them because they've played the game before? I'd rather have two analysts who have never stepped onto a football field. One could handle the sports betting aspect of it. The other could specialize in fantasy. I think it makes sense because the primary reasons people watch football are gambling and fantasy. I'd like to see one network pair their play-by-play guy with people like Fezzik and some sharp fantasy analyst (not Matthew Berry because he's a fantasy baseball guy).

5. If you haven't heard, Peter King stated that he will refuse to say the word "Redskins" in his column going forward. He will instead refer to them as the "Washington football team."

How arrogant is that? What sort of douche refuses to say the name of a team or a player in his writing? As punishment for King, I will now refer to him as Peter "Redskins lover" King. For example, I will write something like this:

"Peter 'Redskins lover' King" picked Robert Griffin and the Redskins to beat QB Dog Killer and the Eagles."

Oh, and the Redskins team name needs to stay.

6. There were no new team names this season, but the Dolphins and Jaguars have new logos. I don't mind the Jacksonville one, but the Miami logo is just stupid. It looks like a freaking whale. And where'd the helmet go? I already miss the old Dolphin.


---


Random NFL Notes: Week 1:

I love my job, but it can sometimes get annoying to answer the same question over and over again. Throughout the entire summer, I was asked the following three things about 100 times each:

1. What do you think about the Aaron Hernandez situation?

2. What do you think about the Riley Cooper situation?

3. Will the Eagles be good with Chip Kelly?

Might as well answer them here because I've done so in person so many times...

1. Hmm... what do I think about Hernandez...? Well, he's a complete moron, and not because he threw his entire life away. That's part of it, but if you really want to kill someone, how about you...

A. Not leave the body in the nearest industrial park where any jogger can find it.

B. Not make it completely obvious by disabling your security cameras and hiring a cleaning crew.

C. Get someone else to do it.

D. Either befriend someone at the local crematory so they can dispose of the body or buy a pet crocodile to eat the body.

E. Frame someone else on the team. For instance, he could've slipped a random note into Jake Ballard's house that said... "Hey, this is totally Jake Ballard. You know that Odin Lloyd guy? I hate him. He wore the same outfit as me at the last BBQ so now I want revenge, so I'm like going to kill him and stuff. Sincerely, Jake Ballard."

As you can see, I've clearly thought this through. NOT THAT I'VE KILLED ANYONE OR ANYTHING, I SWEAR!!!

2. I would've cut Riley Cooper. I thought the whole thing was going to be a huge distraction for the Eagles, but the team has done a good job of sweeping it under the rug. The fans even cheered Cooper when he made his second reception against the Panthers in the preseason, so they must hate black people as well.

It's a shame that Cooper got away with this. Chris Culliver wasn't punished either for doing the same thing (bashed gays instead of blacks) prior to the Super Bowl. I just think the NFL is sending a bad message. If they won't stand against racism, then who will?

And please, no BS about "freedom of speech." Freedom of speech ensures that people don't go to jail for what they say; it does not apply to any workplace. So, while Cooper and Culliver couldn't (and shouldn't) be imprisoned for being blatant racists, they should've at least received some sort of punishment as an example. After all, they're public figures and role models for children.

3. My prediction for Chip Kelly: I say he'll be the head coach of USC in 2015. I think his up-tempo offense can work in the NFL, but the same can be said for any system as long as the team has the right personnel. Kelly does not have the right personnel. The best quarterback on his team is a turnover machine who is easily confused by complex defenses. QB Dog Killer has looked good in the preseason, but I seem to recall Steve Spurrier's Redskins putting up tons of points in the 2002 exhibition campaign (32.8 points per game) and then flopping once the regular season began.

Oh, and here's something I wrote during the summer about Kelly (and his predecessor) that you might find amusing:

It was reported by certain outlets last week that Chip Kelly banned red meat and the beloved Taco Tuesdays from the Eagles' cafeteria. I've spoken to a reliable source who told me those reports aren't completely true.

"There's still red meat there, and they even served fried chicken the day after the report was made," the source told me.

Also, there are stacks of delicious cookies still available that the players take by the handful. My source wasn't sure if the Taco Tuesday report was accurate or not, though he did inform me that many were bummed out when they initially heard the news/rumor.

Having said that, Kelly is definitely trying to help the players be more mindful of their diet. The spoons in the cafeteria now say what serving size they are. Kelly is also making sure that the players have as much information as possible about maintaining a good diet.

Even stuff as simple as that is a much radical change from what Reid used to do. My source told me that Reid would bring countless boxes of Popeye's fried chicken on plane rides and hand them out to the players.

"I didn't get an exact number," my source said when I asked him how many boxes of fried chicken Reid brought aboard the plane. "I think he got a box for everybody."


Back to NFL Picks






2021 NFL Mock Draft - March 2


2022 NFL Mock Draft - Feb. 24


NFL Power Rankings - Feb. 11


NFL Picks - Feb. 8


Fantasy Football Rankings - Jan. 11