---
Random College Football Notes: Week 17:
1. If you haven't seen them, we have
College Football Bowl Picks
. Some of the bowl games we've covered thus far are the Magic the Gathering Bowl, Redwyne Arbor Bowl and the Haas & Milan Bowl.
What? You haven't heard about those bowl games? That's OK, just look at the matchups. I personally don't care about the names of these stupid games, or which companies are sponsoring them, so I've decided to create my own sponsors. Haas & Milan is my favorite fake sponsor. I don't care what anyone says; "Hungry for Apples?" is a great slogan.
2. I brought up that we have grades for the
2020 NFL Draft Underclassmen
last week. I want to delve into that a little bit.
I don't think we've had any surprise returns yet, but I assume there will be one or two. Whenever I've criticized first-round prospects for returning to school, there's always someone who replies to me, "But they're just trying to get their education."
I always dismissed this as nonsense because the players in question could make money in the pros and then go back to school later (or take online classes) to get their degree. Staying in school always seemed unnecessary.
Now, I think it might be detrimental. Given how universities have regressed into young adult daycare centers comprised of dumb safe spaces, corrupt professors who brainwash their students and courses about Antarctican Dance History, degrees are now more worthless than ever. My wife and I are thinking about having children soon, and unless my future kids want to become doctors or lawyers, I'm thinking about keeping them away from college, encouraging them to start their own businesses instead.
3. I've posted pictures of "hot Penn State girls" and "hot Ohio State girls" in the past, as per request from some commenters. I thought about not really saying anything about the Army-Navy game last week, aside from wishing Army and Navy would play against terrorist organizations like Al-Qaeda and Antifa.
I thought it would be funny to post pictures of "hot Army girls." I thought when I'd Google "hot Army girls," I'd see porn stars dressed in Army garb. Little did I know that there are a series of countless side-by-side images showing real girls in the Army and then pictures of them in bikinis or revealing tank tops. It's pretty wild! Here's an example: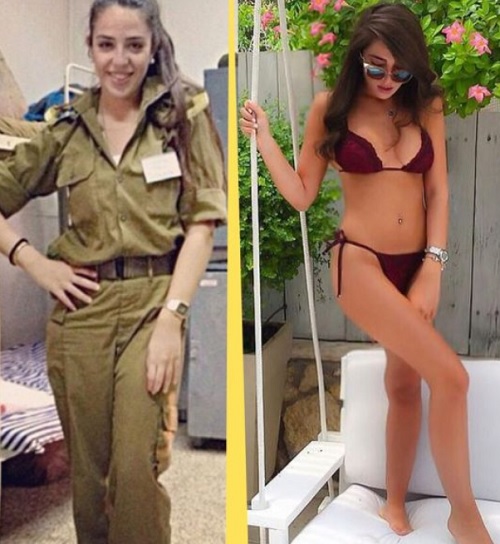 I had no idea this was a thing, but it's awesome! There are lots of side-by-side images like this, and they're worth checking out, even if you just want to be patriotic.
---
Random College Football Notes: Week 16:
1. Heisman Thoughts:
...
I can't say I really care about the Heisman. Most of the players who win the award tend to suck in the NFL. That's obviously not always the case, but there have been so many winners who have failed in the pros, so this award doesn't even matter to me. Plus, there was no intrigue this year. We knew Joe Burrow would prevail. Why was anyone else even invited to the ceremony?
Speaking of Burrow, here's our
Joe Burrow Scouting Report
that we just published this week. The pro player comparison will shock you!
2. Army vs. Navy Thoughts:
...
I suppose I don't really have any because I didn't watch the game. I don't think I've ever watched an Army-Navy game. I fully support both branches, it's hard to root for a specific one, you know?
I really wish they would switch it up so that Army and Navy would each play against bad guys. For example, Army could take on Al-Qaeda in the 12 p.m. slot, and then Navy would battle Antifa at 3:30. That way, we could root for BOTH Army and Navy as they play against terrorist organizations on the football field. It would be awesome.
3. As I wrote last week, there have been several head coaching hirings and firings in college football. We have grades for all of them in our
College Football Hiring and Firing Grades
page. See why Florida State made a huge mistake, and what our thoughts are on Ole Miss bringing in Lane Kiffin. We also added some new hiring grades, including one for Willie Taggart, who has been exiled to Florida Atlantic, much like Napoleon was exiled to Elba.
We also have grades for
2020 NFL Draft Underclassmen
decisions, so check those out as well!
---
Random College Football Notes: Week 15:
1. I usually try to find something to complain about regarding the college football playoff. However, I don't see anything wrong with the field the committee came up with. They were correct in moving LSU up to No. 1 ahead of Ohio State. LSU is clearly the better team. In fact, I'm puzzled as to why the Buckeyes were ahead of the Tigers in the first place. LSU seems unstoppable right now, while Ohio State is a bit overrated. In fact, I think you could argue Clemson over Ohio State, but the order of two and three doesn't matter.
That said, I still wish we had an eight-team field. Actually, I'd prefer 16 teams, but I think expanding to eight is the first step college football needs to take. If this year's college football playoffs were comprised of eight teams, I imagine the field would look like this:
1) LSU
8) Memphis
4) Oklahoma
5) Georgia
3) Clemson
6) Oregon
2) Ohio State
7) Baylor
I believe that in an eight-team field, the committee should include the highest non-power conference team as long as it has one or fewer losses, which would explain Memphis being No. 8. Otherwise, I think this would be an exciting eight-team field. Oklahoma versus Georgia would be a great matchup, and I'd love to see a shootout between Trevor Lawrence and Justin Herbert.
I imagine the top four teams would win this year, but I think that's because there's a clear-cut top four this season in college football. However, that's not always the case; sometimes there are six elite teams, so having an eight-team field is much better than what we have now.
2. The worst part of the entire college football season took place during the halftimes of the conference championships this past weekend. That's right - I'm talking about Dr. Pepper Challenge, which is where two college nerds compete for $100,000 by throwing footballs into a giant fake can of Dr. Pepper. Because education is highly correlated with the ability to throw footballs into a giant can.
I hate that the students that are featured in these competitions use grandma-type chest passes. It's so lame, and I was glad to hear the crowd - particularly those at the SEC Championship - boo the competitors. It was great, and well deserved.
Dr. Pepper, if you happen to read this, please outlaw these stupid chest passes. Make these students throw footballs the correct way. Otherwise, your whole competition is a sham.
Oh, and one more thing: My favorite sideline reporter Jamie Erdahl asked the one pre-med chick competing during the SEC Championship what she would do with the money. The aspiring med student replied, "This would take a huge burden off my family and I."
And I? AND I!?!?! This girl wants to be a doctor, and yet she can't get basic grammar correct? I hope she doesn't kill off her future patients with this terrible grammar!
3. There have been several head coaching hirings and firings in college football. We have grades for all of them in our
College Football Hiring and Firing Grades
page. See why Florida State made a huge mistake, and what our thoughts are on Ole Miss bringing in Lane Kiffin.
---
Random College Football Notes: Week 14:
1. I'd like to write about the action that took place in the Ohio State-Michigan game - the Wolverines killed themselves with so many mistakes in the red zone when the game was close in the first half - but I couldn't concentrate after what I saw during the halftime show:

Why were there so many people at the table? Were they having a belated Thanksgiving dinner? I don't understand why FOX Sports believed it needed six people to analyze the first half of this game. Five would even be too many, but six!?
The first thing I thought of when I saw this was, well, I'm sure all of you will remember this:
2. Speaking of these analysts, does anyone else find it odd that there are so many NFL failures on the set? Matt Leinart and Brady Quinn had abysmal NFL careers, while Reggie Bush was a disappointment for where he was drafted. Maybe it's because I'm way more of an NFL guy than a college football fan, but I can't get past the fact that Leinart and Quinn were such losers in the pros. I even forgot that they were great in college football, given how bad they were in the NFL.
Here's something else I can't get over: Quinn's scarf. What self-respecting man wears a scarf? It's embarrassing. In fact, Quinn's fashion choice might be worse than his NFL career! OK, maybe not.
3. A few weeks ago, I posted something about hot girls from Penn State because a commenter below said the following:
"You need to include more pictures of hot girls."
Another commenter echoed those sentiments this previous weeks, so in honor of the Ohio State victory over Michigan, here's what I found on Google when searching "hot Ohio State girls:"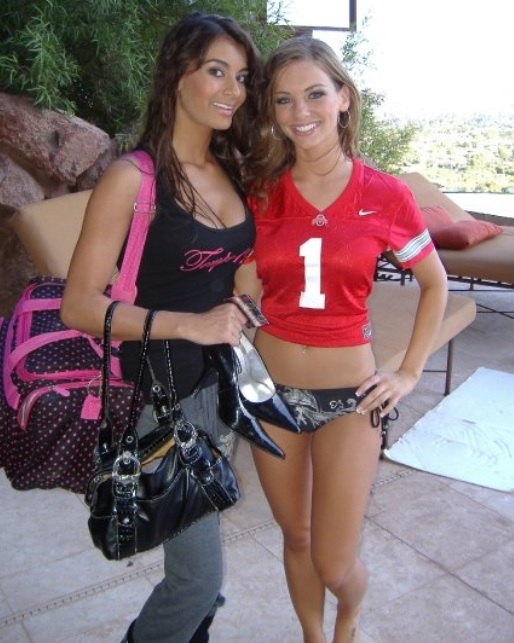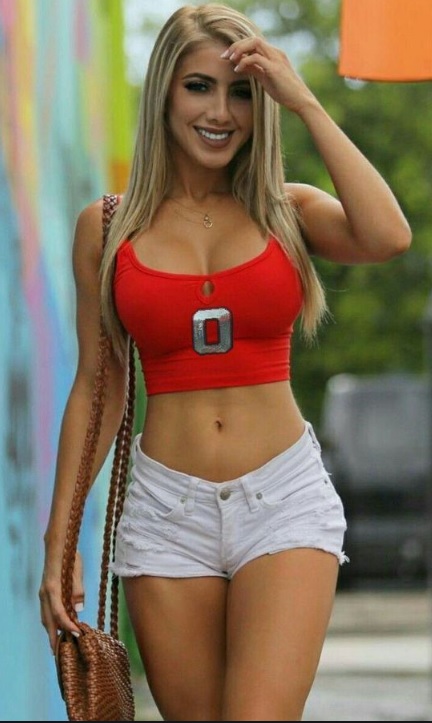 Not to get too distracted from football, but I have Ohio State quarterback Justin Fields to the Broncos in my
2021 NFL Mock Draft
. Given that he nearly suffered a scary injury in the Michigan game, Fields should consider sitting out all of 2020 in preparation for the NFL. He should learn from Tua Tagovailoa's mistake.
---
Random College Football Notes: Week 13:
1. Something that's always frustrated me about college football was something I saw on the bottom of the screen while watching Ohio State versus Penn State:
Alabama 59, West Carolina 3
It was Nov. 23 when I saw this - as in Week 13 of the college football season. Why in the world is Alabama playing West Carolina this deep into the season?
I hate this, and I think the NCAA should outlaw nonsense like this. We don't have much of a sample size to determine how good college football teams are in the first place, so for there to be a wasted opportunity to see Alabama go up against a viable opponent is ridiculous. I can understand scheduling West Carolina for the season opener as a pseudo preseason game, but after Week 1, no power-conference team should be able to play an opponent of the caliber of West Carolina.
In fact, if I were the college football playoff committee, I would count this as a loss, which would pretty much disqualify Alabama from the playoffs. If the committee begins assigning losses to teams battling I-AA opponents, we'll quickly see power-conference schools scheduling tougher opponents, and thus creating more entertaining games.
2. And yes, it's I-AA. I hate these new acronyms that college football uses to make the lesser Division I segment feel better about itself. These are grown men, and thus they should not have feelings.
I suppose there's a negative connotation to I-AA - it's the only reason I can think why they changed it - but I refuse to call these Division I segments by their acronyms, in part because I can't remember what the hell they are. Is it FSC? FSB? FBC? BFC? I can't remember what the hell to call these stupid things, so it's Division I-A and Division I-AA for me, no matter what anyone else says.
3. Speaking of dumb NCAA things, I thought the following headline on Twitter was ridiculous:
Memphis star freshman James Wiseman must sit out 12 games total and will be eligible to return to the Tigers on Jan. 12, the NCAA announced Wednesday.

Wiseman will also have to donate $11,500 to a charity of his choice.
Wait, what? How can a college player donate five figures to the charity of his choice when they're not paid? I understand that the NCAA has accused him of receiving this amount of money from a former coach, but how can the NCAA force a player to give any sort of money away, no matter where it came from? There was nothing illegal about the sum of money Wiseman received; it just violated an NCAA rule. Thus, the NCAA forcing a player to give money away just so that he can play sounds dicey to me. I wonder if Wiseman can have a legal case against the NCAA.
Either way, Wiseman should tell the NCAA to f**k off. So what if he can't play for Memphis? He should just focus n the pros, and I would advise all college players to do the same until the NCAA changes its archaic and barbaric rules.
---
Random College Football Notes: Week 12:
1. It always sucks to lead off the notes with an injury, but that's necessary with Tua Tagovailoa being carted being off the field during the win over Mississippi State.
Nick Saban is one of the best head coaches in college football history, but he's had a rough season. He didn't have a good game plan versus LSU despite having extra time to prepare, and then he had a worse coaching moment the following week.
Can someone explain why Tagovailoa was on the field when the team was up 35-7? It'd be one thing if he were healthy, but Tagovailoa has been dealing with an injury. He hurt his hip rather than his ankle, but this may have been avoided had Tagovailoa maintained his complete mobility. It's also not uncommon for hurt players to suffer other injuries because they're overcompensating.
I Either way, it was a huge mistake for Saban to keep Tagovailoa on the field. In fact, it was downright irresponsible. Tagovailoa went to play for Alabama so that Saban could prepare him to play in the NFL. Saban's decision-making might end up hurting Tagovailoa's standing in the NFL Draft.
I don't know what Tagovailoa's outlook is for the rest of the year, but he should never play for Alabama again. He needs to think about his future, and Saban clearly has no regard for it because he wants his national champion quarterback to practice 2-minute drills against crappy opponents.
2. UPDATE: What I wrote earlier occurred before the severity of Tagovailoa's injury was known. Tagovailoa was flown to a hospital with a freak dislocated hip injury, and he's officially out for the season. It sounds like it'll be difficult for him to play at the start of 2020, and there's a chance he may never be able to play football again. A doctor on Twitter compared the injury to the one Bo Jackson suffered. Let's hope he's wrong.
I think this injury should serve as a shockwave across college football. Had Tagovailoa opted to sit out this season - allowing him to make money via commercials instead - he still would've been the No. 1 pick in the 2020 NFL Draft. Now, there's a chance he won't even be chosen in the first round - Charlie Campbell says top 20 is still possible in his
College Football Game Recaps
- but his status will greatly depend on medical evaluations. We can only hope that Tagovailoa took out an insurance policy.
Given that playing an extra season negatively impacted Tagovailoa's draft status, it should send a clear message to other top prospects. If I'm Justin Herbert, or Joe Burrow, or even Trevor Lawrence, who isn't even eligible for this upcoming draft, I would quit playing college football right now and begin preparing for the pros. Not only will this keep them healthy, it'll allow them to make money off their likeness via commercials. Until the NCAA changes its archaic rules, no top prospect should ever set foot on a collegiate football field.
3. The live reaction on ESPN to Tagovailoa's injury was ridiculous. The analysts listened to what Saban said about having Tagovailoa practicing the 2-minute drill, and both guys - one was Mark Sanchez - said something like, "That's a good argument. That makes sense."
How the hell does that make sense? Tagovailoa is arguably the best quarterback in college football. He won one national championship and participated in another. What in the world is there for him to gain from practicing the 2-minute drill against crappy Mississippi State? If anything, I'd think scoring a touchdown versus Mississippi State in the 2-minute drill would be deterimental, as it might provide Alabama with a false sense of confidence. It's not like Tagovailoa was going up against the 1985 Chicago Bears!
I wonder if the ESPN analysts refused to criticize Saban because they were scared of losing potential interviews with him. It reminded me of the super-hot Amy Robach saying that ABC didn't air her Jeffery Epstein story because the network didn't want to lose the opportunity to interview loser royals Harry and Kate, or whatever those idiots' names are.
---
Random College Football Notes: Week 11:
1. LSU beat Alabama in a thrilling game, but something that people need to remember is that Tua Tagovailoa was not 100 percent. He was clearly hobbled, as he refrained from running in some usual scrambling situations.
Assuming the Crimson Tide don't lose another game, I think excluding them from the college football playoff would be a huge mistake. The case could still be made for them to be the best team in college football once Tagovailoa will be completely healthy, which I assume will happen by January. In fact, I think Alabama would beat LSU in a rematch with a 100-percent Tagovailoa.
2. Speaking of LSU, I've been asked about Joe Burrow's outlook for the 2020 NFL Draft. I've also seen Burrow being projected first overall in some of our
Reader NFL Mock Drafts
(where you can make your own mock drafts.)
Burrow is actually not considered a first-round prospect. Charlie Campbell reported that
NFL Teams See a Day 2 Ceiling for Joe Burrow
. You can check out why via the link. It's a good read.
Having said that, because teams think Burrow is a second-round prospect, that probably means he'll be chosen in the mid-first-round range. Teddy Bridgewater, Deshaun Watson and Lamar Jackson are quarterbacks who received second-round grades, yet ended up going in the opening frame because of how desperate teams are for quarterbacks. So, if I were to guess, I'd say Burrow goes on Thursday night, but after Tagovailoa and perhaps even Justin Herbert.
3. Someone in the comments below remakred that my college football notes have been boring lately.
"You need to include more pictures of hot girls," they said.
If you're wondering what college football and hot girls have to do with each other, you've never lived on a college campus. The thing I miss most about living at Penn State was being surrounded with 30,000 girls my age, many of whom were attractive. I lived on campus for six glorious years, and yet that wasn't nearly enough.
That said, I don't know why this individual couldn't just go elsewhere for pictures of hot girls. If I google "hot Penn State girls," these are two of the first images that are found: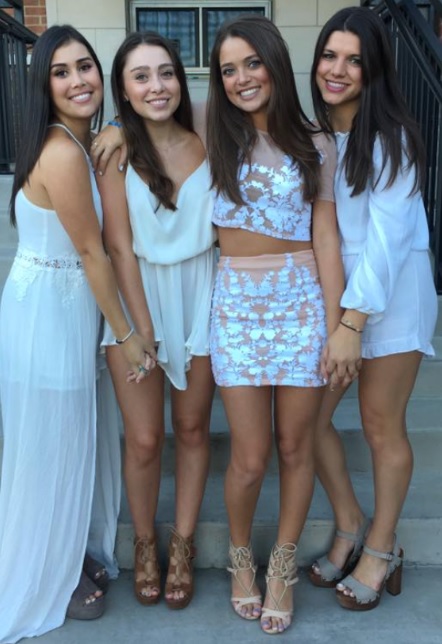 There you have it. Hot college in the college football section. This could have been avoided by just googling it, but I'm sort of happy I looked it up myself, as it allowed me to re-live my days of being rejected by hot chicks like these.
---
Random College Football Notes: Week 10:
1. Congratulations to the NCAA for finally entering the 21st century! If you somehow missed it, the NCAA has adopted a rule in which players can now earn money based on their likeness. This is a great decision that should've been implemented decades ago. I don't understand what has taken so long, as I've been writing about it for years. But better late than never, I guess.
The thing is, it's still too late. While there will be a rule change, it won't become official until 2023.
I don't understand why it would take so long. It's ridiculous that the athletes entering school this fall won't ever be able to make money off their likeness at all. If I were these athletes, I'd try to file a class-action lawsuit against the NCAA so I can make money as well.
Why wait until 2023? How about next week? It seems so stupid that a rule this simple would take more than four days; let alone four years to implement.
2. Speaking of the players entering college soon, I wanted to point out that our
College Football Recruiting Rankings
are updated.
Check them out to see where the top prospects will be playing soon, and if your favorite school will obtain any of them. If you went to a mid-major or 1-AA school, my condolences.
Also, I wanted to point out that we'll have live grades on National Signing Day, so I'm excited for that!
3. Earlier in the year, I wanted to point out one of ESPN's analysts, but simply forgot. This analyst is Mark Sanchez. When I saw him on TV, I immediately thought, "This guy is a bum! Why is he a football analyst of any sort?" And then I remembered that this is college football, where the NFL's losers thrived for three or four years.
ESPN welcomed Sanchez by showing some of his great highlights of a win over Penn State in one of those meaningless bowl games no one ever remembers the results of. Sanchez had a bright smile on his face after these highlights aired, as he was re-living his glory days. That changed when the host added, "And then, Mark was drafted by the Jets," and Sanchez immediately looked upset, which had me rolling over in laughter.
---
Random College Football Notes: Week 9:
1. "Can you believe what we're watching, here in Manhattan?" a FOX Sports announcer asked at the end of the third quarter in a game between Kansas State and Oklahoma, which was apparently played at a neutral site in New York.
Yes, I believed it! I've been saying for weeks that Oklahoma is overrated. Weeks ago, I mentioned that the Sooners would've been down 21-7 at lowly Kansas if it weren't for a couple of drops. That was a sign that the Sooners weren't as good as people thought they were. If the voters in the fake news Associated Press would actually watch the games, they would have downvoted the Sooners into the 10-12 range rather than keeping them at No. 5.
I think this is a lesson that people should actually consider what happens in games as opposed to just looking at records. Bill Parcells once said "You are what your record says you are." Maybe that works in the coaching world, but Parcells was never charged with handicapping football games and trying to determine which teams were the best in the country.
2. Speaking of handicapping football games, our
College Football Picks
have been on a tear this year, so check them out if you haven't already. We had Kansas State last week as one of our top plays.
(And yes, I know that Kansas State game was in the state of Kansas; not New York!)
3. In my NFL notes, I mentioned that a pet peeve of mine is when football announcers say something like, "He scored from seven yards out." This is incredibly annoying because it's so grammatically awful. He scored from seven yards! You don't need the "out!"
This is said by many college football announcers as well. Meanwhile, another pet peeve of mine concerning college football is something that cheerleaders shout. One cheerleader during the Penn State-Michigan game yelled the following during the game:
"Let's go State!"
I hate this so much. I despise it when anyone says "Let's go State." Which state!? There are 50 of them!!!
Look, I know that in a matchup between Penn State and Michigan, "State" is obviously Penn State, because it's the only state school on the field. Still, though, if I went to Ohio State, for example, and I heard a cheerleader shout, "Let's go State!" I might think that she was talking about my school for a second.
This is incredibly annoying and needs to stop. The next time someone says, "Let's go State," tell them to f**k off and specify which state.
---
Random College Football Notes: Week 8:
1. Someone will need to explain to me why Clemson dropped in the rankings. The Tigers fell to No. 3 this past week, moving behind LSU on the AP Top 25 poll. They remained second in the coaches' poll.
Does anyone really think LSU would be favored over Clemson on a neutral field? This is absolute nonsense, and it's proof that the idiots in the Associated Press shouldn't be voting on anything; let alone college football rankings. In an era in which the news has been exposed as undeniably fake, it's mind-boggling to me that college football would still associate itself with the Associated Press.
2. Speaking of Clemson, does anyone else find it depressing that
Clemson is the favorite to land D.J. Uiagalelei
? He's the top quarterback recruit, for those of you who have never tried to spell that bizarre last name.
It's depressing because the rich will just get richer. I imagine this Uiagalelei character will sign with Clemson as long as Dabo Swinney remains at the school. It's crazy because the Tigers have been able to enjoy Deshaun Watson and Trevor Lawrence, and once the latter leaves, they'll be able to start Uiagalelei, who will continue to make sure that the Tigers win almost every game.
This is why college football tends to be a bit too boring for me sometimes. It's not like college basketball, where you can have a Davidson or a George Mason come out of nowhere and threaten to win the title. Just once, I'd like to see one of the top college football recruits consider going to UT-Chattanooga, or Morehead State, or Weber State. And then, one of those schools could be voted into the top 25 by fake-news writers.
3. Still speaking of Clemson, there were a couple of noteworthy things from its game against Louisville this past Saturday. One special-teams guy was ejected for throwing punches. He did so while he was on top of a Louisville player, and he fired a couple of punches at the Cardinal player's helmet.
How dumb is this, seriously? Someone wearing a helmet will feel nothing if you punch him in the helmet. That's the whole point of the helmet! If anything, go for the throat! Try to strangle him like Homer Simpson does to Bart. Punching someone in the helmet can only hurt you. In fact, it wouldn't surprise me if the Clemson player broke or fractured his hand!
Also, one of the announcers said something strange:
"I'm not a fan of quarterback flip-flopping, but that's why coaches coach."
That's why coaches coach.
What the hell does that even mean? Coaches coach because they are opposed to an announcer's quarterback flip-flopping? Does that sound right to anyone? I'm guessing that coaches coach for other reasons.
---
Random College Football Notes: Week 7:
1. Last week, I wrote something about the California pay-to-play laws. Here's an excerpt:
The result is simple: As with everything else in California, the rich will get richer, while the poor will get poorer. All of the rich schools that can afford to pay the elite players will have an even greater advantage, while the schools struggling to stay afloat will get even worse. There will be no middle class, which, coincidentally, is something that no longer exists in the state of California.

With that in mind, I'm not sure what to make of this. Athletes should be paid in some way, though I think that should be via sponsorships and whatnot. The schools paying the players directly seems weird, even with the insane amount of money they make. However, seeing parity vanish in college football is not very appealing.


This did not sit well with someone in the comments:

I heard otherwise, but if a guy in the comments says I'm wrong about it, I guess I'm wrong.
I could Google it to make sure I'm right, I suppose, but meh. I'll just let other commenters complain. What's important is that I got to make fun of California because of its poop and needles problem.
2. We have a new entry in the
College Football Coach Firing Grades
page. It's for Kansas firing offensive coordinator Les Koenning. Check it out to see what we think of Kansas' firing.
3. Speaking of Kansas, I discussed the possibility of the Sooners being overrated because the Jayhawks would've been up 21-7 had it not been for a pair of mistakes. I considered the possibility that Oklahoma may have been looking ahead to the Red River Rivalry, however, and it appears that was the case. Oklahoma led from start to finish versus Texas, albeit in a close game.
The primary reason the Sooners prevailed was wide receiver CeeDee Lamb, who was spectacular. Lamb is currently the third receiver chosen in my
2020 NFL Mock Draft
, but I imagine he'll be moving up in Wednesday's update!
---
Random College Football Notes: Week 6:
1. The NCAA is going insane. Check out this new story I saw on Twitter the other day: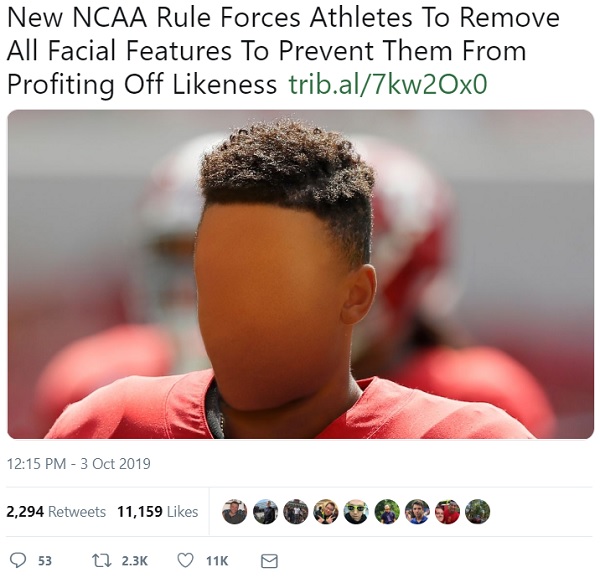 From my understanding, all players are going to have to shave their beards and mustaches, and also remove all rings and tattoos so that they can't profit off their likeness in response to these pay-to-play laws that just passed.
How ridiculous is all of this? I can't believe the NCAA is so greedy. Unreal.
2. Speaking of the pay-to-play laws, I was asked how it will affect the California schools. The result is simple: As with everything else in California, the rich will get richer, while the poor will get poorer. All of the rich schools that can afford to pay the elite players will have an even greater advantage, while the schools struggling to stay afloat will get even worse. There will be no middle class, which, coincidentally, is something that no longer exists in the state of California.
With that in mind, I'm not sure what to make of this. Athletes should be paid in some way, though I think that should be via sponsorships and whatnot. The schools paying the players directly seems weird, even with the insane amount of money they make. However, seeing parity vanish in college football is not very appealing.
Oh, and by the way, that story above about players having to shave their beards and mustaches was from the Onion. If I fooled you, sorry!
3. Is Oklahoma overrated? It might be weird to say this, given that the Sooners are coming off a 45-20 victory and have a quarterback everyone is saying could win the Heisman Trophy.
However, the Sooners were very close to being down 21-7 at Kansas. A Jayhawk player dropped a pass on fourth down in Oklahoma territory when the game was tied at seven, and then another Kansas player dropped a pick-six. There's a very good chance the Jayhawks could have been up 14, which may have caused Oklahoma to panic and press.
Then again, perhaps the Sooners were a bit flat because they were looking ahead to battling Texas next week. I suppose we'll discover how good they are in the Red River Rivalry.
---
Random College Football Notes: Week 5:
1. The biggest college football related-story was the Carson King drama this week. If you somehow missed it, a college football fan named Carson King held up a sign for people to donate money to him for beer during ESPN's pre-game show. People began giving money to him, so he denoted it to charity instead. He ended up raising $2 million for a children's hospital. Anheuser Busch jumped onto the charity and matched King's donation. However, a scumbag reporter working for the Des Moines Register dug up tweets King published when he was a teenager. King had a couple of "racist" tweets in which he was quoting a Comedy Central show,
Tosh.0
, yet this didn't matter. Anheuser Busch "canceled" King, based on what he wrote when he was a kid.
The great irony is that the douche bag who dug up these tweets, Aaron Calvin, had racist tweets of his own. He was promptly fired from the Des Moines Register. Not that it matters because no one reads newspapers anymore anyway.
I'm normally not one to advocate for a firing based on what someone said or did as a child, but I'm glad Calvin was canned. He was a miserable a**hole who was attempting to ruin a charity that was helping kids with cancer. Why would someone do that? How can you be so miserable that you want kids to die of cancer? What a piece of s**t.
That said, Anheuser Busch deserves major criticism as well. What the hell are they doing listening to what some amateur beta male Harry Potter-look alike newspaper reporter has to say? Who the hell cares? There might be like 20 people who are mad about it on Twitter, but those miserable idiots will just find something new to get angry about the following day. Appeasing these worthless morons does more harm than good because I am now willing to refrain from buying any Anheuser Busch product, and if you care about kids getting cured from cancer, I urge you to do the same.
2. On a far less serious note, there was a player in the Wisconsin-Northwestern game named Wildgoose. I couldn't believe it. I'm just disappointed that the announcers didn't say it was a "Wildgoose chase" when he was running after someone.
The announcers in that game, however, were brutal. One of the guys said something like, "Those players are like magnets, they attached to each other."
Isn't that only half true? Like, if you place two of the same poles of a pair of magnets next to each other, they repel. Shouldn't the announcer have clarified that he was talking about opposite poles?
3. I'd be remiss not to thank FoxNews.com for linking to me last week! This was a story about
Shea Patterson's brother trashing Jim Harbaugh
, but the important thing was that they linked to our quarterback prospect rankings, which was awesome to see.
---
Random College Football Notes: Week 4:
1. When UCLA was down 30-something to Washington State late Saturday night, I had the urge to tweet, "There's something oddly satisfying about watching Chip Kelly get blown out."
Fortunately, I got distracted and didn't do that. It would have looked very foolish amid UCLA's unbelievable comeback that saw them prevail 67-63.
Well, there was something oddly nauseating about watching Kelly prevail in heroic fashion like that. Kelly tried his hardest to lose, going for it on fourth-and-5 when a field goal would have tied the game, and having his kick returners kneel down nonsensically, but UCLA somehow won. What a horrible night to have a Kelly comeback.
2. Still, I'm not going to complain. I didn't bet on Washington State, or anything; I just wanted to see Kelly lose. I'm not even sure why, but I just love seeing him lose.
Speaking of bets, if you haven't seen our
College Football Picks
, they are on fire this year! We're 15-5 thus far, thanks to the computer model I've been using for college football, the NFL and the NBA (as well as baseball, a bit.)
I'm not sure if this hot streak will continue, but I'm going to continue to keep trusting the computer, which was very profitable in the NBA regular season (not so much in the playoffs.)
3. One of my pick losses was in the Cal-Ole Miss game. If you didn't see what happened, the Rebels appeared to throw a tying touchdown at the end of regulation that would have sent the contest to overtime. Ole Miss was trailing by double digits throughout most of the second half, so I was thrilled about this.
Unfortunately, the official spotted the ball inches short of the goal line. The thing is, this official actually had his foot ON the goal line, so based on where he spotted it, Ole Miss should've been awarded a touchdown. Of course, there was no way of knowing if the Rebel player scored because it was so close.
With that in mind, I'd like to propose having chips in footballs from now on. That would prevent this spotting nonsense from happening, where old men with their declining eyesight decide games. I'm sure chips would be expensive, but the NCAA rakes in billions of dollars each year. I'm sure college presidents can live with six yachts instead of nine, so if they're willing to make that sacrifice, this can happen.
---
Random College Football Notes: Week 3:
1. Congratulations to the Kansas Jayhawks for defeating Boston College! They won by 20-plus despite being 20-point underdogs. Our friend Thor Nystrom from Rotoworld asked on Twitter how many times this has occurred this past decade.
The answer is nine, so this was the 10th time. I was able to look it up on
Killer Sports
, which is a great site to get sports-betting data.
At any rate, I thought Les Miles was going to turn Kansas' program around, but I didn't think it would happen this quickly. I still can't believe that people were so against that hire when it happened. It's not like Miles is going to get Kansas to the playoffs or anything, but he'll certainly have them in bowl contention each year. And I think that's the best Kansas could ever hope for.
2. Speaking of college football coaching hirings, we graded the Jim Leavitt hiring at Florida State in our new
College Football Hiring Grades
page. We'll have grades for every college football coaching hiring and firing there.
3. I haven't discussed the college football halftime shows yet, so I imagine I'll be addressing them in the coming weeks. One of the halftime analysts on FS1 is Matt Leinart, whose skin is looking a bit wrinkly from being in the hot tub with Nick Lachey so much.
Perhaps the bromine from the hot tub has affected Leinart's brain as well because he said the following when discussing Oklahoma State:
"He's the first dual-threat quarterback Mike Gundy has had in a while. You have to go back to Mason Rudolph."
Wait, am I wrong, or didn't Rudolph play for Gundy just a couple of years ago? He was selected in the 2018 NFL Draft, per my memory, so why does that constitute as a "while?"
I don't understand why these networks think that former players can serve as the best analysts. It seems as though bromine has permanently damaged Leinart's brain, so perhaps he should be replaced.
---
Random College Football Notes: Week 2:
1. The big game in the early Saturday slate was one that wasn't expected to be close. Yet, Army had Michigan on the ropes. In fact, the Black Knights may have won if their quarterback didn't throw an insanely stupid interception in the red zone in the second half. They could have kicked an easy field goal instead, rather than going to overtime.
I was rooting for Army, like all of you non-Michigan alumni. Sadly, the Wolverines prevailed. They strip-sacked the overwhelmed Army quarterback in overtime. He was forced into throwing for once - Army ran the ball 30 straight times at one point - and he just couldn't do anything against Michigan's pass rush.
As the Wolverines recovered the turnover, the entire stadium errupted in joy - and yet, I didn't really get it. Why was everyone so happy? They nearly lost to freaking Army! This was nothing to be happy about.
If I voted in the college football polls, I'd drop Michigan 20 spots for this near-defeat. There's no reason Army should have been able to hang with a top-20 college team, which means that Michigan is not a top-20 team.
2. Speaking of Michigan, I really wonder if this is Jim Harbaugh's final year in college football. He has been a failure at Michigan, which is an utter shock. Harbaugh was so good in the NFL, so he should go back there. It's a shame he left the pros in the first place.
Michigan has been competitive under Harbaugh, but they've never had great success. Losing to Army would have been the final straw. Michigan narrowly escaped, which probably doesn't bode well for the remainder of their season.
Again, I need to emphasize that Michigan nearly lost to Army, a team, by the way, that had an absurd number of guys whose last name was "Army." Seriously, it seemed as though everyone had "Army" on the back of their jersey, if you didn't watch. This must be so confusing, especially to the Army announcers, who probably say, "Army throws it to Army, who gets a block from Army, touchdown Army!"
3. For those of you who haven't seen it, we now have:
College Football Recruiting Rankings
- A list of the top college football recruits, and where they're planning on going to college.
College Football Recruiting Commitments
- Tracking where the latest college football recruits are committing to, plus a grade for each school.
College Football Recruiting Grades
- Grades for each school's recruiting class thus far, plus rankings.
If you click on the bottom link, you'll see that neither Alabama nor Clemson is No. 1 anymore! Check out who has the top recruiting class this year.
---
Random College Football Notes: Week 1:
1. I don't know about you, but when I saw Justin Herbert bang his knee in the Auburn game, I immediately thought the worst. I was hoping he wasn't hurt, but then I recalled how foolish he was for returning to school when he would have been a probable top-five pick in the 2019 NFL Draft. He almost ruined his future just like that.
If I were Herbert, I would really think about shutting things down. I know he'd be criticized heavily by the media, but we've seen college football players refuse to play in bowl games and not be punished on draft day. Nick Bosa left his Ohio State teammates even earlier, and yet he was the second pick in the draft. If Herbert said goodbye to Oregon today, his standing in the 2020 NFL Draft almost certainly wouldn't be affected.
2. Now, if Herbert were paid, things would be different. I don't think the colleges should give money directly to the players, as it would cause an even greater disparity between the haves and have-nots in college football, but I think that college players should be able to obtain their own endorsements.
I see no harm in this, and I think it's bulls**t that this is against the rules. If Pepsi wants to have Herbert be their spokesman, I don't see why he has to turn that down. If a local business wants to have one of Herbert's teammates appear in a commercial, why couldn't he? The NCAA makes so much money off these athletes, so why can't they earn anything, especially if it's not directly from the NCAA?
3. I don't remember if I discussed this last year or not, but I really, REALLY hate ESPN's scoring graphic for college football. Take a look at this if you don't know what I'm referring to:

If you study this long enough, you know exactly what's going on. There's 9:57 remaining in the third quarter, with 10 seconds on the play clock. It's second-and-11. Easy enough.
However, a quick glance tells a different story. When I see 9:57 left on the clock, I then notice the "2nd" under it. My brain automatically assumes that there is 9:57 remaining in the second quarter, and then that it's third-and-10. Because time is associated with what quarter it is, that "2nd" immediately becomes part of the time for me. I have to think about it for several seconds before I realize that it's the third quarter.
I really wish ESPN would change this before I lose my mind. The quarter should be next to the time; not on the bottom. Of course, ESPN refuses to fix all of its other problems, so I don't expect this to be addressed anytime soon.
Back to
NFL Picks
2021 NFL Mock Draft
- March 2
2022 NFL Mock Draft
- Feb. 24
NFL Power Rankings
- Feb. 11
NFL Picks
- Feb. 8
Fantasy Football Rankings
- Jan. 11