Random College Football Notes, Week 17:
1. I think some announcers need to calm about the bowl games they're broadcasting. They're discussing matchups between South Tennessee State versus East Dakota University in the Ultra-Pro Deck Box Bowl, and they make it sound like it's the most important thing of all time. Here's an example from one of the doofuses on the New Mexico Bowl telecast:
"We can't stress the importance of this game!"
Oh yeah, I'm sure... since, you know, the only people watching this hot mess are degenerate gamblers like me.
Also, the NCAA needs to put forth some effort into its bowl names. Take the Cure Bowl, for example. How lame is that? Everyone knows Cure sucks. Cura isn't even good enough. Now, if this were named the Curaga Bowl, now that would definitely hold some importance.
2. Draft Season is quickly approaching, and we've already begun posting
NFL Draft Scouting Reports
. Little did I know that someone would write a scouting report on me recently.
It all started when I posted the following picture on Facebook, citing that I might just be the worst Christmas present wrapper of all time:
Facebook friend Stephen O. shared his scouting report of me and my gift-wrapping: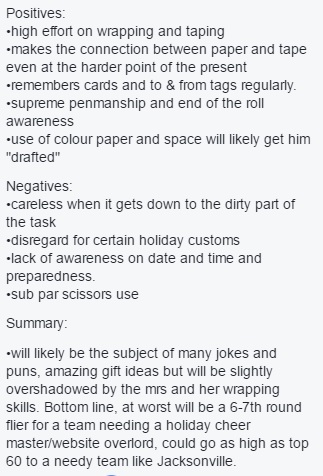 I definitely do anticipate the Jaguars selecting me pretty early, now that I think about it!
3. The following news report raised questions for me:
Florida CB J.C. Jackson was arrested for armed robbery. Jackson apparently turned himself in to authorities, but police are still looking for the two other men involved in the incident. One of the three pulled a firearm on the victim while others stole an Xbox and marijuana.
The one omission here is whether or not Jackson stole an Xbox One, an Xbox 360 or a regular Xbox. If it's the One or the 360, I can see there being outrage. But if it's an original Xbox, does anyone really care? It would be like someone stealing a VHS player. I think police would actually laugh at that rather than begin an investigation.
Random College Football Notes, Week 16:
1. There was never any doubt Leonard Fournette and Christian McCaffrey would declare for the 2017 NFL Draft. The former is a possible top-five pick, while McCaffrey could be chosen in the first round. They are running backs to boot, so they're at greater risk of an injury. Their decisions to bolt for the NFL were no-brainers.
Their decisions to sit out their bowl games were no-brainers as well.
For those of you who haven't heard, Fournette opted to deactivate himself for his school's upcoming bowl game. He's gotten a ton of flak for this. And for no good reason, either. The same is happening to Stanford's Christian McCaffrey on Monday afternoon, as McCaffrey has opted to make the same decision.
First of all, non-playoff bowl games are meaningless. Even the Rose Bowl, Sugar Bowl, Orange Bowl and Fiesta Bowl. Winning those games does nothing. If LSU loses because Fournette isn't on the field, so what? How will that change anything? Will Stanford suffer any repercussions because it won't have McCaffrey for the Sun Bowl? Absolutely not.
Second, it's the freaking Citrus Bowl and Sun Bowl, people. The Citrus Bowl isn't even good enough to be the Orange Bowl. It's the freaking Citrus Bowl. I didn't even know that was a real bowl until today! Seriously, if you're an LSU student, are you planning on telling your grandkids 50 years from now about the great Citrus Bowl game LSU played in? How about some perspective?
The Sun Bowl is even worse. At least you can put citrus fruits into a bowl. Try putting the sun into a bowl, and see what happens. The people who are angry about these decisions should be put into a rocket sailing toward the sun.
And finally, Fournette and McCaffrey were in school merely to go to the pros. If you're in school to be a newspaper writer, you take journalism classes. If you want to be a programmer, you take computer science courses. If you want to be someone who spends all your money at Starbucks, you'll be an art major. Fournette and McCaffrey are there to be NFL players, and they've done enough to be a early draft choices. Playing in the Citrus Bowl and Sun Bowl would put them at risk. What if they get hurt? What if it's such a major injury that they're knocked out of first-round consideration? Just ask Jaylon Smith how much playing in some stupid bowl game meant to him!
Fournette and McCaffrey are simply doing what every other hypocrite would be doing if they were in their shoes - they're looking out for their own best interests. If that means not playing in some stupid Citrus Bowl or Sun Bowl game, then so be it.
2. Speaking of players entering the draft, we have an
Underclassmen Draft Tracker
available. I post my thoughts on each prospect who announces he's staying or going to the pros. I also post various reports about prospects who are unsure.
Ohio State safety Malik Hooker doesn't think he's going pro. He had this to say:
"Right now it's 100-percent sure I'm coming back to Ohio State."
What a weird statement. It'd be one thing if he said, "Right now, I think I'm coming back to Ohio State," or "I'm 100-percent sure I'm coming back to Ohio State." But with his quote, could anyone be more wishy-washy?
Right now
, it's "100 percent," but what does "right now" have to do with anything? He doesn't have to decide right now, so what does it matter if he's "100 percent" right now? In this moment, he was 100 percent, but perhaps he ate spaghetti that night and dropped to 90 percent. What if he shot a game of pool afterward, scratched on the 8-ball, tore someone's guts open and then dropped to like 3 percent? It's impossible to gather anything concrete from his statement!
3. Seeing Washington head coach Chris Petersen raise the 12th Man flag in the Seahawks-Rams game last Thursday reminded me that I wanted to discuss him. Petersen is reportedly getting a 10-year contract extension to stay with the Huskies.
Now, don't get me wrong; I think Petersen is a very good head coach. He might even be great. But 10 years!? Are you kidding me? Why would any school give anyone a 10-year extension? A lot can happen in 10 years. Do you really want to be locked into someone for that long? Hell, most marriages don't even last 10 years. What if Petersen regresses and starts sucking Year 3 into his deal? That might not seem feasible right now, but look at Brian Kelly, who was beloved when he went to the national championship, and yet, he's now devolved into a major a**hole no one wants around. That period wasn't even half as long as Petersen's contract extension!
Random College Football Notes, Week 15:
1. Congratulations to Lamar Jackson for winning the Heisman, even though he... somehow... didn't... know... he'd... win... Yeah, we weren't buying it. My fiancee laughed at his speech.
"Yeah, OK, you didn't win, Mr. Red Velvet Suit!" she bellowed.
I kind of find it far-fetched that Jackson didn't have a strong idea he was going to win the Heisman. Then again, it was the most boring Heisman race in recent memory. I actually agree with Charlie that Alabama's Jonathan Allen should've prevailed because he was the best player in the country this past season, but meh. I'm OK with Jackson winning it.
I do have to wonder what Johnny Manziel said to Jackson as the two were embracing on stage. Some speculate that Manziel said, "Drinks on me tonight." I personally could've sworn he said, "I have Fruity Pebbles that you can insert into your anus." Then again, Manziel could've said, "Hey man, don't royally f*** up your pro career like I did by being a complete dumbass." But that would require Manziel to have learned his lesson, which I can't imagine him doing.
2. The NCAA has recently come out and declared that it wants an eight-team playoff, so that's probably going to happen in the next few years. This is great and all, but I don't get why the NCAA can't do anything about it now. I think people have their head stuck up their own a**es far too often and don't think outside the box enough. Why not make the change immediately? What's the worst that's going to happen? Is Nick Saban going to sound upset at his next press conference? Oh no, anything but that!
Eight teams is beyond necessary. Think about it this way: If NFL teams were voted into a four-team playoff prior to Week 14, the field probably would've looked like this:
1. Dallas
2. New England
3. Oakland
4. Seattle
Teams like the Chiefs, who just beat the Raiders; Steelers, who are hot with a healthy Ben Roethlisberger; and the Lions, who have obvious underdog appeal, wouldn't have been included. Never mind the defending Super Bowl champion Broncos being left out of the field as well!
Four teams isn't enough. I don't think eight teams even are, but it's better than four. For those citing that we'd be arguing about Teams 9-10 instead of Teams 5-6, to that I say, so what? Going back to the NFL scenario, we're arguing the Chiefs and Steelers in a four-team field, but in an eight-team field, we're discussing why teams like the Giants and Falcons weren't included. Those teams are far less likely to win a championship than the Chiefs and Steelers, for example.
3. I made the grave mistake of not discussing the Dr. Pepper Giveaway Challenge last week. I was actually getting my hair cut during the challenge, so I didn't get to see if the two doofuses competing for the $100,000 were throwing the ball sideways or not. This has been my primary criticism of the Dr. Pepper Giveaway Challenge. If the competition involves football, you shouldn't be able to hurl balls around like an 85-year-old grandma.
At any rate, some guy from Ole Miss won the Dr. Pepper Giveaway Challenge. Good for him. It's one fewer college idiot who will be protesting about going to school for free since, you know, he'll actually be going to school for free. Of course, this dude happened to be attending Ole Miss, which I found humorous. Ole Miss pays its players to play, and now it has Dr. Pepper paying its students to attend school. Yeah, there are no sorts of ethics violations at that university!
Random College Football Notes, Week 14:
1. I'm posting these notes early in the wake of the Big Ten championship. There are countless people on Twitter suggesting that Penn State should be in the college football playoff, and Kirk Herbstreit echoed those sentiments on the air.
I'm a Penn State alumnus, and I couldn't disagree more with that. If the NCAA Football Playoff Committee wants to put the four best teams in the tournament, which should be its goal, Penn State, sadly, won't be a part of that. The Nittany Lions' run has been tremendous, but it's been aided by a large amount of luck. They beat Ohio State with fluky special-teams plays. They were trailing Michigan State when the Spartans lost their entire backfield to injury. And Penn State was very fortunate to avoid either Ohio State or Michigan in a rematch, battling another overrated Wisconsin squad instead. The Nittany Lions are a very good team, but they're not a top-four team.
I'm perfectly fine with the top four being Alabama, Clemson, Ohio State and Washington in some order. I actually think that's what the order is going to be, as I don't see how the committee can take a two-loss conference champion in Penn State over a one-loss conference champion in Washington. Doing so would be a huge spit in the face of the Pac-12.
2. I think this is the time to really institute an eight-team playoff field. The NCAA should do it this year. Seriously, if they were to announce eight teams in the playoffs, who would complain? Literally no one, save for maybe Alabama, since it's the only team guaranteed to make the field, and it'll have to play three games to win the championship instead of two. But I don't think anyone's going to cry over Nick Saban being pissed off.
Given that there are so many teams in contention for the playoffs, the NCAA should just announce an eight-team field. If the NCAA had any balls and did so, here's what it would look like:
Alabama
Clemson
Ohio State
Washington
Penn State
Michigan
Oklahoma
USC
Seriously, how awesome would that be? Again, who would complain about this? The NCAA would rake in so much money from another round of college football playoff games.
And yes, two Pac-12 teams. Washington deserves to be in, while USC has been absolutely dominant since Sam Darnold became the starting quarterback. I think the Trojans would give Alabama a hell of a game in a rematch. An upset would not be out of the question despite the 52-6 result that occurred earlier in the year.
3. Speaking of the Pac-12, take a look at this: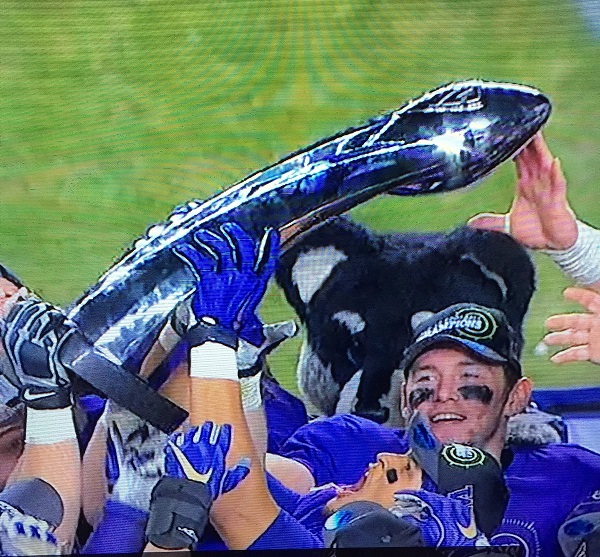 Umm... why does the Pac-12 trophy look like a giant shlong? Has Matt Millen been named Pac-12 commissioner? Has he been inserting this trophy into the backsides of 100-percent USDA Men? Seriously, if I were a Washington player, I would not touch that thing at all. Who the hell knows where it's been?
Random College Football Notes, Week 13:
1. Call me a curmudgeon, but a lot of people are stupid. When USC was suggested as a potential playoff team, all I saw on Twitter was, "HURR DURR YOU CANT PUT A 3-LOST TEAM ON PLAY OFF HURR DURR!" Hey, idiots, how about you actually consider what happened to this team? The Trojans have been unstoppable ever since they made the switch to Sam Darnold. Their offense has been prolific, while their defense has been dominant. They went into Washington and absolutely crushed the Huskies. It wasn't like a fluke victory that Iowa had over Michigan, or Pittsburgh enjoyed over Clemson. That was a legitimate win, and if the two teams played 10 times, USC would beat Washinigton at least seven out of 10 occasions.
With that in mind, here's my top four:
1. Alabama
2. Ohio State
3. Clemson
4. USC
I think the committee is going to give the Wisconsin-Penn State winner the fourth spot, however. I'm a Penn State alumnus, so I won't be crying for USC, but I think the Trojans are definitely beter than either the Nittany Lions or Badgers. Washington, meanwhile, will be in with an impressive victory, but if it's a close game, I'm not sure the Huskies make it.
2. The team USC beat this weekend was Notre Dame, which was in the news this past week. The Fighting Irish will have to vacate its wins over a 2-year span because of academic misconduct.
First of all, if this isn't reason enough to fire Brian Kelly, I don't know what is. Kelly is a bad coach and even worse human being. Now, he has to vacate the victories he had in the season in which he went to the national championship against Alabama, which is completely embarrassing. If Kelly still has a job in a few weeks, it'll be clear that he has something on the athletic director or the school president, whether it's nudes, dirty secrets or videos of them boinking three-legged goats.
Second, I don't understand the concept of vacating wins. It's not like people are going to forget that they won all of those games. Are historians going to look back and see that Alabama beat an unnamed opponent in the national championship? It's dumb. And for academic misconduct, who the hell cares about academic misconduct? I don't understand what academics have to do with college athletics. It would be like suspending an NFL player for not going to the dentist. One has absolutely nothing to do with the other. College athletes are there to prepare for the pros and make money for their schools. I don't see why they should even have to go to class. That should be completely optional, as it is for most college students.
3. Speaking of coach firings, Charlie Strong was axed after three years at Texas. The good news for Strong is that he'll be the recipient of a large buy-out. The bad news is that he didn't get much of a fair chance. I know Texas lost to Kansas, which is almost unforgivable, but three years in college isn't long enough to determine how good of a coach someone is. The players he initially recruited haven't even had a chance to become seniors yet. Strong took over a decaying program that Mack Brown ruined, so Strong was in charge of a project that required more than three years to rebuild. I would've at least given him a fourth season.
Random College Football Notes, Week 12:
1. It's time to review the college football playoff rankings, which I have to believe shocked most people. Both Clemson and Michigan sustained ugly losses two weekends ago, and yet neither moved out of the top four.
I guess this is what you should point out to those who say that the college football regular season is sacred, and that adding more teams to the playoffs would make it less relevant. The argument is to move to eight, which I'd like to see. I actually think 16 would be awesome, so that we could fill out brackets. However, I have yet to hear anyone argue for six. Why not give the Nos. 1 and 2 seeds a bye, like the NFL does it? Right now, there's no difference between being the second or third seed. This would change that, and it would allow for a larger field without offending those who think that the regular season is sacred.
At any rate, I don't get why Clemson and Michigan didn't move out. I could maybe see the case for the Tigers because they were in the championship last year, and Pittsburgh is a solid team. But the Wolverines definitely should've dropped. Iowa sucks. The Hawkeyes lost at home to a 1-AA school this year, for crying out loud! They were blown out by Penn State the week before. Plus, Michigan lost its starting quarterback. I'd be fine with putting the Wolverines back in the playoff if they ended up running the table, but as for right now, they don't deserve to be in the top four.
2. I didn't touch on Louisville yet. I would've argued for them to be in the top four over Clemson. Sure, they lost to the Tigers, but that was in Death Valley. Besides, losing to Pitt is worse than losing at Clemson, so I think that should've been considered.
Unfortunately for Louisville, it was absolutely demolished at Houston, which should end its playoff aspirations entirely. It should've been apparent from the early going that the Cardinals would lose, as there was this bad omen: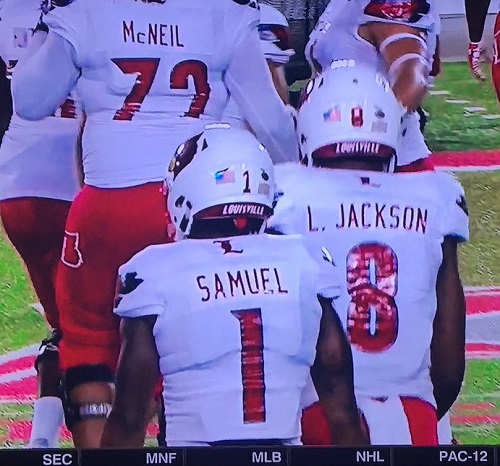 Samuel L. Jackson, huh? He'll whore himself out for any product, which makes him eerily similar to Peyton Manning. What was Manning famous for? Choking in big games. Ahh, it becomes clear now: Louisville lost because the Curse of Peyton Manning!
3. Two teams that won't be involved atop the playoff rankings are Florida and Georgia. They played each other recently in a game that was once called the World's Largest Outdoor Cocktail Party. That has since changed; the nickname was removed because PC idiots had an issue with it in response to some drunken outbursts by fans.
The thing is, alcoholic outbursts have remained. It's not like refraining from calling the game the World's Largest Outdoor Cocktail Party has prevented people from drinking. It's literally made zero difference, outside of making PC idiots feel better about themselves. You wouldn't think that would matter, but in a world in which people protest angrily about the dumbest things, feelings have become more important than ever. Not to sane people, but to PC idiots.
I think feelings are dumb and irrelevant, so therefore, I'd like to create an initiative to once again refer to the Florida-Georgia rivalry as the World's Largest Outdoor Cocktail Party. Let's make the Florida-Georgia games great again.
Random College Football Notes, Week 11:
1. The only downside to posting picks on Tuesday, aside from not having as much injury information, is that it's hard to analyze the college football playoff rankings. I have no idea what the committee was thinking by putting Texas A&M over Washington a couple of weeks ago. Had the Aggies been competitive with Alabama, that would've been fine, but the game was a blowout.
I guess the upside is that I can predict the top four prior to the announcement. I suppose it'll be...
1. Alabama
2. Louisville
3. Ohio State
4. Rutgers
Whoops, I mean...
4. Clemson
I don't feel good about No. 4. The Tigers lost at home and have been shaky all year. I suppose Michigan will pass the Tigers if they win out, but then again, Penn State has to factor in somehow. Then again, I still can't get that blowout loss to the Wolverines out of my head, even though I'm a Penn State alumnus! I actually had something prepared about how the Nittany Lions shouldn't be No. 10, but after Saturday's games, I just don't know anymore.
2. That was a prediction of what I think will happen. Here's what I think should happen:
1. Alabama
2. Louisville
3. Ohio State
4. Rutgers
Whoops, I mean...
4. USC
Yes, the three-loss Trojans! Look, if the goal of the committee is to have the top four teams in the playoffs, USC has to be part of that mix. The Trojans began the year slowly but have been absolutely on fire ever since Sam Darnold became the starter. They've blown out the competition and even went into Washington and won by double digits. And it felt so much different than the other upsets. Pitt over Clemson and Iowa over Michigan felt fluky. USC over Washington did not. The Trojans were legitimately the superior team. Their defense is amazing, while Darnold is the real deal.
3. The announcers of the USC-Washington game made a huge deal about the Trojans going to the Rose Bowl.
"OMG OMG THEY MIGHT BE GOING TO TEH ROSE BOWLS OMG OMG!!!" one of the announcers exclaimed.
The announcers pointed out that the Trojans have been to the Rose Bowl in every single presidential term since the Roman Empire fell - save for the Barack Obama administration. Oh man, my palms are sweating at the prospect of keeping that streak alive. In fact, there's water cascading down my brow right now. What if they don't make it before Obama leaves office!?!??!??!
In case you couldn't tell, I was being a bit sarcastic. Seriously, who cares about the Rose Bowl? Why does it matter? The playoffs exist now, right? If a major program fails to make it to the playoffs, it's a failed season. Period. No one cares about a game billed as the "Granddaddy of them all." Most granddaddies are old and irrelevant, unless it's your birthday, and then they give you money. So, I guess that's the one positive. Then again, the USC players are probably getting money no matter what.
Random College Football Notes, Week 10:
1. Thursday Night Football has been soooo successful for the NFL that the NCAA just haaaaad to create Friday Night Football featuring Big Ten teams. This is going to be suuuuch a greeeaat ideaaa!!!
Hopefully the extra letters in some of those words helped you realize that I was being sarcastic.
This Friday Night Football idea is an abomination. First of all, these student athletes need to study, so how can they do so when they have a game on Friday?
Hold on... hahaha... that was too funny. As if 1-A college athletes study. Anyway, let's try that again...
This Friday Night Football idea is an abomination. First of all, playing on short weeks can lead to more injuries. More importantly, oversaturation is not a good thing. It's one of the major reasons why NFL TV ratings are down. Friday night is not a time for college football. No one wants to stay in on Friday night to watch it. It's going to draw horrible ratings, and the NCAA will harm its overall product. It's just stupid.
2. Speaking of the NCAA, I was at my sister's gender-reveal party - it's going to be a girl - and I was talking to this guy whose political and sports acumen I respect. However, he was pretty drunk, and we were talking about the Penn State game.
"I still can't believe they penalized Penn State for that stupid Sandusky thing," he said.
"Definitely," I agreed. "Fine the school, or whatever, but why would you penalize coaches and players who had nothing to do with that stuff?"
"Totally," he said. "Man, I hate the NAACP."
I started cracking up, and he slapped his forehead once he realized his mistake.
"I've had too many whiskeys," he conceded.
3. For those of you who haven't seen the exchange Todd Graham and Mike Leach a few weeks ago, the head coaches of the Arizona State and Washington State football teams, here it is:
If you can't hear that, Graham called Leach "chicken s**t," which was hilarious. Graham was pissed because Leach accused him of stealing plays.
If you feel bad for Leach, please remember that in 2009, he locked a concussed player in a dark closet because he was pissed at him for not wanting to play with a concussion. How he's still coaching on any level, let alone 1-A college football, is beyond me.
So, you think Graham is the good guy, eh? Well, he left Pitt to go to Arizona State, a truly lateral move aside from the weather, by telling his players via text. That's right - he wasn't even man enough to tell them face to face.
The bottom line is that most college football coaches are scumbags. In other words, they're mostly all chickens***s.
Random College Football Notes, Week 9:
1. If you're an American man like me, you must have been doing one of the following on Thursday night:
- Zoning out during the Titans-Jaguars game
- Taking a post-dinner nap
- Downloading porn
- Tuning into the Virginia Tech-Pitt game
I did a mixture of the first three. Those who performed the fourth action saw this: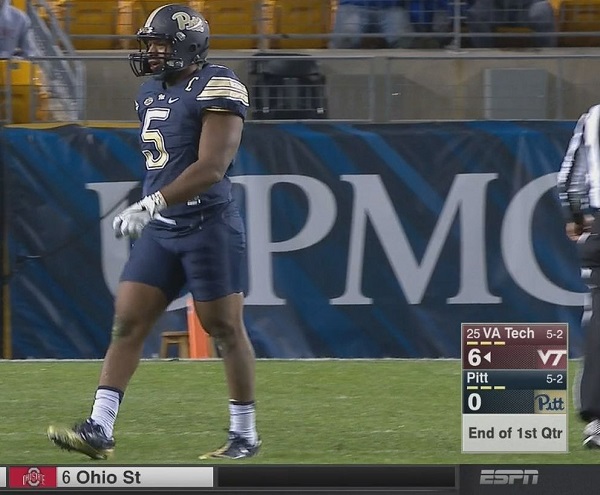 What. The. Hell. Is. That??? Seriously. What the hell? Why would anyone wear biker shorts while playing football? What's next, a player wearing nothing but a thong? The NCAA needs to suspend this player for eight games and then restrict Pitt's scholarship totals before this gets absolutely out of hand.
2. Clemson at Florida State was a crazy game, with lots of big plays, as well as insane twists and turns. No one picked up on it, but something crazy happened off the field as well. I want you to look at this picture: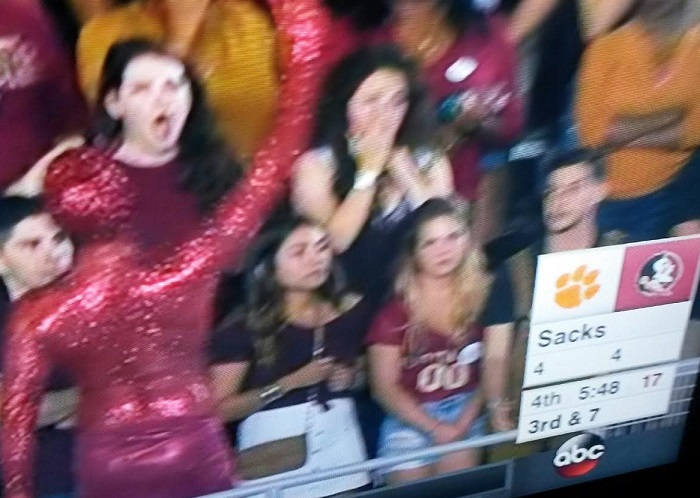 Don't focus too hard on the man dressed in red or the hot blonde in the front row. Take a look at the two chicks in the next row up. One is so shocked she has her mouth completely agape. The other is covering her mouth in utter shock.
So, what's happening here? Why are these woman so surprised? Look very carefully at this shot:
Do you see it? Right near the one girl's white skirt...? The dude in the red suit has a massive boner!
Look, dude in red costume, I know the women you're standing next to are super hot, but you have to control yourself.
3. Speaking of the Clemson-Florida State game, I'd be remiss if I didn't mention the awful officiating. It became apparent when Trey Marshall was penalized for targeting and was ejected because of it. It was helmet-to-helmet contact, but it only happened because the Clemson receiver lowered his helmet into Marshall. I don't think ejecting players for hits like this is in the spirit of the game. Aside from the fantasy, draft and betting aspects, people love football because of the big hits. I get legislating the blatant blasts that cause concussions, but incidental blows shouldn't warrant ejections.
Later in the game, there was a horrible holding call, prompting Jimbo Fisher to go nuts. The official flagged Fisher for an unsportsmanlike penalty, putting Florida State in a ridiculous down-and-distance situation. This almost decided the game, which was ridiculous. The ref, who looked like some dweeb who got his lunch money stolen every day in high school, was seemingly trying to decide the game on his own. I hate officials who think they're bigger than the game, as this guy, who apparently was trying to get revenge against all the bullies by showing football players who was boss, was attempting to become the deciding factor.
Now, to be fair, he wasn't completely pro-Clemson. The officiating crew missed a blatant non-call on a Deshaun Watson face mask. It was just piss-poor officiating, and the NCAA needed to provide a better crew for such a big game.
Random College Football Notes, Week 8:
1. You may have missed this play that occurred in the Boise State-BYU game on Thursday night. BYU ran quite possibly the dumbest play in football history - a fake punt on a fourth-and-19 from their own end zone!
Was BYU's coach drugged when he made this decision? I have a general rule of thumb when it comes to stuff of this nature: If you wouldn't run something like this while playing
Madden
, you probably shouldn't do it in real life.
2. Speaking of weird plays, if you didn't see this, here's something Michigan has done a couple of times this season: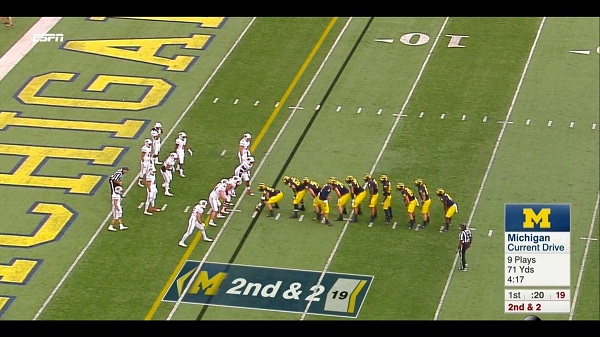 Yeah, I don't even know, but it worked. That initial stance actually reminded me of the old
Lemmings
video games. I was half-expecting the guy in the front to blow up, creating a hole for the others to march through.
The only question I have is whether Jim Harbaugh is the one orchestrating this, or if he's a Lemming himself. If it's the latter, I wouldn't say he's a climber, floater or blocker. He's a douchey agitator.
3. I was happy to see Penn State, my alma mater, slay the evil empire, Ohio State, on Saturday night. I didn't think the Nittany Lions had a chance, but they proved me wrong.
While watching the fans flood the field, I was reminded of my days at State College, where there would always be crazy riots after huge sports victories. I imagined myself back up there, having a blast, but then I saw this from the student newspaper on Twitter:

Speaking of douchey agitators, this made me angry. What's wrong with a good old riot? Sure, public property gets destroyed, but that's part of college life, is it not?
Random College Football Notes, Week 7:
1. I wanted to discuss what happened with Ruth's Chris last week, but it slipped my mind. First of all, I always thought it was just "Ruth Chris," as that sounded like a real name. What the hell is a Chris, since Ruth appears to have one?
In case you somehow haven't heard, Ruth's Chris Steak House in Ann Arbor offered a percentage discount on their delicious steaks based on the amount of points Michigan defeated Rutgers by last Saturday. Ruth's Chris was expecting something in the neighborhood of 30-45. Michigan beat Rutgers, 78-0.
Ruth's Chris apparently tried to change it to 50 percent, but they were getting grief for it, so they stuck to their original promise.
What I want to know is what would've happened had Michigan won by the score of 105-0. Would Ruth's Chris give 105 percent off? That would mean they'd have to pay people $10 to eat a $200 steak, which sounds like a very quick way to go out of business.
My next thought is: What do you pay on a bill of minus-$10? If you give 20 percent, you have to ask the waiter to give you $2 out of their own wages. Sucks for anyone working there!
2. Am I crazy, or does Matt Millen appear to be the color analyst for multiple games every Saturday? I swear, I hear him talking on multiple channels. Here were this week's gems:
"He's their power guy in the inside. He's a big, powerful man."
I'm sure Millen knows plenty of power guys in the inside.
"He just scored a six quick."
A "six quick?" What's that, when six 100-percent USDA Men ram kielbasas up your backside at the same time?
3. Speaking of bad analysts, I had the misfortune of listening to Dave Wannstedt on FS1 recently. Wannstedt was a horrible head coach for the Miami Dolphins and Pitt Panthers, and his analysis was somehow worse when he shouted the following pertaining to the Penn State-Maryland game: "THIS GAME IS A LITTLE BIT OF A RIVALRY!!"
What the hell is he talking about? As a Penn State alumnus, I actually forgot that Maryland was even in the Big Ten. It would be like calling Pepsi and RC Cola rivals. Sometimes, you forget RC Cola even exists until you see it sitting on the shelf of a supermarket.
Random College Football Notes, Week 6:
1. Brian Kelly needs to be fired immediately.
Kelly is a buffoon of a head coach who screws things up with his constant mismanagement. His decision to suddenly plug in his backup quarterback on the final offensive drive with five minutes to go in horrible conditions against N.C. State was beyond stupid. It's one of many dumb things Kelly has done this year.
However, the real reason Kelly has to be dismissed is because of what he said about his center following the botched snap that ended up costing Notre Dame the victory. Kelly yelled at the center for minutes on the sideline, and then he threw his player under the bus during the post-game press conference, calling his snapping "atrocious."
The center did screw up on the play, but everyone makes mistakes. It sucks that error ended up ruining the victory, but if Kelly were a real man, he would've taken responsibility for that rather than throwing all the blame on someone more than half his age. Hey, Brian, how about not using a shotgun formation in a torrential downpour?
Real coaches shoulder the blame, and the players respect them for that. What Kelly did to his poor center will cause every player to lose whatever respect they had left for Kelly. He needs to be fired right away.
If he's not axed, here are three new scapegoats Kelly can blame for his next loss rather than admitting that he's a piss-poor coach:
1. Lily from those AT&T commercials.
2. Police brutality.
3. Hodor.
Only Brian Kelly would be such a dick to blame Hodor for a loss, but I could see him doing it!
2. Sticking with the Brian Kelly theme, is it just me, or does Kelly appear to be the most uncomfortable-looking head coach of all time? Every time the camera shows him on the sidelines, he has this half-horrified, half-disgusted expression on his face. If I didn't know better, I'd believe Kelly were thinking, "Oh f***, I really need to take a s**t. Seriously, diarrhea is going to explode out of my a**hole if I don't get to a bathroom pronto! How much time's left in the half!? Five minutes!? OK, I can hold it... I can hold it..."
Call me crazy, but this is not a good look for a head coach!
3. More on the Notre Dame game! I can't believe how atrocious the announcing was. I'm surprised Kelly didn't blame the two announcers for the loss.
At one point, when they were reviewing whether or not DeShone Kizer stepped out of bounds, both announcers exclaimed the following: "Look at the N.C. State players on the sideline! They know it's out of bounds!"
Right. As if players on the other team are going to be completely honest with the officials and clamor for Kizer staying on the field and diving for the first down.
A bit earlier, the play-by-play guy got excited during a punt: "Great punt! It's a net of 22 yards..." A net punt of 22 yards that lands into the end zone is a great punt? Lolwut?
I also didn't get why the ABC telecast kept showing the field goal line on Notre Dame's final drive. The Irish were down seven points with a few minutes remaining, so why tell the audience where the kicker can normally drill a field goal in a freaking hurricane when he's not even going to attempt the kick because of the score? Ugh!
Random College Football Notes, Week 5:
1. Something I forgot to mention from watching the Pittsburgh-Penn State game a couple of weeks ago was that there was an awkward commercial for Pittsburgh University. I don't think it was exactly this, but it was something like it:
See, it's pretty evident that commercial is geared toward adults. No 17-year-old is going to watch that and immediately apply to Pitt. None. If this ad were geared toward 17-year-olds, it would go a bit like this:
HEY KID, WANNA GET LAID!?!?? COME TO PITT AND YOU'LL GET LAID, DRINK BEER, PARTY ALL NIGHT LONG, EAT P***Y, SMOKE WEED, DRINK MORE BEER, GET LAID, CHILL WITH NEW BROS, PARTY ALL NIGHT LONG, EAT P***Y, SMOKE WEED, DREEK BRING, GET LAID!!!!!!!!!
If Pitt aired that, they'd have a record number of applications, guaranteed.
2. If you somehow missed it, some girl got hit in the head with a football while trying to catch it at the LSU-Auburn game:
I swear, I could watch that five billion times and laugh on every occasion.
OK, maybe that made me sound like a dick. I am a dick, but that's beside the point, so let me say something nice:
Thankfully, no one was injured as a result of this event. The girl who got hit is kind of cute, and it would be a real travesty if her nose got f***ed up as a result. What... that wasn't nice?
3. While on the subject of LSU, I need to discuss the Les Miles firing, which I discovered following last week's college football notes were published. Yes, I know it happened beforehand, but I somehow missed it. I found out on Thursday, and I still have no idea how I managed not to hear about it.
People are making a big deal about it, one way or the other. I thought about it for a while, and I wanted to have a strong stance, but I just don't really care either way. On one hand, I don't think LSU can find a comparable coach for a while. Their best option seems to be Bobby Petrino, but that might be a lateral move. Petrino said that he's not leaving Louisville, which means he's already searching for property around the LSU campus. Seriously, that man cannot be trusted. He could tell me that the sun rises in the east, and I still wouldn't believe him.
On the other hand, Miles was a disappointment, and his inability to develop a good offense had to be frustrating to the fan base. He seemed to secure some victories on guile alone, and he actually won a national championship, but the program seemed to grow stagnant, so I can understand why LSU would make this decision.
Random College Football Notes, Week 4:
1. I'd be remiss if I didn't give my condolences to the family and friends of Mark Dantonio. The Michigan State head coach may or may not be dead, but we do know at least that he has vanished into thin air, perhaps because he was so utterly embarrassed by how his team performed against Wisconsin.
If you haven't seen it yet, check out this
video of Mark Dantonio disappearing
. Police would search for him, but they're too busy getting shot at by criminals.
2. Save for Alabama, the SEC is not off to a good start this year. ESPN acknowledged that here: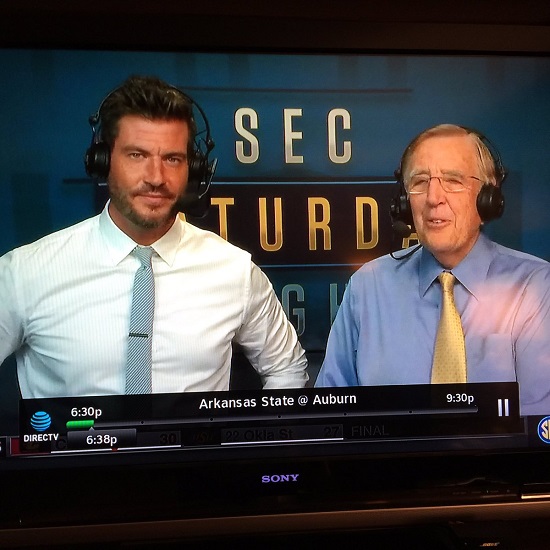 Wow, that's not very nice. I imagine that when Saban finally retires from coaching, he'll be hired instantly to be an analyst for the SEC Turd Network.
3. Back in Week 1, I discussed how betting against Oklahoma was so easy against Houston because "Big Game" Bob Stoops always finds a way to choke.
I think the big losses have gotten to Stoops, who didn't look like quite himself during the post-game press conference following the defeat to Ohio State: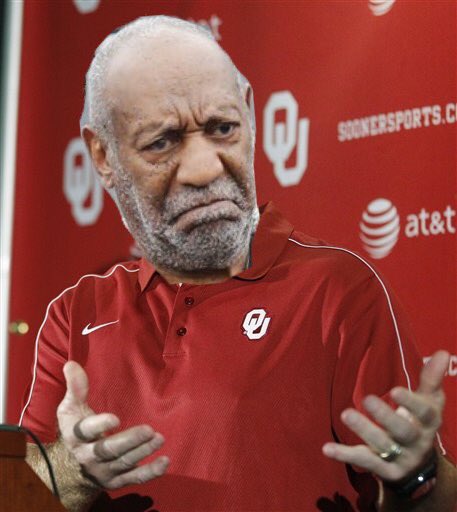 I don't know about you, but it looks like Stoops has the urge to slip something suspicious into random alcoholic beverages.
Random College Football Notes, Week 3:
I will be publishing all of my random college football notes that I've listed on my
NFL Picks
pages here to avoid clutter. This page will be updated each week during the season.
1. I found Nick Saban's tirade on Lane Kiffin to be very interesting. If you somehow missed it, Saban yelled incoherently at Kiffin for what happened at the end of Alabama's second game, which was the opponent scoring a meaningless touchdown following a turnover. Alabama still had the game well in hand, so what was Saban's deal?
One could guess Saban was doing this because he was an a**hole. I had a different take on it. Well, Saban is an a**hole, but there must be another reason.
Well, the one significant thing about this touchdown was that Alabama failed to cover the spread because of it. Call me crazy here, but what if some high-rolling booster, or perhaps someone in the mob, asked Saban to cover the spread this particular week? It sounds crazy at first, but is it? Why else would Saban be so upset about this? Because he's an a**hole? OK, well, yeah, but there might just be a greater reason for it.
2. Much was made of Penn State honoring Joe Paterno prior to the Temple game this past Saturday. The talking heads on MS-ESPN, the network that murdered Paterno, were obviously opposed to this. Rachel Nichols' hair was practically on fire when she was ruining an episode of
Pardon the Interruption
on Friday afternoon.
I don't see what the big deal is. The guy's been dead for five years now, and he was being honored as a football coach. What happened with Jerry Sandusky was very unfortunate, but I don't see what that had to do with Paterno as a football coach. People love to write #JoePaKnew on Twitter and whatnot, but he did report it to the police, and he was told nothing foul was going on. So, it's not like he turned a complete blind eye to it. Sure, he could've done more, but as Emmitt once said, hindsight is 50-50. There's nothing that can be done about it now, since all guilty parties are either dead or incarcerated, so people just need to calm the f*** down about it and get over themselves.
3. I'd be remiss if I didn't discuss the game at Bristol Motor Speedway between Tennessee and Virginia Tech. ESPN made a big deal about this, of course, because ESPN is ESPN. OMG A GAME AT A CAR RACE TRACK OMG SO COOL EVERY1 COME WATCH ITS GONNA BE GREAT CUZ ITS A CAR RACE TRACK OMG OMG TIM TEBOW OMG CAR RACE TRACK FOOTBALL GAME TIM TEBOW OMG!!!
Who the hell cares? Sure, there were a ton of people at the game, but it looked like the seats were so far away that it didn't matter. I'm pretty sure the people in the front row had to use binoculars to see what was going on. It was ridiculous and stupid. Then again, we were at a place where people congregate to watch cars drive fast and turn left, so it's not like I had much hope for this in the first place.
Random College Football Notes, Week 2:
1. I had some notes I wrote down following a bowl game last year that I planned to use for Week 1 in this section, but completely forgot. Luckily, I saw the notes, so I can share them with you now.
I typed this following Wisconsin's victory over USC. After the Badgers prevailed, some doofus announcer stated the following of Wisconsin: "They proved that they're legitimate."
Oh, wow, by beating USC in a meaningless game? Nice job! Who cares anyway? Will there be a single human being 20 years from now who says, "Man, that 2015 Wisconsin team proved that they were legit when they beat No. 25 USC in the Holiday Bowl; I had my doubts, but those Badgers led by Joel Stave proved me wrong!" Of course not! Look, 2. Speaking of that Wisconsin-USC game, that was a roller-coaster ride for me. The Badgers won, 23-21, and I sulked at losing yet another college bowl pick, thinking I had Wisconsin -3.5. I cried myself to sleep that night. The day after, I scrolled through my
College Football Picks
page and noticed something out of the corner of my eye. A plus sign at the Wisconsin-USC selection. I had Wisconsin +3.5; not -3.5!
I felt like such an idiot. At the same, though, it was awesome. It was like I found a $20 bill in the pocket of a random pair of jeans. Except I don't wear jeans, but you know what I mean.
3. Much is being made of the controversial Oklahoma State-Central Michigan ending. If you didn't catch what happened somehow, Oklahoma State was whistled for an intentional grounding penalty on what appeared to be the final play in regulation. The MAC officials ruled that there would be one untimed down, which, of course, Central Michigan turned into a touchdown via a 51-yard Hail Mary featuring a hook and ladder.
It was an exciting finish, but it came to light that the play should've never happened. The MAC officials claimed they screwed up, and that Oklahoma State should've won. Despite this, they're not going to change the result of the game.
I have three thoughts on all of this:
1) Why the hell can't the NCAA change the result of the game? What's stopping them? They've admitted that Oklahoma State shouldn't won, so just give Oklahoma State the win. It's pretty dumb to penalize them for incompetence.
2) Incompetence or corruption? Why are MAC officials doing the game anyway? Shouldn't the refs be from some third conference so that they're not unbiased? Doesn't the NCAA understand how bad this looks?
3) I don't understand why the rule is wrong anyway. If the offensive team is called for intentional grounding while trying to run the clock, and they end up turning the ball on downs as a result, there should be one untimed down. Why should one team get to screw up intentionally and then get rewarded for it? It's so counterintuitive.
Random College Football Notes, Week 1:
1. If you don't know, I also publish
College Football Picks
in addition to NFL picks. I had a losing season in that regard as well last year, but I managed to go 5-0 in Week 1, so hopefully that continues!
2. One of my Week 1 picks in college football was Houston over Oklahoma. I only regret not betting more than two units. One of the reasons I wagered on the Cougars was because of the coach on the opposite sideline. That would be "Big Game" Bob Stoops, of course, who choked like Aurora Snow once again. There was discussion about Stoops being fired at the end of the year on Twitter, but I hope that's not the case because it's so fun betting against him in big games.
Speaking of that contest, I found it utterly ridiculous that Houston was slapped with a celebration penalty on its 109-yard return on the missed field goal. It was the craziest play ever, with the returner even hurdling his own blocker! How could he not celebrate? I hate this stupid rule. It was made by archaic fossils who can't get hard anymore, so they have to make sure that no one else has fun either. I'd love to see one player take one of these celebration flags, whip out his giant wang that the archaic fossils are jealous of, and just urinate all over it. I suppose that's grounds for public urination, but it would still be awesome.
3. Speaking of wangs, I'd be remiss if I didn't mention Matt Millen, who was the color analyst for the Ohio State-Bowling Green game. I was listening closely for Millen-isms, but he didn't offer any ... until late, when he said of one safety, "He's got some Ed Reed inside him."
Millen then added, "I'd like some Ed Reed inside me!"
OK, he didn't really say that, but for a second there, you believed me, didn't you?
Back to
NFL Picks
2021 NFL Mock Draft
- March 2
2022 NFL Mock Draft
- Feb. 24
NFL Power Rankings
- Feb. 11
NFL Picks
- Feb. 8
Fantasy Football Rankings
- Jan. 11