By Walt -
@walterfootball
April 26, 2020
2020 NFL Draft Day 2 Preview - Ten Observations:
1. We had our first virtual NFL Draft last night, and hopefully it was the last. I understand why the NFL wanted to air the draft at its currently scheduled time, but I wonder if it would've been better off waiting three or four weeks. There's a good chance social distancing will be eased by then, which would've allowed for a more normal draft, minus the handshakes and hugs.
The virtual draft was awkward from a viewing experience. I had several football fans, ranging from casual to avid, text me about how bad the broadcast was. The biggest complaint was the delay between the analysts, which was unavoidable. The other biggest complaint was how robotic Roger Goodell was. I joked about there being dead bodies hidden in Goodell's basement - or "man cave" as he called it - but I wonder if I should've been more focused on looking for a remote control. I'm more convinced than ever that Goodell has an on/off switch somewhere on his body.
The virtual draft disappointment was more than just the broadcast, however. The whole thing felt rushed, as teams struggled to trade for the most part. We had just four trades in the first round, as teams that wanted to make a move - Lions, Cardinals, Falcons, Eagles - weren't able to do so. The NFL should've given teams 12 or even 15 minutes to make a pick, and I think they should extend Day 2 as well. Instead of five minutes, why not six or seven? So, the second day lasts an hour longer. So what? It's just more money for the NFL because it gets to air more commercials, and we get a better product as a result.
By the way, in regard to teams not being able to trade, I asked Charlie Campbell to ask some executives if trading was more difficult because of the virtual draft environment. I'm hoping we'll have a good story on that sometime soon.
2. Perhaps not being able to trade helped some teams. If so, the Dolphins are right atop the list. They won a huge gamble by not striking a deal with the Lions. Heading into the draft, there were rumors abound about the Jaguars trading up to No. 3 for Tua Tagovailoa. The Dolphins, who loved Tagovailoa so much prior to the season that they were willing to tank for him, undoubtedly heard these rumors and had every reason to relinquish draft capital to move up to No. 3. Instead, they did not. They remained pat at No. 5 and took the guy they coveted all along.
Again, I don't know yet if the virtual draft experience make it difficult for teams to trade, so I can't exactly say that the Dolphins were so daring. However, I would advise against playing a game of chicken against Chris Grier, at least until Charlie hears back from those executives.
3. Speaking of teams not trading, I was told that the Cardinals wanted to move out of the No. 8 spot, which is why I projected a deal in my 2020 NFL Mock Draft. I didn't want to ruin Arizona's draft plans, so I didn't mention this in my mock, but I was told the five players the Cardinals were targeting were:
Kenneth Murray, K'Lavon Chaisson, Justin Jefferson, Javon Kinlaw and Xavier McKinney.
Two names stand out of the five. First, Jefferson is an odd one because the Cardinals already have so much talent at receiver. However, Arizona runs four-receiver sets, and it may have just had a very high grade on Jefferson. Second, McKinney is a strange one because he's the only one of the five still available. The Cardinals don't have a second-round pick - the reason why they wanted to move down - but if McKinney continues to drop, perhaps they'll trade up from No. 72 to acquire him.
4. Another player Arizona wanted: Derrick Brown. I was told the Cardinals would select Brown if he were available at No. 8, but we knew that wasn't going to happen because both the Lions and Panthers loved Brown too much.
I can't believe I saw many people criticizing the Brown selection, by the way. Many on Twitter were calling it a reach, perhaps because they expected the Panthers to select Isaiah Simmons. I understand that Simmons is a ridiculous athlete, but Brown is the better football player. In fact, some considered Brown to be the best prospect in the 2020 NFL Draft, Chase Young excluded.
Besides, Brown makes so much sense for a team in a division with Tom Brady, Drew Brees and Matt Ryan. The way to beat elite quarterbacks like Brady and Brees, and very good ones like Ryan, is to pressure them very heavily with a four-man front. This is the exact formula the Giants used to defeat Brady twice in the Super Bowl. With Brown joining Kawann Short and Brian Burns, the Panthers are one dynamic edge rusher away from having one of the best defensive fronts in the NFL.
5. Of course, some teams may not have ranked Brown very highly on their boards. I've written this before, but it's important to remember that each team's draft board is different. This is the primary example I like to use: The Texans' front office - the very same one Bill O'Brien fired - loved Deshaun Watson very much, so much so that they traded up in the first round for him, despite O'Brien's wishes (O'Brien didn't like Watson.) However, not all teams were fans of Watson. In fact, an NFC team I spoke to gave Watson a third-round grade!
This dynamic was apparent last night when Tristan Wirfs fell into the teens. Wirfs was slotted to No. 4 in most mock drafts, including both mine and Charlie's, yet he was the fourth tackle off the board.
While the Browns and Jets didn't like Wirfs as much as Jedrick Wills and Mekhi Becton, respectively, the Giants were extremely close to selecting Wirfs over Wills and Becton. Some in the front office wanted Wirfs, but Thomas ended up winning out in the end.
6. I've spoken about good picks thus far, so let's talk about the bad one.
The Packers selecting Jordan Love was horrific for so many reasons. I understand needing a successor for Aaron Rodgers, but the Packers easily could've just spent a third- or a fourth-round pick on a quarterback like Jacob Eason or James Morgan, both of whom have high upside like Love. The difference there is that Green Bay could have used its opening-round selection on help for Rodgers. Remember, the Packers were in the NFC Championship, and if they had another talented receiver and a stout defensive lineman to help stop the run, they could've competed with and perhaps beaten the 49ers.
Instead, the Packers now have one foot in the room and one out the door. They should either completely focus on building around Rodgers to win a second Super Bowl with him, or they should just trade him and begin rebuilding with Love. Instead, they're just stuck in the middle, which will lead to mediocrity in the near future.
Making matters worse, the Packers traded up for Love unnecessarily. The three teams they passed - Seahawks, Ravens, Titans - were not in the market for Love, unless you have the odd belief that they were looking to replace Russell Wilson, Lamar Jackson and the newly paid Ryan Tannehll, respectively. If you think that, I have a bridge to sell to you.
My analysis of this pick, by the way, has nothing to do with Love's outlook. It doesn't matter if he'll be a great quarterback or not. If the Packers don't trade Rodgers to begin rebuilding right away, it's a bad move, period, because they're not going to win this year without Rodgers having a great supporting cast. Thus, if the Packers trade Rodgers, they'll be able to tank for an elite talent in the 2021 NFL Draft class to help Love. Can you imagine Love, if successful, throwing to Davante Adams and Justyn Ross?
Instead, the Packers will be spinning their tires if they don't move Rodgers. I personally feel as though they should've just signed Jameis Winston. Love projects to be a slightly worse Winston, so instead of trading up for Winston, why not just sign him? It would've been a nice move because the Packers could've developed Winston and had him take over for Rodgers in a couple of years. Plus, Winston would be a great backup for the short term. So, instead of just signing Winston, the Packers effectively wasted a first-round pick for the same thing.
7. I highly doubt this new Packer front office is smart enough to trade Rodgers at this point. If they do, here are some possibilities:
New England Patriots:
The Patriots were a perennial Super Bowl contender with Tom Brady. They still have a great defense. If they acquire Rodgers, they could use some of their many second-day picks to give him good receiving talent.
Washington Redskins:
The Redskins have a good roster. They were 6-2 with Alex Smith in 2018 before Smith suffered that horrible injury. The Redskins could compete for the Super Bowl with Rodgers. They have a great defense, some nice weapons on offense, and an offensive line that would be stout if they could convince Trent Williams to return.
Pittsburgh Steelers:
Ben Roethlisberger has mulled retirement, and he may not be 100 percent coming off his injury. If the Steelers know this to be the case, they should make a move for Rodgers.
Las Vegas Raiders:
There was some interest in Brady, so why not Rodgers? The Raiders have a nice roster, but they're not going to win anything with Derek Carr.
8. The other pick that earned an O'BRIEN in my
NFL Draft Grades
page was the Raiders' Damon Arnette pick. I have no idea where that came from. My jaw dropped to the floor when that was announced. The earliest we ever mocked Arnette was No. 32, and we ended up with him at No. 61!
Here's something odd regarding the Arnette pick. I received a cryptic e-mail from a phone number as soon as the Arnette selection was made. Here it is, just so you know I'm not making this up:

I don't know who this was, or why they were asking me not to criticize the Raiders for Arnette, but they deserve the criticism. They could have traded down and still acquired him.
9. I received another text e-mail. It was a simple, two-word message:
Fire Roseman.
Eagles general manager Howie Roseman has done an incredible job of assembling talent, but his previous two drafts haven't been very promising. In 2019, he traded up for Andre Dillard instead of Marquise Brown, which I wrote was a huge mistake at the time. Roseman then tried to make amends for that blunder by selecting another speed threat, Jalen Reagor.
The problem is that Reagor is not the same caliber of player Brown is. In fact, some teams expected to land Reagor early in the second frame, so it's puzzling as to why Roseman didn't trade down.
It's even more confusing why Roseman didn't move up in the draft, especially when CeeDee Lamb fell to No. 16. The Falcons missed out on all of its coveted players - Javon Kinlaw, C.J. Henderson, among others - so they should've been open to trading down. The Eagles could've easily shifted up five spots to secure what their arch rivals, the Cowboys, considered to be the best receiver in the class. Instead, they watched Dallas obtain Lamb.
When all of this happened, I defended the Eagles a bit because trading seemed very difficult under the virtual conditions. However, three trades happened after that, so Roseman isn't free from criticism.
I don't think Roseman should be fired, but he deserves another poor grade for his latest first-round pick.
10. I thought there was an interesting dynamic last night. It was reported that the Lions' coaching staff wanted Derrick Brown, but general manager Bob Quinn desired Jeff Okudah at No. 3. Quinn ended up winning, as he spent the third-overall pick on the Ohio State cornerback.
This was not an uncommon trend from last night. I'm not at liberty to say which teams had this debate, but I can tell you that the general manager and coaching staff clashed at least twice regarding which prospects they wanted. If you guess that the general manager won in both of those instances, you would actually be incorrect! The coaching staff received their man on both occasions.
I'm not sure why things were so different in those two cases in comparison to what happened in Detroit, but I can tell you that the coaches on both teams that received their players were far more secure in their jobs than Matt Patricia happens to be at the moment. Perhaps that had something to do with it.
Fantasy Football Perspective:
For a fantasy football perspective, there were 11 players chosen in the first round. Here they are, ordered by dynasty value:
Clyde Edwards-Helaire, RB, Chiefs
CeeDee Lamb, WR, Cowboys
Jerry Jeudy, WR, Broncos
Joe Burrow, QB, Bengals
Justin Jefferson, WR, Vikings
Henry Ruggs, WR, Raiders
Jalen Reagor, WR, Eagles
Brandon Aiyuk, WR, 49ers
Tua Tagovailoa, QB, Dolphins
Justin Herbert, QB, Chargers
Jordan Love, QB, Packers
You could say I'm not a big fan of Henry Ruggs. He's raw, and there's been a dubious history of 4.2X receivers performing in the NFL. Plus, Derek Carr is too checkdown-happy to fully take advantage of Ruggs' speed.
Clyde Edwards-Helaire is currently atop the list because he's a running back in an explosive offense. He'll be joined by other players at the position. Check out the
2020 NFL Mock Re-Draft
for Rounds 2-3 to see where these backs could be chosen.
I'll have more definitive
Fantasy Football Rankings
following the NFL Draft.
Best Players Available for Day 2:
My top-25 available players for the second round (with links to their scouting reports):
Xavier McKinney, S, Alabama
D'Andre Swift, RB, Georgia
Jonathan Taylor, RB, Wisconsin
A.J. Epenesa, DE/OLB, Iowa
Yetur Gross-Matos, DE, Penn State


Denzel Mims, WR, Baylor
Antoine Winfield Jr., S, Minnesota
Jaylon Johnson, CB, Utah
Cam Akers, RB, Florida State
J.K. Dobbins, RB, Ohio State


Zack Baun, LB, Wisconsin
Jeremy Chinn, S, Southern Illinois
Ross Blacklock, DT, TCU
Chase Claypool, WR, Notre Dame
Ezra Cleveland, OT, Boise State


Josh Jones, OT, Houston
Matt Hennessy, C/G, Temple
Grant Delpit, S, LSU
Marlon Davidson, DE/DT, Auburn
Trevon Diggs, CB, Alabama


Michael Pittman Jr., WR, USC
Jordan Elliott, DE/DT, Missouri
K.J. Hamler, WR, Penn State
Adam Trautman, TE, Dayton
Robert Hunt, OT/G, Louisiana-Lafayette

National Media - Winners and Losers:
I don't think there were any winners from the first-day broadcast. Everything was terrible, especially Roger Goodell. The NFL should've hired an MC to conduct the NFL Draft because Goodell is too robotic and awkward.
Instead, I'd like to focus on some of the things we saw on camera. I mentioned this in the
Live NFL Draft Blog
, but what the hell was with the computer Mel Kiper had in his background?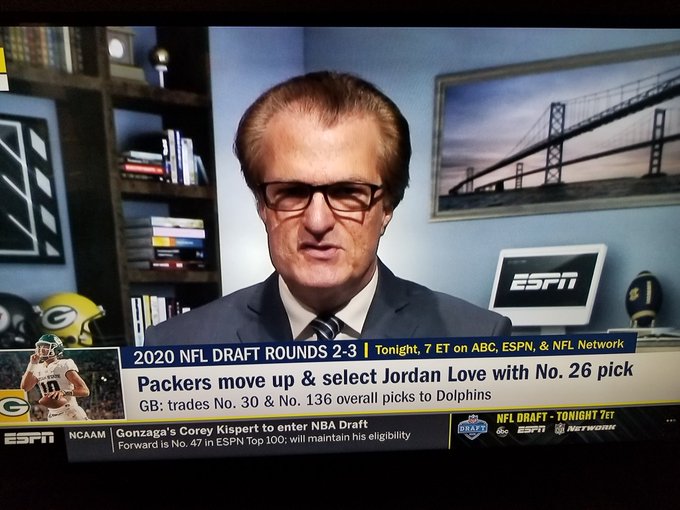 What a weird thing to have a computer that just has "ESPN" on the screen.
Even stranger was this behind Louis Riddick: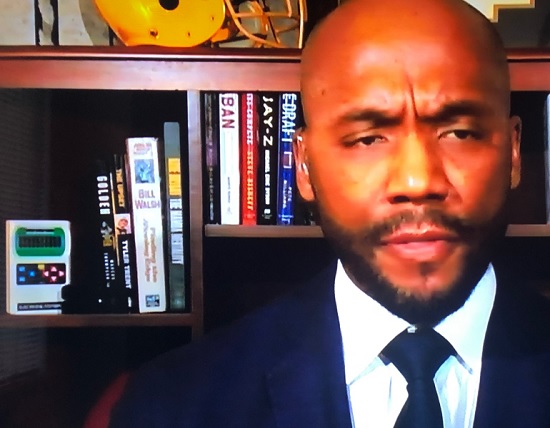 What the hell is that on the left? Some type of weird calculator? Perhaps the remote control for Roger Goodell? Has Riddick been the mastermind behind Goodell all along? Is Riddick the one responsible for us being banned from the combine?
Then, of course, there was this in the Mike Vrabel household: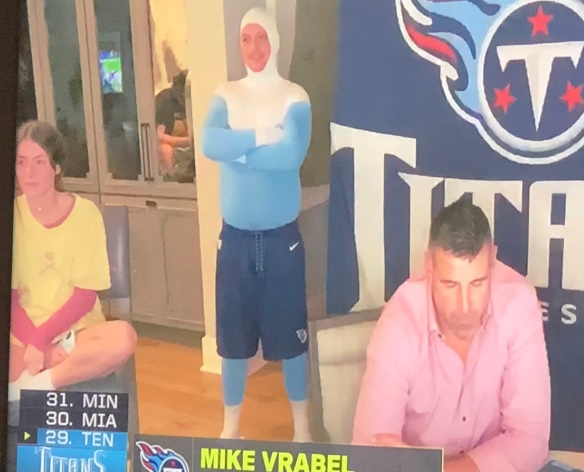 There's the dead body, except it's a mummy rather than just a regular corpse.
2020 NFL Draft Mailbag:
From John F.

Are the 2020 Cardinals the 2019 Bills - meaning a team who has the pieces together to make a run (second year QB, new weapons, good LB, elite CB. Arguably the Cards have stronger pieces on defense perhaps...). But, similarly to the 2019 Bills, they could make a run.. but have no shot at winning the division?
--> That sounds about right. The Cardinals will be much better than they were in 2019, but I still think they're behind the 49ers and the Seahawks. You could make the Giants are that team as well, but I think they have a better chance of winning the division than the Cardinals do.
From Andrew B.

Does the first round impact likely landing spots for Cam Newton and Jadaveon Clowney?
--> Not yet. I think teams that are desperate for an edge rusher on Day 2 will be interested in Clowney if they can't improve that area. As for Newton, I think he's just biding his time until a quarterback gets injured, so he can join that team, much like Sam Bradford did with the Vikings ahead of the 2017 season (though that was via trade.)
From Miguel E.

Do the Cowboys need to move up for McKinney? Why did McKinney fall so much?
--> I don't want to steal Charlie Campbell's thunder in the Why the Slide segment, where McKinney will definitely be featured. However, I expect McKinney to be chosen very early on Day 2. As for the Cowboys, I heard they like Trevon Diggs a lot, so maybe they can wait on him.
From David R.

Why did it seem pass rushers really fell this year? Young and Chaisson were the only real rushers and Chaisson even fell some.
--> They just weren't that good beyond the top two. K'Lavon Chaisson fell just a bit because CeeDee Lamb slipped to the Cowboys. However, the other guys have issues. A.J. Epenesa is not a great athlete, while Yetur Gross-Matos had some off-the-field problems teams are concerned about.
From Kenny S.

Why do bad teams always seem to draft poorly? It doesn't seem to even matter who the head coach is.
--> I think it all starts at the top. Teams that have poor owners almost always suck because of either poor leadership or indifference. Bad owners make poor hires in the front office.
From Jared P.

Dalton, Eason, Cam or Rosen in New England??
--> How about Jake Fromm? I think he's the best fit. James Morgan makes sense, too.
From Audrey C.

What's mailbag? Cause I have many questions! Is it mail in a bag??
--> Perhaps, or maybe a bag made out of mail!
From Dan P.

It's 2020 - can you get rid of the following: "Sorry for cutting this into two halves; I've received complaints about load times and putting the mock draft on two pages saves bandwidth." My dial up connection told me it's ok to move on from this reason.
--> It has nothing to do with people's connections; our server will crash on draft day if we don't do this. I pay $2,300 per month for server costs alone, and it would be much higher if I didn't divide the mock!
From Thomas P.

Who goes first, Hurts or Eason?
--> It seems close, but I'll guess Jalen Hurts. His floor is much higher.
From Mike D.

Do you think there is any chance the Patriots take a QB in the second round?
--> There's definitely a chance, but if I were betting on it, I'd guess Round 3.
From Jeff Z.

Where did the Burrows get their curtains?
--> The same place Chase Young's mom got those five mirrors placed above her drapes. I believe the store is called Tacky Furniture USA.
From Dean M.

Are the Packers considering trading for Trent Williams?
--> I don't understand what the Packers are doing, but it doesn't make sense to me because they signed Ricky Wagner this offseason.
From Justin K.

Do you think the Los Angeles Chargers gave up too much to jump back into the first round a select Kenneth Murray?
--> It was even on the trade value chart, but I didn't like the strategy. If they were going to invest a first-round pick in a quarterback, they shouldn't have used two valuable resources not to help him.
From Andrew B.

Do you think Josh Rosen will be dealt? If so, what would be his value? I would like the Bucs to get him to groom under Brady.
--> Only for a seventh-round pick. Think about the quarterbacks who are available. Cam Newton and Jameis Winston are both available, and Andy Dalton should be soon, too. It makes no sense for a team to trade for Rosen.
From William W.

Is there a way the Bengals can mess up the first pick in the second round?
--> They could pull a Green Bay and select a quarterback for no apparent reason.
From Paul C.

Bills go running back day 2?
--> I would guess so, but they could go a number of directions.
From Clemens M.

Do you think there is a realistic chance that the Buccaneers sign Aaron Rodgers in 2 years after Brady retires and Love is ready to make the team the retirement home for old, great QBs? I mean it would make sense since they're unable to draft a good one
--> I love that idea as long as Bruce Arians is coaching. Arians loves working with older quarterbacks, so a strategy like that would make a ton of sense.
From Dean M.

Are the Packers considering trading for Trent Williams?
--> I don't understand what the Packers are doing, but it doesn't make sense to me because they signed Ricky Wagner this offseason.
From Chris B.

How do I go about talking to GMs to ensure they continue the annual tradition of trading up with New England and picking the player I want NE to draft?
--> I know you're joking, but something you could actually do is learn where all of the NFL personnel go out drinking after each night at the combine and talk to them there.
From Brian S.

Any new information about why a Trent Williams trade didn't happen?
--> Two reasons: First, the Redskins don't have any leverage. Second, this draft class is packed with talent at tackle. The team that doesn't feel as though it satisified its tackle situation could trade for Williams.
From Ron S.

How bad is the Khalil Mack trade grade now?
--> We'll see how Damon Arnette pans out! Just note that the Raiders couldn't afford to pay Mack. The national sports media always ignores this because they hate Jon Gruden and always want to criticize him unfairly.
From Dennis C.

Where will Ngakoue end up?
--> The Raiders and Jaguars are still talking, but Jacksonville is being stubborn about the compensation. I could see the Giants pursuing Ngakoue as well.
From Dan T.

How long till Patriots trade for Rodgers?
--> Soon, hopefully. The Packers did Rodgers dirty by selecting Jordan Love. Everyone is equating it to taking Rodgers when Brett Favre was still there, but Favre was always talking about retirement when that happened. The Packers legitimately didn't know if Favre would play more than one more season. Rodgers has given no indications that he wants to hang up his cleats.
Fantasy Football Rankings
- Aug. 11
2021 NFL Mock Draft
- July 30
2022 NFL Mock Draft
- May 13
2020 College Football Recruiting Rankings
- April 14
NFL Power Rankings
- April 5
NFL Picks
- Feb. 2
2020 NBA Mock Draft
- Sept. 27