By Chet Gresham -
@ChetGresham
Follow
@walterfootball
for updates.
Below, check out my fantasy-centered recaps of key players from this week's contests. For instance, did a player come back to earth after an aberrant breakout, or were they simply affected by something like game flow?
Rams 27, Titans 23
Marcus Mariota completed 22-of-39 passes for 275 yards and one interception, adding 24 yards on three carries. He now has just three games on the season with two touchdown passes and the rest have been zero or one. Last season, Mariota had two or more touchdown passes in 10 games. He'll need to find his stride again before we can feel good about him in fantasy.
DeMarco Murray injured his knee and will have an MRI to see how severe it is. Before he left the game, he managed 14 carries for 48 yards and a touchdown, plus caught 3-of-4 targets for 11 yards. If he can't go next week against the Jaguars, we'll get to see what Derrick Henry can do in his place.
Todd Gurley made his big move for MVP over these last two games, with yet another huge day this week. He rushed for 118 yards on 22 carries and caught 10-of-13 targets for 158 yards and two touchdowns to give him 49.6 fantasy points in PPR leagues, while he had 45 last week! If you ran into a Gurley-led team in your fantasy championship, I'm sorry.
Jared Goff completed 22-of-38 passes for 301 yards and four touchdowns, He was, of course, helped out by Gurley taking screens for chunk yardage, but Goff has taken what defenses have given him this season and put up good numbers against bad teams and numbers that help his team win in tougher matchups. Under Sean McVay, it looks like Goff is only going to continue to improve and should remain fantasy asset for a long while.
Bengals 26, Lions 17
Matthew Stafford completed 19-of-35 passes for 203 yards, one touchdown and one interception in a game he'll want to forget. The Lions were down three offensive linemen and the Bengals got Vontaze Burfict back, so the odds were stacked against Stafford, but it's a game he needed to keep any playoff hopes alive, and he didn't come through.
Eric Ebron caught 5-of-8 targets for 83 yards and a touchdown, and continues to play well late in the season to entice fantasy footballers, but his inconsistency has been a major problem that should lower expectations going into 2018.
Tion Green outplayed his backfield mates, Theo Riddick and Ameer Abdullah, with seven attempts for 43 yards and a touchdown. Green is no doubt the more effective player between the tackles, while Riddick is the most effective as a receiver. Ameer Abdullah is behind both in ability on the field at this point.
Andy Dalton completed 27-of-41 passes for 238 yards, one touchdown and one interception. He continues to need a good complement of offensive weapons to help elevate his numbers, and that's just not happening in Cincinnati at the moment.
Joe Mixon looked like he would be on his way to a strong game, but suffered an ankle injury early in the first quarter, which gave Gio Bernard the lead work for the rest of the day, which he took advantage of, as he rushed 23 times for 116 yards, adding 7-of-7 receptions for 52 yards. Bernard has shown that he can put up good numbers with enough work, but Mixon isn't going anywhere.
Chiefs 29, Dolphins 13
Jay Cutler completed 19-of-38 passes for 286 yards and a touchdown. He managed not to turn the ball over on a continuous loop like last week, but he also did very little outside a screen pass that Jakeem Grant took for a 65-yard touchdown.
Kenyan Drake rushed 13 times for 57 yards and caught none of his three targets. He needed more work, but Miami went heavy with the short passing game and then got too far behind. Drake has demonstrated his ability as a lead back toward the end of this season and has a strong dynasty-league outlook.
Alex Smith completed 25-of-39 passes for 304 yards and a touchdown, plus rushed for 13 yards on four carries. He played an excellent game and should have had another touchdown, but Albert Wilson dropped a no-doubt touchdown.
Kareem Hunt rushed 29 times for 91 yards and a touchdown, plus caught 4-of-4 targets for 15 yards. Hunt has come on strong after a lull in work mid- to late season. Over the last three weeks though, he's touched the ball a whopping 92 times and Kansas City has been on a win-streak during that time.

Panthers 22, Buccaneers 19
Jameis Winston completed 21-of-27 passes for 367 yards and one touchdown. The numbers look good, but he lost three fumbles and was sacked six times. He has ability, but he's yet to put it all together on the field.
Mike Evans caught 6-of-8 targets for 107 yards to give him his first 100-yard game of the season. There really is no reason to think he can't turn things around next year, and if he comes at a discount, I'll be taking him.
Cam Newton completed 16-of-25 passes for 160 yards and one interception, but did rush 14 times for 52 yards and one touchdown. It still was a disappointing game for Newton against a weak defense, in your fantasy championship game no less! This is Newton now. He will continue to be inconsistent, and as soon as his rushing numbers take a big hit, he'll be fairly useless in season-long fantasy.
The offense as a whole didn't do much in this game, with Christian McCaffrey leading the Panthers with 11 touches for 58 yards. Winston's three lost fumbles did shorten the field for the Panthers and hurt their numbers, but they weren't moving the ball that much.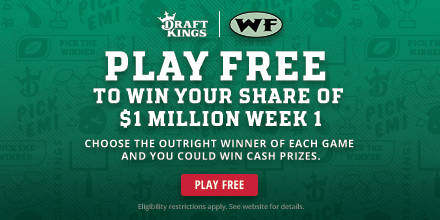 Bears 20, Browns 3
DeShone Kizer completed 18-of-36 passes for 182 yards and two interceptions. He's been a great asset to fantasy players who have targeted the Browns with their defenses, so there is that. Kizer now has a league-high 27 turnovers on the season.
Duke Johnson rushed four times for 20 yards and caught all seven of his targets for 81 yards. Johnson is a great player, but in an offense that just can't use him the way he needs to be. If the Browns can finally hit on a quarterback, it would be a real boon for Johnson's fantasy health.
Mitchell Trubisky completed 14-of-23 passes for 193 yards and rushed seven times for 44 yards and a touchdown. It's a game that won't set any fantasy records, but Trubisky was much better than last week and continues to show signs of life. The Bears of course have no receivers for him right now, so he's working uphill.
Jordan Howard got into the end zone twice to give him a good fantasy day, but also averaged just two yards a carry on 22 carries. Howard's inability as a receiver will continue to hurt him, especially until the Bears can get a better overall offense to keep games close and Howard running the ball.
Patriots 37, Bills 16
Tyrod Taylor completed 21-of-38 passes for 281 yards and rushed three times for 16 yards. His fantasy day would have been much better if not for a dropped touchdown by Charles Clay and an overturned touchdown to Kelvin Benjamin, which didn't appear to have conclusive evidence to be overturned.
Kelvin Benjamin caught 5-of-7 targets for 70 yards, showing his ability more than once, including a great grab on the would-be touchdown. He also wasn't at full health, so this was a nice game from Benjamin and a good sign for his value moving forward.
Tom Brady completed 21-of-28 passes for 224 yards, two touchdowns and an interception. His interception was returned for a touchdown, but after a slow start, Brady played well. His fantasy numbers took a hit toward the end of the season, but he's still shown plenty of upside and should play well against a weak Jets defense next week if the Patriots need the win.
Dion Lewis rushed 24 times for 129 yards and a touchdown, plus caught all five of his targets for 24 yards and another touchdown. Even with Mike Gillislee getting a goal-line touchdown, Lewis was able to dominate snaps and push his stats up with a lead.
Saints 23, Falcons 13
Matt Ryan completed 22-of-36 passes for 288 yards, one touchdown and one interception; an interception you might now know as the "Buttpick" or "Buttception" or something along those lines. He also lost a touchdown to Julio Jones when Jones caught the ball right at the goal line, where it appeared to break the plane, but it was ruled down at the one. It wasn't Ryan's best game, but he hasn't had many strong games this season.
Julio Jones caught 7-of-11 targets for 149 yards and was pretty much the only player able to do much, as the running game was stalled and Tevin Coleman's touchdown reception was in garbage time.
Steve Sarkisian has done this offense no favors this season, and if the Falcons do make it into the playoffs, they'll be lucky to go very far.
Drew Brees completed 21-of-28 passes for 239 yards, one touchdown and one interception. Once again, Brees didn't have to force the issue with a 26-yard rushing touchdown from Mark Ingram and a strong defensive effort by the Saints. Before this season, Brees would have needed to throw to win games, and that just hasn't been a problem for them this year.
Ted Ginn hauled in 4-of-5 targets for 76 yards and a touchdown. The touchdown was a well-thrown ball by Brees for a 54-yard score, but Ginn also had a pass clang off his hands for Brees' lone interception. With Michael Thomas battling a hamstring injury, Ginn's touchdown was still a huge play.
Chargers 14, Jets 7
Bryce Petty completed 14-of-27 passes for 114 yards and an interception. Petty just isn't an NFL starter and isn't showing enough to be considered a backup.
Bilal Powell rushed 19 times for 145 yards and a touchdown to lead the way in the backfield, while Matt Forte had nine touches for 26 yards. Powell has shown ability his whole career, but consistency hasn't been there this season, which is hard to come by when the team wants three active running backs for some reason.
Philip Rivers completed 22-of-40 passes for 290 yards and a touchdown, but didn't need to do much with Bryce Petty unable to move the ball. It wasn't a great fantasy game, but it was a step up from his awful start in Kansas City last week.
Antonio Gates caught 6-of-8 passes for 81 yards and a touchdown. Wow. Yes, with Hunter Henry out, Gates was the starting tight end in a good matchup, but he ended up leading the team in receptions, yards and touchdown receptions. The old man still has a little left in the tank, and he gets another good matchup next week against Oakland.
Redskins 27, Broncos 11
Brock Osweiler completed 22-of-38 passes for 193 yards and an interception, plus lost a fumble. He was once again awful and should never start another NFL game in his life.
C.J. Anderson rushed 16 times for 88 yards and a touchdown, adding seven receptions for 45 yards. A big chunk of Denver's yardage came in garbage time, and Anderson was a beneficiary of that, but he's now had back-to-back strong games,
Kirk Cousins completed 19-of-37 passes for 299 yards, three touchdowns and an interception, which was his best game since Week 10, which was around the time he lost Chris Thompson and started losing offensive linemen. Cousins' future is still up in the air, but he'll get one more nice matchup against the Giants to finish the season.
Josh Doctson caught 2-of-13 targets for 61 yards and a touchdown. Cousins was not afraid to target him when he was covered, so the trust was there, but not the results. Doctson has been extremely inconsistent so far in his career, and despite finding the end zone with some consistency, he is still very much on the bubble for fantasy worthiness.
Seahawks 21, Cowboys 12
Dak Prescott completed 21-of-34 passes for 182 yards and two interceptions, adding four rushing attempts for 21 yards. Prescott was again not at his best, especially on an awful throw that was returned for a touchdown. He did lose Tyron Smith after the first series, but he will need to be able to overcome those kinds of obstacles to be a top quarterback.
Ezekiel Elliott had 24 carries for 97 yards, while catching four-of-seven targets for 21 yards. He was used heavily to start the game, but saw less work with a deficit. He gets another tough matchup next week in Philadelphia.
Russell Wilson completed 14-of-21 passes for 93 yards and two touchdowns, adding 30 yards on eight carries. This Seattle offense is not good, and now Wilson is having trouble carrying the team by himself. Thankfully for the Seahawks, the defense stepped up and they live to fight another day.
Doug Baldwin caught 4-of-6 targets for 35 yards and a touchdown, leading the team in receiving yards. It was that kind of day. The touchdown was a windfall of fantasy points for Baldwin in comparison to the rest of the offense, so his fantasy backers can't complain too much.
Cardinals 23, Giants 0
Eli Manning completed 27-of-45 passes for 263 yards and two interceptions, plus lost a fumble that was returned for a touchdown. He doesn't have a supporting cast and lost Evan Engram early, but he was awful by all accounts. The Giants botched his benching, but they also need a better quarterback if they want to compete anytime soon.
Both Evan Engram and Sterling Shepard suffered injuries in this game and could be shut down with one meaningless game left.
Drew Stanton completed 20-of-34 passes for 209 yards with two touchdowns and two interceptions. He wasn't that good, but he did target Larry Fitzgerald enough to help himself out.
Larry Fitzgerald caught 9-of-15 targets for 119 yards and a touchdown. Amazingly at this point in his career, he now has three straight seasons of 100 or more receptions and 1,000 or more yards. He hasn't decided if he will return next year, but he sure has proven that he could if he wants to.

49ers 44, Jaguars 33
Blake Bortles completed 32-of-50 passes for 382 yards, two touchdowns and three interceptions, plus rushed five times for 31 yards. It was an inconsistent performance, but not all his interceptions were on him and he rallied his team from behind to make it a game, while his usually stout defense was carved up by Jimmy Garoppolo.
Dede Westbrook caught 4-of-7 targets for 74 yards and should have had a touchdown, but instead of reviewing his catch, the Jaguars ran Leonard Fournette in from the one.
Keelan Cole caught 6-of-13 targets for 108 yards and broke the 100-yard mark for the second time in a row. The undrafted free agent has played well enough to be a strong pickup in dynasty leagues.
Jimmy Garoppolo completed 21-of-30 passes for 242 yards, two touchdowns and an interception, while rushing for a goal-line touchdown. This game solidified Garoppolo as a top quarterback already in this league. He went into Jacksonville and had no trouble picking their No. 1 defense apart, while having very few offensive weapons on his side.
Matt Breida rushed 11 times for 74 yards and a touchdown, adding eight yards on one reception. He outplayed Carlos Hyde this week, as he stopped the Jaguars' comeback with a 30-yard touchdown run. Breida hasn't shown me enough yet to be all-in on him, but this offense under Garoppolo, if the 49ers sign him, is going to be strong and Breida could be the lead back.
For more thoughts, check out Walt's updated
NFL Power Rankings
, which will be posted Tuesday morning.
Comment...
Fantasy Football: The Things I Learned - Week 16
- 12/25
Fantasy Football: The Things I Learned - Week 15
- 12/18
Fantasy Football: The Things I Learned - Week 14
- 12/11
Fantasy Football: The Things I Learned - Week 13
- 12/4
Fantasy Football: The Things I Learned - Week 12
- 11/27
Fantasy Football: The Things I Learned - Week 11
- 11/20
Fantasy Football: The Things I Learned - Week 10
- 11/13
Fantasy Football: The Things I Learned - Week 9
- 11/6
Fantasy Football: The Things I Learned - Week 8
- 10/30
Fantasy Football: The Things I Learned - Week 7
- 10/23
Fantasy Football: The Things I Learned - Week 6
- 10/16
Fantasy Football: The Things I Learned - Week 5
- 10/9
Fantasy Football: The Things I Learned - Week 4
- 10/2
Fantasy Football: The Things I Learned - Week 3
- 9/25
Fantasy Football: The Things I Learned - Week 2
- 9/18
Fantasy Football: The Things I Learned - Week 1
- 9/11
NFL Picks
- Nov. 14
2019 NFL Mock Draft
- Nov. 8
2020 NFL Mock Draft
- Nov. 3
Fantasy Football Rankings
- Sept. 5
2019 NBA Mock Draft
- Aug. 13
NFL Power Rankings
- June 3
2018:
Live 2018 NFL Draft Blog
- April 30
2018 NFL Week 1 Recap
- Sept. 7
2018 NFL Week 2 Recap
- Sept. 14
2018 NFL Week 3 Recap
- Sept. 21
2018 NFL Week 4 Recap
- Sept. 28
2018 NFL Week 5 Recap
- Oct. 5
2018 NFL Week 6 Recap
- Oct. 12
2018 NFL Week 7 Recap
- Oct. 19
2018 NFL Week 8 Recap
- Oct. 26
2018 NFL Week 9 Recap
- Nov. 2
2018 NFL Week 10 Recap
- Nov. 9
2017:
Live 2017 NFL Draft Blog
- April 30
2017 NFL Week 1 Recap
- Sept. 12
2017 NFL Week 2 Recap
- Sept. 19
2017 NFL Week 3 Recap
- Sept. 26
2017 NFL Week 4 Recap
- Oct. 2
2017 NFL Week 5 Recap
- Oct. 9
2017 NFL Week 6 Recap
- Oct. 16
2017 NFL Week 7 Recap
- Oct. 23
2017 NFL Week 8 Recap
- Oct. 30
2017 NFL Week 9 Recap
- Nov. 6
2017 NFL Week 10 Recap
- Nov. 13
2017 NFL Week 11 Recap
- Nov. 20
2017 NFL Week 12 Recap
- Nov. 27
2017 NFL Week 13 Recap
- Dec. 4
2017 NFL Week 14 Recap
- Dec. 11
2017 NFL Week 15 Recap
- Dec. 18
2017 NFL Week 16 Recap
- Dec. 25
2017 NFL Week 17 Recap
- Jan. 1
2017 NFL Week 18 Recap
- Jan. 8
2017 NFL Week 19 Recap
- Jan. 15
2017 NFL Week 20 Recap
- Jan. 22
Super Bowl LII Recap
- Feb. 5
2017:
Live 2017 NFL Draft Blog
- April 30
2017 NFL Week 1 Recap
- Sept. 12
2017 NFL Week 2 Recap
- Sept. 19
2017 NFL Week 3 Recap
- Sept. 26
2017 NFL Week 4 Recap
- Oct. 2
2017 NFL Week 5 Recap
- Oct. 9
2017 NFL Week 6 Recap
- Oct. 16
2017 NFL Week 7 Recap
- Oct. 23
2017 NFL Week 8 Recap
- Oct. 30
2017 NFL Week 9 Recap
- Nov. 6
2017 NFL Week 10 Recap
- Nov. 13
2017 NFL Week 11 Recap
- Nov. 20
2017 NFL Week 12 Recap
- Nov. 27
2017 NFL Week 13 Recap
- Dec. 4
2017 NFL Week 14 Recap
- Dec. 11
2017 NFL Week 15 Recap
- Dec. 18
2017 NFL Week 16 Recap
- Dec. 25
2017 NFL Week 17 Recap
- Jan. 1
2017 NFL Week 18 Recap
- Jan. 8
2017 NFL Week 19 Recap
- Jan. 15
2017 NFL Week 20 Recap
- Jan. 22
Super Bowl LII Recap
- Feb. 5
2016:
Live 2016 NFL Draft Blog
- April 30
2016 NFL Week 1 Recap
- Sept. 12
2016 NFL Week 2 Recap
- Sept. 19
2016 NFL Week 3 Recap
- Sept. 26
2016 NFL Week 4 Recap
- Oct. 3
2016 NFL Week 5 Recap
- Oct. 10
2016 NFL Week 6 Recap
- Oct. 17
2016 NFL Week 7 Recap
- Oct. 24
2016 NFL Week 8 Recap
- Oct. 31
2016 NFL Week 9 Recap
- Nov. 7
2016 NFL Week 10 Recap
- Nov. 14
2016 NFL Week 11 Recap
- Nov. 21
2016 NFL Week 12 Recap
- Nov. 28
2016 NFL Week 13 Recap
- Dec. 5
2016 NFL Week 14 Recap
- Dec. 12
2016 NFL Week 15 Recap
- Dec. 19
2016 NFL Week 16 Recap
- Dec. 26
2016 NFL Week 17 Recap
- Jan. 2
2016 NFL Week 18 Recap
- Jan. 9
2016 NFL Week 19 Recap
- Jan. 16
2016 NFL Week 20 Recap
- Jan. 23
2016 NFL Week 21 Recap
- Feb. 6
2015:
Live 2015 NFL Draft Blog
- April 30
2015 NFL Week 1 Recap
- Sept. 12
2015 NFL Week 2 Recap
- Sept. 17
2015 NFL Week 3 Recap
- Sept. 24
2015 NFL Week 4 Recap
- Oct. 1
2015 NFL Week 5 Recap
- Oct. 8
2015 NFL Week 6 Recap
- Oct. 15
2015 NFL Week 7 Recap
- Oct. 22
2015 NFL Week 8 Recap
- Oct. 29
2015 NFL Week 9 Recap
- Nov. 5
2015 NFL Week 10 Recap
- Nov. 12
2015 NFL Week 11 Recap
- Nov. 19
2015 NFL Week 12 Recap
- Nov. 26
2015 NFL Week 13 Recap
- Dec. 4
2015 NFL Week 14 Recap
- Dec. 11
2015 NFL Week 15 Recap
- Dec. 18
2015 NFL Week 16 Recap
- Dec. 25
2015 NFL Week 17 Recap
- Jan. 4
2015 NFL Week 18 Recap
- Jan. 11
2015 NFL Week 19 Recap
- Jan. 18
2015 NFL Week 20 Recap
- Jan. 25
Super Bowl 50 Recap
- Feb. 8
2014:
Live 2014 NFL Draft Blog
- May 8
2014 NFL Week 1 Recap
- Sept. 5
2014 NFL Week 2 Recap
- Sept. 12
2014 NFL Week 3 Recap
- Sept. 19
2014 NFL Week 4 Recap
- Sept. 26
2014 NFL Week 5 Recap
- Oct. 3
2014 NFL Week 6 Recap
- Oct. 10
2014 NFL Week 7 Recap
- Oct. 17
2014 NFL Week 8 Recap
- Oct. 24
2014 NFL Week 9 Recap
- Oct. 31
2014 NFL Week 10 Recap
- Nov. 6
2014 NFL Week 11 Recap
- Nov. 13
2014 NFL Week 12 Recap
- Nov. 20
2014 NFL Week 13 Recap
- Nov. 27
2014 NFL Week 14 Recap
- Dec. 5
2014 NFL Week 15 Recap
- Dec. 12
2014 NFL Week 16 Recap
- Dec. 19
2014 NFL Week 17 Recap
- Dec. 29
2014 NFL Week 18 Recap
- Jan. 4
2014 NFL Week 19 Recap
- Jan. 11
2014 NFL Week 20 Recap
- Jan. 18
Super Bowl XLIX Live Blog
- Feb. 1
Super Bowl XLIX Recap
- Feb. 2
2013:
Live 2013 NFL Draft Blog
- April 26
2013 NFL Week 1 Recap
- Sept. 10
2013 NFL Week 2 Recap
- Sept. 17
2013 NFL Week 3 Recap
- Sept. 24
2013 NFL Week 4 Recap
- Oct. 1
2013 NFL Week 5 Recap
- Oct. 8
2013 NFL Week 6 Recap
- Oct. 15
2013 NFL Week 7 Recap
- Oct. 22
2013 NFL Week 8 Recap
- Oct. 29
2013 NFL Week 9 Recap
- Nov. 4
2013 NFL Week 10 Recap
- Nov. 11
2013 NFL Week 11 Recap
- Nov. 18
2013 NFL Week 12 Recap
- Nov. 25
2013 NFL Week 13 Recap
- Dec. 2
2013 NFL Week 14 Recap
- Dec. 9
2013 NFL Week 15 Recap
- Dec. 16
2013 NFL Week 16 Recap
- Dec. 23
2013 NFL Week 17 Recap
- Dec. 30
2013 NFL Week 18 Recap
- Jan. 6
2013 NFL Week 19 Recap
- Jan. 13
2013 NFL Week 20 Recap
- Jan. 20
Super Bowl XLVIII Recap
- Feb. 3
Super Bowl XLVIII Live Blog
- Feb. 2
2012:
Live 2012 NFL Draft Blog
- April 26
2012 NFL Week 1 Recap
- Sept. 10
2012 NFL Week 2 Recap
- Sept. 17
2012 NFL Week 3 Recap
- Sept. 24
2012 NFL Week 4 Recap
- Oct. 1
2012 NFL Week 5 Recap
- Oct. 8
2012 NFL Week 6 Recap
- Oct. 15
2012 NFL Week 7 Recap
- Oct. 22
2012 NFL Week 8 Recap
- Oct. 29
2012 NFL Week 9 Recap
- Nov. 5
2012 NFL Week 10 Recap
- Nov. 12
2012 NFL Week 11 Recap
- Nov. 19
2012 NFL Week 12 Recap
- Nov. 26
2012 NFL Week 13 Recap
- Dec. 3
2012 NFL Week 14 Recap
- Dec. 10
2012 NFL Week 15 Recap
- Dec. 17
2012 NFL Week 16 Recap
- Dec. 24
2012 NFL Week 17 Recap
- Dec. 31
2012 NFL Week 18 Recap
- Jan. 7
2012 NFL Week 19 Recap
- Jan. 14
2012 NFL Week 20 Recap
- Jan. 21
Super Bowl XLVII Recap
- Feb. 4
Super Bowl XLVII Live Blog
- Feb. 4
2011:
Live 2011 NFL Draft Blog
- April 28
2011 NFL Week 1 Recap
- Sept. 12
2011 NFL Week 2 Recap
- Sept. 19
2011 NFL Week 3 Recap
- Sept. 26
2011 NFL Week 4 Recap
- Oct. 3
2011 NFL Week 5 Recap
- Oct. 10
2011 NFL Week 6 Recap
- Oct. 17
2011 NFL Week 7 Recap
- Oct. 24
2011 NFL Week 8 Recap
- Oct. 31
2011 NFL Week 9 Recap
- Nov. 7
2011 NFL Week 10 Recap
- Nov. 14
2011 NFL Week 11 Recap
- Nov. 21
2011 NFL Week 12 Recap
- Nov. 28
2011 NFL Week 13 Recap
- Dec. 5
2011 NFL Week 14 Recap
- Dec. 12
2011 NFL Week 15 Recap
- Dec. 19
2011 NFL Week 16 Recap
- Dec. 26
2011 NFL Week 17 Recap
- Jan. 2
2011 NFL Week 18 Recap
- Jan. 9
2011 NFL Week 19 Recap
- Jan. 16
2011 NFL Week 20 Recap
- Jan. 23
Super Bowl XLVI Live Blog
- Feb. 6
2010:
Live 2010 NFL Draft Blog
- April 22
2010 Hall of Fame Game Live Blog
- Aug. 8
2010 NFL Kickoff Live Blog
- Sept. 9
2010 NFL Week 1 Review
- Sept. 13
2010 NFL Week 2 Review
- Sept. 20
2010 NFL Week 3 Review
- Sept. 27
2010 NFL Week 4 Review
- Oct. 4
2010 NFL Week 5 Review
- Oct. 11
2010 NFL Week 6 Review
- Oct. 18
2010 NFL Week 7 Review
- Oct. 25
2010 NFL Week 8 Review
- Nov. 1
2010 NFL Week 9 Review
- Nov. 8
2010 NFL Week 10 Review
- Nov. 15
2010 NFL Week 11 Review
- Nov. 22
2010 NFL Week 12 Review
- Nov. 29
2010 NFL Week 13 Review
- Dec. 6
2010 NFL Week 14 Review
- Dec. 13
2010 NFL Week 15 Review
- Dec. 20
2010 NFL Week 16 Review
- Dec. 27
2010 NFL Week 17 Review
- Jan. 3
2010 NFL Week 18 Review
- Jan. 10
2010 NFL Week 19 Review
- Jan. 17
2010 NFL Week 19 Review
- Jan. 24
Super Bowl XLV Live Blog
- Feb. 6
2009:
Live 2009 NFL Draft Blog
- April 25
2009 Hall of Fame Game Live Blog
- Aug. 10
2009 NFL Kickoff Live Blog
- Sept. 10
2009 NFL Week 1 Review
- Sept. 14
2009 NFL Week 2 Review
- Sept. 21
2009 NFL Week 3 Review
- Sept. 28
2009 NFL Week 4 Review
- Oct. 5
2009 NFL Week 5 Review
- Oct. 12
2009 NFL Week 6 Review
- Oct. 19
2009 NFL Week 7 Review
- Oct. 26
2009 NFL Week 8 Review
- Nov. 2
2009 NFL Week 9 Review
- Nov. 9
2009 NFL Week 10 Review
- Nov. 16
2009 NFL Week 11 Review
- Nov. 23
2009 NFL Week 12 Review
- Nov. 30
2009 NFL Week 13 Review
- Dec. 6
2009 NFL Week 14 Review
- Dec. 13
2009 NFL Week 15 Review
- Dec. 20
2009 NFL Week 16 Review
- Dec. 27
2009 NFL Week 17 Review
- Jan. 4
2009 NFL Week 18 Review
- Jan. 11
2009 NFL Week 19 Review
- Jan. 18
2009 NFL Week 20 Review
- Jan. 25
Super Bowl XLIV Live Blog
- Feb. 7
2008:
Live 2008 NFL Draft Blog
- April 26
2008 NFL Kickoff Blog
- Sept. 4
NFL Week 1 Review
- Sept. 8
NFL Week 2 Review
- Sept. 15
NFL Week 3 Review
- Sept. 22
NFL Week 4 Review
- Sept. 29
NFL Week 5 Review
- Oct. 6
NFL Week 6 Review
- Oct. 13
NFL Week 7 Review
- Oct. 20
NFL Week 8 Review
- Oct. 27
NFL Week 9 Review
- Nov. 3
NFL Week 10 Review
- Nov. 10
NFL Week 11 Review
- Nov. 17
NFL Week 12 Review
- Nov. 24
NFL Week 13 Review
- Dec. 1
NFL Week 14 Review
- Dec. 8
NFL Week 15 Review
- Dec. 15
NFL Week 16 Review
- Dec. 22
NFL Week 17 Review
- Dec. 29
NFL Wild Card Playoffs Review
- Jan. 4
NFL Divisional Playoffs Review
- Jan. 11
NFL Championship Sunday Review
- Jan. 19
Super Bowl XLIII Live Blog