Week 18 NFL Game Recaps


Texans 19, Bengals 13
The Bengals were such an easy pick. Forget covering; everyone had them winning. Football Outsider's Aaron Schatz told Bill Simmons on the B.S. Report that Cincinnati was the obvious selection against the spread. Seven of the 12 analysts on ESPN's picks page had the Bengals winning straight up. And then there was Jason Whitlock, who posted this tweet:





Well, if Cincinnati was such an obvious pick, why were the Texans 4.5-point favorites? Houston, with a chip on its shoulder, ended up winning by six, but this game was never really close. The Texans outgained the Bengals, 420-198 and won the time of possession by nearly 18 minutes.

The media, as usual, overreacted. They looked too closely at what Houston had done lately and not enough at Andy Dalton's futility against elite defenses. Dalton was brutal, going 14-of-30 for 127 yards and an interception, but those numbers don't tell the whole story. He began the contest 4-of-12 for three yards. He didn't convert a single third down (0-of-9). He could have easily thrown a couple of other picks. He was nearly forced into a strip-sack (Gary Kubiak challenged the play, but lost). He didn't connect with A.J. Green until the 10-minute mark of the third quarter. He overthrew an open Green deep in the end zone. He was awful on every level.

The coaching was poor as well. Marvin Lewis wasted some timeouts, including a crucial one on a 3rd-and-6 with four minutes remaining. Cincinnati came out of the break and false started, so the team should have just accepted the penalty. Also, offensive coordinator Jay Gruden has to answer why BenJarvus Green-Ellis (11-63) had just three carries in the first half. The Law Firm gained 43 yards on those three attempts, so establishing him would have helped a struggling Dalton immensely. Instead, Dalton aired it out 10 times prior to the break.


As for the Texans, they were pretty efficient offensively until they reached the red zone. They settled for far too many field goals, which won't fly against the Patriots next week. Arian Foster scored once, while Matt Schaub just barely missed Andre Johnson (4-62) in the end zone on one occasion.

Foster was brilliant. He gained 140 yards and the aforementioned touchdown on 32 carries to go along with eight catches for 34 receiving yards. He was very elusive, snaking through holes and making linebackers whiff. Rey Maualuga was victimized brutally.


Schaub was a mostly economical 29-of-38 for 262 yards, but tossed a terrible interception that was returned for six by Leon Hall. Schaub just threw the ball way late, allowing Hall to easily pick it off. The big story here is that Schaub had all day to throw. He wasn't sacked a single time.


Schaub's top target was Owen Daniels, who had nine grabs for 91 yards. One of the other tight ends, Garrett Graham, appeared to suffer a concussion on Houston's final drive. This is key because Schaub relies on his tight ends so much.


Speaking of tight ends, Jermaine Gresham was brutal. He came up with two catches for seven yards, but dropped three balls, one of which nearly sailed into the arms of a Houston defender. Green, meanwhile, logged five receptions for 80 yards.









Packers 24, Vikings 10
You have to feel for the Vikings. They fought so valiantly during their magical December run to reach the playoffs, but they lost all hope when their starting quarterback was ruled out of the first postseason game just hours prior to kickoff. Christian Ponder's elbow, which took a hit in Week 17, hadn't recovered as well as the coaching staff had hoped, so Leslie Frazier announced that he would be going with Joe Webb instead. Webb would become the first quarterback in NFL history to start a playoff game without attempting a single pass during the regular season.

Webb looked decent early on. He led the Vikings down the field for three points, with a key play of his coming on a 17-yard scramble where he somehow eluded five Green Bay defenders positioned like this (thanks to e-mailer David L.):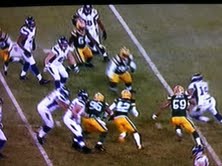 Webb had a third down in the red zone on that initial drive, but skipped a pass to his intended target. It was a sign of things to come.

Webb put forth one of the worst playoff quarterbacking performances in memory from then on, going 11-of-30 for 180 yards, one touchdown, an interception and a lost fumble (with 68 rushing yards on seven scrambles). The numbers don't even tell the whole story though. When the Packers began taking things easy, Webb was just 7-of-24 for 61 yards and the pick. He could have easily tossed several more interceptions; on two occasions, he heaved pop up-like balls right up into the air to avoid sacks, getting penalized once for intentional grounding. Webb displayed dismal accuracy and even worse pocket awareness. Minnesota had no chance with him at the helm.

Of course, it could be argued that the Vikings probably would have lost with Ponder under center. The Packers, who welcomed Charles Woodson back into the lineup, were prolific defensively, particularly against Adrian Peterson. Unlike last week, Green Bay made sure that Peterson didn't get outside, where he's so dangerous. Peterson was limited to just 99 yards on 22 carries. The defense deserves major credit for looking at the film of the previous two meetings this past season and making the proper adjustments.

This game, by the way, showed why Peterson should not win the MVP award. He's such an amazing player, but this is a quarterback-driven league. Peterson simply could not beat the Packers, let alone go deep into the playoffs without better quarterbacking. Peterson might be the best player, but he can't be the most valuable if he can't carry his team to the Promised Land like a superior signal-caller can. Minnesota needs a better quarterback, and Ponder simply hasn't shown enough yet.


The Packers, meanwhile, looked great offensively for the first two-and-a-half quarters until they took their foot off the gas. The Vikings did help them though. One of the key plays in this game was when Green Bay, up 17-3, was trying a 33-yard field goal right after intermission. Minnesota was whistled for 12 men on the field, and the Packers scored a touchdown on the very next play.

Aaron Rodgers went 23-of-33 for 274 yards and the aforementioned score to John Kuhn. Rodgers saw a decent amount of pressure, taking three sacks. He also could have tossed a second touchdown, but Jermichael Finley dropped the ball in the end zone.


Rodgers did a great job of spreading the ball around. The Packers tied an NFL playoff record with 10 different individuals logging at least one reception. Greg Jennings led the way with four catches for 61 yards, while Jordy Nelson (3-51) limped off the field late in the fourth quarter. That's something to monitor this upcoming week.


I really like what I'm seeing out of DuJuan Harris. The second-year back rushed for 47 yards and a touchdown on 17 carries to go along with five catches for 53 receiving yards. Harris didn't maintain a good yards-per-carry average, but he had some tough runs against a defense ranked No. 4 versus ground attacks heading into this weekend. Harris is important for giving the Packers some sort of balance as they advance deeper into the playoffs.















Ravens 24, Colts 9
Red-zone offense. That's what this game came down to. This contest was evenly matched, with Baltimore edging out Indianapolis in yardage, 427-414. The Colts had more first downs (25-17) and won the time of possession by more than 16 minutes. But while Indianapolis moved the chains efficiently all afternoon, the offense completely bogged down once it advanced deep into Baltimore territory. Take a look at the following miscues:

- Andrew Luck lost a fumble in the first quarter.

- Luck took a bad sack in the second quarter, ruining a good-looking drive.

- Luck had Reggie Wayne open for a potential touchdown, but missed him.

- Donnie Avery dropped a catchable ball, and then Adam Vinatieri followed that up with a missed kick from 40 yards.

- Dwayne Allen slipped on third down. Luck's next pass was tipped and picked on 4th-and-1.

- Vick Ballard also had a drop.


I don't want to completely discredit Baltimore's defense for stiffening in the red zone, but this was mostly about the Colts showing inexperience and screwing up. Despite the nine points allowed and Ray Lewis playing his final home game in his Hall-of-Fame career, the Ravens did not look good defensively, and they're going to be in deep trouble next week against Peyton Manning, who routinely torches them. But watching Lewis do his pre-game (and post-game) dance was great. Seeing him during live action? Not as great, as he inexplicably dropped a gimme interception. He did manage to lead the team with 13 tackles, however.


With the defense reeling, Joe Flacco made enough plays to lead the team to victory. He barely completed half of his passes (12-of-23) and got away with two dropped Vontae Davis interceptions early on, but he threw for 282 yards and two touchdowns, torching any Colt corner not named Davis. Flacco converted eight passes of 18 yards or more, though his second-longest completion, a 47-yarder to Ray Rice, was all on the running back, who took a short screen down to the 2-yard line. Vonta Leach punched the ball into the end zone one play later to break a 3-3 tie in the second quarter.


Rice had a forgettable game otherwise. He was outgained by Bernard Pierce on the ground, 103-70. More importantly, he coughed up two fumbles in Indianapolis territory.


Anquan Boldin, meanwhile, was the star skill-position player for the Ravens. He caught five balls for 145 yards and a touchdown, with his only blemish being an offensive pass interference in the third quarter. Flacco's other score went to Dennis Pitta (2-27). As for Torrey Smith, he didn't have a great statistical outing (2-31), but he was a key blocker on two of the Ravens' touchdowns.


Going back to the Colts, Luck went 28-of-54 for 288 yards and the aforementioned pick. He also scrambled four times for 35 additional yards. He was solid on third down, converting 9-of-20 tries. The problem for him, aside from the miscues I referenced earlier, was all of the pressure he had in his face throughout the afternoon. His offensive line didn't have much of a chance against Baltimore's front. Fixing his blocking will be paramount for the front office this upcoming offseason.


Wayne naturally was Luck's top target, snagging nine balls for 114 yards. TY Hilton also had a decent performance, catching eight passes for 66 yards, though he dropped a key reception.


The Colts ran on the Ravens successfully, as most teams have this year. Vick Ballard tallied 91 yards on 22 carries.


The officiating was terrible in this contest. There were four blown calls in the first quarter alone. Mike Carey's crew whistled the Colts for a terrible pass interference, then incorrectly ruled who recovered the ball on Rice's first fumble. The ensuing drive saw two missed face mask penalties. Later on, Carey failed to blow a play dead when Baltimore had 12 men on the field.









Seahawks 24, Redskins 14
Ah, what could have been. The Redskins jumped out to a 14-0 lead and were completely dominating this game. They looked like they were well on their way to winning this matchup by double digits, but Robert Griffin suffered an injury to his problematic right knee on the play prior to throwing his second touchdown of the evening. It didn't appear to be a big concern at the time because Washington was up by double digits, but it soon became apparent that the Redskins wouldn't be able to score the rest of the way.

Griffin was completely immobilized following the injury. On one occasion, when he somehow gained nine yards on the ground - one of only two scrambles of his following that second score - it looked like he was doing so on one leg. But you can just look at the statistics:

Griffin before the knee injury: 6-of-9, 68 yards, two touchdowns
Griffin after the knee injury: 4-of-10, 16 yards, one interception, one lost fumble

It was disastrous. Griffin's condition worsened as the game progressed. He couldn't do anything, Because he couldn't plant his foot, his passes became incredibly inaccurate, and he was lucky to get away with not throwing several picks. He was also way too hesitant in the pocket. He eventually took a nasty hit in the fourth quarter and then completely collapsed trying to scoop up a botched snap. He had to be helped off the field and was replaced by Kirk Cousins, who didn't look like he was prepared to play (3-of-10, 31 yards). Still though, Mike Shanahan should have went to Cousins earlier because Griffin couldn't move.

Shanahan looked like a fool after the game. He said, "We wouldn't have played Robert if we thought there was further risk to his LCL." Huh... that's interesting. You'd think that Griffin would have been at risk when, I don't know, he couldn't plant his foot or run around. But I'm not a head coach with a lifetime supply of spray tan.


Washington outgained the Seahawks in the first quarter, 129-9, but then were beaten in yardage the rest of the evening, 371-74. With Griffin no longer a running threat, the Seahawks could focus more on Alfred Morris. The rookie runner gained 49 yards in the two drives prior to Griffin's injury, but managed only 31 after that.


The Seahawks don't deserve as much credit as they're getting from the media because this could have easily been a Washington blowout, but they still should get some praise for taking advantage of the situation. The key play of the game was when they were driving, down 14-3 in the second quarter. Russell Wilson fumbled, but Marshawn Lynch scooped it up and ran for a long gain. Had it gone the other way, the Redskins would have been up 21-3. Instead, Lynch's awareness set up Seattle's first touchdown of the contest.

Both Wilson and Lynch were awesome. The former went 15-of-26 for 187 yards and a touchdown (stats that could have been better if it weren't for some drops) as well as 67 rushing yards on eight scrambles.

Lynch, meanwhile, gained 132 yards and a score on 20 carries. His only blemish looked like a big one - he uncharacteristically fumbled at the 1-yard line, but made up for it with a 27-yard touchdown in the fourth quarter.


Wilson's leading receiver was Zach Miller, who had four grabs for 48 yards. He had an amazing effort on his first reception. He caught a pass and willed his way past the first-down marker. Had he failed to reach it, the Seahawks would have punted down 14-0, and would have been in absolutely terrible shape had Griffin not re-injured his knee.


Two defenders of note: For the Redskins, Reed Doughty played the game of his life, registering 12 tackles and two sacks. As for Seattle's Chris Clemons, the dynamic pass-rusher hurt his knee, but the good news is that he walked off the field.

For more thoughts, check out my updated NFL Power Rankings, which will be posted Tuesday morning.







2015 NFL Mock Draft - April 24


2016 NBA Mock Draft - April 24


2016 NFL Mock Draft - April 23


2015 NBA Mock Draft - April 22


Fantasy Football Rankings - Feb. 18


NFL Picks - Feb. 1


NFL Free Agents








2014: Live 2014 NFL Draft Blog - May 8
2014 NFL Week 1 Recap - Sept. 5
2014 NFL Week 2 Recap - Sept. 12
2014 NFL Week 3 Recap - Sept. 19
2014 NFL Week 4 Recap - Sept. 26
2014 NFL Week 5 Recap - Oct. 3
2014 NFL Week 6 Recap - Oct. 10
2014 NFL Week 7 Recap - Oct. 17
2014 NFL Week 8 Recap - Oct. 24
2014 NFL Week 9 Recap - Oct. 31
2014 NFL Week 10 Recap - Nov. 6
2014 NFL Week 11 Recap - Nov. 13
2014 NFL Week 12 Recap - Nov. 20
2014 NFL Week 13 Recap - Nov. 27
2014 NFL Week 14 Recap - Dec. 5
2014 NFL Week 15 Recap - Dec. 12
2014 NFL Week 16 Recap - Dec. 19
2014 NFL Week 17 Recap - Dec. 29
2014 NFL Week 18 Recap - Jan. 4
2014 NFL Week 19 Recap - Jan. 11
2014 NFL Week 20 Recap - Jan. 18
Super Bowl XLIX Live Blog - Feb. 1
Super Bowl XLIX Recap - Feb. 2


2013: Live 2013 NFL Draft Blog - April 26
2013 NFL Week 1 Recap - Sept. 10
2013 NFL Week 2 Recap - Sept. 17
2013 NFL Week 3 Recap - Sept. 24
2013 NFL Week 4 Recap - Oct. 1
2013 NFL Week 5 Recap - Oct. 8
2013 NFL Week 6 Recap - Oct. 15
2013 NFL Week 7 Recap - Oct. 22
2013 NFL Week 8 Recap - Oct. 29
2013 NFL Week 9 Recap - Nov. 4
2013 NFL Week 10 Recap - Nov. 11
2013 NFL Week 11 Recap - Nov. 18
2013 NFL Week 12 Recap - Nov. 25
2013 NFL Week 13 Recap - Dec. 2
2013 NFL Week 14 Recap - Dec. 9
2013 NFL Week 15 Recap - Dec. 16
2013 NFL Week 16 Recap - Dec. 23
2013 NFL Week 17 Recap - Dec. 30
2013 NFL Week 18 Recap - Jan. 6
2013 NFL Week 19 Recap - Jan. 13
2013 NFL Week 20 Recap - Jan. 20
Super Bowl XLVIII Recap - Feb. 3
Super Bowl XLVIII Live Blog - Feb. 2


2012: Live 2012 NFL Draft Blog - April 26
2012 NFL Week 1 Recap - Sept. 10
2012 NFL Week 2 Recap - Sept. 17
2012 NFL Week 3 Recap - Sept. 24
2012 NFL Week 4 Recap - Oct. 1
2012 NFL Week 5 Recap - Oct. 8
2012 NFL Week 6 Recap - Oct. 15
2012 NFL Week 7 Recap - Oct. 22
2012 NFL Week 8 Recap - Oct. 29
2012 NFL Week 9 Recap - Nov. 5
2012 NFL Week 10 Recap - Nov. 12
2012 NFL Week 11 Recap - Nov. 19
2012 NFL Week 12 Recap - Nov. 26
2012 NFL Week 13 Recap - Dec. 3
2012 NFL Week 14 Recap - Dec. 10
2012 NFL Week 15 Recap - Dec. 17
2012 NFL Week 16 Recap - Dec. 24
2012 NFL Week 17 Recap - Dec. 31
2012 NFL Week 18 Recap - Jan. 7
2012 NFL Week 19 Recap - Jan. 14
2012 NFL Week 20 Recap - Jan. 21
Super Bowl XLVII Recap - Feb. 4
Super Bowl XLVII Live Blog - Feb. 4


2011: Live 2011 NFL Draft Blog - April 28
2011 NFL Week 1 Recap - Sept. 12
2011 NFL Week 2 Recap - Sept. 19
2011 NFL Week 3 Recap - Sept. 26
2011 NFL Week 4 Recap - Oct. 3
2011 NFL Week 5 Recap - Oct. 10
2011 NFL Week 6 Recap - Oct. 17
2011 NFL Week 7 Recap - Oct. 24
2011 NFL Week 8 Recap - Oct. 31
2011 NFL Week 9 Recap - Nov. 7
2011 NFL Week 10 Recap - Nov. 14
2011 NFL Week 11 Recap - Nov. 21
2011 NFL Week 12 Recap - Nov. 28
2011 NFL Week 13 Recap - Dec. 5
2011 NFL Week 14 Recap - Dec. 12
2011 NFL Week 15 Recap - Dec. 19
2011 NFL Week 16 Recap - Dec. 26
2011 NFL Week 17 Recap - Jan. 2
2011 NFL Week 18 Recap - Jan. 9
2011 NFL Week 19 Recap - Jan. 16
2011 NFL Week 20 Recap - Jan. 23
Super Bowl XLVI Live Blog - Feb. 6


2010: Live 2010 NFL Draft Blog - April 22
2010 Hall of Fame Game Live Blog - Aug. 8
2010 NFL Kickoff Live Blog - Sept. 9
2010 NFL Week 1 Review - Sept. 13
2010 NFL Week 2 Review - Sept. 20
2010 NFL Week 3 Review - Sept. 27
2010 NFL Week 4 Review - Oct. 4
2010 NFL Week 5 Review - Oct. 11
2010 NFL Week 6 Review - Oct. 18
2010 NFL Week 7 Review - Oct. 25
2010 NFL Week 8 Review - Nov. 1
2010 NFL Week 9 Review - Nov. 8
2010 NFL Week 10 Review - Nov. 15
2010 NFL Week 11 Review - Nov. 22
2010 NFL Week 12 Review - Nov. 29
2010 NFL Week 13 Review - Dec. 6
2010 NFL Week 14 Review - Dec. 13
2010 NFL Week 15 Review - Dec. 20
2010 NFL Week 16 Review - Dec. 27
2010 NFL Week 17 Review - Jan. 3
2010 NFL Week 18 Review - Jan. 10
2010 NFL Week 19 Review - Jan. 17
2010 NFL Week 19 Review - Jan. 24
Super Bowl XLV Live Blog - Feb. 6


2009: Live 2009 NFL Draft Blog - April 25
2009 Hall of Fame Game Live Blog - Aug. 10
2009 NFL Kickoff Live Blog - Sept. 10
2009 NFL Week 1 Review - Sept. 14
2009 NFL Week 2 Review - Sept. 21
2009 NFL Week 3 Review - Sept. 28
2009 NFL Week 4 Review - Oct. 5
2009 NFL Week 5 Review - Oct. 12
2009 NFL Week 6 Review - Oct. 19
2009 NFL Week 7 Review - Oct. 26
2009 NFL Week 8 Review - Nov. 2
2009 NFL Week 9 Review - Nov. 9
2009 NFL Week 10 Review - Nov. 16
2009 NFL Week 11 Review - Nov. 23
2009 NFL Week 12 Review - Nov. 30
2009 NFL Week 13 Review - Dec. 6
2009 NFL Week 14 Review - Dec. 13
2009 NFL Week 15 Review - Dec. 20
2009 NFL Week 16 Review - Dec. 27
2009 NFL Week 17 Review - Jan. 4
2009 NFL Week 18 Review - Jan. 11
2009 NFL Week 19 Review - Jan. 18
2009 NFL Week 20 Review - Jan. 25
Super Bowl XLIV Live Blog - Feb. 7


2008: Live 2008 NFL Draft Blog - April 26
2008 NFL Kickoff Blog - Sept. 4
NFL Week 1 Review - Sept. 8
NFL Week 2 Review - Sept. 15
NFL Week 3 Review - Sept. 22
NFL Week 4 Review - Sept. 29
NFL Week 5 Review - Oct. 6
NFL Week 6 Review - Oct. 13
NFL Week 7 Review - Oct. 20
NFL Week 8 Review - Oct. 27
NFL Week 9 Review - Nov. 3
NFL Week 10 Review - Nov. 10
NFL Week 11 Review - Nov. 17
NFL Week 12 Review - Nov. 24
NFL Week 13 Review - Dec. 1
NFL Week 14 Review - Dec. 8
NFL Week 15 Review - Dec. 15
NFL Week 16 Review - Dec. 22
NFL Week 17 Review - Dec. 29
NFL Wild Card Playoffs Review - Jan. 4
NFL Divisional Playoffs Review - Jan. 11
NFL Championship Sunday Review - Jan. 19
Super Bowl XLIII Live Blog


2007: NFL Draft: Day 1 Review Blog - April 28
Quarterback Rankings - June 25
NFL Kickoff Blog - Sept. 6
Chief Carl Has Lost a Step - Sept. 9
The NFL Cheated the Patriots - Sept. 16
NFL Week 3 Wrap-Up - Sept. 23
NFL Week 4 Wrap-Up - Sept. 30
NFL Week 5 Wrap-Up - Oct. 7
NFL Week 6 Wrap-Up - Oct. 14
NFL Week 7 Wrap-Up - Oct. 21
NFL Week 8 Wrap-Up - Oct. 28
NFL Week 9 Wrap-Up - Nov. 4
NFL Week 10 Wrap-Up - Nov. 11
NFL Week 11 Wrap-Up - Nov. 18
NFL Week 12 Wrap-Up - Nov. 25
NFL Week 13 Wrap-Up - Dec. 2
NFL Week 14 Wrap-Up - Dec. 9
NFL Week 15 Wrap-Up - Dec. 16
NFL Week 16 Wrap-Up - Dec. 23
NFL Week 17 Wrap-Up - Dec. 30
NFL Week 18 Wrap-Up - Jan. 6
NFL Week 19 Wrap-Up - Jan. 13
2008 Championship Sunday Diary - Jan. 20
Super Bowl XLII Live Blog - Feb. 3


---
&copy 1999-2014 Walter Cherepinsky : all rights reserved
Privacy Policy
2 5 9 df