2008 NFL Week 13 Review


Titans 47, Lions 10
I can't remember the last time I missed even a portion of an NFL game. I cover the league for a living, so it's my job to watch all the NFL games. Not that I'm complaining or anything; running this site is a blast.

However, I'll admit that I missed some of this contest. I went to bed really late on Wednesday night. I'm not sure what time it was, but the sun was up. I set my alarm for noon. However, the next thing I knew, it was 2:20 in the afternoon.

Son of a b....

I quickly turned on my computer to check out the score. Safe to say I wasn't surprised - 35-10, Titans. Halftime.

I guess I can make myself feel better and say that this wasn't an NFL game. As Phil Elliott said in the Live In-Games Thread:

I've always wondered what it would look like if an NFL team played a high school team.


This was simply embarrassing for the city of Detroit. I'll say it again: Until the Lions post a winning record and prove that they can be competitive, they shouldn't be allowed to host a Thanksgiving game. Just look at their recent losses on Turkey Day: 47-10, 37-26, 27-10, 27-7 and 41-9. Just terrible.


The Lions couldn't do anything right. For those of you who were asleep during the game like me, it was over before it started.

Shaun McDonald fumbled the ball away on the second play of the contest. Tennessee recovered it and scored a rushing touchdown two plays later.

Following a drive that culminated in a 53-yard Jason Hanson field goal, Chris Johnson broke free and ran for a 58-yard score.

Two possessions later, Daunte Culpepper flipped a careless pick-six toward Dave Ball. On Tennessee's next drive, LenDale walrused a touchdown away from Johnson. 28-3. Game over.


Johnson and White each tallied more than 100 rushing yards for the second time this year. They both scored two touchdowns. Johnson rushed for 125 yards, while White had 106. Most of White's production came when the game was out of hand.


Kerry Collins was just an economical 11-of-18 for 127 yards. Consequently, no Titan receiver caught more than two passes.


As for the Lions... well... at least Calvin Johnson had a decent game. Megatron caught five balls for 66 yards. He was targeted many more times, but Culpepper (13-of-26, 134 yards, TD, INT) just couldn't get him the ball. Johnson's longest gain (20 yards) came when Drew Henson was under center.


Kevin Smith had absolutely no running lanes to work with. He had just 22 yards on 12 carries.


Jeff Fisher challenged a 20-yard Johnson reception when his team was up 47-10 in the fourth quarter. The play stood, but Fisher was booed by the 20 people still left in the crowd. Hey Jeff, the Jerk Store called...


Ever since the Lions jumped out to a 17-0 lead against the Buccaneers, they've been outscored, 85-13. That's in a seven-quarter span!


With this loss, the Lions have clinched last place in the NFC North. No word yet on when the parade will take place.






Cowboys 34, Seahawks 9
Maurice Morris eclipsed the 100-yard rushing barrier against the Redskins last week. It was a relief for Seattle, who finally got something out of its running game. Unfortunately, Mike Holmgren was too busy thinking about his Thanksgiving Day feast, meaning he probably forgot about Morris' performance. Holmgren decided to go with Julius Jones, who fumbled on Seattle's first drive. Jones finished with just 37 yards on 11 carries. He fumbled twice.

Morris didn't do much when given the opportunity in the second half, gaining just 10 yards on six rushes.


Though the score may say otherwise, the Seahawks moved the chains efficiently early on. Unfortunately, they debacled themselves with unforced errors. Jones fumbled the ball away on the first possession. A holding penalty killed the second drive. Koren Robinson dropped a pass on third down that would have moved the chains on the next sequence.


When he wasn't pressured - Bradie James and DeMarcus Ware combined for five sacks - Matt Hasselbeck looked pretty solid for the first time since his return to the lineup. Hasselbeck finished 22-of-38 for 287 yards and a pick.

Hasselbeck found rookie tight end John Carlson six times for 105 yards. Deion Branch caught five balls for 56 yards.


Conversely, Dallas scored 34 points in this contest, but looked really sloppy after their first three drives. When Seattle began blitzing, the Cowboys never adjusted by calling screens. Instead, Tony Romo continuously took shots downfield, misfiring most of the time. He even threw a pick in the second half.

Romo finished the game with great numbers, going 22-of-34 for 331 yards, three touchdowns and an interception. He located Jason Witten nine times for 115 yards and a touchdown. Terrell Owens had five grabs for 98 yards.


Injury concerns: Both Marion Barber and Ware left the contest early. Barber (10 carries, 32 yards, TD) had an injured foot, while Ware hurt his knee. Ware was seen walking around later, but Barber had to go to the locker room. Fortunately, his replacement, rookie Tashard Choice, was excellent, gaining 57 yards on 11 attempts.






Eagles 48, Cardinals 20
I'm not surprised at all by this blowout. I liked the Eagles -3 a lot because I thought they'd bounce back after being attacked by the media and the fans the past two weeks for the Bengals tie, the team's ignorance toward ties and the odd Donovan McNabb benching. Philadelphia is a squad with tons of proud veterans who don't quit.

That said, this is just one win. It's nice and everything, but it's meaningless if the Eagles don't win their next four to give themselves a shot at the postseason.


Saying this as a citizen of Philadelphia, the people in this city should be embarrassed of themselves. McNabb got off to a hot start, completing his first six passes and jumping out to a 14-0 lead. He finally misfired on a third-and-13, yet people began booing. I'm sorry, but that's pretty ridiculous. Show a little class, people.


Speaking of McNabb, could his benching have been a blessing in disguise? I haven't seen McNabb run willingly so often in years. The stats don't show it (4 carries, 24 yards) but he helped the offense out by picking up multiple first downs on the ground.

From a passing standpoint, McNabb was prolific, going 27-of-39 for 260 yards and four touchdowns. McNabb located DeSean Jackson six times for 76 yards and a score. Kevin Curtis and Hank Baskett grabbed five balls each.


I have to apologize for Brian Westbrook. It didn't look like Westbrook would play, and if he did, he'd be limited. Thus, I didn't have him ranked high in my fantasy rankings for Week 13.

Yeah, so much for that. Not only did Westbrook play; he debacled the Cardinals, running for 110 yards and scoring four touchdowns. The four trips to the end zone ties a franchise record.


Kurt Warner threw for 235 yards and three touchdowns, but was pressured often and forced into making mistakes. He had three interceptions.


The Cardinal who struggled most, however, was Anquan Boldin. Boldin dropped two passes, one of which was a touchdown, and lost two fumbles.

Boldin finished with five catches for 63 yards. Larry Fitzgerald also had five receptions for 65 yards and a pair of scores. Steve Breaston caught Warner's other touchdown.


West Coast teams are now 0-15 on the East Coast, regardless of the start time. Complete debaclation.










Dolphins 16, Rams 12
Twelve points may not indicate that the Rams had some sort of an offensive explosion, but compared to what they've been doing recently, it seems like St. Louis put up 40.

The difference? Steven Jackson. Going into this game, it was unclear if Jackson would even play. He looked close to 100 percent, rushing for 94 yards and catching a 16-yard pass.

Jackson helped St. Louis win the time-of-possession battle, and allowed the team to convert 7-of-14 third downs. As a comparison, the Dolphins were 4-of-12 on third down.


Unfortunately for the Rams, Marc Bulger was just 16-of-35 for 149 yards and three interceptions. He found Torry Holt just three times for 30 yards. Donnie Avery didn't catch a pass.


It amazes me that Miami wasn't able to run the ball in this contest. Ronnie Brown compiled just 48 yards and a score on 15 carries. Ricky Williams, meanwhile, totaled 54 yards on 12 rushes.


With Brown and Williams neutralized, Chad Pennington was hopelessly mediocre. He was just 13-of-23 for 166 yards. He also fumbled.


If he hasn't been picked up yet, look into adding Dolphins receiver Davone Bess to your fantasy roster. Taking Greg Camarillo's place, Bess caught six passes for 84 yards. Ted Ginn grabbed four balls for 55 yards.






Ravens 34, Bengals 3
This result was pretty much decided before kickoff, so the most entertaining thing about this game was a screw-up by NFL.com's Game Center. On a Baltimore touchdown that put the team up 27-3, NFL.com wrote the following for the score:

2-7 BAL30 (6:04) M.Clayton pass deep right to M.Clayton for 70 yards, TOUCHDOWN.

So, Clayton threw it to himself for 70 yards? I'd question if he had Daphne's super-speed ability, but the eclipse took everyone's powers away, so that's not a possibility.

Forum member Ryanwest said the following of Clayton's freakish score:

Anybody figure out that last Ravens TD yet? Did Mark Clayton really throw it up to himself for a TD. If so, he proved Terrell Owens wrong that he cannot throw it and catch it, forcing him to complain about not running that in Dallas' offense next week.

For Tony Romo's sake, let's hope Owens wasn't watching this game.


The actual play was a Joe Flacco 70-yard score to Clayton. Flacco once again was masterful, going 19-of-29 for 280 yards and two touchdowns. Flacco converted five third downs with seven or more yards to go in the first half alone!


Coming out of the witness-protection program, Clayton had five receptions for 164 yards. He caught the aforementioned touchdown, and he threw a score of his own as well. Derrick Mason, meanwhile, registered six catches, 91 yards and a touchdown.


The winner of this week's Baltimore running back lottery was LeRon McClain, who garnered 86 yards on 25 carries. Ray Rice had 41 yards on 11 attempts. Willis McGahee did nothing.


As for the Bengals... well, at least they made the trip...

Until there was one minute remaining in the second quarter, Cincinnati had 35 total yards of offense and only one first down. They had five three-and-outs in the first half. They also punted it 11 times, tying a franchise record.


The only Bengal fantasy players of note: T.J. Houshmandzadeh and Chad Ohco Cinco each caught four balls. They had 64 and 45 yards, respectively.










49ers 10, Bills 3
It's over! It's all over! No, I'm not talking about the Bills' season, though that happens to be the case as well. I'm referring to the curse of the West Coast teams traveling East. Going into this game, the 49ers, Raiders, Chargers, Seahawks and Cardinals were a combined 0-15 on the Atlantic Coast.


The Bills can really only blame themselves for this loss. They had four trips to the red zone, but came away with only three points. They had two missed field goals and a failed fourth-down conversion. The two botched kicks both hit the left upright.


It didn't help that Trent Edwards (10-of-21 for 112 yards) had to leave the game with a groin injury. Zohan took over and was completely ineffective, going 11-of-17 for 93 yards.


Despite the quarterbacking woes, Lee Evans caught seven passes for 80 yards. The star for Buffalo, however, was Marshawn Lynch, who tallied a season-high 134 yards on 16 carries.


Some may argue that an alien host invaded Mike Martz's body at the beginning of this game; rather than throwing the ball on every down, Martz called five runs to open this contest. But I know it wasn't an alien host. Mike Singletary clearly told Martz that he would debacle him if the offense wasn't balanced.


Frank Gore finished with only 66 yards on 24 carries. Shaun Hill, meanwhile, was 14-of-23 for 161 yards and a score.


While the 49ers helped the West Coast teams snap out of their East Coast funk, the Bills couldn't debunk their own streak. With this loss, Buffalo is now a putrid 1-6 versus 3-4 defenses this year.
















Buccaneers 23, Saints 20
I like Sean Payton as a coach, but if he has a weakness, it's that he tends to out-think himself sometimes. On a fourth-and-one on Tampa Bay's 30 on the opening drive of the game, Payton called for a Devery Henderson end-around. Henderson lost yardage, allowing Tampa Bay to take over on downs.

But then again, maybe he did that for a reason. Reggie Bush failed to convert a third-and-one on the next drive.


Bush caught five passes for 32 yards, but did absolutely nothing on the ground, failing to gain a single yard on three carries. Pierre Thomas led the squad in rushing with 34 yards.


It was all Drew Brees for the Saints. Brees was 25-of-47 for 296 yards and two touchdowns, despite the fact that his receivers dropped at least half a dozen balls. Unfortunately, he tossed three picks, including one in the end zone.


Marques Colston proved his doubters wrong and led the squad with six catches and 106 yards. Lance Moore caught a touchdown, but had just two receptions and 15 yards. Jeremy Shockey registered four catches and 52 yards.


On a day with heavy rain, Tampa Bay was pretty limited on offense. Jeff Garcia completed just nine passes for 119 yards and a score, connecting thrice with Antonio Bryant for 63 yards and the touchdown.


However, the big story for the Buccaneers is that Cadillac Williams scored his first touchdown since coming off his knee injury. Cadillac gained 20 yards on four rushes. Warrick Dunn paced Tampa Bay with 74 rushing yards.


Saints fans, say good riddance to your playoff hopes. To make you feel better, your team wasn't the only squad that came up short in a must-win situation today. I already discussed the Bills. I'll point out the other teams that choked later on.






Giants 23, Redskins 7
Will the Giants ever lose again? More importantly, will they ever fail to cover another spread? This team is just unstoppable right now. Washington had every reason to cover this game - the Redskins needed it more; New York was flying back home from a trip to Arizona; Plaxico Burress' shooting was a distraction; and Sean Taylor was retired in the ring of honor. Despite all that, the Giants controlled every facet of this game.


Washington often put eight or nine men in the box, forcing Eli Manning to beat them. Big mistake. Manning was 21-of-34 for 305 yards, one touchdown and a pick. Manning did a great job of converting third downs, mimicking his Super Bowl performance.


Manning found Amani Toomer (85 yards, TD), Derrick Ward (75 yards) and Domenik Hixon (71 yards) five times each.


Though the Redskins concentrated on stopping the run, Brandon Jacobs managed 71 yards and a score on 21 carries.


As for Washington's ground attack, two words: complete debaclation. Jason Campbell actually led the team in rushing with 38 yards. Clinton Portis, who had to leave the game multiple times with various injuries, garnered only 22 yards on 11 carries.


Campbell finished 23-of-38, 232 yards and a pick. Chris Cooley was his leading receiver with six receptions and 71 yards. Santana Moss grabbed four balls for 55 yards.






Colts 10, Browns 6
You could blame Indianapolis' poor performance at Cleveland on the fact that the team was missing its two safeties. But it was the offense that debacled the squad's chances.

On the first drive of the game, Joseph Addai fumbled the ball at midfield. On the next possession, the Colts stalled in the red zone and had to kick a field goal. Toward the end of the first half, Peyton Manning fumbled the ball away on Cleveland's 1-yard line. In the second half, Manning threw an interception and Adam Vinatieri missed a 46-yard field goal.


Though they didn't get the cover, the Colts were able to win this larcenous contest, thanks to a 37-yard fumble return by Robert Mathis.


Anderson, who was responsible for the coughed-up ball, later left the game with a knee injury, coincidentally caused by Mathis. Anderson could be out for the year, leaving the Browns with Ken Dorsey.

Anderson was a meager 16-of-26 for 110 yards. No one he threw to caught more than three balls. Braylon Edwards paced the team with 36 receiving yards.


Jamal Lewis rushed for 77 yards on 24 carries. It's sad to say that he was Cleveland's most potent offensive weapon on this day.


Speaking of offensive woes, Manning was a horrific 15-of-21 for 125 yards, two picks and a fumble (though one of the interceptions was on a Hail Mary.) Reggie Wayne (4 catches, 26 yards) was his leading receiver.


Addai also epically failed. In addition to his fumble, he rushed for just 57 yards on 15 carries against one of the worst rush defenses in the NFL.


With the loss, the Browns are now 4-8. Many of the loyal fans who attended the game were seen holding up signs that read, "Cowher Power!"











Panthers 35, Packers 31
I thought the Packers made a huge mistake late in the game. Faced with a fourth-and-one on Carolina's 1-yard line with about two minutes remaining, Mike McCarthy elected to kick a chip-shot field goal to make the score 31-28.

I thought Green Bay should have went for the touchdown. Think about it - if they didn't get in, Carolina would have taken over on their own 1. Instead, the Panthers were able to take the subsequent kickoff to midfield. After a long pass to Steve Smith, DeAngelo Williams scored the decisive touchdown. By not going for it, McCarthy was essentially playing for overtime because the Panthers had the time to drive down the field. It backfired, and the Packers are now out of the playoffs.


I received a few e-mails from Packer fans who opined that Green Bay wouldn't take a defensive tackle in the first round of the 2009 NFL Draft. Maybe they'll want to re-think that after Carolina's ground game gashed them for 130 yards on just 25 carries. Williams, who had 72 of those yards, scored four touchdowns.


With Williams and Jonathan Stewart debacling the Packers, Jake Delhomme didn't have to throw much. Delhomme finished 12-of-17 for 177 yards. He went to Smith four times for 105 yards.


Despite the loss, Aaron Rodgers was brilliant, going 29-of-45 for 298 yards, three scores and a pick, so don't blame the loss on him. Brett Favre wouldn't have had a chance with Green Bay's defense showing absolutely no heart with the season on the line.


Greg Jennings led all wideouts with eight receptions, 91 yards and a score. Donald Driver had five catches, 83 yards and a touchdown.


Ryan Grant was pretty disappointing here; he managed just 39 yards on 12 carries. Brandon Jackson, taking over for an injured Grant (hand), actually led the squad with 80 rushing yards.






Falcons 22, Chargers 16
I guess the Chargers didn't get the memo that they needed to win this game to make the playoffs. Their defense showed absolutely no heart, allowing Atlanta to convert 8-of-16 third downs and 1-of-2 fourth downs. The Falcons consequently won the time-of-possession battle, 34:58 to 25:02.


But this was only a 6-point game... the Chargers kept it close, right? Not really. All of San Diego's scoring came after Atlanta turnovers. Their first touchdown was off a Harry Douglas muffed punt. The second touchdown was an 86-yard fumble return by Eric Weddle. The only field goal came off a Michael Turner fumble.


While San Diego's defense completely sucked, the offense couldn't do anything either. The Chargers were just 3-of-12 on third downs. They committed nine penalties to Atlanta's three.


It's official: Norv Turner has absolutely no idea what he's doing. Forget all the penalties his team was responsible for; Turner had his team punt with two minutes remaining despite being down by six. San Diego never got the ball back. Turner also foolishly punted the ball earlier in the second half in a fourth-and-one, down multiple scores. Fortunately for the inept coach, an Atlanta holding penalty gave his squad a first down.


Turner's offense had just 201 net yards. LaDainian Tomlinson did nothing on the ground, gaining just 24 yards and a touchdown on 14 carries versus an Atlanta defense ranked 26th against the run going into this contest. It should be noted that Tomlinson had five catches for 42 receiving yards.


Philip Rivers was a pedestrian 17-of-30 for 149 yards, giving him an awful YPA of 4.97. His leading receiver was Malcolm Floyd, who had five catches for 59 yards. Chris Chambers caught one pass. Vincent Jackson had no receptions.


Meanwhile, Matt Ryan continued to amaze, finishing 17-of-23 for 207 yards and two touchdowns. Ryan went to Roddy White six times for 112 yards.


Playing against his old team, Michael Turner trampled the Chargers for 120 yards on 31 carries. Given the choice between Turner and Tomlinson, you'd be crazy not to select the former, whether in fantasy or reality.






Broncos 34, Jets 17
So, the Jets go on the road and beat the Patriots and undefeated Titans. They come home and battle the Broncos, who are coming off a home blowout loss to the Raiders. Lo and behold, the Jets, favored to win by more than a touchdown, lost by 17. Go figure.


Jay Cutler rebounded off last week's horrific outing, going 27-of-43 for 357 yards, two touchdowns and a pick. Cutler spread the ball around; four of his targets caught at least five passes. That would be Tony Scheffler (90 yards), Eddie Royal (84 yards, TD), Daniel Graham (59 yards) and Brandon Marshall (55 yards). Brandon Stokley caught only two balls, but scored a 36-yard touchdown.


Prior to this game, no running back managed 100 rushing yards against the Jets this year. Peyton Hillis somehow became the first, tallying 129 yards and a touchdown.


Thomas Jones out-rushed Hillis, trampling Denver's pathetic defense for 138 yards and a pair of scores on only 16 attempts.


For only the third time all year, Brett Favre failed to throw a touchdown pass. Favre was 23-of-43 for 247 yards, a pick and a fumble.


Dustin Keller continued to debacle opposing linebacking corps, catching seven passes for 77 yards. Jerricho Cotchery had four grabs for 40 yards. Laveranues Coles managed just two receptions and two yards.






Steelers 33, Patriots 10
Despite what the score says, this game was not a blowout. It was 13-10 at the beginning of the third quarter. That's when the Patriots began self-debacling. Take a look at how Pittsburgh extended its lead to 23:

1. Following Pittsburgh's first field goal in the second half, Matt Slater muffed the ensuing kickoff. Pittsburgh recovered at New England's 8-yard line, and scored two plays later. PIT 20, NE 10.

2. On the next drive, Matt Cassel fumbled the ball on the first play. The Steelers took over and kicked a field goal. PIT 23, NE 10.

3. On the following possession, Cassel once again coughed up the ball - this time in Steelers territory. Pittsburgh ate up some clock, but ultimately missed a kick.

4. Cassel's next drive ended poorly as well; he threw a long pass to Ben Watson. The vastly overrated tight end tipped the ball, allowing Troy Polamalu to register his sixth interception of the year. Pittsburgh kicked a field goal four minutes later. PIT 26, NE 10.

5. The next New England drive concluded with a Cassel near-pick-six. Lawrence Timmons was tackled on New England's 1-yard line. Gary Russell punched it in two plays later. PIT 33, NE 10.


Those five turnovers marked the first time New England had that many give-aways since 2006.


Cassel finished 19-of-39 for 169 yards, two picks and a pair of fumbles. He found Randy Moss and Wes Welker four times each. Neither wideout had more than 45 yards.


New England's prominent weapon was Kevin Faulk, who had 73 rushing yards, seven receptions and 48 receiving yards.


Meanwhile, Ben Roethlisberger's numbers weren't impressive, but he managed to go 17-of-33 for 179 yards, two scores and a pick. Roethlisberger's primary targets were Hines Ward (5 catches, 37 yards, TD) and Heath Miller (4 catches, 60 yards). Santonio Holmes caught a touchdown, but managed only two receptions.


As predicted, Willie Parker and Mewelde Moore split carries. Parker had 87 yards on 16 carries, while Moore managed 67 yards on 12 attempts.






Chiefs 20, Raiders 13
The Raiders kicked a field goal on their opening drive. Why is this significant? Well, they didn't get a touchdown, making this the 52nd straight game Oakland hasn't gotten into the end zone on its initial possession.


Perhaps more embarrassing is that the Raiders managed just 13 points against a pathetic Chiefs defense that is just one week removed from allowing 50-plus to the Bills.

JaMarcus Russell, perhaps overconfident following last week's sterling performance, was just 10-of-28 for 132 yards. Thanks to his struggles, Oakland was just 3-of-13 on third downs, and lost the time-of-possession battle, 35:11 to 24:49.


Justin Fargas was able to run on Kansas City's putrid rush defense, gaining 82 yards and a touchdown on just 18 carries. However, Fargas lost a fumble, which set up a Kansas City field goal.


Darren McFadden didn't do much on the ground (7 carries, 13 yards), but caught three passes for 50 yards. Zach Miller was the only other Raider to register more than one reception. Miller had five catches for 79 yards.


Speaking of productive tight ends, Tony Gonzalez grabbed eight balls for 110 yards. Dwayne Bowe, blanketed by Nnamdi Asomugha, caught just two passes for 27 yards. The guy getting them the ball, Tyler Thigpen, was 15-of-22 for 162 yards and a pick. Thigpen rushed for 48 yards as well.


Larry Johnson compiled 92 yards on the ground on his own. He scored Kansas City's lone offensive touchdown.


Despite the victory, the Chiefs once again failed to register a single sack. They still have just six sacks on the year.


For thoughts on Minnesota-Chicago and Houston-Jacksonville, check out my 2008 NFL Power Rankings, which will be posted on Tuesday morning. For now, I leave you with another humorous gaff by NFL.com's Game Center. Thanks to e-mailer Joe H. for providing me with this picture, which is clear evidence that McFadden is such an awesome pass-catching running back that he can gain receiving yardage without registering a single reception: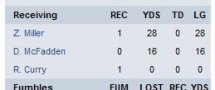 2008 NFL Power Rankings


Week 14 NFL Picks


2009 NFL Mock Draft


2010 NFL Mock Draft








2014: Live 2014 NFL Draft Blog - May 8
2014 NFL Week 1 Recap - Sept. 5
2014 NFL Week 2 Recap - Sept. 12
2014 NFL Week 3 Recap - Sept. 19
2014 NFL Week 4 Recap - Sept. 26
2014 NFL Week 5 Recap - Oct. 3
2014 NFL Week 6 Recap - Oct. 10
2014 NFL Week 7 Recap - Oct. 17
2014 NFL Week 8 Recap - Oct. 24
2014 NFL Week 9 Recap - Oct. 31
2014 NFL Week 10 Recap - Nov. 6
2014 NFL Week 11 Recap - Nov. 13
2014 NFL Week 12 Recap - Nov. 20
2014 NFL Week 13 Recap - Nov. 27
2014 NFL Week 14 Recap - Dec. 5
2014 NFL Week 15 Recap - Dec. 12
2014 NFL Week 16 Recap - Dec. 19
2014 NFL Week 17 Recap - Dec. 29
2014 NFL Week 18 Recap - Jan. 4
2014 NFL Week 19 Recap - Jan. 11
2014 NFL Week 20 Recap - Jan. 18
Super Bowl XLIX Live Blog - Feb. 1
Super Bowl XLIX Recap - Feb. 2


2013: Live 2013 NFL Draft Blog - April 26
2013 NFL Week 1 Recap - Sept. 10
2013 NFL Week 2 Recap - Sept. 17
2013 NFL Week 3 Recap - Sept. 24
2013 NFL Week 4 Recap - Oct. 1
2013 NFL Week 5 Recap - Oct. 8
2013 NFL Week 6 Recap - Oct. 15
2013 NFL Week 7 Recap - Oct. 22
2013 NFL Week 8 Recap - Oct. 29
2013 NFL Week 9 Recap - Nov. 4
2013 NFL Week 10 Recap - Nov. 11
2013 NFL Week 11 Recap - Nov. 18
2013 NFL Week 12 Recap - Nov. 25
2013 NFL Week 13 Recap - Dec. 2
2013 NFL Week 14 Recap - Dec. 9
2013 NFL Week 15 Recap - Dec. 16
2013 NFL Week 16 Recap - Dec. 23
2013 NFL Week 17 Recap - Dec. 30
2013 NFL Week 18 Recap - Jan. 6
2013 NFL Week 19 Recap - Jan. 13
2013 NFL Week 20 Recap - Jan. 20
Super Bowl XLVIII Recap - Feb. 3
Super Bowl XLVIII Live Blog - Feb. 2


2012: Live 2012 NFL Draft Blog - April 26
2012 NFL Week 1 Recap - Sept. 10
2012 NFL Week 2 Recap - Sept. 17
2012 NFL Week 3 Recap - Sept. 24
2012 NFL Week 4 Recap - Oct. 1
2012 NFL Week 5 Recap - Oct. 8
2012 NFL Week 6 Recap - Oct. 15
2012 NFL Week 7 Recap - Oct. 22
2012 NFL Week 8 Recap - Oct. 29
2012 NFL Week 9 Recap - Nov. 5
2012 NFL Week 10 Recap - Nov. 12
2012 NFL Week 11 Recap - Nov. 19
2012 NFL Week 12 Recap - Nov. 26
2012 NFL Week 13 Recap - Dec. 3
2012 NFL Week 14 Recap - Dec. 10
2012 NFL Week 15 Recap - Dec. 17
2012 NFL Week 16 Recap - Dec. 24
2012 NFL Week 17 Recap - Dec. 31
2012 NFL Week 18 Recap - Jan. 7
2012 NFL Week 19 Recap - Jan. 14
2012 NFL Week 20 Recap - Jan. 21
Super Bowl XLVII Recap - Feb. 4
Super Bowl XLVII Live Blog - Feb. 4


2011: Live 2011 NFL Draft Blog - April 28
2011 NFL Week 1 Recap - Sept. 12
2011 NFL Week 2 Recap - Sept. 19
2011 NFL Week 3 Recap - Sept. 26
2011 NFL Week 4 Recap - Oct. 3
2011 NFL Week 5 Recap - Oct. 10
2011 NFL Week 6 Recap - Oct. 17
2011 NFL Week 7 Recap - Oct. 24
2011 NFL Week 8 Recap - Oct. 31
2011 NFL Week 9 Recap - Nov. 7
2011 NFL Week 10 Recap - Nov. 14
2011 NFL Week 11 Recap - Nov. 21
2011 NFL Week 12 Recap - Nov. 28
2011 NFL Week 13 Recap - Dec. 5
2011 NFL Week 14 Recap - Dec. 12
2011 NFL Week 15 Recap - Dec. 19
2011 NFL Week 16 Recap - Dec. 26
2011 NFL Week 17 Recap - Jan. 2
2011 NFL Week 18 Recap - Jan. 9
2011 NFL Week 19 Recap - Jan. 16
2011 NFL Week 20 Recap - Jan. 23
Super Bowl XLVI Live Blog - Feb. 6


2010: Live 2010 NFL Draft Blog - April 22
2010 Hall of Fame Game Live Blog - Aug. 8
2010 NFL Kickoff Live Blog - Sept. 9
2010 NFL Week 1 Review - Sept. 13
2010 NFL Week 2 Review - Sept. 20
2010 NFL Week 3 Review - Sept. 27
2010 NFL Week 4 Review - Oct. 4
2010 NFL Week 5 Review - Oct. 11
2010 NFL Week 6 Review - Oct. 18
2010 NFL Week 7 Review - Oct. 25
2010 NFL Week 8 Review - Nov. 1
2010 NFL Week 9 Review - Nov. 8
2010 NFL Week 10 Review - Nov. 15
2010 NFL Week 11 Review - Nov. 22
2010 NFL Week 12 Review - Nov. 29
2010 NFL Week 13 Review - Dec. 6
2010 NFL Week 14 Review - Dec. 13
2010 NFL Week 15 Review - Dec. 20
2010 NFL Week 16 Review - Dec. 27
2010 NFL Week 17 Review - Jan. 3
2010 NFL Week 18 Review - Jan. 10
2010 NFL Week 19 Review - Jan. 17
2010 NFL Week 19 Review - Jan. 24
Super Bowl XLV Live Blog - Feb. 6


2009: Live 2009 NFL Draft Blog - April 25
2009 Hall of Fame Game Live Blog - Aug. 10
2009 NFL Kickoff Live Blog - Sept. 10
2009 NFL Week 1 Review - Sept. 14
2009 NFL Week 2 Review - Sept. 21
2009 NFL Week 3 Review - Sept. 28
2009 NFL Week 4 Review - Oct. 5
2009 NFL Week 5 Review - Oct. 12
2009 NFL Week 6 Review - Oct. 19
2009 NFL Week 7 Review - Oct. 26
2009 NFL Week 8 Review - Nov. 2
2009 NFL Week 9 Review - Nov. 9
2009 NFL Week 10 Review - Nov. 16
2009 NFL Week 11 Review - Nov. 23
2009 NFL Week 12 Review - Nov. 30
2009 NFL Week 13 Review - Dec. 6
2009 NFL Week 14 Review - Dec. 13
2009 NFL Week 15 Review - Dec. 20
2009 NFL Week 16 Review - Dec. 27
2009 NFL Week 17 Review - Jan. 4
2009 NFL Week 18 Review - Jan. 11
2009 NFL Week 19 Review - Jan. 18
2009 NFL Week 20 Review - Jan. 25
Super Bowl XLIV Live Blog - Feb. 7


2008: Live 2008 NFL Draft Blog - April 26
2008 NFL Kickoff Blog - Sept. 4
NFL Week 1 Review - Sept. 8
NFL Week 2 Review - Sept. 15
NFL Week 3 Review - Sept. 22
NFL Week 4 Review - Sept. 29
NFL Week 5 Review - Oct. 6
NFL Week 6 Review - Oct. 13
NFL Week 7 Review - Oct. 20
NFL Week 8 Review - Oct. 27
NFL Week 9 Review - Nov. 3
NFL Week 10 Review - Nov. 10
NFL Week 11 Review - Nov. 17
NFL Week 12 Review - Nov. 24
NFL Week 13 Review - Dec. 1
NFL Week 14 Review - Dec. 8
NFL Week 15 Review - Dec. 15
NFL Week 16 Review - Dec. 22
NFL Week 17 Review - Dec. 29
NFL Wild Card Playoffs Review - Jan. 4
NFL Divisional Playoffs Review - Jan. 11
NFL Championship Sunday Review - Jan. 19
Super Bowl XLIII Live Blog


2007: NFL Draft: Day 1 Review Blog - April 28
Quarterback Rankings - June 25
NFL Kickoff Blog - Sept. 6
Chief Carl Has Lost a Step - Sept. 9
The NFL Cheated the Patriots - Sept. 16
NFL Week 3 Wrap-Up - Sept. 23
NFL Week 4 Wrap-Up - Sept. 30
NFL Week 5 Wrap-Up - Oct. 7
NFL Week 6 Wrap-Up - Oct. 14
NFL Week 7 Wrap-Up - Oct. 21
NFL Week 8 Wrap-Up - Oct. 28
NFL Week 9 Wrap-Up - Nov. 4
NFL Week 10 Wrap-Up - Nov. 11
NFL Week 11 Wrap-Up - Nov. 18
NFL Week 12 Wrap-Up - Nov. 25
NFL Week 13 Wrap-Up - Dec. 2
NFL Week 14 Wrap-Up - Dec. 9
NFL Week 15 Wrap-Up - Dec. 16
NFL Week 16 Wrap-Up - Dec. 23
NFL Week 17 Wrap-Up - Dec. 30
NFL Week 18 Wrap-Up - Jan. 6
NFL Week 19 Wrap-Up - Jan. 13
2008 Championship Sunday Diary - Jan. 20
Super Bowl XLII Live Blog - Feb. 3


---
&copy 1999-2014 Walter Cherepinsky : all rights reserved
Privacy Policy
2 5 9 df