2008 NFL Week 10 Review


Broncos 34, Browns 30
There really is no point in handicapping games anymore. You can be right on the money, have the right side, and still lose. I'm frustrated.

The Browns might be the dumbest team of all time. Seriously. I'm convinced that if Roger Goodell announced in August that he would be spotting Cleveland 14 points in every game this year, the Browns wouldn't make the playoffs. They're really incredible at finding ways to lose.

In case you missed this game, the Browns were up 23-10 in the third quarter. Save for Denver's second drive in the first quarter, Cleveland controlled every facet of the game. Brady Quinn (23-of-35, 239 yards, two touchdowns) was sharp. The ground attack was working really well (Jamal Lewis and Jerome Harrison combined for 108 yards on 24 carries). Denver had no answer for Kellen Winslow Jr. (10 catches, 111 yards and a pair of scores). The defense, while surrendering some yardage, was able to get off the field when it mattered most. The secondary even came up with an interception. And it seemed like everyone on the Broncos was leaving the game with injuries, including Ryan Torain (12 carries, 68 yards, one touchdown), who is out for the year with a knee.

So, what happened? The Browns played like the Browns.

A foolish Winslow pass-interference penalty eliminated a beautiful Quinn-to-Braylon Edwards first-down conversion on third-and-12. This forced a Cleveland punt. On Denver's next possession, Jay Cutler hit Eddie Royal on a 93-yard bomb to Eddie Royal, thanks to completely inept coverage by completely inept corner Brandon McDonald.

On Cleveland's next drive, Winslow once again did his best to ruin his team's chances of winning, fumbling on Denver's 38-yard line. Denver took over and scored another touchdown eight plays later to take the lead, despite the fact that the Browns dropped about four would-be interceptions in the final quarter.

After the teams exchanged touchdowns, Winslow let a ball sail right through his hands in Denver territory on fourth-and-six. Game over.

I really should stop handicapping Cleveland contests and just ask Edwards and Winslow whom they're betting on. Those two clowns have blown so many games this year, it's really disgusting. I'm convinced Winslow had the Browns -2 in the first half and the Broncos +3 for the game. There is no other explanation for his Jekyll-and-Hyde performance.

Winslow, McDonald and the other drop-happy defensive backs weren't the only ones trying to blow it for the Browns. Romeo Crennel did some ridiculously stupid things himself, including accepting a 10-yard penalty on the Broncos that brought up third down instead of fourth down.


At any rate, tons of credit has to be given to Denver. Despite its multiple injuries, the Broncos won to improve to 5-4. Cutler was 24-of-42 for 447 yards, three touchdowns and a pick, though the Browns dropped about half-a-dozen sure-fire interceptions in this contest. Because he didn't have a running game by his side - Torain and Selvin Young both had to leave the game early - Cutler was forced to throw on almost every down. He consequently fired some terrible passes into double coverage.


Luckily, Eddie Royal, Tony Scheffler and Brandon Marshall bailed him out. Royal had six catches, 164 yards and a score. Marshall also grabbed six balls for 89 yards and a touchdown. Scheffler, playing with an injured groin, had four receptions and 92 yards.


While Crennel had some curious play-calls and decisions, Mike Shanahan also made some bone-headed moves. Shanahan called a quarterback scramble at the end of the first half with 12 seconds remaining and no timeouts left. Cutler failed to get out of bounds, and all the time ticked off the clock.

Shanahan, however, made up for it with a brilliant play. Not even NFL.com could recognize it. Check it out: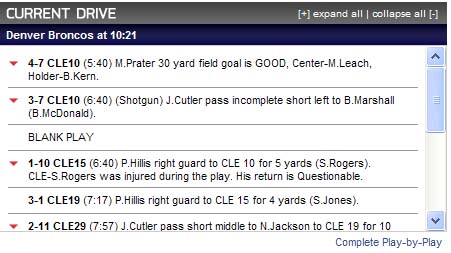 Jaguars 38, Lions 14
The Jaguars couldn't possibly lose to a pair of 0-8 teams on back-to-back Sundays, could they? It looked that way for a while, as Detroit grabbed a 7-3 lead. Jacksonville went on to score 35 consecutive points, bouncing back from a week where middle linebacker Mike Peterson was exiled from the team for insubordination and Jack Del Rio banned all music, games and other forms of entertainment from the locker room.


Perhaps the most surprising element of this contest was Jacksonville's ability to run the ball. The Jaguars couldn't get anything on the ground against the Bengals last week. On Sunday, Fred Taylor and Maurice Jones-Drew combined for 150 rushing yards on 29 carries. Jones-Drew scored thrice.


David Garrard, meanwhile, was 18-of-25 for 238 yards and two touchdowns. One of his scores went to Jerry Porter, who had done nothing with his new team until today. Matt "Coke Zero" Jones had five receptions for 62 yards.


Daunte Culpepper's career has always been mired by inconsistency. So, it shouldn't be surprising that after going incomplete, interception, sack on his first three plays, Daunte Culpepper tossed a 51-yard bomb to Calvin Johnson.

However, Culpepper played the rest of the game like he just came off the street and didn't know the playbook. But that's not possible, is it? The Lions wouldn't start someone like that over a guy they drafted in the second round last year, right?

But that's why the Lions are the Lions, and they haven't had a winning season in five billion years. Culpepper finished 5-of-10 for 104 yards and the pick. Stanton, playing in garbage time in the second half, was 6-of-8 for 94 yards and a touchdown, though to be fair, Stanton took five sacks. But one has to wonder why Stanton didn't start in the first place. The answer to that is the same reason why Detroit is a dreadful organization.


Aside from the aforementioned long completion to Johnson, the ultra-talented wideout caught just one other pass, finishing with 92 yards. Kevin Smith, meanwhile, gained 96 rushing yards and a touchdown.












Ravens 41, Texans 13
Baltimore didn't really have to do anything offensively because Houston's scoring unit was busy debacling itself, which I'll get to in a moment. But the Ravens once again efficiently moved the chains all afternoon, and consequently won the time-of-possession battle, 36:17 to 23:43.


Willis McGahee ran all over the Texans, as he gained 112 yards and two touchdowns on 25 carries. McGahee opened up easy throws for Joe Flacco, who was 15-of-23 for 185 yards and two scores.


The biggest surprise in this game was the reemergence of Todd Heap. Heap, coming out of the witness protection program, caught five balls for 58 yards and a pair of scores.


How do you throw an interception on first-and-goal at the 1-yard line in the first quarter? I'll tell you how. Your name is Sage Rosenchoker. Rosenchoker had a wide-open receiver in the end zone, but didn't get the ball high enough, allowing Haloti Ngata to tip it and pick it off.

That interception was the first of four for Rosenchoker, two of which went to Ray Lewis. The mistake-prone quarterback threw for 294 yards and a score, but once again, it were his costly errors that led to another Houston loss.


Rosenchoker went to Andre Johnson seven times for 66 yards. Kevin Walter led the team in receiving yardage with 85. He also found the end zone. Owen Daniels caught only one pass.


All the blame can't be placed on Rosenchoker because the Texans couldn't run the ball. Steve Slaton managed only seven yards on four carries. Ryan freaking Moats led the squad with 34 yards on seven rushes.






Dolphins 21, Seahawks 19
The Dolphins love their trick plays. Their opening touchdown of the game was a 39-yard score on a flea flicker. Their second touchdown was a Ricky Williams 51-yard run out of the Wildcat formation.


That said, Miami couldn't do anything else on offense. Chad Pennington managed to throw for just 209 yards despite attempting 36 passes, giving him a mediocre YPA of 5.8. Pennington fired a 39-yard touchdown to Ted Ginn in the fourth quarter. If you take that away, Pennington's longest completion was 17 yards. He also launched a pick-six.


Meanwhile, if you eliminate that long Williams scamper, Miami's ground attack was also pretty average. Removing that gain means that Williams and Ronnie Brown totaled 93 rushing yards on 21 carries.


Luckily for the Dolphins, they were playing a quarterback who had an even worse YPA. Not that Miami could stop him. Seneca Wallace was 21-of-38 for 185 yards and a touchdown, giving him a YPA of 4.9. Despite that fact, Seattle was able to convert 7-of-15 third-down attempts and score a nauseating backdoor touchdown with 2:41 remaining in regulation.


Miami's rush defense was a huge disappointment in this game. Ranked sixth in the NFL coming into this contest, Julius Jones and Maurice Morris combined for 99 yards on 17 rushes.


I can't emphasize how disgusted I am by this result. Laying eight points and dominating this matchup, Miami was up 14-0 when Pennington and his noodle arm decided to fling a pick-six. Miami's offense could do nothing after that despite playing a soft secondary. And even with all that in mind, the Seahawks needed a backdoor touchdown to ruin a possible push. If losing five units on Kellen Winslow's meltdown on Thursday and watching Penn State go down on Saturday wasn't enough... I'm convinced the server providing me with bandwith is laying on some ancient Indian burial ground.










Titans 21, Bears 14
There's not much to like for Chicago in terms of offensive statistics. So, let's discuss some great decision-making first. And no, I'm not referring to Rex Grossman. The Bears were stuck with a fourth-and-one on Tennessee's 15. I was hoping they would go for it - if they weren't aggressive, they wouldn't be able to pull the upset. Well, Lovie Smith went for the downs and ran the ball with Matt Forte, who picked up eight yards. A few plays later, Chicago scored and went up 7-0.


Unfortunately, we also have to talk about Grossman. The good news is that Grossman limited himself to just one turnover, which was an interception that gave Tennessee the ball on Chicago's 25. I think Lovie would have taken only one give-away by Sexy Rexy. The problem was that Grossman threw for just 173 yards and a touchdown on 37 attempts, giving him a YPA of 4.7.


Because Grossman couldn't get the ball down the field, his receivers couldn't really do anything. The only Bears of note were Matt Forte, who rushed for 72 yards, caught seven balls for 54 more yards and scored a touchdown, and Greg Olsen, who managed 40 yards on five receptions.


Speaking of Forte, if you combine the rushing totals of LenDale White and Chris Johnson, and triple the outcome, you'd still be short of Forte's numbers. LenDale White flopped his way for 14 yards on 10 rushes. But at least he found the end zone... Chris Johnson compiled only eight yards on 14 carries. He caught just two passes. Chicago limited Tennessee's ground attack to two feet per rush attempt!


With those appalling rushing figures, one has to wonder how Tennessee even won this game. The answer is Kerry Collins, who somehow went 30-of-41 for 289 yards and two touchdowns. Collins went to Bo Scaife a whopping 10 times for 78 yards and a touchdown. Brandon Jones, meanwhile, registered eight receptions for 82 yards.






Falcons 34, Saints 20
Matt McGuire brought this up in the forums. With Tom Brady out and Peyton Manning clearly playing hurt, can we consider Matt Ryan to be a top-three NFL quarterback right now? The question is very legitimate; the rookie signal caller is playing out of his mind. Despite being in a huge divisional contest with playoff hopes on the line, Ryan went 16-of-23 for 248 yards and two touchdowns.

Look, I know New Orleans' secondary sucks, and it took another hit when Mike McKenzie was carted off with a knee injury in the third quarter, but Ryan's success is really remarkable. Imagine what happens when he actually has some NFL experience under his belt!


The Ryan-to-Roddy White connection once again terrorized the opposing secondary. White caught five balls for 68 yards and a touchdown. Michael Jenkins had six receptions for 72 yards.


Michael Turner didn't break the 100-yard barrier like I expected him to - I had him sixth in my Weekly Fantasy Football Receiver Rankings , but he still tallied 96 rushing yards and a touchdown on 27 carries.


Meanwhile, Atlanta's defense did an incredible job against New Orleans' lethal offense. Though Drew Brees threw for 422 yards and two touchdowns, most of that output, including the two scores, came in garbage time late in the fourth quarter. The Falcons picked off Brees thrice, taking one interception back to the house.


The Falcons also did an incredible job versus the run. Deuce McAllister was limited to just 18 rushing yards. The Saints' leading ground-gainer was Devery Henderson, who managed 30 yards on an end-around.


The only good news for the Saints is that Marques Colston proved that he's back from his injury, catching seven passes for 140 yards. Lance Moore also performed well, grabbing six balls for 76 yards and a score.


Unfortunately, this loss likely spells the end for New Orleans' once-promising season. The team is now 4-5 and two games behind everyone in the NFC South.






Vikings 28, Packers 27
I picked the Rams to cover against the Jets (groan) because I thought Brett Favre would keep the Rams in the game with a few careless interceptions. Wrong quarterback. Gus Frerotte tossed picks up 7-0 in the first quarter, 14-7 at the end of the second quarter and 21-10 in the third quarter. All three interceptions led to Green Bay scores. One was returned for a touchdown.

With that in mind, it's remarkable the Vikings were able to win this game. The team should buy its running backs a new car or something. Adrian Peterson ran for 192 rushing yards and a touchdown on 30 carries, and chipped in with three receptions. Chester Taylor, meanwhile, tallied 84 receiving yards and a score on four receptions.


Thanks to Frerotte's abysmal performance - 15-of-28, 151 yards, two touchdowns and three picks - Minnesota's wideouts pretty much did nothing. Bobby Wade led the receivers with just three catches and 24 yards.


With most of Green Bay's scoring coming off Frerotte's turnovers, Aaron Rodgers didn't do anything either. Rodgers finished 15-of-26 for 142 yards. His leading receiver was Donald Driver, who caught five passes for 46 yards. Greg Jennings registered three receptions and 37 yards.


The only Packers' offensive player who did anything of note was Ryan Grant, who gained 75 yards and a touchdown on only 16 attempts. This is the second consecutive game where Grant ran well against an imposing defense (Titans). This really bodes well for Grant going forward, though he has another tough assignment next week against the Bears.


This was a game of firsts. Minnesota had a pair of safeties in the second quarter, marking the first time an NFL team has notched two safeties in a game since 2003. Green Bay used its first challenge of the year in the fourth quarter. And Brad Childress won his first game against the Packers as an NFL head coach.
















Jets 47, Rams 3
Jets 40, Rams 0. And that was the halftime score! Praising the Jets would be easy, but the Rams made countless errors. The defensive backs dropped two easy interceptions in the first half. Thanks to a missed block by Orlando Pace, Marc Bulger had a fumble returned for a touchdown. Bulger also tossed a pick, which definitely was his fault. Meanwhile, Kenneth Darby and Derek Stanley also lost fumbles. That's six colossal errors in just 30 minutes of play.

In total, New York converted five Rams turnovers into 27 points. Sounds a lot like the Cardinals game earlier in the year, doesn't it?


It was all defense and Thomas Jones for the Jets in this contest. Jones rushed for 149 yards and three touchdowns on just 26 carries. That's not surprising, as the pathetic Rams were 30th against the run going into Sunday's matchup.


With Jones and the stop unit doing all the work, Brett Favre only had to throw 19 passes. He completed 14 of them for 167 yards and a touchdown. Favre fantasy owners, send your hate mail to Bulger for giving way too many points to the Jets early in the game.


Speaking of Bulger, the turnover-prone quarterback was benched in the third quarter. He finished 6-of-13 for 65 yards and the aforementioned interception. Donnie Avery and Torry Holt consequently caught two and one passes, respectively.


Steven Jackson was out, so Antonio Pittman handled the workload for the Rams. That didn't turn out too well, as Pittman managed just 28 yards on 13 rushes. Kenneth Darby actually out-gained him (32 yards) but carried the ball only four times.


What pisses me off about this game is that FOX continued to air it despite the score being 40-0. Did it ever occur to the geniuses who run the network that people wouldn't be watching a 40-point blowout? FOX didn't take me to a different contest until this debacle - yes, I used that word correctly - was over. Did the producer tease the Rams down to +43.5 or something? If so, I'm glad he lost.






Patriots 20, Bills 10
This may have been the quickest game I've ever seen. It was over at 3:35 Eastern, meaning it lasted just a bit longer than two-and-a-half hours. You can attribute that to a plethora of never-ending New England possessions. In just the second half, the Patriots had scoring drives that lasted 6:49 and 9:08. They consequently won the time-of-possession battle, 37:40 to 22:20.


While Matt Cassel's arm strength can still be questioned - his longest completion was 27 yards - it can't be overlooked that he's doing an incredible job managing this offense, in almost a Tom-Brady-circa-2001-like fashion. Cassel went 23-of-34 for 234 yards.


Cassel found Wes Welker 10 times for 107 yards. Randy Moss saw five passes come his way for 53 yards.


Surprisingly, the star for New England's offense was BenJarvus Green-Ellis. Green-Ellis, perhaps establishing himself as the team's franchise back in favor of the oft-injured Laurence Maroney, gained 105 yards on 26 carries against a stingy Buffalo rush defense.


The Bills had the dumbest 70-second sequence I've ever seen at the end of the first half. Down 10-3, they had a fourth-and-three inside New England's 40. Instead of going for it, Buffalo punted the ball, but called a timeout first. The Bills pinned New England at the three, but couldn't force a punt because they had just two timeouts. If they were going to punt, why did they call timeout? With three timeouts, they could have gotten the ball back with 35 seconds and good field position. Instead, time expired.


Buffalo's late second-quarter gaff wasn't the only mistake by the coaching staff. Down 10-0, the Bills reached the red zone for the first time. On third-and-four, Buffalo opted to run the ball with an ineffective Marshawn Lynch, who gained just 46 yards.


Speaking of ineffective, Trent Edwards was absolutely horrendous in this game. He was 13-of-23 for 120 yards, one touchdown and two picks, but those figures don't tell the whole story. Edwards missed wide-open receivers all afternoon, while his picks were very untimely; one led to a New England score, while the other was in Patriots territory.


With Edwards misfiring left and right, Lee Evans also struggled to put up stats, catching two balls for 22 yards. Roscoe Parrish led the squad with four receptions and 31 yards.


Parrish made a great play in this game. On third down, he caught a pass five yards away from the first-down marker. I don't know how many defenders he juked, but it seriously looked like he avoided 15 guys to barely pick up the first down.


Officiating: It's been widely publicized that the officiating has been abysmal this year. Well, that continued in this game. The refs didn't recognize a Buffalo challenge flag that was thrown on an obvious drop by Wes Welker. Reversing the call would have put the Patriots in a third-and-six on Buffalo's 38. Instead, Welker's 21-yard catch held up, eventually leading to a touchdown.

Later, a recovered onsides kick by the Bills in the final two minutes of the game was unjustly given to New England, despite the fact that the Patriots clearly touched the ball first. The refs, who were calling the game as if they had money on the Patriots, gave the ball to New England and refused to look at the replay.






Panthers 17, Raiders 6
Forget one or two hands - you can't count the amount of errors Oakland made in this game on a calculator. Let's give it a try, chronologically:


1. Johnnie Lee Higgins fumbled the opening kickoff, resulting in a Carolina touchdown.

2. Andrew Walter took a sack on third-and-six on Oakland's opening possession.

3. Walter tossed an interception inside the red zone on the team's second drive.

4. A Zach Miller (3 catches, 43 yards) holding penalty nullified a 4-yard run on first down near midfield. Oakland had to punt because of its long-yardage situation.

5. Jake Grove committed a personal foul on first down of the next drive. The Raiders went three-and-out.

6. On the next possession, Walter fumbled the ball for a 4-yard loss. Another three-and-out.

7. Oakland missed two easy tackles on a 69-yard DeAngelo Williams touchdown run. Williams ran for 140 yards and a score.

8. Walter had another massive loss on a fumble on the very next drive, putting Oakland in a second-and-23.

9. The Raiders committed a defensive holding on third-and-13, granting Carolina a first down. Jonathan Stewart (seven carries, 21 yards) was the player who was held.

10. Walter threw another pick in Carolina territory to open the fourth quarter.

11. Walter took a sack on third-and-four on the next possession.

12. Marques Tuisasosoppo, playing for an injured Walter, took a sack on third-and-seven on the following drive.

13. The Raiders surrendered a 55-yard punt return, setting up a final John Kasay field goal, putting this game out of reach.


The Raiders were able to stay in this game, thanks to a spirited performance by their defense. They couldn't stop Williams, but they held Jake Delhomme to 7-of-27, 72 yards, one touchdown and four interceptions. Steve Smith, who had one catch for nine yards, wasn't a factor.


So, how did Oakland turn four picks into just six points? The team was just 2-of-17 on third downs. Two-of-freaking-17! Julius Peppers and company did a great job of terrorizing Walter and Tuiasosoppo all afternoon. Peppers had seven tackles, three sacks and two forced fumbles.











Colts 24, Steelers 20
Ben Roethlisberger had to take full responsibility for this loss, and give him credit for doing so. Take away an interception on a Hail Mary, and Roethlisberger tossed two terrible picks. One occurred deep in his own territory on a third-and-two at the end of the first half, which gave Indianapolis the ball on Pittsburgh's 30. The Colts scored a touchdown 80 seconds later. Roethlisberger's second interception came when he was trying to milk the clock with three minutes remaining in regulation. The Colts took over on the Steelers' 32 and found the end zone a minute-and-a-half later.

It's really a shame because a hobbled Big Ben played well otherwise. He was 30-of-42 for 284 yards. Roethlisberger found Hines Ward nine times for 116 yards. Santonio Holmes caught just four balls for 29 yards. Meanwhile, Matt Speath, taking the place of an injured Heath Miller, grabbed six balls for 53 yards.


Speaking of injured, Willie Parker missed yet another game. That didn't really matter much, as Mewelde Moore accounted for 105 total yards and two touchdowns.


Despite not having much of a ground attack - Joseph Addai managed just 34 rushing yards - Manning still threw for 240 yards. Reggie Wayne had nearly half that yardage, catching six passes for 114 yards and a score.


It's a shame, but we're seeing Marvin Harrison's career quickly come to an end. Peyton Manning overthrew Harrison in the first half, something that has occurred far too often this year. Later, Harrison dropped what would have been a 60-yard touchdown.






Chargers 20, Chiefs 19
Tyler Thigpen for President! OK... let's start with Mayor of Kansas City. Thigpen, who was 27-of-41 for 266 yards and three touchdowns, performed exceptionally well in his third consecutive game. If Thigpen keeps playing like this, there is no way Kansas City will draft a quarterback come April - even if Sam Bradford is available.


Along with putting up impressive stats, Thigpen led the Chiefs down the field in the final seconds of the game and threw a touchdown to Tony Gonzalez. It's amazing that Thigpen is able to show this amount of poise, just two months after looking like the worst quarterback in league history in a disgraceful blowout loss in Atlanta.


Thigpen's final touchdown wasn't a game-tying score because Herm Edwards didn't go for two. Leave it to the most conservative coach in the NFL to suddenly get aggressive when the game's on the line.

Though Thigpen didn't convert, I liked the call. Why leave your fate to a coin toss and a miserable defense? Thigpen had the hot hand. And besides, it's not like Kansas City is going to the Doggone Playoff anyway. What did they have to lose?


Thigpen looked Tony Gonzalez's way the most in this contest, finding his future Hall of Fame tight end 10 times for 113 yards and two touchdowns. Dwayne Bowe caught six balls for 72 yards, while Mark Bradley, quickly becoming a huge factor in this offense, had nine receptions, 81 yards and a score.


While Thigpen deserves a lot of credit, Philip Rivers should also get some dap. After starting slowly, Rivers finished 27-of-36 for 316 yards, two touchdowns and a pair of interceptions. Vincent Jackson and Antonio Gates were his favorite weapons yet again; Jackson had five receptions for 83 yards, while Gates caught eight balls for 66 yards and a score.


The most disappointing element for San Diego's offense was LaDainian Tomlinson. Despite having a week off, Tomlinson apparently hasn't healed up; he rushed for just 78 yards on 22 carries against the league' worst ground defense. He's a major "Sit Em" candidate next week, with Pittsburgh's third-ranked rush defense on the slate.


Analysis of the Eagles-Giants and 49ers-Cardinals games will be posted in the Week 11 NFL Power Rankings, which will be up on Tuesday morning.



2008 NFL Power Rankings


Week 11 NFL Picks


2009 NFL Mock Draft


2010 NFL Mock Draft








2014: Live 2014 NFL Draft Blog - May 8
2014 NFL Week 1 Recap - Sept. 5
2014 NFL Week 2 Recap - Sept. 12
2014 NFL Week 3 Recap - Sept. 19
2014 NFL Week 4 Recap - Sept. 26
2014 NFL Week 5 Recap - Oct. 3
2014 NFL Week 6 Recap - Oct. 10
2014 NFL Week 7 Recap - Oct. 17
2014 NFL Week 8 Recap - Oct. 24
2014 NFL Week 9 Recap - Oct. 31
2014 NFL Week 10 Recap - Nov. 6
2014 NFL Week 11 Recap - Nov. 13
2014 NFL Week 12 Recap - Nov. 20
2014 NFL Week 13 Recap - Nov. 27
2014 NFL Week 14 Recap - Dec. 5
2014 NFL Week 15 Recap - Dec. 12
2014 NFL Week 16 Recap - Dec. 19
2014 NFL Week 17 Recap - Dec. 29
2014 NFL Week 18 Recap - Jan. 4
2014 NFL Week 19 Recap - Jan. 11
2014 NFL Week 20 Recap - Jan. 18
Super Bowl XLIX Live Blog - Feb. 1
Super Bowl XLIX Recap - Feb. 2


2013: Live 2013 NFL Draft Blog - April 26
2013 NFL Week 1 Recap - Sept. 10
2013 NFL Week 2 Recap - Sept. 17
2013 NFL Week 3 Recap - Sept. 24
2013 NFL Week 4 Recap - Oct. 1
2013 NFL Week 5 Recap - Oct. 8
2013 NFL Week 6 Recap - Oct. 15
2013 NFL Week 7 Recap - Oct. 22
2013 NFL Week 8 Recap - Oct. 29
2013 NFL Week 9 Recap - Nov. 4
2013 NFL Week 10 Recap - Nov. 11
2013 NFL Week 11 Recap - Nov. 18
2013 NFL Week 12 Recap - Nov. 25
2013 NFL Week 13 Recap - Dec. 2
2013 NFL Week 14 Recap - Dec. 9
2013 NFL Week 15 Recap - Dec. 16
2013 NFL Week 16 Recap - Dec. 23
2013 NFL Week 17 Recap - Dec. 30
2013 NFL Week 18 Recap - Jan. 6
2013 NFL Week 19 Recap - Jan. 13
2013 NFL Week 20 Recap - Jan. 20
Super Bowl XLVIII Recap - Feb. 3
Super Bowl XLVIII Live Blog - Feb. 2


2012: Live 2012 NFL Draft Blog - April 26
2012 NFL Week 1 Recap - Sept. 10
2012 NFL Week 2 Recap - Sept. 17
2012 NFL Week 3 Recap - Sept. 24
2012 NFL Week 4 Recap - Oct. 1
2012 NFL Week 5 Recap - Oct. 8
2012 NFL Week 6 Recap - Oct. 15
2012 NFL Week 7 Recap - Oct. 22
2012 NFL Week 8 Recap - Oct. 29
2012 NFL Week 9 Recap - Nov. 5
2012 NFL Week 10 Recap - Nov. 12
2012 NFL Week 11 Recap - Nov. 19
2012 NFL Week 12 Recap - Nov. 26
2012 NFL Week 13 Recap - Dec. 3
2012 NFL Week 14 Recap - Dec. 10
2012 NFL Week 15 Recap - Dec. 17
2012 NFL Week 16 Recap - Dec. 24
2012 NFL Week 17 Recap - Dec. 31
2012 NFL Week 18 Recap - Jan. 7
2012 NFL Week 19 Recap - Jan. 14
2012 NFL Week 20 Recap - Jan. 21
Super Bowl XLVII Recap - Feb. 4
Super Bowl XLVII Live Blog - Feb. 4


2011: Live 2011 NFL Draft Blog - April 28
2011 NFL Week 1 Recap - Sept. 12
2011 NFL Week 2 Recap - Sept. 19
2011 NFL Week 3 Recap - Sept. 26
2011 NFL Week 4 Recap - Oct. 3
2011 NFL Week 5 Recap - Oct. 10
2011 NFL Week 6 Recap - Oct. 17
2011 NFL Week 7 Recap - Oct. 24
2011 NFL Week 8 Recap - Oct. 31
2011 NFL Week 9 Recap - Nov. 7
2011 NFL Week 10 Recap - Nov. 14
2011 NFL Week 11 Recap - Nov. 21
2011 NFL Week 12 Recap - Nov. 28
2011 NFL Week 13 Recap - Dec. 5
2011 NFL Week 14 Recap - Dec. 12
2011 NFL Week 15 Recap - Dec. 19
2011 NFL Week 16 Recap - Dec. 26
2011 NFL Week 17 Recap - Jan. 2
2011 NFL Week 18 Recap - Jan. 9
2011 NFL Week 19 Recap - Jan. 16
2011 NFL Week 20 Recap - Jan. 23
Super Bowl XLVI Live Blog - Feb. 6


2010: Live 2010 NFL Draft Blog - April 22
2010 Hall of Fame Game Live Blog - Aug. 8
2010 NFL Kickoff Live Blog - Sept. 9
2010 NFL Week 1 Review - Sept. 13
2010 NFL Week 2 Review - Sept. 20
2010 NFL Week 3 Review - Sept. 27
2010 NFL Week 4 Review - Oct. 4
2010 NFL Week 5 Review - Oct. 11
2010 NFL Week 6 Review - Oct. 18
2010 NFL Week 7 Review - Oct. 25
2010 NFL Week 8 Review - Nov. 1
2010 NFL Week 9 Review - Nov. 8
2010 NFL Week 10 Review - Nov. 15
2010 NFL Week 11 Review - Nov. 22
2010 NFL Week 12 Review - Nov. 29
2010 NFL Week 13 Review - Dec. 6
2010 NFL Week 14 Review - Dec. 13
2010 NFL Week 15 Review - Dec. 20
2010 NFL Week 16 Review - Dec. 27
2010 NFL Week 17 Review - Jan. 3
2010 NFL Week 18 Review - Jan. 10
2010 NFL Week 19 Review - Jan. 17
2010 NFL Week 19 Review - Jan. 24
Super Bowl XLV Live Blog - Feb. 6


2009: Live 2009 NFL Draft Blog - April 25
2009 Hall of Fame Game Live Blog - Aug. 10
2009 NFL Kickoff Live Blog - Sept. 10
2009 NFL Week 1 Review - Sept. 14
2009 NFL Week 2 Review - Sept. 21
2009 NFL Week 3 Review - Sept. 28
2009 NFL Week 4 Review - Oct. 5
2009 NFL Week 5 Review - Oct. 12
2009 NFL Week 6 Review - Oct. 19
2009 NFL Week 7 Review - Oct. 26
2009 NFL Week 8 Review - Nov. 2
2009 NFL Week 9 Review - Nov. 9
2009 NFL Week 10 Review - Nov. 16
2009 NFL Week 11 Review - Nov. 23
2009 NFL Week 12 Review - Nov. 30
2009 NFL Week 13 Review - Dec. 6
2009 NFL Week 14 Review - Dec. 13
2009 NFL Week 15 Review - Dec. 20
2009 NFL Week 16 Review - Dec. 27
2009 NFL Week 17 Review - Jan. 4
2009 NFL Week 18 Review - Jan. 11
2009 NFL Week 19 Review - Jan. 18
2009 NFL Week 20 Review - Jan. 25
Super Bowl XLIV Live Blog - Feb. 7


2008: Live 2008 NFL Draft Blog - April 26
2008 NFL Kickoff Blog - Sept. 4
NFL Week 1 Review - Sept. 8
NFL Week 2 Review - Sept. 15
NFL Week 3 Review - Sept. 22
NFL Week 4 Review - Sept. 29
NFL Week 5 Review - Oct. 6
NFL Week 6 Review - Oct. 13
NFL Week 7 Review - Oct. 20
NFL Week 8 Review - Oct. 27
NFL Week 9 Review - Nov. 3
NFL Week 10 Review - Nov. 10
NFL Week 11 Review - Nov. 17
NFL Week 12 Review - Nov. 24
NFL Week 13 Review - Dec. 1
NFL Week 14 Review - Dec. 8
NFL Week 15 Review - Dec. 15
NFL Week 16 Review - Dec. 22
NFL Week 17 Review - Dec. 29
NFL Wild Card Playoffs Review - Jan. 4
NFL Divisional Playoffs Review - Jan. 11
NFL Championship Sunday Review - Jan. 19
Super Bowl XLIII Live Blog


2007: NFL Draft: Day 1 Review Blog - April 28
Quarterback Rankings - June 25
NFL Kickoff Blog - Sept. 6
Chief Carl Has Lost a Step - Sept. 9
The NFL Cheated the Patriots - Sept. 16
NFL Week 3 Wrap-Up - Sept. 23
NFL Week 4 Wrap-Up - Sept. 30
NFL Week 5 Wrap-Up - Oct. 7
NFL Week 6 Wrap-Up - Oct. 14
NFL Week 7 Wrap-Up - Oct. 21
NFL Week 8 Wrap-Up - Oct. 28
NFL Week 9 Wrap-Up - Nov. 4
NFL Week 10 Wrap-Up - Nov. 11
NFL Week 11 Wrap-Up - Nov. 18
NFL Week 12 Wrap-Up - Nov. 25
NFL Week 13 Wrap-Up - Dec. 2
NFL Week 14 Wrap-Up - Dec. 9
NFL Week 15 Wrap-Up - Dec. 16
NFL Week 16 Wrap-Up - Dec. 23
NFL Week 17 Wrap-Up - Dec. 30
NFL Week 18 Wrap-Up - Jan. 6
NFL Week 19 Wrap-Up - Jan. 13
2008 Championship Sunday Diary - Jan. 20
Super Bowl XLII Live Blog - Feb. 3


---
&copy 1999-2015 Walter Cherepinsky : all rights reserved
Privacy Policy
2 5 9 df