Welcome to my seventh-annual Super Bowl Live Blog. I'll be posting comments like this throughout the evening every few minutes. Keep refreshing this page if you want to check out what I think about the game, announcers, commercials, etc. I'll post my first comment around 5:30ish with live feedback from people watching the game with me.
You can also discuss Super Bowl XLVII in the
Live In-Game Thread
.
Follow
@walterfootball
for updates.
5:30:
With the spread now at 49ers -4.5, I posted my final thoughts in my
Super Bowl XLVII Picks and Props
page.
5:32:
So, James Brown just said that the two coaches in the Super Bowl are brothers. Did anyone else know about this? Pretty cool storyline.
5:34:
Bill Simmons' friend Cousin Sal made a great point earlier on Twitter. These pre-game shows have been running all day long. How could they possibly talk about one game for hours upon hours?

5:36:
"Someone's going to lose this game." -- Boomer Esiason. Somewhere, Donovan McNabb is watching this and yelling, "No, there are ties! Duh!"
5:37:
Forum member CKane on the James Brown 5:32 write-up: "Are you sure about that? I thought they spelled their last names different." Oh really? Never mind then. That sucks.
5:38:
I've had 21 people accept my Facebook invitation to come to my house for a Super Bowl party. The start time is listed as 5:30, but no one's here yet. I guess no one likes me.
5:39:
It'd be pretty cool if Shannon Sharpe actually suited up for this game and caught a pass. Like, if Dennis Pitta and Ed Dickson go down, Baltimore should be able to ask Sharpe to play a few snaps.
5:40:
James Brown just said that Colin Kaepernick wears his confidence under his sleeve. But he's not wearing a sleeve. I guess he has no confidence today. Bet the Ravens heavily.
5:42:
I hate these Pizza Hut commercial. A $10 pizza deal SUCKS. My local pizza joint has better food than Pizza Hut, yet their large pizzas are just $4.50. No lie. Pizza Hut is a sham.
5:43:
Can't wait for that new
Mike and Molly
episode. My palms are already sweating.
5:45:
By the way, I was supposed to be at the Super Bowl. I applied for credentials and everything. However, they denied me because I don't cover a single team. They've given team-specific Web sites with less traffic credentials because they cover one squad. Oh well. I feel like going to the game would make this live blogging more difficult. Watching games on TV is better anyway.
5:46:
No one's here yet. What the hell? The first person who walks into my house will be my best friend forever.
5:50:
The Reverend is here. He's now my best friend. He doesn't know whom to root for: "Ray Lewis killed someone, but the 49ers' head coach is kind of a dick. I don't know who to root for."
5:52:
More from the Reverend: "Ray Lewis is religious and that bothers me. What's up with him saying God wouldn't make him successful if he was a killer? Hitler was successful!"
5:53:
The Reverend is excited that
Elementary
is on after the game. I can't get into that show. Call me crazy, but Mr. Watson is supposed to be a fat old man with a monocle; not a skinny Asian woman.
5:54:
Just looked it up - Boomer Esiason's real name is Norman Julius Esiason.
5:55:
Every single CBS analyst picked the Ravens to cover. Bet the 49ers heavily.
5:58:
My sister's friend Abby won't be here. Abby's always great for predictions because four years ago (Cardinals-Steelers Super Bowl), she thought that the Carolina Panthers were playing the Pittsburgh Penguins.
Two years ago, the following text exchange took place...
Me:
Who are you rooting for in the Super Bowl?
Abby:
pitts cuz they r part of pa lol
6:00:
I just texted Abby to get her pick:
"Lol again idk whose playing."
6:02:
The Real John Moss posted his prediction for Super Bowl XLVII: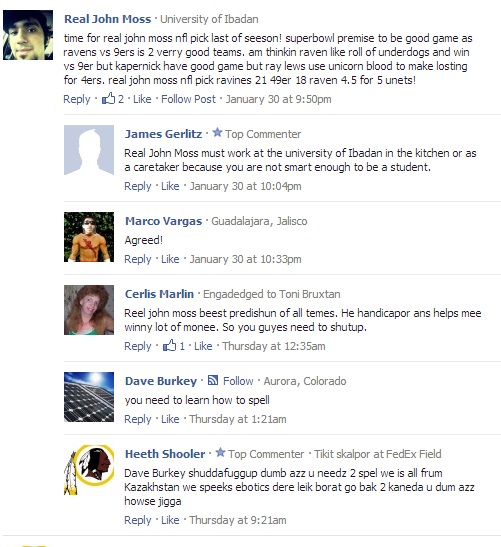 6:05:
People are talking about the future. "The only fat women allowed in Walter Jr.'s presence are busty and curvy." Sounds good to me.
6:06:
My best friend just shouted that there's a giant cookie on the dining room table. I think I'll be gaining 20 pounds tonight.
6:08:
Time for more predictions: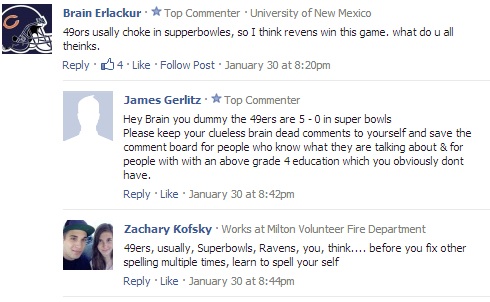 I love how people take this so seriously.
6:10:
My friends Glimmer and Marlana are doing their Spanish homework next to me. My Super Bowl party is officially a hit.
6:12:
I miss how teams used to come out of the tunnel one player at a time. The Patriots ruined it. It was cool when they came out as a team the first time, but now it's overplayed.
6:14:
Body Burner is here, and he's wearing a Ray Rice jersey. The Reverend, meanwhile, has made it known that he's rooting for the 49ers. I fully expect them to throw down before the night is over.
6:17:
I couldn't twist off the cap of my beer bottle, so Body Burner's brother criticized me. I blamed it on back spasms. Meanwhile, Body Burner's girlfriend Jamie just asked me who's winning.
6:19:
Hilarious exchange between me and Jamie:
Jamie:
Who is Walter Payton? Is he father to the other two?
Me:
Other two who?
Jamie:
The other two Paytons!
6:20:
Call me crazy, but this black lady seems a little too old to be a student at Sandy Hook Elementary School.
6:22:
"Apparently deer antler spray makes you cry at a song you heard 4,500 times." -- Body Burner.
6:23:
Who is that weird guy in the blue shirt? He's signing, but whom is he signing to? As Body Burner pointed out, he's not on the TV enough for it to matter.
6:25:
Another hilarious exchange:
Body Burner (at Ray Lewis):
Is he crying again!? What a p***y!
The Reverend:
He didn't cry that much when he killed someone.
6:27:
Here are some more thoughts from the NFL.com trollers: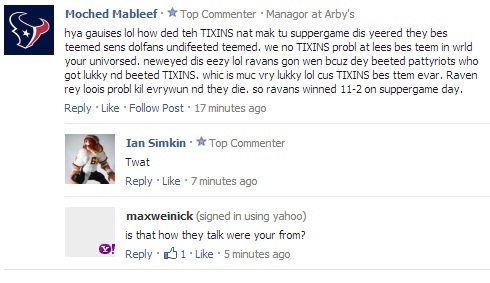 Yes, Max. Everyone spells that way in Mochaed Mableef's home country.
Of course, we need Mario Migelini's thoughts on this matchup: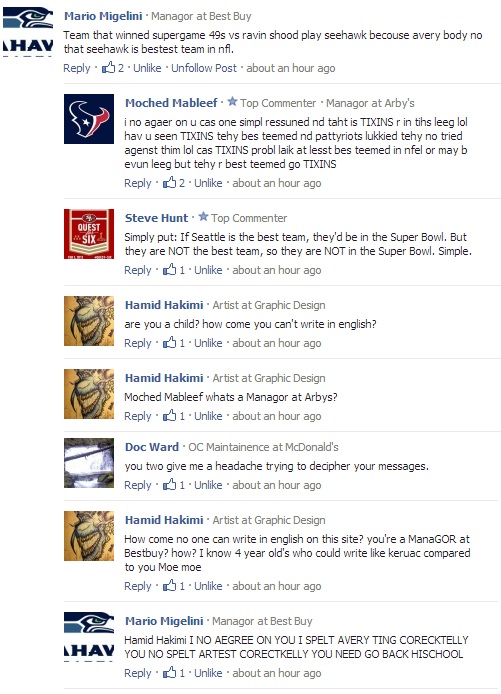 6:28:
Jerome Boger is in the Hall of Fame?
6:29:
I think the coin toss will be heads. I have a strong feeling about heads. I had a dream about it.
6:30:
HEADS!!! I KNEW IT!!! EVERYONE SAYS I SUCK AT PICKING GAMES BUT THIS IS PROOF THAT I AM AWESOME!
6:33:
Kickoff. Touchback. Boring.
6:34:
Kaepernick to Vernon Davis for 20 yards! But no play because of an illegal formation.
6:36:
My friend Audrey just handed me a plate of macaroni and cheese and turkey. She's my new best friend.
6:37:
Great starting field position for the Ravens.
6:38:
"Has anyone ever died during the Super Bowl? And if so, did the game just go on?" -- Jamie.
6:39:
Torrey Smith down to the 19!
6:41:
TURKEY AND MACARONI AND CHEESE NOM NOM NOM NOM
6:42:
TOUCHDOWN RAVENS! Joe Flacco to Anquan Boldin.
Ravens 7, 49ers 0
6:43:
Does a woman having sex with an M&M count as beastiality?
6:44:
"So who are the two brothers playing in the Super Bowl? Are they on the field?" -- Jamie.
6:45:
Body Burner just told me he's breaking up with Jamie.
6:46:
Everyone just shouted "Yeaaahhhhh Walt!!!!"
6:48:
"You made one catch, come on p***y! I hate that s**t! It's one catch! And Ray Lewis' deer antler spray wore off so he couldn't tackle you!" -- Body Burner.
6:49:
"I say p***y a lot, don't I?" -- Body Burner.
6:50:
Kaepernick picks up nine yards on the ground. My under rushing prop is going down in flames.
6:51:
Kaepernick gets seven more. I'm getting poorer by the minute.
6:52:
Vernon Davis into the red zone. The Ravens have the No. 1 red-zone defense, so let's see if that holds up.
6:54:
Red-zone defense! Ravens have been awesome near their goal line.
Ravens 7, 49ers 3
6:57:
What the hell is up with these crappy commercials? These companies have spent millions of dollars on this junk.
6:59:
More terrible ads. Everyone pretty much agrees. Do Doritos and Oreos really need to have commercials? I don't think any of their ads will convince anyone to buy one more bag or box of Doritos or Oreos.
7:03:
Holy s***, what a play by Flacco and Boldin! I don't understand how Flacco is avoiding defenders like that.
7:05:
Flacco goes down for a change. Sucks that drive had to end after that awesome play.
7:08:
Ugh, the site is super slow for some reason. I just contacted my Web host.
7:23:
Arrrgghhh. My Internet stopped working so I had to restart my computer. I'm back. And the Ravens are running away with this.
Ravens 14, 49ers 3
7:24:
Some stuff that happened:
1. LaMichael James' fumble was obviously huge. He wouldn't even be on the field if Kendall Hunter were healty.
2. Body Burner convinced Jamie that Colin Kaepernick's name is "Kaepernick Sullivan."
3. Body Burner's brother Dead Rabbits just said, "That blinky thing in your office - I wasn't supposed to touch it, was I?" Blame him for no updates in 15 minutes.
7:27:
Why is milk advertising? Milk!?
7:28:
Ed Reed intercepts Kaepernick! FIGHT FIGHT FIGHT!!!
7:29:
Cary Williams is an idiot.
7:30:
Offsetting penalties in bulls***t. My friend Dale is irate that Williams wasn't thrown out of the game.
7:34:
My girlfriend Awesome Girl Who Loves Football is in New Orleans: "The atmosphere is cool but everywhere is such chaos! Is impossible to find anywhere to sit! I'm watching on a screen in the street and so many drunk people are yelling! Two drunk Ravens fans tried to do a handshake - and missed."
7:36:
Rare miss by Flacco AND A FAKE FIELD GOAL THAT DIDN'T WORK AHHHHH!!!
7:38:
Why are people in the VW commercial speaking with a Jamaican accent? What is going on here? Why are all of these commercials collectively terrible?
7:39:
My friend Not Asian Guy: "Look at Roger Goodell creeping on little girls. He's like, 'Hey I own the NFL, what are you up to tonight?'"
7:40:
Awesome Girl Who Loves Football just told me there's a drunken black guy yelling, "MOTHAF***A MARKED DOWN MOTHAF***A MARKED DOWN" and "BOO F*** YOU SUCK D SUCK D SUCK D" at Goodell.
7:42:
Glad this awesome commercial just told me that Jared from Subway is 15 years old.
7:44:
Great field position for the Ravens again. They can put the game away right now.
7:46:
Not a bad Sketchers commercial. I don't know how that could have been any better. The old person Taco Bell commercial drew some laughs, but I think they may have been laughing at something else.
7:48:
JACOBY JONES!!!!! That has to go down as one of the best touchdowns in NFL history.
Ravens 21, 49ers 3
7:50:
Joe Flacco is 13-of-20 for 192 yards and three touchdowns. He has the MVP locked up if the Ravens hold on.
7:52:
Serves Chris Culliver right. He shouldn't be playing in this game. I have a rant coming up about him.
7:53:
I don't mind roughing-the-passer penalties. If I were a coach or an owner, I'd have my team commit some of those each week just to send a message.
7:55:
Niners in the red zone again. Let's see if Baltimore's top red-zone defense holds up a second time.
7:56:
Another drunken black guy yelling near Awesome Girl Who Loves Football: "Roger Goodell gonna f***in kill dis league!"
7:57:
Not Asian Guy brought up a great point about Kaepernick - he's kind of a douche with his bicep kissing. It's something someone would do on the
Jersey Shore
.
Ravens 21, 49ers 6
8:02:
Starting tommorrow the site will be known as BodyBurnerFootall.com. There will be no football; just hockey.
8:04:
I've been live blogged raped by Body Burner when I went to the bathroom.
8:05:
Abby just texted me and said that Jameel McClain went to school with her. I guess she now knows who's playing in this game.
8:11:
That woman's guitar is on fire. Isn't that a safety hazard? Like wasn't Janet Jackson's stunt safer?
8:13:
I hope Jay-Z doesn't come in. I think he's the worst musician of all time. Vanilla Ice and MC Hammer would be better guests.
8:15:
There are five Beyonces apparently. Does that mean there are five Jay-Zs? If so, I may have to just kill myself.
8:17:
Random black women are popping up on stage and people are excited. They're yelling "destiny child!" Who are these children of destiny?
8:18:
Awesome Girl Who Loves Football just informed me that one of the aformentioned drunken guys threw up in a flower pot. Good times in NOLA.
8:20:
I don't get why the people right underneath the stage are so excited. I'd dread it. It's all sweaty and crowded down there.
8:22:
Halftime's already been 24 minutes. Do we really need halftime concerts? Who likes these things? I mean, random black women appearing on stage might be appealing to some, but not most football fans.
8:24:
Hey, football's about to start again!
8:25:
Ugh, why is a stupid kid delivering a football to Jerome Boger? Did we really need to see that?
8:32:
I can't believe Chris Culliver is going to play this game. According to Tony Pashos, a former 49er, tweeted: "Chris Culliver opened himself up 2 serious punishment. Niners r dead serious against discrimination that they put zero tolerance in deal. Chris Culliver must not have read his Niners contract. Strict zero tolerance policy for any sort of prejudice or discrimination." The 49ers are complete hypocrites for not severing ties with Culliver. And Culliver is a major hypocrite too. What if someone had said, "I don't want black players in the locker room?" Don't you think he'd be pissed?
It's 20-freaking-13. There's no more room for hate like this. I can't believe Roger Goodell is allowing Culliver to go unpunished. How is any player supposed to come out of the closet if Culliver can make a statement like that and completely get away with it? It's not an issue of freedom of speech because that's only for legal purposes; it has nothing to do with employment.
When it comes down to it, Goodell hates gay people. Or at least that's what I'll be going with in next year's Emmitt on the Brink.
Oh, and I'm also willing to bet that Culliver comes out of the closet in 10 years. If you disagree, watch
American Beauty
. The 49er defensive back doth protest too much.
8:33:
JACOBY JONES!!!!!!!!!!!!!!!!!!!!!!!!!!
Ravens 28, 49ers 6
8:34:
Just realized that Jacoby Jones could be MVP. He's been part of the two most exciting plays of the game. Still favoring Flacco though.
8:36:
Awesome Girl Who Loves Football: "Creepy hick drunk white trash guy just asked Haley and me if we have a room." Should I be worried?
8:38:
Kaepernick sacked! People are making fun of Phil Simms for his love of the pistol offense.
8:39:
Ugh, how do you lose power in the stadium? Come on NOLA!
8:41:
It's 20-freaking-13. There should be no homophobia, no racism and no power outages.
8:42:
My friend Harris' buddy who came here is complaining about not playing throughout this power outage because they once played the Fog Bowl.
8:44:
Two of my male cousins are letting me down. One saw the score earlier and asked, "Is that the score or the amount of times each team has had the football?" My other one asked, "Wait, who's playing?"
8:45:
No doubt the 49ers are responsible for this power outage.
8:46:
Solomon Wilcots' watch must cost more than the GDP of most countries.
8:48:
Body Burner imitating Ray Lewis: "Yo if I get some deer antler spray I can splash it on the lights and make them come back on!"
8:50:
Highlights. This is cool because it's like another halftime. The first one wasn't long enough.
8:52:
Shannon Sharpe on Jones' 109-yard return: "goug 4g eoro gne 5ho tne e bn he could have run 110 wriogh gn l4 og rnjj erog." Thanks, Shannon.
8:58:
Still on delay. Blargh. Why can't they play right now? It's light enough. If the 49ers come back, the Ravens have legitimate beef.
9:00:
I was upstairs. Did someone really suggest that Alex Smith should step in at quarterback? The Ravens will destroy him.
9:02:
"gio4how nwlgn orgi rnl e ro who's in charge of paying the lights at the Superdome we8gwhgo ig o4gu ougu eroug etog neton eto."
9:03:
John Harbaugh is pissed. He's probably mad that he's stuck listening to Shannon Sharpe's analysis.
9:10:
Game's about to start! My sister just told me that she recently realized that the first-down line wasn't actually on the field.
9:11:
"Third-and-13. Let's go!"
9:12:
I guess the power outage didn't really hurt the Ravens.
9:15:
Is Kevin from the
Office
really eating Subway? That's not convincing for people who want to lose weight.
9:17:
Nooooo don't run Kaepernick ahhhhh!!!
9:18:
NOOOOOOOOOOOOOO KAEPERNICKKKKKKKKKKKKK STOP IT AHHHHHHHHHHHHH
9:21:
Miguel Lobsterbush with a big drop. The 49ers waste a timeout. Sloppy, sloppy, sloppy.
9:24:
Lobsterbush with a touchdown. This game is not over.
Ravens 28, 49ers 13
9:28:
OK, so maybe the Ravens can still have some beef. As the expert in assigning blame to absolve myself of any wrongdoing, I suggest Baltimore file a complaint with a league office if the 49ers come back.
9:29:
My house is suddenly empty. Two-thirds of my guests went downstairs to play pool and watch the Puppy Bowl.
9:30:
Flacco sacked! This game has completely turned. The Ravens have lost momentum and are now succumbing to Circadian rhythms.
9:31:
Ted Ginn to the 20!
9:32:
Somewhere, Cam Cameron is shouting, "See, I told you Ted Ginn was worth a first-round pick!"
9:33:
Frank Gore touchdown. Game's essentially over. As a West Coast team, the 49ers have too much of an advantage playing this late.
Ravens 28, 49ers 20
9:34:
What did that Jimmy Fallon car commercial have to do with Jimmy Fallon?
9:39:
Wow, 106-16 in yardage for the 49ers since the power outage. This sucks for Raven fans.
9:40:
Fumble! But did he even catch it?
9:41:
Apparently he did because it's not even reviewed somehow. This game is awesome for crazy conspiracy theorists like me.
9:43:
BIG stop by the Ravens. Field goal upcoming.
9:44:
Running into David Akers! Even Jerome Boger is in on this conspiracy!
9:45:
Akers' kick is good this time. The Ravens need to wake up, but Circadian rhythms Circadian rhythms Circadian rhythms Circadian rhythms Circadian rhythms Circadian rhythms Circadian rhythms Circadian rhythms Circadian rhythms Circadian rhythms Circadian rhythms Circadian rhythms Circadian rhythms Circadian rhythms Circadian rhythms
9:47:
Some more GameCenter stuff. It's always a rare instance when Mario can criticize someone else's writing: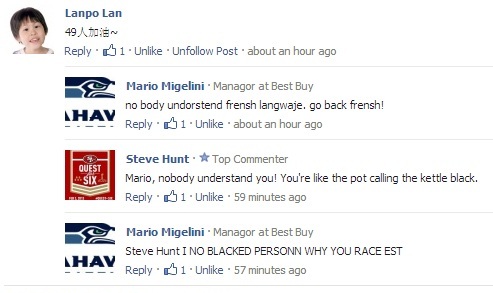 First, Chris Culliver, now Steve Hunt. What's with all of these intolerant a**holes in San Francisco?
9:49:
Big. That's huge for the Ravens. Now at the San Francisco 35.
9:51:
Bernard Pierce is awesome. No idea how he fell to the third round of the draft.
9:55:
First-and-goal!
9:57:
Ugh, everyone's talking about some Leon Sandcastle commercial, but I missed it because I went to the bathroom.
9:58:
That wasn't a late hit? Yet they ran into David Akers? Circadian rhythms!
9:59:
The Ravens should have gone for it. The 49ers would have been pinned at their own 2-yard line. Instead...
Ravens 31, 49ers 23
10:00:
Ram commercial... weirdest ad ever.
10:04:
Kaepernick touchdown. He just ruined my bet. Ugh. 49ers going for two.
10:05:
Incomplete! Ravens still ahead.
Ravens 31, 49ers 29
10:07:
I blame these Superdome a**holes for costing me money. It's not fair. Everything was going well. I had the Ravens' spread, the coin toss and many props. Ever since the power went out, the 49ers are on fire, my props are ruined and I missed a commercial about some sort of sandcastle. My life is in shambles.
10:09:
Ed Reed just a bit offsides. Circadian rhythms caused the refs to fall asleep.
10:10:
Nice job, Jerome Boger. It's good to hate on homophobes.
10:12:
Some scumbag to Awesome Girl Who Loves Football: "You an angel. Is that yo real hair color?"
10:14:
As if this game couldn't get any longer, we have a challenge!
10:15:
Soda Stream might just be the most important invention in the history of the planet.
10:17:
Wow, Jim Caldwell has balls of steel to make that call. Unreal.
10:19:
Cool story - my friend Val just announced that her dad turned 47 today. That means he's exactly as old as the Super Bowl.
10:21:
Pitta drops it. Field goal upcoming.
10:22:
Field goal good! Ravens have probably sealed the cover.
Ravens 34, 49ers 29
10:23:
Marlana came out of the basement wearing a sticker that says "Lee Smith, TE, Patriots." I don't want to know what went on in my basement.
10:26:
Huge drop by Vernon Davis! Would have set up the 49ers near the red zone.
10:27:
Frank Gore down to the 7!
10:29:
The same scumbag to Awesome Girl Who Loves Football: "I don't wanna be botherin' you but you an angel to me. I wanna touch yo hair." Umm... well, aren't you bothering her?
10:31:
Incomplete on second down!
10:32:
Val when looking at Joe Flacco: "He's cuuuuteeee!"
10:33:
Timeout 49ers. One remaining.
10:34:
Incomplete! Fourth down upcoming!
10:35:
INCOMPLETE!
10:36:
Circadian rhythms again. The refs are asleep. Have you heard a whistle lately? I haven't.
10:38:
That's defensive holding. The girls in the room are laughing at Jim Harbaugh because they didn't understand what the signal for holding was.
10:40:
Intentional safety?
10:41:
How are there 12 seconds left? There were nine seconds between the game and the play clocks.
10:42:
Intentional safety!
Ravens 34, 49ers 31
10:43:
Fair catch for a free kick. The John Madden rule!
10:45:
RAVENS WIN! RAVENS WIN! RAVENS WIN!
10:46:
I feel bad for the people who have to clean up all of that confetti.
10:47:
Never mind. Confetti angels are awesome.
10:48:
Joe Flacco's the MVP. He was 22-of-33 for 287 yards and three touchdowns. He's going to cost Baltimore a ton of money this offseason. He can basically name his price after his performance during the playoffs.
10:53:
Some more comments from the creeper hitting on my girlfriend:
"That hurr is gorgeous. Ima show you my hurr when I win."
"Baby you gorgeous. What I gotta do to be a part of yo life?"
Perhaps you can start by getting an education and talking like a normal human being.
10:56:
Thanks for reading my incoherent thoughts. Check out my updated
2013 NFL Mock Draft
on Tuesday and tons of NFL Combine coverage later in the month. I'll also have
2013 Fantasy Football Rankings
soon.
2016:
Live 2017 NFL Draft Blog
- April 30
2017 NFL Week 1 Recap
- Sept. 12
2017 NFL Week 2 Recap
- Sept. 19
2017 NFL Week 3 Recap
- Sept. 26
2017 NFL Week 4 Recap
- Oct. 2
2017 NFL Week 5 Recap
- Oct. 9
2017 NFL Week 6 Recap
- Oct. 16
2017 NFL Week 7 Recap
- Oct. 23
2017 NFL Week 8 Recap
- Oct. 30
2017 NFL Week 9 Recap
- Nov. 6
2017 NFL Week 10 Recap
- Nov. 13
2017 NFL Week 11 Recap
- Nov. 20
2017 NFL Week 12 Recap
- Nov. 27
2017 NFL Week 13 Recap
- Dec. 4
2017 NFL Week 14 Recap
- Dec. 11
2017 NFL Week 15 Recap
- Dec. 18
2017 NFL Week 16 Recap
- Dec. 25
2017 NFL Week 17 Recap
- Jan. 1
2017 NFL Week 18 Recap
- Jan. 8
2017 NFL Week 19 Recap
- Jan. 15
2017 NFL Week 20 Recap
- Jan. 22
Super Bowl LII Recap
- Feb. 5
2016:
Live 2016 NFL Draft Blog
- April 30
2016 NFL Week 1 Recap
- Sept. 12
2016 NFL Week 2 Recap
- Sept. 19
2016 NFL Week 3 Recap
- Sept. 26
2016 NFL Week 4 Recap
- Oct. 3
2016 NFL Week 5 Recap
- Oct. 10
2016 NFL Week 6 Recap
- Oct. 17
2016 NFL Week 7 Recap
- Oct. 24
2016 NFL Week 8 Recap
- Oct. 31
2016 NFL Week 9 Recap
- Nov. 7
2016 NFL Week 10 Recap
- Nov. 14
2016 NFL Week 11 Recap
- Nov. 21
2016 NFL Week 12 Recap
- Nov. 28
2016 NFL Week 13 Recap
- Dec. 5
2016 NFL Week 14 Recap
- Dec. 12
2016 NFL Week 15 Recap
- Dec. 19
2016 NFL Week 16 Recap
- Dec. 26
2016 NFL Week 17 Recap
- Jan. 2
2016 NFL Week 18 Recap
- Jan. 9
2016 NFL Week 19 Recap
- Jan. 16
2016 NFL Week 20 Recap
- Jan. 23
2016 NFL Week 21 Recap
- Feb. 6
2015:
Live 2015 NFL Draft Blog
- April 30
2015 NFL Week 1 Recap
- Sept. 12
2015 NFL Week 2 Recap
- Sept. 17
2015 NFL Week 3 Recap
- Sept. 24
2015 NFL Week 4 Recap
- Oct. 1
2015 NFL Week 5 Recap
- Oct. 8
2015 NFL Week 6 Recap
- Oct. 15
2015 NFL Week 7 Recap
- Oct. 22
2015 NFL Week 8 Recap
- Oct. 29
2015 NFL Week 9 Recap
- Nov. 5
2015 NFL Week 10 Recap
- Nov. 12
2015 NFL Week 11 Recap
- Nov. 19
2015 NFL Week 12 Recap
- Nov. 26
2015 NFL Week 13 Recap
- Dec. 4
2015 NFL Week 14 Recap
- Dec. 11
2015 NFL Week 15 Recap
- Dec. 18
2015 NFL Week 16 Recap
- Dec. 25
2015 NFL Week 17 Recap
- Jan. 4
2015 NFL Week 18 Recap
- Jan. 11
2015 NFL Week 19 Recap
- Jan. 18
2015 NFL Week 20 Recap
- Jan. 25
Super Bowl 50 Recap
- Feb. 8
2014:
Live 2014 NFL Draft Blog
- May 8
2014 NFL Week 1 Recap
- Sept. 5
2014 NFL Week 2 Recap
- Sept. 12
2014 NFL Week 3 Recap
- Sept. 19
2014 NFL Week 4 Recap
- Sept. 26
2014 NFL Week 5 Recap
- Oct. 3
2014 NFL Week 6 Recap
- Oct. 10
2014 NFL Week 7 Recap
- Oct. 17
2014 NFL Week 8 Recap
- Oct. 24
2014 NFL Week 9 Recap
- Oct. 31
2014 NFL Week 10 Recap
- Nov. 6
2014 NFL Week 11 Recap
- Nov. 13
2014 NFL Week 12 Recap
- Nov. 20
2014 NFL Week 13 Recap
- Nov. 27
2014 NFL Week 14 Recap
- Dec. 5
2014 NFL Week 15 Recap
- Dec. 12
2014 NFL Week 16 Recap
- Dec. 19
2014 NFL Week 17 Recap
- Dec. 29
2014 NFL Week 18 Recap
- Jan. 4
2014 NFL Week 19 Recap
- Jan. 11
2014 NFL Week 20 Recap
- Jan. 18
Super Bowl XLIX Live Blog
- Feb. 1
Super Bowl XLIX Recap
- Feb. 2
2013:
Live 2013 NFL Draft Blog
- April 26
2013 NFL Week 1 Recap
- Sept. 10
2013 NFL Week 2 Recap
- Sept. 17
2013 NFL Week 3 Recap
- Sept. 24
2013 NFL Week 4 Recap
- Oct. 1
2013 NFL Week 5 Recap
- Oct. 8
2013 NFL Week 6 Recap
- Oct. 15
2013 NFL Week 7 Recap
- Oct. 22
2013 NFL Week 8 Recap
- Oct. 29
2013 NFL Week 9 Recap
- Nov. 4
2013 NFL Week 10 Recap
- Nov. 11
2013 NFL Week 11 Recap
- Nov. 18
2013 NFL Week 12 Recap
- Nov. 25
2013 NFL Week 13 Recap
- Dec. 2
2013 NFL Week 14 Recap
- Dec. 9
2013 NFL Week 15 Recap
- Dec. 16
2013 NFL Week 16 Recap
- Dec. 23
2013 NFL Week 17 Recap
- Dec. 30
2013 NFL Week 18 Recap
- Jan. 6
2013 NFL Week 19 Recap
- Jan. 13
2013 NFL Week 20 Recap
- Jan. 20
Super Bowl XLVIII Recap
- Feb. 3
Super Bowl XLVIII Live Blog
- Feb. 2
2012:
Live 2012 NFL Draft Blog
- April 26
2012 NFL Week 1 Recap
- Sept. 10
2012 NFL Week 2 Recap
- Sept. 17
2012 NFL Week 3 Recap
- Sept. 24
2012 NFL Week 4 Recap
- Oct. 1
2012 NFL Week 5 Recap
- Oct. 8
2012 NFL Week 6 Recap
- Oct. 15
2012 NFL Week 7 Recap
- Oct. 22
2012 NFL Week 8 Recap
- Oct. 29
2012 NFL Week 9 Recap
- Nov. 5
2012 NFL Week 10 Recap
- Nov. 12
2012 NFL Week 11 Recap
- Nov. 19
2012 NFL Week 12 Recap
- Nov. 26
2012 NFL Week 13 Recap
- Dec. 3
2012 NFL Week 14 Recap
- Dec. 10
2012 NFL Week 15 Recap
- Dec. 17
2012 NFL Week 16 Recap
- Dec. 24
2012 NFL Week 17 Recap
- Dec. 31
2012 NFL Week 18 Recap
- Jan. 7
2012 NFL Week 19 Recap
- Jan. 14
2012 NFL Week 20 Recap
- Jan. 21
Super Bowl XLVII Recap
- Feb. 4
Super Bowl XLVII Live Blog
- Feb. 4
2011:
Live 2011 NFL Draft Blog
- April 28
2011 NFL Week 1 Recap
- Sept. 12
2011 NFL Week 2 Recap
- Sept. 19
2011 NFL Week 3 Recap
- Sept. 26
2011 NFL Week 4 Recap
- Oct. 3
2011 NFL Week 5 Recap
- Oct. 10
2011 NFL Week 6 Recap
- Oct. 17
2011 NFL Week 7 Recap
- Oct. 24
2011 NFL Week 8 Recap
- Oct. 31
2011 NFL Week 9 Recap
- Nov. 7
2011 NFL Week 10 Recap
- Nov. 14
2011 NFL Week 11 Recap
- Nov. 21
2011 NFL Week 12 Recap
- Nov. 28
2011 NFL Week 13 Recap
- Dec. 5
2011 NFL Week 14 Recap
- Dec. 12
2011 NFL Week 15 Recap
- Dec. 19
2011 NFL Week 16 Recap
- Dec. 26
2011 NFL Week 17 Recap
- Jan. 2
2011 NFL Week 18 Recap
- Jan. 9
2011 NFL Week 19 Recap
- Jan. 16
2011 NFL Week 20 Recap
- Jan. 23
Super Bowl XLVI Live Blog
- Feb. 6
2010:
Live 2010 NFL Draft Blog
- April 22
2010 Hall of Fame Game Live Blog
- Aug. 8
2010 NFL Kickoff Live Blog
- Sept. 9
2010 NFL Week 1 Review
- Sept. 13
2010 NFL Week 2 Review
- Sept. 20
2010 NFL Week 3 Review
- Sept. 27
2010 NFL Week 4 Review
- Oct. 4
2010 NFL Week 5 Review
- Oct. 11
2010 NFL Week 6 Review
- Oct. 18
2010 NFL Week 7 Review
- Oct. 25
2010 NFL Week 8 Review
- Nov. 1
2010 NFL Week 9 Review
- Nov. 8
2010 NFL Week 10 Review
- Nov. 15
2010 NFL Week 11 Review
- Nov. 22
2010 NFL Week 12 Review
- Nov. 29
2010 NFL Week 13 Review
- Dec. 6
2010 NFL Week 14 Review
- Dec. 13
2010 NFL Week 15 Review
- Dec. 20
2010 NFL Week 16 Review
- Dec. 27
2010 NFL Week 17 Review
- Jan. 3
2010 NFL Week 18 Review
- Jan. 10
2010 NFL Week 19 Review
- Jan. 17
2010 NFL Week 19 Review
- Jan. 24
Super Bowl XLV Live Blog
- Feb. 6
2009:
Live 2009 NFL Draft Blog
- April 25
2009 Hall of Fame Game Live Blog
- Aug. 10
2009 NFL Kickoff Live Blog
- Sept. 10
2009 NFL Week 1 Review
- Sept. 14
2009 NFL Week 2 Review
- Sept. 21
2009 NFL Week 3 Review
- Sept. 28
2009 NFL Week 4 Review
- Oct. 5
2009 NFL Week 5 Review
- Oct. 12
2009 NFL Week 6 Review
- Oct. 19
2009 NFL Week 7 Review
- Oct. 26
2009 NFL Week 8 Review
- Nov. 2
2009 NFL Week 9 Review
- Nov. 9
2009 NFL Week 10 Review
- Nov. 16
2009 NFL Week 11 Review
- Nov. 23
2009 NFL Week 12 Review
- Nov. 30
2009 NFL Week 13 Review
- Dec. 6
2009 NFL Week 14 Review
- Dec. 13
2009 NFL Week 15 Review
- Dec. 20
2009 NFL Week 16 Review
- Dec. 27
2009 NFL Week 17 Review
- Jan. 4
2009 NFL Week 18 Review
- Jan. 11
2009 NFL Week 19 Review
- Jan. 18
2009 NFL Week 20 Review
- Jan. 25
Super Bowl XLIV Live Blog
- Feb. 7
2008:
Live 2008 NFL Draft Blog
- April 26
2008 NFL Kickoff Blog
- Sept. 4
NFL Week 1 Review
- Sept. 8
NFL Week 2 Review
- Sept. 15
NFL Week 3 Review
- Sept. 22
NFL Week 4 Review
- Sept. 29
NFL Week 5 Review
- Oct. 6
NFL Week 6 Review
- Oct. 13
NFL Week 7 Review
- Oct. 20
NFL Week 8 Review
- Oct. 27
NFL Week 9 Review
- Nov. 3
NFL Week 10 Review
- Nov. 10
NFL Week 11 Review
- Nov. 17
NFL Week 12 Review
- Nov. 24
NFL Week 13 Review
- Dec. 1
NFL Week 14 Review
- Dec. 8
NFL Week 15 Review
- Dec. 15
NFL Week 16 Review
- Dec. 22
NFL Week 17 Review
- Dec. 29
NFL Wild Card Playoffs Review
- Jan. 4
NFL Divisional Playoffs Review
- Jan. 11
NFL Championship Sunday Review
- Jan. 19
Super Bowl XLIII Live Blog
Fantasy Football Rankings
- May 27
2019 NFL Mock Draft
- May 22
2018 NBA Mock Draft
- May 16
2020 NFL Mock Draft
- May 10
NFL Picks
- Feb. 4
NFL Power Rankings
- Jan. 15