By Chet Gresham -
@ChetGresham
Follow
@walterfootball
for updates.
Published Sept. 18, 2018.
Running Backs

Giovani Bernard, Bengals (28 percent)
Bernard played well last year when Joe Mixon was injured toward the end of the season and should pick up where he left off now that Mixon is out again. Mixon's knee trouble is from his injury last season, and there is a chance it lingers or pops up again at some point, so Bernard could find himself as the lead back for more than just a week or two.

Corey Clement, Eagles (22 percent)
Clement had a good game against Tampa Bay with Darren Sproles out and Jay Ajayi missing time due to a back injury. Clement is clearly the best option after Ajayi, and Ajayi is set up for injuries with his bruising style and past knee problems, plus, Philadelphia's running back rotation should keep Clement in the loop, especially after putting up 85 yards and a touchdown on 11 touches.

Austin Ekeler, Chargers (44 percent)
Ekeler is never going to have the workload we want from an every-week starter, but he continues to do a lot with the touches he gets. He's had 10 and 14 touches in his first two games for 224 yards and a touchdown and has consistently put up startable fantasy numbers with just 10 touches a game.

Javorius Allen, Ravens (8 percent)
Allen hasn't shown great talent, but he's been serviceable and doesn't fumble, which has pushed him into goal-line duties after Alex Collins fumbled Week 1. Allen has also been getting passing-down work exclusively with Kenneth Dixon out.

Jordan Wilkins, Colts (31 percent)
Wilkins split time with Marlon Mack in Mack's first game back from his injury, but Wilkins outplayed him on a per-touch basis and was called upon to help ice the game. I expect we'll still see a committee, but Wilkins has the lead now.
Wide Receivers


DeSean Jackson (50 percent) and Chris Godwin (35 percent), Bucs
Ryan Fitzpatrick and company can't keep up this pace, but there is no doubt that Jackson and Godwin are on fire, and they get the Steelers poor pass defense this week. Both are streamable in this matchup.

Geronimo Allison, Packers (31 percent)
Allison continues to hold value despite coming in third or fourth in team targets because he has Aaron Rodgers throwing him the ball. As long as that continues, he's worth a spot on most teams.

John Brown,Ravens (25 percent)
I still like Michael Crabtree, but as long as Brown is healthy, he'll have the most upside for big games in this Baltimore offense. He's shown well so far and shouldn't be on waiver wires.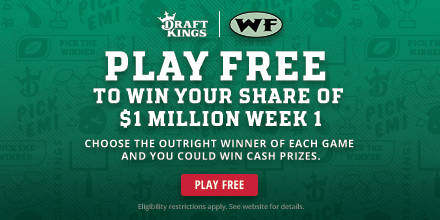 Keelan Cole, Jaguars (49 percent)
Jacksonville's receivers are tough to find consistency from, but Cole is the real deal and should continue to come out on top more often than not.

Calvin Ridley, Falcons (22 percent)
Ridley went reception-less Week 1, but turned things around Week 2 with four receptions for 64 yards and a touchdown. He also out-targeted Mohamed Sanu by three and could be on his way to the No. 2 receiver position. If that happens, Ridley will likely have consistent fantasy value.

Tyler Boyd, Bengals (2 percent)
Boyd has been the No. 2 target in Cincinnati this season and put up a big game against a good Ravens defense last week. He's clearly ahead of John Ross and should have fantasy value as long as he can stay a top-2 target.
Tight Ends

Austin Seferian-Jenkins, Jaguars (32 percent)
There aren't many tight ends I'm clamoring for this week, and Seferian-Jenkins is barely getting there for me, but he has been a presence in the red zone so far and I expect that to continue.

Eric Ebron, Colts (52 percent)
Ebron is way behind Jack Doyle in snaps this season, but he's also caught two touchdowns. We can't count on the touchdowns, but with his success should come more work and his upside is higher than Doyle's if he can start seeing similar targets.
Quarterback

Ryan Fitzpatrick, Bucs (23 percent)
There is a chance that Fitzpatrick holds onto the job after Jameis Winston returns, but the real reason to grab him this week is to start him against a bad Pittsburgh pass defense at home.
For more recommendations, check out WalterFootball.com's
Fantasy Football Rankings
.
More 2018 Fantasy Football Articles:
Fantasy Football Rankings
2018 Fantasy Football Rankings:
2018 Fantasy Football Rankings: Quarterbacks
- 9/5 (Walt)
Chet Gresham's Fantasy Football Quarterback Rankings
- 8/29 (Chet)
2018 Fantasy Football Rankings: Running Backs
- 9/5 (Walt)
Chet Gresham's Fantasy Football Running Back Rankings
- 8/29 (Chet)
2018 Fantasy Football Rankings: Wide Receivers
- 9/5 (Walt)
Chet Gresham's Fantasy Football Wide Receiver Rankings
- 8/29 (Chet)
2018 Fantasy Football Rankings: Tight Ends
- 9/5 (Walt)
Chet Gresham's Fantasy Football Tight End Rankings
- 8/29 (Chet)
2018 Fantasy Football Rankings: Kickers
- 8/21 (Walt)
2018 Fantasy Football Rankings: Defenses
- 8/21 (Walt)
Fantasy Football Rookie Rankings: Dynasty
- 8/21 (Walt)
Fantasy Football Rookie Rankings: Dynasty
- 5/18 (Chet)
2018 Fantasy Football Mock Drafts:
Fantasy Football Mock Draft
- 9/1 (Walt)
Fantasy Football Mock Draft
- 8/30 (Walt)
Fantasy Football Mock Draft
- 8/27 (Walt)
Fantasy Football PPR Mock Draft
- 8/23 (Walt)
Fantasy Football Mock Draft
- 8/22 (Walt)
Fantasy Football Mock Draft
- 8/16 (Walt)
Fantasy Football PPR Mock Draft
- 8/9 (Walt)
Fantasy Football Mock Draft
- 8/2 (Walt)
Fantasy Football PPR Mock Draft
- 8/1 (Chet)
Fantasy Football PPR Mock Draft
- 7/26 (Walt)
Fantasy Football 2-QB Dynasty Draft
- 5/25 (Chet)
2018 Fantasy Football Cheat Sheets:
2018 Fantasy Football Cheat Sheet: Top 250
- 9/5 (Walt)
2018 Fantasy Football Cheat Sheet: Top 250 PPR
- 9/5 (Walt)
2018 Fantasy Football Cheat Sheet: Top 250 2-QB
- 9/5 (Walt)
2018 Fantasy Football Cheat Sheet: Top 250 Touchdown League
- 9/5 (Walt)
2018 Fantasy Football Cheat Sheet: Custom
- 9/5 (Walt)
2018 Fantasy Football: Dynasty Rankings
- 9/5 (Walt)
2018 Fantasy Football Spreadsheets
- 9/5 (Walt)
2018 Fantasy Football Articles:
2018 Fantasy Football Stock Report: OTAs, Training Camp
- 9/5 (Walt)
2018 Fantasy Football Sleepers
- 9/5 (Walt)
2018 Fantasy Football Busts
- 9/5 (Walt)
2018 Fantasy Football Mid-Round Values
- 9/5 (Walt)
2018 NFL Preseason Game Recaps
- 8/31 (Walt)
2018 Fantasy Football Stock Report: Preseason Games
- 8/31 (Walt)
2018 Fantasy Football Notes
- 8/31 (Chet)
2018 Fantasy Football Quarterback Preseason Targets Tracker
- 8/30 (Walt)
2018 Fantasy Football D/ST Drafting
- 8/28 (Chet)
2018 Fantasy Football ADP Values: Running Backs
- 8/16 (Chet)
2018 Fantasy Football Round-by-Round Strategy Guide
- 8/15 (Walt)
2018 Fantasy Football ADP Values: Quarterbacks
- 8/15 (Chet)
2018 Fantasy Football Tight Ends to Target
- 8/9 (Chet)
2018 Fantasy Football - PPR Draft Strategy: Rounds 1 and 2
- 7/27 (Chet)
2018 Fantasy Football: Doug Baldwin's Value
- 7/25 (Chet)
2018 Fantasy Football: Chris Hogan's Value
- 7/18 (Chet)
2018 Fantasy Football: Alvin Kamara's Value
- 7/16 (Chet)
2018 Fantasy Football Strength of Schedule: Tight Ends
- 7/11 (Chet)
2018 Fantasy Football Strength of Schedule: Wide Receivers
- 7/6 (Chet)
2018 Fantasy Football Strength of Schedule: Running Backs
- 7/5 (Chet)
2018 Fantasy Football Strength of Schedule: Quarterbacks
- 7/4 (Chet)
2018 Fantasy Football Tight Ends Better Than ADP
- 6/29 (Chet)
2018 Fantasy Football Wide Receivers Better Than ADP
- 6/28 (Chet)
2018 Fantasy Football Target Shares
- 6/22 (Chet)
2018 Fantasy Football Wide Receiver Points Per Game
- 6/13 (Chet)
2018 Fantasy Football Mock Draft Simulator
- 6/2
2018 Fantasy Football Value Players
- 5/25 (Chet)
2017 Fantasy Football Quarterback Look-Back
- 1/28 (Walt)
2018 Fantasy Football: Running Backs with the Most Carries
- 1/28 (Walt)
NFL Picks
- Sept. 23
2019 NFL Mock Draft
- Sept. 20
Fantasy Football Rankings
- Sept. 5
2019 NBA Mock Draft
- Aug. 13
2020 NFL Mock Draft
- Aug. 1
NFL Power Rankings
- June 3