Draft Kings Locks and Values
Here's the link to the
FREE Entry to Draft Kings Team Pick'em Contest
.
By Chet Gresham -
@ChetGresham
Posted Nov. 9, 2018.
Of course, "Locks" is a relative term, and in this case, it means that these plays are locks for my Draft Kings cash teams this week. These are plays I feel would be big disappointments if they didn't pan out, whereas "Values" are plays that are riskier, but the price of the player makes the risk not as impactful due to the savings you get to upgrade to more consistent players, like the ones you'll find in the "Locks" section!
Locks

Drew Brees, QB, Saints
($6,300)
The only thing holding Brees back this week is being on the road, where he usually puts up fewer fantasy points than at home, but when facing bottom-ranked pass defenses, he has still played well on the road statistically. This week, he gets a Bengals team that has allowed the most passing yards per game all season.

Ryan Fitzpatrick, QB, Bucs
($5,900)
Matt Ryan just threw for four touchdowns in Washington, and now the Redskins will head on the road to take on the Bucs and their explosive passing offense. When you put Jameis Winston and Ryan Fitzpatrick's numbers together, you get 371.75 passing yards per game, by far the most in the league, and Fitzpatrick currently ranks third in fantasy points scored per game.

Melvin Gordon, RB, Chargers
($9,000)
Gordon's price might keep me from playing him as much as I'd like this week, but the matchup and likely game script look great for him. Oakland allows the third-most yards per carry, third-most rushing yards, and fourth-most fantasy points to running backs. And we know how consistent Gordon has been this year, notching 11 touchdowns over his last six games.

Kareem Hunt, RB, Chiefs
($8,500)
Kansas City is favored by 16.5 points at home, and the Cardinals have allowed the most fantasy points to running backs this season, giving Hunt a perfect storm to keep his big fantasy numbers going this week. Hunt has 13 touchdowns over his last eight games.

Jose Gordon, WR, Patriots
($6,000)
Gordon gets a great matchup against Malcolm Butler, who has allowed the most receptions, yards and touchdowns to those in his coverage this season. Butler also was benched for the Super Bowl last season, and I could see Bill Belichick wanting to drive the nail a little deeper into his coffin this week.

Tyler Boyd, WR, Bengals
($7,500)
With A.J. Green out, Boyd is the no-doubt top receiver in Cincinnati and gets a great matchup against P.J. Williams, who PFF has graded as the second-worst coverage defensive back going this week. Boyd should also be needed early and often, as the Saints have a great chance of putting up big points, pushing the Bengals to throw as they try to make up ground.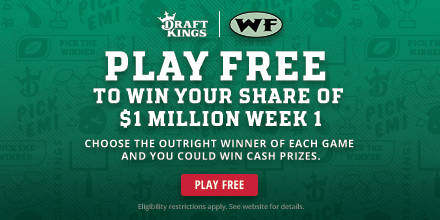 Travis Kelce, TE, Chiefs
($7,000)
I don't love any of the cheaper tight end plays this week, which makes me want to pay up for Kelce, especially with Sammy Watkins looking iffy and Patrick Peterson likely shadowing Tyreek Hill.
Value Plays

Baker Mayfield, QB, Browns
($5,400)
The Falcons have allowed the third-most fantasy points to quarterbacks, having given up three or more touchdowns to five different quarterbacks and six 300-plus yardage games. Mayfield has played well of late with top-six6 and top-13 fantasy games in the last two weeks, and he gets a boost with Duke Johnson seeing more work in the receiving game.

Russell Wilson, QB, Seahswks
($5,700)
Wilson has played well of late, but hasn't needed to throw or run the ball much, which has hurt his upside. This week, he travels to take on the Rams, who average 33.2 points per game and will push Wilson to do more than usual. If this game turns into a shootout, Wilson's upside could be huge.

Aaron Jones, RB, Packers
($5,000)
Playing the Patriots didn't set up a great game script for Jones last week, but this week looks much better, as the Packers will host the Dolphins and should be able to get a lead. That will allow Jones more rushing chances against a Miami defense that has allowed the fourth-most rushing yards and sixth-most fantasy points.

Tevin Coleman, RB, Falcons
($5,400)
Coleman looked good last week, as he put up 156 total yards and two touchdowns against Washington. This week, he should see an even better matchup against Cleveland, which has allowed the third-most fantasy points to running backs.

Dion Lewis, RB, Titans
($4,600)
Lewis had 23 and 19 touches over the last two weeks, as he has pushed past Derrick Henry as the lead back in Tennessee and should be in line for another big workload against the Patriots, who have allowed the sixth-most receptions, fourth-most receiving yards to running backs. Lewis has 10 receptions for 124 yards and a touchdown over his last two games.

Duke Johnson, RB, Browns
($4,700)
Johnson caught all nine of his targets last week and scored two touchdowns against Kansas City the week after Hue Jackson and Todd Haley were let go. Hopefully, we will see that usage continue this week, especially against the Falcons, who have allowed the third-most receiving yards and most receptions against running backs this season.

Larry Fitzgerald, WR, Cardinals
($5,400)
Fitzgerald is healthy and was used well in Byron Leftwich's first game as the offensive coordinator, catching 8-of-12 targets for 102 yards and a touchdown. This week, Fitzgerald should be in line for similar target numbers, as Kansas City should take a lead early with Patrick Mahomes doing his thing.

Marquez Valdes-Scantling, WR, Packers
($5,000)
Valdes-Scantling has tremendous upside, and with Geronimo Allison out, he will continue to be the No. 2 wide receiver. There is some worry that the Packers will cruise to a victory and not need to throw the ball that often, but Valdes-Scantling has shown that he doesn't need many targets to put up good numbers.

Maurice Harris, WR, Redskins
($3,900)
If Jamison Crowder is out, Harris makes for a nice cheap play out of the slot against the worst slot-defending team in the league. Last week, Alex Smith targeted Harris 12 times, and Harris caught 10 of those for 124 yards. Washington is hurting at receiver and will likely need to throw the ball and should against the worst pass defense in the league.
C.J. Uzomah, TE, Bengals
($3,200)
Uzomah looks like he will be healthy, and he will be needed against the Saints, especially with A.J. Green out and John Ross not all that reliable. I will be trying to pay up for Kelce, but I could see going extremely cheap as well.
Comment...
More 2017 Fantasy Football Articles:
Fantasy Football Rankings
2017 Fantasy Football Rankings:
2017 Fantasy Football Rankings: Quarterbacks
- 9/6 (Walt)
Chet Gresham's Fantasy Football Quarterback Rankings
- 8/28 (Chet)
2017 Fantasy Football Rankings: Running Backs
- 9/6 (Walt)
Chet Gresham's Fantasy Football Running Back Rankings
- 8/28 (Chet)
2017 Fantasy Football Rankings: Wide Receivers
- 9/6 (Walt)
Chet Gresham's Fantasy Football Wide Receiver Rankings
- 8/28 (Chet)
2017 Fantasy Football Rankings: Tight Ends
- 9/6 (Walt)
Chet Gresham's Fantasy Football Tight End Rankings
- 8/28 (Chet)
2017 Fantasy Football Rankings: Kickers
- 8/18 (Walt)
2017 Fantasy Football Rankings: Defenses
- 8/18 (Walt)
Fantasy Football Rookie Rankings
- 5/12 (Walt)
Fantasy Football Rookie Rankings: Dynasty
- 5/12 (Walt)
Fantasy Football Rookie Rankings: Dynasty
- 5/12 (Chet)
2017 Fantasy Football Mock Drafts:
2017 Fantasy Football Mock Draft: PPR
- 9/1 (Walt)
2017 Fantasy Football Mock Draft: Standard
- 8/31 (Walt)
2017 Fantasy Football Mock Draft: 2-QB, PPR
- 8/25 (Chet)
2017 Fantasy Football Mock Draft: PPR
- 8/24 (Walt)
2017 Fantasy Football Mock Draft: PPR
- 8/17 (Walt)
2017 Fantasy Football Mock Draft: Standard
- 8/10 (Walt)
2017 Fantasy Football Mock Draft: PPR
- 8/3 (Walt)
2017 Fantasy Football Mock Draft: Standard
- 7/27 (Walt)
2017 Fantasy Football Mock Draft: PPR
- 7/26 (Chet)
2017 Fantasy Football Mock Draft: PPR
- 7/20 (Walt)
2017 Fantasy Football Mock Draft: PPR
- 7/14 (Chet)
2017 Fantasy Football Mock Draft: Standard
- 7/13 (Walt)
2017 Fantasy Football Cheat Sheets:
2017 Fantasy Football Cheat Sheet: Top 250
- 9/6 (Walt)
2017 Fantasy Football Cheat Sheet: Top 250 PPR
- 9/6 (Walt)
2017 Fantasy Football Cheat Sheet: Top 250 2-QB
- 9/6 (Walt)
2017 Fantasy Football Cheat Sheet: Top 250 Touchdown League
- 9/6 (Walt)
2017 Fantasy Football Cheat Sheet: Custom
- 9/6 (Walt)
2017 Fantasy Football: Dynasty Rankings
- 9/6 (Walt)
2017 Fantasy Football PPR Rankings
- 8/16 (Chet)
2017 Fantasy Football Spreadsheets
- 9/6 (Walt)
2017 Fantasy Football Articles:
2017 Fantasy Football Stock Report: OTAs, Training Camp
- 9/6 (Walt)
2017 Fantasy Football Sleepers
- 9/2 (Walt)
2017 Fantasy Football Busts
- 9/2 (Walt)
2017 NFL Preseason Game Recaps
- 9/1 (Walt)
2017 Fantasy Football Stock Report: Preseason
- 9/1 (Walt)
2017 Fantasy Football: Running Backs with the Most Carries
- 1/31 (Walt)
NFL Picks
- Nov. 13
2019 NFL Mock Draft
- Nov. 8
2020 NFL Mock Draft
- Nov. 3
Fantasy Football Rankings
- Sept. 5
2019 NBA Mock Draft
- Aug. 13
NFL Power Rankings
- June 3