Draft Kings Locks and Values
Here's the link to the
FREE Entry to Draft Kings Team Pick'em Contest
.
By Chet Gresham -
@ChetGresham
Posted Sept. 21, 2018.
Of course, "Locks" is a relative term, and in this case, it means that these plays are locks for my Draft Kings cash teams this week. These are plays I feel would be big disappointments if they didn't pan out, whereas "Values" are plays that are riskier, but the price of the player makes the risk not as impactful due to the savings you get to upgrade to more consistent players, like the ones you'll find in the "Locks" section!
Locks

Kirk Cousins, QB, Vikings
Cousins would be my No. 1 fantasy quarterback if the Bills had an offense that could keep them in the game, but as it is, I've got Cousins in the top-5 due to Buffalo's poor pass defense, two great receivers in Adam Thielen and Stefon Diggs, and Cousins' ability, which has been proven so far in his first two games.

Patrick Mahomes, QB, Chiefs
We've seen what Mahomes is capable of through the first two games, but the 49ers' pass defense has already given up two top-12 fantasy days to quarterbacks and 295 yards and 2.5 touchdowns per game to quarterbacks, with no interceptions and a lackluster pass rush. The only thing that will keep Mahomes from another big day is if the San Francisco offense just falls on its face, but that will be tough against the poor Kansas City defense.

Jordan Howard, RB, Bears
The Cardinals can't move the ball to save their lives, which has allowed opposing running backs plenty of chances to move the ball on them, and they have, a lot. So far, the have allowed the second-most total yards per game to running backs and the most fantasy points. I just don't see the Sam Bradford putting much on a strong Bears defense, which should give Howard plenty of opportunities as a ball carrier.

Alvin Kamara, RB, Saints
We saw how the Falcons' defensive injuries at safety and linebacker helped Christian McCaffrey catch 14 passes last week, and the same should be true for Kamara this week, but his upside is higher as a runner after the catch than McCaffrey. Kamara is extremely expensive on Draft Kings due to their 1-point-per-reception settings, but this game should be high-scoring and I want to pay up for him again this week.

Nelson Agholor, WR, Eagles
The Colts' pass defense will be bad this season, and a healthy Carson Wentz should be able to take advantage. The good news for fantasy is that the Eagles have many starters injured, which should focus targets to Agholor, who has 22 targets and 16 receptions through two games.

Antonio Brown, WR, Steelers
Brown plays Monday night, so won't be on the main slate at Draft Kings, but I thought I'd mention him as the biggest upside play of the weekend after all of the early-week hoopla around his tweet and Monday's skipped team meeting. This is a primetime game, and Brown will want to show he is still the man, and the team will want to make him happy, as he is their best player.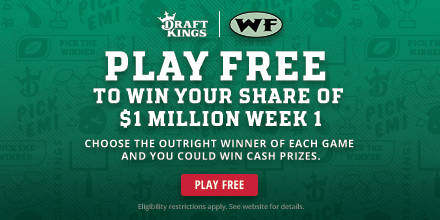 George Kittle, TE, Eagles
The Chiefs' defense will again be without Eric Berry, and it showed last week when Jesse James, a perennially average tight end, was able to put up a big game on them. This week, I expect Kittle to bounce back from a lackluster game in which Jimmy Garoppolo only threw the ball 26 times. This week, Garoppolo almost assuredly will need to throw the ball much more, and Kittle is going to be a top target in a great matchup.

Zach Ertz, TE, Eagles
Ertz, like Nelson Agholor, should again see a ton of targets due to Alshon Jeffery and Mike Wallace both being out. Ertz leads the Eagles in targets with Nick Foles throwing to him, but Carson Wentz is much better and also loves throwing to his tight end.
Value Plays

Matt Ryan, QB, Falcons
Ryan shouldn't be as cheap as he is in this matchup at home against a Saints' defense that has been bad against the pass so far, and despite last season, we have to look at how they are doing now, which isn't good. Meanwhile, Ryan looked solid last week against the Panthers.

Matthew Stafford, QB, Lions
Blake Bortles torched this Patriots pass defense last week, and I expect Tom Brady will take it to this poor Lions defense, pushing Stafford to once again need to throw to keep up like last week, when he finished as a top fantasy quarterback.

Giovani Bernard, RB, Bengals
Bernard is good and has proved he can be the lead back in relief of Joe Mixon and put up good numbers. The Panthers have been bad against the run so far this year, and I expect Andy Dalton and company to be able to move the ball through the air, giving Bernard some space as a runner and some receptions as well.

Corey Clement, RB, Eagles
As long as Jay Ajayi and Darren Sproles are out, which is looking likely at the moment, I will have Clement on the majority of my DFS teams. He put up good numbers last week as Ajayi's backup, and this week, he would see a talent-lacking Colts defense as the lead back and at a discounted rate.

Latavius Murray, RB, Vikings
Murray's value is 100 percent tied to Dalvin Cook's availability this week, and Cook has yet to practice, through Thursday. If this were a division game or against a good opponent, I'd expect Cook to work to get on the field, but against the Bills in Minnesota, I think the Vikings will err on the side of caution, which would give Murray a big workload in a game which the Vikings should have a substantial lead.

Sammy Watkins, WR, Chiefs
Watkins was used well last week against Pittsburgh, and it gives me hope that he'll continue to be moved around and given opportunities other than deep passes, as he is great with the ball in his hands. Any game that involves the Chiefs should have a huge over/under due to their poor defense and their currently spectacular offense, so Watkins' cheap price is something to take advantage of this week.

Tyler Boyd, WR, Bengals
Boyd has been the No. 2 receiver in Cincinnati so far this season, and in turn, he has seen a good workload, including a big game last week against the Ravens. He's risky, but his $3,700 price is very much worth it against a Panthers pass defense that has plenty of holes.

O.J. Howard, TE, Bucs
Howard doesn't get enough targets to be considered a safe play, but when he does get a target, there is a good chance he'll do something good with it. He had just two targets in Week 1 and turned those into two receptions for 54 yards. In Week 2, he caught 3-of-4 targets for 91 yards and a touchdown against a strong Eagles defense. Travis Kelce just had a huge game against the Steelers, and Howard makes for a GPP play this week.
Some other plays I like in no particular order:
Tom Brady, Jimmy Garoppolo, Ben Roethlisberger, Christian McCaffrey, Leonard Fournette, Tevin Coleman, Kenyan Drake, Sony Michel, Michael Thomas, Tyreek Hill, T.Y. Hilton, Chris Hogan, Kenny Golladay, Will Fuller, Rob Gronkowski and Jimmy Graham.
Comment...
More 2017 Fantasy Football Articles:
Fantasy Football Rankings
2017 Fantasy Football Rankings:
2017 Fantasy Football Rankings: Quarterbacks
- 9/6 (Walt)
Chet Gresham's Fantasy Football Quarterback Rankings
- 8/28 (Chet)
2017 Fantasy Football Rankings: Running Backs
- 9/6 (Walt)
Chet Gresham's Fantasy Football Running Back Rankings
- 8/28 (Chet)
2017 Fantasy Football Rankings: Wide Receivers
- 9/6 (Walt)
Chet Gresham's Fantasy Football Wide Receiver Rankings
- 8/28 (Chet)
2017 Fantasy Football Rankings: Tight Ends
- 9/6 (Walt)
Chet Gresham's Fantasy Football Tight End Rankings
- 8/28 (Chet)
2017 Fantasy Football Rankings: Kickers
- 8/18 (Walt)
2017 Fantasy Football Rankings: Defenses
- 8/18 (Walt)
Fantasy Football Rookie Rankings
- 5/12 (Walt)
Fantasy Football Rookie Rankings: Dynasty
- 5/12 (Walt)
Fantasy Football Rookie Rankings: Dynasty
- 5/12 (Chet)
2017 Fantasy Football Mock Drafts:
2017 Fantasy Football Mock Draft: PPR
- 9/1 (Walt)
2017 Fantasy Football Mock Draft: Standard
- 8/31 (Walt)
2017 Fantasy Football Mock Draft: 2-QB, PPR
- 8/25 (Chet)
2017 Fantasy Football Mock Draft: PPR
- 8/24 (Walt)
2017 Fantasy Football Mock Draft: PPR
- 8/17 (Walt)
2017 Fantasy Football Mock Draft: Standard
- 8/10 (Walt)
2017 Fantasy Football Mock Draft: PPR
- 8/3 (Walt)
2017 Fantasy Football Mock Draft: Standard
- 7/27 (Walt)
2017 Fantasy Football Mock Draft: PPR
- 7/26 (Chet)
2017 Fantasy Football Mock Draft: PPR
- 7/20 (Walt)
2017 Fantasy Football Mock Draft: PPR
- 7/14 (Chet)
2017 Fantasy Football Mock Draft: Standard
- 7/13 (Walt)
2017 Fantasy Football Cheat Sheets:
2017 Fantasy Football Cheat Sheet: Top 250
- 9/6 (Walt)
2017 Fantasy Football Cheat Sheet: Top 250 PPR
- 9/6 (Walt)
2017 Fantasy Football Cheat Sheet: Top 250 2-QB
- 9/6 (Walt)
2017 Fantasy Football Cheat Sheet: Top 250 Touchdown League
- 9/6 (Walt)
2017 Fantasy Football Cheat Sheet: Custom
- 9/6 (Walt)
2017 Fantasy Football: Dynasty Rankings
- 9/6 (Walt)
2017 Fantasy Football PPR Rankings
- 8/16 (Chet)
2017 Fantasy Football Spreadsheets
- 9/6 (Walt)
2017 Fantasy Football Articles:
2017 Fantasy Football Stock Report: OTAs, Training Camp
- 9/6 (Walt)
2017 Fantasy Football Sleepers
- 9/2 (Walt)
2017 Fantasy Football Busts
- 9/2 (Walt)
2017 NFL Preseason Game Recaps
- 9/1 (Walt)
2017 Fantasy Football Stock Report: Preseason
- 9/1 (Walt)
2017 Fantasy Football: Running Backs with the Most Carries
- 1/31 (Walt)
NFL Picks
- Sept. 23
2019 NFL Mock Draft
- Sept. 20
Fantasy Football Rankings
- Sept. 5
2019 NBA Mock Draft
- Aug. 13
2020 NFL Mock Draft
- Aug. 1
NFL Power Rankings
- June 3