By Chet Gresham -
@ChetGresham
Follow
@walterfootball
for updates.
When you look at the top fantasy wide receivers from 2016, you'll see a lot of familiar faces, which is why the best wide receivers are usually safe picks each season. Nothing stays the same in the NFL, but a great wide receiver has a much better chance of staying at the top of his game each season than a running back. Of course, a special running back can destroy the league once in a while, like David Johnson last season, but if you are looking for a solid first-round pick, wide receiver is usually the way to go.
2016 was a down year for elite wide receivers. Jordy Nelson and Mike Evans led the way in standard leagues with 200 total fantasy points each, whereas the 2015 season had six players top 200 total points. A down year by wide receivers and an up year for the top running backs could push fantasy players to double down on running backs this season, but a balanced approach remains the best.

Guy who Led the League in Receptions, but Finished as the 16th Fantasy Receiver: Larry Fitzgerald, Cardinals
Fitzgerald has become a possession receiver, while David Johnson took all the Cardinals touchdowns and hid them away. Fitzgerald plans on playing this season, and even though Carson Palmer's decline worries me, I believe these two will continue to connect on short receptions, which could give Fitzgerald a similar season from last year. So again, we should see healthy receptions with lackluster touchdowns. He'll be more useful in PPR leagues.

Comeback Fantasy Wide Receiver of the Year: Jordy Nelson, Packers
Nelson didn't quite look like he had the same explosiveness as he did before missing all of 2015 after ACL surgery, but with Aaron Rodgers throwing you the ball, you don't have to be perfect. Nelson ended up tying Mike Evans with 200 fantasy points to lead all wide receivers last season. As I mentioned, this was a down year for wide receivers, but for Nelson, returning from the blown-out knee, it was an outstanding year. For 2017, Nelson will again be Rodgers' No. 1 target, so touchdowns shouldn't be hard to come by.

The Rookie who Wouldn't be Denied: Michael Thomas, Saints
Thomas looked set up well for a decent rookie campaign with Marques Colston no longer with the Saints, but there still were plenty of receivers who he'd be competing for targets with, especially Brandin Cooks. Thomas, though, was just too good and his ability demanded targets, enough so that he led the team with 122 targets to Cooks' 117. Cooks finished as the eigth-best fantasy receiver in standard leagues with Thomas just behind him at ninth, but Thomas did catch 14 more passes and had one more touchdown. (Cooks' 30 yards rushing moved him ahead of Thomas actually.)
Thomas is a prototypical No. 1 receiver, more so than Cooks, and I expect Thomas will continue to see more targets and more touchdowns. Cooks doesn't appear to be going anywhere, so don't start thinking Thomas is going to see 150-plus targets, but he will remain a strong receiver on a great offense.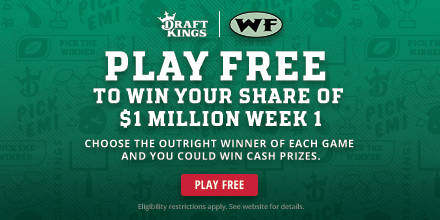 The Target Leader Leads the Way: Mike Evans, Bucs
In 2015, Julio Jones, Antonio Brown, DeAndre Hopkins and Demaryius Thomas all had more targets than Evans did in 2016 and all but Thomas outscored him. But Evans led the league in targets in 2016, and lo and behold, he led the league in fantasy points for wide receivers. Targets, especially the right targets - mid-level, red-zone - will give you fantasy points over the long haul. Evans was the best, and sometimes only worthwhile, target in Tampa Bay last year, and that will likely be the case again this coming season. He's still young and is still getting better with his quarterback, so the sky is the limit for Evans in 2017.

Ex-QB Makes Good as Wide Receiver: Terrelle Pryor Sr., Browns
We all know Pryor's story from quarterback to wide receiver, but what do we do with him now? He's 27 and coming off his first season as a wide receiver in which he put up strong numbers - 77 receptions for 1,007 yards and four touchdowns. They weren't great numbers, but did you see who was quarterbacking the Browns over the last 100 years? Pryor is a physical freak, who would likely have been a starting wide receiver in the NFL out of college if he'd gone that route. He's going to continue to get better and could be great with a good quarterback, but his age and lack of a quarterback will depress his fantasy value. I for one am on board with seeing how good he can get over the next couple years, and I do believe in Hue Jackson's ability to put together a good offense. If I can get Pryor in dynasty leagues, I'm going to give it a try.

The Best Receiver to Only Catch 50 passes: Dez Bryant, Cowboys
In Dez Bryant's last three full seasons, he averaged 91 receptions, 1,311 yards and 13.7 touchdowns. Then in 2015, both Tony Romo and he were injured, and then last season, he missed four games due to injury while also getting to know the Cowboys' new rookie quarterback. Bryant still caught eight touchdowns in his 12 games, despite three games in which he had just one reception. He also put up a big game in the playoffs against the Packers, catching nine passes for 132 yards and two touchdowns. That's 10 touchdowns in 13 games last year, which is really all you can ask from a fantasy wide receiver other than staying on the field! After two injury-plagued seasons, I fully expect to see Bryant return to fantasy prominence in 2017. A full year and offseason practicing with Dak Prescott will help, and I also don't feel that Bryant is overly injury prone. Bad luck the last two seasons and maybe pushing his rehab too fast are good enough reasons for me, which means we might get a top receiver at a slight discount this year.
For more recommendations, check out WalterFootball.com's
Fantasy Football Rankings
.
More 2015 Fantasy Football Articles:
Fantasy Football Rankings
2015 Fantasy Football Rankings:
2015 Fantasy Football Rankings: Quarterbacks
- 9/10 (Walt)
Chet Gresham's Fantasy Football Quarterback Rankings
- 9/4 (Chet)
2015 Fantasy Football Rankings: Running Backs
- 9/10 (Walt)
Chet Gresham's Fantasy Football Running Back Rankings
- 9/4 (Chet)
2015 Fantasy Football Rankings: Wide Receivers
- 9/10 (Walt)
Chet Gresham's Fantasy Football Wide Receiver Rankings
- 9/4 (Chet)
2015 Fantasy Football Rankings: Tight Ends
- 9/10 (Walt)
Chet Gresham's Fantasy Football Tight End Rankings
- 9/4 (Chet)
Chet Gresham's Fantasy Football Flex Rankings
- 9/4 (Chet)
2015 Fantasy Football PPR Rankings
- 9/4 (Chet)
2015 Fantasy Football Rankings: Defenses
- 8/27 (Walt)
2015 Fantasy Football Rankings: Kickers
- 8/27 (Walt)
Fantasy Football Rookie Rankings
- 5/14 (Walt)
Fantasy Football Rookie Rankings: Dynasty
- 5/14 (Walt)
2015 Fantasy Football Mock Drafts:
2015 Fantasy Football Mock Draft Simulator
- 9/10 (Walt)
2015 Fantasy Football Mock Draft
- 9/3 (Walt)
2015 Fantasy Football Mock Draft
- 8/27 (Walt)
2015 Fantasy Football Mock Draft
- 8/20 (Walt)
2015 Fantasy Football Mock Draft
- 8/13 (Walt)
2015 Fantasy Football Experts Draft
- 8/11 (Chet)
2015 Fantasy Football Mock Draft
- 8/7 (Walt)
2015 Fantasy Football Mock Draft
- 8/6 (Chet)
2015 Fantasy Football Mock Draft
- 7/31 (Walt)
2015 Fantasy Football Mock Draft
- 7/23 (Walt)
2015 Fantasy Football Mock Draft (2-QB)
- 7/15 (Chet)
2015 Fantasy Football Mock Draft (PPR)
- 7/6 (Chet)
2015 Fantasy Football Cheat Sheets:
2015 Fantasy Football Cheat Sheet: Top 250
- 9/10 (Walt)
2015 Fantasy Football Cheat Sheet: Top 250 PPR
- 9/10 (Walt)
2015 Fantasy Football Cheat Sheet: Top 250 2-QB
- 9/10 (Walt)
2015 Fantasy Football Cheat Sheet: Top 250 Touchdown League
- 9/10 (Walt)
2015 Fantasy Football Cheat Sheet: Custom
- 9/10 (Walt)
2015 Fantasy Football: Dynasty Rankings
- 9/10 (Walt)
Chet Gresham's Fantasy Football Top 200 Rankings
- 9/4 (Chet)
Chet Gresham's 2015 Fantasy Football Positional Cheat Sheet
- 9/4 (Chet)
Chet Gresham's 2015 Fantasy Football Overall Cheat Sheet
- 9/4 (Chet)
2015 Fantasy Football Articles:
2015 Fantasy Football Stock Report: Training Camp
- 9/10 (Walt)
Fantasy Football Tight End Matchup Chart: Week 1
- 9/9 (Chet)
Fantasy Football Wide Receiver Matchup Chart: Week 1
- 9/8 (Chet)
2015 Fantasy Football Sleepers
- 9/8 (Walt)
Fantasy Football Running Back Matchup Chart: Week 1
- 9/7 (Chet)
Fantasy Football Quarterback Matchup Chart: Week 1
- 9/6 (Chet)
2015 NFL Preseason Recap, Fantasy Football Notes
- 9/4 (Walt)
2015 Fantasy Football Preseason Stock
- 9/4 (Walt)
2015 Fantasy Football Quarterback Targets
- 9/4 (Walt)
2015 Fantasy Football Busts
- 9/4 (Walt)
2015 Fantasy Football Goal-Line Running Backs
- 9/3 (Chet)
2015 Fantasy Football News
- 9/1 (Chet)
2015 Fantasy Football: Better Than ADP
- 8/31 (Chet)
Daily Fantasy Football: Running Backs
- 8/27 (Chet)
2015 Fantasy Football: Late-Round Running Back Fliers
- 8/24 (Chet)
2015 Fantasy Football Fallout: Jordy Nelson Injury
- 8/24 (Chet)
2015 Fantasy Football Players to Target
- 8/22 (Chet)
2015 Fantasy Football Spreadsheets
- 8/22 (Walt)
2015 Fantasy Football Round-by-Round Strategy Guide
- 8/20 (Walt)
2015 Fantasy Football: The Perfect Draft
- 8/20 (Chet)
2015 Fantasy Football Players to Avoid: LeSean McCoy
- 8/18 (Chet)
2015 Fantasy Football Values: Wide Receivers
- 8/14 (Chet)
Daily Fantasy Football: Wide Receivers
- 7/29 (Chet)
2015 Fantasy Football Value Profile: Brian Quick
- 7/22 (Walt)
2015 Fantasy Football Value Profile: Eli Manning
- 7/17 (Walt)
Daily Fantasy Football: A Primer
- 7/10 (Chet)
2015 Fantasy Football Value Profile: Jarvis Landry
- 7/7 (Walt)
Fantasy Football Offseason Stock Report: Up
- 5/15 (Walt)
Fantasy Football Offseason Stock Report: Down
- 5/15 (Walt)
2015 Fantasy Football: First-Round Bust History
- 2/17 (Walt)
2015 Fantasy Football: Overdrafted Players
- 2/15 (Walt)
2015 Fantasy Football: Running Backs with Most Carries
- 2/15 (Walt)
NFL Picks
- Oct. 22
2020 NFL Mock Draft
- Oct. 20
2019 NFL Mock Draft
- Oct. 18
Fantasy Football Rankings
- Sept. 5
2019 NBA Mock Draft
- Aug. 13
NFL Power Rankings
- June 3