Two-Minute Warning: Last-Minute Fantasy Football Decisions
By Chet Gresham -
@ChetGresham
Posted Sept. 22, 2018.
Follow
@walterfootball
for updates.
Welcome to the Two-Minute Warning for Week 3. Below I will go through most of the relevant injuries for fantasy football and their fantasy implications.
According to reports, Aaron Rodgers will get some work in on Saturday and then play on Sunday, much like he did last week. We'll know for sure on Sunday before the games start if there have been any wrenches thrown into that plan, but as it is, I'd start Rodgers in fantasy.
Dalvin Cook is out this week due to a hamstring injury, but more likely he is out because the Vikings play the Rams in Los Angeles Thursday night, and this week they play the lowly Bills, whom they are 17-point favorites against. Cook should be good to go next week. Latavius Murray will get the call and should see a goodly number of rushing attempts, as the Vikings should have control of the game throughout. He'll be a popular DFS play for good reason.
Corey Clement was a late addition to the injury report with a questionable tag due to a quad injury. According to multiple reports though, he should be ready to go on Sunday. Keep an eye on this one, as Clement makes for a strong play against the Colts with both Jay Ajayi and Darren Sproles out this week. If he can't make it, Wendell Smallwood would have the best shot at fantasy production.
Leonard Fournette has gotten in three limited practices this week and is looking like he'll be able to play. As long as he does, this matchup is set up for him to see a bunch of work, as the Titans offense will be hard pressed to score.
LeSean McCoy traveled with the team to Minnesota and could play, but at less than 100 percent against the Vikings defense, I wouldn't start him in fantasy.
Jack Doyle is out, and Eric Ebron will take over as the lead tight end for the Colts. Doyle's absence sets up well for Ebron, as he's already caught two touchdowns as Doyle's backup, but has seen nine targets to Doyle's 15 through two games. The Eagles have a good defense, but the Colts have gone to a quick-hitting short passing attack and are without their No. 2 target. I expect Ebron to see enough work to be a good fantasy start.
DeVante Parker isn't on the injury report and is ready to play, but according to Parker, he was healthy last week as well. There's a chance that coach Adam Gase sits him again, but we'll just have to see. Until we see him to something on the field, he should remain out of your starting lineups.
Larry Fitzgerald was able to practice twice on a limited basis this week and is listed as questionable. It looks as if he'll play, but hamstring injuries are fickle, and this Cardinals offense has been awful. I'd still get him in there as a WR3 due to his ability and standing in the offense, but I wouldn't have high hopes.
Marvin Jones is listed as questionable with an ankle injury. He appears to have injured it on Thursday and then got a limited practice in on Friday. We don't really have any beat reporter info that moves the needle here, but he plays in the Sunday night game, so it would be nice to have a backup to Jones that plays for either the Lions, Patriots, Buccaneers or Steelers. Either way, this could help Kevin Golladay slightly or quite a lot, depending on Jones' status.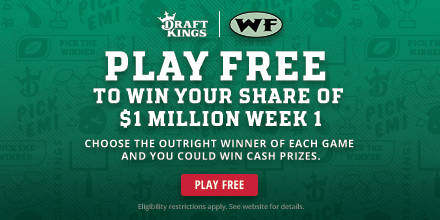 Josh Gordon is listed as questionable with a hamstring injury but did get limited practices in this week. Much will come down to his knowledge of the playbook and how he looked in practice, which we have no inside information regarding. And since Gordon plays in the evening game, he could easily sit, and you would need a replacement for him. He should remain on your bench this week.
Marquise Goodwin is questionable with a quad bruise after getting limited practices in this week. If he does play, the matchup couldn't be much better, so he is a strong start in that regard. If he can't play, Dante Pettis would get a small boost, while George Kittle and Pierre Garcon would likely become target hogs.
Devonta Freeman remains out this week with a knee injury, giving Tevin Coleman the start again. The Saints have played good run defense this season, but this game looks to be a shootout, and Coleman should be able to get plenty of work as the lead back, making him an RB2 for fantasy.
Cole Beasley is questionable with a sprained ankle. He leads the Cowboys in targets but is still a weak fantasy play as it is. If he can't go, other not-so-good receivers will take his place.
Titans coach Mike Vrabel says Marcus Mariota's status is the same as it was last week, which means he'll likely be a game-time decision. The fact that they take on the Jaguars in Jacksonville makes the decision to sit him, even if he plays, that much easier.
Marlon Mack is out this week against the Eagles. Jordan Wilkins will take over with Nyheim Hines as the third-down back. Of the two I expect Hines to have a bit more luck as a receiver against the Eagles than Wilkins will have as a runner.
Comment...
More 2017 Fantasy Football Articles:
Fantasy Football Rankings
2017 Fantasy Football Rankings:
2017 Fantasy Football Rankings: Quarterbacks
- 9/6 (Walt)
Chet Gresham's Fantasy Football Quarterback Rankings
- 8/28 (Chet)
2017 Fantasy Football Rankings: Running Backs
- 9/6 (Walt)
Chet Gresham's Fantasy Football Running Back Rankings
- 8/28 (Chet)
2017 Fantasy Football Rankings: Wide Receivers
- 9/6 (Walt)
Chet Gresham's Fantasy Football Wide Receiver Rankings
- 8/28 (Chet)
2017 Fantasy Football Rankings: Tight Ends
- 9/6 (Walt)
Chet Gresham's Fantasy Football Tight End Rankings
- 8/28 (Chet)
2017 Fantasy Football Rankings: Kickers
- 8/18 (Walt)
2017 Fantasy Football Rankings: Defenses
- 8/18 (Walt)
Fantasy Football Rookie Rankings
- 5/12 (Walt)
Fantasy Football Rookie Rankings: Dynasty
- 5/12 (Walt)
Fantasy Football Rookie Rankings: Dynasty
- 5/12 (Chet)
2017 Fantasy Football Mock Drafts:
2017 Fantasy Football Mock Draft: PPR
- 9/1 (Walt)
2017 Fantasy Football Mock Draft: Standard
- 8/31 (Walt)
2017 Fantasy Football Mock Draft: 2-QB, PPR
- 8/25 (Chet)
2017 Fantasy Football Mock Draft: PPR
- 8/24 (Walt)
2017 Fantasy Football Mock Draft: PPR
- 8/17 (Walt)
2017 Fantasy Football Mock Draft: Standard
- 8/10 (Walt)
2017 Fantasy Football Mock Draft: PPR
- 8/3 (Walt)
2017 Fantasy Football Mock Draft: Standard
- 7/27 (Walt)
2017 Fantasy Football Mock Draft: PPR
- 7/26 (Chet)
2017 Fantasy Football Mock Draft: PPR
- 7/20 (Walt)
2017 Fantasy Football Mock Draft: PPR
- 7/14 (Chet)
2017 Fantasy Football Mock Draft: Standard
- 7/13 (Walt)
2017 Fantasy Football Cheat Sheets:
2017 Fantasy Football Cheat Sheet: Top 250
- 9/6 (Walt)
2017 Fantasy Football Cheat Sheet: Top 250 PPR
- 9/6 (Walt)
2017 Fantasy Football Cheat Sheet: Top 250 2-QB
- 9/6 (Walt)
2017 Fantasy Football Cheat Sheet: Top 250 Touchdown League
- 9/6 (Walt)
2017 Fantasy Football Cheat Sheet: Custom
- 9/6 (Walt)
2017 Fantasy Football: Dynasty Rankings
- 9/6 (Walt)
2017 Fantasy Football PPR Rankings
- 8/16 (Chet)
2017 Fantasy Football Spreadsheets
- 9/6 (Walt)
2017 Fantasy Football Articles:
2017 Fantasy Football Stock Report: OTAs, Training Camp
- 9/6 (Walt)
2017 Fantasy Football Sleepers
- 9/2 (Walt)
2017 Fantasy Football Busts
- 9/2 (Walt)
2017 NFL Preseason Game Recaps
- 9/1 (Walt)
2017 Fantasy Football Stock Report: Preseason
- 9/1 (Walt)
2017 Fantasy Football: Running Backs with the Most Carries
- 1/31 (Walt)
NFL Picks
- Sept. 23
2019 NFL Mock Draft
- Sept. 20
Fantasy Football Rankings
- Sept. 5
2019 NBA Mock Draft
- Aug. 13
2020 NFL Mock Draft
- Aug. 1
NFL Power Rankings
- June 3