By Chet Gresham -
@ChetGresham
Follow
@walterfootball
for updates.
March 13 Updates
Washington has signed Kirk Cousins to a 1-year deal worth $23.9 million. This would allow the Redskins to trade him, but at this point, it looks like he'll be back for 2017 and then we'll go through all this again next season. The Browns look like they might be the team that would give up the most for him, but Washington doesn't really have a backup plan other than Colt "wet noodle arm" McCoy. Cousins is an upgrade over most of the possibilities the Redskins would have had at quarterback and should keep the starters relatively fantasy relevant.
Chicago signed Mike Glennon, Dion Sims and Markus Wheaton, while Alshon Jeffery headed off to Philadelphia. The Bears are not going to be good in 2017, and my hopes for Jordan Howard aren't quite as high as they were a few days ago.
Alshon Jeffery took a 1-year "prove it" deal in Philadelphia over doing the same with Chicago. I expect he hopes to prove his health and ability with Carson Wentz over Mike Glennon, which is a smart move. Jeffery is better than Jordan Matthews when healthy and should be the Eagles' No. 1 receiver, again, when healthy. This is also a huge boon for Wentz, who will get Jeffery, Matthews, Torrey Smith and Zach Ertz to throw to. Wentz will likely still be inconsistent, but his upside should rise dramatically.
Danny Woodhead signed with the Baltimore Ravens, which dampened hopes for a Kenneth Dixon breakout, but then later that same day, we learned that Dixon has been suspended four games due to a PED violation. So that clears some of that mess up, but still leaves a fantasy mess to deal with. For the first four games of the season, the Ravens will have an amalgamation of crud at running back and Woodhead catching passes. He should be useful in PPR to start the season and then we'll just have to see how quickly Dixon cuts into those receptions to see how high he can rise in fantasy.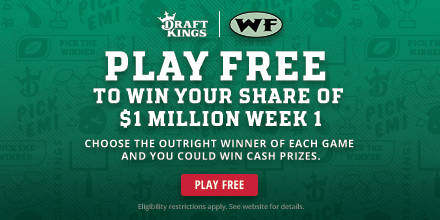 DeSean Jackson landed in Tampa Bay and probably in one of the better situations for him. Last season, Mike Evans led the league in targets and percentage of targets for any team. It helped his fantasy production, but not his efficiency. That's where Jackson should come in. He is one of the best deep receivers in the league and Jameis Winston has a big arm. Those two should open up the field for Evans and take some pressure off him, and Evans should do the same for Jackson. Efficiency for all involved should go up, and so should their fantasy upsides.
The Ravens kept Mike Wallace for another season after losing Steve Smith to retirement and not getting Torrey Smith back in free agency. It's probably a good move, but one out of desperation, which usually isn't where you want to be. At this point, Baltimore will be relying heavily on Wallace and Breshad Perriman, and Perriman, though risky, will have the most fantasy upside on the team.
The Seahawks continue to look to add a running back, with interest in Latavius Murray, Eddie Lacy and Jamaal Charles. I won't get into deep speculation here, but this is absolutely bad news for Thomas Rawls. C.J. Prosise should still be in play as a third-down back if Seattle were to sign Lacy or Murray, but Rawls would likely be relegated to backup duty.
Brandin Cooks is gone, but the Saints did sign Ted Ginn Jr., which could make it a little easier for them get by without him. Valuing New Orleans' receivers is always tough because that offense can do wonders for just about anyone who can get on the field. Cooks to New England is probably his best fantasy destination, but will still likely be a downgrade with Julian Edelman and Rob Gronkowski taking such a big chunk of targets.
The Browns are trying to trade Brock Osweiler or probably release him if they can't, and they've also released Robert Griffin III. Those are both good moves, as just about anyone could fill the same role for cheaper.
Jay Cutler is garnering interest from the Jets, which in light of their current quarterback situation, isn't the worst thing ever. The Jets aren't going to be good, so Cutler fits in that mold pretty well and should be able to provide consistent not-goodness at a better goodness level than Ryan Fitzpatrick.
March 9 Updates
Tyrod Taylor has agreed to re-sign with the Bills. It sure didn't look like the Bills wanted to make that move, but they finally caught on to the fact it was easily their best decision. Taylor has flaws, but he helps the team move the ball with his legs and deep-ball accuracy. Sammy Watkins should continue to benefit from Taylor's ability, and Taylor will remain a QB2 with upside in the QB1 range.
Tony Romo will be released on Thursday, and his top-two suitors appear to be the Broncos and Texans. Yes, Romo could get hurt again, but as long as he's upright, he's a massive upgrade at the position for both those teams, and DeAndre Hopkins, Emmanuel Sanders and Demaryius Thomas wait impatiently for news, while Romo would have those guys to throw to if things work out. As you can tell, I like both spots for him, but I'll lean Denver as his best fantasy spot with two seasoned, top receivers to throw to each week.
Dwayne Allen heads to New England, where he will have a shot at revitalizing his career now that the Patriots are letting Martellus Bennett walk. Rob Gronkowski will continue to take away enough work to keep Allen a TE2 at best. Gronkowski's injury history could vault Allen up if Gronkowski misses a chunk of games again, but I'm not going to invest much into that prediction.
The Dwayne Allen move does push the Colts' Jack Doyle right into the spotlight as a starting tight end in a good offense. Doyle re-signed with the Colts, and they are sold on him as their top tight end. The Colts do like to run more than one tight end out there, but Doyle has true upside now and will be in the running for a Top-12 spot in fantasy.
Brandon LaFell re-signed with the Bengals. He didn't look great last season, but was able to put up some numbers while A.J. Green was out. I doubt the Bengals are going to rest after this signing though. They will bring in competition for LaFell, who will again need injuries to his receiving mates to find any fantasy value in 2017.
Brian Hoyer signed with the 49ers to elevate their roster from "meh" to just as "meh." Kyle Shanahan doesn't see Hoyer as the starter according to reports, so they will likely continue to work on getting Kirk Cousins or another wild-card quarterback, but you never know, Hoyer could be leading the way Day 1. If so, the 49ers should just take a long nap this season.
For more recommendations, check out WalterFootball.com's
Fantasy Football Rankings
.
More 2015 Fantasy Football Articles:
Fantasy Football Rankings
2015 Fantasy Football Rankings:
2015 Fantasy Football Rankings: Quarterbacks
- 9/10 (Walt)
Chet Gresham's Fantasy Football Quarterback Rankings
- 9/4 (Chet)
2015 Fantasy Football Rankings: Running Backs
- 9/10 (Walt)
Chet Gresham's Fantasy Football Running Back Rankings
- 9/4 (Chet)
2015 Fantasy Football Rankings: Wide Receivers
- 9/10 (Walt)
Chet Gresham's Fantasy Football Wide Receiver Rankings
- 9/4 (Chet)
2015 Fantasy Football Rankings: Tight Ends
- 9/10 (Walt)
Chet Gresham's Fantasy Football Tight End Rankings
- 9/4 (Chet)
Chet Gresham's Fantasy Football Flex Rankings
- 9/4 (Chet)
2015 Fantasy Football PPR Rankings
- 9/4 (Chet)
2015 Fantasy Football Rankings: Defenses
- 8/27 (Walt)
2015 Fantasy Football Rankings: Kickers
- 8/27 (Walt)
Fantasy Football Rookie Rankings
- 5/14 (Walt)
Fantasy Football Rookie Rankings: Dynasty
- 5/14 (Walt)
2015 Fantasy Football Mock Drafts:
2015 Fantasy Football Mock Draft Simulator
- 9/10 (Walt)
2015 Fantasy Football Mock Draft
- 9/3 (Walt)
2015 Fantasy Football Mock Draft
- 8/27 (Walt)
2015 Fantasy Football Mock Draft
- 8/20 (Walt)
2015 Fantasy Football Mock Draft
- 8/13 (Walt)
2015 Fantasy Football Experts Draft
- 8/11 (Chet)
2015 Fantasy Football Mock Draft
- 8/7 (Walt)
2015 Fantasy Football Mock Draft
- 8/6 (Chet)
2015 Fantasy Football Mock Draft
- 7/31 (Walt)
2015 Fantasy Football Mock Draft
- 7/23 (Walt)
2015 Fantasy Football Mock Draft (2-QB)
- 7/15 (Chet)
2015 Fantasy Football Mock Draft (PPR)
- 7/6 (Chet)
2015 Fantasy Football Cheat Sheets:
2015 Fantasy Football Cheat Sheet: Top 250
- 9/10 (Walt)
2015 Fantasy Football Cheat Sheet: Top 250 PPR
- 9/10 (Walt)
2015 Fantasy Football Cheat Sheet: Top 250 2-QB
- 9/10 (Walt)
2015 Fantasy Football Cheat Sheet: Top 250 Touchdown League
- 9/10 (Walt)
2015 Fantasy Football Cheat Sheet: Custom
- 9/10 (Walt)
2015 Fantasy Football: Dynasty Rankings
- 9/10 (Walt)
Chet Gresham's Fantasy Football Top 200 Rankings
- 9/4 (Chet)
Chet Gresham's 2015 Fantasy Football Positional Cheat Sheet
- 9/4 (Chet)
Chet Gresham's 2015 Fantasy Football Overall Cheat Sheet
- 9/4 (Chet)
2015 Fantasy Football Articles:
2015 Fantasy Football Stock Report: Training Camp
- 9/10 (Walt)
Fantasy Football Tight End Matchup Chart: Week 1
- 9/9 (Chet)
Fantasy Football Wide Receiver Matchup Chart: Week 1
- 9/8 (Chet)
2015 Fantasy Football Sleepers
- 9/8 (Walt)
Fantasy Football Running Back Matchup Chart: Week 1
- 9/7 (Chet)
Fantasy Football Quarterback Matchup Chart: Week 1
- 9/6 (Chet)
2015 NFL Preseason Recap, Fantasy Football Notes
- 9/4 (Walt)
2015 Fantasy Football Preseason Stock
- 9/4 (Walt)
2015 Fantasy Football Quarterback Targets
- 9/4 (Walt)
2015 Fantasy Football Busts
- 9/4 (Walt)
2015 Fantasy Football Goal-Line Running Backs
- 9/3 (Chet)
2015 Fantasy Football News
- 9/1 (Chet)
2015 Fantasy Football: Better Than ADP
- 8/31 (Chet)
Daily Fantasy Football: Running Backs
- 8/27 (Chet)
2015 Fantasy Football: Late-Round Running Back Fliers
- 8/24 (Chet)
2015 Fantasy Football Fallout: Jordy Nelson Injury
- 8/24 (Chet)
2015 Fantasy Football Players to Target
- 8/22 (Chet)
2015 Fantasy Football Spreadsheets
- 8/22 (Walt)
2015 Fantasy Football Round-by-Round Strategy Guide
- 8/20 (Walt)
2015 Fantasy Football: The Perfect Draft
- 8/20 (Chet)
2015 Fantasy Football Players to Avoid: LeSean McCoy
- 8/18 (Chet)
2015 Fantasy Football Values: Wide Receivers
- 8/14 (Chet)
Daily Fantasy Football: Wide Receivers
- 7/29 (Chet)
2015 Fantasy Football Value Profile: Brian Quick
- 7/22 (Walt)
2015 Fantasy Football Value Profile: Eli Manning
- 7/17 (Walt)
Daily Fantasy Football: A Primer
- 7/10 (Chet)
2015 Fantasy Football Value Profile: Jarvis Landry
- 7/7 (Walt)
Fantasy Football Offseason Stock Report: Up
- 5/15 (Walt)
Fantasy Football Offseason Stock Report: Down
- 5/15 (Walt)
2015 Fantasy Football: First-Round Bust History
- 2/17 (Walt)
2015 Fantasy Football: Overdrafted Players
- 2/15 (Walt)
2015 Fantasy Football: Running Backs with Most Carries
- 2/15 (Walt)
NFL Picks
- Oct. 15
2020 NFL Mock Draft
- Oct. 13
2019 NFL Mock Draft
- Oct. 11
Fantasy Football Rankings
- Sept. 5
2019 NBA Mock Draft
- Aug. 13
NFL Power Rankings
- June 3