By Chet Gresham -
@ChetGresham
Posted Dec. 31, 2016.
Follow
@walterfootball
for updates.
This weekend we should avoid the Cowboys, Giants and Steelers starters, as they appear to be either resting or have a chance to be taken out of the game early.
If a player in a meaningless game has an injury, there is a good chance he will sit. But there are plenty of teams that do need to win this week and will go all out, but some more than others. Let us take a look-see below.
Green Bay needs to win and they win the NFC North and a playoff berth. They can still get in with some help with a loss by Washington against the New York Giants, who say they will play their starters even though they have nothing to play for as far as playoff seeding.
Detroit is in the same situation as Green Bay. They can get in with a Washington loss, but still can win the NFC North and a home game if they beat the Packers on Sunday night. A Giants win over Washington earlier in the day would depress the urgency of this Packers/Lions game, but they still would have plenty to play for.
Washington needs a win and they are in. It's pretty simple really. There are scenarios with ties that could get them in, but a win is all they need. The Giants say they will play their starters, so that win may not be as easy as it appeared earlier in the week, but I still thing the Giants rest key guys.
Atlanta would clinch a first-round bye with a win over New Orleans. They would likely need Seattle to lose to San Francisco to get the No. 2 seed and a bye after losing, which is not likely, so they will be playing all out.
Seattle needs to beat San Francisco for a chance for the No. 2 seed and a bye week. Their main competition for that seed is Atlanta, so if the Saints beat Atlanta and Seattle beats San Francisco, Seattle gets their bye. That situation isn't totally out of the question and since these two teams play at the same time, I expect Seattle to be playing all out unless they get a huge lead and can rest players.
If New England beats Miami, they get the No. 1 seed and home field advantage. They would also get the No. 1 seed if Oakland loses to Denver, which is more of a possibility with Matt McGloin starting, but not in anyway, a lock.
Oakland needs to win for a shot at gaining the No. 1 seed if the Patriots lose, but they also need to win so they can clinch the AFC West and a first round bye.
If Oakland does lose, Kansas City gets a shot at the AFC West title and a first round bye with a win in San Diego, so they too will be going all out to win.
The New York Giants don't have anything to play for, as they are locked into the fifth seed, but the talk is that they will play. Of course talk is cheap and walk the walk, etc and so forth, so I won't be risking any Giants starters this week in DFS.
Houston is also locked into their playoff seeding and have nothing to play for, but they did just switch to Tom Savage at quarterback and very much need to get him work with the starters if they want to have any chance to win a playoff game.
Injuries: Randall Cobb didn't practice all week, but is listed as questionable. He's not worth a fantasy start either way. Jordy Nelson and Davante Adams have high upside in this matchup.
Theo Riddick won't play, which will boost Zach Zenner up again this week. He gets a tough matchup, but should see enough work to bring you value for his price in DFS.
Darius Slay should return this week, but hamstring injuries always have a shot at reoccurrence and Nelson already put up a big game against him earlier this season.
John Brown was limited in practice this week and likely will continue to see limited snaps due to his sickle cell issues. I prefer J.J. Nelson as a cheaper option there.
Kenny Britt is out, which gives Jared Goff limited options against a good defense. Fire up that Cardinals D/ST.
Julio Jones got a full practice in on Friday and coaches say he is healthier than last week, while Taylor Gabriel is out with a foot injury and Austin Hooper is out with a knee injury. Jones is feeling much safer than last week in a game the Falcons need to win. He may still be more suited for DFS tourneys though.
Tyler Lockett is out with a broken leg, which should up the targets for Doug Baldwin like it did last week. Jimmy Graham could see a few more, but he's been blocking more and may have settled into his target share while Jermaine Kearse and Paul Richardson could see more work.
Thomas Rawls is no longer on the injury report and should get plenty of opportunities against the league's worst run defense.
A.J. Derby is still out with a concussion, so Jeff Heuerman will take over as the Broncos' starting tight end. He saw six targets last week.
Derek Carr is out with a broken fibula, so Matt McGloin will get the start. I expect the Raiders to focus on running the ball this week with their three-headed monster committee.
Melvin Gordon won't play this week against Kansas City, so Ronnie Hillman and Andre Williams will handle the running back snaps in a tough matchup. There isn't any upside there.
Spencer Ware has a ribs injury and will be a game-time decision. If he can't go, Charcandrick West would get the start. This makes for a tough situation for fantasy and I will try to avoid.
Jordan Reed looks like he will play in a must win game. He may be healthier now, but we've seen him do nothing and re-injure himself in games he probably shouldn't have been playing in over the last month. I'm avoiding him.
Rob Kelley is listed as questionable, but it appears they were mostly resting him up in practice for this matchup with the Giants. It's a tough matchup, but he should see plenty of work.
Donte Moncrief won't play against the Jaguars. His absence should help T.Y. Hilton see a glut of targets.
T.J. Yeldon is on I.R., so Chris Ivory should get the start against a weak Colts defense, but Ivory is listed as questionable with a hamstring injury.
Allen Hurns is out again. Marqise Lee and Allen Robinson both have upside in this matchup against the Colts.
Stefon Diggs is out, which will elevate Adam Thielen's targets in a good matchup at home against the Bears.
Adrian Peterson is out. Jerrick McKinnon will get the start in a nice matchup, but will lose goal line work to Matt Asiata.
Doug Martin is out and Charles Sims is on I.R., so Jacquizz Rodgers will see a lot of work this week. On volume alone he should be a worthwhile play.
The Panthers are all hurting and could be in for limited snaps in a meaningless game. I'd stay away from them this week.
A.J. Green and Tyler Eifert are out, while Jeremy Hill just got a limited practice in on Friday. Hill could still play, but I'd avoid if possible.
Matt Forte has been placed on I.R., while Bilal Powell will try to play after getting a limited practice in on Friday. The same can be said for Brandon Marshall, who will also try to give it a go. I'm avoiding this whole mess.
E.J. Manuel will get the start over Tyrod Taylor and gets a great matchup, but he's still a very risky play.
Lamar Miller won't play, which elevates Alfred Blue once again. He should have value in DFS.
Matt Cassel will start with Marcus Mariota injured. He will hurt the offense overall.
Malcolm Mitchell is out and Martellus Bennett is listed as questionable. Chris Hogan should see extra run this week in a good matchup and Michael Floyd will likely get a start.
The Steelers won't play Ben Roethlisberger, Le'Veon Bell, Antonio Brown or Ladarius Green. DeAngelo Williams and Fitzgerald Toussaint will be the main running backs, but deciphering what kind of split they will have is tough.
Sammie Coates will return from injury and should see plenty of work along with Eli Rogers. Landry Jones at quarterback does depress some of the offensive upside though.
Jay Ajayi will play with a sore shoulder, but if this game gets out of hand or he aggravates the injury, he'll be rested.
Jordan Matthews won't play this week, which makes Zach Ertz a great start in DFS.
The Cowboys will rest their starters at some point early in this game. Darren McFadden was going to be the main back, but he has an illness, so could see fewer snaps. Nothing is very clear this week with Dallas.
For more recommendations, check out WalterFootball.com's
Fantasy Football Rankings
.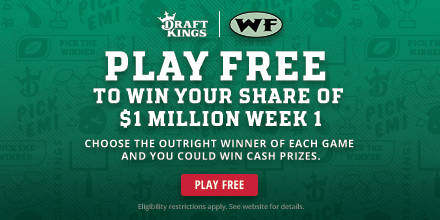 More 2015 Fantasy Football Articles:
Fantasy Football Rankings
2015 Fantasy Football Rankings:
2015 Fantasy Football Rankings: Quarterbacks
- 9/10 (Walt)
Chet Gresham's Fantasy Football Quarterback Rankings
- 9/4 (Chet)
2015 Fantasy Football Rankings: Running Backs
- 9/10 (Walt)
Chet Gresham's Fantasy Football Running Back Rankings
- 9/4 (Chet)
2015 Fantasy Football Rankings: Wide Receivers
- 9/10 (Walt)
Chet Gresham's Fantasy Football Wide Receiver Rankings
- 9/4 (Chet)
2015 Fantasy Football Rankings: Tight Ends
- 9/10 (Walt)
Chet Gresham's Fantasy Football Tight End Rankings
- 9/4 (Chet)
Chet Gresham's Fantasy Football Flex Rankings
- 9/4 (Chet)
2015 Fantasy Football PPR Rankings
- 9/4 (Chet)
2015 Fantasy Football Rankings: Defenses
- 8/27 (Walt)
2015 Fantasy Football Rankings: Kickers
- 8/27 (Walt)
Fantasy Football Rookie Rankings
- 5/14 (Walt)
Fantasy Football Rookie Rankings: Dynasty
- 5/14 (Walt)
2015 Fantasy Football Mock Drafts:
2015 Fantasy Football Mock Draft Simulator
- 9/10 (Walt)
2015 Fantasy Football Mock Draft
- 9/3 (Walt)
2015 Fantasy Football Mock Draft
- 8/27 (Walt)
2015 Fantasy Football Mock Draft
- 8/20 (Walt)
2015 Fantasy Football Mock Draft
- 8/13 (Walt)
2015 Fantasy Football Experts Draft
- 8/11 (Chet)
2015 Fantasy Football Mock Draft
- 8/7 (Walt)
2015 Fantasy Football Mock Draft
- 8/6 (Chet)
2015 Fantasy Football Mock Draft
- 7/31 (Walt)
2015 Fantasy Football Mock Draft
- 7/23 (Walt)
2015 Fantasy Football Mock Draft (2-QB)
- 7/15 (Chet)
2015 Fantasy Football Mock Draft (PPR)
- 7/6 (Chet)
2015 Fantasy Football Cheat Sheets:
2015 Fantasy Football Cheat Sheet: Top 250
- 9/10 (Walt)
2015 Fantasy Football Cheat Sheet: Top 250 PPR
- 9/10 (Walt)
2015 Fantasy Football Cheat Sheet: Top 250 2-QB
- 9/10 (Walt)
2015 Fantasy Football Cheat Sheet: Top 250 Touchdown League
- 9/10 (Walt)
2015 Fantasy Football Cheat Sheet: Custom
- 9/10 (Walt)
2015 Fantasy Football: Dynasty Rankings
- 9/10 (Walt)
Chet Gresham's Fantasy Football Top 200 Rankings
- 9/4 (Chet)
Chet Gresham's 2015 Fantasy Football Positional Cheat Sheet
- 9/4 (Chet)
Chet Gresham's 2015 Fantasy Football Overall Cheat Sheet
- 9/4 (Chet)
2015 Fantasy Football Articles:
2015 Fantasy Football Stock Report: Training Camp
- 9/10 (Walt)
Fantasy Football Tight End Matchup Chart: Week 1
- 9/9 (Chet)
Fantasy Football Wide Receiver Matchup Chart: Week 1
- 9/8 (Chet)
2015 Fantasy Football Sleepers
- 9/8 (Walt)
Fantasy Football Running Back Matchup Chart: Week 1
- 9/7 (Chet)
Fantasy Football Quarterback Matchup Chart: Week 1
- 9/6 (Chet)
2015 NFL Preseason Recap, Fantasy Football Notes
- 9/4 (Walt)
2015 Fantasy Football Preseason Stock
- 9/4 (Walt)
2015 Fantasy Football Quarterback Targets
- 9/4 (Walt)
2015 Fantasy Football Busts
- 9/4 (Walt)
2015 Fantasy Football Goal-Line Running Backs
- 9/3 (Chet)
2015 Fantasy Football News
- 9/1 (Chet)
2015 Fantasy Football: Better Than ADP
- 8/31 (Chet)
Daily Fantasy Football: Running Backs
- 8/27 (Chet)
2015 Fantasy Football: Late-Round Running Back Fliers
- 8/24 (Chet)
2015 Fantasy Football Fallout: Jordy Nelson Injury
- 8/24 (Chet)
2015 Fantasy Football Players to Target
- 8/22 (Chet)
2015 Fantasy Football Spreadsheets
- 8/22 (Walt)
2015 Fantasy Football Round-by-Round Strategy Guide
- 8/20 (Walt)
2015 Fantasy Football: The Perfect Draft
- 8/20 (Chet)
2015 Fantasy Football Players to Avoid: LeSean McCoy
- 8/18 (Chet)
2015 Fantasy Football Values: Wide Receivers
- 8/14 (Chet)
Daily Fantasy Football: Wide Receivers
- 7/29 (Chet)
2015 Fantasy Football Value Profile: Brian Quick
- 7/22 (Walt)
2015 Fantasy Football Value Profile: Eli Manning
- 7/17 (Walt)
Daily Fantasy Football: A Primer
- 7/10 (Chet)
2015 Fantasy Football Value Profile: Jarvis Landry
- 7/7 (Walt)
Fantasy Football Offseason Stock Report: Up
- 5/15 (Walt)
Fantasy Football Offseason Stock Report: Down
- 5/15 (Walt)
2015 Fantasy Football: First-Round Bust History
- 2/17 (Walt)
2015 Fantasy Football: Overdrafted Players
- 2/15 (Walt)
2015 Fantasy Football: Running Backs with Most Carries
- 2/15 (Walt)
NFL Picks
- Nov. 14
2019 NFL Mock Draft
- Nov. 8
2020 NFL Mock Draft
- Nov. 3
Fantasy Football Rankings
- Sept. 5
2019 NBA Mock Draft
- Aug. 13
NFL Power Rankings
- June 3