Quarterbacks:
Ben Roethlisberger -
Roethlisberger's home/away splits continue to be a good benchmark for his upside at home, which is extremely high. On average over the last three years, Roethlisberger has thrown for 339 yards and 2.95 touchdowns per game at home. This season he played in just six home games, but averaged 319 yards, 3.3 touchdowns and under one interception to go along with a 70.8 completion percentage. So, he's not too bad at home. How are the Dolphins at stopping the pass? Well, not very good. Let's take a look at the quarterback stats from the last six weeks: Tom Brady 276/3/0, Tyrod Taylor 329/3/0, Petty-Fitzpatrick 266/1/3, Carson Palmer 145/2/2 (downpour game), Joe Flacco 381/4/1, and Colin Kaepernick 296/3/1 (113 rushing yards). That makes for the worst pass defense in the league over the last six games and Roethlisberger should have a field day.
Russell Wilson -
Wilson has talked about removing his knee brace for this game. He says he doesn't need it anymore, which is a great sign for his escapability, which he will need behind his offensive line. The talent deficient offensive line is worrisome, but Wilson has been a strong play at home with four top-five fantasy games out of his last five home games. The Lions also don't make a tough opponent against the pass. They rank dead last in Football Outsiders DVOA against the pass and have allowed an amazing 72.6 percent of all passes to be completed. I believe that is a record in futility. On average, the Lions allow two passing touchdowns and 19 fantasy points per game to quarterbacks, which is the worst for all teams playing this weekend. Ben Roethlisberger probably has a bit higher upside, but Wilson is cheaper and I don't feel too bad about dropping down to Wilson if it helps me make the best team.
Other plays: Aaron Rodgers
Running Backs:
Lamar Miller -
Miller isn't on the injury report this week after getting Week's 16 and 17 off for his ankle injury. The Raiders are susceptible to the run and ranked second in the league for 20-plus-yard runs allowed. Only Miami allowed more total yards and yards per carry to running backs of the teams playing this week, and Miller has consistently played better at home this season. Add in the fact that Connor Cook will have trouble scoring on this Texans defense, and you have a recipe for Miller to see a huge workload, either with a lead or a very close score. There is a chance Miller reaggravates his ankle injury, but he appears to be as fresh as any back at this point in the season. And he's a slight bit cheaper than Le'Veon Bell, 4.2k cheaper on FanDuel. It will be tough to fit Bell into a good lineup, but Miller will allow some room to wiggle in solid picks.
Paul Perkins
- If you are looking for ways to get players like Odell Beckham, Antonio Brown, Le'Veon Bell, etc? you are going to need to find some cheaper plays and Perkins is one of those for me this week. Perkins has slowly been getting more work than Rashad Jennings and has been outplaying him on a per touch basis. All signs point to him getting the majority of the work this week, but it will likely still just be a small majority. For his price I think we can take that, as 15 touches is right in his outlook. The Packers run defense started off extremely strong, but over the last 10 weeks they've allowed 136.6 total yards and one touchdown per game to opposing running backs.
Other plays: Le'Veon Bell, Zach Zenner
Wide Receivers:
Doug Baldwin:
The Lions have Darius Slay as their best cover man, but he doesn't cover in the slot where Baldwin plays. The Lions also lost their best slot cornerback to injury a month ago, so they've been scrambling to find someone who will succeed there. They haven't found that player on their team unfortunately for them, but if you play Baldwin, you should be the fortunate one.
Eli Rogers:
If Ladarius Green doesn't play (he missed Friday's practice and is still in concussion protocol), then Rogers gets a good bump in usage. With Green out over the last three games Rogers has averaged 7 targets and 83 receiving yards. Antonio Brown and Le'Veon Bell are of course the two best plays on this offense, but Rogers is still a nice value play in a good matchup.
Davante Adams -
Adams can't seem to hold onto a ball, but he still caught 12 touchdown passes from Aaron Rodgers this season and won't have to face Janoris Jenkins. His price isn't as cheap as I'd like, but a touchdown at home is very likely in this game.
Other plays: Antonio Brown, Odell Beckham Jr., Sterling Shepard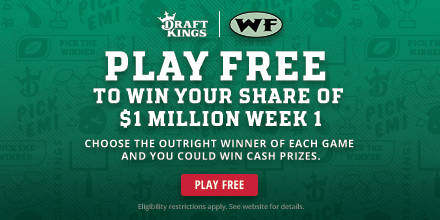 Tight Ends
C.J. Fiedorowicz -
Fiedorowicz is easily Brock Osweiler's second favorite target and when you consider that the No. 1 target is DeAndre Hopkins, it's amazing that Fiedorowicz is even close to Hopkins in targets. Since Week 5, Fiedorowicz has averaged 7.3 targets a game. The Raiders rank 23rd in DVOA against tight ends and they've allowed the sixth most yards and eighth most touchdowns to tight ends. Fiedorowicz is cheaper than Jimmy Graham and safer than Jared Cook.
Jared Cook -
Cook gets a nice matchup this week against the Giants who have allowed the sixth most receptions and fourth most yards to opposing tight ends this season. Janoris Jenkins could slow Jordy Nelson down enough to get Cook a few more targets as well. His floor is low, but he has possibly the highest upside of any tight end this weekend.
Other plays: Jimmy Graham, Jesse James
Comment...
More 2016 Fantasy Football Articles:
Fantasy Football Rankings
2016 Fantasy Football Rankings:
2016 Fantasy Football Rankings: Quarterbacks
- 9/7 (Walt)
Chet Gresham's Fantasy Football Quarterback Rankings
- 8/30 (Chet)
2016 Fantasy Football Rankings: Running Backs
- 9/7 (Walt)
Chet Gresham's Fantasy Football Running Back Rankings
- 8/30 (Chet)
2016 Fantasy Football Rankings: Wide Receivers
- 9/7 (Walt)
Chet Gresham's Fantasy Football Wide Receiver Rankings
- 8/30 (Chet)
2016 Fantasy Football Rankings: Tight Ends
- 9/7 (Walt)
Chet Gresham's Fantasy Football Tight End Rankings
- 8/30 (Chet)
2016 Fantasy Football Rankings: Defenses
- 6/15 (Walt)
2016 Fantasy Football Rankings: Kickers
- 6/15 (Walt)
Fantasy Football Rookie Rankings
- 5/13 (Walt)
Fantasy Football Rookie Rankings: Dynasty
- 5/13 (Walt)
Fantasy Football Rookie Rankings: Dynasty
- 5/27 (Chet)
2016 Fantasy Football Mock Drafts:
2016 Fantasy Football Mock Draft: PPR
- 9/1 (Walt)
2016 Fantasy Football Mock Draft Video
- 8/31 (Walt)
2016 Fantasy Football Mock Draft: Real Draft
- 8/29 (Walt)
2016 Fantasy Football Mock Draft: Standard
- 8/25 (Walt)
2016 Fantasy Football Mock Draft: 2-QB
- 8/25 (Chet)
2016 Fantasy Football Mock Draft Video
- 8/24 (Walt)
2016 Fantasy Football Mock Draft: PPR
- 8/18 (Walt)
2016 Fantasy Football Mock Draft Video
- 8/13 (Walt)
2016 Fantasy Football Mock Draft: Standard
- 8/11 (Walt)
2016 Fantasy Football Mock Draft: Standard
- 8/4 (Walt)
2016 Fantasy Football Mock Draft Video
- 8/4 (Walt)
2016 Fantasy Football Mock Draft: PPR
- 8/2 (Chet)
2016 Fantasy Football Mock Draft: PPR
- 7/28 (Walt)
2016 Fantasy Football Mock Draft
- 7/21 (Walt)
2016 Fantasy Football: MFL 10 Draft
- 5/13 (Chet)
2016 Fantasy Football Cheat Sheets:
2016 Fantasy Football Cheat Sheet: Top 250
- 9/7 (Walt)
2016 Fantasy Football Cheat Sheet: Top 250 PPR
- 9/7 (Walt)
2016 Fantasy Football Cheat Sheet: Top 250 2-QB
- 9/7 (Walt)
2016 Fantasy Football Cheat Sheet: Top 250 Touchdown League
- 9/7 (Walt)
2016 Fantasy Football Cheat Sheet: Custom
- 9/7 (Walt)
2016 Fantasy Football: Dynasty Rankings
- 9/7 (Walt)
2016 Fantasy Football PPR Rankings
- 8/26 (Chet)
2016 Fantasy Football Spreadsheets
- 9/7 (Walt)
2016 Fantasy Football Articles:
2016 Fantasy Football Stock Report: Training Camp
- 9/7 (Walt)
2016 Fantasy Football Mock Draft Simulator
- 9/7 (Walt)
2016 Fantasy Football Sleepers
- 9/4 (Walt)
2016 NFL Preseason Recap, Fantasy Football Notes
- 9/2 (Walt)
2016 Fantasy Football Preseason Stock
- 9/2 (Walt)
2016 Fantasy Football Preseason Quarterback Targets
- 9/2 (Walt)
2016 Fantasy Football Waiver-Wire Targets
- 8/31 (Chet)
2016 Fantasy Football Busts
- 8/31 (Walt)
Fantasy Football Auction Advice
- 8/24 (Chet)
2016 Fantasy Football Round-by-Round Strategy Guide
- 8/18 (Walt)
2016 Fantasy Football Daily Fantasy Preseason Week 2 Streaming Options
- 8/18 (Chet)
2016 Fantasy Football Draft Queue: Wide Receivers and Tight Ends
- 8/17 (Chet)
2016 Fantasy Football Draft Queue: Quarterbacks and Running Backs
- 8/16 (Chet)
2016 Fantasy Football Training Camp Notes
- 8/10 (Chet)
2016 Fantasy Football Wide Receivers to Avoid
- 8/6 (Walt)
2016 Fantasy Football Running Backs to Avoid
- 8/5 (Walt)
2016 Fantasy Football Notes
- 7/26 (Chet)
2016 Fantasy Football Late-Round Wide Receiver Targets
- 7/21 (Chet)
2016 Fantasy Football Late-Round Running Back Targets
- 7/19 (Chet)
2016 Fantasy Football ADP Values
- 7/14 (Chet)
2016 Fantasy Football: C.J. Anderson Profile
- 7/7 (Chet)
2016 Fantasy Football Favorite MFL Players
- 6/29 (Chet)
2016 Fantasy Football: 2016 NFL Draft Fallout: Chip Kelly
- 6/23 (Chet)
2016 Fantasy Football: Marvin Jones Profile
- 6/22 (Chet)
2016 Fantasy Football: Devin Funchess Profile
- 6/15 (Chet)
2016 Fantasy Football 2-QB Draft
- 6/9 (Chet)
Fantasy Football Beginner's Guide
- 6/7 (Walt)
2016 Fantasy Football: Running Back Drafting and ADP
- 6/3 (Chet)
2016 Fantasy Football: Quarterback Drafting and ADP
- 6/1 (Chet)
2016 Fantasy Football: Eli Manning Profile
- 5/25 (Chet)
2016 Fantasy Football: Jordan Matthews Profile
- 5/24 (Chet)
2016 Fantasy Football Rookie Dynasty Draft Wrap-up
- 5/18 (Walt)
2016 Fantasy Football: 2016 NFL Draft Fallout
- 5/11 (Chet)
2016 Fantasy Football: MFL 10 Quarterback Values
- 4/30 (Chet)
2016 Fantasy Football: MFL 10 Wide Receiver Values
- 4/28 (Chet)
2016 Fantasy Football: Tight End Strength of Schedule
- 4/25 (Chet)
2016 Fantasy Football: Wide Receiver Strength of Schedule
- 4/21 (Chet)
2016 Fantasy Football: Running Back Strength of Schedule
- 4/20 (Chet)
2016 Fantasy Football: Quarterback Strength of Schedule
- 4/19 (Chet)
2016 Fantasy Football: MFL 10
- 2/19 (Chet)
2016 Fantasy Football Sleepers: Philip Rivers
- 2/16 (Chet)
2016 Fantasy Football: Quarterback ADP vs. Reality
- 2/12 (Chet)
2016 Fantasy Football Fallout: Marshawn Lynch Retires
- 2/11 (Chet)
2016 Fantasy Football Fallout: Calvin Johnson Retires
- 2/9 (Chet)
2016 Fantasy Football Forecast: Dynasty
- 1/21 (Chet)
2016 Fantasy Football Forecast: Tight Ends
- 1/19 (Chet)
2016 Fantasy Football Forecast: Wide Receivers
- 1/14 (Chet)
2016 Fantasy Football Forecast: Running Backs
- 1/13 (Chet)
2016 Fantasy Football Forecast: Quarterbacks
- 1/12 (Chet)
NFL Picks
- Oct. 15
2020 NFL Mock Draft
- Oct. 13
2019 NFL Mock Draft
- Oct. 11
Fantasy Football Rankings
- Sept. 5
2019 NBA Mock Draft
- Aug. 13
NFL Power Rankings
- June 3