What is this?
This is my ninth-annual NBA Draft Blog. I'll be posting my thoughts about the first round of the NBA Draft here. That will include everything from the actual picks, to the ESPN personalities, to the commercials, etc. Anything goes. This page will be updated every five minutes or so, so I hope you join me for the 2015 NBA Draft!
Also,
Live 2015 NBA Draft Grades
will be posted here minutes after each pick. Follow me on Twitter
@walterfootball
for updates.
6:50:
Just got to my parents' house. My dad already has the TV on. I'm not sure why Lindsay Czarniak is interviewing a homeless man who can't afford a shirt, but my dad's not a fan. "Who the f*** is this!?"
6:51:
David's final
2015 NBA Mock Draft
is posted.
6:55:
Uhh... ESPN... is this real life right now?
6:56:
"Holda holda holda holda we makin' noise pop a bottle pop a bottle pop a bottle holda holda holda holda." We are indeed in the dark ages of music.
6:57:
Ugh, when is this homeless man going to stop singing?
6:58:
"Holda holda holda holda did you see her interior holda holda holda holda holda holda we makin' noise we dem boys we makin' noise we dem boys we makin' noise we dem boys holda holda holda holda."
6:59:
Good lord, thank God that abomination of a "song" is over.
7:01:
Discuss the NBA Draft here in our
Draft Day
feature.
7:04:
I promised that I would give my dad's controversial take on D'Angelo Russell. He thinks he's the next Michael Jordan. "It's like 1984," he said. "Two terrible centers are going first and second, and Russell is going third. He's the next Michael Jordan, and the Sixers are going to get him!"
I hope for his sake that the Lakers pick Jahlil Okafor.
7:06:
I hope for our mocks' sakes as well. David and I both have the Lakers picking Okafor. I worked so hard on my mock... the 30 minutes I spent compiling it was grueling.
7:08:
Brian Windhorst just spoiled the first-overall pick. Brian Windhorst? More like Brian Windworst.
7:09:
My dad's plotting some trades. "Maybe we can get Andrew Wiggins for the third-overall pick and two second-round picks." Come on, Timberwolves, you know you want to do that!
7:10:
If Jay Bilas didn't play for Duke long ago, would he be glorifying Jahlil Okafor right now?
7:13:
My dad just asked me if I wanted a sandwich. Considering the argument we had last year, I just decided to save the trouble to accept his offer. "What lunch meat do we have?" His response was amusing. "I don't know," he replied. "I have to call mom to find out."
7:14:
Ooohh, hot red head sideline reporter. And then there's Heather Cox...
7:15:
Why is D'Angelo Russell wearing a tablecloth? Does that still mean he's the next Michael Jordan?
7:20:
Ah, Emmanuel Mudiay, Chinese terrorist bastard.
7:21:
My dad's praying that Okafor goes No. 2. "Come on, Kings, you f***ing idiots, trade Cousins to the Lakers!"
7:24:
My mom said she's picking up cheesestakes for dinner. My dad, however, won't conclude his quest to give me a sandwich.
Dad:
Want a sandwich?
Me:
Nah.
Dad:
Why not!?
Me:
Mom's bringing cheesestakes.
Dad:
So?
Me:
Why would I want a sandwich if I'm getting cheesestakes?
Dad:
Why not both?
Me:
Nah, it's fine.
Dad:
Come on, eat a sandwich!
Me:
No!
7:27:
My dad was confused about seeing the question, "Kristaps Prozingis the best player in the draft?" I told him that he fights ghosts...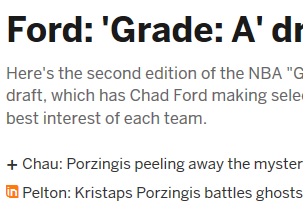 His response: "What the f*** are you talking about?" At least he's not asking about sandwiches anymore.
7:29:
Jahlil Okafor is wearing Chinese stars on his suit. Looks like Mudiay has already recruited him. Stock down for treason.
7:32:
Adam Silver's alive. Wow. I thought he just disappeared for good once he exiled all of the racist owners.
7:33:
My dad's take on Silver: "Crook! Why not give Cleveland another first-overall pick!?"
7:34:
All right, Adam Silver, we don't need a long speech here.
7:35:
Five minutes for the Timberwolves? Is that enough time!?!?!
7:36:
Where is Bill Simmons, by the way? I know ESPN stupidly refused to renew his contract, but I thought he was still working for them until September. Why not have him on?
With the No. 1 overall pick, the Timberwolves select Karl-Anthony Towns, PF, Kentucky
7:38:
F*** you, Brian Windworst.
7:39:
Our
Live NBA Draft Grades
are being posted tonight.
7:41:
Blah, blah, blah, no one cares what you have to say, Karl-Anthony Towns. Let's hear what the hot red-head wants to talk about.
7:42:
Good luck freezing to death eight months every year, Karl-Anthony.
7:43:
John Calipari smiling slyly, plotting to take over the world.
7:44:
Time's running out, Lakers! Take Russell, Sixers!
With the No. 2 overall pick, the Lakers select D'Angelo Russell, PG, Ohio State
7:45:
"Oh, God!" - my dad
7:47:
"Okafor doesn't want to go to the Sixers! F***ing Lakers!" Goodbye, Michael Jordan.
7:48:
My dad's changing his tune. "I think he's going to be a trouble-maker. I don't like him."
7:49:
What D'Angelo Russell should've said about Kobe Bryant. "Thank f***ing God I don't have to deal with that pretentious, ball-hogging douche for very long."
7:50:
"I hope Russell is going to be a bust!" - my dad
7:51:
No idea what the Sixers will do here. My dad's hoping they take Okafor and trade him to Orlando. They can't let Okafor fall to the Knicks.
7:52:
Jalen Rose is an idiot. Players can't be busts because they make millions? What about all the players who go bankrupt?
With the No. 3 overall pick, the 76ers select Jahlil Okafor, C, Duke
7:55:
"He's not happy." - my dad. I feel the same way. However, there's a chance he's being dealt, so it's OK... maybe.
7:56:
Funny tweet from @FootballExpert: "Okafor to play point guard for the 76ers."
7:58:
The tide has turned for my dad: "Okafor is not cocky. Not like D'Angelo Russell. He's cocky. He's going to bust."
7:59:
LOL at Will Brinson's tweet: "With the No. 4 pick in the 2014 NBA Draft, the Knocks select ... another 20 years of infinite sadness!"
With the No. 4 overall pick, the Knicks select Kristaps Porzingis, PF, Latvia
8:01:
BOOOOOOOOOOOOOOOOOOOO!!!!!!!!!!!!!!!!!!
8:03:
I wonder if Kristaps "The Ghostbuster" Prozingis will have the same attitude as Donovan McNabb for getting booed by his fanbase. That'll depend on whether Kristaps is a whiny douche like McNabb.
8:04:
"I'll give the Magic THREE first-round picks for No. 5! I want Mudiay!" - my dad. Great, that way we can have two Chinese defectors on the squad.
8:05:
Jalen Rose is getting a ton of heat on Twitter, and rightfully so. What a dumb comment that no NBA player can be a bust. So stupid.
With the No. 5 overall pick, the Magic select Mario Hezonja, G/F, Croatia
8:08:
Should've picked Luigi Hezonja. He can jump higher to get the extra mushroom.
8:10:
Was Orlando the best place to go to in the top five? Awesome weather, no state tax... sure, they have no fans, but it's nice to live there.
8:11:
Mario Hezonja compared to J.R. Smith. Sorry, Orlando, I guess you're getting a ball-hogging douche.
With the No. 6 overall pick, the Kings select Willie Cauley-Stein, C
8:16:
Whoops, Chad Ford, so much for Cauley-Stein falling, derp.
8:17:
"Another trouble-maker," my dad's saying. "Both will be busts. Watch."
8:20:
So, the Kings' Hall of Fame coach wants to trade a lazy bum, but the inept front office doesn't want to move him. That sounds like a winning franchise!
8:21:
Think this is hilarious: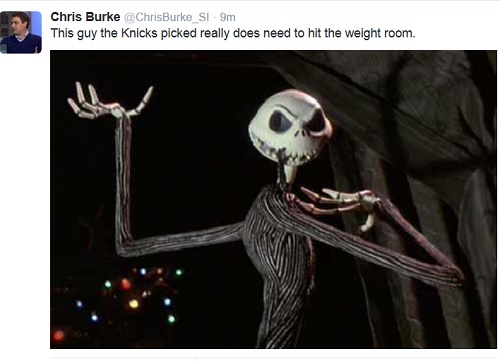 With the No. 7 overall pick, the Nuggets select Emmanuel Mudiay, PG
8:23:
Speaking of dysfunctional franchises... way to pick a Chinese terrorist!
8:24:
My dad on seeing where Mudiay is from: "I hope he doesn't have Ebola!"
8:26:
"Emmanuel Mudiay isn't cocky... not like that Russell idiot."
With the No. 8 overall pick, the Pistons select Stanley Johnson, SF
8:33:
Right... like Mudiay is sitting with his bro on the couch in his spare time. We all know he's telling the Chinese government all of the secrets.
With the No. 9 overall pick, the Hornets select Frank Kaminsky, C
8:38:
I have a request for all NBA fans out there: Can we please, please stop referring to Frank Kaminsky as "Frank the Tank?" He's not a tank. He's not built like a tank. He's a tall, lanky dude. Karl Malone was a tank. Charles Barkley was a tank. Moses Malone was a tank. Frank is not a tank. Calling him a tank because it rhymes with Frank is ridiculous.
8:40:
I had Kaminsky going to the Hornets in my mock because of the reports that Michael Jordan loved him. I said that Jordan downloaded pictures of Kaminsky and hid them in a secret folder on his laptop. This was not a joke. I have inside sources that told me this really happened.
8:41:
OK, maybe I just made that up.
8:42:
My dad is confused about the "Tank" nickname as well. It makes no sense!
With the No. 10 overall pick, the Heat select Justise Winslow, SF
8:44:
Jay Bilas and Jay Williams just came on the set.
8:45:
Oooohhh, hot red-head sideline reporter. Count me in on that as well.
With the No. 11 overall pick, the Pacers select Myles Turner, Texas
8:49:
"That's a cocky guy! A**hole!" - my dad. Wow.
8:52:
My dad's not a fan of this draft. "No trades! This is boring!" I agree. I don't want trades in the NFL Draft because it f***s up my mock, but the NBA is supposed to have tons of trades.
8:54:
I hope they keep making these "Most Interesting Man in the World" commercials for another 100 years. I don't care if this guy does. They can have a
Weekend at Bernie's
situation and still make it work.
With the No. 12 overall pick, the Jazz select Trey Lyles, Kentucky
8:57:
I was about to criticize the Jazz for taking a non-white player because that would piss off the fans, but Trey Lyles looks a bit whiteish so the fans might be confused enough to accept him.
8:59:
"I'm so great, look at me, I'm the most beautiful man in the world." - John Calipari. My dad muted the TV because my sister just arrived, so that's what I imagine he's saying.
With the No. 13 overall pick, the Suns select Devin Booker, SG, Kentucky
9:04:
Another sort-of white guy the Jazz could've taken to fool their fans.
9:05:
My dad's pissed. "I wanted him so bad! I wanted him so bad!" That's what she said?
9:07:
I think that Shannon sideline reporter chick is the true winner of this draft.
9:09:
Who are these guest stars on the BET Awards? Outside of Chris Brown, the a**hole, I've never heard of any of them. Big Sean? Is Big his first name, or is that a nickname? If it's the latter, what happened to Medium Sean or Small Sean?
9:10:
My dad has given up. "I don't know anyone else in this draft."
With the No. 14 overall pick, the Thunder select Cameron Payne, PG
9:13:
"I can be the next assassin." - Cameron Payne. Shut up, cocky douche.
9:14:
My dad's not a fan either: "He's an ugly motherf***er - just like his idiot father."
9:15:
But the No. 1 reason Cameron Payne will be a bust? The selfie stick he was holding. Anyone who owns/uses a selfie stick needs to be exiled to an island filled with man-eating bears so they can just cease to exist. I f***ing hate selfie sticks.
With the No. 15 overall pick, the Hawks select Kelly Oubre, SF
9:21:
"Whoever gets me is getting a jewel." Shut up, cocky douche.
9:22:
I hate how trades have to be official. It sucks. There should be mayhem at the draft. It would be so much better.
9:23:
Why do you "gotta like the confidence" like Jay Bilas said? I hate this confidence. What happened to people being nice and humble? Now everyone wants to be an a**hole and take pictures of themselves with stupid sticks. Humanity is going down the toilet.
With the No. 16 overall pick, the Celtics select Terry Rozier, PG
9:29:
My dad on seeing Evan Turner's name on the Celtics' roster: "Ha! Evan Turner! The Celtics can keep that idiot!"
9:30:
My dad on me telling him that David gave Terry Rozier an F: "I hope they don't trade him to the Sixers!"
With the No. 17 overall pick, the Bucks select Rashad Vaughn, SG
9:33:
My cheesesteak has arrived, by the way. My mom brought some wings for my dad. "I'm not hungry," he said. "I ate some sandwiches."
9:34:
My dad's confused about who this black kid is. "Is that Milwaukee's pick? He's so small!"
9:35:
I think that kid is the only male in the room not turned on by Shannon the Sideline Reporter. Not that there's anything wrong with that.
With the No. 18 overall pick, the Rockets select Sam Dekker, SF
9:38:
How much higher would Sam Dekker have gone if he didn't choke like a dog in the championship? Even Aaron Rodgers stopped answering his e-mails.
9:43:
Stop lying, Sam. Aaron didn't text you back. He has blocked you.
9:44:
Man, flashbacks to the championship. Wisconsin should've won if it wasn't for some of the worst officiating in sports history.
With the No. 19 overall pick, the Bullets select Jerian Grant, PG
9:45:
Jerian Grant is going to Atlanta, but only briefly. He'll be moved to New York for Tim Hardaway Jr.
9:46:
My dad isn't a fan of Bilas. "He says everyone is great. Everyone can score! Everyone can play defense! But when they start playing, they're a piece of s***!"
9:49:
How is losing a "large sum of money" a "win-win," Heather Cox?
With the No. 20 overall pick, the Raptors select Delon Wright, PG, Utah
9:53:
Crap, Phil Jackson is coming on. This means we've reached the point in which ESPN thinks its dumbed-down audience doesn't care anymore besides anything but "flashy" things like coaching interviews.
9:56:
LOL...
Phil Jackson:
Kristaps Porzingis has a good family...
Dad:
Who the f*** cares about family? What do you think, his mother's going to suck your dick?
9:57:
Another funny quote from my dad: "Phil Jackson picked this guy because he is a piece of s***! He likes all s***!"
With the No. 21 overall pick, the Raptors select Justin Anderson, SF, Virginia
9:59:
"Everyone's a great pick. Everyone's a great shooter. Everyone's a sleeper. Can't this idiot say anything bad?"
With the No. 22 overall pick, the Bulls select Bobby Portis, PF, Arkansas
10:03:
I'm tired of Bilas as well, but for other reasons. He and Jay Williams are whining every time the Knicks' pick comes up because New York didn't take another Dukie. It's ridiculous that they are allowed to be this biased on the air.
10:08:
Oh man, just finished the cheesesteak. Can the NBA Draft take an hour break so I can pass out from my food coma?
With the No. 23 overall pick, the Blazers select Rondae Hollis-Jefferson, SF
10:13:
This guy should just get his act together and change his name to Hollis Jefferson. Much better than Rondae Hollis-Jefferson.
10:14:
My dad's in awe of Hollis Jefferson's pants. "My grandfather walked around like this! Clown!"
10:17:
Can't say I'm a big fan of Hollis Jefferson anymore. This talk of "my people" and "my community" just screams shady entourage. I wouldn't be surprised if he gets into trouble quite a bit.
10:19:
I don't blame Kevin Love for leaving Cleveland. I wouldn't want to be teammates with a pretentious douche either.
With the No. 24 overall pick, the Blazers select Tyus Jones, PG
10:20:
The Cavs are sending Jones to Minnesota.
10:23:
It's crazy how ESPN is so far behind. Jones is not playing with LeBron.
10:25:
Jalen Rose is on crack. LeBron James is a "basketball genius?" He travels on almost every single play. He's lucky he didn't go to college, or he would've been whistled for a walk on almost every possession.
With the No. 25 overall pick, the Grizzlies select Jarell Martin, PF
10:29:
"He's a cocky guy. I don't like him." Say what you want, but my dad's analysis is an upgrade over Bilas' cookie-cutter "everyone is awesome unless they're drafted ahead of a Duke player" takes.
10:31:
The big three is starting to age "a little bit?" A little bit!?
With the No. 26 overall pick, the Spurs select Nikola Milutinov, C
10:32:
And now all other 29 teams are cursing themselves for not taking the player the Spurs fell in love with.
10:35:
Blegh, Ramona Whateverherface'slastname is. We need more Shannon the Sideline Reporter and less Ramona Whateverherface'slastname is.
With the No. 27 overall pick, the Lakers select Larry Nance Jr., F, Wyoming
10:38:
WTF? How is Larry Nance Jr. white? My dad just said the same thing. "HE'S WHITE!?!?! HOW'S HE WHITE!?!?!?"
10:39:
My dad just told me that he marked Larry Nance Jr. as "white" in his notebook. Only he has a column in his chart for race. Well, he and Jazz fans.
10:42:
Larry Nance Jr. got dicked over in the NCAA Tournament. The corrupt selection committee put Wyoming at No. 12 and matched them up against a studly No. 5 seed because they didn't want a strong mid-major to advance. Horrible.
10:43:
I still can't get over my dad's "race" chart for each player. Is this backlogged? If so, does he have Larry Nance Sr. as "black?" ESPN should follow my dad's lead and do this.
With the No. 28 overall pick, the Celtics select R.J. Hunter, SG
10:45:
Shame on ESPN for not showing R.J. Hunter's dad falling off his chair in the NCAA Tournament.
10:46:
My dad needed help with R.J. Hunter's race.
Dad:
Is he white or black?
Me:
His dad is black and his mom is white.
Dad:
I'll mark him down as white.
With the No. 29 overall pick, the Nets select Chris McCullough, PF
With the No. 30 overall pick, the Warriors select Kevon Looney, PF
10:57:
Kevon? Did his parents spell his name wrong? There's an "I" in Kevin, derp.
10:58:
"I want to honor Rod Thorn." - Adam Silver. "Another crook!" - my dad.
10:59:
Yeah, OK, I'm sure Michael Jordan knows who Rod Thorn is.
11:00:
This is the end of the Live NBA Draft Blog. Thanks for reading my nonsensical thoughts! Keep checking the
NBA Draft Grades
for the second round, and come back tomorrow for our team grades. Follow
@Walterfootball
for updates.
Live 2013 NBA Draft Blog
Live 2012 NBA Draft Blog
Live 2011 NBA Draft Blog
Live 2010 NBA Draft Blog
Live 2009 NBA Draft Blog
Live 2008 NBA Draft Blog
2013 NBA Mock Draft
- Walt's
2013 NBA Mock Draft
- David Kay's