Monday Morning Draft is back! This is a column that delves into the past weekend's action from an NFL Draft perspective. As the season goes on, the draft picture and slotting will become more clear, but every Sunday will provide a few hints for next April.
By Charlie Campbell.
Send Charlie an e-mail here:
draftcampbell@gmail.com
Follow Charlie on Twitter
@draftcampbell
for updates.
Race for the No. 1 Pick:

Cleveland Browns:
Cleveland got rolled by the Steelers and now owns the worst record in the NFL at 2-8. The Browns have lost five straight games and clearly lack the talent to compete with quality teams in the NFL. Obviously, Cleveland is at a disadvantage at the quarterback position, but the offensive line and defense haven't played as well as expected. The Browns lack a pass rush, have had a beat up secondary and lack play-makers at wide receiver on offense. Considering Cleveland's recent drafts, one has to wonder if the franchise has the right leadership in place.
2-7 Teams in Striking Distance
Detroit Lions
Baltimore Ravens
Tennessee Titans
Dallas Cowboys
Let's Play Matchmaker:
This section will look at some of the top talent in college football and match those prospects up with teams that have a dire need at the position.

Buffalo Bills: Jared Goff, QB, California

The Bills got enough out of Tyrod Taylor and their running game to beat Rex Ryan's old team on Thursday night, but Taylor looks more like a backup-quality signal-caller than a starter who could lead the Bills on a playoff run. E.J. Manuel is a bust, and Buffalo's search for a franchise quarterback is obviously still ongoing.
Goff would be a nice fit for Buffalo with his ability to throw the ball vertically. He would be a good quarterback to pair with receivers Sammy Watkins and Robert Woods. In 2015, Goff has completed 64 percent of his passes for 3,319 yards with 30 touchdowns and 13 interceptions. He will need some development for the NFL coming from a college offense, but Greg Roman confronted similar issues with Colin Kaepernick and was able to get Kaepernick to lead San Francisco to a Super Bowl and two NFC Championship Game appearances. Goff would make a lot of sense for the Bills' first-round pick in the 2016 NFL Draft.

Chicago Bears: Jamal Adams, S, LSU

The Bears came through on their promise not to let Todd Gurley beat them, and Chicago's offense played a key role in that. Antrell Rolle isn't a long-term starter at safety, and the position has been a weakness for years in Chicago. The Bears could use a safety who helps to defend the run yet has the pass-coverage skills to help them matchup with Green Bay.
Adams has shown the versatility to be a good run defender and help in pass coverage. On the year, he has 51 tackles with four passes broken up and four interceptions. The 6-foot-1, 211-pounder has versatile size to play strong or free safety in the NFL. Adams could be one of the top safeties if he enters the 2016 NFL Draft.

Jacksonville Jaguars: Vernon Hargreaves III, CB, Florida

The Jaguars have a talented young offense that is headed in the right direction, however their defense has really struggled in pass coverage all season. That was the case against Baltimore again on Sunday. Davon House should be a No. 2 or 3 cornerback, and Jacksonville must upgrade its pass coverage this offseason.
If the Jaguars keep winning, they probably won't get a shot at Hargreaves, but he is exactly what they need: An isolation man-cover corner who can be counted on to put the clamps on another team's receiver. Hargreaves has recorded 24 tackles with two passes broken up and four interceptions this season. In 2014 and 2013, he was also excellent going against elite competition. Taking Hargreaves in the first round of the 2016 NFL Draft would be a perfect pick for Jacksonville.

Kansas City Chiefs: Mike Williams, WR, Clemson

The Chiefs dominated on the road at Denver in a very impressive win for Kansas City. The defense put Peyton Manning on the bench and embarrassed the future Hall of Famer. While the Chiefs rolled the Broncos, Kansas City's wide receivers struggled to do anything against the Broncos' secondary as tight end Travis Kelce and slot receiver/running back De'Anthony Thomas led the Chiefs through the air with meager production. Kansas City could stand to continue to build up receiving talent to complement Jeremy Maclin.
I think that if Williams hadn't gotten injured he would be the top wide receiver prospect for the 2016 NFL Draft. The 6-foot-3, 205-pounder has good size with the explosiveness to be a vertical receiver who stretches the field. In 2014 as a sophomore, he had 57 passes for 1,030 yards and six touchdowns. Williams was just scratching the surface of his potential.
The junior has been out since the season opener with a neck injury from running into the goal posts on a touchdown catch. Kansas City could get a steal by taking Williams in the second round of the 2016 NFL Draft.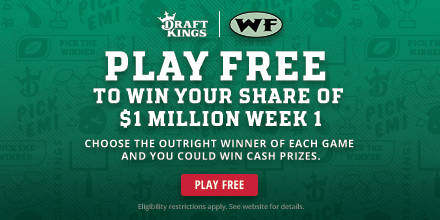 Miami Dolphins: Sebastian Tretola, G, Arkansas

The Dolphins came away with a tough road win at Philadelphia but they allowed too many plays behind their line of scrimmage. Ryan Tannehill was sacked four times and the Eagles added five tackles for a loss. Miami's offensive line is better over what the unit was a few years ago, but still has room for improvement.
Tretola has been excellent for Arkansas this season and is the road-grader that paves the way for Alex Collins. The 6-foot-5, 334-pounder Tretola is a well-balanced blocker that is solid in pass protection. Tretola would be a great fit for the Dolphins second-round pick.

Detroit Lions: Kendall Fuller, CB, Virginia Tech

The Lions' secondary issues were disguised against Green Bay to a degree because they were able to blitz Aaron Rodgers effectively. Late in the game, Detroit's weak secondary started having some problems that almost cost the Lions the game. If the Lions stick with Matthew Stafford, they need a left tackle with their first-round pick of the 2016 NFL Draft, so getting a cornerback to start Friday night would be ideal.
The 6-foot, 196-pound Fuller played at a very high level in 2014, racking up 17 passes broken up and two interceptions, 50 tackles and 4.5 tackles for a loss. He played with injury in his few games this year before undergoing season-ending knee surgery. If Fuller had stayed healthy and played like he did as a sophomore, the Lions would have had no shot at him on Friday night. Fuller would make sense for Detroit's second-round pick if he gets there.

Washington Redskins: Michael Thomas, WR, Ohio State

The Redskins got an excellent game from Kirk Cousins as they blew out the Saints. Cousins' leading receiver was running back Matt Jones, and no wideout had more than 60 yards or five receptions. Washington could revamp its receiving corps this offseason, and Thomas would be a great fit.
Thomas (6-3, 212) has an impressive combination of size and speed that presents some mismatch potential. Ohio State favors a run-based offense that limits Thomas' production, but he still is capable of producing through the air. In 2015, he has 45 receptions for 651 yards and eight touchdowns. If the Redskins keep winning, Thomas could be a target in the middle of the first round during the 2016 NFL Draft, and he would be a good fit in Jay Gruden's offense.
Team Draft Reports:
In this section, we take a deeper look at specific teams and where they stand in regards to the 2016 NFL Draft.

Minnesota Vikings:
There was hype around the Vikings being ready to break out in 2015, and they have validated that hype thus far this season as they have played their way into the playoff race. Halfway through the year, Minnesota would be slated to win a spot in the postseason if it started today, but the organization still has some areas to address before being one of the elite teams in the NFC.
Quarterback Teddy Bridgewater has been an up-and-down starter, and it could be that he is more of a game manager in the NFL rather than a play-maker. Still, with a good running game and defense, Bridgewater could make be good enough to make a run in January. The Vikings need to continue to build up talent around him.
Offensively, Minnesota has found a steal in wide receiver Stefon Diggs. The fifth-round pick never produced up to the hype at Maryland, but he has shown that he can be a play-maker in the NFL. Bridgewater has a vertical threat in Diggs, but could use a big receiver to pair with him. Ole Miss' Laquon Treadwell or Ohio State's Michael Thomas would make sense for the Vikings' first-round pick in the 2016 NFL Draft. In the second round, TCU's Josh Doctson or Florida's Demarcus Robinson would be good fits for Minnesota.
Another candidate for the Vikings' second-round pick would be a running back like Utah's Devontae Booker. Minnesota might have to trade up for Alabama's Derrick Henry in Round 2, or Ohio State's Ezekiel Elliott in Round 1, but landing the heir apparent to Adrian Peterson might be astute planning. Peterson has passed the 30-year mark with a serious knee injury and a big workload over a lot of years. Taking the the future running back next year to learn as the backup could be an astute plan. It also would protect Minnesota from having its season destroyed by an injury to Peterson. That exact scenario played out to a degree this year in Kansas City and Houston.
Defensively, the Vikings have a lot of young talent, and Mike Zimmer is going to field a tough defense for many years to come in Minnesota. They could use a young understudy for Chad Greenway, and if they don't go with a receiver in the first round, UCLA linebacker Myles Jack would be a great fit. Reuniting Jack with Anthony Barr and Eric Kendricks would give Minnesota a tremendous linebacking corps.
Another area for the Vikings to give some consideration on Day 2 or in the mid-rounds would be some safety competition. The organization also could consider offensive line competition.
Minnesota is building a good team that looks like it will be capable of competing with Green Bay for supremacy in the NFC North. A few more good drafts and the Vikings should be a serious competitor in January.

St. Louis Rams:
Last offseason, the focus for St. Louis was on the quarterback position and if the Rams finally found a solution with the trade of Sam Bradford for Nick Foles. While Foles hasn't been a standout, the Rams did land a franchise player for their offense with running back Todd Gurley. Many didn't think the Rams would take Gurley with Tre Mason and Zac Stacy already on the roster, but St. Louis saw that Gurley was a future star and was wise to take him as Gurley has been tremendous as a rookie. With a difference-maker on offense to go with their good defense, the Rams could be ready to make a push into the playoffs if they can tweak their passing game enough to help Gurley.
There is little doubt that the Rams will be picking too low in the 2016 NFL Draft to get a top quarterback. St. Louis looks poised to have a mid-first-round pick, and the top quarterback prospects will probably be gone by then. Rams general manager Les Snead hasn't reached for a quarterback in the first round in past years, even when he had multiple first-rounders like in 2014, so why would he start now? The Rams should target a quarterback on the second-day of the 2016 NFL Draft and hope that they land a good starter like Derek Carr, Andy Dalton or Russell Wilson. The candidates to consider would be North Dakota State's Carson Wentz, N.C. State's Jacoby Brissett, Ohio State's Cardale Jones and Penn State's Christian Hackenberg. Taking one of them to backup and push Foles makes sense for St. Louis.
In the first round of the 2016 NFL Draft, the Rams should consider improving their offense with a wide receiver. Tavon Austin is more of a gadget receiver, while other picks like Brian Quick and Stedman Bailey haven't panned out. Kenny Britt isn't a difference-maker, so St. Louis should target some receiver prospects like Ole Miss' Laquon Treadwell or Ohio State's Michael Thomas. Treadwell would be very intriguing as he is a tremendous blocker and could be a possession receiver with Austin being the deep threat.
Another candidate for the Rams' first-round pick would be cornerback if Janoris Jenkins and Trumaine Johnson aren't re-signed. However, St. Louis has other corner talent like E.J. Gaines coming back next year, so if at least one of the veterans is re-signed, the team shouldn't be desperate at the position.
Some secondary needs for the Rams to consider are a new center, linebacker competition, and defensive tackle depth depending on if Michael Brockers or Nick Fairley are extended. With two second-round picks, St. Louis is entering the 2016 NFL Draft in a position of strength to address those areas.
This is an important draft for the Rams. They still are in need of a legitimate quarterback and passing attack to help produce points. For the future of Snead and head coach Jeff Fisher, the time is now to take the next step from being a competitive team to a playoff team.
Comment...
NFL Picks
- Sept. 22
2019 NFL Mock Draft
- Sept. 20
Fantasy Football Rankings
- Sept. 5
2019 NBA Mock Draft
- Aug. 13
2020 NFL Mock Draft
- Aug. 1
NFL Power Rankings
- June 3