Monday Morning Draft is back! This is a column that delves into the past weekend's action from an NFL Draft perspective. As the season goes on, the draft picture and slotting will become more clear, but every Sunday will provide a few hints for next April.
By Charlie Campbell.
Send Charlie an e-mail here:
draftcampbell@gmail.com
Follow Charlie on Twitter
@draftcampbell
for updates.
Race for the No. 1 Pick:

Detroit Lions:
The Lions got back in the loss column after they were dropped at home by the Vikings. Minnesota notched seven sacks, the most ever in one game on Matthew Stafford. If Detroit ends up picking at the top of the 2016 NFL Draft, the organization will probably be seeking to get more defensive talent or a franchise left tackle rather than taking a quarterback to replace Matthew Stafford. If there is a quarterback the Lions like, they could get a huge package of draft picks for Stafford. However, trading Stafford seems unlikely. Getting offensive line help looks like the bigger need.

Tennessee Titans:
The Titans fell to 1-5 as the Falcons squeaked out a 10-7 win over them. Tennessee has a lot of young talent and could easily be a second-half-of-the-year team. Aside from a game to the Dolphins, the Titans have lost a lot of close contests. Tennessee looks set with Marcus Mariota, so the organization would look to build around him and potentially look for a defensive franchise player.

Baltimore Ravens:
Baltimore plays Arizona tonight and could easily be dropped to 1-6.
Last week, the Ravens lost to the hapless 49ers, and Baltimore has some fatal flaws that are going to keep biting this team all season. Namely, the secondary and unsteady play on offense. If the Ravens continue on this path to a high first-rounder, they would be more apt to build around Joe Flacco rather than jettison the veteran for a rookie. Baltimore could really use a shutdown cornerback like Florida's Vernon Hargreaves III. The Ravens also could consider an edge rusher like Ohio State's Joey Bosa to help replace their aging veterans of Terrell Suggs and Elvis Dumervil.
Let's Play Matchmaker:
This section will look at some of the top talent in college football and match those prospects up with teams that have a dire need at the position.

Seattle Seahawks: Jack Conklin, OT, Michigan State

The Seahawks' offensive line paved the way well in the ground game for Marshawn Lynch to run for over 100 yards on the 49ers, but Seattle's front had some issues in pass protection. San Francisco picked up five sacks, and that further illustrates the weakness that the offensive line has been in 2015.
The 6-foot-6, 325-pound Conklin is a well-balanced blocker. He gets a push in the ground game and is able to do a solid job of protecting his quarterback. In the NFL, Conklin would be better off playing right tackle, and that fits Seattle well because he could form a bookend with Russell Okung. Conklin would improve the Seahawks' pass protection while also keeping the rushing attack strong. Taking Conklin in the late first round of the 2016 NFL Draft would make sense for Seattle if he's available.

Minnesota Vikings: Vadal Alexander, OL, LSU

Minnesota's interior offensive line really struggled against Detroit. The Vikings allowed Caraun Reid to terrorize the backfield, and Detroit put too much pressure on quarterback Teddy Bridgewater. Adrian Peterson had 3/4s of his yards on one run, so the running lanes weren't there against the Lions. Adding a road-grading guard who can improve their pass protection would make sense for the Vikings.
Alexander had been strong at guard for the Tigers before moving to right tackle as a senior. LSU has had a lot of success running behind Alexander as he can get movement in the ground game. Coming from tackle, Alexander could also upgrade the interior pass protection for Bridgewater. Peterson would enjoy running behind Alexander.

New England Patriots: Kendall Fuller, CB, Virginia Tech

The Patriots' cornerbacks had some struggles with Jets wide receivers Eric Decker and Brandon Marshall. New England got lucky that Marshall dropped an easy touchdown late in the game. Clearly, the Patriots could use an upgrade at corner as a true replacement for Darrelle Revis.
Fuller is a gritty corner who has the ability to run with receivers and prevent separation. He is out for this season with a knee injury, but if he had repeated his sophomore year this fall, there would've been no way he would reach New England's first-round pick in the 2016 NFL Draft. Considering Fuller played hurt and wasn't the same before the injury happened, the Patriots could have a shot at him, and they might come away with a No.1 corner.

St. Louis Rams: Laquon Treadwell, WR, Ole Miss

The Rams beat the Browns on Sunday thanks to their suffocating defense and Todd Gurley running all over. St. Louis needs to continue to build up its passing game though. Tavon Austin is the Rams' speed element, but adding a big target like Treadwell would give them a possession receiver to move the chains.
The 6-foot-2, 210-pound Treadewll is a physical wideout who is very good at winning 50-50 passes. In 2015, he has 54 receptions for 756 yards and five touchdowns. Treadewll is good after the catch and also is a nice blocker. He would be perfect to help block for Gurley on the edge and be the receiver who does the dirty work in the short to intermediate part of the field. Treadwell could make a lot of sense for the Rams in the first round of the 2016 NFL Draft.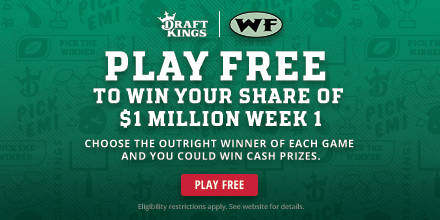 New York Giants: Devontae Booker, RB, Utah

The Giants beat the Cowboys thanks to some turnovers from Dallas with splash plays made by New York's defense and special teams. The Giants used a platoon of backs, but Rashad Jennings and Andre Williams could be upgraded. They're plodding backs, and New York could use some speed in their backfield.
Booker (5-11, 212) would be a great fit for the Giants. He is a shifty, slashing, physical runner who also gets yards after contact. Booker has averaged 4.8 yards per carry in 2015 for 845 yards with eight touchdowns. He also has 29 receptions for 257 yards. The Giants would be fortunate to land Booker in the second round of the 2016 NFL Draft.

Washington Redskins: Jalen Ramsey, CB/S, Florida State

The Redskins have had secondary issues for years, and they were on full display against Tampa Bay. Mike Evans and Doug Martin turned in big games for the Buccaneers. A free safety like Ramsey, who also can play some press-man corner against a big receiver like Evans and make tackles in the open field on a backs like Martin would be perfect for Washington.
Ramsey has played corner in 2015 and has done well overall. He has 25 tackles and eight passes broken up on the year. Ramsey was more special as a safety prospect in 2014 as he really was an asset against receiving tight ends while making a ton of clutch open-field tackles for the Seminoles. He could be a nice chess piece for Joe Barry's defense.

Kansas City Chiefs: Paxton Lynch, QB, Memphis

The Chiefs beat the Steelers as they were fortunate that Pittsburgh was starting its third-string quarterback. Kansas City looks like it has gone as far as Alex Smith is capable of taking the team, and the Chiefs need a new signal-caller to give them a more vertical passing attack.
In 2015, Lynch has completed 72 percent of his passes for 2,366 yards with 17 touchdowns and one interception. He has showed an arm that can make all the throws for the pro game. Lynch displays the ability to pass accurately and beat good coverage with precise completions into tight windows. He also has athleticism to make plays with his feet and or throws on the run. Lynch could be a target for the Chiefs in the early rounds of the 2016 NFL Draft.
Team Draft Report:
In this section, we take a deeper look at specific teams and where they stand in regards to the 2016 NFL Draft.

Miami Dolphins:
The Dolphins have won their first two games in the post-Joe Philbin era, but they've played two bad teams and the schedule is about to get a lot harder. Miami has lacked leadership and direction for years. The organization clearly needs to clean house in the front office, and weeks ago, I detailed a
Miami legend
who would be the right choice to take over running the franchise. It wouldn't surprise me if a competent executive has Miami back in the postseason mix quickly.
The Dolphins have a few issues that they need to fix over next offseason. The first of those problems is the secondary. Reshad Jones is a good player, but the other three starters could all be upgraded as the cornerback and safety play has been a real weakness this year. Veteran cornerback Ben Grimes isn't a long-term No.1 corner, and Brice McCain doesn't belong starting for any team in the NFL, so finding corner help is absolutely necessary. At safety, Miami could do better than Walt Aikens.
The Dolphins may not be picking high to land either of these two defensive backs, but trading up for Florida's Vernon Hargreaves or Florida State's Jalen Ramsey could make sense. Hargreaves would give Miami a true cover corner, while Ramsey could be a special safety who also is solid as a press-man corner. Other defensive backs who could be good targets in the early rounds of the 2016 NFL Draft include LSU cornerback Tre'Davious White, Virginia Tech cornerback Kendall Fuller, Mississippi State cornerback Will Redmond, Ole Miss safety Tony Conner, Florida State safety Nate Andrews and West Virginia safety Karl Joseph.
Defensive end is another possibility for Miami. Dion Jordan has been a bust, Olivier Vernon is a free agent, and Cameron Wake turns 34 in January. Even if Terrence Fede proves to be a long-term starter, the Dolphins could consider an end in the first round to bookend with him. Oklahoma State's Emmanuel Ogbah or Michigan State's Shilique Calhoun would be nice fits as edge rushers to pair with Ndamukong Suh. Linebacker is another position that could use help, but not be as urgent as the secondary or, potentially, defensive end.
Offensively, Miami's offensive line is better than what it was a few years ago, but it still could use some help on the inside. The team also needs depth. Brandon Albert is very good when healthy, but he's had durability issues. That has been exposed so Miami really needs to have a good backup at left tackle. A really nice pick for the Dolphins in the second round of the 2016 NFL Draft could be Texas Tech left tackle Le'Raven Clark. He could be a starter at guard who moves to left tackle if Albert gets injured again.
In the early rounds of the 2016 NFL Draft, Miami might consider drafting a running back if Lamar Miller isn't re-signed. Running back is too big of a luxury for the Dolphins' first-rounder, but on the second day of the 2016 NFL Draft, they could target backs like Utah's Devontae Booker, Arkansas' Alex Collins, Illinois' Josh Ferguson and Arizona State's D.J. Foster.
The organization has some pieces in place, so if the Dolphins can get a good talent evaluator at general manager with more discipline in their new coaching staff, it wouldn't surprise me at all if Miami starts to make noise in the AFC.

Jacksonville Jaguars:
If you watched a lot of the Jaguars this season, you would see that there is real improvement in Jacksonville even though the record hasn't illustrated it. The improvement is evident on the offensive side of the ball. New offensive coordinator Greg Olson has second-year quarterback Blake Bortles showing massive progress from his rookie year. Behind a shaky offensive line, Bortles has been producing points with talented young wide receivers Allen Robinson and Allen Hurns. Running back T.J. Yeldon has showed promise, and the team is also now getting Julius Thomas more involved. On the offensive side of the ball, clearly, the Jaguars are heading in the right direction.
The one area on the offense that needs more work is the offensive line. If the Jaguars are picking high in the first round of the 2016 NFL Draft, they should seriously consider taking Ole Miss left tackle Laremy Tunsil or Notre Dame's Ronnie Stanley and moving Luke Joeckel to left guard as an upgrade over Zane Beadles. Joeckel just lacks the strength and physicality to be a franchise left tackle. He's too easily beaten for sacks and pressures. Perhaps like former Raider Robert Gallery, moving inside could turn Joeckel into a better pro.
The reason for the Jaguars' record to be comprised of more losses than wins is a bad defense. Jacksonville's secondary gets exploited on a weekly basis. The run defense is better most weeks, but the pass rush is inconsistent. Injuries have really ravaged the Jaguars' defense, but they have to get more talent on this side of the ball, too. If Jacksonville doesn't go with a left tackle, taking the best defensive prospect regardless of position would make sense.
The Jaguars really could use a shutdown corner like Florida's Vernon Hargreaves III. Jacksonville needs a No. 1 corner, which and Davon House is not. Hargreaves would be tough to pass on in the first round of the 2016 NFL Draft as he would be an immediate upgrade.
The Jaguars could also use an edge rusher. The third-overall pick of the 2015 NFL Draft, Dante Fowler, went out for the year in rookie mini-camp, but it is hard to think he would have had an immediate impact as most edge rushers need time to develop. Taking Ohio State defensive end Joey Bosa to pair with Fowler could form a dangerous duo for Jacksonville.
Another good thing about these top prospects is their history in the state. Hargreaves plays for Florida; Tunsil is from central Florida; and Bosa is from South Florida. Thus, all three are conditioned to playing in the heat.
Even though this is the third year for general manager David Caldwell and head coach Gus Bradley, this is the first season where I actually feel the organizatoin is headed in the right direction. The offensive improvement with Bortles illustrates the Jaguars are headed in the right direction, so they would be wise to give Bortles some continuity and continue to mature in this system. The AFC South looks very wide open, and with another good offseason, the Jaguars could be poised for a breakout year in 2016.
Comment...
NFL Picks
- Sept. 24
2019 NFL Mock Draft
- Sept. 20
Fantasy Football Rankings
- Sept. 5
2019 NBA Mock Draft
- Aug. 13
2020 NFL Mock Draft
- Aug. 1
NFL Power Rankings
- June 3