By Walter Cherepinsky -
@walterfootball
Jan. 16, 2014
We're a couple of weeks into the 2014 NFL Draft season, and yet there's no consensus No. 1 pick. There are four candidates to be the top choice, and mock drafts thus far seem split pretty evenly.
Here are the four candidates:

Blake Bortles, QB, Central Florida
Blake Bortles seems to be the least-mocked player of the four for the top pick, but he definitely has a chance of going to Houston. Tony Pauline recently reported that the 6-foot-4 quarterback will be chosen atop the draft if Bill O'Brien has any say in it. Bortles is the type of passer who would fit in Houston's new offense, and O'Brien had a good look at him in Penn State's loss to Central Florida this year.
On the flip side, evaluations are all over the place regarding Bortles. Greg Gabriel, former Bears' director of college scouting, said he'd choose six quarterbacks over Bortles. A.J. McCarron was one of the six, so it's difficult to take Gabriel seriously. Plus, if O'Brien loves Bortles, it won't matter what anyone else says.
Teddy Bridgewater, QB, Louisville
Teddy Bridgewater was the favorite to be the No. 1 choice during the season. He's still atop the first round in my
2014 NFL Mock Draft
and many others in the mock database, but that may change soon.
NFL.com's Daniel Jeremiah wrote that several NFL teams don't have a first-round grade on Bridgewater. Of course, the old adage goes that stupid teams make stupid picks, so perhaps the dumb ones don't favor Bridgewater. Then again, as Charlie Campbell reported in mid-December,
scouts don't see Teddy Bridgewater as the same prospect Cam Newton was
.

Jadeveon Clowney, DE, South Carolina
Many of the mocks in the database and
Mock Draft Builder
have Jadeveon Clowney slated No. 1 overall. Charlie does as well in
his mock
. Clowney is also the top player in this class, and perhaps the best pass-rusher to come along in a very long time.
However, there are two issues with Clowney. He has work-ethic and off-the-field problems. He's also not a quarterback, and Houston is in desperate need of one.

Johnny Manziel, QB, Texas A&M
Mel Kiper mocked Johnny Manziel No. 1 overall this week. NFL.com's Gil Brandt has Manziel as his top-ranked prospect in this class. There are also reports indicating that Texans' owner Bob McNair likes Manziel.
Manziel's issues are well-documented. He is small and runs a lot, which means he could have trouble staying healthy in the pros. He also doesn't particularly match well with Bill O'Brien's offense, though O'Brien can always adjust his scheme.
So, who's going No. 1 overall? Vote in the poll, post your thoughts below, or follow me
@walterfootball
for updates.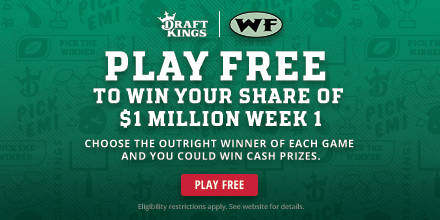 NFL Picks
- Oct. 15
2020 NFL Mock Draft
- Oct. 13
2019 NFL Mock Draft
- Oct. 11
Fantasy Football Rankings
- Sept. 5
2019 NBA Mock Draft
- Aug. 13
NFL Power Rankings
- June 3