What is this?
Welcome to my fifth-annual Super Bowl Live Blog. I'll be posting comments like this throughout the evening about every three minutes. Keep refreshing this page if you want to check out what I think about the game, announcers, commercials, etc. I'll post my first comment around 5:30ish.
I might have some guest stars, including Emmitt Smith, Eric Mangini and others. I'll also be getting live feedback from people watching the game with me, including my sister's hot friend Abby, who thought two years ago (Cardinals-Steelers Super Bowl) that the Carolina Panthers were playing the Pittsburgh Penguins. Should be a good time.
You can also discuss Super Bowl XLIV in the
Live In-Game Thread
.
5:50:
The Super Bowl XLV Live Blog is now... umm... live. I have nothing else interesting to say for an introduction, so let's move on.
5:51:
I'm expecting about 15 people to come over. Four are already here. Unfortunately, Abby won't be here because she's sick. I asked her about the Super Bowl on AIM:
Me:
Who are you rooting for in the Super Bowl?
Abby:
pitts cuz they r part of pa lol
Me:
OK so you want the Steelers to win, but who do you think will actually win?
Abby:
idk i dont watch football, i think if anything the steelers will win because they were just in the super bowl like a couple yrs back
Sadly, this is better than 90 percent of the Super Bowl analysis I heard on TV all week.
5:55:
I'm going to ask my guests whom they're picking for the Super Bowl. My friend Andrew, wearing a black Steelers t-shirt, is sitting right beside me. Let's see what he has to say:
"I haven't been following it that closely. I obviously prefer the Steelers to win, but I think the team that wants it more will win the game."
That's what makes this Super Bowl so difficult to handicap. The Steelers have won before, but they're underdogs. The Packers have never won before. Should be an awesome game.
5:58:
Injured Reserve and his fiancee, Man-Eaters just walked in:
Man-Eaters:
I don't even know who's going to win, how am I supposed to pick the score?
Injured Reserve:
...
He's counting something on his fingers.
Injured Reserve:
30-20, Steelers. I think Aaron Rodgers is going to choke.
6:02:
I didn't get anymore predictions. Two hot Asian chicks walked in, and I spent time talking to one of them. So... umm... is there a game on or something?
6:06:
The hot Asian chicks walked away, so I asked a few other people whom they like:
Rob:
I like the Green Bay Packers to win.
Polina (my cousin):
Please do not write my opinion on your Web site. I don't know anything about this game, and I'd like to keep my dignity intact.
Jackie (my sister):
I want the Packers to win, but I think that Ben Rapelisberger is going to rape someone.
And here I thought that women actually liked Big Ben...
6:10:
The two hot Asian girls are torn on the game. One likes the Packers and one likes the Steelers. Either way I'll get to console one of them after the game. Giggity giggity.
6:11:
Everyone's talking about the
Glee
episode after the game. I've never seen it before, so maybe I'll have a live blog for that.
6:12:
A funny conversation between my sister and my friend, Dale:
Dale:
Who do you think will win?
Jackie:
The Steelers because Ben Roethlisberger will rape everyone.
So, Big Ben has gone from raping someone to raping everyone. Guy has mad skillz.
6:14:
One of the hot Asian chicks on Christian Aguilera: "She's fat! Look at her face!"
6:20:
I want to do a mock picking section where I make fun of Terry Bradshaw and Michael Strahan, but I don't think it'd be right if I made fun of any of the Fox Sports people, so let's discuss the guys in my fake broadcasts:
Kevin Reilly:
Guys, who do you want to win? I'm picking the Eagles because the Steelers and Packers suck!
Emmitt Smith:
I'm pickin' the Pittsburgh Packer because the Packer have more will, power and strong than the... uhh... Packer.
Bob Griese:
Weh?
Herm Edwards:
I'm pickin' the Steelers! I mean the Packers! The Packers! Uhh... the Steelers! Uhh...
Joe Theismann:
I'm picking Matt Millen to eat 500 cheesesteaks because he's fat! Look at how fat Matt Millen is, everyone!
Matt Millen:
Ben Roethlisberger is 400-percent USDA Man, but I'm picking the Packers because Aaron Rodgers is 500-percent USDA Man. But believe me, would I love riding both guys all night long in the hotel room? You bet. And here's what I mean by riding. Both of these USDA Man quarterbacks will get down, and then I'll get on top. And then I'll ride them. That's what I mean by riding.
6:23:
Injured Reserve on Christina Aguilera: "She's like an ugly troll."
6:24:
I'll be posting random GameCenter comments during the game. Here were some from last year:
COLTS PLEASE USED CRUSH BUG PLAY ON SAINTS

COME ON COLTON AND THE SAINTS!

JERAMY SHOCKEY LOOKS LIKE A FEMAIL

IF U LIK DA SAINTS SAY YEA

COLTS REALLY SUCK A** HAHA MY GRANDMOTHER PLAYS BETTER THEN THAT AND SHE AINT GOT NO ARMS OR LEGS LOL F*** THEM COLTS

Stief I hate you

you wont be running your inbred louisiana mouths at the end

WALTER UR SO SEXY PLEASE MARRY ME GARLIC I WILL LOVE U ALWAYS PLEASE FORGIVE ME
I don't know where that last one came from, but whoever you are, I'm willing to give marriage a shot if you're a hot chick.
6:25:
How many degenerate gamblers counted the seconds that she held the word "Brave?"
6:30:
My friend Dale is complaining about the game not starting on time: "I think they hired Andy Reid as the time manager."
6:34:
Steelers with the ball. Amid eating pizza, writing random crap here and talking to the hot Asian chicks, I missed the coin toss.
6:36:
ZOMBOOOOOOO!!!!
6:37:
Steelers go three-and-out. I can barely hear the TV over everyone.
6:38:
Muffed punt!
6:39:
Packers recover the ball. The good thing is that play made everyone stop talking about
Glee
, cheese cake and Tom Brady.
6:40:
People are talking about cheese cake again. Argh.
6:42:
One of the hot Asian chicks said something about sex for a thousand dollars. So, do you take credit cards?
6:43:
Aaron Rodgers JUST missed Jordy Nelson. Someone yelled out, "Don't throw it to the white guy!"
6:45:
Think QB Dog Killer has some advice for the guy in the Doritos commercial?
6:46:
Rashard Mendenhall for 15 yards.
6:47:
Rashard Mendenhall for 9 yards. The two hot Asian chicks are agreeing that the Steelers are better because black and gold matches better than green and gold.
6:49:
The guys in the Live In-Game Thread noticed that I misspelled Mendenhall twice. And in other news, I had to look up how to spell "misspelled."
6:51:
A funny exchange:
Jackie:
The Steelers coach looks like the guy from
House
!
Everyone:
Ohhhh yeahhhhh!!!! He does!!!!!
6:58:
Ugh, really? Another
Fast and the Furious
? What's this one called?
Too Fast and Furious, but not too Fast and Furious to call this movie Too Fast and Furious but Fast and Furious enough to be known as the Fast and the Furious
.
7:01:
Aaron Rodgers to Jordy Nelson touchdown!
Green Bay 7, Pittsburgh 0
Looks like throwing to the white guy worked, after all.
7:03:
I could see someone looking at that Doritos commercial feed their fish Doritos, watch it die and then sue Doritos, putting that company out of business. You just dug your own grave, Doritos.
7:05:
Injured Reserve, Man-Eaters and the hot Asian chicks are talking about
Glee
, I think. Apparently, there is some monster who lays eggs and kills people. At least that's what I'm getting out of the conversation.
7:06:
Cowboys & Aliens
, eh? I can't wait to watch that one On Demand 10 years from now when I'm drunk one night.
7:08:
Ben Roethlisberger
punt
interception returned for a touchdown by Nick Collins!
Green Bay 14, Pittsburgh 0
7:10:
My friend Trojan Kegs just made a great point: If it weren't for Joe Horn pulling a cell phone out of his sock, we wouldn't have these excessive celebration penalties.
7:14:
Ben Roethlisberger is hurt, just like always. I was hoping my sister would make a rape joke, but I don't think she's paying attention.
7:15:
Injured Reserve with a great theory: Maybe Roethlisberger fakes his injuries to get rid of the defensive spy.
7:19:
If Byron Leftwich plays, this will officially be the worst Super Bowl ever.
7:21:
The Packers could challenge that Emmanuel Sanders first down. He ran backward behind the first-down marker.
7:23:
Shaun Suisham doesn't choke as he hits a 33-yarder.
Green Bay 14, Pittsburgh 3
7:25:
John Travolta's at the game? I'm surprised his overlord Zarlox allowed him to go.
7:29:
All of the girls in the room were confused by the cheese head. "What is that!? Is that cheese!?"
7:30:
Great tackle by the Steelers on third down. Pittsburgh's getting the ball back. Donald Driver is limping.
7:33:
One of the hot Asian chicks upon seeing Ben Roethlisberger's picture: "He's not that ugly!"
Stay away from my guests, Ben!
7:37:
Remember when I said my sister wasn't paying attention to the game? Well, she just said, "When did the Steelers score? I don't think they scored. I think Roethlisberger raped someone."
Over-under on Roethlisberger rape references tonight: 78.5.
7:39:
Great third-down conversion by Rapelisberger! Sorry, I mean Roethlisberger. I have the Over 78.5, in case you're wondering.
7:40:
Funny conversation:
Hot Asian Girl:
Where are the cheerleaders?
Me:
These teams don't have cheerleaders.
Hot Asian Girl:
Oh that's good, so Roethlisberger can't rape them.
I wish I were making this up.
7:42:
Roethlisberger intercepted by someone named Bush. T-minus 20 minutes until Mister East posts in my forum, telling everyone how much my picks suck even though I had one unit on Pittsburgh.
7:45:
Rodgers to Greg Jennings, touchdown! What an amazing throw. The Packers are unstoppable.
Green Bay 21, Pittsburgh 3
7:47:
Quote from forum member Eagles1990: "This game is over. Big Ben has raped Pitt out of a stairway to seven."
7:50:
Holy crap. My friend Ryan is on my ottoman. I didn't see him walk in.
Me:
Wow, Ryan is here!
Ryan:
Dude, I've been here since the beginning of the second quarter.
See, I'm hard at work.
7:53:
Charles Woodson and Sam Shields both out? The Steelers might still have a chance. Of course, they'd have to stop Aaron Rodgers first.
7:58:
Ben Roethlisberger touchdown to Hines Ward, who single-handedly beat my Under 3.5 catches on that drive. FML.
Green Bay 21, Pittsburgh 10
8:00:
Andrew on Roethlisberger: "He seems like a cool enough guy to hang out with, but I wouldn't recommend any girl to date him."
8:01:
Roethlisberger is now being compared to a guy we all know:
Andrew:
Roethlisberger is A LOT like him.
Me:
I disagree. Roethlisberger rapes women. Our friend doesn't rape women; he just infects them with dozens of STDs.
8:02:
Halftime. Black Eyed Peas coming up!!!!!!!!!!!!!!!!!!!!!!!!!!!!!!
8:08:
Classic post by Lamak:
"Time for Fergie. Brb gonna grab the lotion."
8:09:
Forum member Frederick chimes in: "I hope Fergie shows her butt hole."
8:11:
Did Fergie just say she's so 2008?
8:13:
BOOM BOOM POW? Hmm... I'm in the mood to write some music.
DING DING DONG DING DING DONG DING DING DOOOOOOONG. THIS BEAT GO DING DING DONG DING DING DOOOONG.
I'll be waiting for my record deal in the mail.
8:14:
Holy crap, Troy Polamalu is playing the guitar.
8:16:
Mixed reviews on Fergie. Some of the guys think she's hot. My sister disagrees: "I don't think Ben Roethlisberger would rape her."
Man-Eaters concurs: "Yeah, he has something called standards."
8:17:
Usher? The ticket usher? Who cares about a stupid ticket usher?
8:19:
Eagles1990 with a great suggestion: "It would be awesome if Axl Rose just came out of nowhere and smashed a guitar over Fergie's head."
8:24:
Some GameCenter comments pertaining to the halftime show:
WORSET HALF TIME SHOW I HAVE EVRE SEEN!

BLACK EYUE PEAS ARE NOTHING WITH OUT FERGIE

YEeh YEeh Yeeh oh ohogho oh yeh yeah yeah oh oh oh check it out check it out yeha yeah yeah oh oh oh oh oh oh check it ou tout check it out

The Rapistburger likes Fergie

PROSTER MUSIC IS LIKE LIFES BLOOD TO ME! IF THEY CONTINUE I MAY BLEED OUT!
8:28:
My cousin Lev, who normally drinks vodka straight, just had to leave.
Lev:
I have to wake up at 3:15 to fly to Boston.
Adrienne:
P***y!
That's pathetic, Lev. It's the freaking Super Bowl. Now drink your vodka and stay until the end of the game.
8:32:
Come on, Charles Woodson. If Jay Cutler can whine on the sidelines, you can pout just as much as him.
8:36:
James Jones with a huge drop on third down. If the Steelers come back, the Packers can point to that play.
8:37:
Shady holding penalty on the Packers. The Rooneys are phoning this one in.
8:40:
American Idol
is still on? I loved what Daniel Tosh said about that show: "
American Idol
has been terrible ever since that fat guy won - Kelly Clarkson."

Missing Include

8:42:
E-mailer Alex H. pointed something out:
Walt check out this comment under your super bowl live blog page; nearly as good as GameCenter: "pacer suck they gonna lost. the win the eagle by folk. eagle is da best team in da nfl woud kill. Lol maning suking in this game and tema"
Apparently, one of the Mannings is playing in this game.
8:43:
Rashard Mendenhall runs in. Touchdown, Steelers.
Green Bay 21, Pittsburgh 17
8:44:
Injured Reserve: "I don't think the Packers have a chance now. The Steelers are going to trample them for the rest of the game."
I have to give my friend Harris credit though - when it was 21-3, he said that Pittsburgh would still win.
8:47:
Jordy Nelson with a drop. The Packers are self-destructing.
8:48:
Sack! Packers punting deep from their own territory.
8:52:
My friend Adrienne just posted this on Facebook: "So are the Eagles winning the Soper Bowl?"
8:55:
Wow, Mewelde Moore was stuffed at the line of scrimmage and bounced outside to pick up the first down. Steelers in Green Bay territory.
8:57:
Hines Ward to the Green Bay 28.
8:59:
ZOMBO WITH SACK. ZOMBO LIKE SACK.
9:00:
Shaun Suisham from 52 yards - wide left into the press box. Not even close.
9:02:
I'm sure Enimem drives around a Chrysler when he's pretending to be cool.
9:06:
A conversation about Andrew Quarless:
Ryan:
Andrew Quarless is a lot better now than he was at Penn State.
Me:
Well, he's actually trying now.
Ryan:
Yeah, and it helps that he's not drunk all the time.
9:10:
Tramon Williams with a b**** slap drawing a penalty. So, Charles Woodson and Sam Shields are hurt, and Williams is acting like a woman. This is not good for Green Bay.
9:13:
Someone named Swain dropped the ball, but it's going to be challenged. This is really close. I'm saying the call will stand because the Rooneys said so.
9:16:
Adrienne asks: "What do the letters stand for on the referee's jerseys?"
Me:
LJ is line judge... BJ is back judge...
Adrienne:
Haha BJ.
Yeah, the people here are taking the game seriously.
9:18:
Call stands! The Rooneys are writing a check to the officials as you're reading this.
9:21:
Rashard Mendenhall with a tough 8-yard run. Steelers to the Green Bay 32.
9:23:
A GameCenter comment that actually makes sense:
I'm rooting for the referees, they undoubtedly, are going to win this game
9:25:
Rashard Mendenhall fumbles!!!!!!!!!!!!!!!!! Packers ball!
9:27:
James Jones picks up a big first down on third-and-long. Meanwhile, here's a GameCenter comment does not make sense:
Big Ben good for banging ........,.
9:28:
Big drop No. 4 by the Packers. They're killing themselves.
9:30:
Packers down to the 2! Injured Reserve on which team he's rooting for:
"I'm rooting for excitement! I hate both of these teams, so I just want excitement."
9:31:
Touchdown, Packers! Rodgers to Greg Jennings.
Green Bay 28, Pittsburgh 17
9:34:
Thus far, I've eaten six slices of pizzas and a piece of chocolate cake. I'm working on my second piece of cake right now. If I stop typing, I'm probably in the hospital with a heart attack.
9:41:
It's been seven minutes. Don't worry. I'm not in the hospital. It's just hard to think with about 20 different conversations going on.
9:43:
Touchdown, Steelers! Ben Roethlisberger to Mike Wallace. Gotta go for two.
9:44:
Two-pointer good!!!!! PUSH!!!!!!!!!!!!!!!
Green Bay 28, Pittsburgh 25
9:45:
My sister is enraged that people were clapping for the Steelers.
"Do you want women to get raped!?!?!?"
Yes. Because thousands of women across America will be raped if the Steelers win.
9:47:
Forum member Simonds: "GoDaddy doesn't seem to get it. THERE'S PORN ON THE INTERNET ALREADY."
Agreed. The commercials don't work. If I wanted to see women take off their clothes, I'd access the porn folder on my computer, which contains 50 gigabytes of various videos.
9:49:
Rodgers sacked! The Packers have not run the ball at all.
9:50:
False start. Big 3rd-and-10 for the Packers.
9:51:
Aaron Rodgers to Greg Jennings, 5 billion yards!!!!!
9:52:
The Packers are actually running the ball now. What a crazy concept.
9:54:
Big third down for the Packers. A touchdown ends the game.
9:55:
Incomplete! Here comes Mason Crosby to ruin my "Will Mason Crosby miss a field goal" prop and cost me $100. Oh joy.
9:56:
NOOOOOOOOOOOOOOO!!!!!!!!!!!!!!!!!!!!!!!!!!
Green Bay 31, Pittsburgh 25
9:59:
Two minutes left. Two minutes will decide whether I win $100 or lose $110. I love being a degenerate gambler.
10:01:
My sister on Ellen: "She's not a bad-looking woman!" And yet Fergie is ugly? Weh?
10:04:
Fourth down. Come on, Ben, do it for Injured Reserve. He wants excitement!
10:05:
Incomplete! Packers win!
10:06:
Donald Driver crying - probably because he's going to miss
Glee
.
10:09:
Trojan Kegs: "Will Brad Kiesel donate his beard to Locks for Love?"
10:10:
Crazy game. I got my pick wrong, but these teams were just way too evenly matched to make a confident selection. I'd say Rashard Mendenhall cost the Steelers the game with the fumble, but the Packers dropped four big passes. So, whatever. I wouldn't have bet on this game if I weren't a degenerate gambler.
10:18:
According to Roger Goodell, Green Bay is the smallest city in America. Remember that the next time you're on
Jeopardy
.
10:20:
Oooooh a fancy car for Aaron Rodgers. With this car, Rodgers will finally be able to drive to practice instead of walking every day.
10:27:
Just took about a billion pictures that I'll post on this blog tomorrow or Tuesday. So you'll know whom I've been talking about the whole time.
10:33:
Let's see what our analysts have to say about the game:
Kevin Reilly:
The Eagles should have beaten the Packers. So in a sense, the Eagles won the Super Bowl! The Eagles are the greatest!
Emmitt Smith:
Kenny, you crazy. The Eagle lost to the Packer fair and circles.
Bob Griese:
Weh?
Herm Edwards:
The Packers won! The Eagles lost! It was fair! It was square! Not circle! Square! Circle gets the square! Square gets the circle! Square and circle gets the... uhh...
Joe Theismann:
Do you know why the Packers won? Because Matt Millen is fat!
Matt Millen:
Like I said, Aaron Rodgers is 500-percent USDA Man. And after tonight's game, Aaron Rodgers is 600-percent USDA Man. Aaron Rodgers is so USDA Man, that I want to shove a kielbasa up his rear end. And here's how I want to do it. I want to go to the store and buy a kielbasa. Then, I want to meet Aaron Rodgers in his hotel room. I want to ask him, "Aaron can shove this kielbasa up your rear end?" And he'll say yes, and so I'll shove the kielbasa up his rear end.
And on that note, I'm signing off. Thanks for reading. I'm not continuing this love blog for
Glee
because mostly everyone left and I'm entering a food coma. But I'll leave you with my predictions for
Glee:
1. Ellen is really the black smoke monster.
2. One of the kids will be asked to move the high school.
3. All of the characters on the show are really dead in their flash sideways.
Anyway, I will be have a
2011 NFL Mock Draft
update this week as usual. I'll also have a
2012 NFL Mock Draft
update.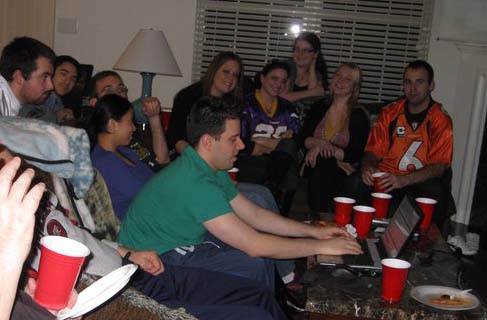 How dare you take a picture of me while I'm blogging?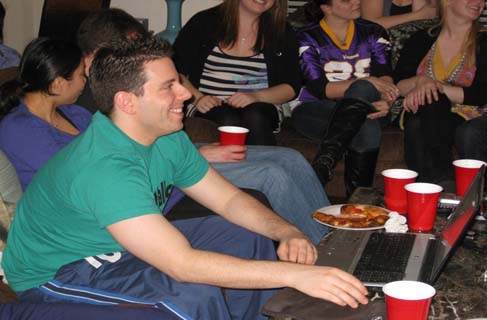 I'm smiling, so this was when the Steelers still had a chance at covering. Also note all the pizza crusts beside me. NOM NOM NOM NOM.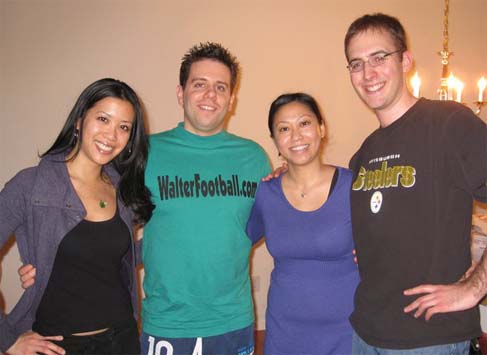 The two hot Asian chicks and my friend Andrew.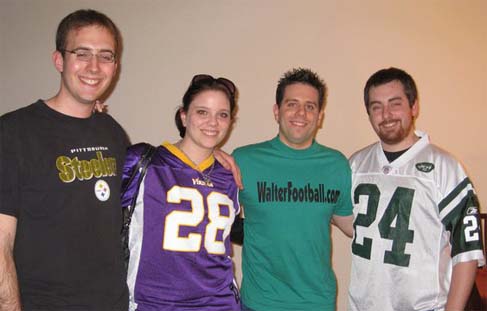 Andrew (who might be crying because his Steelers lost), Anastasia B. and Trojan Kegs.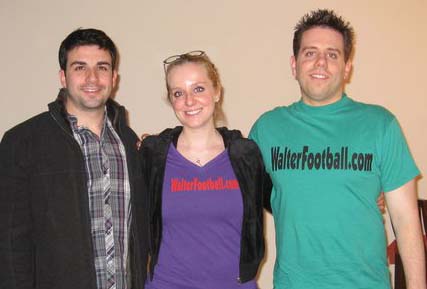 My sister (who is thrilled the Steelers lost) and her boyfriend, Mike.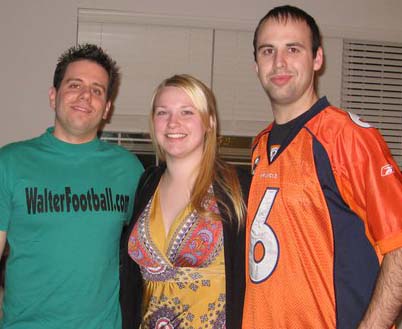 Injured Reserve and his fiancee, Man-Eaters. Note that none of the jerseys represented at my party belonged to any of the players who were in the Super Bowl.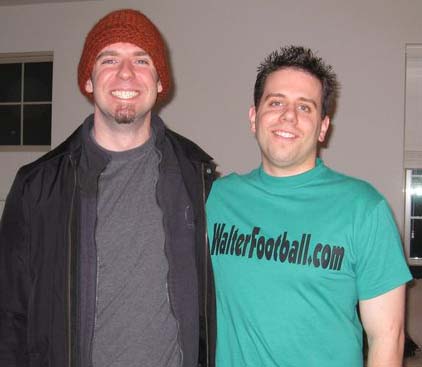 My BFF from Penn State, Ryan, who has an uncanny ability of sneaking into parties unnoticed.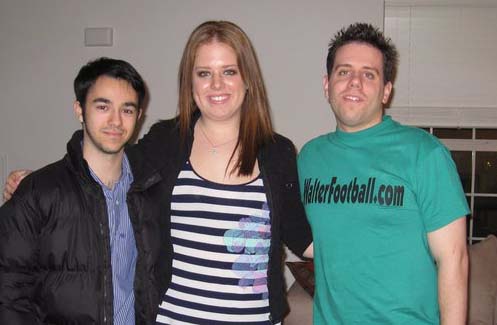 Eugene and Adrienne. If you're wondering why I'm not happy, it's because the remaining people at the party made me watch
Glee
. Worst. Show. Ever.
Fantasy Football Rankings
- June 24
2019 NBA Mock Draft
- June 22
2019 NFL Mock Draft
- June 12
NFL Power Rankings
- June 3
2020 NFL Mock Draft
- May 10
NFL Picks
- Feb. 4