Zach Allen, 6-4/284


Defensive End


Boston College
Zach Allen 2018 Preview
By Charlie Campbell
Career Recap:
At the start of the 2018 NFL Draft process, there was a lot of hype for Boston College defensive end Harold Landry. Landry went on to have a rough senior year, however, and it was Zach Allen who was the most impressive player on the Boston College defensive line. During the fall of 2017, a national scout told me that Allen had first-round potential if he decided to enter the 2018 NFL Draft as he was putting together an excellent season. Allen totaled 100 tackles with 15.5 tackles for a loss, six sacks, three passes broken up and an interception for 2017. As a sophomore, Allen contributed 36 tackles with 10 for a loss, six sacks, and four passes batted.
2018 Season Outlook:
Allen will take on some quality programs during his senior year, but his schedule does not feature any elite offensive tackle prospects for the NFL entering this season.
Skill-Set Summary:
There is a lot to like about Allen for the NFL. He is an instinctive defender who makes plays in both phases. With his size, strength, and physical style of play, Allen looks ready to compete on the next level.
In the pass rush, Allen is a physical defender. He has a powerful bull rush and consistently pushes offensive tackles into the pocket. Allen plays with good leverage to get underneath the pads of tackles and then get them on roller skates in the back pedal. Allen has heavy hands to shed blocks and break free when he gets upfield. With versatile size and some quickness, Allen has the ability to rush from the inside as well as coming off the edge. However, he could use more pass-rushing moves for the NFL. With his size and strength, it would be nice to see him add a club or rip move.
Allen is a real asset in run defense, and his huge tackle totals are no accident. Constantly, he puts his team in good down-and-distance situations from making tackles near the line of scrimmage. Allen is very good at taking on blockers, tossing them to the side, and taking down running backs before they can get to the second level. He is a very tough run defender. With his thick frame, Allen is strong to hold his ground at the point of attack. He anchors very well and is tough to move. Given his heavy hands, Allen is adept at shedding blocks quickly and then using his quickness to chase down backs. Allen is disciplined, intelligent, and shows good vision to get in position to make stops.
For the NFL, Allen would be a perfect fit as a five-technique defensive end in a 3-4 defense. In a 4-3 system, Allen could be a base end on run downs who also can move inside in the sub package.
2019 NFL Draft Expectations:
Entering the 2018 season, Allen has the potential to be a first-round pick in the 2019 NFL Draft. If he stays consistent with his junior-year performance, he should go no later than the second round.
Comment...
RELATED LINKS:
2019 NFL Mock Draft
:
Charlie's
|
Walt's
2019 NFL Draft Prospect Rankings
2019 NFL Draft Player Previews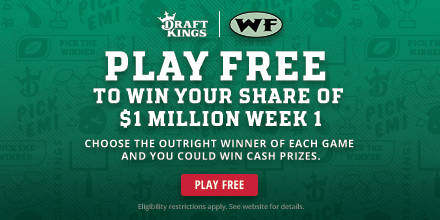 NFL Picks
- Oct. 15
2020 NFL Mock Draft
- Oct. 13
2019 NFL Mock Draft
- Oct. 11
Fantasy Football Rankings
- Sept. 5
2019 NBA Mock Draft
- Aug. 13
NFL Power Rankings
- June 3