Josh Allen, 6-5/230


Linebacker


Kentucky
Josh Allen 2018 Preview
By Charlie Campbell
Career Recap:
In early October of 2017, WalterFootball was first to report that Allen was receiving early-round grades from NFL teams. He had been a backup as a freshman before putting together a solid sophomore season in his debut as a starter. In 2016, Allen recorded 62 tackles, 8.5 tackles for a loss, seven sacks and four forced fumbles. As a junior, Allen was one of the top edge defenders in the SEC, totaling 65 tackles, 9.5 tackles for a loss, two forced fumbles and three passes batted on the year. Allen considered entering the 2018 NFL Draft, but ultimately decided to return for his senior year.
2018 Season Outlook:
Allen will see a lot of quality competition during his senior season. Division rivals Florida and Georgia have some talented young backs who will challenge his run defense. Missouri quarterback Drew Lock is an early-round prospect, and Kentucky will need Allen to get after Lock in the pass rush while also helping in coverage to slow down the Missouri passing attack. With some nice talent around him, Allen should produce a quality senior year if he stays healthy.
Skill-Set Summary:
Last fall, Allen impressed sources at numerous teams and illustrated that he had pro potential with a lot of diversity to his game. Allen is versatile athlete who can help his defense in a variety of ways.
The first thing that stands out about Allen is that he is a dangerous edge rusher with natural feel and a nose for the quarterback. He is very fast off the edge, possessing a quick first-step and serious speed to run the loop around the corner. Allen has a nice ability to bend and quick feet to cut around blockers. Offensive tackles can really struggle to get their hands on him and lock him up. In the pass rush, Allen has a speed-based set of moves. He uses a spin move, speed around the corner, some speed to power, and rushes to the inside. He also is versatile to put his hand in the ground, stand up over the tackle, or blitz up the middle. On top of getting to the quarterback, Allen gets a lot of pressures while creating sacks for his teammates.
As a pro, Allen will probably need to develop his pass-coverage skills as he likely won't be a pass-rusher exclusively, given his body type and position. Allen is Kentucky's best pass-rusher, hence he doesn't have a lot of drop in coverage all the time. On plays that he has dropped back, Allen shows a nice ability to function in space, quality instincts, and fluid athleticism to cover. Allen has the skill set to cover with good speed, athleticism and length. In time, Allen could end up being an asset to cover receiving tight ends and backs out of the backfield.
Allen is a solid defender for the ground game as well. He has good instincts, reads his keys well, and consistently is around the ball. Allen uses his speed to chase down backs and flows quickly to the ball. He is fast to the perimeter and is a good tackler in space. For the NFL, Allen could stand to get better at taking on blocks from offensive linemen. Adding some strength to his frame will help in that.
Last fall in speaking to a NFC national scout, they compared Allen to Leonard Floyd coming out of Georgia with Allen's ability to rush off the edge. That scout said Allen isn't as freaky of an athlete as Floyd was, and Allen is not a top-10 pick, but he did grade Allen as a first-rounder.
Another director of college scouting said they had given Allen a high second-round grade for the 2018 NFL Draft, but thought Allen would end up going in the first round - Allen didn't declare though. That director said Allen was an interesting player because he also can play inside linebacker, whereas Floyd was just an outside edge defender. That college director also said that as an inside linebacker, Allen has similarities to current Texans linebacker Zach Cunningham in terms of his height, speed, length, and athleticism in the middle.
In the NFL, Allen would be a great fit as a 3-4 outside/inside linebacker. He also could fit as a 4-3 outside linebacker who rushes off the edge in the sub package. Allen's versatility and skill set should make him a sought after player in the 2019 NFL Draft.
2019 NFL Draft Expectations:
Entering his senior season, Allen has early-round potential. He could easily end up being a first- or second-round pick in the 2019 NFL Draft.







Comment...





RELATED LINKS:


2019 NFL Mock Draft: Charlie's | Walt's


2019 NFL Draft Prospect Rankings


2019 NFL Draft Player Previews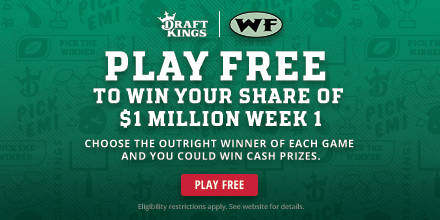 NFL Picks - Oct. 15


2020 NFL Mock Draft - Oct. 13


2019 NFL Mock Draft - Oct. 11


Fantasy Football Rankings - Sept. 5


2019 NBA Mock Draft - Aug. 13


NFL Power Rankings - June 3