Dexter Lawrence, 6-4/350


Defensive Tackle


Clemson
Dexter Lawrence 2018 Preview
By Charlie Campbell
Career Recap:
During the 2016 college football season, the best defensive lineman in the nation was Alabama's Jonathan Allen, but perhaps the second-best defensive lineman was Clemson's true freshman Dexter Lawrence. He was a monster for the Tigers and played a huge role in helping Clemson to win the National Championship. Lawrence was an All-Freshman selection all over the nation plus the ACC Rookie of the Year for that season. He totaled 63 tackles with 9.5 tackles for a loss, seven sacks and a pass batted on the year.
As a sophomore, Lawrence' production and play dipped significantly, but he did help create sacks for Clemson's other impressive defensive linemen. In 2017, Lawrence recorded 34 tackles with 2.5 sacks. Some team sources told me that they believe Lawrence played with an undisclosed injury that limited him.
2018 Season Outlook:
Lawrence could be poised for a huge year in 2018. He has tremendous talent around him with first-round talents in defensive end Clelin Ferrell and three-technique tackle Christian Wilkins. Defensive end Austin Bryant is a second-day talent as well, so there really is not a weak link on the Clemson defensive line.
Skill-Set Summary:
The 2019 NFL Draft is loaded with defensive line talent, and there are some freaky prospects in that group. Lawrence is one of those freaks as he is very athletic and quick inside a massive body. According to data from NFL teams, they have him checking in at 6-foot-4, 350 pounds and running the 40-yard dash at 5.00 seconds, which would be a phenomenal time for a player that size. They also have him with 35.13-inch arms, 10.25-inch hands, and an 85-inch wingspan. Lawrence's rare combination of size, speed, athleticism and versatility could make him one of the top prospects for the 2019 NFL Draft.
In the passing-driven NFL, a defensive tackle has to have the ability to contribute in the rush to be a first-round pick, and Lawrence has those skills. His seven-sack freshman season was no accident, because he possesses the ability push the pocket. He has tremendous power to bull rush through guards and harass the quarterback. When Lawrence gets free, he shows a burst to close and can explode into the pocket. His athleticism gives him redirection skills that allow him to adjust to the quarterback. Lawrence also is a real asset for helping the other defensive linemen as he can eat up double teams and get a push versus two blockers. The blockers he eats up makes it harder for offenses to send double teams to other linemen. Lawrence may not produce huge sack numbers in the NFL, but he definitely will contribute to the pass rush.
Lawrence is also a real asset in the ground game. He is nearly impossible to move at the point of attack. He holds his ground well, and offensive linemen really struggle to get any kind of push on Lawrence. Routinely, Lawrence uses his strength to shed blocks and start tackles on backs on runs up the middle. He also has the speed and athleticism to flow to the ball and get in on tackles outside of his gap. Lawrence should end up being an excellent run defender in the NFL.
For the NFL, Lawrence fits any defense. He could be a nose tackle in a 3-4 or 4-3 defense. With his length, Lawrence could play some five-technique defensive end in a 3-4 as well. Because of his speed and athleticism, he also could play some three-technique in a 4-3. Defensive coordinators who run a 3-4 defense are going to love the idea of Lawrence as their zero-technique nose tackle.
2019 NFL Draft Expectations:
Entering his junior season, team sources say that Lawrence projects to being a first-rounder in the 2019 NFL Draft.
Comment...
RELATED LINKS:
2019 NFL Mock Draft
:
Charlie's
|
Walt's
2019 NFL Draft Prospect Rankings
2019 NFL Draft Player Previews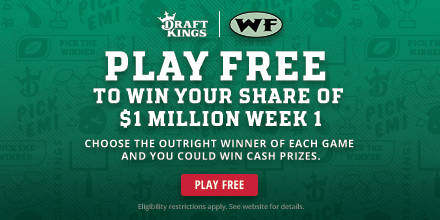 NFL Picks
- Oct. 15
2020 NFL Mock Draft
- Oct. 13
2019 NFL Mock Draft
- Oct. 11
Fantasy Football Rankings
- Sept. 5
2019 NBA Mock Draft
- Aug. 13
NFL Power Rankings
- June 3