DeAndre Baker, 5-11/183


Cornerback


Georgia
DeAndre Baker 2018 Preview
By Charlie Campbell
Career Recap:
During Georgia's run to the National Championship game last year, Baker was the team's No. 1 cornerback. He was superb down the stretch to help the Bulldogs' stingy defense limit opposing receivers and passing games. Baker totaled 44 tackles with nine passes broken up and three interceptions on the year. The junior could have entered the 2018 NFL Draft, and could have been an early-round pick, but he decided to return for his senior year.
As a sophomore, Baker notched two picks, five breakups and 31 tackles. He was a backup as a freshman.
2018 Season Outlook:
As one could expect, there are a lot of good wide receivers on Baker's senior year schedule. Perhaps the best wideout he will see all season is South Carolina's Deebo Samuel, and Georgia goes to South Carolina in Week 2. Baker will see some other talented wide receivers in divisional games against Missouri and Tennessee. In late October, Baker will see Florida wide receiver Tyrie Cleveland, who has a nice combination of size and speed. In mid-November, Auburn will present a challenge for Baker as the Tigers have Jarrett Stidham, who is the best quarterback in the SEC.
Skill-Set Summary:
In the passing-driven NFL, there is always a demand for cover corners who are capable of neutralizing receiving weapons. That kind of cornerback is needed for any elite college defense as well, and with Georgia playing in the toughest conference in the nation, a No. 1 corner is essential. Baker was that for the Bulldogs last year, and he has the potential to be a good starting corner as a pro as well.
Baker has a lot of skills that should translate to the NFL and could turn him into a starter early in his career. Perhaps his best trait is his good instincts. He also has good route recognition, reads receivers hands and eyes well, and times breakups well. While Baker is not the fastest of corners, he has speed and athleticism to run the route and prevent separation. Baker breaks on routes well and has good ball skills. He shows a nice ability to slap passes away or catch them. Along with instincts and ball skills, Baker is a physical defender who will battle receivers. He doesn't back down and plays with an aggressive attitude. Baker also has an impressive ability to come up with some big plays in the clutch.
There are a few things Baker can improve upon as a senior. He can be too physical with his hands while running with receivers downfield. That contact could lead to pass interference and holding penalties in the NFL. Baker looks quicker than fast, so showing the ability to match up with elite speed receivers will be looked at. He also isn't the biggest of corners. While Baker is physical, it will be interesting to see how he handles large wideouts during his senior year.
According to a watchlist spreadsheet from NFL sources, Baker checks in at 5-foot-11 and 183 pounds. They have his 40-yard dash time as 4.50 seconds and with 32-inch arms, 8.83-inch hands and a wingspan of 77.5 inches.
For the NFL, Baker fits the vast majority of schemes. He has lined up in off-man coverage, zone and man coverage at the line of scrimmage. Baker would fit well in a scheme that plays off-man and zone coverage as a pro. He would not be a natural fit in a defense that plays a lot of press-man coverage. Some team sources have said that Baker reminds them of Tre'Davious White at LSU, a first-round pick of the Buffalo Bills in the 2017 NFL Draft.
2019 NFL Draft Expectations:
Entering the 2018 season, Baker is considered to be one of the top draft-eligible cornerback prospects.
Comment...
RELATED LINKS:
2019 NFL Mock Draft
:
Charlie's
|
Walt's
2019 NFL Draft Prospect Rankings
2019 NFL Draft Player Previews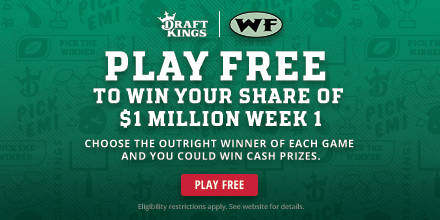 NFL Picks
- Oct. 15
2020 NFL Mock Draft
- Oct. 13
2019 NFL Mock Draft
- Oct. 11
Fantasy Football Rankings
- Sept. 5
2019 NBA Mock Draft
- Aug. 13
NFL Power Rankings
- June 3