A.J. Brown, 6-1/225


Wide Receiver


Ole Miss
A.J. Brown 2018 Preview
By Charlie Campbell
Career Recap:
Under former head coach Hugh Freeze, the Ole Miss Rebels put together a lot of strong recruiting classes that produced a lot of early-round NFL talent. Among those players were Laremy Tunsil, Evan Engram, Laquon Treadwell, Robert Nkemdiche, Breeland Speaks and more. After Freeze was fired amid scandal, some of his talented recruits who will interest NFL teams have remained at Ole Miss. A.J. Brown is one of those players, and he could be in the running to be one of the top wide receiver prospects for the 2019 NFL Draft.
Brown had a strong debut as a freshman in 2016 with 29 receptions for 412 yards with two touchdowns. He was even better as a sophomore when he totaled 75 receptions for 1,252 yards and 11 touchdowns despite playing for a bad team that lost its starting quarterback to injury.
2018 Season Outlook:
As one could expect, Brown is going to go up against some excellent cornerback talent in the SEC West during the fall of 2018. Alabama has lost a lot of its secondary to the NFL, but the Crimson Tide have top talents and five-star recruits ready to take their place. Thus, Alabama will be a real test in Week 3 for Brown.
Two weeks later, Brown will see an excellent secondary with LSU. Cornerback Greedy Williams is an early-round prospect who could be the best corner who Brown will see during the 2018 season. Later in the year, Brown has a tough corner to contend with in Auburn's Jamel Dean. Brown then finishes the year in the Egg Bowl while seeing Mississippi State's Jamal Peters.
Skill-Set Summary:
In the passing-driven NFL, teams are always looking for potential No.1 receivers who can provide big plays for their offenses. The 2018 NFL Draft had only two first-round wide receivers, with zero selected in the top-20. So there is a strong possibility that there will be a real demand for No. 1 wideouts in the 2019 NFL Draft. Brown could be one of the top receiver prospects because he has a good skill set and is a play-maker with the ball in his hands.
What really sets Brown apart is what he can do as a possessional receiver. He is a quick wideout who is not a burner with rare speed, but he makes up for it with polish and physicality. Brown is very dangerous with the ball in his hands. He uses his well-built frame to break tackles and is very difficult for a lot of defensive backs to get on the ground. His strength to run through defenders' hands makes it difficult for them to get a hold of him. While he isn't super elusive and is more straight line, Brown does have the feet to dodge some tacklers in the open field. For the NFL, Brown has tremendous yards-after-the-catch potential, and he could be a great fit in a west coast offense.
With his strength and ability to catch the ball in traffic, Brown is a nice weapon in the red zone. He tracks the ball well while using late hands to make the reception. He also flashes his size and strength to make contested catches, which is important for the next level. As a pro, Brown is going to have to win on contested jump balls, so showing the ability to get the better of defensive backs on those plays is important for him as a junior. That and showing speed to separate are critical for him.
Brown does not have an elite No. 1 receiver skill set like A.J. Green, Julio Jones or Calvin Johnson. However, Brown could be a potential No. 1 receiver or a very good No. 2 wide out. Thus, he may be a receiver who ends up having a draft range from the mid-first round to the second day of the draft. That breadth is similar to SMU's Courtland Sutton, who was a second-round pick of the Broncos in the 2018 NFL Draft.
2019 NFL Draft Expectations:
Entering the 2018 season, Brown is one of the top wide receiver prospects eligible for the 2019 NFL Draft. However, he needs to have an impressive season to ensure that he ends up going in the first couple of rounds.
Comment...
RELATED LINKS:
2019 NFL Mock Draft
:
Charlie's
|
Walt's
2019 NFL Draft Prospect Rankings
2019 NFL Draft Player Previews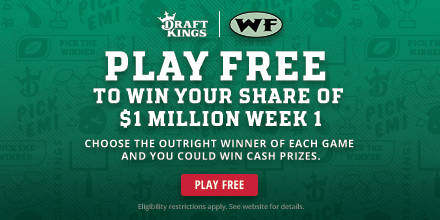 NFL Picks
- Oct. 15
2020 NFL Mock Draft
- Oct. 13
2019 NFL Mock Draft
- Oct. 11
Fantasy Football Rankings
- Sept. 5
2019 NBA Mock Draft
- Aug. 13
NFL Power Rankings
- June 3