Last summer, I got into an argument with a Facebook friend about Russell Wilson being a top-three NFL quarterback. That, plus Ron Jaworski's awful quarterback list got me thinking about making a power ranking for signal-callers. I did this about five years ago, but it would be nice to have this as a yearly feature during the summer. So, here it is. If you disagree with anything on here, leave a comment below.
Follow me
@walterfootball
for updates.
32.
Blaine Gabbert, 49ers. 2015 Ranking: --.
Back in January, I predicted on the podcast that Blaine Gabbert would be San Francisco's starting quarterback in 2016. Even still, I can't believe it's happening. The 49ers are a complete train wreck, and it's all thanks to some incompetent trust-fund moron who shouldn't be in the position he's in, and a paranoid, egomaniacal general manager who let go of one of the top coaches in the NFL. Gabbert is the worst starting quarterback in the NFL, hands down. All he does is dink and dunk, and I'd be remiss if I didn't show this picture: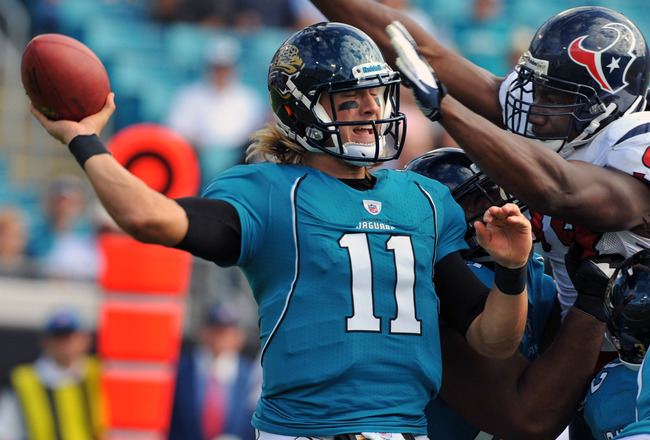 31.

Mark Sanchez, Broncos. 2015 Ranking: --.
Somehow, some way, Mark Sanchez is not the worst starting quarterback in the NFL. Some may question the wisdom of putting Sanchez ahead of Blaine Gabbert, especially considering how ridiculously awful Sanchez was for the Eagles last year. But hey, at least Sanchez actually throws passes that go beyond five yards in the air. Also, Sanchez has taken a team to the AFC Championship. Gabbert can't say that.
30.

Robert Griffin, Browns. 2015 Ranking: 28.
There's a lot of optimism for Robert Griffin in Cleveland, but probably because the Browns have forgotten what a real quarterback looks like. Griffin has never improved the mental part of his game because he's too focused on being a star rather than studying film. He's also a fumbling machine. The Browns won't get much out of him, but that just means that they'll have a great chance to obtain Deshaun Watson (go to my
2017 NFL Mock Draft
) for more.
29.

Jared Goff, Rams. 2015 Ranking: --.
Our league contacts were puzzled when it became evident that the Rams moved up for Jared Goff. The Cal product was seen as a product of a goofy offense who could be at risk for sustaining injuries like another former Rams quarterback because of his size. Goff also was a bit sketchy in team interviews, while Carson Wentz shined in that regard. It's difficult to rate rookie quarterbacks, but Goff almost has to be one of the worst players at his position.
28.

Sam Bradford, Eagles. 2015 Ranking: 21.
Will Sam Bradford even be the starter come September? Bradford knows less of the playbook than both Chase Daniel and Carson Wentz, and his pouting did him no favors. It's puzzling as to why the Eagles even re-signed him this offseason. Bradford is a middling quarterback (at best) when healthy, and he's always at risk for getting banged up.
27.

Ryan Fitzpatrick, Jets. 2015 Ranking: --.
Based on Eric Decker's frustrated holdout in OTAs, and the frustration the Jets fans have shown, you'd think Ryan Fitzpatrick was the second coming of Joe Namath. Fitzpatrick might be the best option New York has at the position, but he's not a good quarterback. Fitzpatrick is a sub-par signal-caller with glaring limitations, which would explain why he's never taken a team to the playoffs.
26.

Ryan Tannehill, Dolphins. 2015 Ranking: 14.
Ugh, I can't believe I ranked Ryan Tannehill 14th last year. He definitely showed lots of potential, but he has never been able to develop. His former coaching staff wouldn't even let him audible at the line of scrimmage, which is just ridiculous considering that he was in his fourth NFL season. Perhaps Adam Gase will be able to get the most out of Tannehill, but it's very fair to be skeptical right now.
25.

Jay Cutler, Bears. 2015 Ranking: 27.
If this ranking were based on just pure talent, Jay Cutler would easily be in the top 10. Cutler has an explosive arm, so it's a shame that he's had extended periods where he doesn't seem to care about anything. Cutler's poor attitude is the main reason Chicago constantly fails to live up to expectations. Cutler managed to rebound with a solid 2015 campaign, but he could regress with Adam Gase gone.
24.

Blake Bortles, Jaguars. 2015 Ranking: 25.
Blake Bortles had a rough rookie campaign, but understandably so, given his poor protection. That was still a problem last year, but Bortles was able to throw for 4,428 yards and 35 touchdowns. His completion percentage (58.6%) needs to improve, but he made up for it by rushing for 310 yards. Bortles will have better blocking at his disposal this season, so that bodes well for him going forward.
23.

Alex Smith, Chiefs. 2015 Ranking: 24.
It's almost impossible for a quarterback to go nearly an entire season and fail to throw a single touchdown pass to a receiver, but Alex Smith did it. Bravo. It was very unlikely to happen again, and in Week 3, Smith finally connected with Jeremy Maclin for a score. The Chiefs advanced to the divisional round of the playoffs, but had very little chance of going further, as Smith is a very limited passer who can't do anything downfield. He has to resort to checking the ball down or tossing short passes on nearly every attempt. His ability to move around is nice, and he deserves credit for his accuracy, but Smith simply isn't equipped to lead a team to the Super Bowl in this day and age.
22.
Andy Dalton, Bengals. 2015 Ranking: 23.
You're familiar with Andy Dalton's story by now. He's solid in the regular season, but simply cannot win in the playoffs because of his limitations. His most recent postseason defeat wasn't entirely his fault because he was missing his entire supporting cast, but Dalton still looked dreadful in the loss to Indianapolis. It's fair to wonder if Dalton will ever advance beyond the second round of the playoffs, as his arm is too small in such a pass-heavy league. It's very telling that the Bengals, under A.J. McCarron, were better in the postseason than they ever were with Dalton.
21.

Brock Osweiler, Texans. 2015 Ranking: --.
Brock Osweiler was the better quarterback on the Broncos last year, and Peyton Manning should thank his lucky stars that his defense was so dominant in the playoffs; otherwise, Denver would've lost its first postseason contest to the Steelers. Gary Kubiak needs to be thankful as well because he made the wrong choice in starting Manning. Osweiler wasn't great, but he did a solid job quarterbacking the Broncos, scoring 11 touchdowns compared to throwing six interceptions. Now in Houston, Osweiler has reportedly struggled to pick up the offense, but DeAndre Hopkins will make his job so much easier.
20.

Tyrod Taylor, Bills. 2015 Ranking: --.
I was confused about why the Bills were expected by some to select a quarterback in the 2016 NFL Draft. Tyrod Taylor did a great job last year, scoring 24 total touchdowns in comparison to throwing just six interceptions. Taylor also rushed for 568 yards. A true two-dimensional threat, Taylor is a solid starter for sure. However, his small frame makes him questionable to stay healthy, which is why he's lower in these rankings than some Buffalo supporters might like him to be.
19.

Kirk Cousins, Redskins. 2015 Ranking: --.
Kirk Cousins was behind Robert Griffin at this time last year, but he took over as the starter in the preseason and never looked back. He threw for 4,166 yards, 29 touchdowns and 11 interceptions, maintaining an unreal 69.8 completion percentage in the process. Cousins might be a bit lower on this list than Redskin fans anticipated, but it must be noted that Cousins had an unbelievably easy schedule last year, so his 2016 campaign could prove to be more challenging.
18.

Derek Carr, Raiders. 2015 Ranking: 26.
I wrote last year that Derek Carr was the quarterback I had the most difficulty ranking on this list, so please excuse the fact that I had him 26th. He looked good at times during his rookie campaign, and his touchdown-to-interception ratio of 21:12 was quite good for a player with no experience. However, Carr's completion percentage (58.1) and YPA (5.5) were both poor, especially the latter figure. Thanks in part to Amari Cooper, Carr improved in his sophomore campaign. His completion percentage and YPA were better; they were 61.1 and 7.0, respectively.
17.

Teddy Bridgewater, Vikings. 2015 Ranking: 16.
Remember when Ron Jaworski listed Matt Cassel THREE spots ahead of Teddy Bridgewater in his quarterback rankings last year? I mean, I've had some bad calls over the years, but wow... At any rate, while Bridgewater fired just 14 touchdowns in 2015, he completed 65.3 percent of his passes and threw just nine interceptions. Bridgewater was impressive in a near-victory against the Seahawks, so perhaps that was a sign of things to come.
16.

Matt Ryan, Falcons. 2015 Ranking: 10.
Matt Ryan has been overrated for quite some time, and I'll admit that it was a mistake to list him No. 10 last year. Ryan managed to throw for 4,591 yards, but had just 21 touchdowns compared to 16 interceptions. Not all of that was his fault - his receiving corps beyond Julio Jones was shot - but Ryan has been horrible in the red zone for several seasons now. I can't see Mohamed Sanu and Austin Hooper helping very much.
15.

Jameis Winston, Buccaneers. 2015 Ranking: 22.
Jameis Winston deserves credit for staying out of trouble despite the naysayers - including myself - saying it was too risky to take him early because of his off-the-field issues. On the contrary, Winston has worked out as if he were in his contract year this offseason. He's in great shape, so that obviously bodes well for a promising sophomore campaign. Winston threw for 4,042 yards as a rookie, but needs to improve upon his 58.3 completion percentage.
14.

Marcus Mariota, Titans. 2015 Ranking: 18.
It's difficult to judge how Marcus Mariota's rookie campaign went because he was injured twice. I suppose that's part of the concern with him, but Mariota's offensive line will be much better than it was in his rookie year. Mariota certainly had some amazing moments last year, throwing for four touchdowns in two separate games. Mariota's completion percentage (62.0) was much better than Jameis Winston's.
13.

Matthew Stafford, Lions. 2015 Ranking: 15.
Matthew Stafford has loads of talent, but he had never been able to play consistently throughout his career. That changed in 2015, as he completed 67.2 percent of his passes - the first time he was better than 63.5 - and threw 32 touchdowns compared to just 13 interceptions. What he does in 2016 will be very telling, as he won't have Calvin Johnson at his disposal at all for the first time in his career.
12.

Carson Palmer, Cardinals. 2015 Ranking: 17.
Carson Palmer in the regular season is a top-10 quarterback. Palmer in the playoffs resembles Blaine Gabbert. Of course, a finger injury could've been the reason Palmer bombed in two postseason contests, but then again, he hasn't had much success in his career in January. One big issue for Palmer has been his durability, but perhaps Evan Mathis can help fix that problem.
11.

Tony Romo, Cowboys. 2015 Ranking: 6.
The good news with Tony Romo is that he underwent preventative surgery for his troublesome collarbone, so there's a better chance that he'll remain healthy in 2016. The bad news is that Romo turned 36 this offseason, so he could begin to regress, especially considering that he's returning from injury. Romo has been great when healthy, but he's been banged up a lot over the years, so it's impossible to predict what we'll see from him in 2016.
10.

Joe Flacco, Ravens. 2015 Ranking: 5.
I'm wondering why Joe Flacco was ranked fifth last year. I argued that he had a huge arm and often came up big in the clutch, but placing him so high was a derp moment on my part. Flacco, of course, had a miserable 2016 campaign in which he generated a 6.8 YPA, but none of that was his fault. The entire team sustained injuries, and before he knew it, Flacco's No. 1 wideout was someone named Kamar Aiken. Flacco himself then got injured in late November. Flacco should be able to rebound with everyone coming back next year, but he can't be slotted fifth in these rankings again.
9.

Eli Manning, Giants. 2015 Ranking: 13.
Eli Manning is often called overrated because he has won two Super Bowls. I've always maintained that Manning has been underrated because so many people have called him overrated. Manning has always been able to come up big in the clutch, but did not play well in a couple of seasons prior to 2014. He was spectacular this past season, generating 4,436 passing yards, 35 touchdowns and just 14 interceptions.
8.

Drew Brees, Saints. 2015 Ranking: 12.
Drew Brees just turned 37, but he's coming off a season in which he compiled 4,870 yards, 32 touchdowns and only 11 interceptions, maintaining a sterling 68.3 completion percentage in the process. Brees' skills will erode soon enough, but it's pretty amazing that he's posting such tremendous numbers despite not getting much help from his teammates. I mean, one of his top weapons last year was Ben Watson, for crying out loud.
7.

Philip Rivers, Chargers. 2015 Ranking: 7.
Philip Rivers remarkably threw for 4,793 yards, 29 touchdowns and only 13 interceptions last year despite dealing with a horrific offensive line situation. So many players went down, it was absolutely ridiculous. Rivers struggled in some games as a result, but still thrived in others somehow. The sky is the limit for him if most of his blockers remain healthy this upcoming season.
6.

Tom Brady, Patriots. 2015 Ranking: 8.
Tom Brady proved that he could have a great season in his late 30s without deflating footballs, but now he must pay for his prior crime. He's been suspended for four games, and making matters worse, he'll turn 39 in August. He'll regress sometime in the near future, but he could have one or two more strong years remaining. That said, Brady can't be ranked ahead of Cam Newton and some other prominent signal-callers because of his age and the possible decline that comes with it.
5.

Cam Newton, Panthers. 2015 Ranking: 11.
The regular-season MVP being ranked 11th may seem strange, but Cam Newton struggled through injuries in 2014 before willing his team into the playoffs. He finally managed to secure a postseason victory, but it was against the inept Ryan Lindley, so it doesn't really count. However, what Newton did in 2015 blew everyone away. Despite losing Kelvin Benjamin to a season-ending injury, Newton was still the best offensive player in the NFL. He put the Panthers on his back and took them to the Super Bowl, where he was ultimately betrayed by his pedestrian tackles, who stood no chance of blocking Von Miller or DeMarcus Ware. Even better, Newton vowed to stop dabbing, which was a silly "dance" thing that no one cool ever did. I mean, seriously, people 50 years from now are going to look back at that and ask themselves, "WTF were these people thinking? They put their head on their forearm... and that's it? Why?"
4.

Ben Roethlisberger, Steelers. 2015 Ranking: 4.
Ben Roethlisberger missed four games in 2015, yet still threw for 3,938 yards and 21 touchdowns. Had he remained healthy, he could've eclipsed the 5,000-yard barrier. Roethlisberger is obviously one of the top quarterbacks in the NFL; the question is whether he's in the top five or not. I think he is. Roethlisberger is still sure to play at the top of his game, as he's only 34, compared to Tom Brady, who is now 39. Roethlisberger has the ability and the talent around him to perhaps claim a third Super Bowl trophy this year.
3.

Andrew Luck, Colts. 2015 Ranking: 2.
If teams could pick one player to have for the next 10 years, Andrew Luck would be one of three options, with Russell Wilson and Cam Newton being the others. Some of our league contacts would prefer Luck, and I couldn't really argue that. In just his third season back in 2014, Luck threw for 4,761 yards and 40 touchdowns. He also scored another three times on the ground. Luck didn't perform well this past year, but he was dealing with shoulder and spleen injuries and clearly wasn't himself. Now healthy and helped by better protection, Luck could lead the Colts to the Super Bowl in a weak AFC.
2.

Russell Wilson, Seahawks. 2015 Ranking: 3.
Russell Wilson is a wizard on the football field. What he does in terms of maneuvering around the pocket, and either finding open lanes to pass through or picking up yardage on the ground is just amazing. Wilson is also a winner; if the Seahawks are behind entering the fourth quarter, they can easily generate a comeback victory via Wilson's play-making. Wilson also posted unreal numbers in 2015, throwing 34 touchdowns to just eight interceptions, all while completing 68.1 percent of his passes on an 8.3 YPA. The one downside to Wilson is that he could get injured because he moves around so much, but he hasn't missed a game thus far in his 4-year professional career. As it stands now, there is only one quarterback I would pick over Wilson. In my opinion, he's a top-three signal-caller.
1.

Aaron Rodgers, Packers. 2015 Ranking: 1.
It's tough to argue against Aaron Rodgers being the top quarterback in the NFL right now, despite what happened last year. In fact, if all of the players in a league were thrown into a pool for the 32 teams to re-draft from every year, Rodgers would be the consensus No. 1 choice. Still just 32, Rodgers hasn't thrown double-digit interceptions since 2010. This includes the 2015 campaign in which Rodgers had a 31:8 touchdown-to-interception ratio despite being banged up. Also, his top two receivers and best offensive linemen were injured. Rodgers could rebound in 2016 and have his best year yet.
Fantasy Football Rankings
- July 22
2018 NBA Mock Draft
- July 11
2018 NFL Mock Draft
- June 27
2019 NFL Mock Draft
- June 1
NFL Power Rankings
- May 5
NFL Picks
- Feb. 7