Want to get to know the draft prospects for the 2019 NFL Draft? This weekly column breaks down the best matchups to watch each week in college football.
By Charlie Campbell.
Send Charlie an e-mail here:
draftcampbell@gmail.com
Follow Charlie on Twitter
@draftcampbell
for updates.



Boston College vs. Wake Forest; Thursday, Sep. 13, 7:30 PM ET ESPN
Boston College has some good pro talent, and Thursday night games are easier for NFL general managers to attend, so there could be some high-profile evaluators in attendance at Wake Forest. Boston College's top prospect is defensive end Zach Allen. He was a lot better than Harold Landry last year, and Allen has first-round potential. Other prospects to watch are safety Lukas Denis and offensive tackle Chris Linstrom.



Oklahoma vs. Iowa State; Saturday, Sept. 15, 12:00 PM ET ABC
Unfortunately, Oklahoma running back Rodney Anderson is out for the year after a knee injury. He would have been one of the top running back prospects for the 2019 NFL Draft had he stayed healthy. Still, there is a potential mid-rounder runner to watch in Iowa State's David Montgomery. Quarterback Kyle Kempt is also worth monitoring.
Aside from the backfield, Sooners wide receiver Marquise Brown is a big-play threat who could be one of the top receiver prospects for the 2019 NFL Draft. He should light up the Iowa State secondary. Other prospects to watch who NFL teams had on their preseason watch list with first- through fourth-round potential were Oklahoma tackle Bobby Evans and guard Dru Samia.



LSU vs. Auburn; Saturday, Sept. 15, 3:30 PM ET CBS
This game is going to see a lot of future NFL players going head to head. Auburn quarterback Jarrett Stidham is one of the top signal-caller prospects for the 2019 NFL Draft, and he will see a lot of good talent on the LSU defense. Linebacker Devin White and cornerback Greedy Williams could be the top players at their positions for the 2019 NFL Draft. White will make it hard for Stidham to scramble, and Williams could lock down one of Stidham's top receivers. Williams also is a ballhawk who is a threat to pick off passes, so Stidham has to have good accuracy and ball placement when throwing at Williams. The Tigers' defense will be a good challenge for Stidham.
The prospect in this game who could be the first to come off the board next April is Auburn defensive tackle Derrick Brown. He is an excellent talent with size, speed and athleticism. Other prospects to watch on Auburn's defense include tackle Dontavious Russell and cornerback Jamel Dean.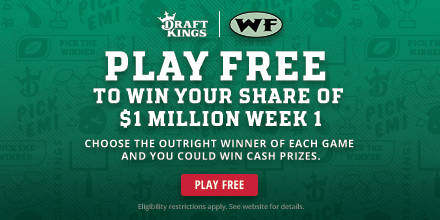 West Virginia vs. N.C. State; Saturday, Sept. 15, 3:30 PM ET ESPNU
There are two NFL quarterback prospects in this game with West Virginia's Will Grier and N.C. State's Ryan Finley. Grier produces more numbers, but Finley could be a better fit for the pro game. Both of them could have second-day potential for the 2019 NFL Draft.
Each quarterback also has a future NFL receiver to work with. Grier has a big target in David Sills, who is a red-zone mismatch problem. Wolfpack wide receiver Kelvin Harmon was a point-producer for Finley in 2017, and Harmon was on NFL team's preseason watch lists for players with first-through fourth-round potential. Two other prospects who made that same watch list are N.C. State linebacker Germaine Pratt and West Virginia offensive tackle Yodney Cajuste. Thus, this contest has some good talent for the NFL.



Alabama vs. Ole Miss; Saturday, Sep. 15, 7:00 PM ET ESPN
Ole Miss is one of the few programs to have success against Alabama in recent years, and for that to continue, the Rebels will need a big night from their NFL prospects. The Crimson Tide lost their secondary from last season to the 2018 NFL Draft, and their young defensive backs will see one of the top wide receiver prospects for next April's draft with A.J. Brown. Brown could be a top-20 pick in the 2019 NFL Draft, and if he impresses against Alabama, that will help him. Fellow wideout Ole Miss DeMarcus Lodge is another pro prospect to watch. Alabama cornerback Trevon Diggs has an early-round skill set, but he has been inconsistent. Playing well against Brown and Lodge would be huge for his draft stock.
Of course, Alabama's defense is loaded with NFL talent. Defensive lineman Raekwon Davis is the Crimson Tide's top prospect and has high first-round potential. Defensive tackle Isaiah Buggs and linebacker Mack Wilson have early-round potential as well. They will see a future NFL offensive lineman in Rebels left tackle Greg Little. Little has the skill set of a high first-rounder, but he didn't play up to it in 2017. Doing well against Alabama would be great for his draft grade.
Offensively, Alabama has early-round prospects to watch in running back Damien Harris, guard Ross Piersbacher and offensive tackle Jonah Williams. On Ole Miss' defense, cornerback Ken Webster has early-round potential.



USC vs. Texas; Saturday, Sept. 15, 8:00 PM ET Fox
There is a nice matchup in this game with Texas wide receivers Collin Johnson and Lil'Jordan Humphrey going against USC cornerback Iman Marshall and safety Marvell Tell. All four have early-round talent but need to show consistency. Outside linebacker Porter Gustin and inside linebacker Cameron Smith are other Trojans defenders to watch. Longhorns cornerback Kris Boyd is another prospect to watch.
Comment...
NFL Picks
- Nov. 14
2019 NFL Mock Draft
- Nov. 8
2020 NFL Mock Draft
- Nov. 3
Fantasy Football Rankings
- Sept. 5
2019 NBA Mock Draft
- Aug. 13
NFL Power Rankings
- June 3