This new section highlights which players have improved or worsened their 2018 NFL Draft stock as the draft approaches.
By Charlie Campbell.
Send Charlie an e-mail here:
draftcampbell@gmail.com
Follow Charlie on Twitter
@draftcampbell
for updates.
2017 NFL Draft Stock Up

John Kelly, RB, Tennessee
Kelly has taken over from Alvin Kamara and Jalen Hurd 2017 and is putting together some impressive results. In the season opener, the junior scored four touchdowns against Georgia Tech, but he was even better versus the Gators. Kelly showed impressive quickness at the point of attack to hit the hole and accelerate to the second level. He also was very good as a receiver out of the backfield, showing smooth athleticism as a route-runner. Even though Kelly (5-9, 205) isn't a heavy back, he runs with power as he is put together well. Kelly powered through a ton of tackles in the second half, running through Gator defenders and putting his team back in the game.
Kelly finished with 141 yards on 19 carries with one touchdown, plus caught six passes for 96 yards. This was a phenomenal performance from Kelly that showed NFL evaluators that he has a serious combination of quickness, athleticism, toughness, and versatility as a runner or receiver. Kelly's stock is definitely on the rise with how he is playing as a junior.

Riley Ferguson, QB, Memphis
Ferguson completed 23-of-38 for 398 yards with six touchdowns and an interception to lead Memphis to a high-scoring three-point win over UCLA. It was an impressive performance from Ferguson. He made some excellent touch passes from the pocket with accuracy and precision. Ferguson dropped in some beautiful balls downfield, plus illustrated some field vision and a quality skill set. If the 6-foot-4, 210-pounder continues to play at this level, he is going to turn himself into a sought-after quarterback prospect for the 2018 NFL Draft. The tape versus UCLA will definitely help Ferguson's draft grade.

Anthony Miller, WR, Memphis
Miller had a great game against UCLA that will help his draft grade immensely. He absolutely dominated the the Bruins' secondary as they had no defender who could contain him. Miller showed impressive route-running with speed to get separation, very good hands, run-after-the-catch skills, and a gritty style of play. In the ground game, Miller is a fighter who blocks through the whistle. He totaled nine receptions for 185 yards with two touchdowns.
With how Miller played against UCLA, the 5-foot-11, 190-pounder showed that he could be a second-day candidate as a slot receiver prospect for the NFL. With his quickness, shifty moves, hands and route-running, Miller gave proof that he could be a weapon out of the slot. This tape will help send his stock up significantly.

L.J. Scott, RB, Michigan State
Michigan State hasn't gotten a lot of attention in the national or draft media after last year's down season, but scouting sources who have been through the program have been impressed with Scott. They think that the 6-foot-1, 229-pounder is more than just a power back. They like his surprising speed and athletic ability to be more than a North-South runner. Scouts think that Scott could be even more athletic and quicker if he drops some weight. They talk about how Le'Veon Bell was too heavy at Michigan State and became a different player after losing weight at the direction of the Steelers. In 2017, Scott is averaging 3.8 yards per carry for 125 yards with one touchdown. He may not receive a lot of notice, but teams are eyeing him as a value pick.

Roquan Smith, LB, Georgia
Scouting sources have been raving about Smith this year, and he has been tremendous for Georgia. Smith had a great game against Notre Dame in Week 2 and has been all over the field for the Bulldogs. The fast and instinctive Smith flies around the field, making tackles while also showing the ability to play in pass coverage. In 2017 Smith has 19 tackles with one sack, and one pass batted. The 6-foot-1, 225-pounder has drawn comparisons to the Buccaneers' Lavonte David and the Falcons' Deion Jones. Jones could end up being a second-round pick if he keeps up his impressive play.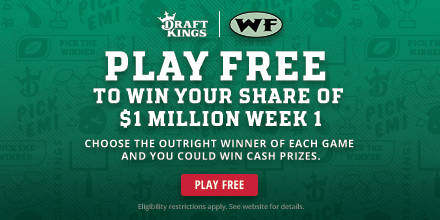 Quenton Nelson, G, Notre Dame
Nelson showed why he is the top guard for the 2018 NFL Draft when he dominated Boston College on Saturday. Left tackle Mike McGlinchey and Nelson were constantly blasting defenders back and opening holes. Nelson is a true bulldozer at the point of attack and was riding defenders around the field. On one play, he pushed around Boston College defensive end Harold Landry like a rag doll. In the third quarter, Notre Dame went behind Nelson on third-and-goal from the one to get the score. Nelson used his power to create a push and allow his back to get across the goal line. The great play by the Fighting Irish offensive line led to a prolific game running the ball. Notre Dame running back Josh Adams ran for 229 yards on 18 carries, while quarterback Brandon Whimbush ran for 207 yards and four touchdowns. Notre Dame had a total of seven rushing touchdowns against Boston College.
Nelson was absolutely dominant at the point of attack. This tape was evidence of why he is the top guard prospect for the 2018 NFL Draft and deserving of being a first-round pick.

Will Hernandez, G, UTEP
The 6-foot-3, 330-pound Hernandez has created some buzz as SI's Bruce Feldman wrote that he's heard that Hernandez is the top guard prospect. In reaching out to some team sources, they had Hernandez behind Quenton Nelson. One general manager said they liked Hernandez but had Nelson well ahead of him. Hernandez is shorter and lacks length compared to a lot of starting guards in the NFL, but he makes up for it with strength. His athletic ability also got some praise. Offensive line play has been a common weakness around the NFL, so Hernandez should benefit as a prospect in demand.
Honorable Mentions:
Clemson quarterback Kelly Bryant, Notre Dame left tackle Mike McGlinchey, Notre Dame running back Josh Adams, Texas A&M safety Armani Watts, USC defensive end Porter Gustin and Louisville defensive end James Hearns.
2017 NFL Draft Stock Down

Harold Landry, DE, Boston College
Landry had an interesting matchup against Notre Dame. At left tackle, he was seeing a future first-rounder in Mike McGlinchey, and at right tackle, there was a freshman starter. No matter who Landry went against, however, he was a non-factor and pushed around the field all day long by the Fighting Irish.
Landry lined up over the right tackle on the majority of his plays. In the second quarter though, he lined up over McGlinchey at right end on a few plays, where McGlinchey negated his speed rush. Landry lined up over McGlinchey again on a second-and-goal play in the third quarter, which saw a touchdown run to the other side. McGlinchey and guard Quenton Nelson buried Landry on the play, with Nelson tossing Landry around the field with ease.
Landry also had some ugly plays in run defense. For example in the third quarter, he was pushed back and couldn't shed the block of a tight end, allowing the back right by him to get downfield for a 36-yard run. In the fourth quarter, Landry was juked at the point of attack by quarterback Brandon Wimbush on a long touchdown run. For a first-round edge defender, it was disappointing to see Landry not break down and make that tackle in space. Landry had only one tackle on the evening; Notre Dame running back Josh Adams ran for 229 yards on 18 carries, and Whimbush ran for 207 yards and four touchdowns. The Fighting Irish amassed a total of seven rushing touchdowns against Boston College, and Landry was a liability in run defense.
Landry got pushed around in the ground game and didn't produce impact plays in the pass rush. This tape made him look more like a late first-rounder who is a better fit in a 3-4 defense for the NFL. He could be undersized and lack the strength to hold up as a base end in a 4-3 defense.

Jester Weah, WR, Pittsburgh
Weah is on the Senior Bowl watch-list, and the former track athlete is supposed to be Pittsburgh's leading receiver. However, he was shut out against Oklahoma State. In the first quarter, Weah was open running down the field for a 51-yard touchdown, but Max Browne overthrew him incomplete. Weah ran a nice route with a stop-and-go to burn the man coverage, but that was the only nice play from Weah against the Cowboys. Even in garbage time, he didn't produce receptions or yards against backups. This tape won't help Weah to get an invitation to Mobile or the East-West Shrine in St. Petersburg.

Brian Allen, C, Michigan State
Sources have told me that Allen is getting very late-round or undrafted free agent grades. They like Allen because he is a tough player who plays with a salty demeanor and is a physical blocker. But he's 6-foot-1, and there are very few centers who can stick in the NFL at that height. Allen can't get movement and struggles with odd fronts. He is a good college player, but has limitations that could prevent him from translating in the NFL. Thus, many team evaluators are projecting him to be an undrafted free agent next spring.
Comment...
NFL Picks
- Oct. 21
2020 NFL Mock Draft
- Oct. 20
2019 NFL Mock Draft
- Oct. 18
Fantasy Football Rankings
- Sept. 5
2019 NBA Mock Draft
- Aug. 13
NFL Power Rankings
- June 3