Charlie lays out an overview at the top players from each position for the 2018 NFL Draft. For further information, check out our in-depth analysis of
2018 NFL Draft Prospects by Position
.
By Charlie Campbell.
Send Charlie an e-mail here:
draftcampbell@gmail.com
Follow Charlie on Twitter
@draftcampbell
for updates.
This page was last updated
April 25, 2018
. Follow me
@walterfootball
for updates.
Position Review: Quarterbacks
Quarterback Class
Early-round talent: A
Mid-round: B+
Late-round: A-
Overall grade: A-
Merging the 2018 and 2017 prospects
Sam Darnold
Mitch Trubisky
Pat Mahomes II
Deshaun Watson
Josh Rosen
Josh Allen
Lamar Jackson
Baker Mayfield
DeShone Kizer
Davis Webb
Mason Rudolph
Luke Falk
Chase Litton
C.J. Beathard
Josh Dobbs
Nate Peterman
Kurt Benkert
Tanner Lee
Brad Kaaya
Mike White
Riley Ferguson
Kyle Lauletta
Nic Shimonek
Chad Kelly
Alex McGough
Just to be clear this article and series is all my opinion based off my own study and information I've gotten from general managers, directors of college scouting, national scouts, area scouts, and NFL coaches who know way more than I do.
The 2012 class was a banner year for quarterbacks. The 2013 class was ugly in comparison, and 2014 also paled in comparison. The 2015 quarterback class was top heavy with two legit "top of the first-round" prospects, but little depth behind them. Three starters in Carson Wentz, Dak Prescott and Jared Goff from the 2015 class have shown good promise while leading their teams to the playoffs. Wentz has star potential and could end up being one of the best quarterbacks in the NFL during his career. The entire league had Prescott wrong, including the Cowboys, because if they knew Prescott would be that good, they would have taken him and not tried trading up for Paxton Lynch and Connor Cook before settling for Prescott. Last year, the three quarterbacks who went in the top-13 selections all showed promise, with Deshaun Watson displaying superstar potential.
The top-three quarterbacks in the 2018 NFL Draft all grade out comparably to the top-three from last year. Sources have agreed that the tape from Rosen, Darnold and Allen is not better than the tape from Trubisky, Watson and Mahomes. Those six are all about equal in their grades, with different strengths and weaknesses. Lamar Jackson is on the cusp of being in that group, and I think he is being undervalued. Rudolph could go higher than Davis Webb did, but he isn't a better prospect. As prospects Rudolph, Falk and Litton are better than C.J. Beathard, who was a third-round pick.
Kurt Benkert and Tanner Lee are mid-Day 3-caliber players, like Nate Peterman. I know some team sources who have graded Mike White as a late-rounder, just like they did Brad Kaaya a year ago. Riley Ferguson, Alex McGough, Nic Shimonek and Kyle Lauletta are all late-round or undrafted free agents comparable to Chad Kelly. Kelly had the physical talent to go higher, but he was coming off a torn ACL and had terrible intangibles that sunk him all the way to being Mr. Irrelevant.
Safest Pick: Sam Darnold, USC

My track record here is pretty good. The 2013 class was a wash because there have been zero good quarterbacks to emerge from that year. I'm proud that I picked Derek Carr over Blake Bortles, Johnny Manziel and Teddy Bridgewater, who all wrongly went ahead of Carr in the 2014 NFL Draft. Carr has turned into a franchise quarterback, while the other three are on their way to not working out in the NFL. Manziel was already a bust for Cleveland. Bortles is disappointing for Jacksonville, and Bridgewater's future is still uncertain with an injury, plus teams had durability concerns about Bridgewater entering the NFL. Wentz and Winston are franchise quarterbacks. Obviously, Mahomes hasn't played enough to make any judgements after his first year.
Normally, this is a pretty easy choice for me, but it was difficult this year. There is no Carson Wentz, Jameis Winston or Marcus Mariota in this draft class. I think all of the top-five quarterbacks of Rosen, Darnold, Allen, Jackson and Mayfield carry some serious risk. I ruled out Rosen because of questionable intangibles and durability. Allen has accuracy issues and needs development, plus is making a huge jump in competition. Jackson has accuracy and weight issues. As for Mayfield, I will hit on that below.
In my opinion, Darnold is the cleanest prospect. He has excellent intangibles as a worker, leader and competitor. General managers who were at USC to scout Darnold in person said they think he has an "it factor" to him. As a quarterback, Darnold is an accurate passer, which is the No. 1 trait needed to succeed in the NFL. He has mobility and can make excellent passes off script. Darnold has a strong-enough arm, and I think that his issues with fumbles and interceptions can be improved upon in the NFL. In my opinion, Darnold is the safest quarterback prospect in the 2018 NFL Draft class to turn into a quality pro starter.
Previous Picks:
2017
Pat Mahomes
2016
Carson Wentz
2015
Jameis Winston
2014
Derek Carr
2013
Geno Smith
Biggest Bust Potential: Mason Rudolph, Oklahoma State

My track record here is pretty good. Obviously, it is too early to make a judgment on Trubisky. Cook probably won't turn into a starter, but as a third-day pick, he is only expected to be a backup, so he really isn't considered a bust unless he can't hack it as a backup. Hundley is a backup, at best, in the NFL. I was right about Manziel being a bust. Glennon was a bust as a starter. At best, he is a decent backup.
Rudolph is a love/hate prospect in the scouting community. A few team sources like Rudolph, but others are skeptics. I'm definitely in the latter group. Rudolph will need development as a pro.
As a senior, Rudolph struggled to throw into tight windows, and a lot of his best throws came from him rainbowing the ball downfield rather than driving it to his receiver. Rudolph's anticipation will have to improve for the pros, or he could be taking a lot of sacks from holding onto the ball too long. Routinely, Rudolph wouldn't pull the trigger on a throw until his receiver had long since gotten wide open rather anticipating the play to get the ball out faster. The length of time he holds the ball in the pocket is going to be a problem in the NFL, but in the Big XII, he could get away with it as he had all day to throw. There were plays where he got the ball out quickly with anticipatory throws, but it was inconsistent and he has to quicken the process for the NFL.
Rudolph will have to work on his accuracy and field vision, plus get used to playing under center and calling plays in the huddle. Going through progressions and reading the field can be problems for Rudolph, and he has to improve there. He is going to see a big jump in competition from the Big XII defenses that posed little challenge to Rudolph and the Cowboys. He had plenty of time to wait in a clean pocket to throw on weak defensive backs who his receivers burned regularly. Rudolph hasn't seen anything close to the pass rush or defensive back talent that will challenge him in the NFL. He is likely to be drafted with expectations to become a good starter, but I think Rudolph will be just a backup-quality quarterback.
Previous Picks
2017
Mitch Trubisky
2016
Connor Cook
2015
Brett Hundley
2014
Johnny Manziel
2013
Mike Glennon
Quarterback Rankings by Attributes
Accuracy:
NFL prototype: Aaron Rodgers, Packers
Sam Darnold
Josh Rosen
Baker Mayfield
Luke Falk
Mason Rudolph
Lamar Jackson
Josh Allen
Recap:
The most important characteristic for any quarterback in the NFL is accuracy. Not only do accurate quarterbacks reduce turnovers and maintain time of possession, they increase the opportunities for skill-position players to make a bigger impact. Thus, accurate signal-callers will give teams more return on their dollars with high-priced wide receivers. It takes an accurate quarterback to be a weapon as a pocket passer, and the elite quarterbacks are able to beat good coverage with precision passes into tight windows.
Darnold is the most consistently accurate quarterback in this draft class, consistently throwing passes with good placement. His passes are very catchable for his receivers, and he can fit them into windows between defenders. Typically, Darnold has good ball placement and is very precise in the short to intermediate part of the field.
Rosen is an accurate passer as well. For a college quarterback going to the NFL, Rosen has impressive footwork, and that leads to him throwing the ball accurately with good placement. With his timing and precision, Rosen is an accurate passer who can fire the ball through tight windows for completions.
One of Mayfield's most impressive strengths as a passer is being able to locate the ball well and throw receivers open. He is very good with his timing and trajectory on passes to hit receivers on the run and set them up for lots of yards after the catch. Mayfield is very skilled to loft in touch passes downfield and throws a very catchable ball. He can be an accurate passer with good ball placement.
Falk's best strength could be his accuracy. He was a precision passer for Washington State and consistently located his balls well. Falk will have to transition to a pro-style offense, and his windows are going to get a lot smaller. Rudolph has shaky accuracy. There were times when he would make excellent throws and others when he would miss inaccurately. He also can have issues with poor placement downfield.
Jackson has to improve his accuracy. There were times when he made brilliant throws with perfect accuracy and ball placement, but he was inconsistent. Jackson is more accurate, however, than his completion percentage indicates. Poor receivers consistently dropped well-thrown passes, and that kept Jackson from completing 60 percent of his passes in 2017. Still, Jackson can have an issue with his feet when he throws due to transferring too much weight to his front foot with his back foot off the ground. That leads to him sailing passes and making overthrows. Jackson has to improve his accuracy and footwork for the NFL. Landing with a good quarterback coach and offensive coordinator could lead to the accuracy and footwork issues being resolved.
Allen is the least accurate passer of this group, but I think he will improve his accuracy in the NFL. He got better with his accuracy and ball placement during the week of Senior Bowl practices. I think Allen's accuracy could be good enough to succeed in the NFL, but I don't think he is a naturally accurate passer. It could be a case where Allen is similar to some other big quarterbacks like Josh Freeman and Blake Bortles. They have a big-time skill sets, but are not naturally accurate. That is a concern with Allen.
Arm Strength:
NFL prototype: Joe Flacco, Ravens
Josh Allen
Josh Rosen
Lamar Jackson
Sam Darnold
Baker Mayfield
Luke Falk
Mason Rudolph
Recap:
The quarterback with the strongest arm doesn't always mean that much, but in this group, the top three all have very strong arms. Allen has rare arm talent. He has a cannon that can make all the throws required with an easy ability to get vertical. At the Senior Bowl, Allen threw some frozen ropes, displaying an eye-popping arm. He can throw the ball farther and harder than any other quarterback in the draft class.
Rosen has an excellent arm. He stands out with the way the ball explodes out of his hand and the tightness of his spiral. Rosen has an elite arm that can make all the throws required with the ability to beat good coverage with the velocity of his passes. His powerful arm is very unique, and he will instantly be among the strongest arms in the NFL.
Jackson also has special arm talent. With just a flick of his wrist, Jackson can push the ball deep down the field with ease. He has very easy and smooth arm strength. In conjunction with his great mobility, Jackson can make throws from a variety of platforms that other quarterbacks can only make in their dreams.
Darnold and Mayfield don't have elite arm strength or a cannon, but they have above-average arms. Falk and Rudolph have average arm strength for the NFL.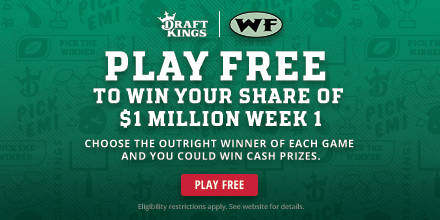 Field Vision:
NFL prototype: Tom Brady, Patriots
Sam Darnold
Josh Rosen
Lamar Jackson
Josh Allen
Luke Falk
Baker Mayfield
Mason Rudolph
Recap:
Field vision is one characteristic that separates the elite quarterbacks of the NFL. Quarterbacks who throw a lot of interceptions are inclined to lock onto their primary reads and stare down receivers. Signal-callers with good field vision can quickly work through their progressions and see more than a receiver on a route. They also can help get wideouts open by looking off safeties and playing games with their eyes. Many college quarterbacks enter the NFL with subpar field vision and have to improve this at the next level.
Darnold and Rosen are the best of this group, as they are skilled at reading defenses and working through their progressions to find the open receivers. Darnold gets the nod for first place because he showed an excellent ability to keep his eyes downfield while using his feet to move around and buy time.
When staying in the pocket, Jackson displays some field vision to move his eyes and work off his primary read. Allen is inconsistent and needs more experience, but he also uses his eyes and doesn't always turn to his running skills when his first read is covered.
The bottom trio of Falk, Mayfield and Rudolph all enter the next level with field-vision problems. Falk will throw into coverage; he has problems reading defenses and seeing the field.
Mayfield has problems reading defenses when forced to stay in the pocket, and that is going to be something he will have to work on in the NFL. Rudolph is shaky at going through his progressions and reading defenses. His problems with field vision and anticipation go hand-in-hand with him holding onto the ball too long for the NFL. He got away with that at Oklahoma State playing against terrible Big XII defenses, but those issues with field vision and anticipation are going to be problems for Rudolph as a pro.
Decision-Making:
NFL prototype: Tom Brady, Patriots
Baker Mayfield
Josh Rosen
Lamar Jackson
Mason Rudolph
Luke Falk
Josh Allen
Sam Darnold
Recap:
None of these quarterbacks were particularly bad in their decision-making. Mayfield was very good in 2017, having only six interceptions. At the Senior Bowl, Mayfield was very cognizant of ball security, checking down many passes. Rosen has room for improvement in decision-making, but it isn't a weakness heading into the NFL.
While Jackson has a very flashy style of play with some jaw-dropping highlight-reel moments in every tape, he is pretty steady in his decision-making. He could stand to improve some decisions as a passer, but he isn't careless with the football. He also makes good decisions as a runner to protect himself with slides or veering out of bounds. Jackson's decision-making could get better, but it wasn't bad during his sophomore or junior years.
Rudolph generally was solid in decision-making. He threw nine interceptions in 2017, but should have thrown a lot more as he was fortunate with the amount of bad Big XII defensive backs who dropped potential picks.
Allen and Darnold are in the rear here as their decision-making needs improvement. Both of them made some panic mistakes. Darnold had stretches of making terrible decisions, which led to his fumbles and interceptions, but then he would flip the script and be superb for stretches. Getting more consistent with his decision-making to yield better ball security is the No. 1 point of improvement for Darnold entering the NFL.
Mobility:
NFL prototype: Cam Newton, Panthers
Lamar Jackson
Baker Mayfield
Josh Allen
Sam Darnold
Josh Rosen
Luke Falk
Mason Rudolph
Recap:
Mobility is important to help a team's offensive line and wide receivers. As read options, spread offenses, and up-tempo concepts continue to grow in the NFL, mobility will continue to be a sought-after attribute for quarterbacks in the NFL. The top-four quarterbacks in this group all have good mobility.
Of the top quarterback prospects for the 2018 NFL Draft, Jackson has the most athletic ability and dual-threat danger to give defenses huge problems. Jackson is an amazing athlete with incredible mobility, speed, and moves to rip up defenses with his feet. From a skill-set perspective, he is very similar to Michael Vick. Jackson is extremely fast and explodes down the field when he takes off on the run. Jackson can take off when plays break down and is a threat to score from anywhere on the field by just using his feet and his elusive running in the open field. In the open field, he is a shifty runner who weaves around defenders with excellent moves in the open field to juke would be tacklers. Jackson is a dynamic and electric runner for the NFL.
Mayfield has excellent mobility to dodge sacks, escape pressure and extend plays with his feet, plus he throws well on the run. Mayfield also can pick up critical yards on the ground and adds the value of being a dangerous threat on third-and-short or third-and-manageable.
Allen is a big body with excellent strength to shed tackles. Routinely, you would see plays of Allen using his stature and power to shove off defensive linemen and then using his feet to escape trouble. From there, he can throw well on the run, yet is also dangerous to run through the defense. On those plays, Allen looked like a young Ben Roethlisberger. Allen is a good athlete with running ability to get downfield. He will be a good running threat in the NFL to pick up some yardage with his feet. With his mobility and stature, Allen is hard to sack and shows real toughness in the pocket.
While Darnold is not a running quarterback, he is functional to avoid sacks and will move around to help his offensive line and receivers. He made a number of really nice plays during the past two years when things went off script, getting creative to move the ball for his offense. Routinely, Darnold would buy time with his feet and then make an accurate throw downfield with the rush closing in on him. He regularly showed good poise to keep plays alive.
The bottom trio all lack mobility for the NFL. Rosen will move around to buy time and does a nice job of climbing the pocket, but in the NFL, he won't beat defenses or run away from defenders with his mobility and speed. Falk is similar to Rosen. Rudolph is not very athletic for the NFL.
Intangibles:
NFL prototype: Drew Brees, Saints
Sam Darnold
Josh Allen
Mason Rudolph
Luke Falk
Lamar Jackson
Baker Mayfield
Josh Rosen
Recap:
Overall, Darnold, Allen, Rudolph and Falk were said to have quality intangibles, per team sources. Darnold's intangibles drew rave reviews from sources across the league who went through USC. Allen, Rudolph and Falk all interviewed well at the Senior Bowl, and teams like the character of those three prospects.
Jackson does not have bad intangibles. He is said to be a good kid who isn't a trouble maker. He can be too much of one of the guys, and some team sources would like to see him emerge as more of a commanding leader.
Mayfield has mixed intangibles. He possesses leadership potential for the NFL, and his fighting style of play can lift those around them. However, he also has some maturity concerns and had some off-the-field issues during his collegiate career. Overall though, I think he will grow out of those problems, and there is no doubt that he loves football and wants to win more than anything else. I think his intangibles could end up being a net positive in the NFL.
A well-known negative factor about Rosen is the concern around his intangibles. There has been talk in the scouting community about Rosen having bad intangibles and being disliked by his teammates at UCLA, especially during his early time with the Bruins. Team sources said that Rosen worked at improving his relationships with his teammates over his final year and half, and that progress was made on that issue.
Former teammates of Rosen have told staff at their NFL teams that Rosen was okay, but they weren't enthusiastic about Rosen or gushing about him as a teammate. Team sources told me that Rosen was know for being a hard partier at UCLA and that some of his choices on how he parties gives them concern considering he is supposed to be the face of a franchise and set the leadership example in the locker room.
Rosen comes from a wealthy background and grew up differently than the vast majority of players in the NFL. He could have issues connecting with and leading all parts of the locker room. With his upbringing, Rosen is quick to speak his mind, and that may cause some conflicts for him in the locker room, within the organization, and with the media. Rosen's intangibles may end up being a hinderance in him maximizing his great arm talent.
Comment...
NFL Picks
- Oct. 15
2020 NFL Mock Draft
- Oct. 13
2019 NFL Mock Draft
- Oct. 11
Fantasy Football Rankings
- Sept. 5
2019 NBA Mock Draft
- Aug. 13
NFL Power Rankings
- June 3