By Walter Cherepinsky -
@walterfootball
Feb. 15, 2014
Who's to blame in the Dolphins' bullying scandal? It seems like such a simple question, yet there are so many legitimate answers.
The most obvious culprit is Richie Incognito. The former Miami guard seems like a complete sociopath. Many now view him only as a racist, homophobic douche who unnecessarily bullied several players and even a member of the Dolphins' staff. Incognito is the clear-cut bad guy to most, but there were those above him who allowed this to happen.
For instance, general manager Jeff Ireland simply told Martin to deal with it when the tackle voiced his complaints. And how about head coach Joe Philbin, who was somehow completely oblivious to this entire ordeal? It seems almost impossible to believe, but even if Philbin had absolutely no idea what was going on, he undoubtedly has to take responsibility for not knowing what was happening inside his own locker room. Oh, and let's not forget about the assistant coach who encouraged Incognito and his cronies.
Some would even point the finger at Martin. It's not like Martin was some 10-year-old kid with no means to defend himself. Martin is a grown man, a 300-pound man, who refused to stand up for himself in any sort of capacity. He didn't even ask Incognito and his goons to stop. He simply went along with it. That doesn't excuse what Incognito did, but Martin, as we've seen in the texts, never gave any sort of indication that his life was miserable.
I told my girlfriend Anti-Facebook Girl about this story tonight. She asked if there was any physical abuse involved. I said no. She then asked what happened. I didn't really know how to answer. "They said homophobic and racial slurs, some people were called p***sies and there was a male blow-up doll involved." The whole thing sounded absurd coming out of my mouth. She shook her head and said, "When did we become such wusses in this country?"
This got me thinking about two things. First, the Dolphins are screwed either way in the public eye, so why not embrace the whole bullying thing? Bring back Incognito. Hire Bill Romanowski as the head coach. Acquire John Kreese as the new athletic trainer. Make your motto, "We may not beat you, but we will beat you up." Or, "We may not win on the scoreboard, but we will beat the s*** out of you in the parking lot after the game."
Second, and more seriously, was it just the loud, usual "sand in the vag" minority that was outraged by this? How do sensible people really feel about this situation? I personally don't think this should be a huge story. Really. Incognito is a huge dick, but once again, Martin has to take part of the blame.
What about you? What do you think? Vote in the poll, post in the comment board below it, or follow me on Twitter
@walterfootball
.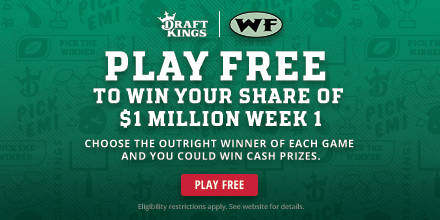 NFL Picks
- Oct. 15
2020 NFL Mock Draft
- Oct. 13
2019 NFL Mock Draft
- Oct. 11
Fantasy Football Rankings
- Sept. 5
2019 NBA Mock Draft
- Aug. 13
NFL Power Rankings
- June 3