Nick Bosa, 6-3/265


Defensive End


Ohio State
Nick Bosa 2018 Preview
By Charlie Campbell
Career Recap:
Before even lining up for one snap, there were big expectations for Nick Bosa at Ohio State. The reason for that was Bosa following in the footsteps of his older brother Joey, who was a superstar defensive end for the Buckeyes and ended up being the third-overall pick in the 2016 NFL Draft. The pressure and hype didn't get to Nick Bosa, who quickly made an impact for Ohio State on a defensive line that was filled with future NFL players and early-round picks.
Bosa had a strong debut as a rotational player as a freshman in 2016, recording five sacks with 29 tackles and seven tackles for a loss. He was even better as a sophomore. Bosa got more playing time, but Ohio State still employed a steady rotation with other defensive ends, including Sam Hubbard, Tyquan Lewis and Jalyn Holmes. Bosa totaled 34 tackles, 8.5 sacks, two passes batted and one forced fumble for 2017. Afterward in the 2018 NFL Draft, Hubbard and Lewis were second-round picks while Holmes went in the fourth round. Thus, it is very impressive that Bosa was the best defensive lineman on the Buckeyes. He looked like he was just scratching the surface of what he was capable of doing.
2018 Season Outlook:
Bosa has the skill set for a huge season in 2018, but it wouldn't be surprising if his production dipped. After massive sophomore years, the production for superstar defenders like Jadeveon Clowney, Joey Bosa and Myles Garrett all declined in their junior seasons. That was because of a lot of double teams, teams scheming to go away from them, and some injuries. If Nick Bosa plays well, it should not have an impact on him if his production declines similarly to that trio of top-three picks.
Skill-Set Summary:
When watching Ohio State, there is no doubt that Bosa is a special player. He jumps off the screen with his excellent skill set and his ability to cause havoc in the backfield. For the NFL, he looks like a No. 1 pass-rusher who could be a consistent double-digit-sack producer with Pro Bowl potential early in his NFL career.
In the pass rush, Bosa is a beast. He has an excellent get-off that sees him fire off the snap. He is also fast off the edge with the ability to quickly get leverage by using his speed to get an angle to the quarterback. Bosa supplies a lot of quick pressure because tackles struggle to keep him from getting upfield. Along with his quick feet, Bosa has the agility to cut back to the inside thanks to his athleticism to bend and get underneath blockers.
Aside from his speed and athleticism, Bosa possesses excellent hands with functional strength to fight off blocks, a burst to close, and can put quarterbacks down hard. Bosa has developed technique and obviously has been working at his craft for years with his older brother. They are very similar with the relentless presence alongside speed, power and physicality as pass-rushers.
Nick Bosa has the potential to be a good run defender. He has developed natural strength and can hold his ground. With Hubbard, Lewis and Holmes in the NFL, Bosa should play more snaps as a junior, and that will be interesting to see how he holds up as a run defender with a bigger work load. Bosa has enough length, strength and weight, but he is not overly big, so it will be good to gauge how he holds up while logging more snaps.
For the NFL, Bosa possesses the versatility to fit a 4-3 or 3-4 defense. He has enough size and length to be a base end in a 4-3 defense, and he will probably get heavier with more weight on his frame as he ages. Bosa also has enough athleticism and agility to stand up as an outside linebacker in a 3-4 defense.
2019 NFL Draft Expectations:
Entering his junior season, Bosa has high first-round potential.
Comment...
RELATED LINKS:
2019 NFL Mock Draft
:
Charlie's
|
Walt's
2019 NFL Draft Prospect Rankings
2019 NFL Draft Player Previews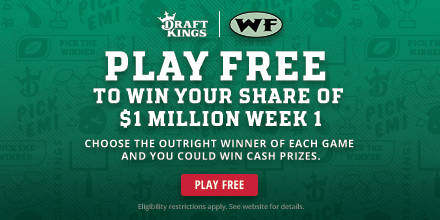 NFL Picks
- Oct. 15
2020 NFL Mock Draft
- Oct. 13
2019 NFL Mock Draft
- Oct. 11
Fantasy Football Rankings
- Sept. 5
2019 NBA Mock Draft
- Aug. 13
NFL Power Rankings
- June 3