Ed Oliver, 6-3/290


Defensive Tackle


Houston
Ed Oliver 2018 Preview
By Charlie Campbell
Career Recap:
Without ever playing a snap, Oliver made college football history. He became the first five-star recruit in history to chose a school that was not in a power-five conference. Many were surprised that the Houston native did not go with a local recruiting power house like Texas A&M, Texas or Oklahoma. Even though Oliver did not go to a Big XII school, that conference immediately saw what it had missed out on when Oliver dominated Oklahoma in his first game as a true freshman. That game set the tone for a tremendous freshman year in which Oliver totaled 66 tackles with 22.5 tackles for a loss, five sacks, three forced fumbles and nine passes batted.
In 2017, Oliver had 73 tackles with 16.5 tackles for a loss, 5.5 sacks, three passes batted and two forced fumbles. Even with teams selling out to stop him, they struggled to slow him down and he continued to live in the backfield of the opposition.
2018 Season Outlook:
Oliver has a lot of easy opponents on his schedule that he should dominate. However, he is going to see constant double teams throughout his junior year and teams will scheme to have plays go away from him. Thus, it would not be surprising if his production declines in 2018.
Skill-Set Summary:
For the NFL, Oliver has the potential to be a franchise defensive player. He contains a rare combination of speed, size and athleticism. According to league sources, Oliver's insane speed has them estimating his 40-yard dash run at 4.70 seconds, which would be a phenomenal time for a defensive lineman. On top of his speed, Oliver has size and functional strength. He is a well-rounded player who is effective in both phases.
Oliver is tenacious as a run defender. He constantly fires into the backfield to blow up runs. Along with his instant disruption, Oliver consistently brings down the back for negative yards, and his 39 tackles for a loss over two years is no fluke. With the way that Oliver lives in the backfield, he is a problem for the opposing team in terms of establishing any consistency in the ground game.
It is common to say that a defensive tackle has a burst to close or gets upfield quickly, but it is very rare to say that a defensive tackle has excellent pursuit skills. However, Oliver is that rare kind of defender with the way he flies to the ball. Oliver has a relentless style of play to chase down ball-carriers away from the tackle box, and his rare speed allows him to make plays that others can only dream about. Oliver has good instincts and recognition skills that put him in position to make a lot of plays. His intelligence and instincts also lead to him batting a lot of passes for a defensive tackle.
Oliver is an impact-making interior pass-rusher with the rare ability to harass the quarterback as an inside rusher. His pass-rush potential is very hard to find and should make him a beloved prospect across the scouting community. Oliver is extremely fast at the point off attack. He explodes out of his stance and immediately achieves penetration into the backfield. On top of his speed and tremendous pad level, Oliver possesses active hands with functional strength to slap away blockers hands. He also can bend and has the agility to redirect to the quarterback. While they have different body types, Oliver reminds me of Warren Sapp with the explosive speed off the ball and the way he lives in the backfield.
For the NFL, Oliver would fit best in a 4-3 defense playing the three-technique, like Sapp during his glory years with the Buccaneers. Oliver has enough length where he could be an end in a 3-4 defense who rushes from the inside in passing situations. A great player like Oliver will find a way to be effective in any scheme.
2019 NFL Draft Expectations:
Entering his junior season, Oliver has high first-round potential and looks like one of the top prospects for the 2019 NFL Draft.
Comment...
RELATED LINKS:
2019 NFL Mock Draft
:
Charlie's
|
Walt's
2019 NFL Draft Prospect Rankings
2019 NFL Draft Player Previews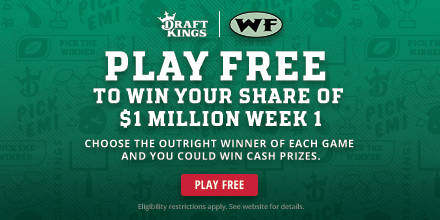 NFL Picks
- Oct. 15
2020 NFL Mock Draft
- Oct. 13
2019 NFL Mock Draft
- Oct. 11
Fantasy Football Rankings
- Sept. 5
2019 NBA Mock Draft
- Aug. 13
NFL Power Rankings
- June 3